20 Breakfast Nook Storage Table Designs
A perfect spot to grab a quick breakfast or take a sip from your favorite cup of coffee. Breakfast nooks are made for all these and more. It is more functional than you could ever think of. It can serve as a work area too or a place where kids can do their homework while having some snack. I do not know about you, but I always see breakfast nooks, as a well-lighted, sunny and a happy place where you can boost your mood just when you are about to start your day.
Breakfast nooks can be large or small, depending on the extra space you have in or near your kitchen. Whatever the size of your breakfast nook may be, dual-purpose furniture always come in handy. Benches with built-in storage are a great place to keep throw pillows and other kitchen stuff. Other than benches, breakfast tables can also help you keep your clutter. Get stylish nook tables that doubles as storage from this 20 Breakfast Nooks Storage Table Designs.
1. Breakfast 3 Piece Dining Table Set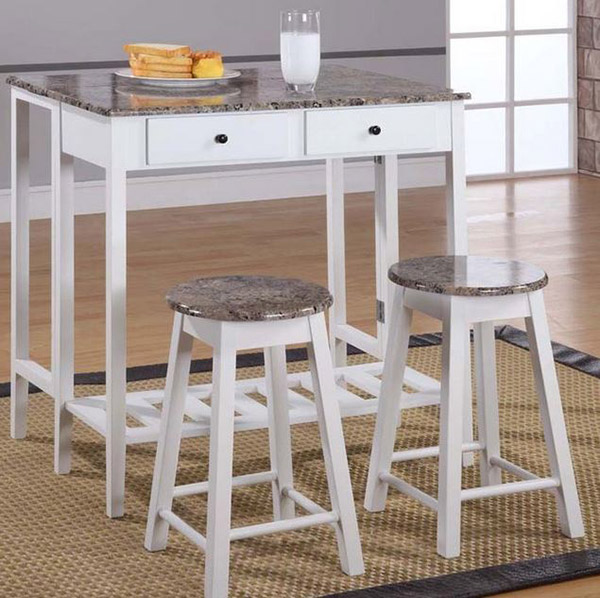 A marble laminated top, white wooden table with two functional drawers is sure to give your small breakfast nook a bright and casual vibe
2. Mirandela Birch Dining/Counter Height Table with Storage Base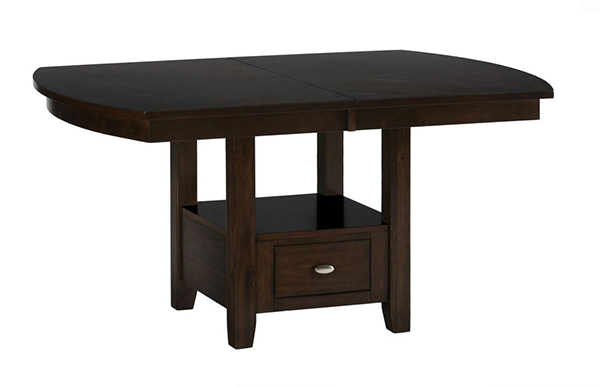 This extension leaf dining table with rounded edge features a pedestal base with a small drawer that adds accent and storage. It is a sophisticated addition for an urban-chic breakfast nook.
3. Reynolds Black Wood 3-Piece Modern Drop-Leaf Pub Set with Wine Rack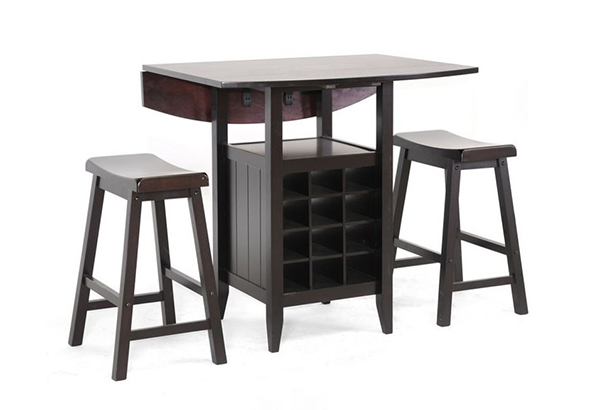 This table will be a cool addition to your breakfast nook! This tall dining table has two drop-leaf top supported by a wine rack and shelf for storage or for decor display.
4. Counter Height Kitchen Nook Set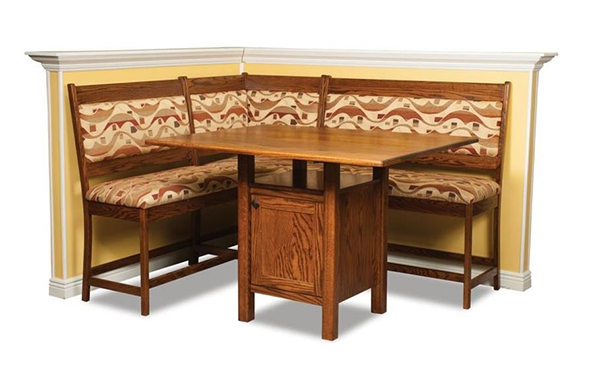 A counter height breakfast nook set with a table that features a storage base in its warm, wood tone will add a contemporary feel to your space.
5. Winsome Trading Egan 5 Piece Dining Table Set with Cushion Stools – Antique Walnut
A stylish dining table suited for an inviting breakfast nook design. This table comes with two foldable, wooven baskets that adds accent and functionality.
6. Americana Home High Dining Table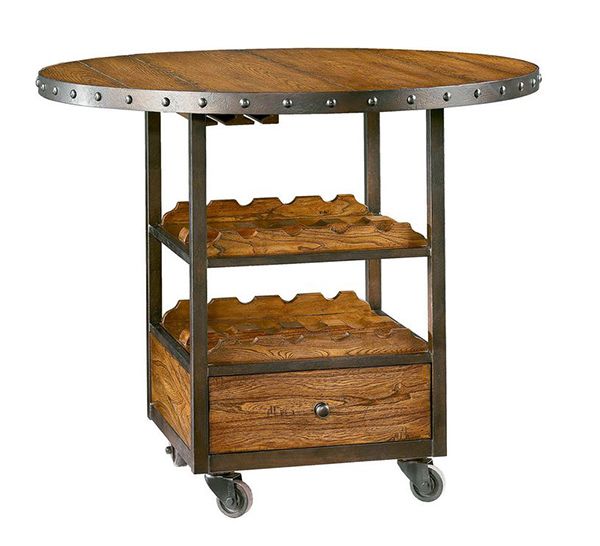 Bring rustic touch into your breakfast nook with this farmhouse, vintage designed table! It has stemware holder under table top and two fixed shelves with wine storage. A true beauty with a purpose.
7. Rebecca Wine Storage Counter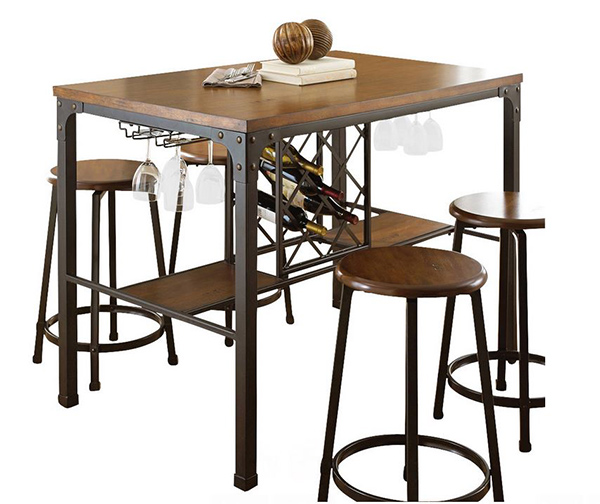 Get a utilitarian and industrial look with this counter table in metal and wood! It brings high functionality for small breakfast nook spaces. It also features a built-in under-the-table storage space that includes wine storage as well as wine glass holders.
8. 1155 Cappuccino Veneer Top Storage Pub Table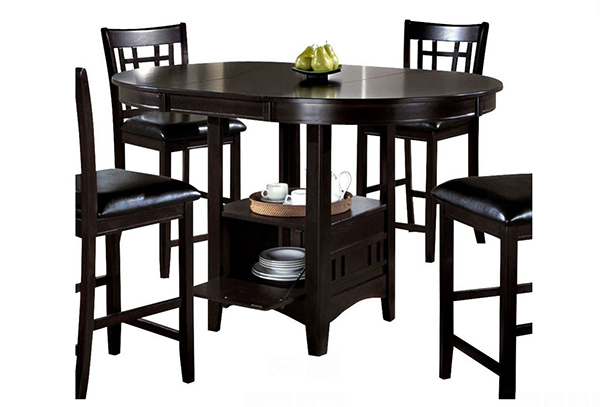 A sleek counter height table with its functional storage base in capuccino will bring a contemporary flair to your breakfast nook.
9. TMS Cottage Dining Table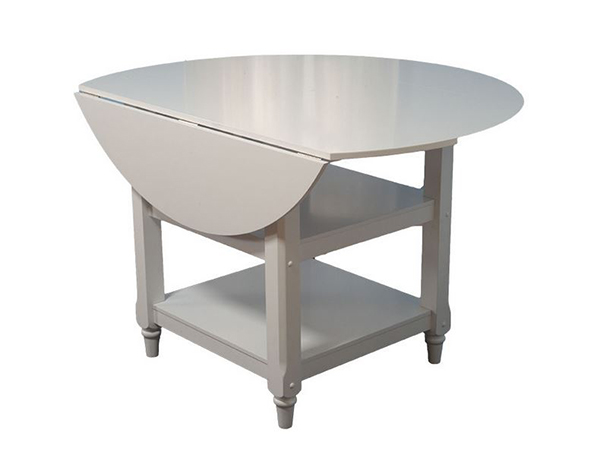 This cottage-style table with two lower shelves for easy storage is a chic addition to your country breakfast nook deisgn.
10. Primo International Dryden Dining Table, Espresso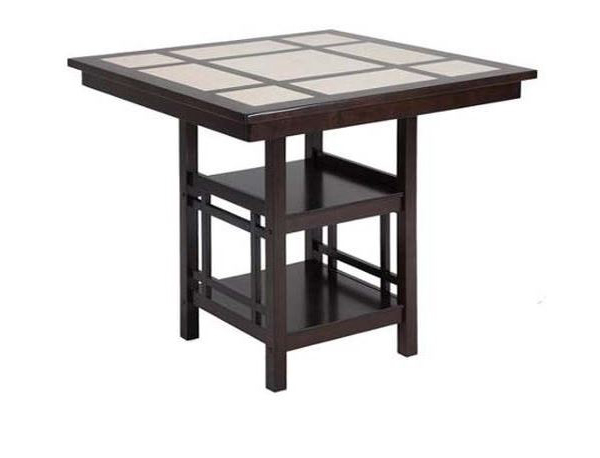 Update your breakfast nook with this stylish pub height table in warm espresso finish. Its inlaid tile accent and underneath storage is great for keeping dining accessories or decor display giving a casual yet modern vibe.
11. Charlette Dining Room Tab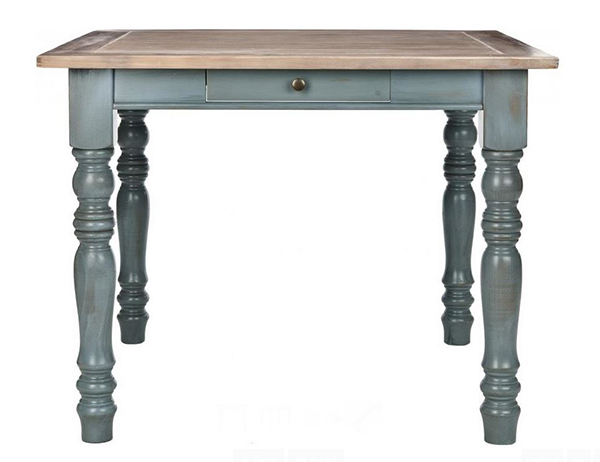 Bring romantic elegance in your breakfast nook with this beautiful country-styled dining table.
12. Loretta Butterfly Expanding Dining Table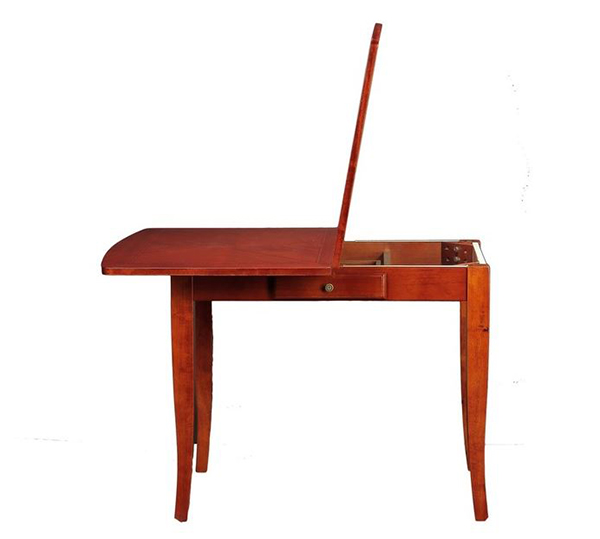 This table is a great solution for those with small spaces. It can also expands to double its size for those with large area. It has a small storage drawer for keeping small dining or kitchen accessories. Its rich wood finish can bring instant warmth and coziness to your breakfast nook.
13. Hyde Counter Height Square Dining Table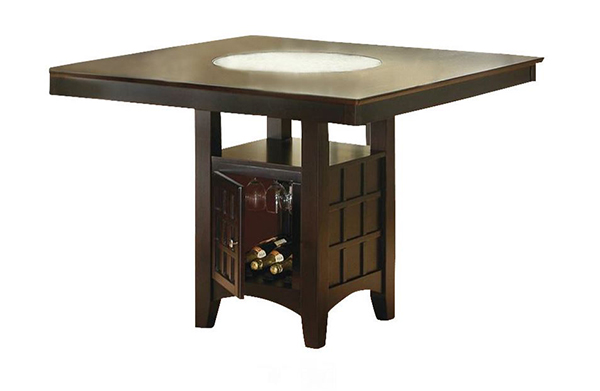 A stunning square dining table with a frosted glass Lazy Susan at the center and a pedestal base that features a cabinet door with stemware racks and space to store wine and other items inside. The shelf above the cabinet offers a space for decor display or extra storage. A great way to add personality and interest to your breakfast nook!
14. Breakfast Table Folding Drop Leaf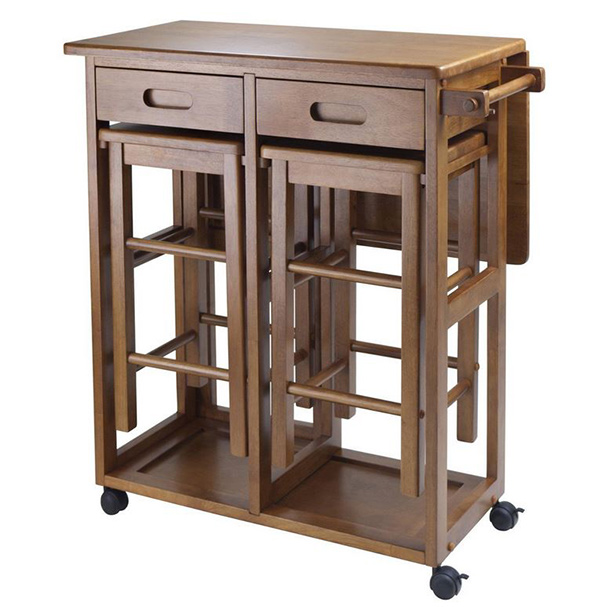 If you need a space-saver for your breakfast nook, this breakfast table is right for you!
15. Crossroad Round Pedestal Dining Table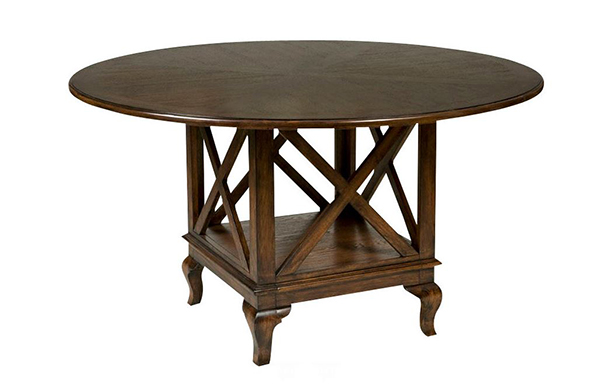 Extend your kitchen working surface, dining and storage space with this amazing kitchen island. The sliding counter top conveniently converts this island into a breakfast bar or use it for a versatile table in your breakfast nook.
17. Mercer Double Drop Leaf Table with 2 Stools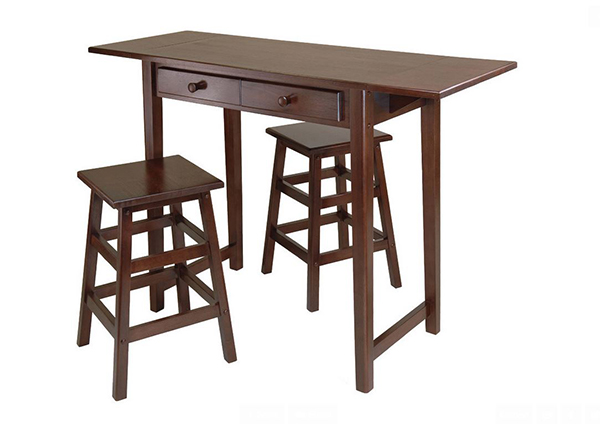 Give your breakfast nook a modern touch with this table that features a double leaf extension for extra surface and two drawers for storage.
18. Tuscany Round Storage Dining Table w Expandable Top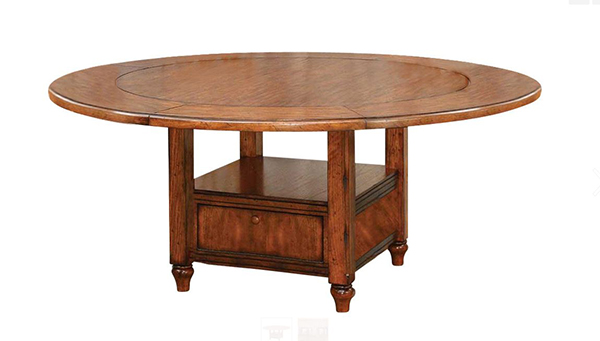 This rustic Tuscany table brings a country side sophistication that is sure to add warmth and accent to your breakfast nook.
19. Summerglen Round Storage Dining Table Multicolor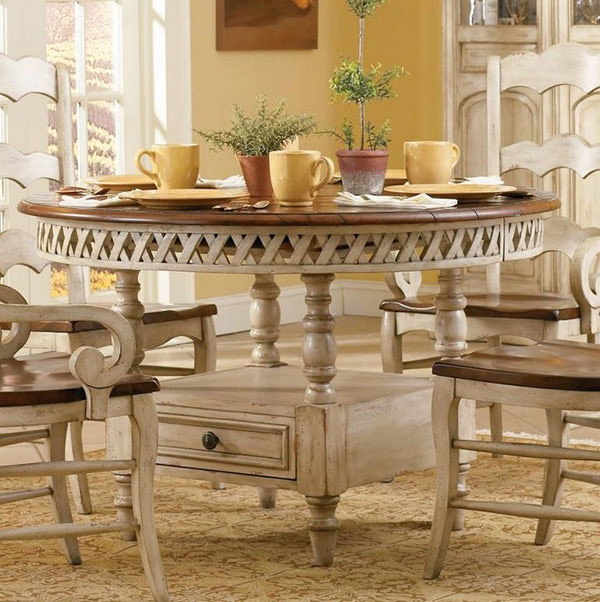 This dining table with a drawer base and a distressed off-white finish, offers a country charm that gives off a light and sunny flair to a shabby-chic breakfast nook.
20. Nettlestone Library Ensemble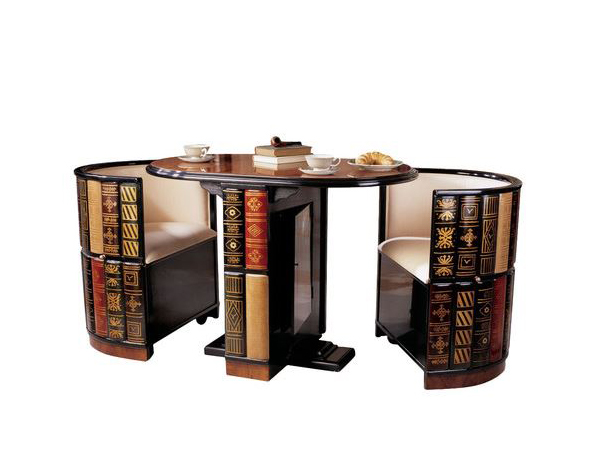 Another sleek, space-saver furniture that brings a unique touch when used in breakfast nooks. Its elegant look and stunning colors and patterns is sure to bring interest and intrigue in any space.
The designs are all stylish and functional. Nowadays, it is better to get a furniture that will not just give you the aesthetic you desire but will also offer an additional purpose. It is all about being practical without compromising the beauty or design you want your space to get. These 20 breakfast nook storage table designs are all good finds that will bring style and extra function in your kitchen's nook.