20 Table Designs That Will Blow Your Mind
You will be amazed with these creative table designs with different functions!
One furniture that is very useful for us is the table. We use it in the living room, dining room, kitchen and everywhere in the house. We need it in order to do different activities in the house from cooking to reading. Without a doubt, it is one item that we cannot miss out because of how important its functions are. Although we are all familiar with the use of tables, we are going to show you some table designs that are very much unique. Well, it isn't just their physical design that is unique but also the way they function.
Have you ever seen a table that can change its design to fit your usage? That would be amazing! How about one that you can carry wherever you go but can be used as a table? Apart from the beautiful table designs like the round up we did about square wooden tables, some tables are just very much unique that you can't believe it actually exists. Like our round-up of unique chair design videos, you will see 20 very impressive table designs and how each one of them will work.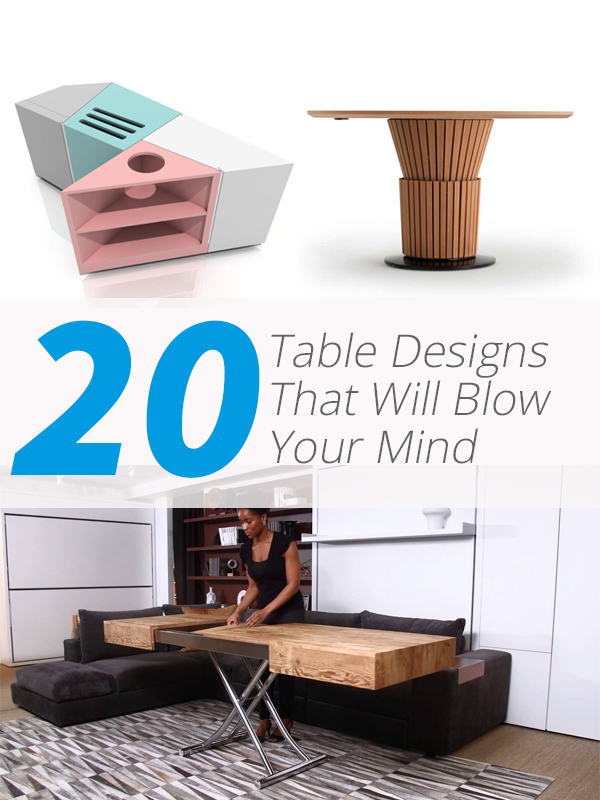 1. 3 Baton Rouge Table
From a small table to a bigger table! This is indeed an awesome design which is very easy to use.
2. Sobro Coffee Table
This table brings convenience and style to any home. It comes with a tempered glass top, touch controls, Bluetooth speakers, USB / 12V charging ports and a refrigerator. With Sobro, life is indeed a little simpler.
3. The D*Table
D*Table is a fully functioning 3d puzzle which can form into a flexible and adaptable low/coffee table. The cube-like form can be transformed into the triangle with clean lines and flexible geometries. Read more about it here.
4. Automaton Mechanical Table
This Art Deco Table is a mechanical table that has at its core mechanical functionality inspired by the work of Abraham and David Roentgen, who specialized in highly complex mechanical furniture over a quarter millennia ago
5. AquaTable
AquaTable is a fascinating product with a dual function that presents an aquarium integrated with a table-bass. A judicious choice in the decoration of your space. Its modern design and originality make this coffee table a real interesting furniture that will be perfect for trendy spaces like the living rooms we featured before.
6. Taybles
The Cassette Table is hand crafted with hardwood featuring stainless steel cup holders and it house LED lights & rechargeable lithium battery to spice up your party. The front shelf, which is protected by a magnetically clasped wooden tape-run, offers a practical storage space for remotes and magazines. With this table, it will certainly give your space a nostalgic look. Want to see more chairs that will make you look back at the past? Check out our collection of retro furniture to give your home a 70s feel.
7. Starry Sea 5
This table could be connected to the wifi system and it has LED light as well. It comes with a remote control which will give you full control of how it can be illuminated in different colors.
8. Sisyphus Table
This table is a combination of kinetic art, technology and design to come up with a stunning meditative beauty. It is computer controlled creating different designs. As a musical instrument plays songs, Sisyphus plays paths.
9. Folding Table
A product from Revol Design, this table is made from one sheet of 5′ x 5′ sheet of Baltic Birch plywood with no wasted material. See how it works in the video above.
10. Leonardo Table
Designed by Carlo Forcolini, its mechanical function is ensured by the hidden telescopic system that raises the tabletop. One can use it for dining while pulled up and once done, it can be pushed down.
11. Noteput
An interactive music table with tangible notes, that combines all three senses of hearing, sight, and touch to make learning the classical notation of music for children and pupils more easy and interesting.
12. Tambour Table
A personal computer table which has a table top that can be gently pushed away to reveal power, USB connections, and compartments for storage. To plug into an outlet or USB the user opens the table, plugs in, and closes the table to find that the wire has been maneuvered into the cutout in the tabletop, keeping all wires out of sight.
13. Cristallo Table
This transforming coffee table extends to perform a number of functions. This space-saving furniture is adjustable to various heights and it features two self-storing leaves.
14. The New Transformer Table
<
Need a table that can be transformed when you have guests in the house? This is exactly what you need! Watch how it can stretch out into a larger dining table.
15. Fan Table
The Fan Table is created from over 400 slats. It can be quickly transformed into an array of different shapes and sizes to suit its context or use. The surface of the table can freely expand, contract and revolve in an effortless fan like the movement of the hand. This table reminds me of the Accordion Folding Kitchen Table we featured before.
16. Ripple Effect Tea Table
This is an interesting table design wherein a ripple effect can be seen on its table top once you put something on it. Watch the video so you can see how it works.
17. Table for Two
Are you working in the house with your partner or a sibling? This table would be perfect! It aims to make transitioning between the two tasks easily by utilizing a series of folds. It changes from a basic dining table that accommodates six people to a complete workstation for two fits with drawers. This would be perfect for a shared home office! Take a look at how you can use this table in your shared workspace.
18. Ikea All-in-one Digital Table
If you do not know what to cook, just put your ingredients on the table and it will tell you what you can make using your ingredients. This digital table will surely change the way you cook and the way you look at ordinary kitchen tables!
19. Earthquake Proof Table
Most parents are worried that their children are not safe in school. But if schools have this table designed by industrial design students Arthur Brutter and Ido Bruno, parents won't be that worried anymore. It is specifically designed to form a safe shelter for pupils during earthquakes.
20. REK Coffee Table
This coffee table grows with one's needs. It can be extended to any table size that you want. The top and two sides of the table are white HPL and the edges can be finished with your choice of solid wood- it could be oak or beech.
These are interesting tables, right? The tables above are indeed different from the ones we have at home and it would definitely be awesome if we have one. It is always nice to have a unique item in the house especially if it has useful functions like the tables above. You might own a swiveling glass table which could be perfect for your needs but you might still want to get one of the amazing tables above. Well, whatever type you have at home, as long as it works well and could serve its function, it would be perfect! Can you tell me which of the above tables appeals to you the most?