20 Stylish Space Saving Triple Bunk Beds
Growing up, I used to share a room with my older sister. Our parents gave us that privilege to style and decorate our room however and whatever we want it to be, and so we did. Those were one of the best memories I had as a child. We used to have a small bedroom space so our parents got us a bunk bed. We had so much fun with that bed. It has witnessed both the best and the ugly moments we had growing up. I would give anything to turn back the time and just spend another day in that room again.
Who else wants to go back to their childhood bedrooms? I know I do.
For those parents who have a limited space and is looking for a practical solution, this is for you. As a mom, I know the feeling of wanting to provide the best for our kids that will also fit our budget and our needs.
Today you will see 20 Stylish, Space Saving Triple Bunk Beds with awesome designs that I am pretty sure will meet your every need and match any bedroom style you may have. Whether you are looking for bunk bed designs for your growing family or would like to have a vertical solution to clear up some space and maximize your available area, this post got it covered for you. Keep scrolling down to find out about it.
1. Jason T/F Espresso Bunk Bed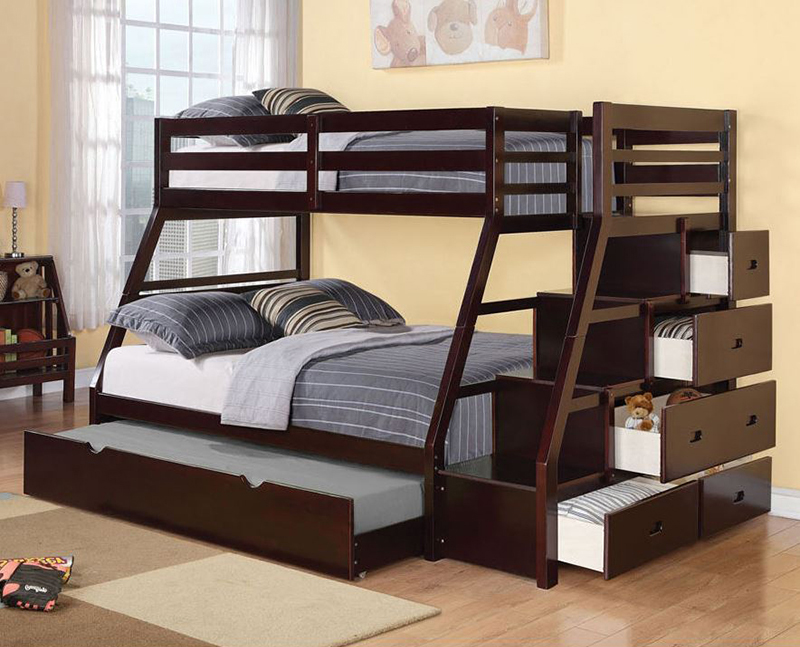 This bunk bed could easily fit three little angels and save lots of space. It has full-length guard rails to avoid your kid from falling. It has a staircase for an easy climb and it provides extra drawers for storage. It has a rich espresso finish that is sure to add warmth and elegance to your children's bedroom.
2. Duncan Triple Bed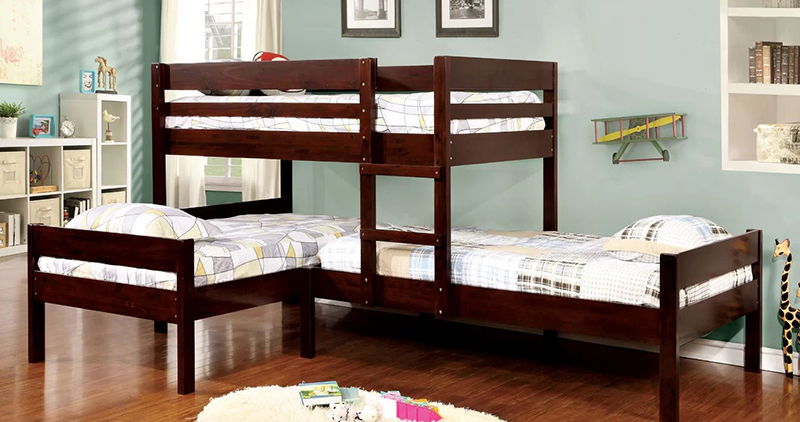 If you are looking for a striking design enough to put your kids in awe, then this bunk bed is for you. It has a loft-inspired design with a spacious bottom perfect for your growing kids.
3. New Triple Bunks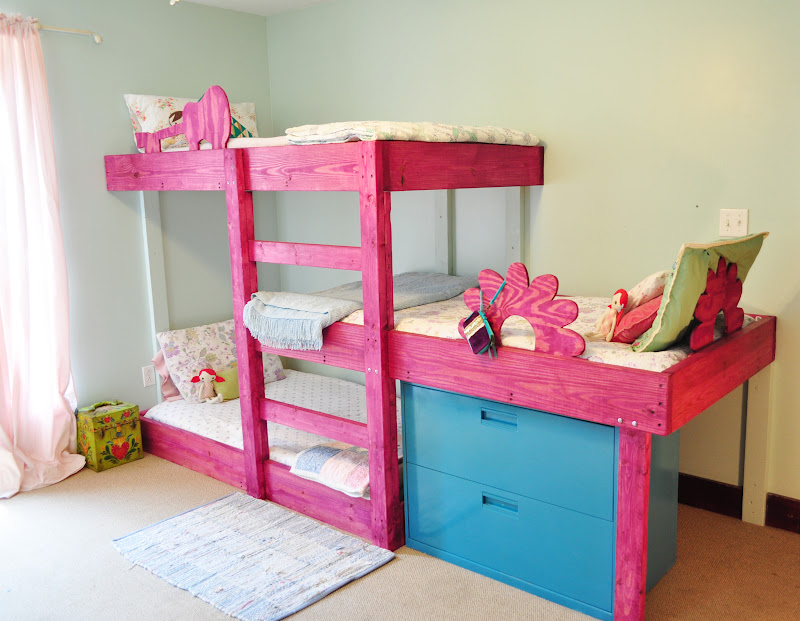 This lovely triple bunk bed design is a do-it-yourself creation. If you love to create your own and integrate your personal touch and creativity to it, you may download the plan from their website and make your own. It would be a great idea when you include your kids in designing their own bunk bed.
4. Corner Loft – Triple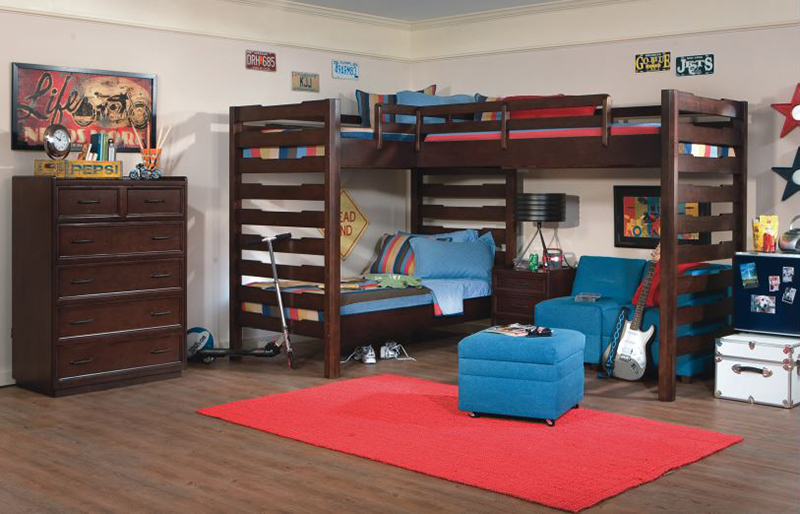 I love this triple bunk bed design. I am definitely sure your kids would do too. It offers three twin slat rolls. It provides plenty of open space for a study or couch, maybe bean bags too to squeeze in. And that's not all if you are up more storage solution, the lower bed offers two rail heights to accommodate storage units that you could include in your purchase as a set.
5. Gulf Coast Getaway
If you are looking for a fun, cozy and roomy space for your children, you may take a cue from this bedroom design. The white triple bunk bed offers a lot of slumber options, adds elegance and clean lines to any space. What is more exciting thing about it, is you can dress it up to any colorful bedding with playful patterns, however, you and your kids would like it to.
6. Shyann Twin Over Full Bunk Bed with Trundle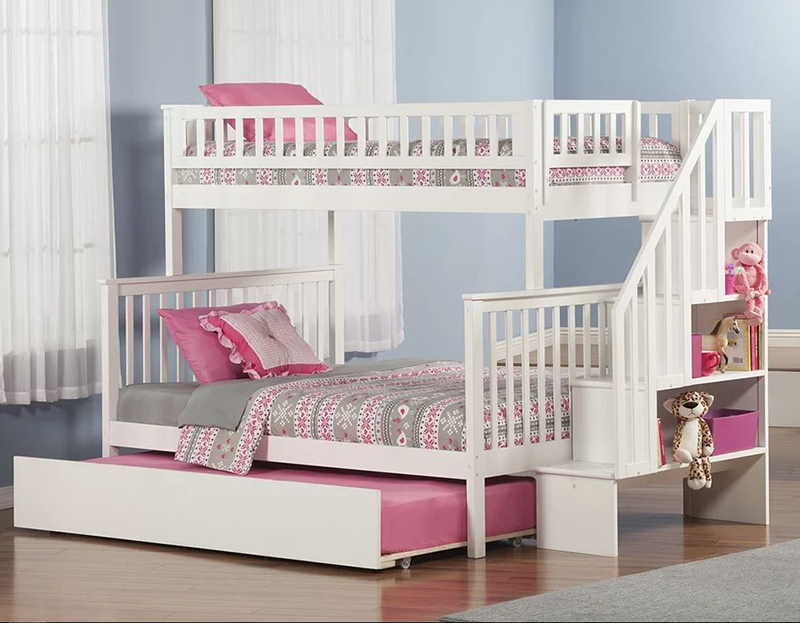 This beautiful bunk bed in a classic look with a white finish is a great addition to any children's space. It has a staircase that could be placed on either side of the bed. The shelves on the staircase offer storage units to display your kids' favorite things.
7. Hunter And Company Interior Design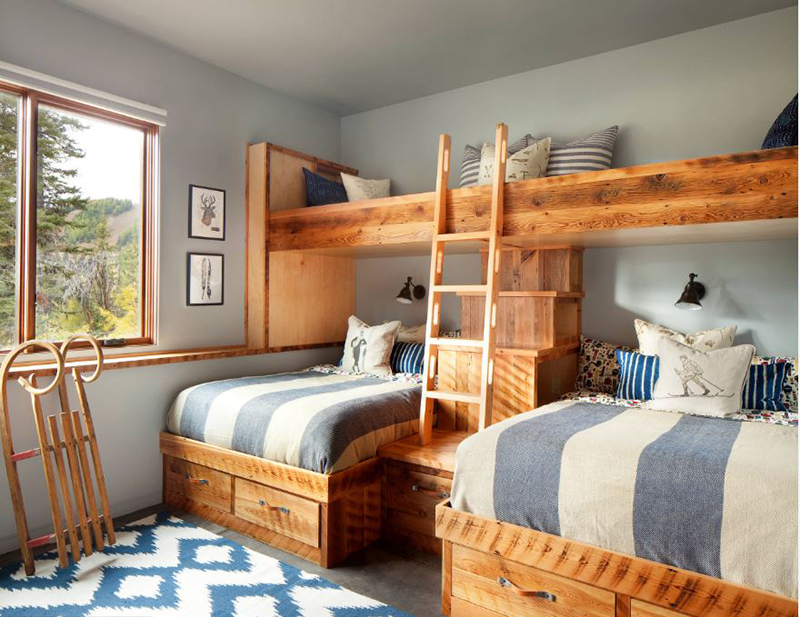 At first glance, you may think that this is a triple bunk bed. Well, technically it is. The top bunk though is consists of two twin beds and the lower beds are both two full-size beds. I love the rustic touch of this bed design. It will make a great addition to any growing boys' bedroom.
8. Triple Bunk Beds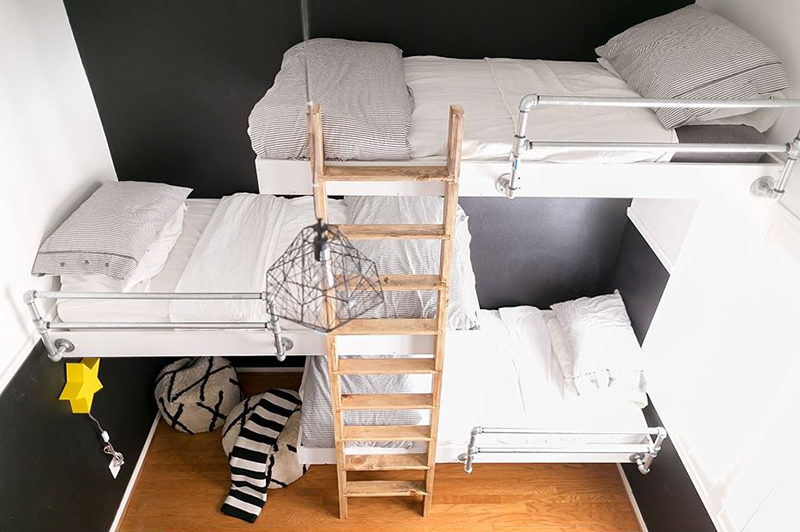 I personally love this triple bunk bed design. It has a touch of industrial style with a modern twist. I would also want one like this when both my boys are ready to move to their own shared bedroom. This is a fun and one amazing bunk bed design.
9. Triple Bunk Bed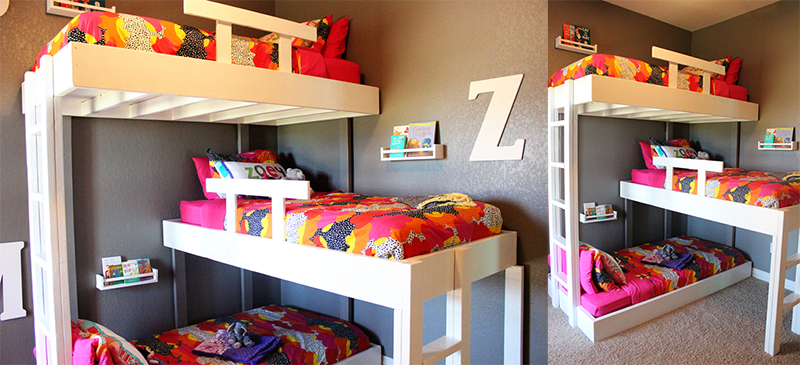 This is another do-it-yourself triple bunk bed project. It offers a lot of open space perfect for more room for fun and play.
10. Gautreau Twin Futon Bunk Bed with Table and Trundle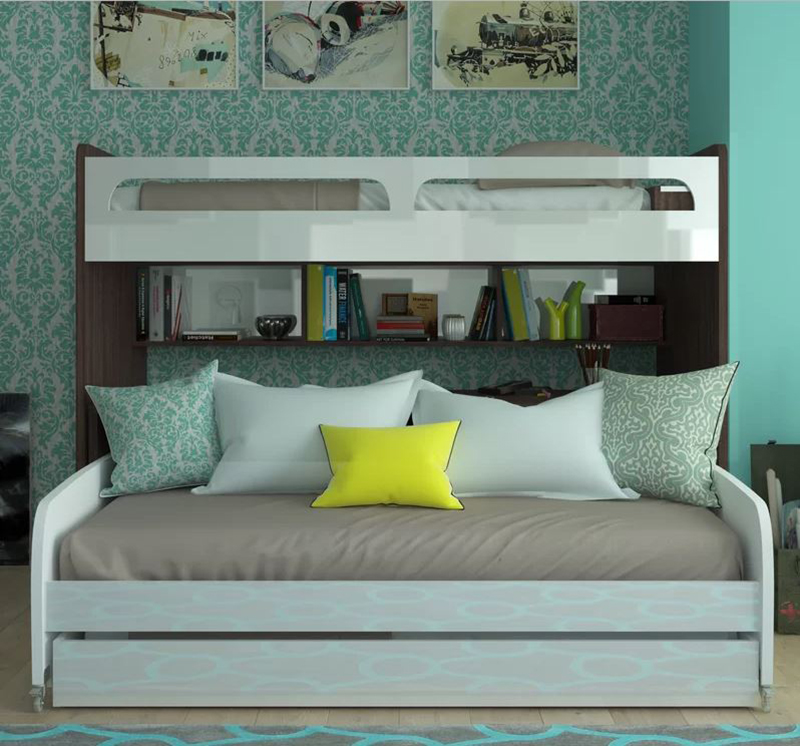 If you are looking for a bunk bed that will double as a study or working space this one is for you. It has a Murphy-style wall unit that converts from a Twin extra-large bed or couch with table to three beds with upper twin bunk and trundle drawer for storage or another mattress. Now that is the convenience in a nutshell.
11. The Jolly – Medium Bunk Bed With Slide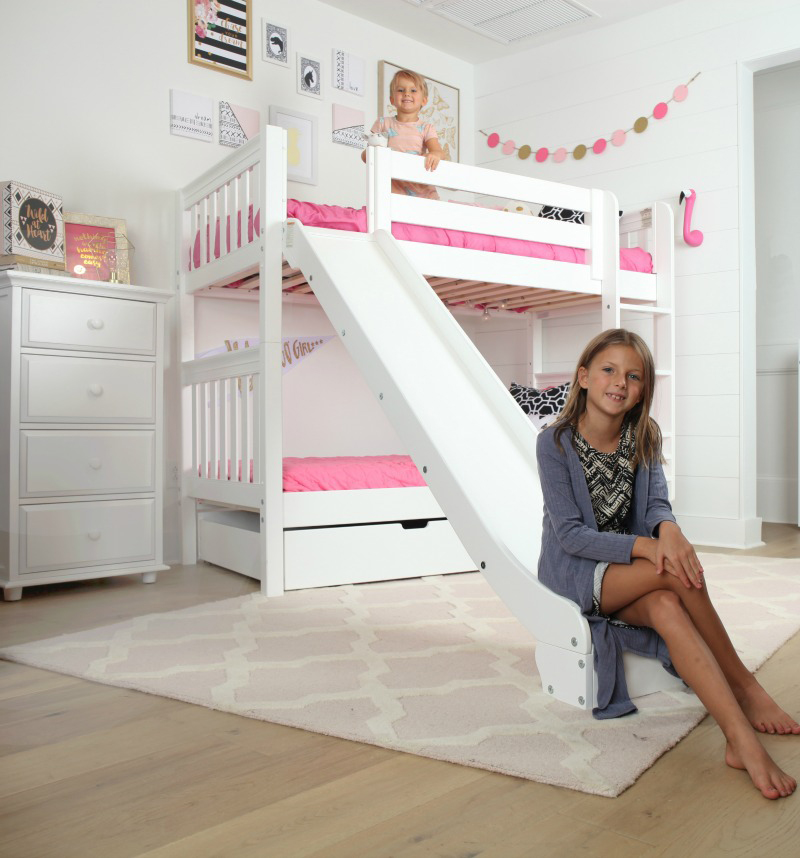 Are you looking for a bunk bed that doubles as a play haven? This Maxtrix bunk bed with slide is the one you are looking for. It comes with a slide where your children can use to play or simply to get down from the top bunk. It has a straight ladder that has extra deep and grooved steps for your kids' safety too. Apart from that it also has a trundle that could be used for extra storage or extra slumber space.
12. The Boy's Bedroom and Triple Bunk Bed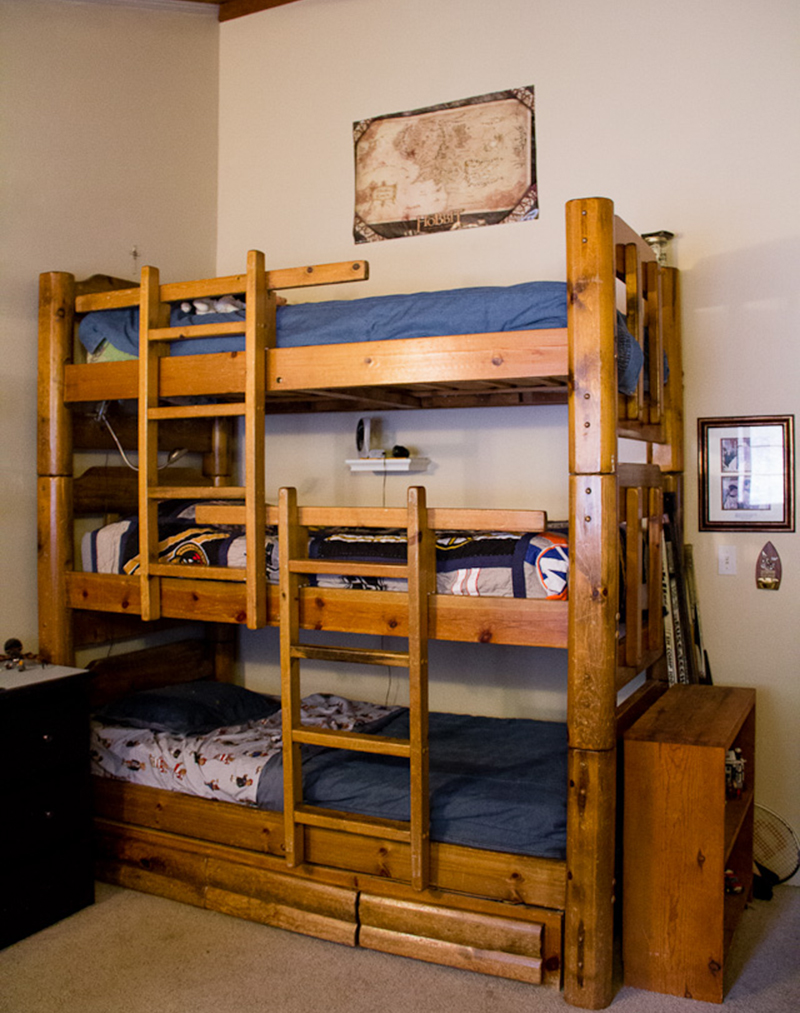 Here is another rustic triple bunk bed that will definitely liven any boys' bedroom! It has two straight ladders placed parallel to each other in different heights giving it character and interest.
13. Triple Bunk Beds and Hardwood Floors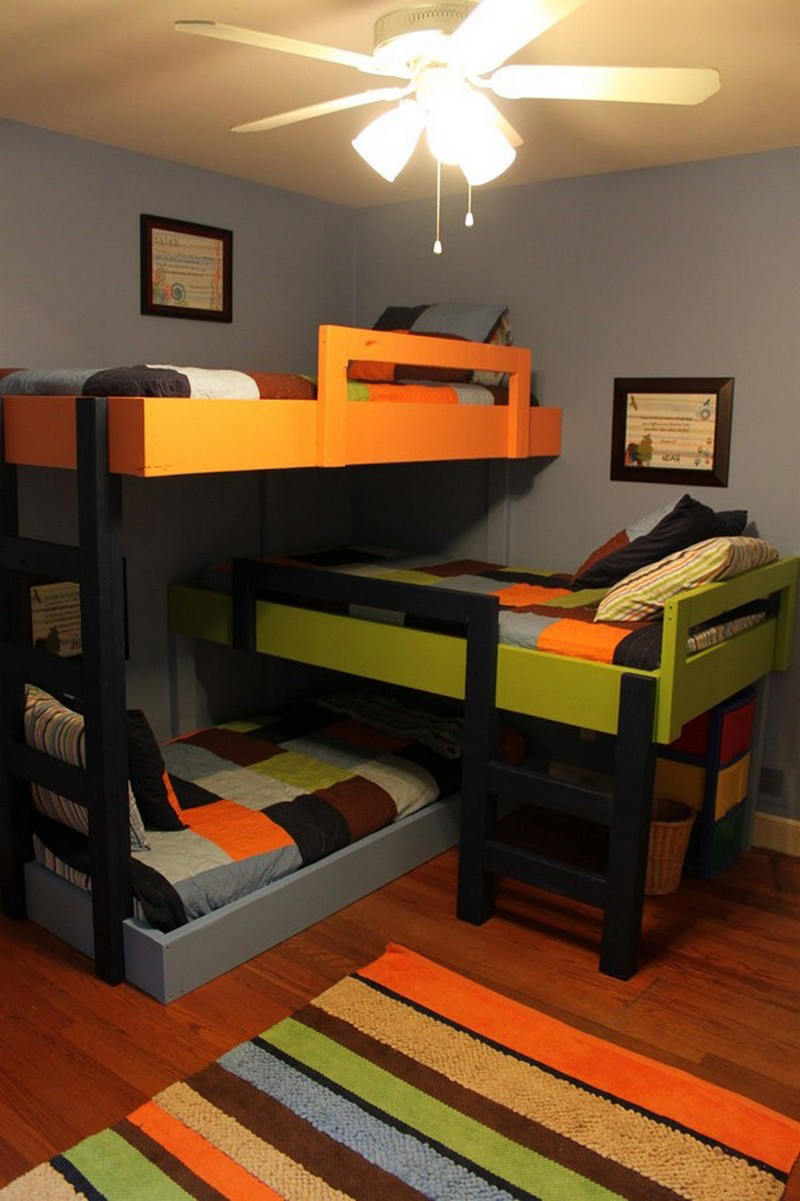 This is another do-it-yourself triple bunk bed that has a great history. The owner – father built the bunks while the boys painted their own bed with the color they wanted out of the bedding that their mom got for them. I must say the colors on this bunk bed are amazing! It is bold, fun and full of character. I am sure you will agree with me that it must have been one of their fun and best memories they will never forget.
14. Kid's Bedroom Set – Red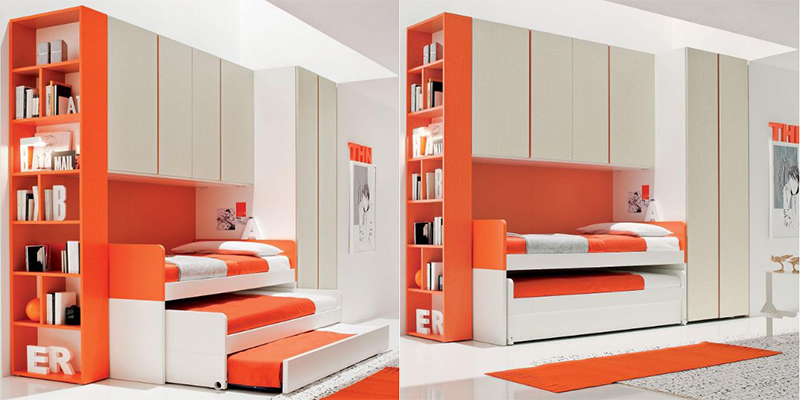 Alright! Alright! This is really not a bunk bed but a triple trundle bed. I included this on my list for those who have lower ceilings. It would be impractical for them to get a bunk bed and the child on the top bunk would be too uncomfortable to move. This triple trundle bed is a great solution for that problem. This contemporary bedroom set includes bridge wardrobe and tall bookcase too.
15. Triathlon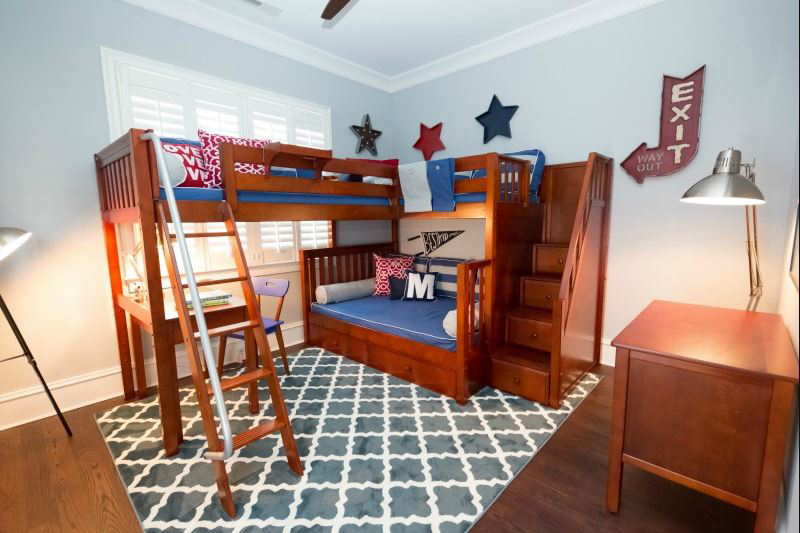 This bunk bed has great details! You will have a corner twin, two on the top bunk and a full-size bed at the bottom. It has a ladder and a staircase with drawers for added storage.
16. Composition Nº 9 – Macral Design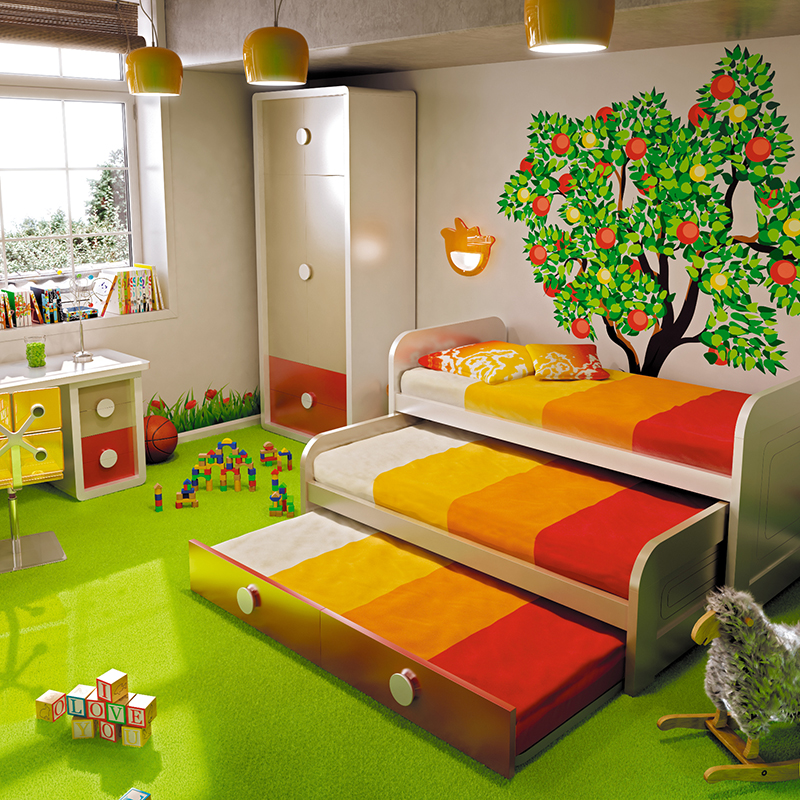 Make your guest room or your children's shared bedroom stylishly modern and comfortable with this triple trundle bed. The bottom trundle could be used for another bed space or storage unit.
17. Cadee Twin Over Twin Bunk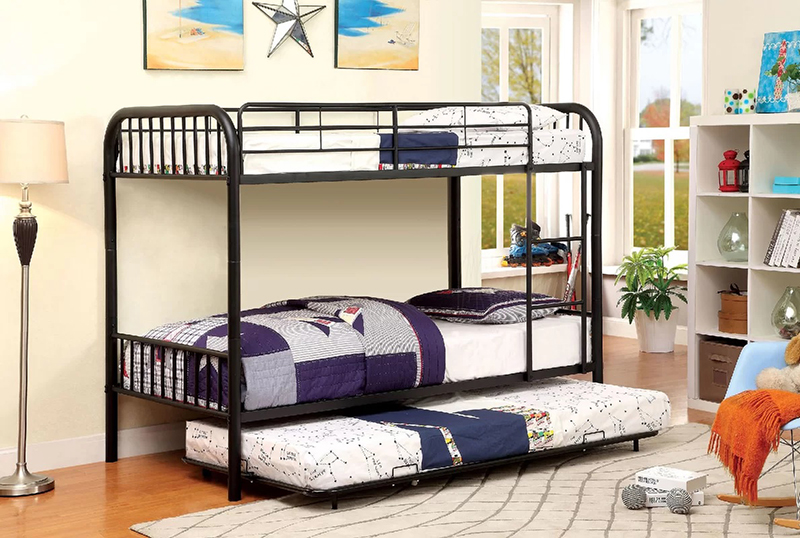 Are you looking for a modern minimalist bunk bed look for little angels? Look no further, this bunk bed is right for you. It has a straightforward look that is perfect for any minimalist interior and would definitely lend a sophisticated touch to any space.
18. Cosmo Twin over Twin Bunk Bed with Trundle and Storage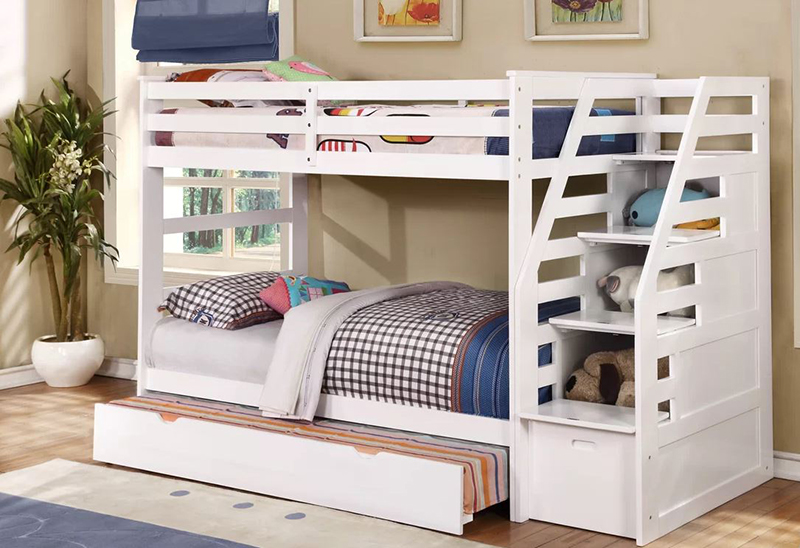 For those looking to match their shabby-chic interior, this bunk bed is the perfect fit. With its white finish and sturdy look, this bed does not only ensure your children's safety but it will also provide the fun yet dainty look any girl would love to have. It has also storage cubbies on the steps for more storage options.
19. Chaparral Twin over Full Combo Bunk Beds Rich Espresso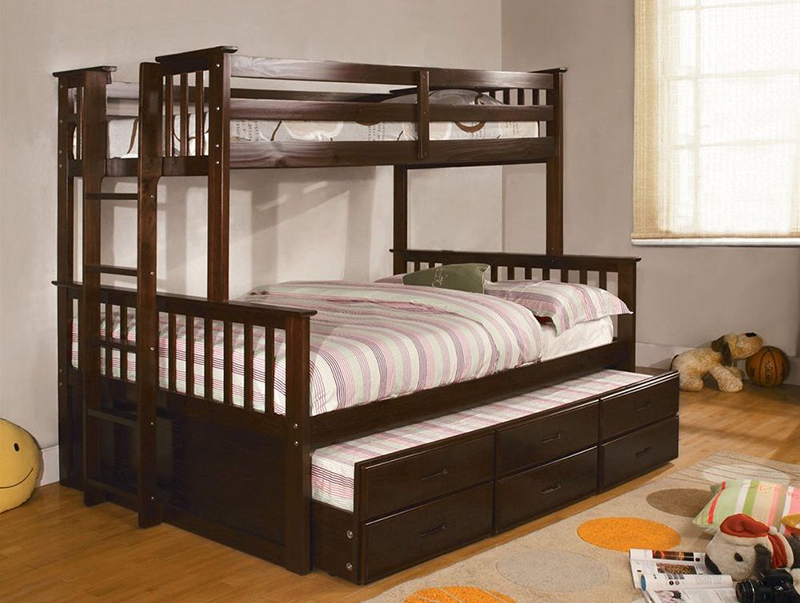 This gorgeous bunk bed in rich espresso finish provides warmth, style, and comfort to any kid's bedroom. Its end ladder and Euro slats add punch and character to this furniture. The trundle bed has three under bed storage drawers great for stashing toys and other belongings.
20. Chesterfield Tufted Velvet Bunk Bed With Trundle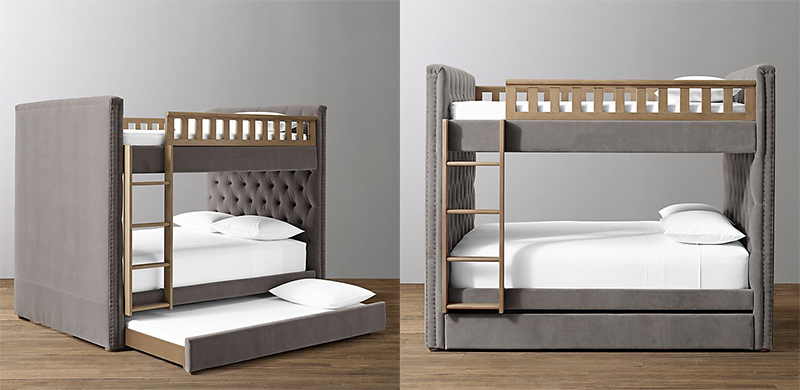 This bunk bed offers a sophisticated, stylish and luxurious place for your children to sleep in. It has generous padding and deep hand tufting to ensure ample comfort and ease. This will look absolutely stunning in any children's bedroom.
Choosing the best spot for our kids to slumber is really tough. I hope I was able to inspire you on what to get for your children's shared room through this post. I know how the options here on the web can be overwhelming at times but to be honest, the real deal here is to make sure that whatever you decide to get will meet your current situation. Include your children if they are old enough in deciding on what bed to pick for their room. I am sure they are more than willing to help and give out their suggestions. It might take a while but I assure you whatever the result may be, if your whole family gets involved in making it, it would be one hundred and one percent pure fun.