21 Beautiful Wooden Dining Sets in Different Designs
Wooden furniture looks beautiful wherever you put it.
The most common material that we use for construction and for the home is wood. Aside from the structure of the house, it is used for the furniture and decorations as well. It also looks nice for the home's ceiling and flooring. Well, it actually looks great in whatever way you use it. Even when a house is made of concrete, it still looks amazing with wooden wall features and furniture in it.
Today, we are going to feature wooden dining sets that come in various designs. These dining sets can be used for dining areas that have designs from modern ones or even to traditional ones. But most dining sets in the list can be perfect for contemporary homes. You will notice also that some dining chairs in the list have cushions on it or have upholstered part for comfortable seating. Let us take a look at the roundup below.
1. Extendable Dining Table Nightfly Ebony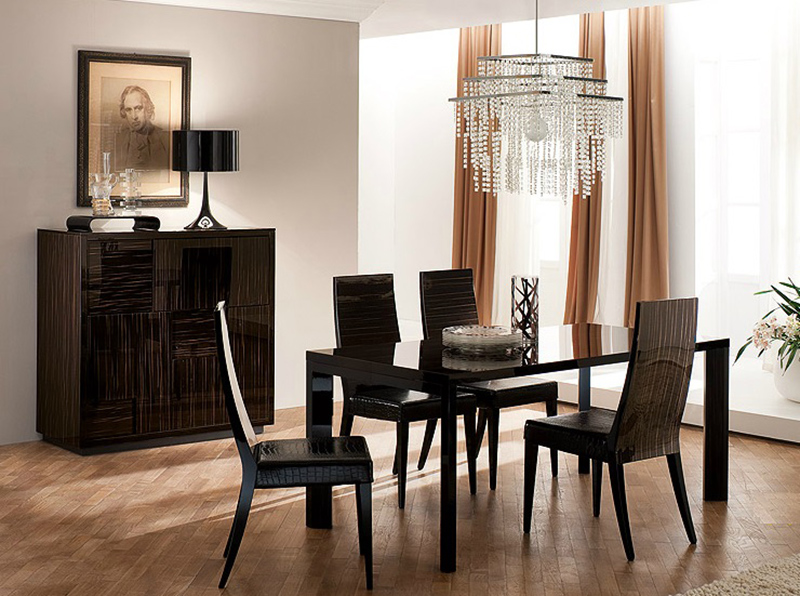 The curvy details of the dining chairs look beautiful and make this dining set unique.
2. Modern Dining Table FS-FS750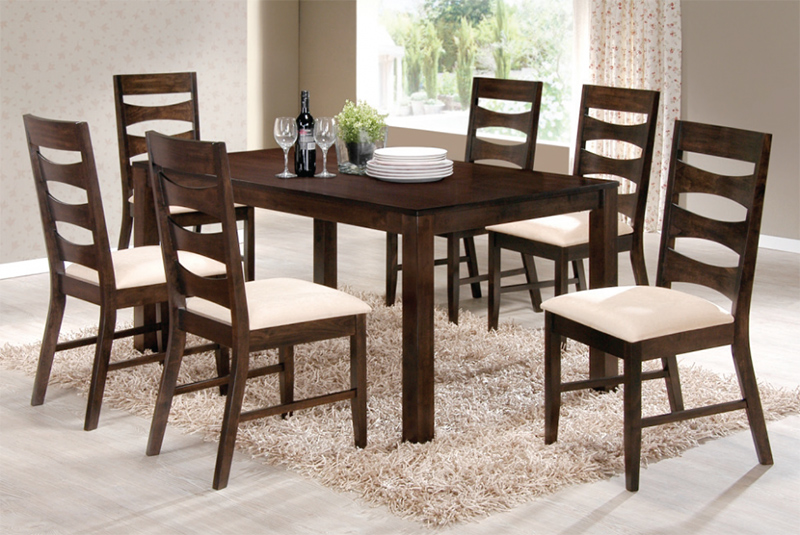 This dining set brings sleekness and sophistication to a dining room with is unique design. It is also durable and has premium quality and superior craftsmanship.
3. Pinecrest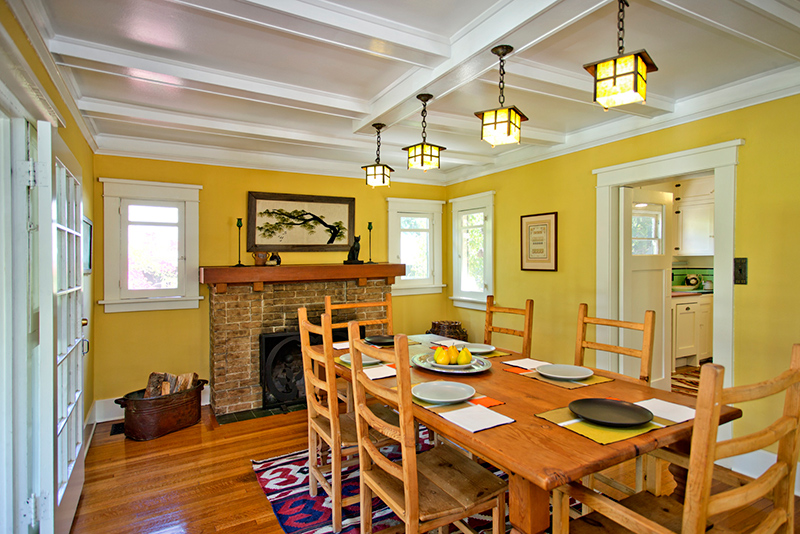 A simple dining area that has a brick fireplace. The wooden dining set compliments with the flooring as well as the fireplace.
4. Family Home – Hamstead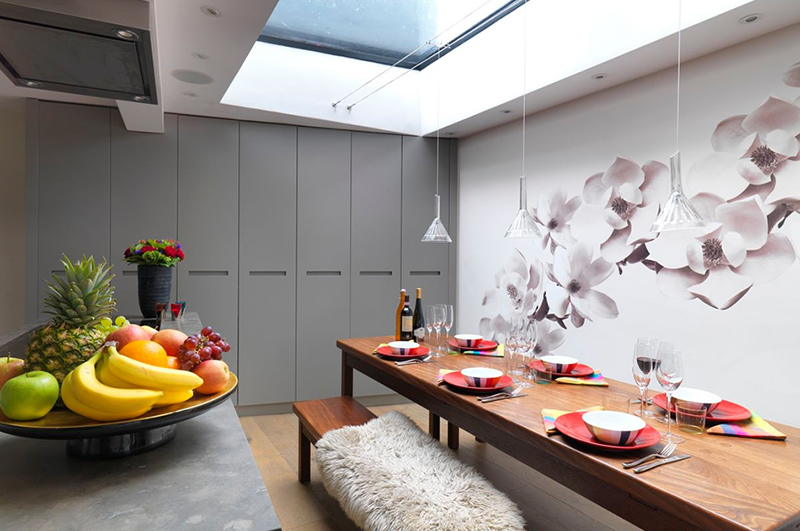 Aside from the long dining table, it also comes with two long benches which are perfect for group sitting.
5. Extendable Dining Table EF-Karma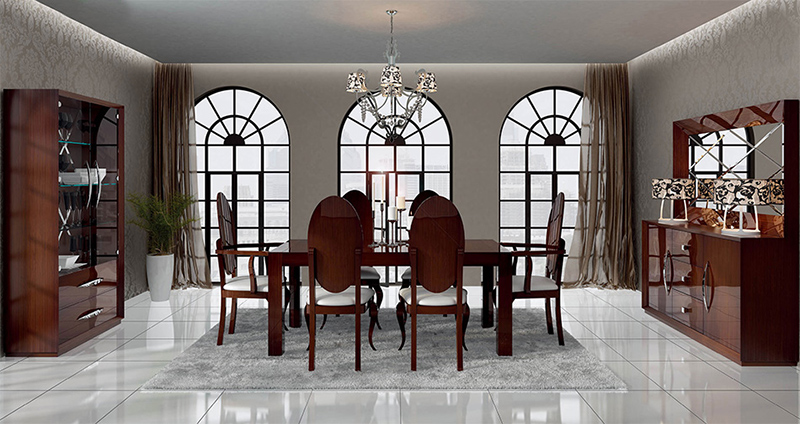 The dining room set features a really attractive design. Aside from its function, it can also decorate any modern or contemporary styled interior and will make the dining area gorgeous and luxurious.
6.  America La Vallee 5-Piece Round Walnut Dining Set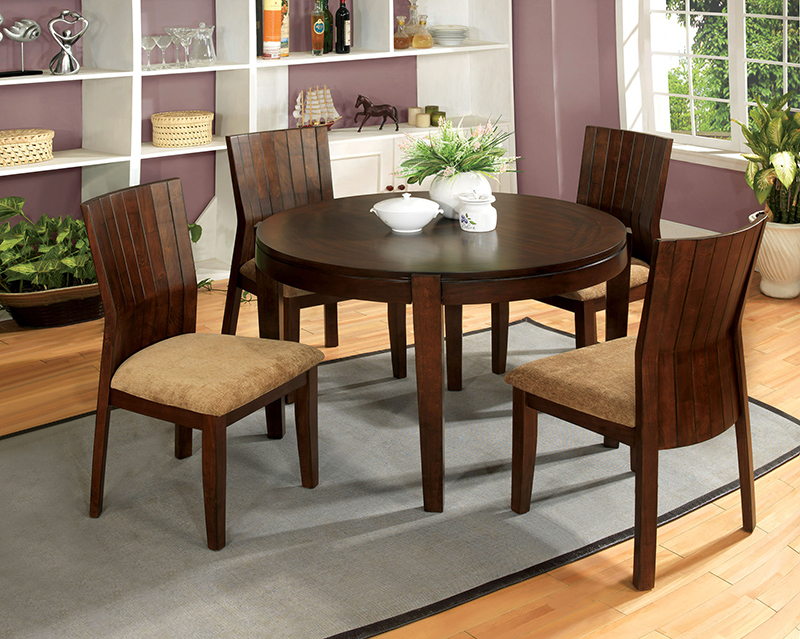 A transitional style dining set that features one round dining table, and four side chairs with padded fabric seats and slatted bent-back frame. It is finished in natural Walnut for a lustrous appeal.
7. Traditional Scandinavian Family Setting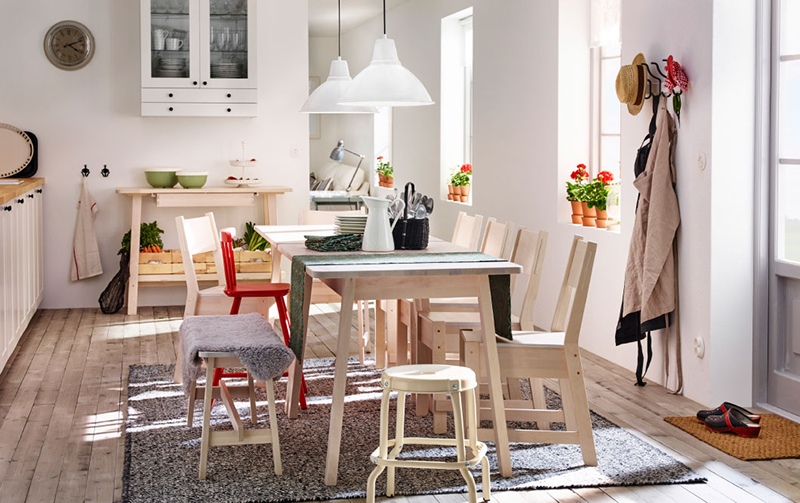 Anything Scandinavian looks really nice because of how calming and neat it appears. This color of the wood is just neat and relaxing to look at.
8. Charme Mahogany Dining Table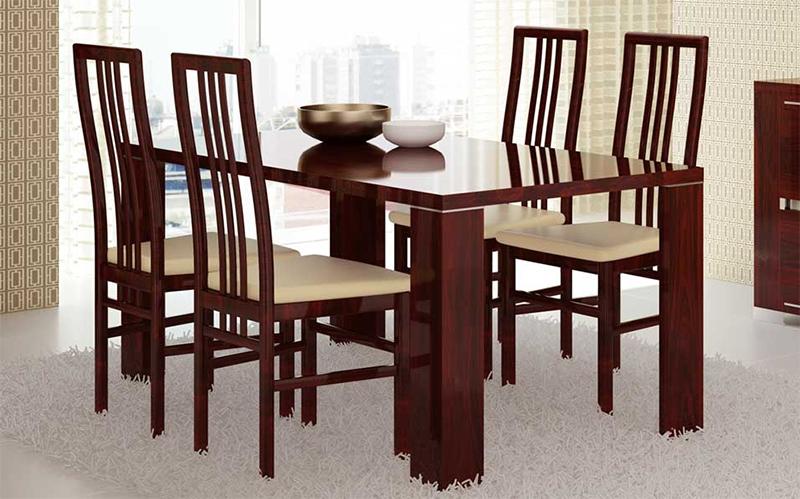 A high quality furniture with excellent design and elegant style which has superior ergonomic chairs.
9. Classic Italian Dining Table MCS-Pamela Walnut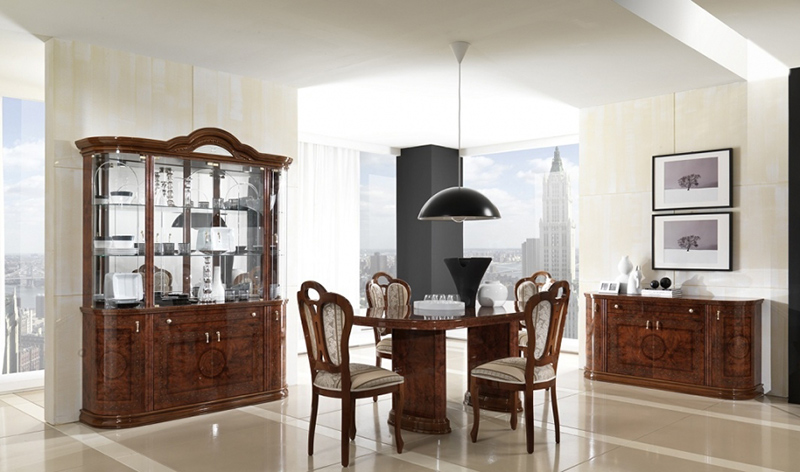 This dining set can bring elegance into your home. It used straight panels and veneers that are lacquered using a 6 steps/layers of UV high gloss polyester lacquer. This set has a traditional style with European influences.
10. Pilot House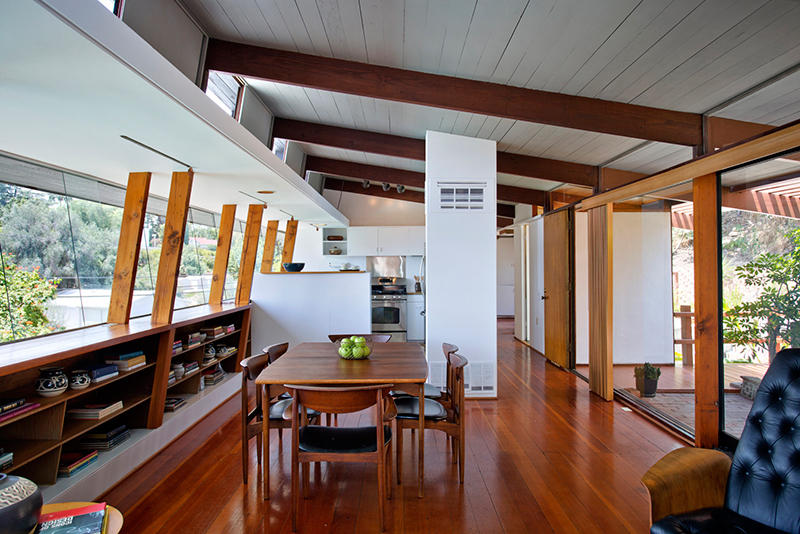 A contemporary home has a wooden dining set wherein the dining chairs has black seats that is a nice contrast to wood.
11. Hudson Square Dining Set With Dexter Chairs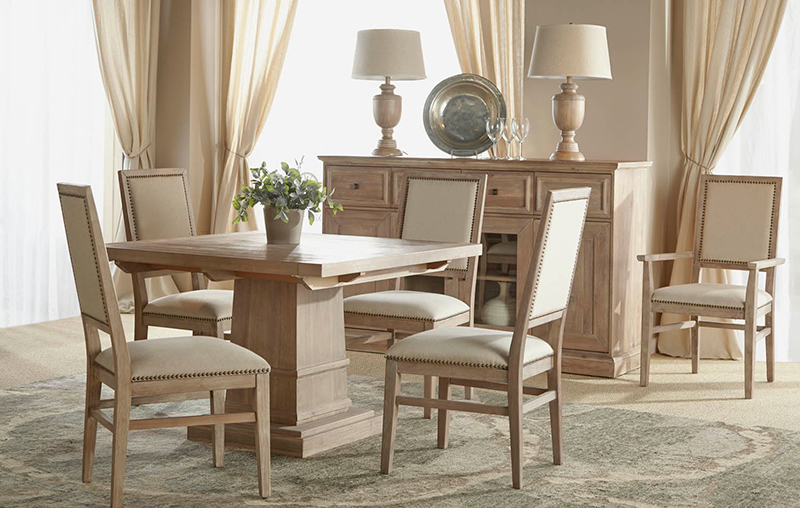 This dining set features soft lines and crafted shapes which make it functional and stylish. Its unique classic design is ideal for your dining room.
13. Uttara Duplex House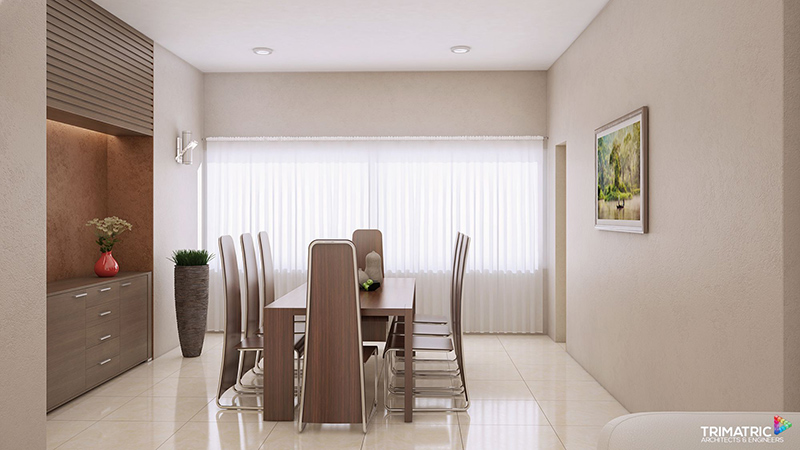 Who will not like the throne like dining chairs in this dining area? This is indeed the dining set that is perfect for a modern or contemporary home or to anyone who wants to bring in some royal appeal to their homes.
14. French Country Dining Set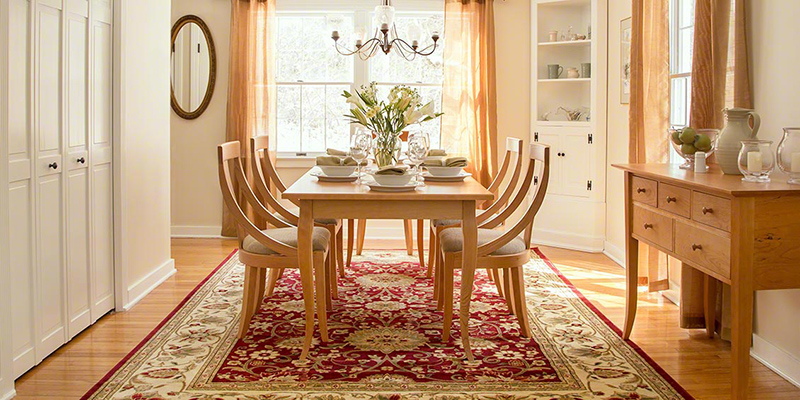 The curvy design of the chairs look really lovely matched with the legs of the table. This looks cute and stunning and would look nice in any space.
15. Custom Dining Table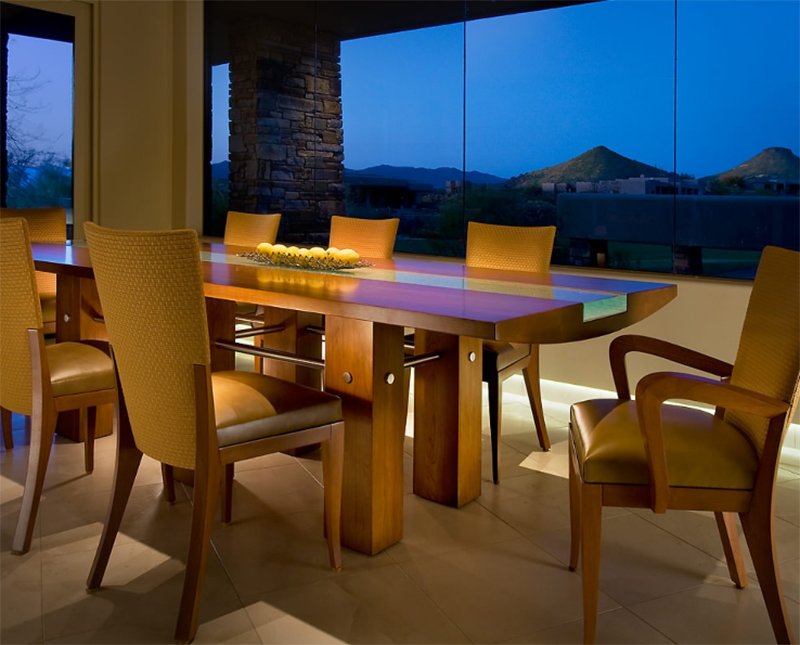 Isn't this a beautiful table? Its design is so unique wherein a void in the center has some sort of glass or transparent plastic in it. I also love the curvy design of the table. Notice also that the chairs used the same wood with the dining table.
16. Genus 4 Piece Dining Set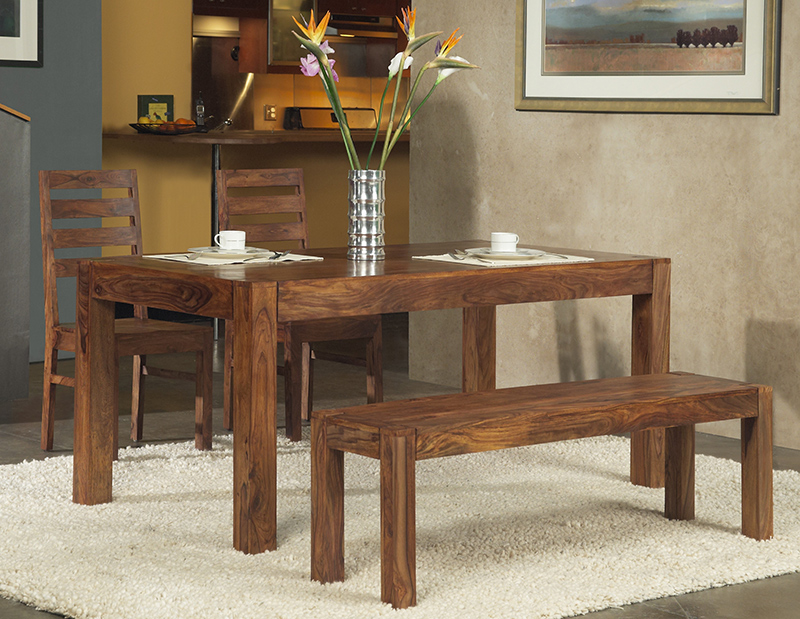 Just a simple dining area with two chairs and a bench for group seating. You can still see the grain of the wood in this dining set.
17. Swedish Fika for Two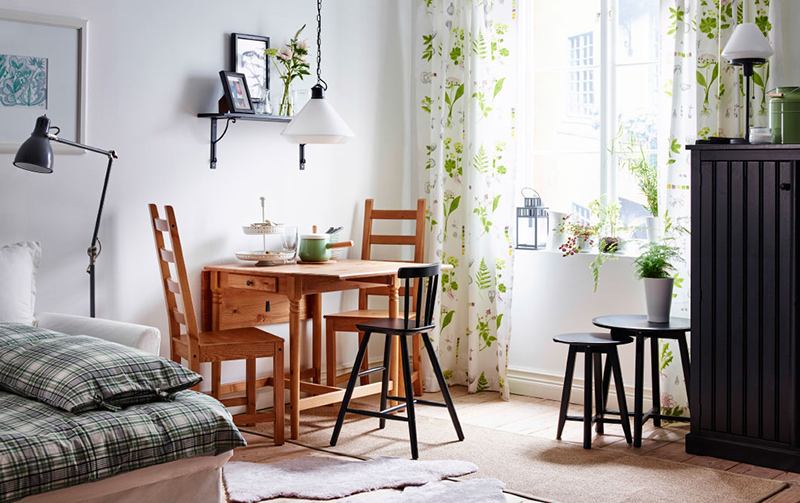 Got a small dining space? The this dining set will look great for your home. It is cute that the table has a small drawer on it and apparently it has a leaf that allows it to be extended when more guests come in.
18. 5 Piece Portland Solid Wood Dining Set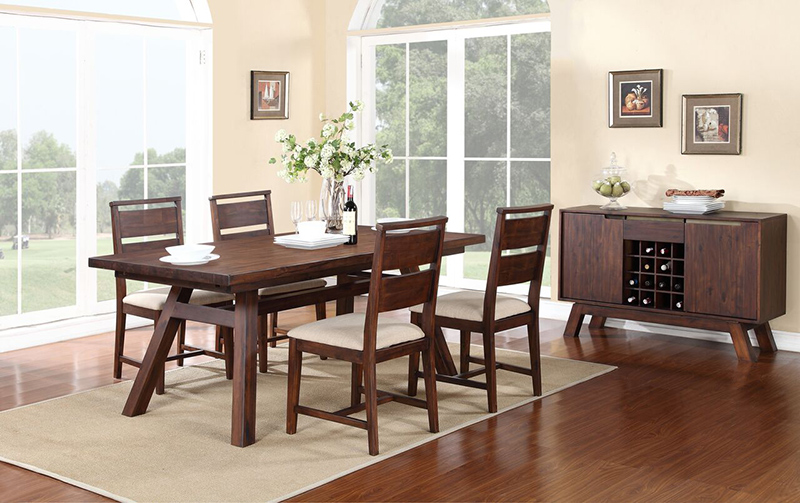 This may look like an ordinary dining set but it isn't. Its legs look unique especially that one side is angled while the other side is just straight.
19. Vermont Shaker Harvest Dining Table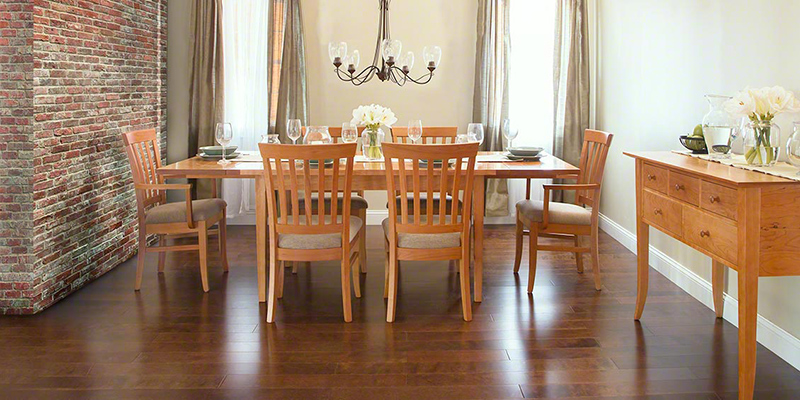 We see this in many homes these days because this design is a bit common. But the good thing about it is that it would fit in whatever theme and colors you have in your house.
20. Hudson Table Bench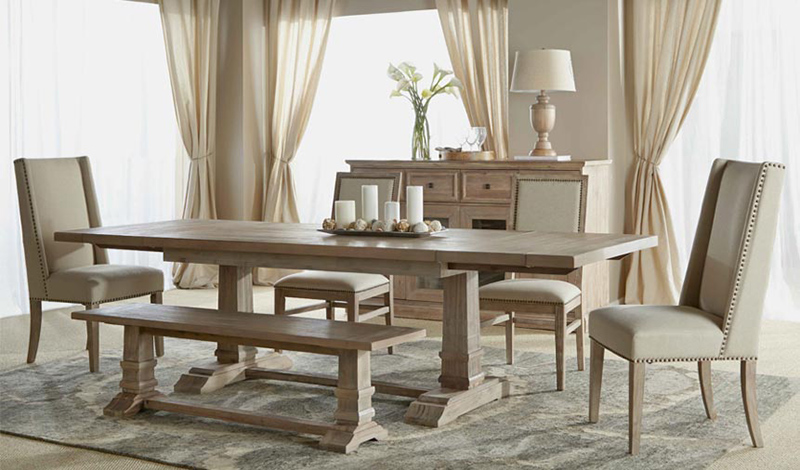 Don't you like the subtle rustic and shabby chic look of this dining set? it is nice that aside from the comfy upholstered dining chairs, there are is also a bench that goes with it.
21. Dining Room Shot for Four Seasons Delhi, India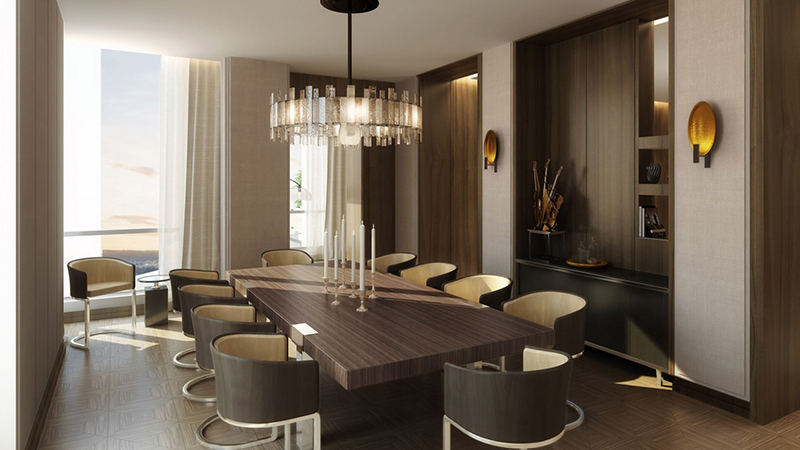 I like this one although the chairs are not merely made up of wood, it still looks good with the stainless addition to it. The dining table also compliments well with the chairs.
Wood really never fails. Whatever is the kind of finish and whatever is the design of the furniture as long as it is wood, it would look really nice and I know that you will agree with me in terms of this one because aside from the above images, you have also seen how beautiful wooden furniture are. The wooden dining set above can even fit to a modern space to a traditional home. Which of the above dining set do you like best?