20 Gorgeous Bedrooms with Glass Night Stands
Glass night stands could add glamour to your bedroom.
There are tons of materials seen in the market that will be a perfect choice for an awesome night stand, but with all that I have seen (so far), I think that glass or mirrors are the best ones. They come in different pairs, like wood and glass or maybe plastic and glass – but they pretty much show awesome promise for the night stands that we have today.
Below is a list of 20 Gorgeous Bedrooms with Glass Night Stands that I think you would love. The designs may somehow look similar to one another yet I think each one stands out because of the manner they were accented with other beautiful things which made it perfect. Check out the awesome bedroom spaces below and tell us what you think about each one – the bedrooms and the night stands!
1. Austonian Private Residence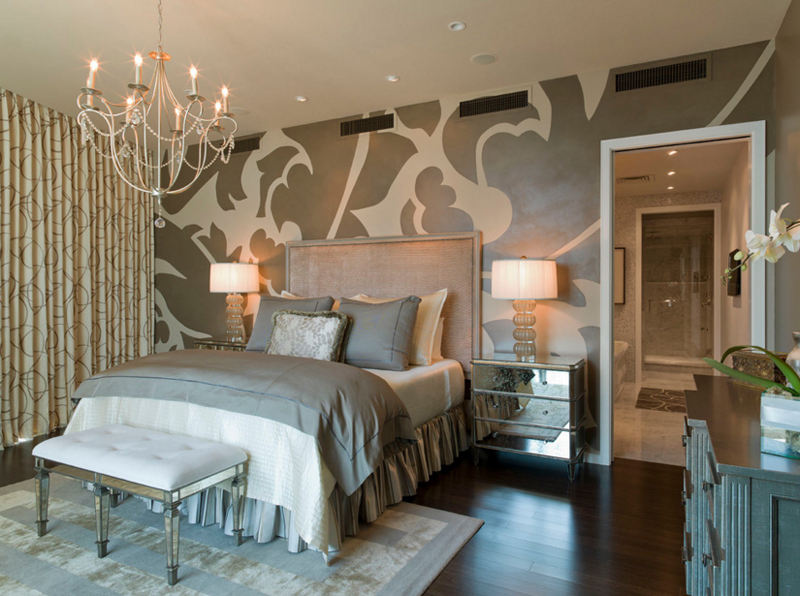 This beautiful bedroom has the makings of a great space. The materials used in this one are sure looks expensive and well-chosen. What I love in this bedroom is the chandelier, the chair at the foot of the bed and of course the glass night stand.
2. Brash Pad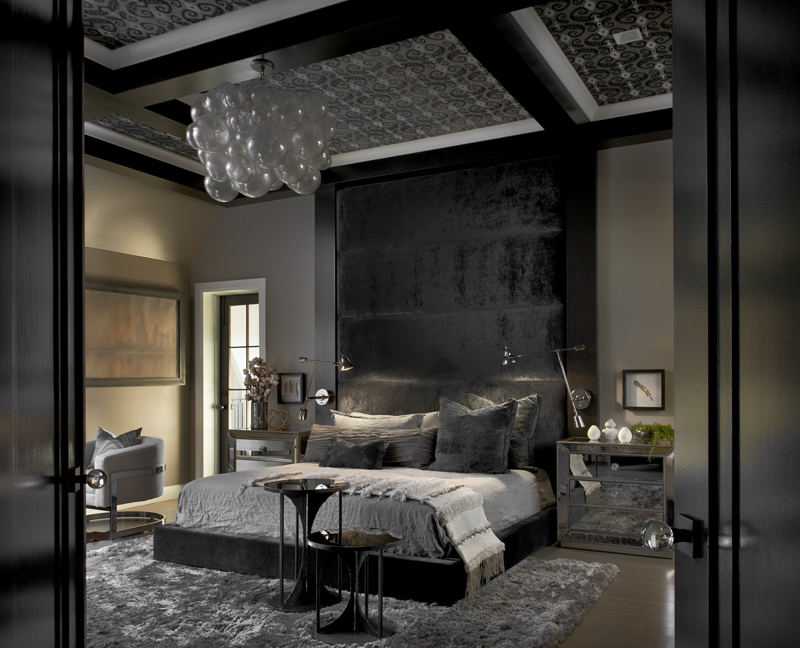 Aside from the colors used in this bedroom, I think the chandelier is interesting and fancy too. I mean, I think everything in this bedroom is fancy and really awesome pieces – what do you love about this bedroom, though?
3. Canyon Ranch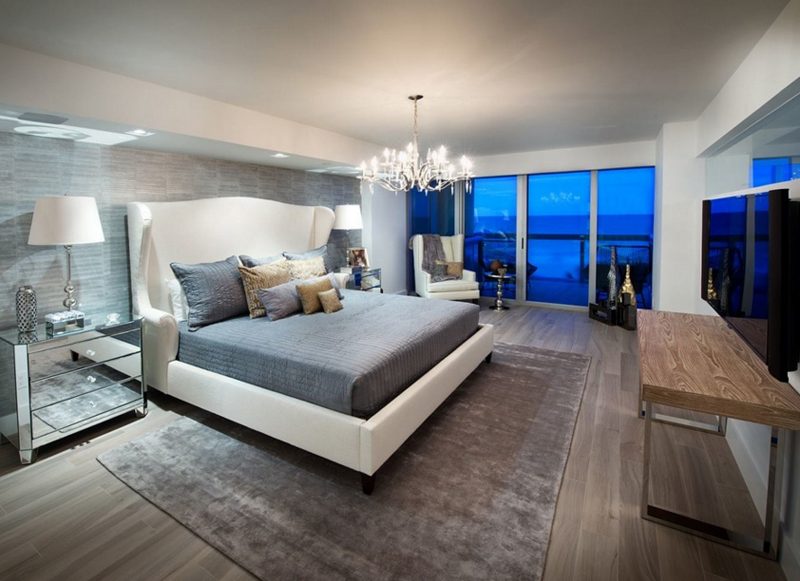 A stunning bedroom with the best pieces of furniture – the bed, the night stands, the armchair and the table below the television. I love watching movies and sitcoms (old ones) but I'd prefer if I didn't have a TV in the bedroom, I'd love to really just have my bedroom for sleeping.
4. Charming Modern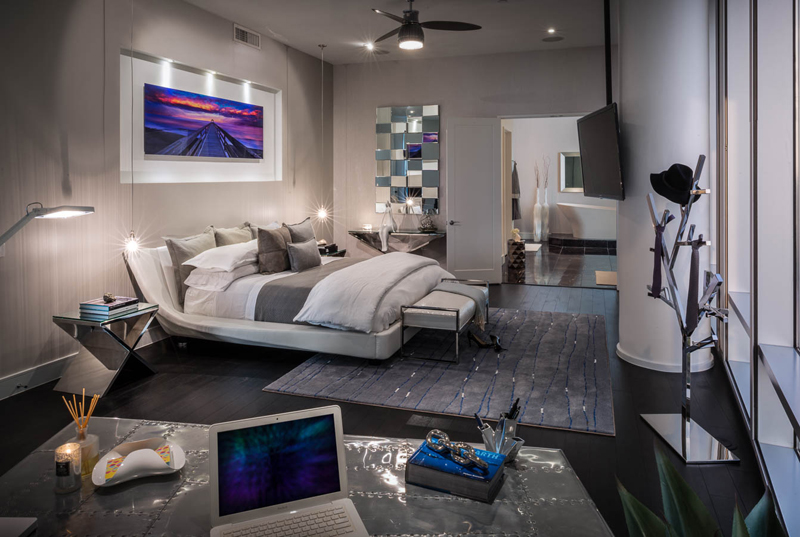 This modern bedroom is absolutely gorgeous! The lighting and the pieces of furniture will take you to the next level. The hat stand adds to the eclectic feel of this bedroom. The silver theme in this bedroom also ups the modern and techy vibe. The geometric shapes and modern pieces in this bedroom make me feel as if this is from a room in the Capitol in Hunger Games.
5. Chelsea II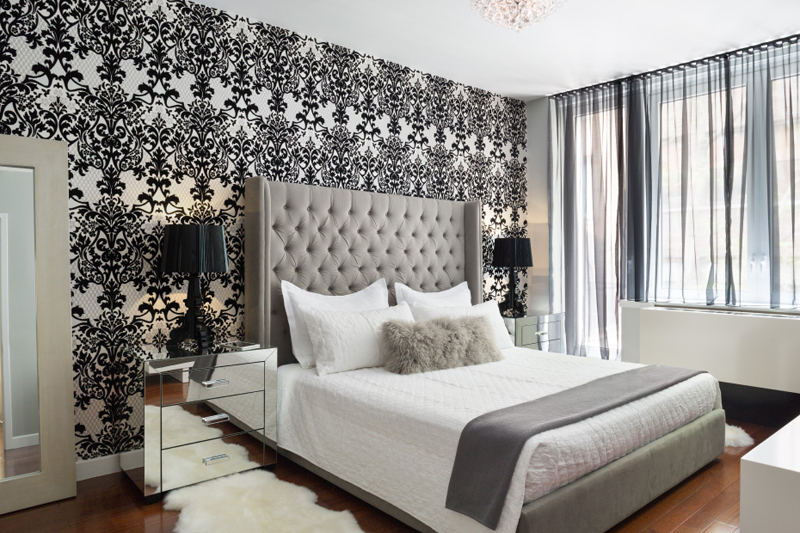 The monochromatic colors in this bedroom are absolutely stunning and the grey accents are really lovely! Although another design for the wallpaper might do additional tricks in this bedroom, this bedroom is still adorable. These nightstands are also unique because they seem to camouflage amid the muted tones and accents in this beautiful bedroom.
6. Contemporary Comfort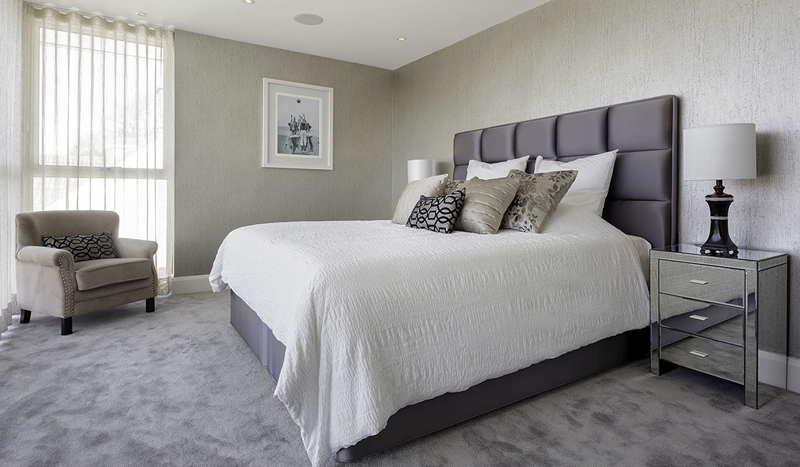 Another beautiful bedroom with a similar mirror-type nightstand. The lamp shade looks as if it's just floating on air. Nice camouflage tricks right there, don't you think? Also, these colors are really lovely for me since they are pleasant to the eyes and are not too loud. The grays and silvers go along with the bed and this three-tier night stand. Stunning!
7. Cranbrooke Residence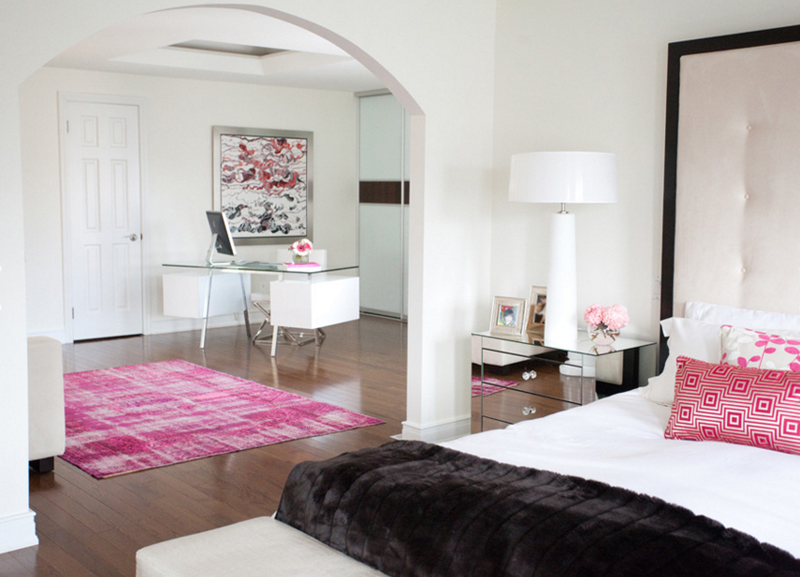 This space looks nice and somehow gives off a minimalist feel to it. The white walls make the bedroom more spacious and the pink and red accents are just enough to make the room feel more alive and vibrant. This gorgeous space is simple and chic.
8. Chelsea Loft Residence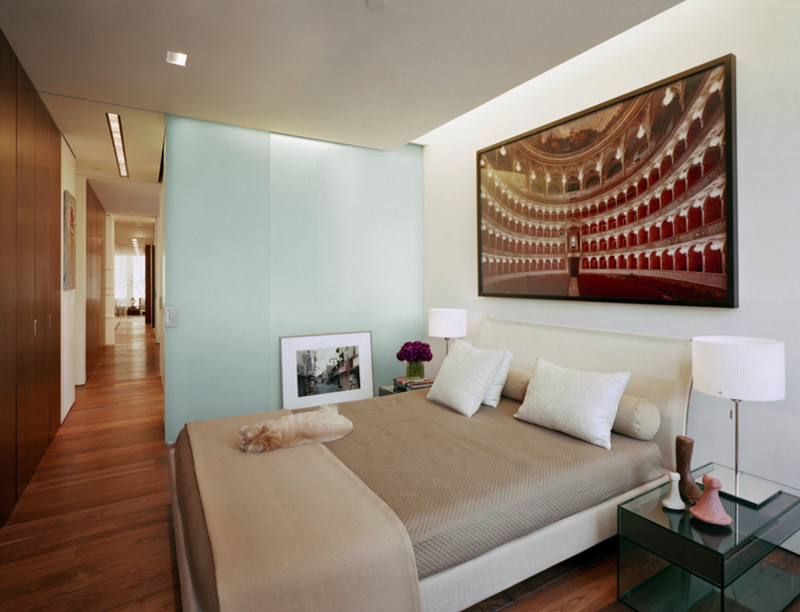 I think a glass night stand like this is really a good idea, although it might remind you of an aquarium, it really is a nice idea because it's transparent and perhaps additional space! If you plan on putting some books or objects inside, looking or searching through them is an efficient task. The colors and decors in this bedroom are really cool! The wooden floors are lovely and they really go well with the rest of the color choices in this bedroom.
9. Fifth Avenue Residence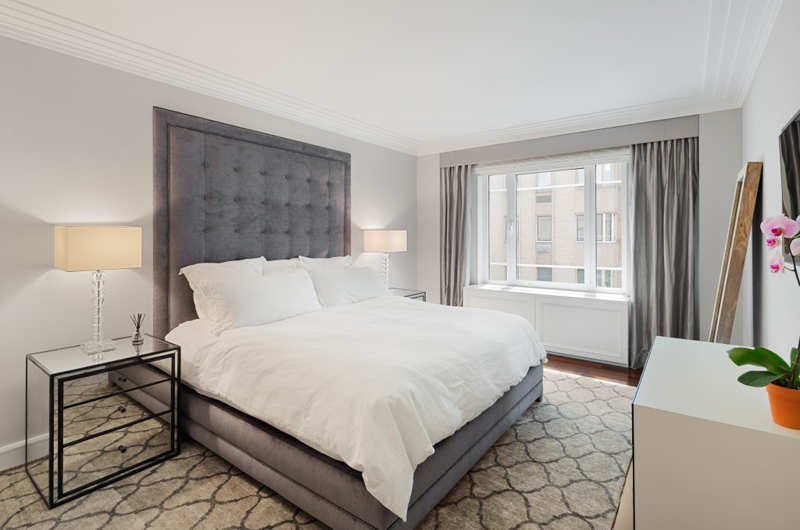 Another cool addition to this awesome collection is this bedroom right here. Not too many decors and accents but still a very gorgeous bedroom. The headboard may be a tad too high but well, it's grey so works great for me. The glass night stand is also nice and the black outlines work just right.
10. Haloszoba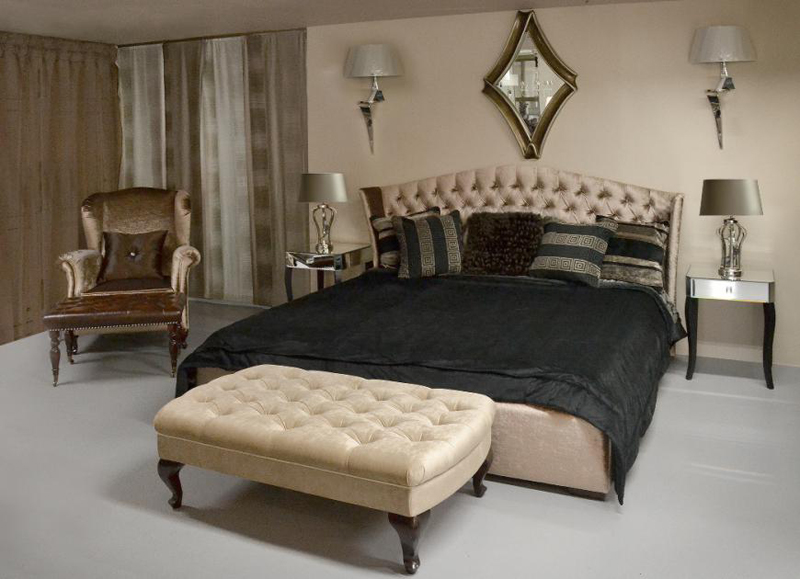 A bedroom fit for a king (or a queen). The plush pillow and upholstered furniture remind me of luxurious living of royalty. The colors are really nice although the glimmer from the decor and the other parts of this bedroom might be muted down a bit, I guess? But overall, still a gorgeous bedroom.
11. High Rise Living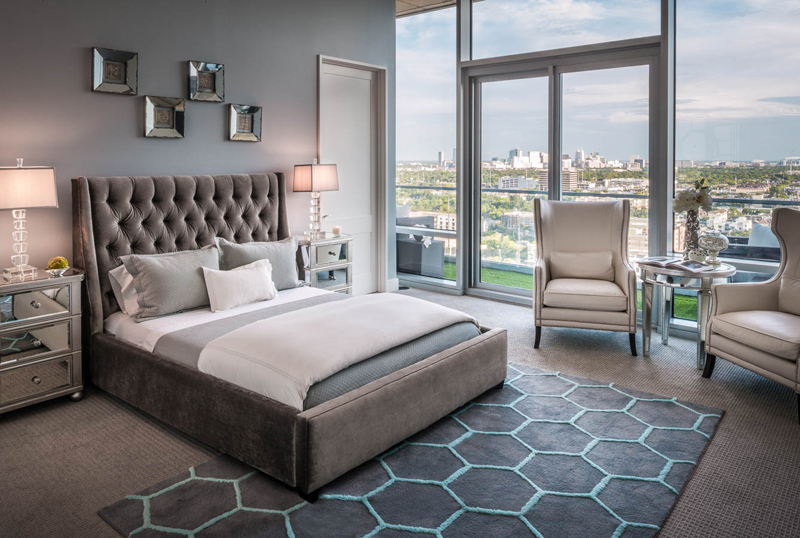 The view is great, the colors blend well, and the effect is surreal! The geometric patterns in the carpet remind me of honeybees and changing it may not be too bad an idea. Overall, the grey and silver colors as well as the beiges from the bed cover and couches are really gorgeous!
12. Oceanfront Penthouse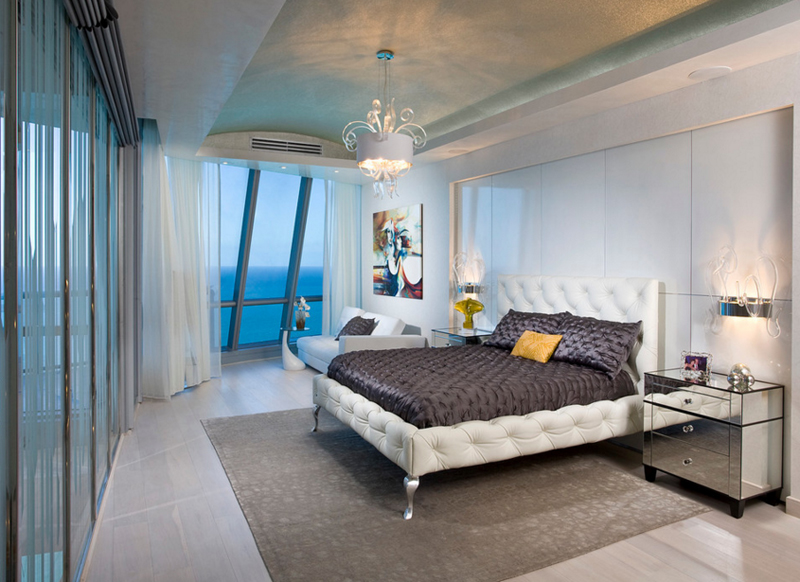 With a beautiful bedroom like this one, I think you'd agree that anyone would love to have a portion of this space to themselves. The white walls, ceiling and floors allow to make this bedroom seem bigger than it is – and that is optical illusion, my friend!
13. Living Luxury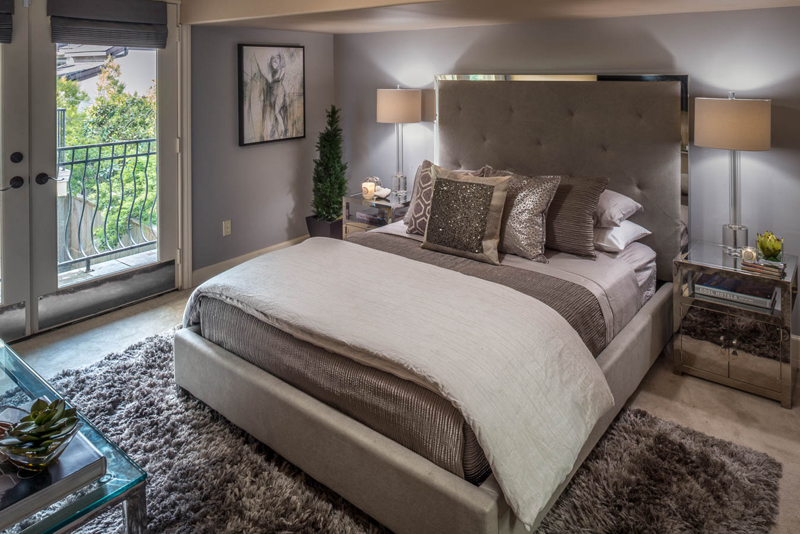 The walls of this bedroom is either bluish-grey or light purple, I can't really tell; but from the looks of it, and I am certain, that this contemporary bedroom in fact showcases and defines living in luxury. If this bedroom was bigger, I think it would be great, but this one in itself is already super!
14. Project 10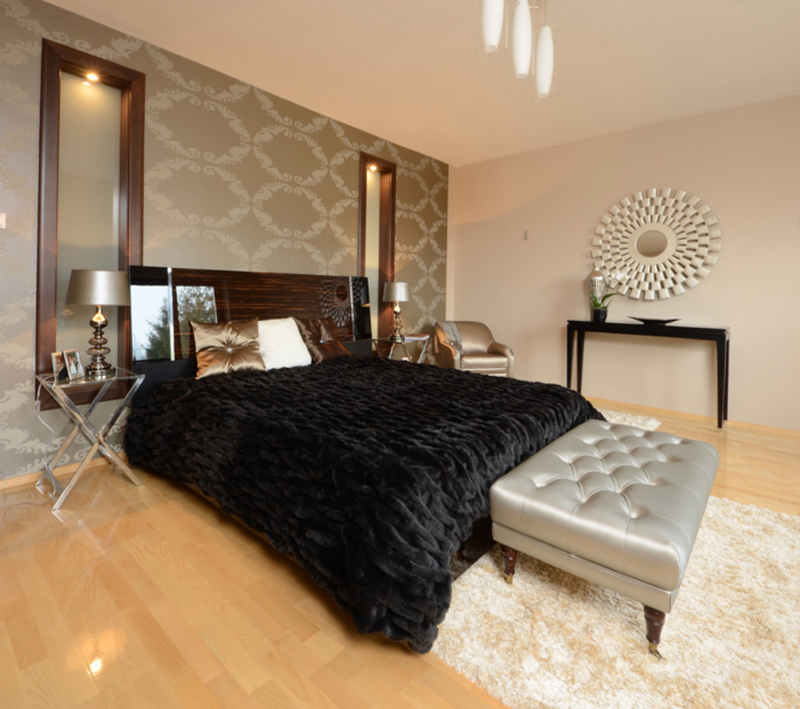 So, okay, this bedroom is not in here because of the sunburst mirror, but why don't you take a look at the slender night stands that are on each side of the large awesome bed. Personally, I like the wallpaper and the recessed mirrors on the wall, how about you?
15. Refined Hand-Hewn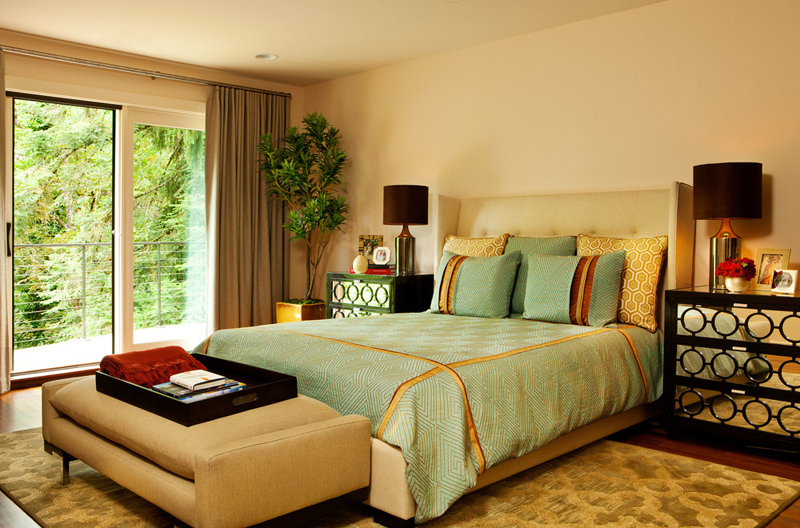 What do you think about the stunning night stands in this bedroom? The rectangular design with all those circles in front of the mirrored glass is a classic design which I think really sells. As a student of Architecture – spotting the prettier decorations and furniture is one of our favorite things to do.
16. Rivercrest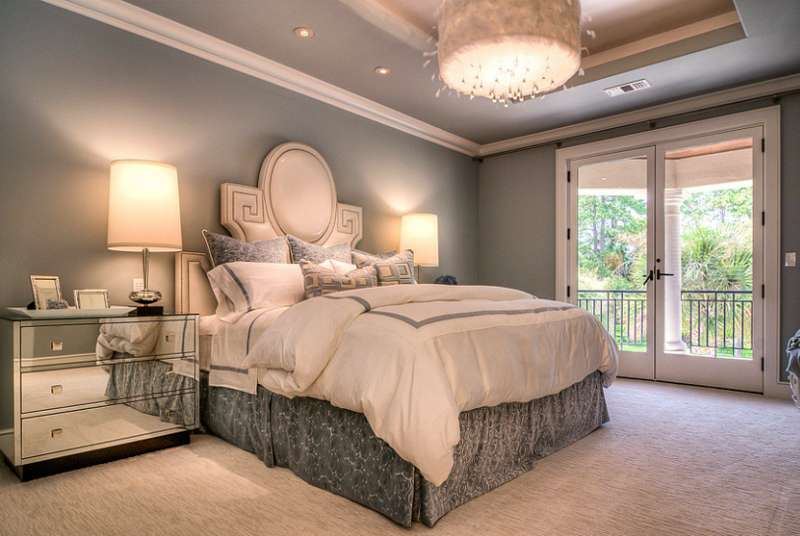 I really love the name of this place – it feels rich and really classy. Take a quick look at this room and see that this is in fact full of sophistication. You see a beautiful, large bed, a unique piece of chandelier and those charming night stands with their identical lamps too.
17. Sibley House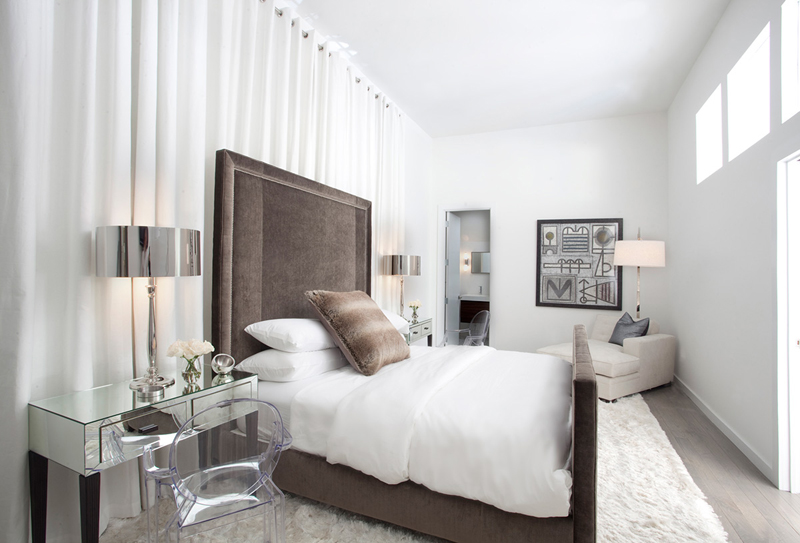 When we search for contemporary bedrooms, this is one of the few examples that comes out – something with a pretty bed, a perfect chair and awesome night stands and lamps! Awesome space, right?
18. Teal Glam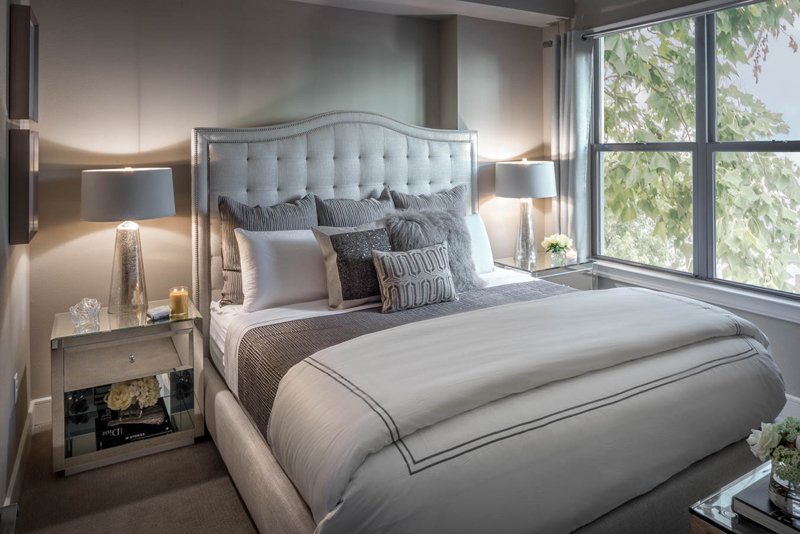 The table lamps beside the beds are somehow related or similar with the night stands – they're a bit silver and well, 'glassy.' I like how some spaces like this one can actually be really small but have absolutely awesome staging and all that. Awesome furniture and awesome set up! I just love it!
19. Thompson Home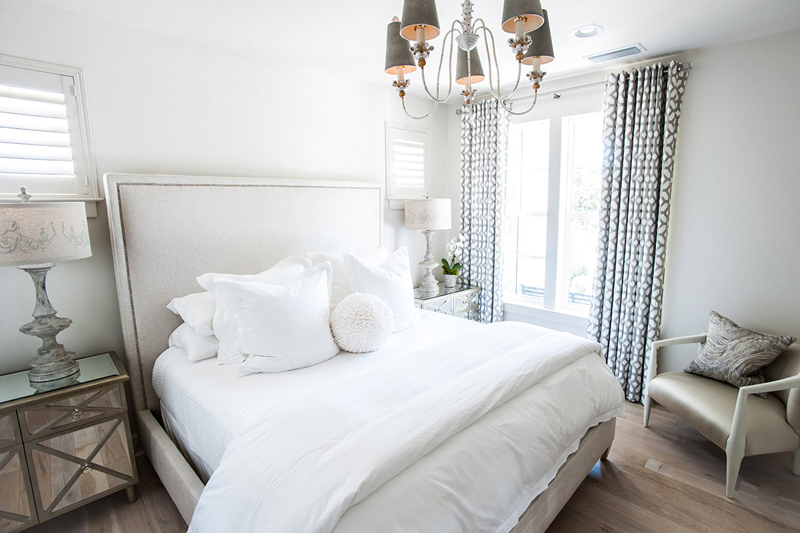 Wow! Just wow! This is one heavenly bedroom in white! It's nice that they added shabby lamps on top of the glass night stands and the printed drapes on the window; also, it's great that this bedroom actually has wooden floors that contrast with all the white in this space.
20. Upper Kirby Residence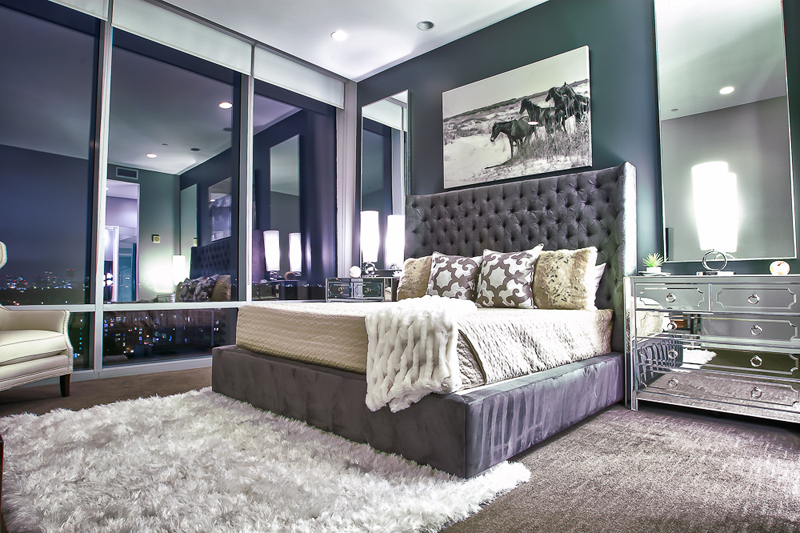 Last but not the least, this bedroom in purple everything on everything. This bedroom is definitely a charming space to begin with, plus when they added the furry area carpet and the glass night stand, this bedroom became too awesome!
So, have you seen the list about the 15 Shimmering Square Glass Dining Room Tables? They sure are pretty, people surely shared it and I totally loved it. If you like this list of 20 Gorgeous Bedrooms with Glass Night Stands, you should share it too! I surely hope that you loved this list for you to actually share it with your friends. More on Home Design Lover!