Kid's Bedroom Furniture: Space Saving Bunk Beds
A bunk bed is a type of bed in which one bed frame is stacked on top of another. The nature of bunk beds allows two or more people to sleep in the same room while maximizing available floor space. This results is using smaller space while giving enough area for two or more people to sleep on it. Bunk beds are not just used by adults but also by kids. This is usually used by homeowners who have two or more kids but have small bedroom space.
Bunk beds are also known as double-deck beds. Kids are oftentimes excited to have a bed like this especially that they have to climb up in order to get to the upper area. They also consider their beds as a play area aside from being a sleeping area. That is why some bunk beds are creatively designed to accommodate the kid's desire to play and to own a bed that would fit their likes and tastes. So, today, let us take a look at some bunk bed designs for your children.
Bebop Pink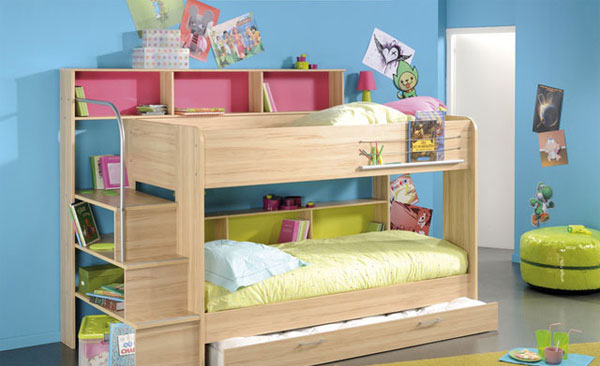 This bunk bed would please kids since it has storage areas under the bed and also open shelves for books and other items. You can also notice that even under the stairs, there is a storage space.
Boys Blue Green Tent Bunk Bed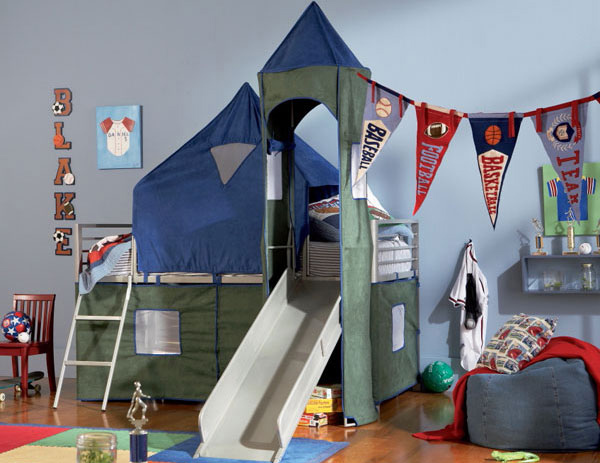 Mix play time and sleep time with this tent bunk bed. Your little boy will surely enjoy having this kind of bed where he can both rest and play.
Cottage Bunk Bed White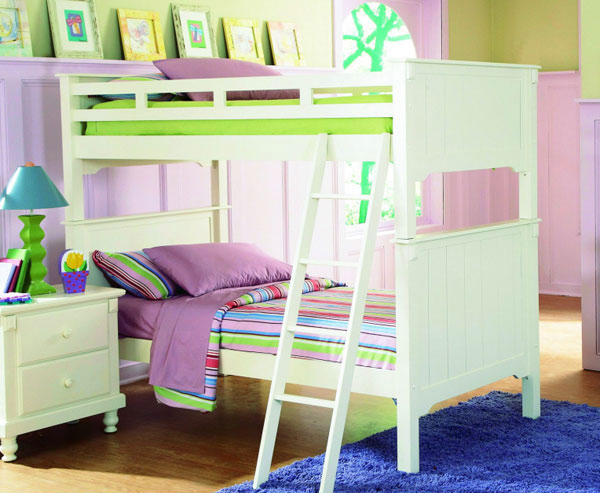 A simple looking bed with feminine fabrics that would look good in your girl's bedroom.
Hannah Twin Over Full Bunk w/Storage Options Bedroom Set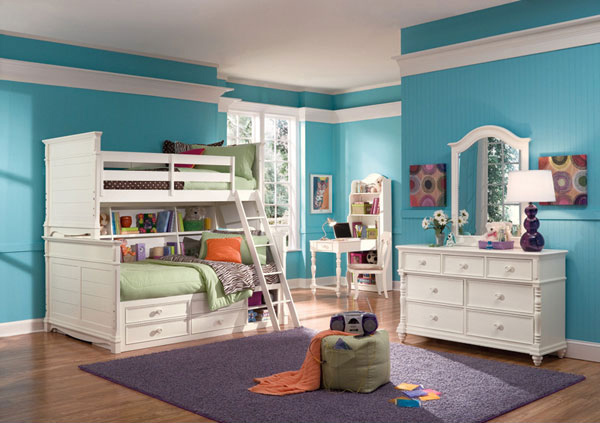 A full bunk bed on the lower area is used here including a storage space under it.
Kendall Twin Over Full Bunk Bed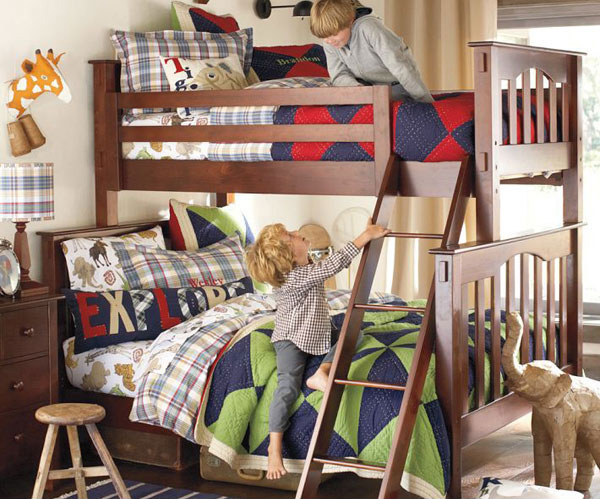 Your twins will love this bed which is not just comfortable but also nicely made.
Hometown Twin Over Twin Bunk Bed Bedroom Set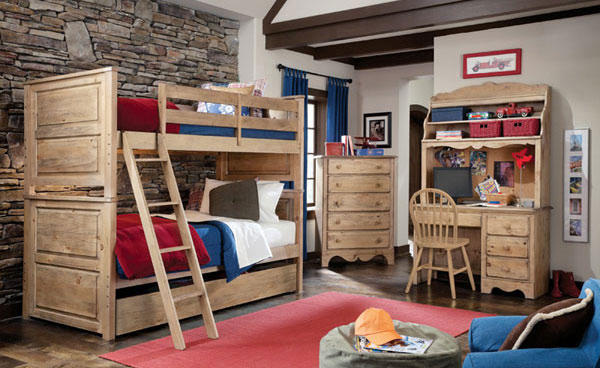 If you want a classic touch to your children's bedroom, this bunk bed would fit in.
Montana Single Bunk Bed with Storage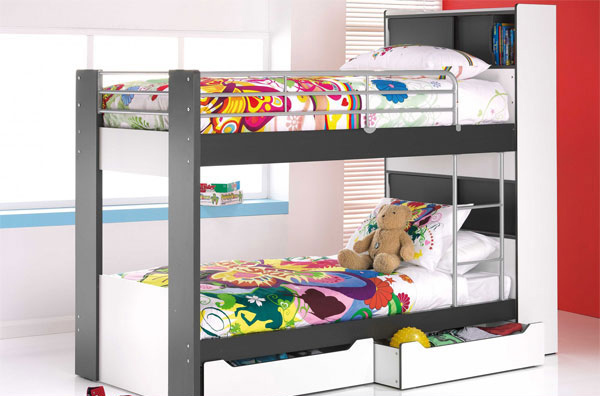 With its sleek lines, this bunk bed gets a modern touch with concealed storage compartments in the headboard. Under-bed storage drawers offer even more space for hidden treasures.
Thuka Football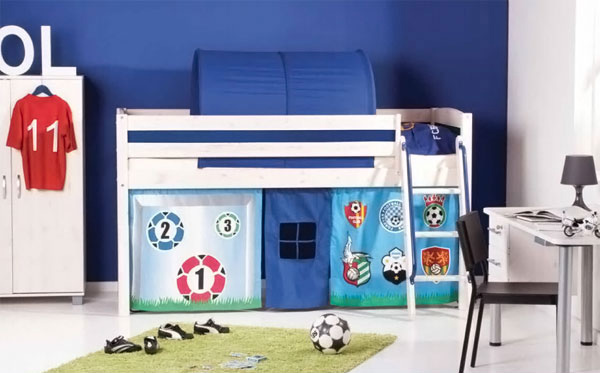 Football themed bunk bed that would suit to your little boy.
Trio Bunk Bed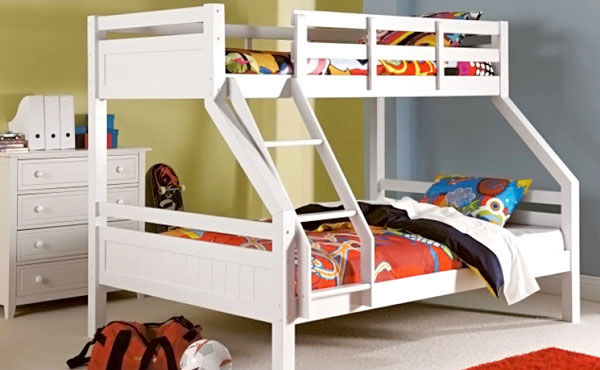 With a simple design, this bunk bed would fit a room of minimal design.
Thuka Princess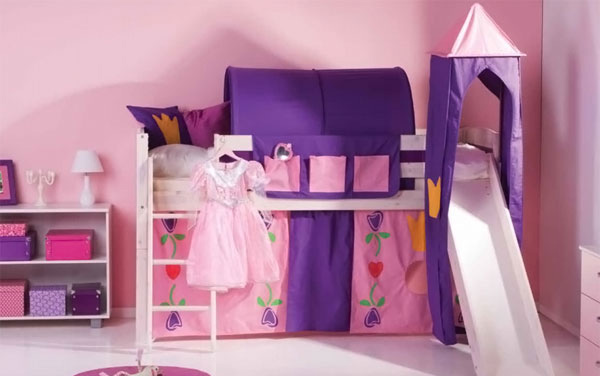 This one is for your little princesses with pink and violet shades in a castle like bunk bed.
For sure your kids would love to go to bed if theirs are as comfortable and well-designed as the ones above. So, if you choose for a bunk bed for your kids, make sure that it is not just any ordinary bed. Show them how loved and how special they are by giving them beds similar to this collection. You can also try to decorate their bedrooms and be guided with our tips in decorating kid's bedroom.