Boost up your Interior with 20 Ideas of DIY Furniture Transformation
Are you tired and bored of that old furniture? All you got to think of is to throw it away to the junkshop or just leave it rotten. Stop, look and read! You might regret throwing away discarded furniture not knowing that they are still very functional. Well, why not try to think outside the box. I mean conceptualize things in different way and you'll get to discover amazing transformation. And of course by repurposing your old furniture you are at the same time being earth-friendly too!
There are a lot of things inside your houses that are mistakenly considered as junk, just like some chairs and cabinets that have faded color paint. You might think that the only remedy for it is to repaint or just buy a new one. But it sounds too expensive, definitely it is! End up your worries; we have here collection of affordable ideas on how you can transform your old furniture into a more functional one without spending too much. I'm really sure that this would be a big help for you (well I hope it does) but as far as I'm concerned I assure you it will really do.
1. Headboard for Bench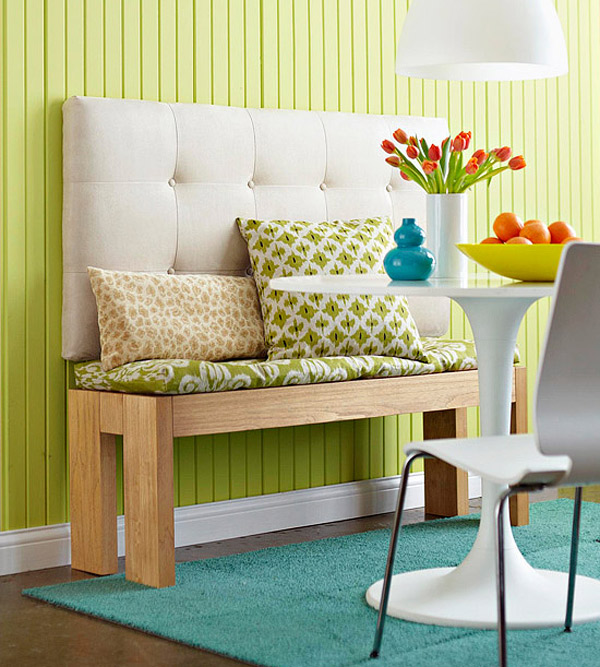 Add a charming bench into your dining tables. Reuse headboards from unused beds hang it above the bench to create a comfortable back rest.
2. Side Table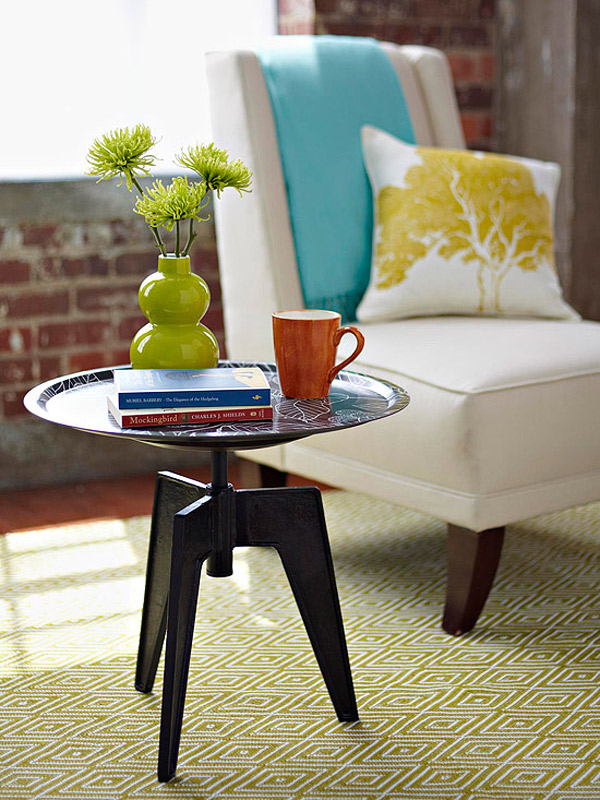 Assemble a side table made out from an old serving tray and attach it into a leg of a stool. Just put some adhesive below for a more stable stand.
3. Laundry Storage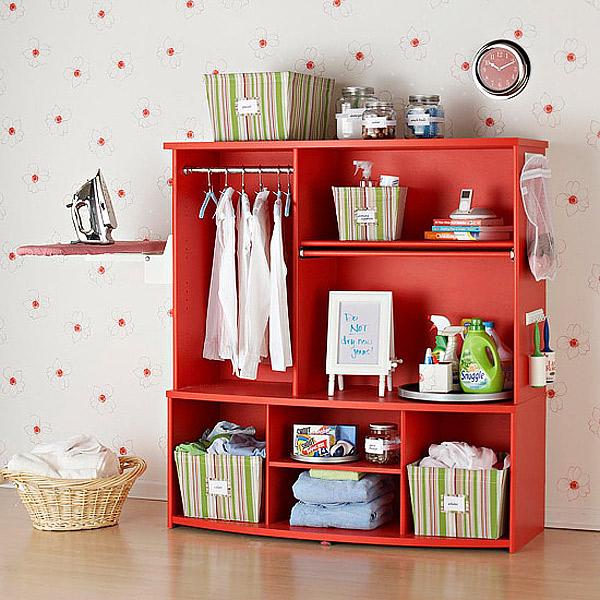 Renovate the look of your unused entertainment center and turn it into very useful laundry storage. Coat the cabinet with a vibrant color of paint. Then after, add rods that will serve as a useful purpose.
4. Tabletop Vessel Sink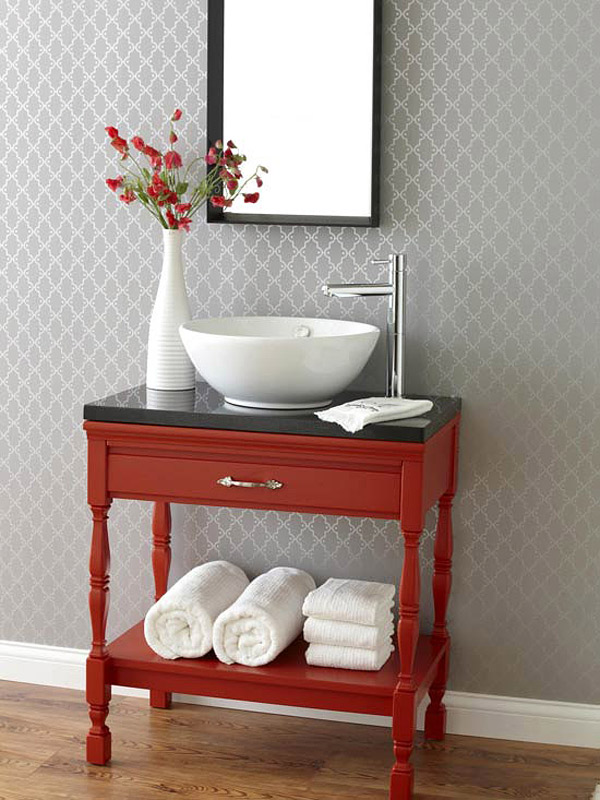 Style a sturdy nightstand into a one of a kind tabletop vessel sink. Remove the top and the drawer box (can be reattached after the plumb is installed) and add a shelf at the bottom for linen storage. You can look for granite which can be customized as the size of the table top. Ask for assistance to put holes for the sink and faucet.
5. Coat Rack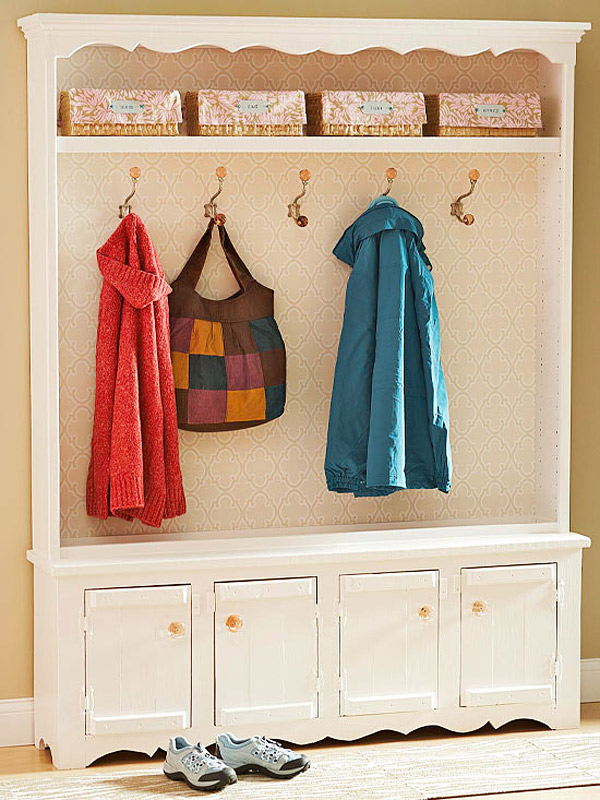 Repurpose an old bookcase into a stylish mudroom. Repaint it to bring a new appearance and add wallpaper for the walls. Screw some hooks unto the walls for coats and bags. You can make use of the available storage for more stuff.
6. Linen Storage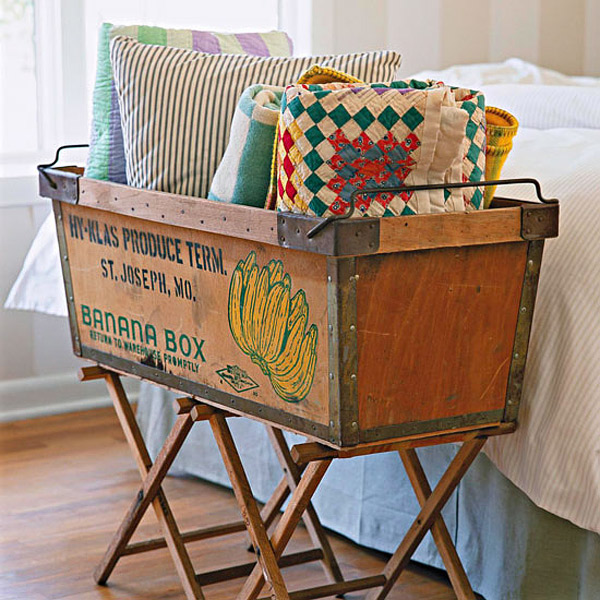 Clean effectively your old fruit crate. If it is necessary, add varnish to make it look new. Use it as storage for your blankets and other linens.
7. Garden Armoire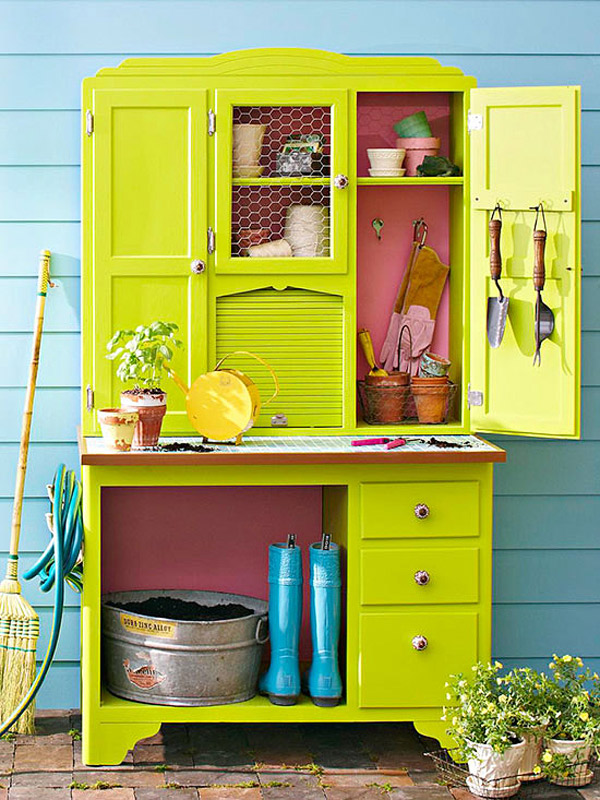 Transform your old dressers and armoire into garden tools storage. Start the transformation by painting it with bright color, remove some unnecessary drawers, replace the knobs that would fit with the theme and don't forget to add glow to the interior if the cabinet.
8. Dining Room Furniture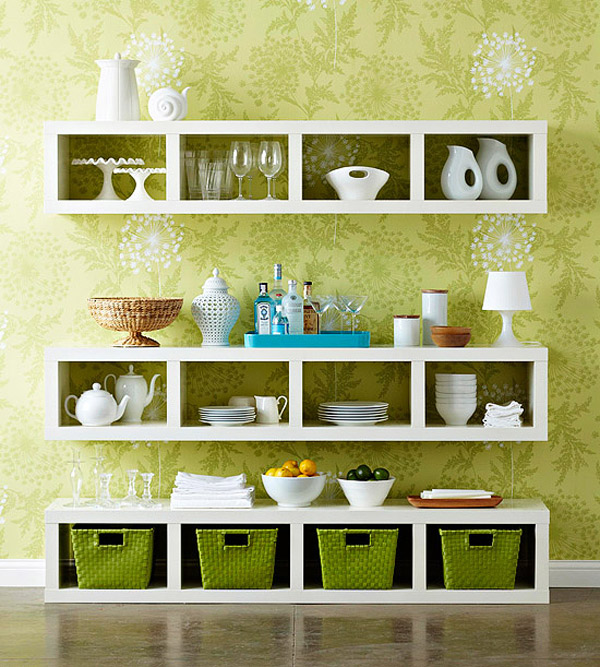 Convert your bookcases into a very functional piece inside your dining room. Customize it as storage of kitchen and dinner wares. Suspend one part and level the two more shelves below.
9. Simple Bench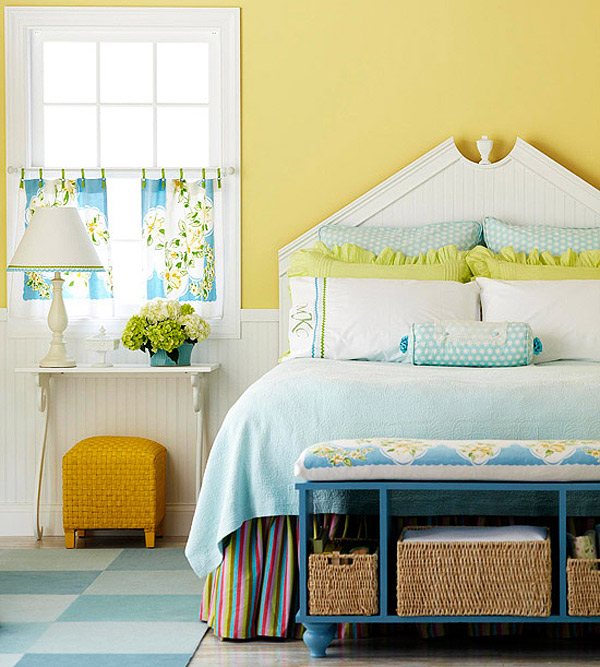 If one part of the bookshelves is no longer used then why not convert it into a functional bench that can be used inside your bedrooms. Just add a wooden furniture feet. Then paint it with a color that would match with the interior of your bedroom. Lastly, add a cushion at the top for a comfortable seating.
10. Bed to Chair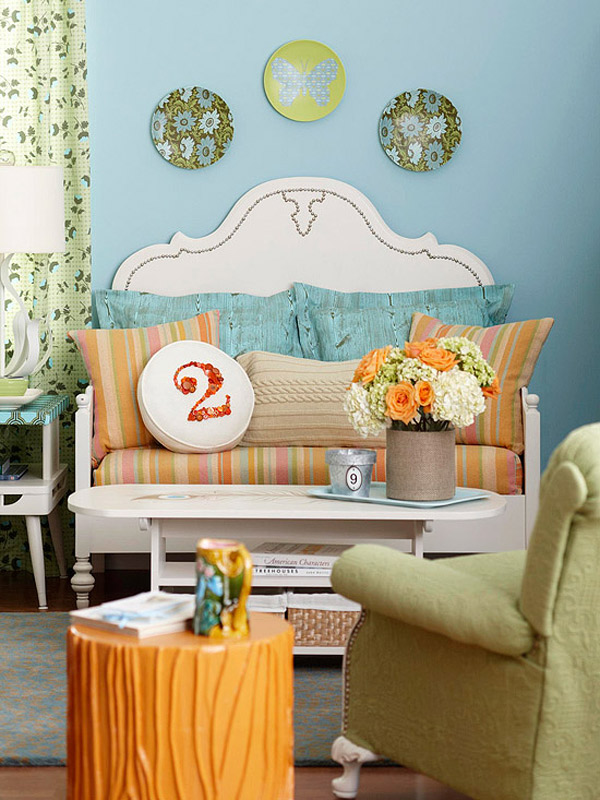 Tired of your old bed frames? Turn it into a chic chair for your bedroom or living room. Cut the bed frame into vertical half then fasten the footboard to the end of the headboard by using wood glue or screws. After cleaning and priming paint it with the color that suit the theme and design it with foam pad and patterned fabrics.
11. Dog Bed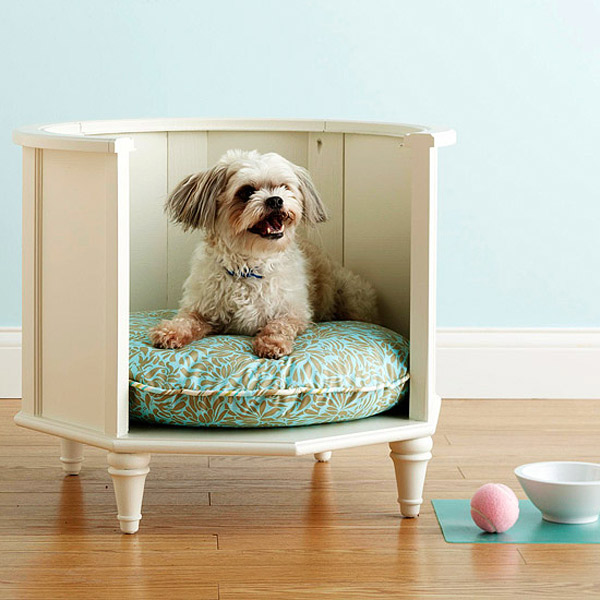 Mollycoddle your cute dogs by giving them a cozy bed made from unused side table. All you need to do is remove the top and the doors, tale away some shelves if there is. Apply a coating and finish it by putting a soft fluffy pillow inside.
12. Stool Book Stand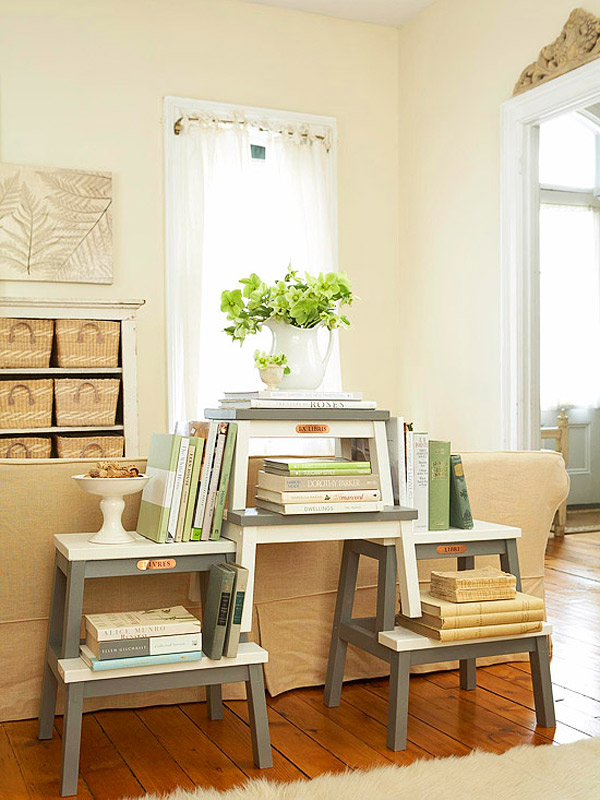 Stack up a repurposed stool to make up perfect bookshelves creating a mini library. Pain the stools with coordinating colors and you have an instant storage center for your favorite books.
13. Nightstand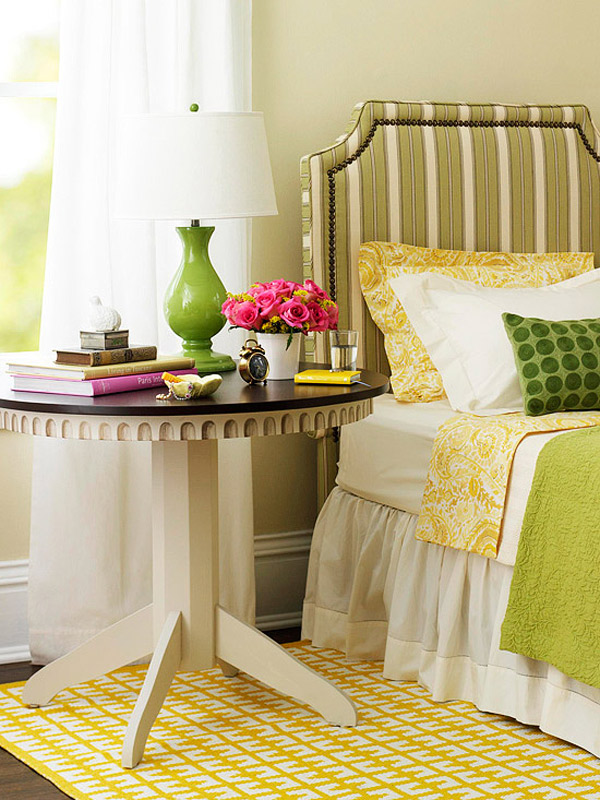 Convert your boring breakfast table into a glamorous nightstand. Style the apron of the table by adding an artistic painting. Adorn with table lamp, a flower and other stuff.
14. Winery Cabinet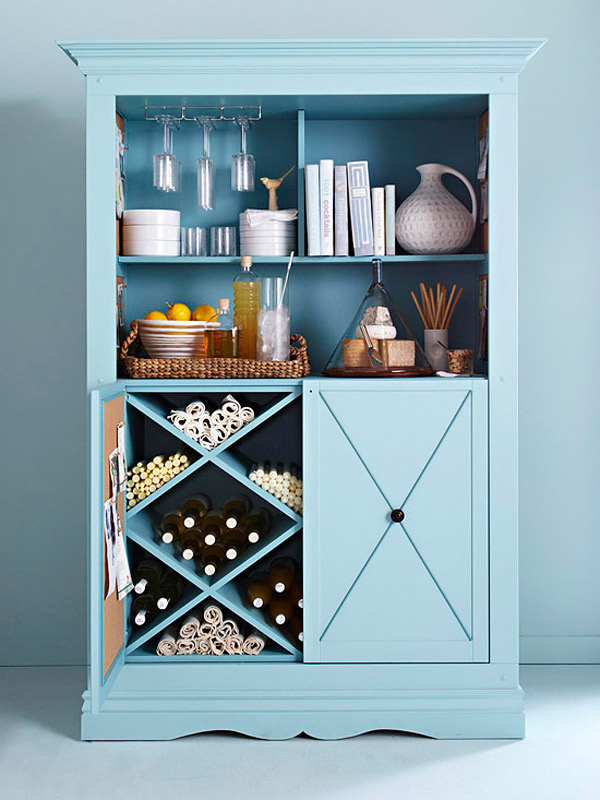 Accent your homes with simple winery storage by using old linen cabinets. All you need to do is provide enough spaces for storage. Paint and decorate it like it's very luxurious.
15. Craft Center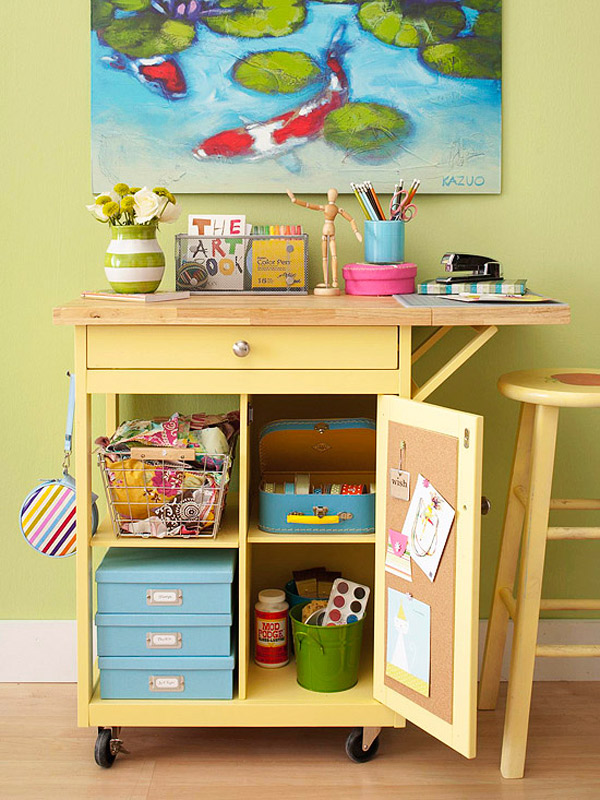 It's just easy to turn your rolling kitchen cart into a craft table. This would be a perfect piece to start an art and craft.
16. Mirrored Closet Door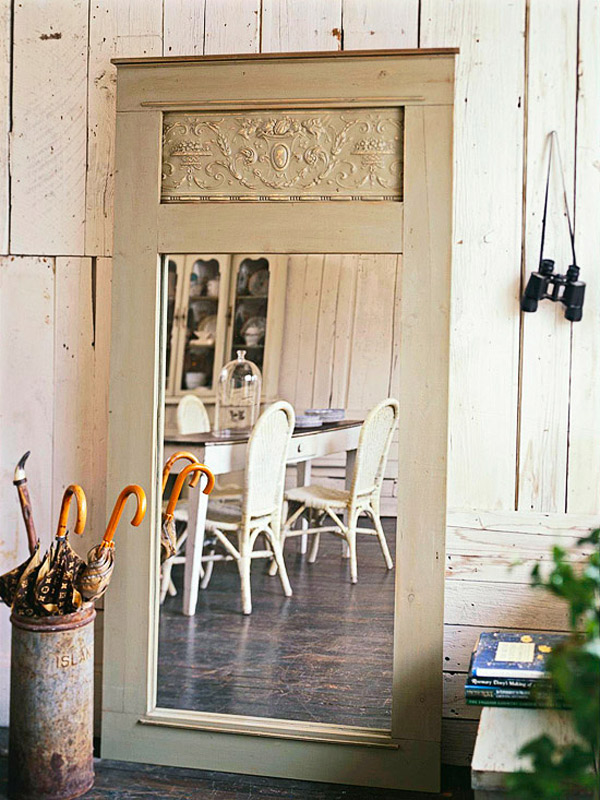 Large mirror are very expensive especially when it is antique. Well, you can achieve an antique look with your old mirrored closet door. Try to add a decorative pattern and paint it with a color that gives a rustic look.
17. Home Office Desk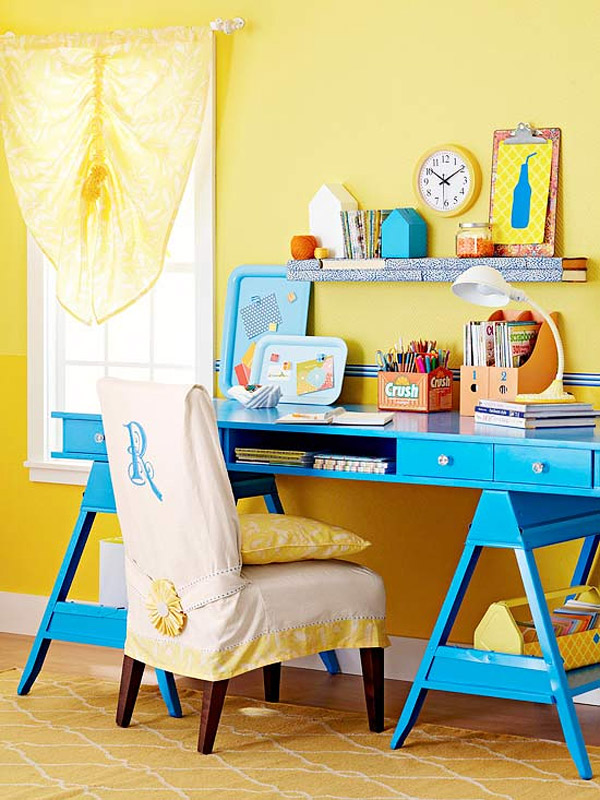 Add an industrial look to your home office with a desk made from metal sawhorse. Top it with custom-made storage drawers and paint it with a vibrant color.
18. File it up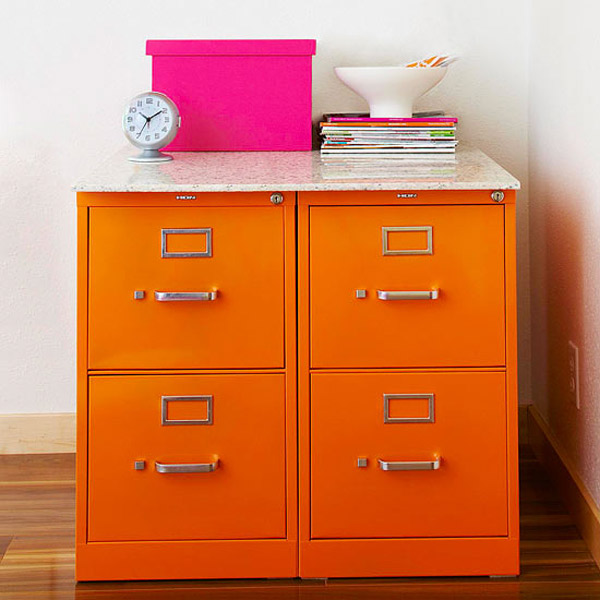 Pair a single metal file cabinet and meld the two with a single top of a scrap stone. Paint it with your chosen color.
19. Drink Station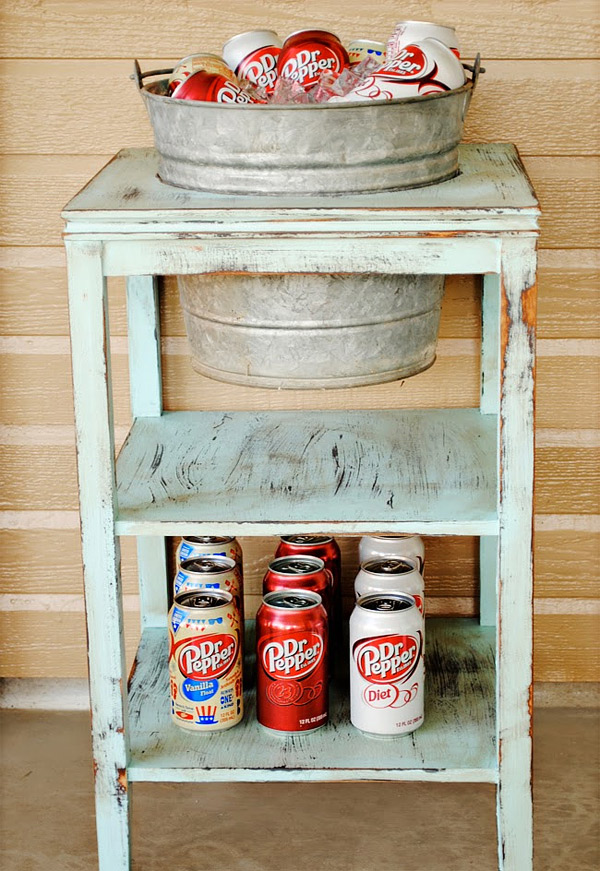 Up cycle your unused side table and turn it into a beverage holder that will surely attract your guests by this unique idea. Repaint it with a shade that looks funky and vintage, and then add a hole on the top for placement of the bucket. That's how simple it is, you got a perfect furniture transformation.
20. Industrial Pipe Stool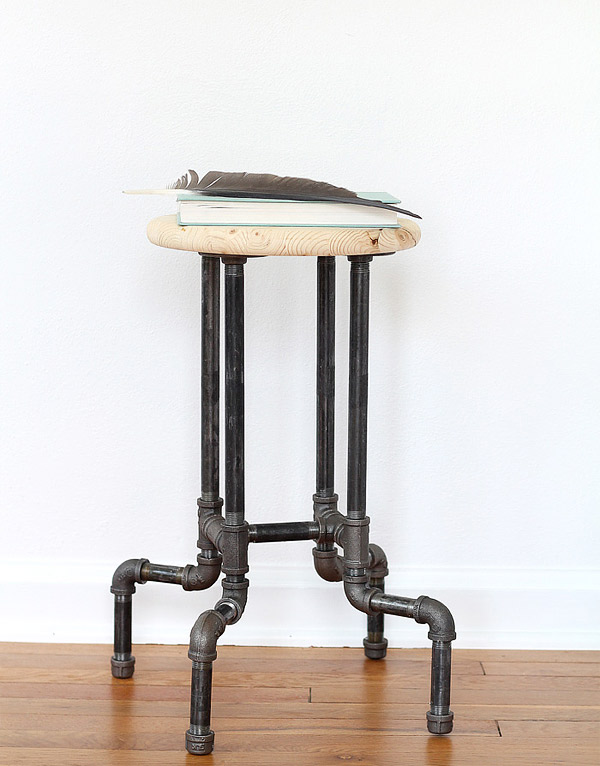 Don't over spend money just to have furniture that will be a masterpiece in your home. Simple unused water pipes can be reused as a base for the stool. This stool is perfect for your industrial-style homes. The only thing to do is attach each tube and secure with metal glue and top it with a round wood that serves as the sitting point and then you'll already have a functional stool.
So, how was it? Was I correct? I hope I am. Just like me, I know that you have the thought in mind saying "OMG! There is really a good sense behind this old thing." I know you weren't expecting the transformation of some spare things, so now start gathering those things you just throw away to the garbage can. It may be stinky but it will be very productive.