20 Charming Swing Benches in Patios
Enjoy relaxing in your patio while on a swing bench.
Every now and again, we think about getting ourselves swings in our houses because aside from the feeling that you are bringing the outdoors to your indoors, it surely is an easy reminder of youthfulness and the memories that we've has as kids. In today's furniture businesses, you'd be amazed at how many kinds of swings are out there.
In this list, you'd be seeing a stunning collection of 20 Charming Swing Benches in Patios; these benches are not only charming, but they were created to actually fit the theme of the patios they are in – and basically into the way the home owners would want them to be. Check them out below and see what you can do with your swings at home!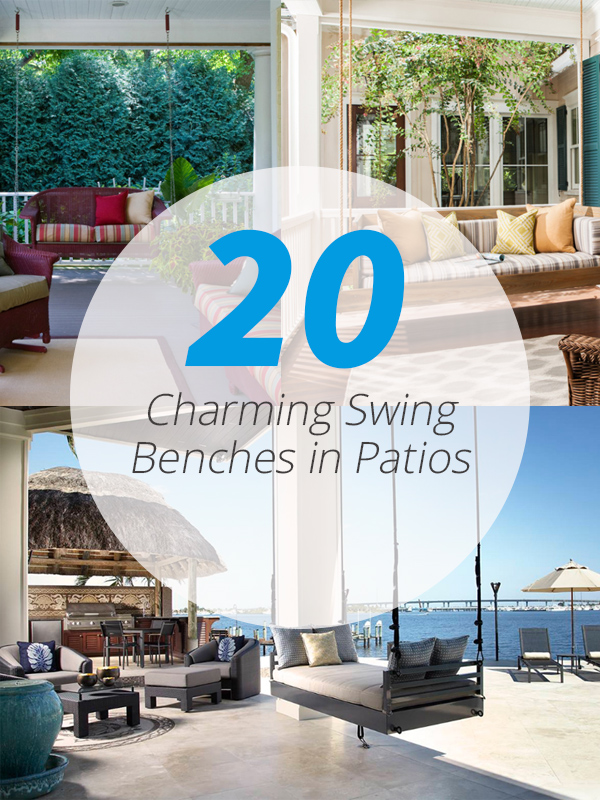 1. Atlanta Porch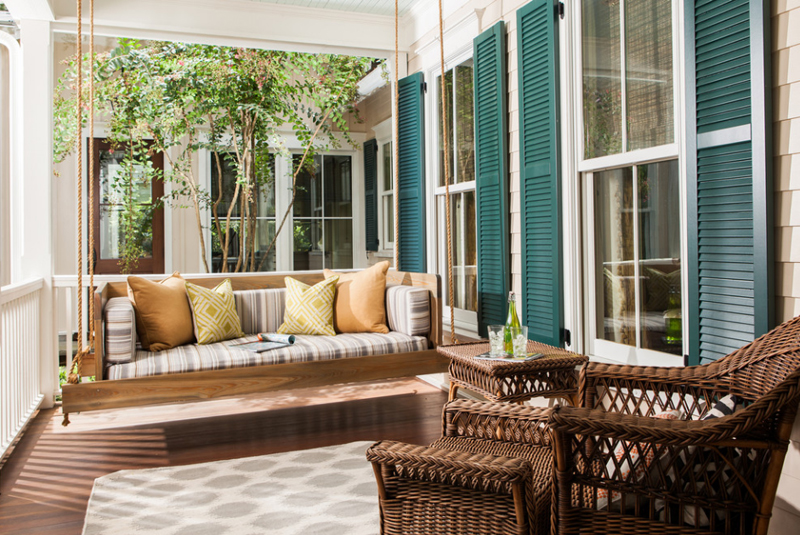 First stop is this Atlanta home with a wooden inspired theme – from the furniture to the windows and the walls and even the flooring, this space is definitely homey and traditional but also captivating. People hanging out in here would surely enjoy the comfort it offers.
2. Atlantic Archives Porch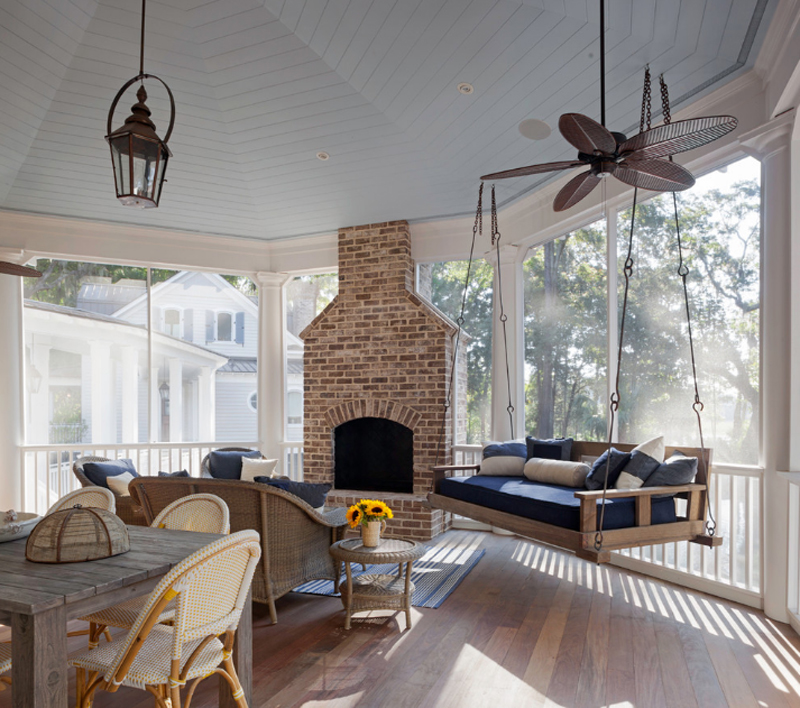 The white and blue combo of the cushions and pillows on the swing bench is just neat! The fact that this space is in white and brown and they added the blue and white swing bench, it seems to me like this one is actually close to the beach or something.
3. Bellevue House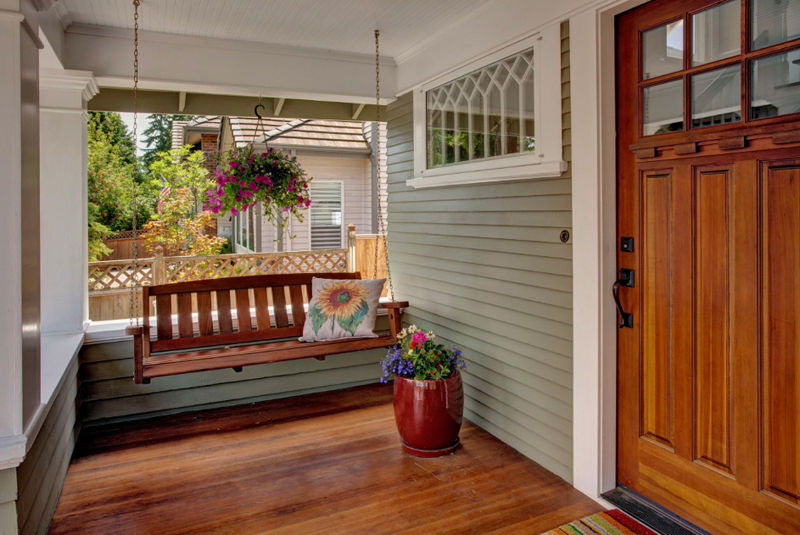 What do you say you get a matching flooring, door and a swing bench? I say, why not? This might not be so much as your ideal combo, but coordinating things in the house could sometimes be great for your space. Don't you agree?
4. Bluestone at Point West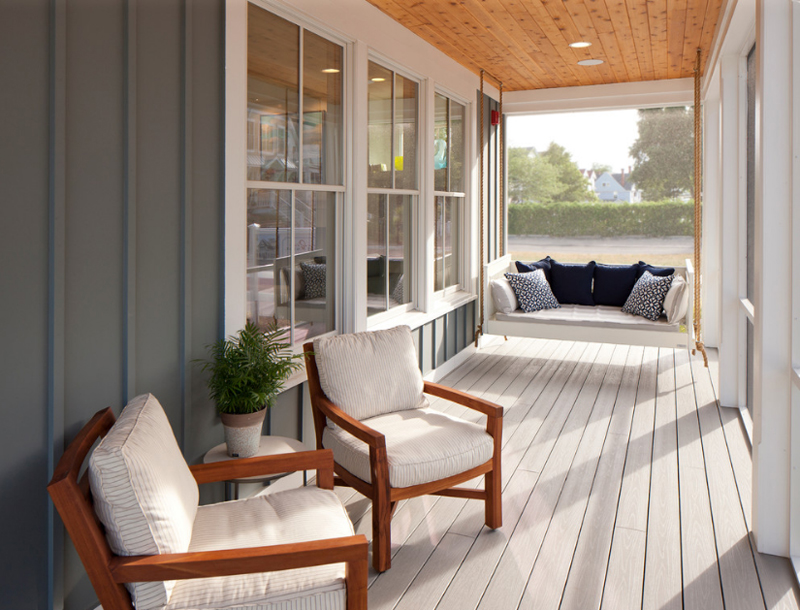 This might be one of the prettiest patios in this list. Even when this space is actually not that big to cater to a lot of people – but I think that charming spaces does not need to be for everyone, right? The simple color combination does well for this space and the additional swing bench is just sweet.
5. Client Residence in Wickenburg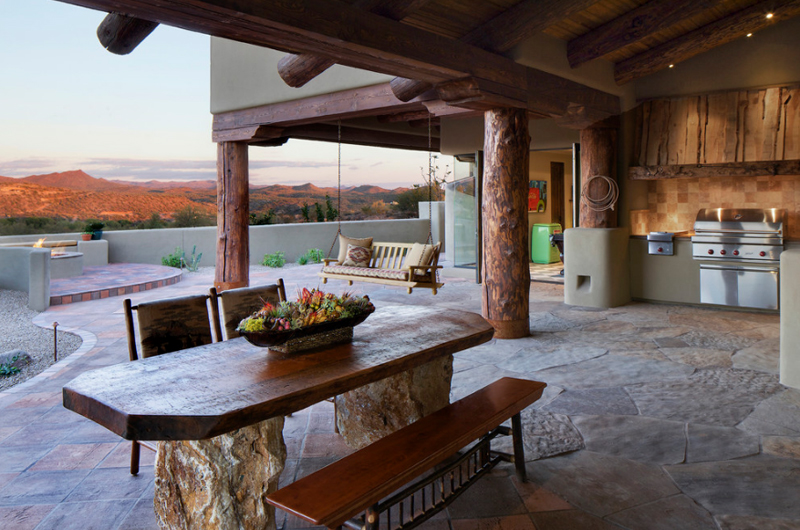 I know that we do not have the clearest view of the swing bench, but take a look at what this space has to offer – the awesome grill on the side, this neat dining space, the awesome wood work and the spectacular view! I guess, we can't say no more, right?
6. Coastal Chic Home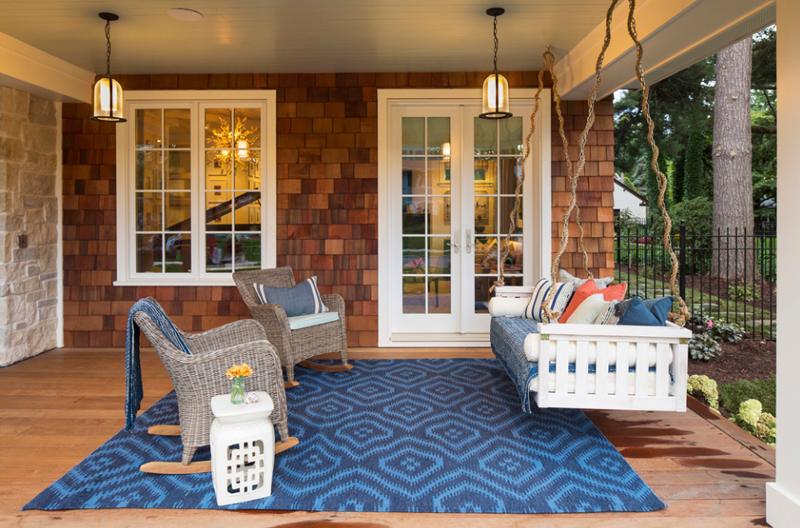 How do you find the bricks on the wall? I think that it is actually pretty neat – the color is real nice and it looks great contracting the color of the swing bench and the ceiling. Adding a pair of rocking chairs in front of the swing is quite a cool way to relax for anyone who would be hanging out in here.
7. Gracious Sophistication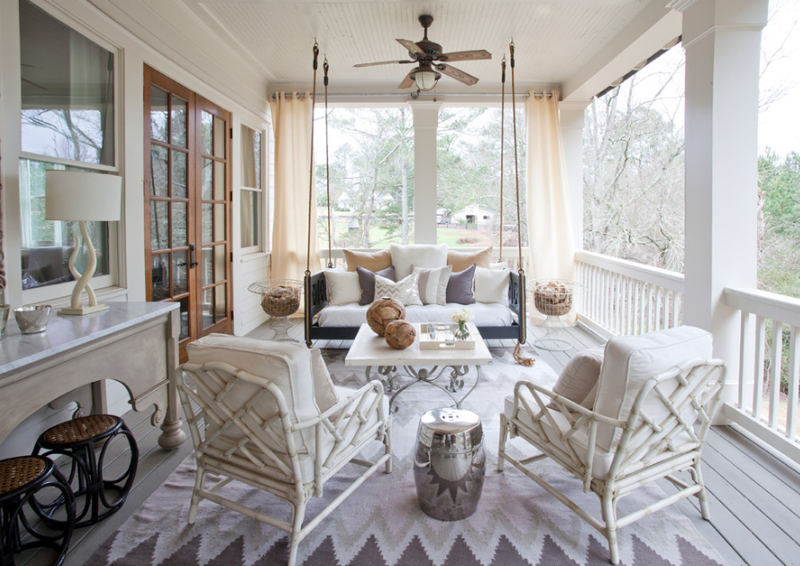 The name of this space is just fabulous! It surely explains why this is one fancy space that has the utmost sophistication. The furniture is real nice, and the fact that they added a couple of decorations in here makes me think that this house is far away from city or from neighbors.
8. Greystone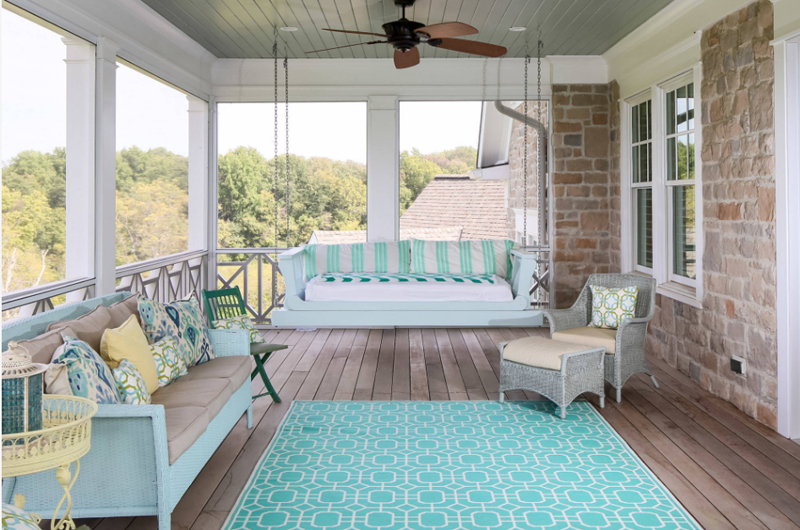 I totally love the color combination of this patio furniture and decorations! The print on the carpet and on the pillow cases and cushions on the swing is just fancy and cool. Who said that patios couldn't be so pretty and fancy in a traditional home!
9. Jerome Village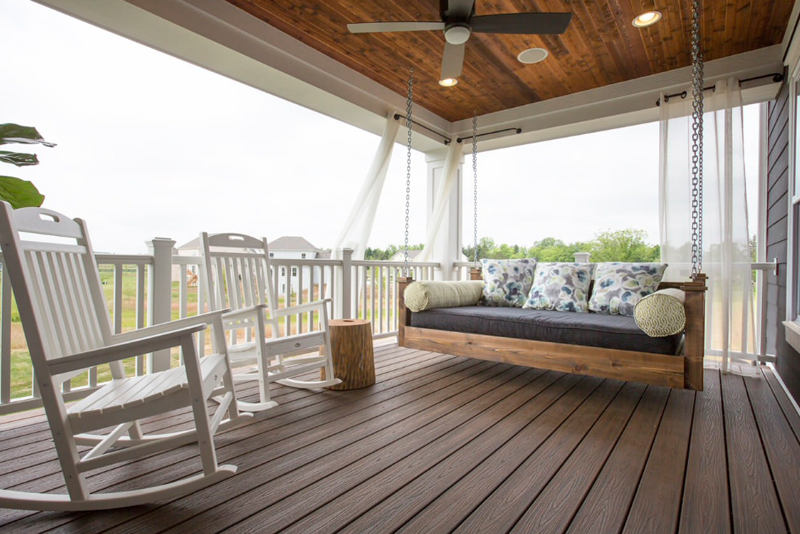 Just when you thought that your patios just needed a simple bench or some kind of arm chair ideal for weather wear and tear, your designer suggested a swing bench and rocking chairs – I say, why not!
10. Miami Residential Luxury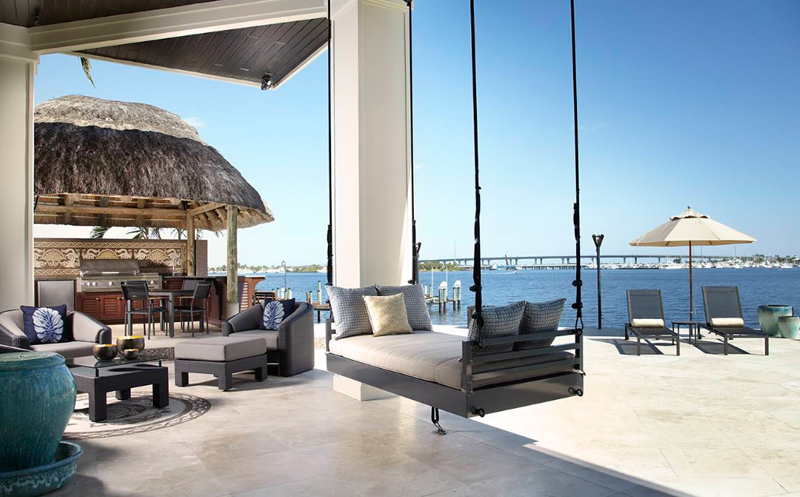 With a view of the beach like that and a fun-looking space for grilling on the other side, I think this could be the place that people would love to visit during the weekends to have those barbecues and beer with their pals or co-workers!
11. Napa Valley Residence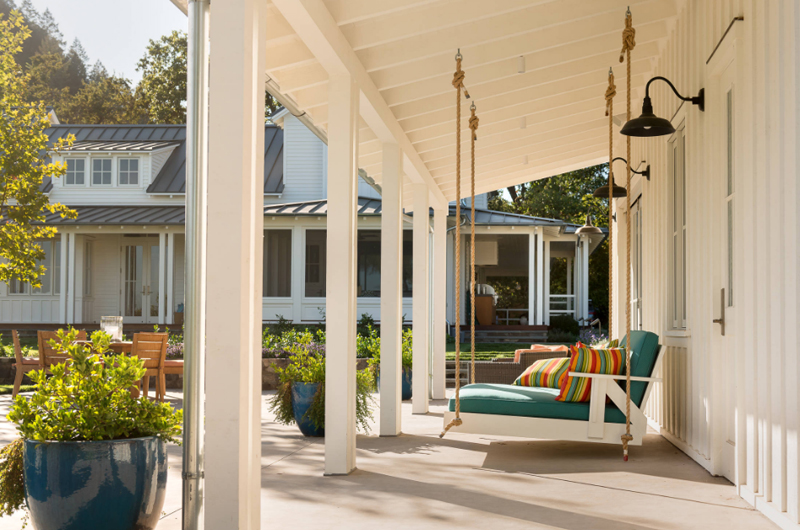 If you plan on having a white porch, I bet anyone would tell you to get furniture of a different color for your space to really have a contrast. In here, they actually picked a white swing bench but with a different colored cushion and printed pillows.
12. Noe Valley Contemporary Remodel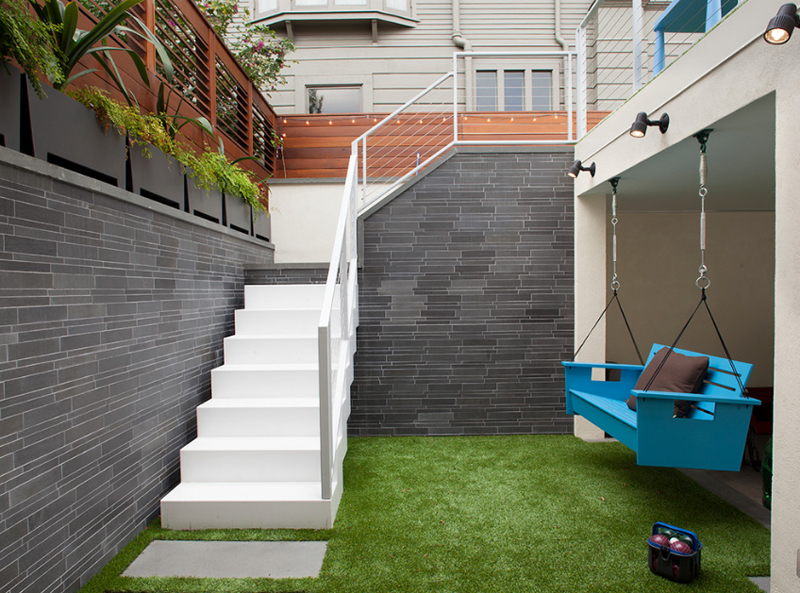 This beautiful blue swing just gives life this rather neutral space – all white and grays (and thankfully some green), adding this blue swing just made it all better. What's nice is that they have a space in here where kids can play and adults hang out.
13. Oak Brook Residence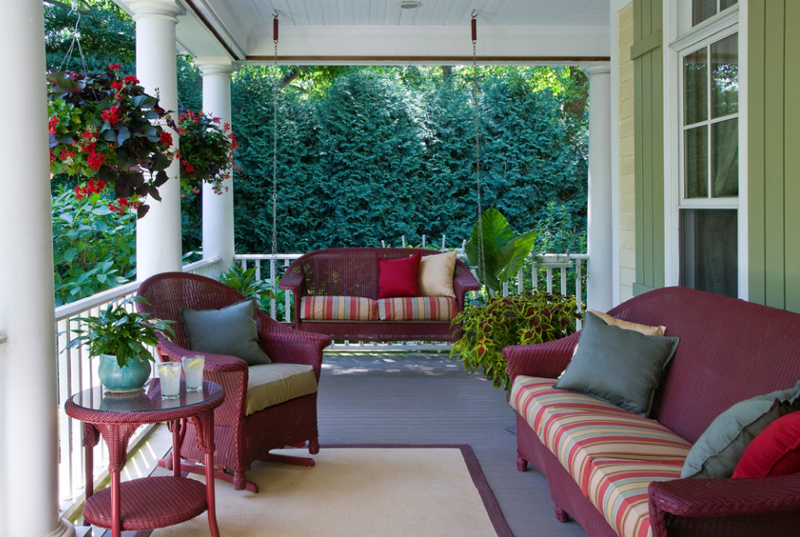 I can't say I'm much of a fan of the color of the furniture in here, but thing's for sure – the home owners must love this color that's why they actually chosen this one to be in the opening portion of their house. The red and green combo sure makes it prettier; don't you agree?
14. Patterson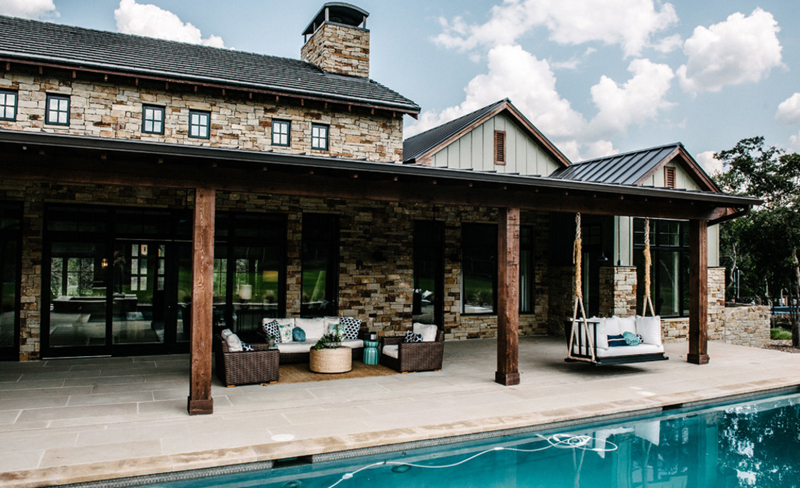 One fancy house with a comfortable outdoor seating. This space is pretty much ideal for those get-togethers that you have been planning all week. This pool side has tons of space, so a large crowd wouldn't be a problem!
15. Southern Living Farmhouse Renovation
Aside from this home being beside the street, I think this patio is really sweet. The black swing bench looks really contemporary and adding cute and neutral-colored pillows made it really fancy. The vintage side chairs are neat too – the color is charming and really attractive.
16. Spartina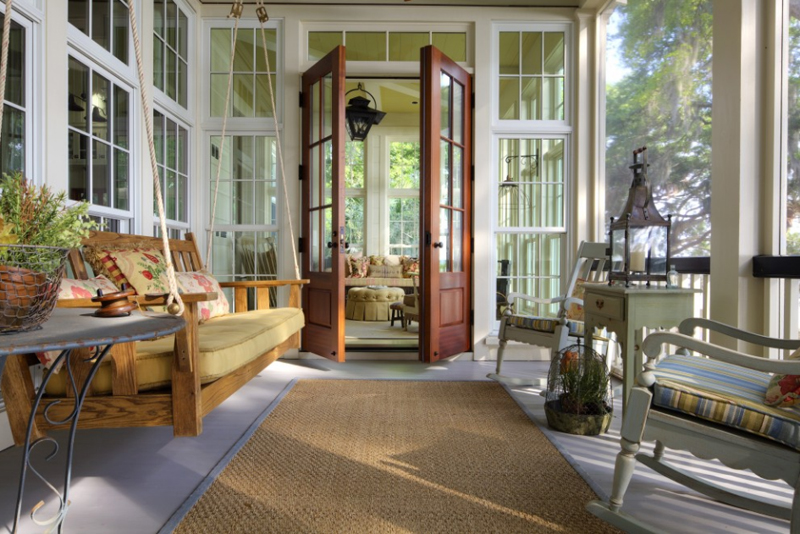 If this was the space that welcomes you every time you go home from work, I think that you would prefer going home immediately than staying in the mall. Traditional homes like these ones are usually the ones that showcase the most homey spaces.
17. Stubs Project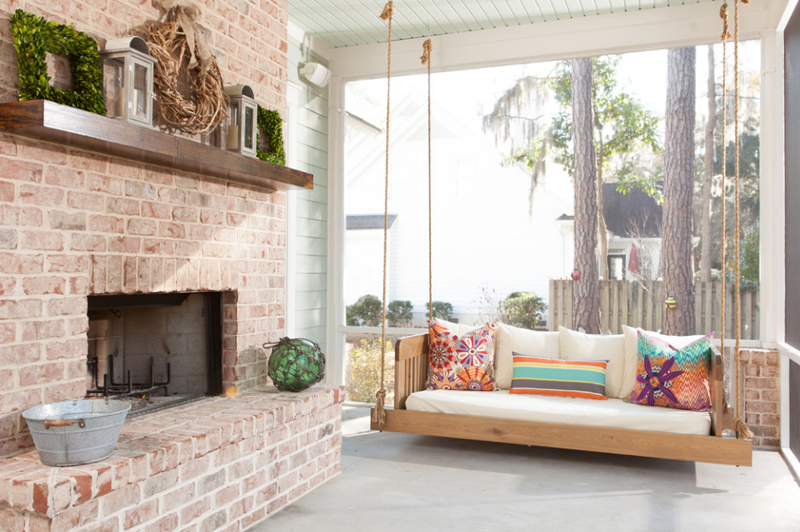 The swing bench in here looks rather simple, but by adding colorful and fun printed pillows, this swing bench went from a 5 to a 10! It's pretty neat to think that this outdoor space actually looks really nice, wood and bricks combined – I love it!
18. The Hayden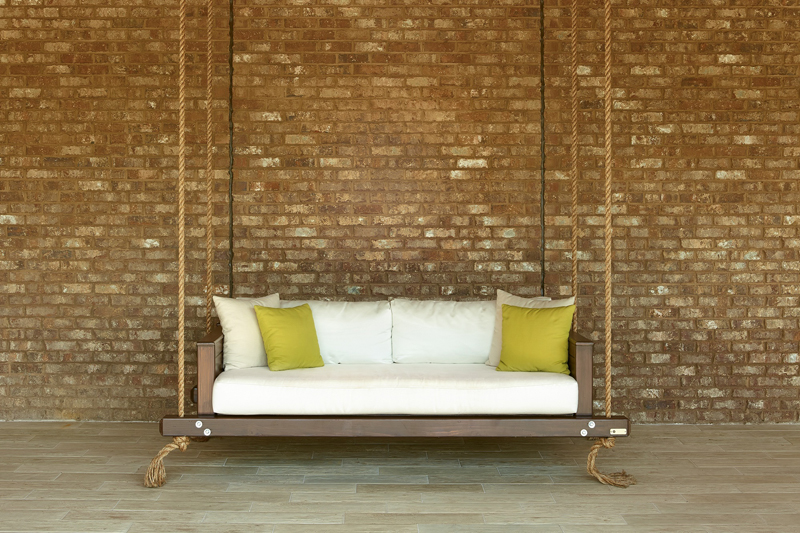 Well, what do you say about adding swing bench in your patio – and just that! Simple and direct to the point. Purchasing one swing on the internet or in your closest home depot and latch it in your patio ceiling – and you're good to go!
19. Victorian Heirloom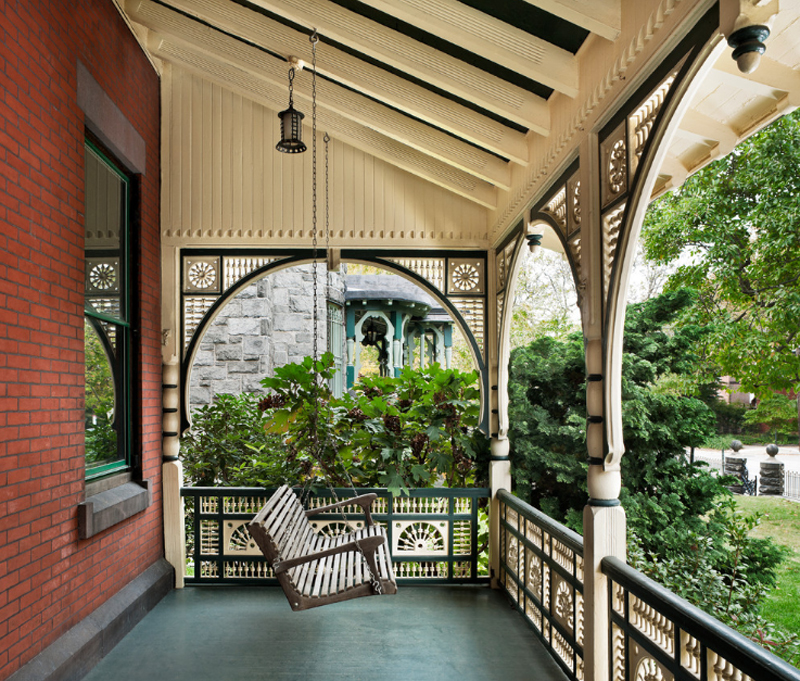 I totally love everything in this patio! Notice the intricate details on the arches and on the balustrade? This space is definitely bringing out the Victorian look and spirit to it. If I am not mistaken, I think that this is around the 1500s when this design was popular.
20. Willistown Residence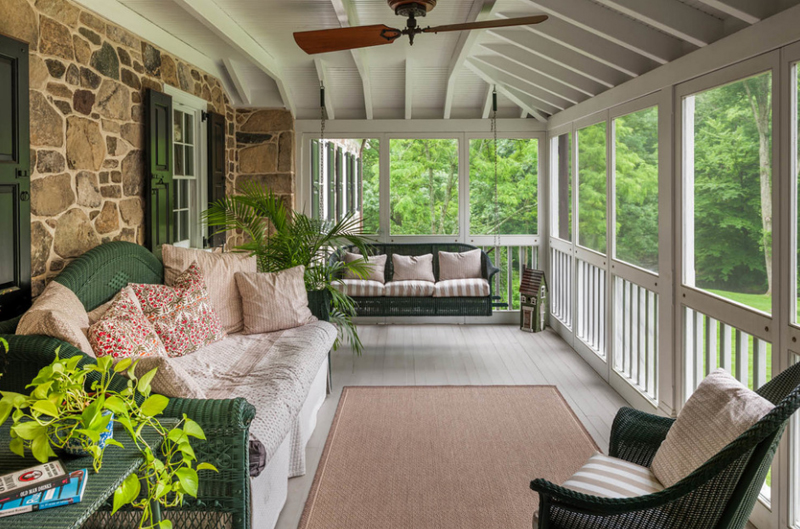 Last on our list is one large yet simple patio – with just the furniture – a large couch, an arm chair, a side table and a swing bench to top it off! One thing I like about this space is the fact that they actually added screens on the entire patio – pretty safe from bugs and mosquitoes!
If you think that the list about 20 Comfy Swing Bench in the Living Room, you might have enjoyed this list more. As much as swing benches are awesome already, I think when they are outdoors, they seem to be really in place and look extremely stunning! Do you agree with me guys? If you do, share this list with your friends!
Bonus Video: Making a Modern Bench with 1 Plywood