20 Comfy Swing Bench in the Living Room
Want a fun element in the living room? What about a swing bench?
Having a swing set in your backyard as a child is one thing while actually having one inside your house is another. This list that we have today is pretty much something people consider doing because they think that it's real cute to bring the outdoors in – and I think it actually works for the most part, but then again be weird the next.
The way that the swing chairs are incorporated in the designs of the living rooms in these homes are real sweet. There are some living rooms in here that are really charming because of the swing chairs though – you have to really see these swing chair designs and the spaces they are in; pick and favorite and tell me about it.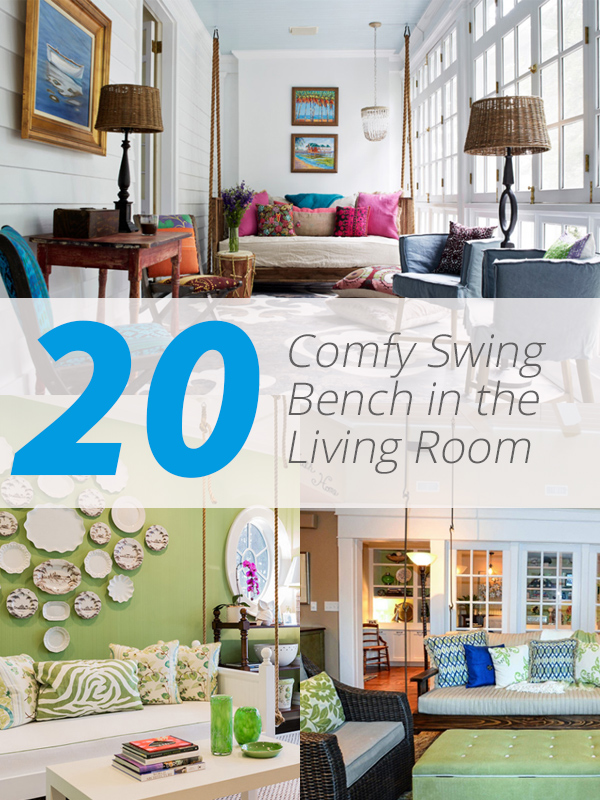 1. Central Park West Penthouse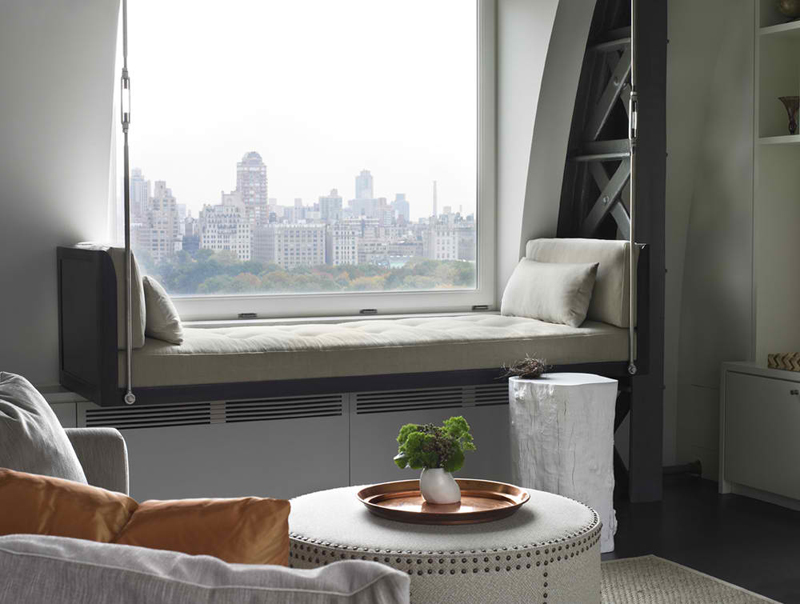 This one is the most contemporary in design in this list that's why I actually added it in the beginning of this list. I think that the color and material is quite nice and matchy with the entire space. If have time to check out the site of the designer of this home, you'd see that there is another swing on the other window to the left – talk about symmetry.
2. Desert Mountain Retreat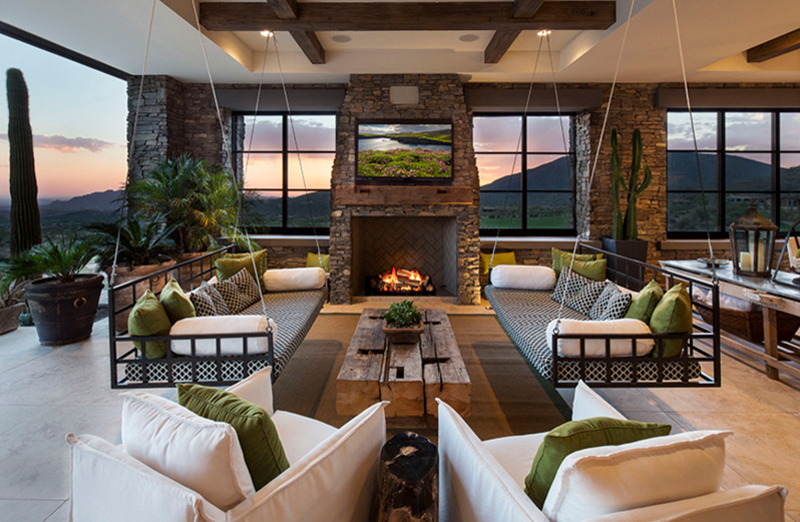 These swing benches are real classy! They add a bit of a rustic charm to this lovely home. The color combination that they have on the chair and in the entire room is quite amusing and interesting at the same time. I love the size of these chairs because it could surely pass for a day bed or something like that.
3. Dutch Colonial Residence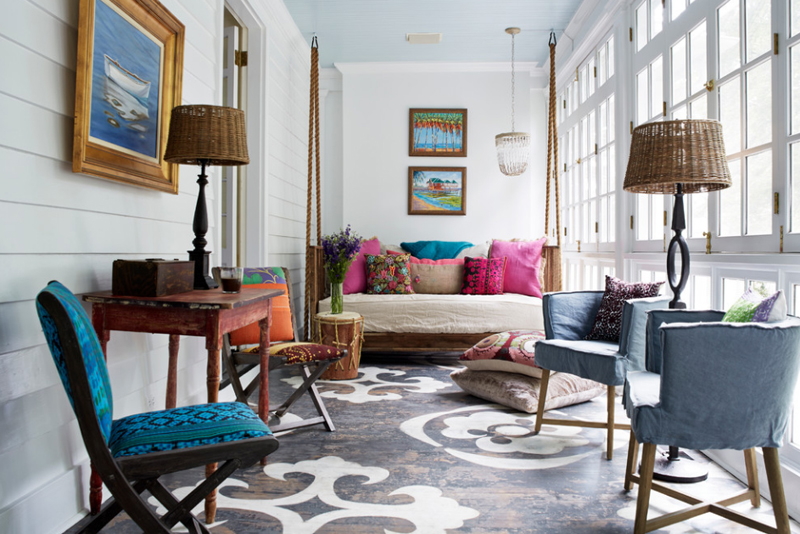 Here is a homey approach to adding a swing bench in your living room. A rattan or wooden material is ideal and adding fun colored pillows add to its charm. I think that the colorful aura of this place is just wonderful and I think art is pretty much appreciated in here.
4. Germantown Custom Home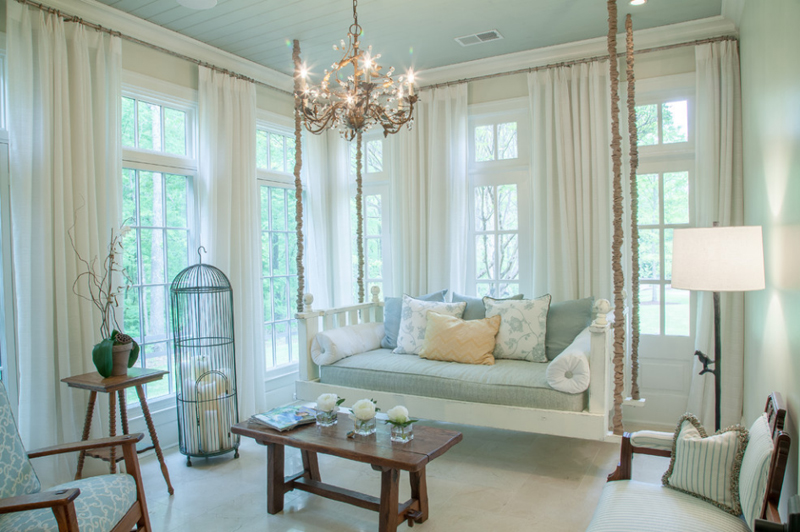 I think that the swing bench in this living room is just heavenly. Maybe because the entire living room actually looks like a charming heaven on earth space plus they added this white swing with those cute chandelier and cage on the side – this space is just so cute!
5. Getaway to the Holiday House Hamptons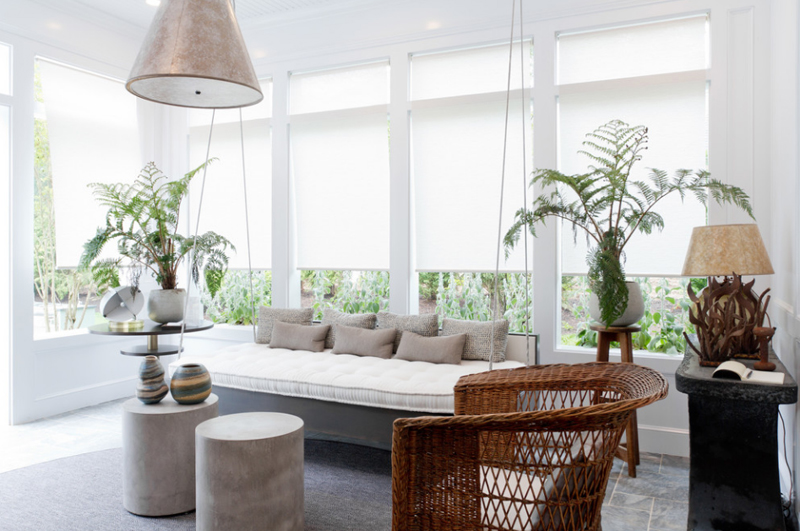 Here is a contemporary living room with the right elements to it. The stunning swing bed, the rattan chair and the cute decors and furniture is really something. The blinds make this space quite sparklingly neat and fancy – I love it!
6. Minneapolis Georgian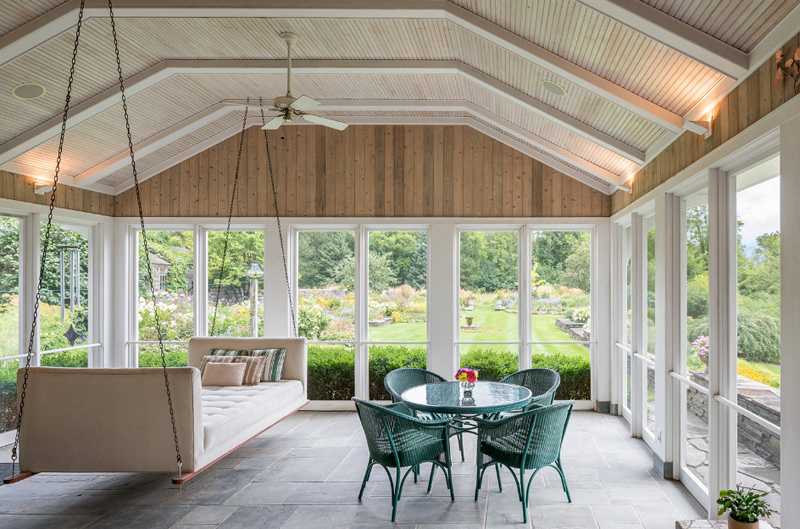 I find this swing bench really large – I'm amazed the strings in here could really hold it together. The color of the swing, I actually like. It's neutral and it complements with the color scheme that this space has; plus it contrasts with the color of the dining set – it works.
7. Muskoka Cottage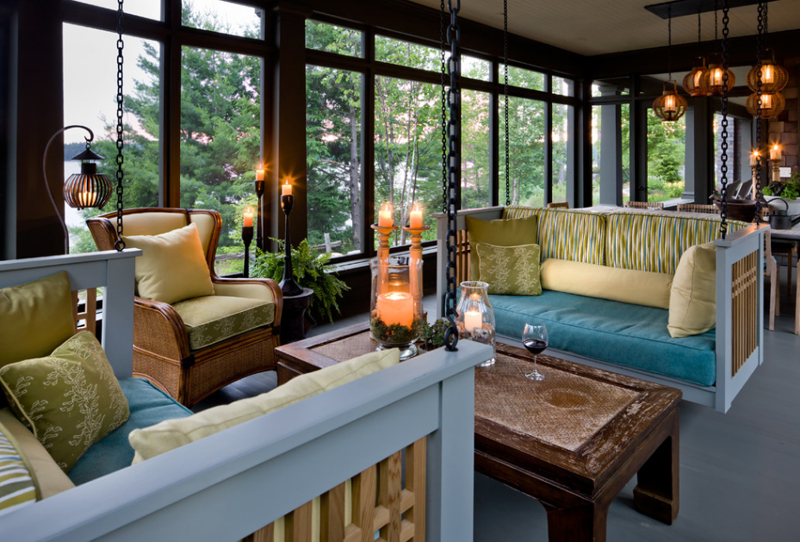 If you have a spectacular view of the outdoors like this home has, I think, you'd add the swing outdoors – seriously! But then again, people have different tastes and different wants. I'm lucky to have actually seen a beautifully made swing benches like these ones because I think they were specially done for this home and it looks real classy – like royalty classy!
8. Retreat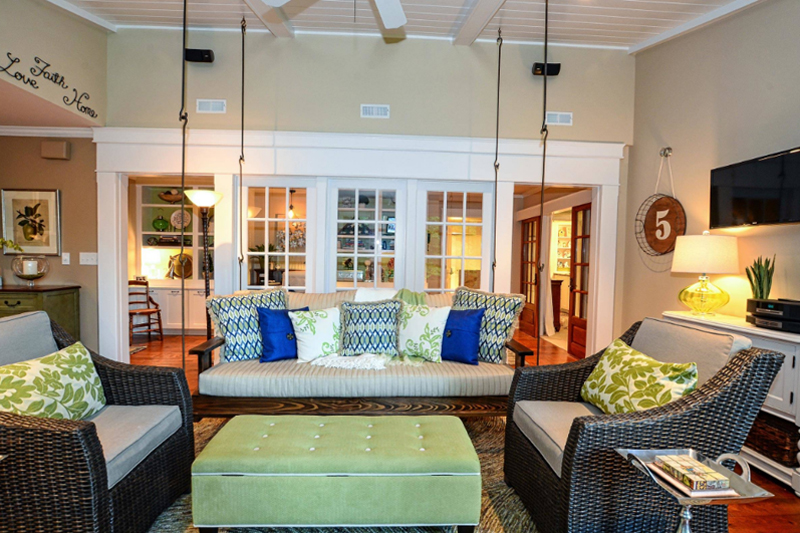 This home has a bit of a traditional approach to the whole adding a swing bench inside the house. They somehow match this with the black rattan chairs and still be able to really complement the homier feel that this home really has.
9. Robby Kelly House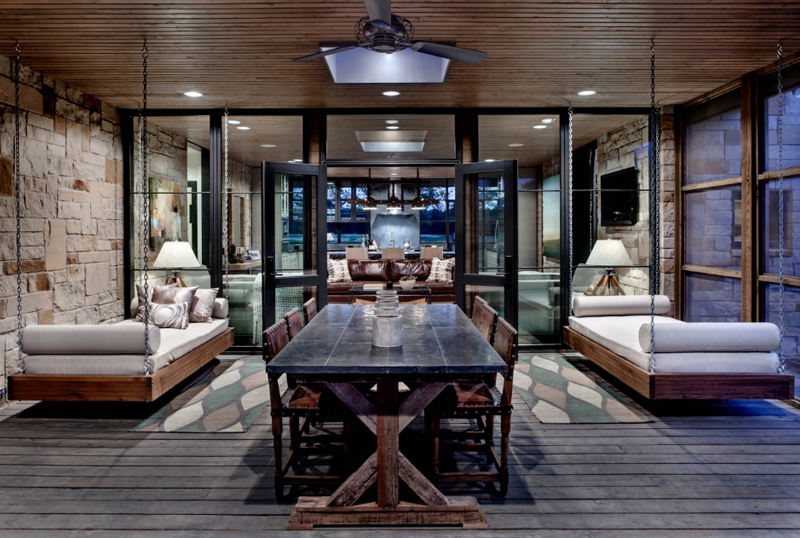 If the houses of people I know have swings like these, I think that I'd consider copying their design, because evidently, adding swings like these ones create a more comfortable and homey feeling. Although I think it could make people more lazy, I think they still would be a good thing because your kids would want to stay indoors and actually chill more.
10. Tucked Away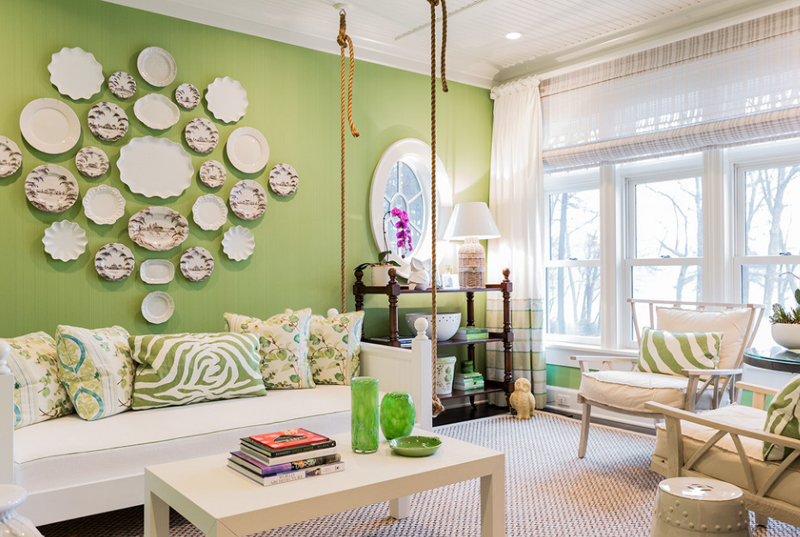 The color of this living room is really bright! I love green, why not – especially this color actually but I think this room needs a bit more of another color – like blue or black to subdue the color a little bit. The plates on the wall looks real cute, I like it; also, I think the ship-like window on the side of the actual window is real cool!
11. Buchanan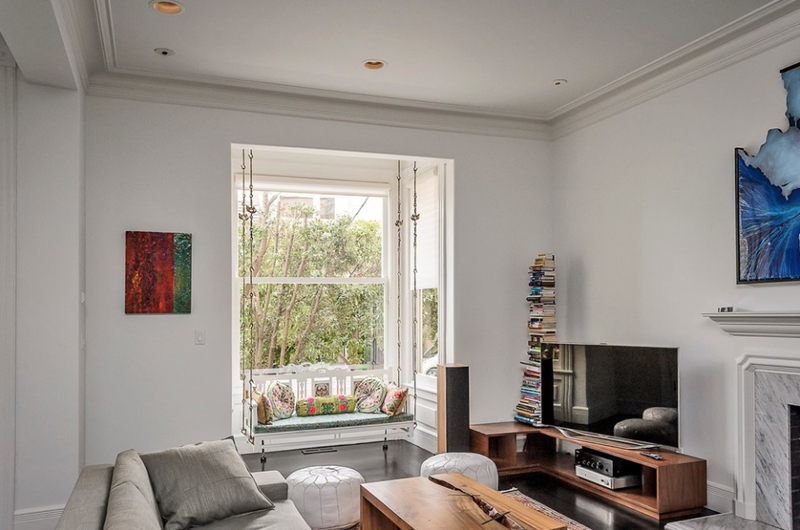 I wish that I was able to get a photo of this swing a bit closer because I think that it's actually really cute. I would like to think that when they considered the little nook by the window, they really planned on adding a cute swing bench like this one.
12. Cameron Palmetto Bluff Home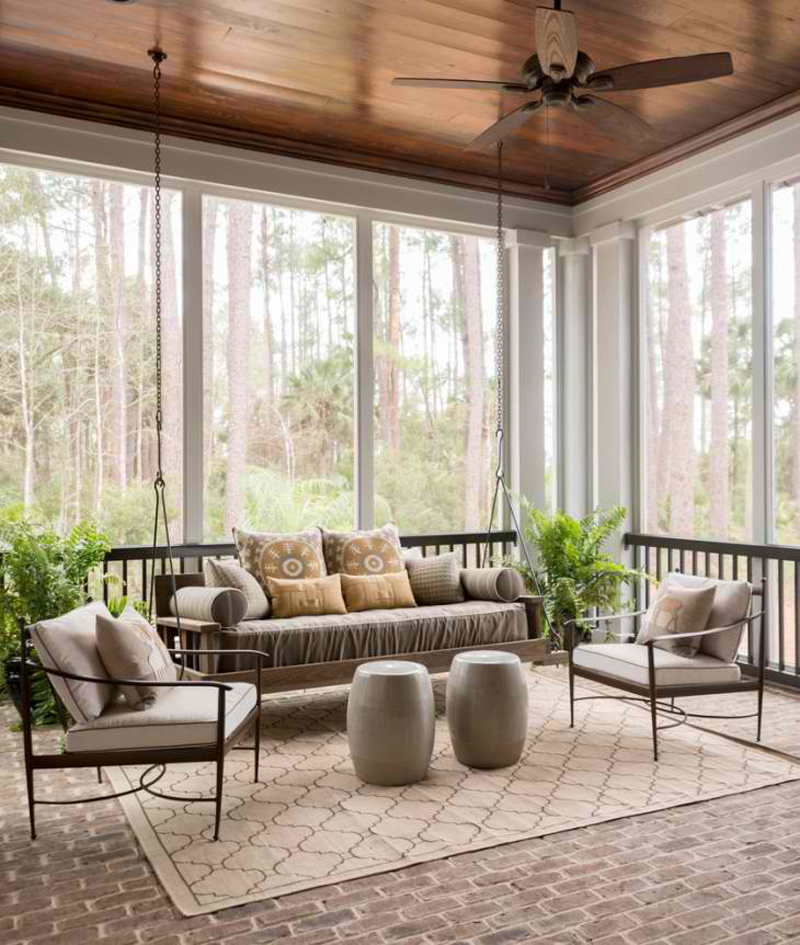 This seating area has the most calming view – a lot of trees and possibly a mountain close by. I love how the designer really made sure to have glass walls for this space because then, people hanging out in here could really use the calming effect that trees have on people – the greens, especially.
13. Fox River Classic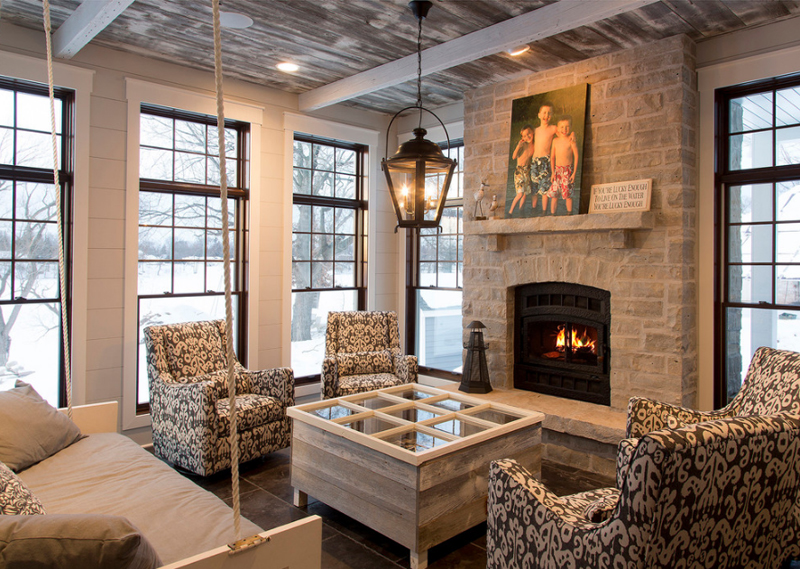 This Fox river classic home sure is a classic – the choice of furniture, the minimal decor, the stone-walled fireplace and the lighting fixture that they actually chose for this space is quite interesting. I am definitely fond of the fact that this living room in fact has enough windows for people to enjoy the view outdoors.
14. Teen Retreat Lake Forest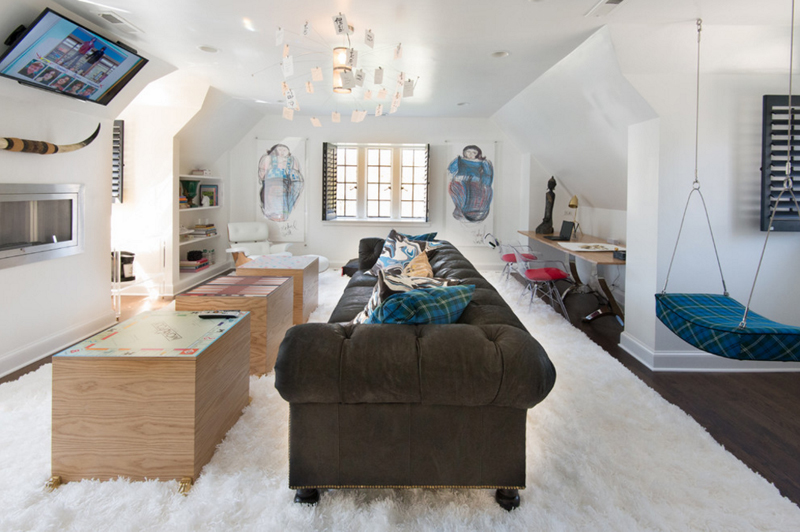 I find it weird why they added the swing behind the couch, but then again, there is a bit of a cove on that side of the living room that's why added a cute swing in there. Adding bean bags or cute seating like poufs could be great for additional seating especially for your kids or teens.
15. Chinquapin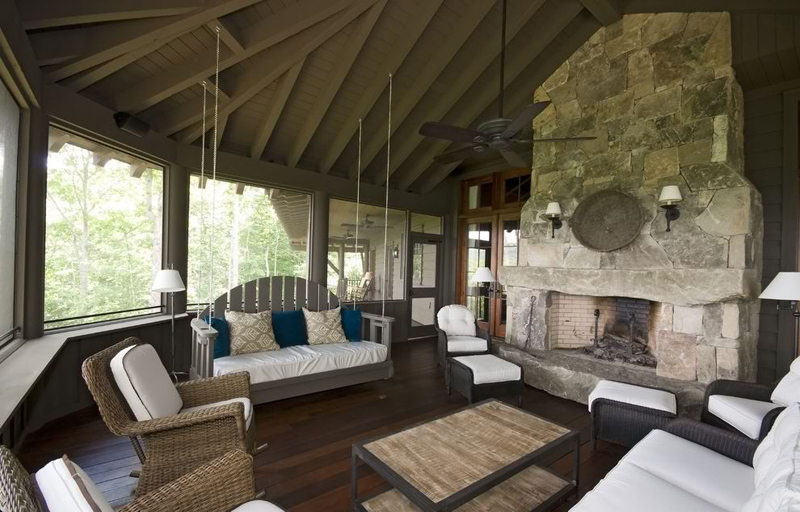 This swing bench sure looks like a regular bench that they added metal strings to! I don't see anything wrong with it but I think that they could have gotten a prettier one because this rustic space quite needs it.
16. Chalet Grand Flüh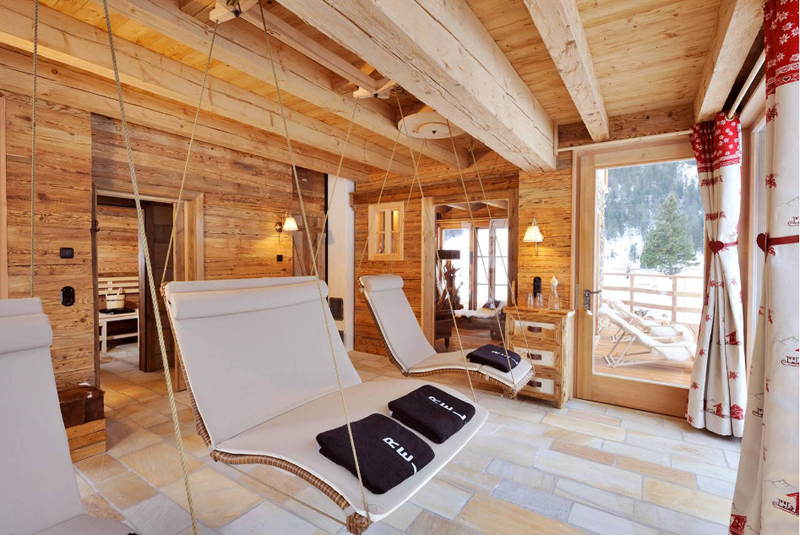 Well, this house sure has enough swings for the entire family! These swings looks really comfortable and relaxing because of their shape and silky material. If you'd sit in one of these swings, I think that you'd have a quick nap, you will not even notice.
17. Lake House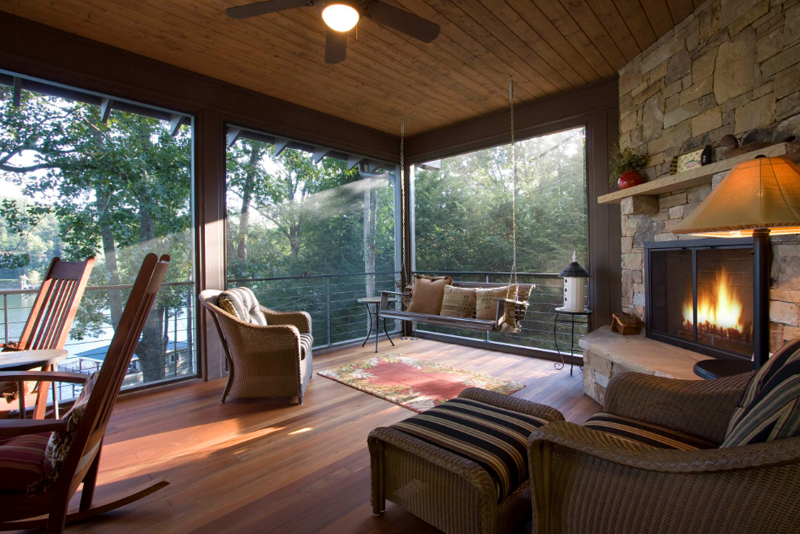 If I am not mistaken, I think the swing bench in this picture is actually made of steel. Pretty slim and could carry definitely carry a lot of weight. I like how it was strategically placed at the corner with all the sun blasting towards it. I don't think this would be great in the afternoons!
18. Acadiana St. Jude Dream Home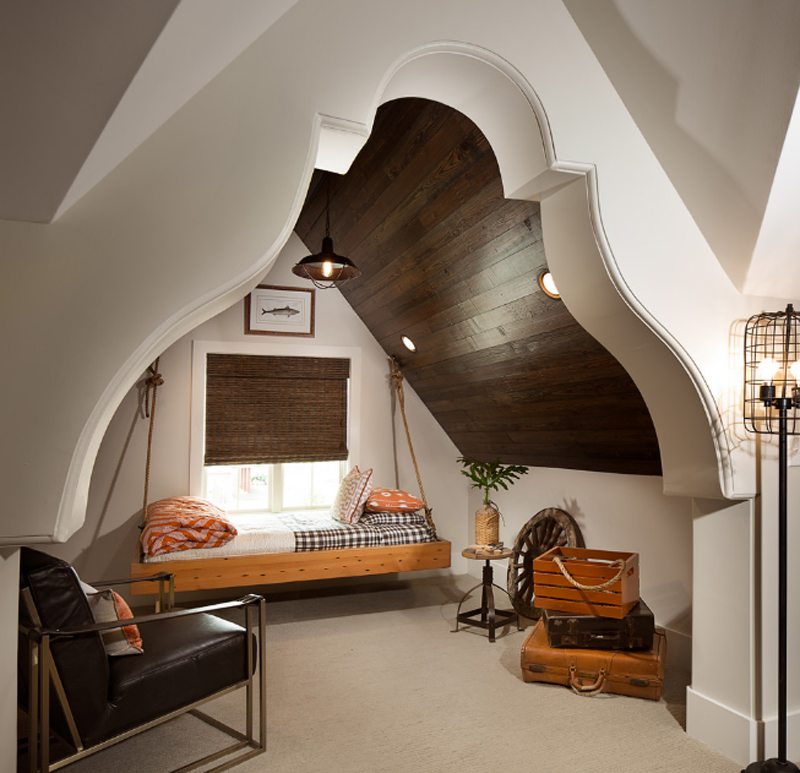 This cute nook sure looks like a heaven sent for this home. I love the archway that actually opens to this small space with the swing and the cute decors that they have in here. If you notice the industrial lamp outside the archway, I think it surely makes this space real pretty.
19. Wabi Belguim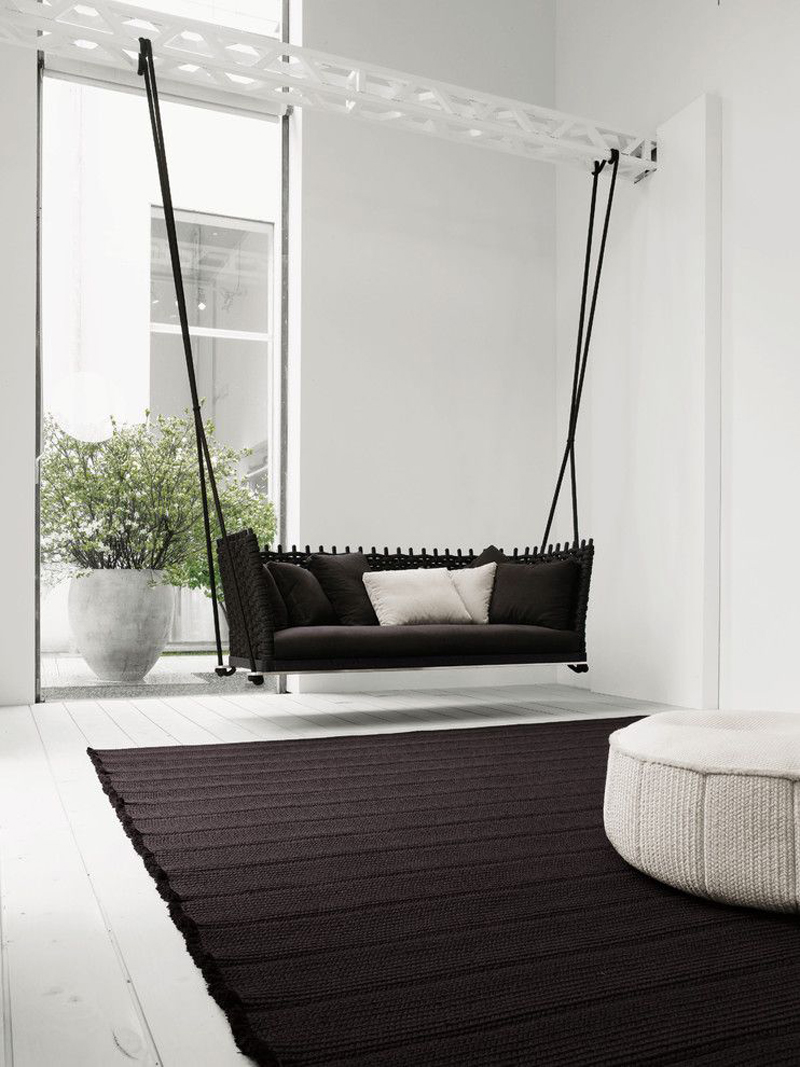 This could pretty much seem that we're promoting this beautiful swing bench – but I don't see why not? This is one cute swing that made this white space actually seem a bit more interesting and fun. Where the chair actually hangs gives this space a bit of an industrial look.
20. Indian Living Room in Los Angeles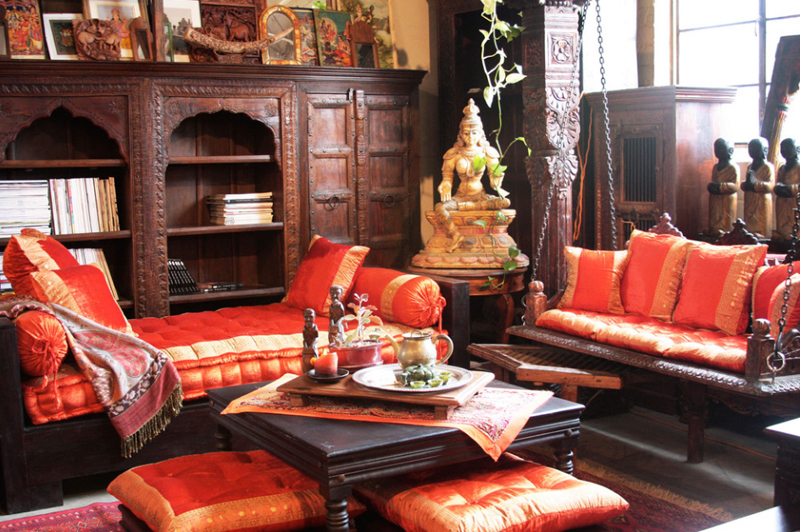 Last on this list is an extravagant looking swing bench intended to make this Indian living room really stunning! The details used on the pillows and the decors and the swing itself is just super stunning and legit! If this happened to be an Indian bar or something, I think I'd definitely go!
Growing up, we usually has a swing outside our house, and I think that once we actually grow up, we tend to miss things like this one and it's nice to bring them inside the house to keep as reminder but at the same time a statement piece for your household. I think your guests would love it; like with the 20 Fascinating Swing Chairs in the Living Room that are sweet and charming. Go get yourself a swing right now!