15 Lovely Glass Table Dining Rooms
When we say "glass dining table", it does not mean a dining table made entirely of glass, rather, a table top made from glass and is supported with a frame generally made from timber, metal, and in some cases, ceramics. The frame, whatever the material is, holds the glass and incorporates the legs of the dining table. One thing that many people worry about is whether glass dining tables are actually safe, especially if you have kids around. The good news is that they can be just as safe as any other type of dining table, especially since most tables on the market now use tempered safety glass.
We know that glass tables are an excellent choice for many reasons, one of which is that it is versatile and pretty much work for whatever theme or style you want to achieve; second, well, although most of the time dining tables can match any chair you want, glass tables work better than most of them. Even when most people prefer clear see-through glass, put in mind that we can always use other colors for them. Take a look at the 15 Lovely Glass Table Dining Rooms we have below, enjoy!
Beach Style Dining Room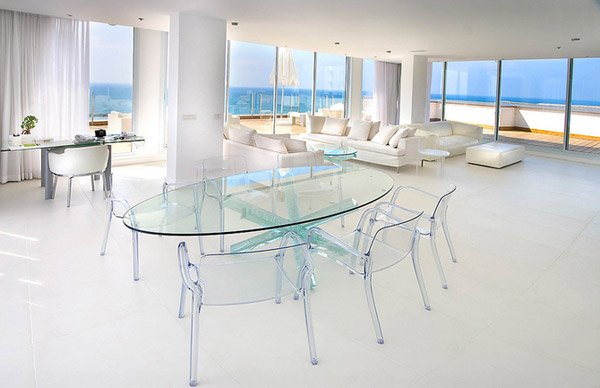 Pairing a glass table and ghost chairs didn't look this awesome, really. But since the space was designed to be all white, the choice was pretty neat.
Flat in Kalorama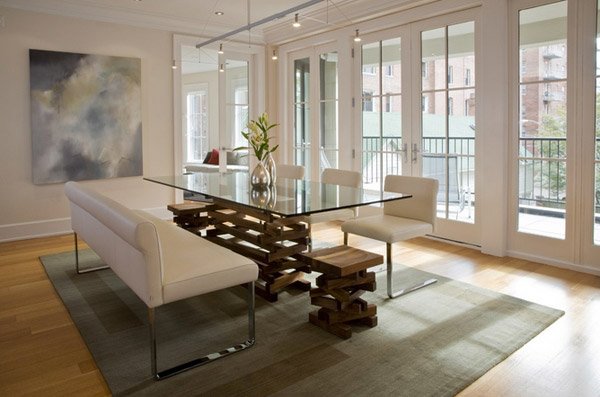 The Riva 1920 dining table is definitely a stunning piece to add to a lovely dining space like this. The wooden legs of the table contrast the metal legs of the chairs which are good in a way because it creates a great feel for the space.
Forest Manor Model Home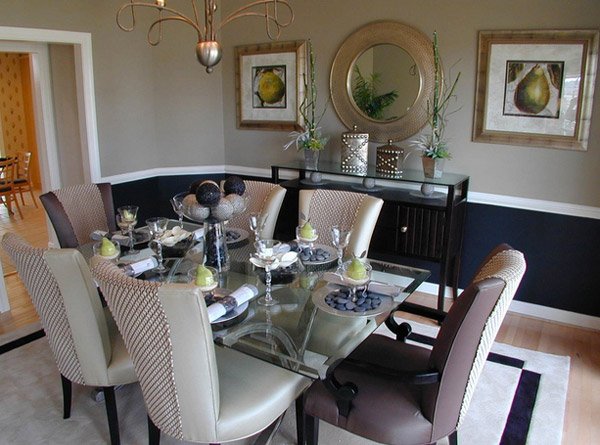 Dark shades can add drama to a space, but sometimes they're overwhelming on a full wall. Choose a two-toned look and to balance a dark and light color for a sophisticated and fresh look. Notice how the rug mimics the wall, pulling the style into the space.
Italian Loft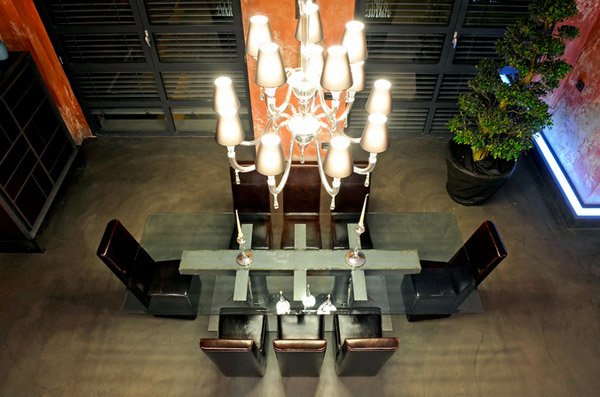 This glass dining table, seen from an upper floor, has a uniquely shaped base showing through the glass.
Los Angeles Dining Room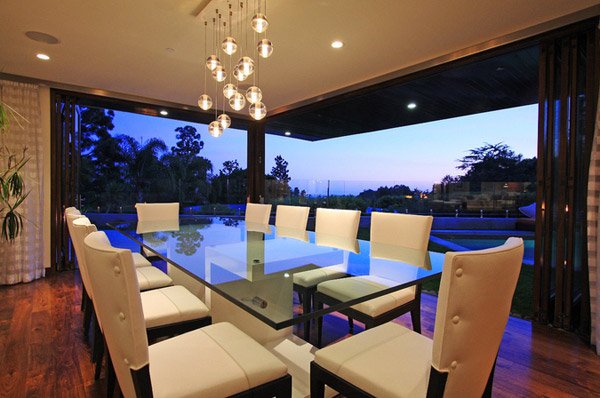 Open design is always a great thing when it comes to planning, especially in the kitchen-dining area. On this photo, we can see the outdoors directly from this dining room. Great dining set, right?
Miami Interior Design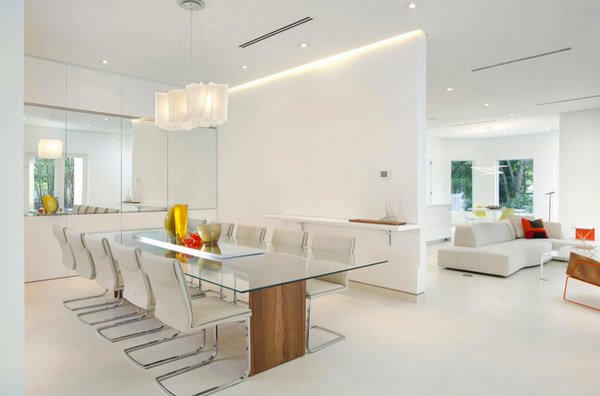 "Make sure mirrors reflect something pretty," Ronderos advises. "We used them to make this space look bigger." At first glance, you'd never know how much storage is hidden in here; behind the first three doors on the left is concealed storage; one door conceals a sink for washing hands before dinner.
New York Modern Dining Room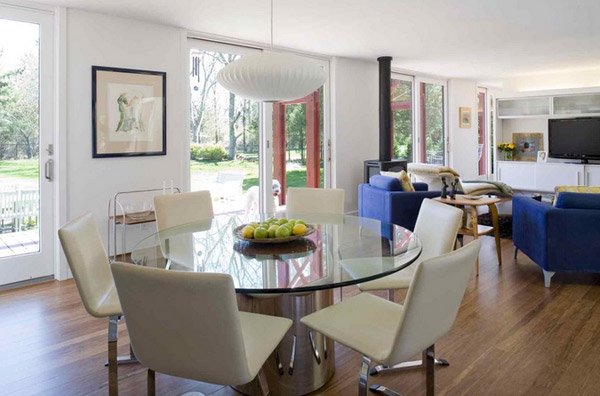 The strand oriented bamboo dark color for the flooring is great and looks extremely pretty for the white dining set we have in this space. Note the base of the table which looks really neat.
Orchard Street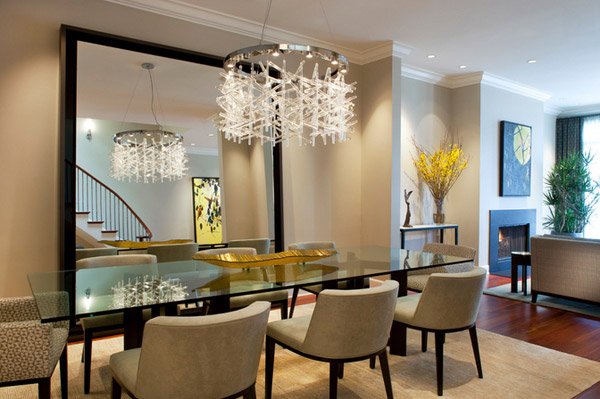 When installing an oversized mirror, be mindful of what it will reflect. In this dining room, the mirror shows a lovely reflection of not only the crystal chandelier, but also of a painting and a winding staircase in the foyer.
Palm House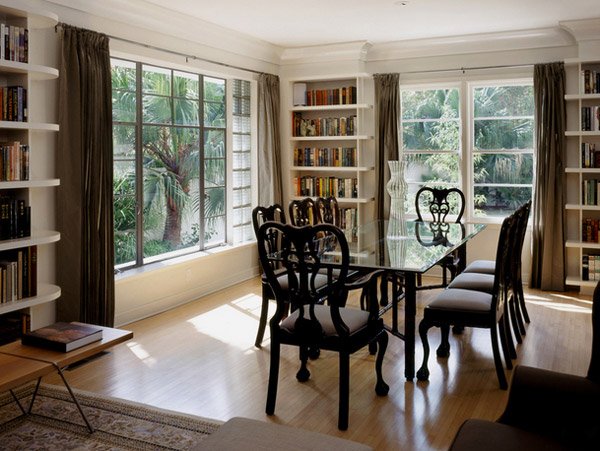 The intelligent dining room having a separate library is so Downtown Abbey. Behold the library and dining room combo. Walls lined with books make a room feel cozy and intimate. Plus, your dinner guests will know how well read you are.
Philadelphia Modern Dining Room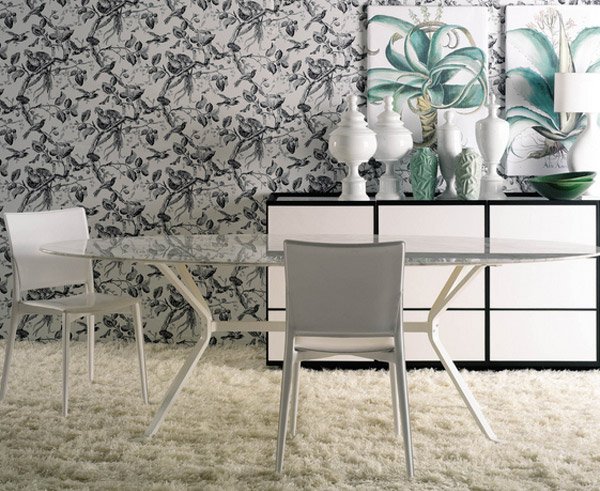 Dining chair with structure in polished or painted die-cast aluminum. Seat and back in polycarbonate or covered with hide leather. Also available completely covered with leather.
San Anselmo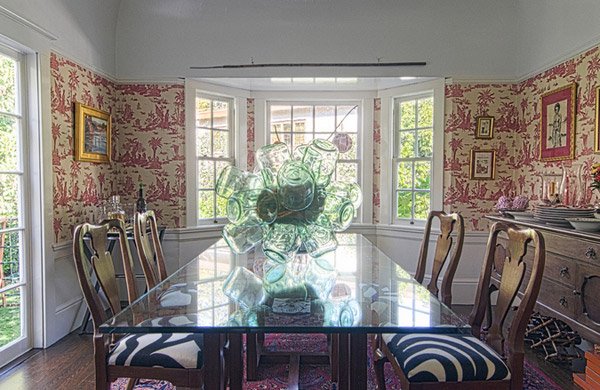 A family heirloom from Jim's family, this stunning Norwegian chandelier stands out as the table centerpiece. Beautiful chairs passed down from Karin's parents have been re-covered in a Marimekko fabric.
Sask Cres Dining Room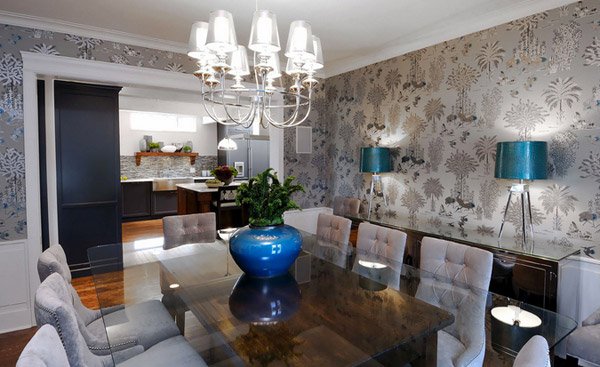 This glass top added to the table to make bigger did not only literally made it bigger but it gave the owners and the visitors an opportunity to admire the beautiful flooring and table base.
St. Simons Island, GA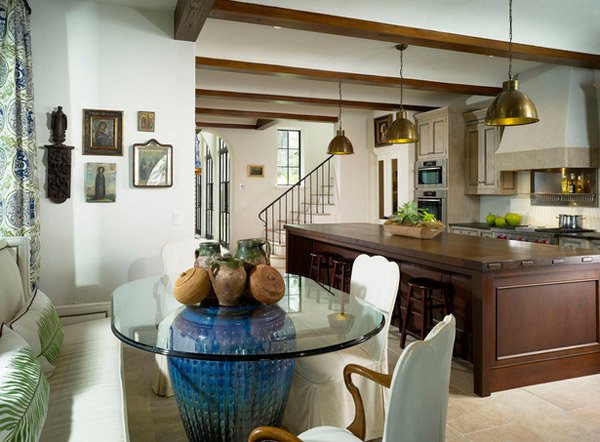 Don't you just think that the nook behind the dining set is pretty in its dark brown color and is accentuated with pretty pendants? Honestly, the dining set we have here is really interesting, with a huge vase for the base of the glass, it sure looks divine!
Stampede Dream Home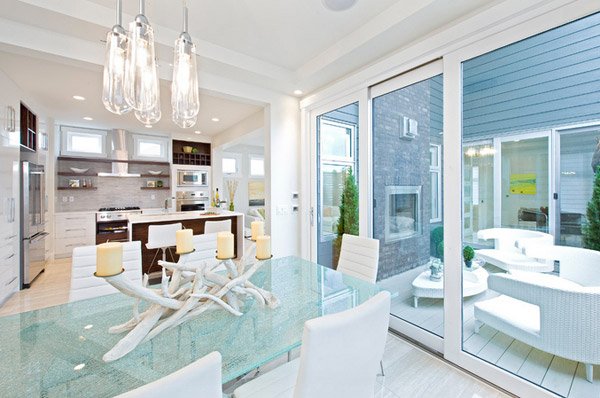 We were not able to get any information as to what material was used for the dining table. But we are sure that no one will contend that the table looks incredible and the chairs definitely complement it well. Even the driftwood candelabra make a statement – one conversational piece indeed!
White Kitchen
The comfortable chairs may be simple and all-too-flowery, but the dining table's subtlety makes all the difference.
You might think that it would take a lot of work to maintain a glass dining table but this is not necessarily the case. As most glass dining tables are made from tempered glass, they are quite naturally scratch resistant and heat resistant. You can always ask the manufacturer or the retailer where you got your table as to how you can care and maintain your glass dining tables; or you can always check the internet for information. Hope the 15 Lovely Glass Table Dining Rooms served its purpose of inspiring us if ever we are thinking about getting a glass table or update your existing one! Check out the 15 Beautiful Contemporary Dining Room Sets for more dining room specials!