15 Beautiful Contemporary Dining Room Sets
When you think about it, a lot of things are needed to achieve the best meal you want to prepare – like the ingredients, whether they are organic or all-natural; the flavors, the containers and even the seasoning. It's almost the same when you are out to pick the best dining set you want for your home. You have to basically choose from tons of designs, colors, sizes and even designers (this is when you can afford designer sets). It's a combination of a lot of things, especially when you want to get the best one!
Today, we will be showcasing 15 Beautiful Contemporary Dining Room Sets that will put the bars high when choosing the dining set you will be getting for your homes. The pictures we have below come in different shapes, colors, materials, and they most definitely vary in size. Information is everything, so to insure that you have made the best decision about buying the perfect modern dining table, you have to know exactly what you want and then search for it. Let's check them out.
Boston Dining Room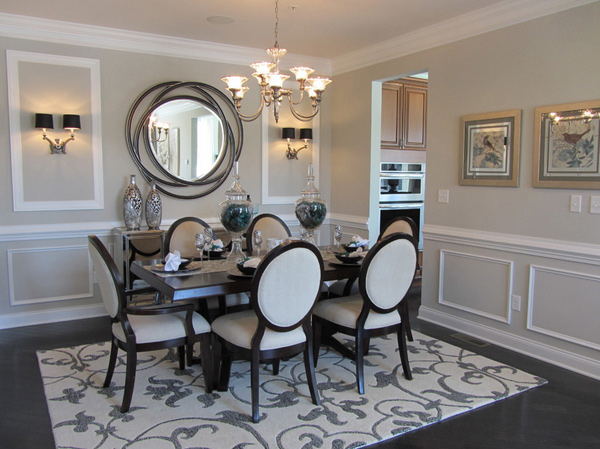 Beautiful dining room! The chandelier and wall sconces are from our Roxbury collection. Notice the lovely area carpet that complements the walls and definitely the floor.
Contemporary New York Design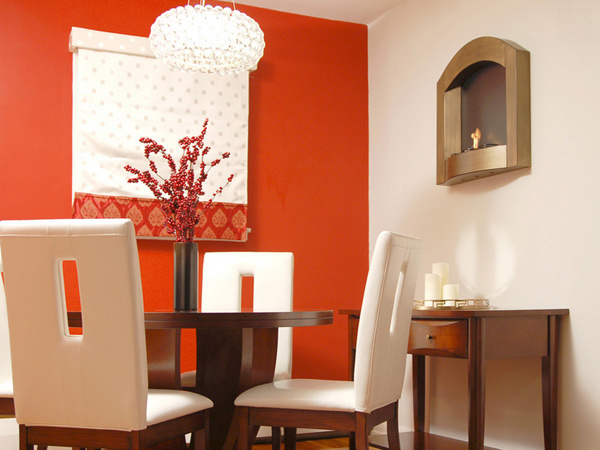 One red accent wall is just enough to bring energy and warmth to a small dining area.
Dallas Dining Room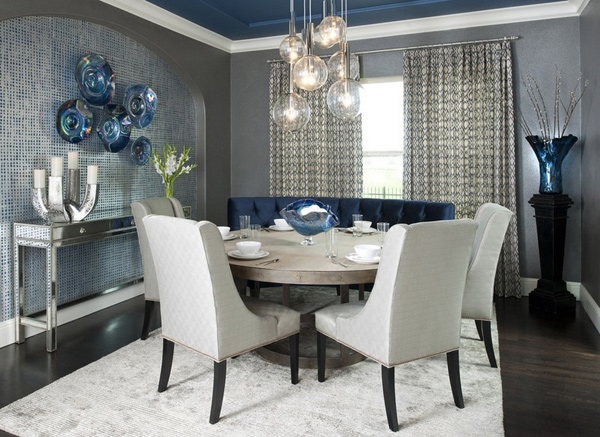 This elegant dining room shimmers in shades of deep blue and grey. Generally, a darker hue on the ceiling will visually lower it, but cooler colors also have a tendency to make a wall or ceiling recede.
Fairmont Pacific Rim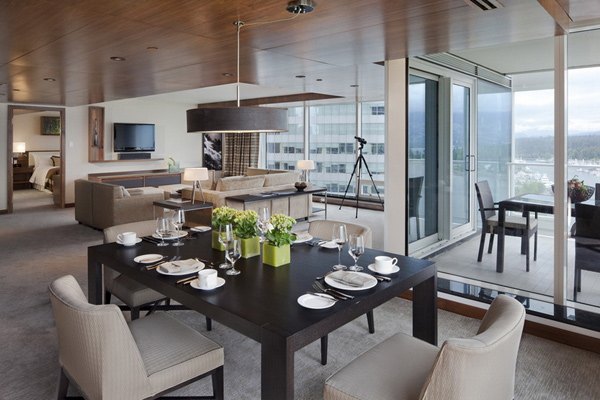 The light being circular adds much needed variety and contrast to the sharpness of the room. The curtains have a masculine and boyish nostalgic charm instantly homey and inviting.
Four Seasons Residence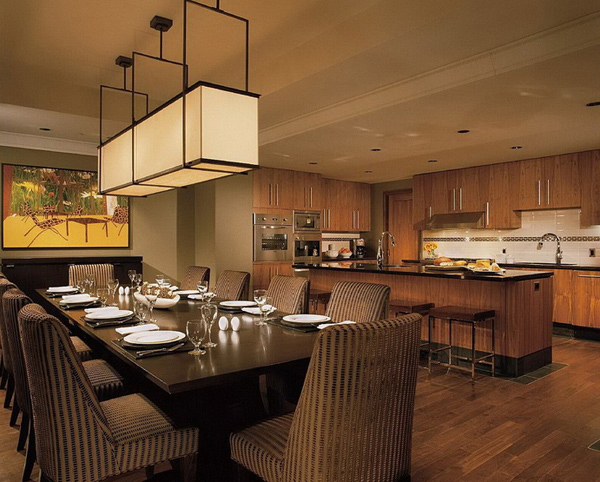 Great engineered flooring which pretty much resembles the wood that was used for the cabinets and drawers in the kitchen. The color in this space is definitely of different shade but sure look stunning.
Los Angeles Dining Room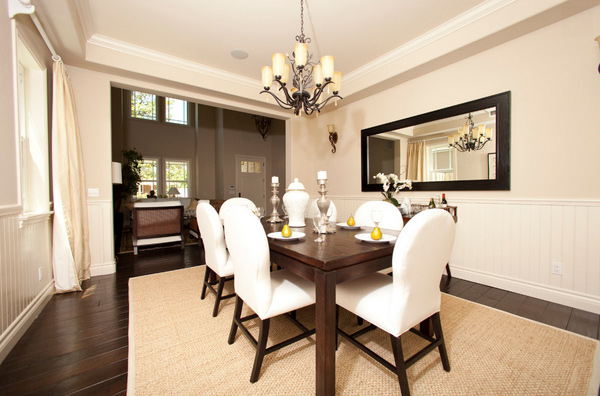 Wouldn't you agree how cutesy the chair's shape is? But we are sure that they look definitely stunning paired with a darker shade for the table. All the colors in this room are perfectly complementing each other.
La Jolla Condo Dining Room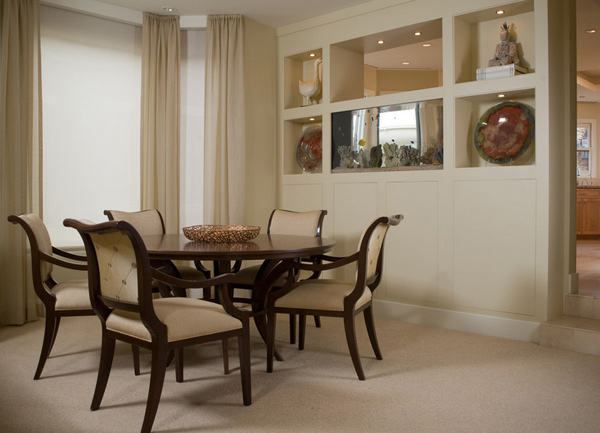 Even a simple contemporary dining room is enhanced with a crystal-clear fish tank.
Naples Home
Even when a dining table is actually simple, adding charming chairs complete the look and the feel. Note the decors on this dining space too.
Pelham Renovation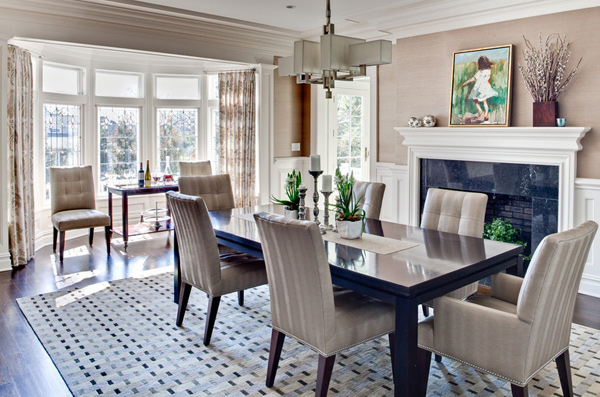 Kravet Furniture did a great job in the upholstery and design choice of these lovely dining table chairs which match perfectly with the beautiful table.
Rubin Residence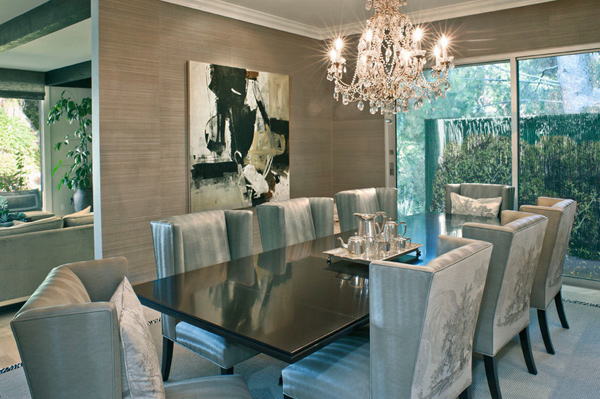 Consider upholstery choices beyond leather. These gorgeous and sophisticated dining chairs use faux leather on their seats. Vinyl upholstery has come a long way from the very plastic-looking white or black we are all used to.
Villages Of Herndon Mills Model Home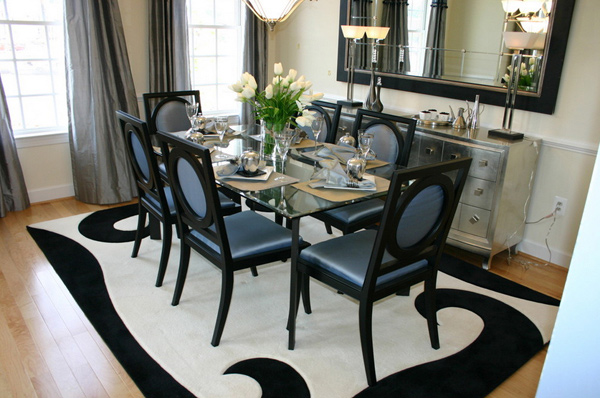 The chairs were a good addition to the rectangular dining set that we have in this dining space. The area carpet sure is stunning – complements with the colors around it.
Edgewater Residence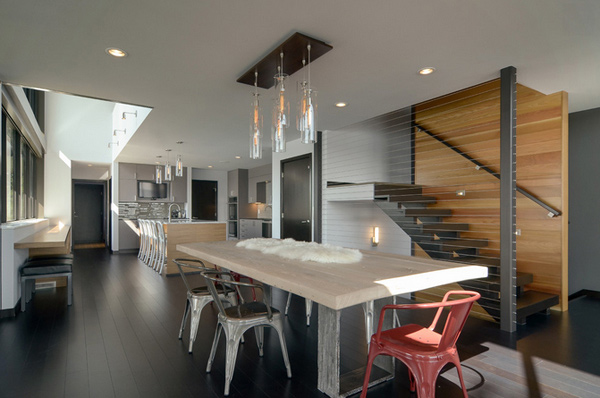 The table is from Artifacts International. The top is reclaimed white oak in a "driftwood" finish. It has an iron base in a distressed "brushed steel" finish.
Modern Minneapolis Loft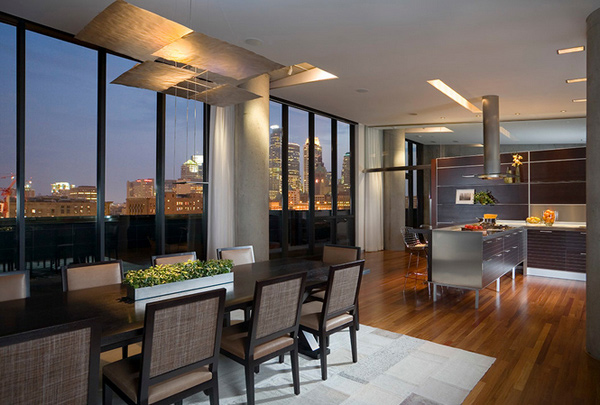 Long rectangular dining table made of dark wood looks definitely stunning matched with these lovely chairs made from wonderful materials.
San Francisco Residence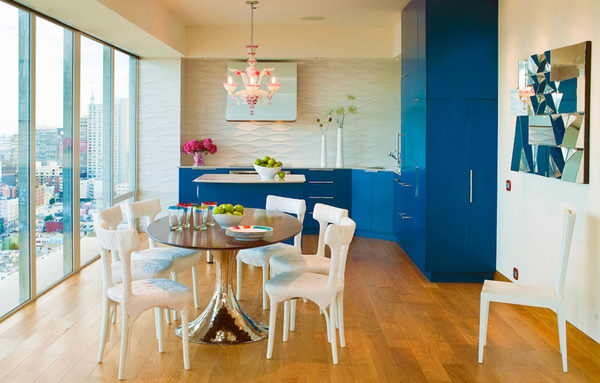 This full of color dining area is pretty typical for a pad with no enclosures. The color palette for this area maybe a favorite of the owner – it is mouth-watering, we just can't put out finger onto it.
The Jetty Apartment
The Louis ghost chairs may seem out of place in this dining area, but they surely makes one room look extra interesting.
We hope you enjoyed our inspiring list of 15 Beautiful Contemporary Dining Room Sets. We know how hard it is to find the perfect pieces of furniture for the most important place in the world: your home. Choosing between different shapes, combinations of materials and sizes can be rewarding once you find that perfect table. Once you see it, you'll know it was made for your dining room. Also check, 15 Dining Rooms with Benches. Until then, have fun browsing wonderful designs and please share with us your favorite items.