20 Picnic Table Set for Kids for Endless Outdoor Fun
Let your child enjoy the outdoors with picnic table sets!
Picnic table is such a brilliant invention made for family's leisure. It is a good venue where family can unwind, have fun and meaningful conversations while enjoying sumptuous treats. For kids as young as two years old, a picnic table can be his own playground. A place where he can socialize, create art pieces and a lot more. It can be what he may want it to be and have lots and lots of fun for hours. Which can give parents time to slack off for quite a number of hours also. It is a win-win situation for everyone. Of course you always have to keep your child safe all the time by keeping an eye on him.
There is no denying that there are a lot of awesome options for picnic tables for your kids, so I round up 20 Picnic Table Sets For Kids that is a surefire to give your energetic fellow indefinite fun outdoors. These picnic tables are not as fancy as other tables and chairs sets that has built-in gadgets. Save those for indoors. These sets that I got are perfect for any rough play and other fun outdoor activities. Your little one would love to own one of these beauties.
1. The Sit & Play Picnic Table with Umbrella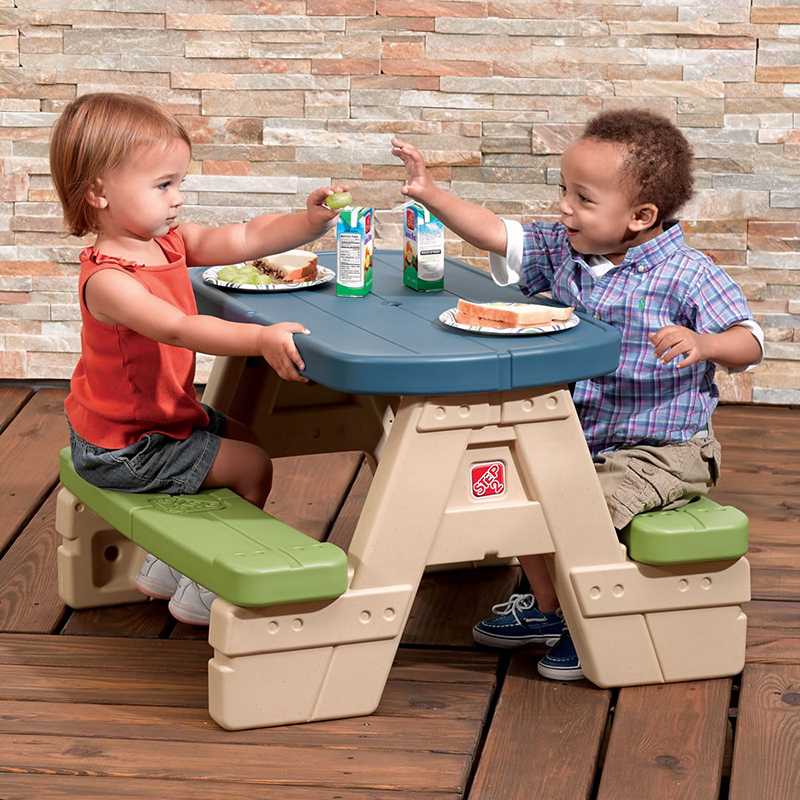 Do not be fooled by its small size, this picnic table is durable and compact that makes it a perfect fit for your toddlers and preschoolers.
2. Outdoor Collection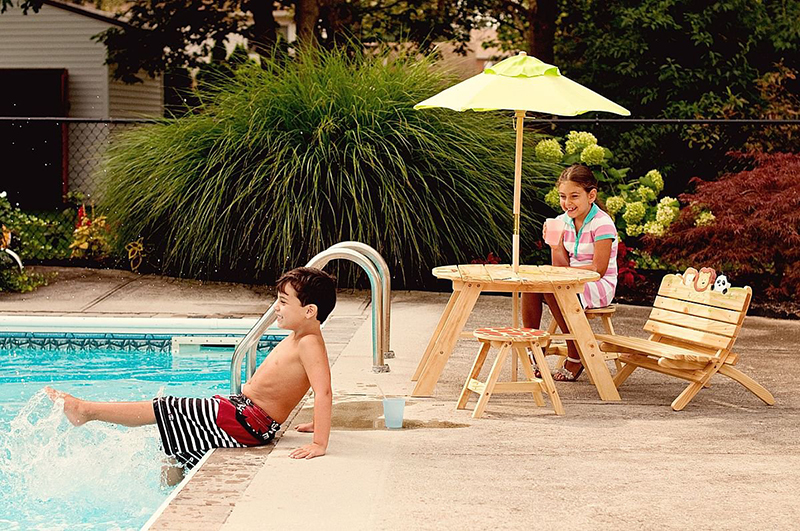 This gorgeous collection will be a delightful treat for your kids. Its brightly colored and stenciled butterflies and playful zoo animals designs are so adorable that you can mix and match furniture from this collection to setup outdoors. This will serve as a relaxing and exciting place that your little one and her friends can enjoy.
3. Naturally Playful Picnic Table With Umbrella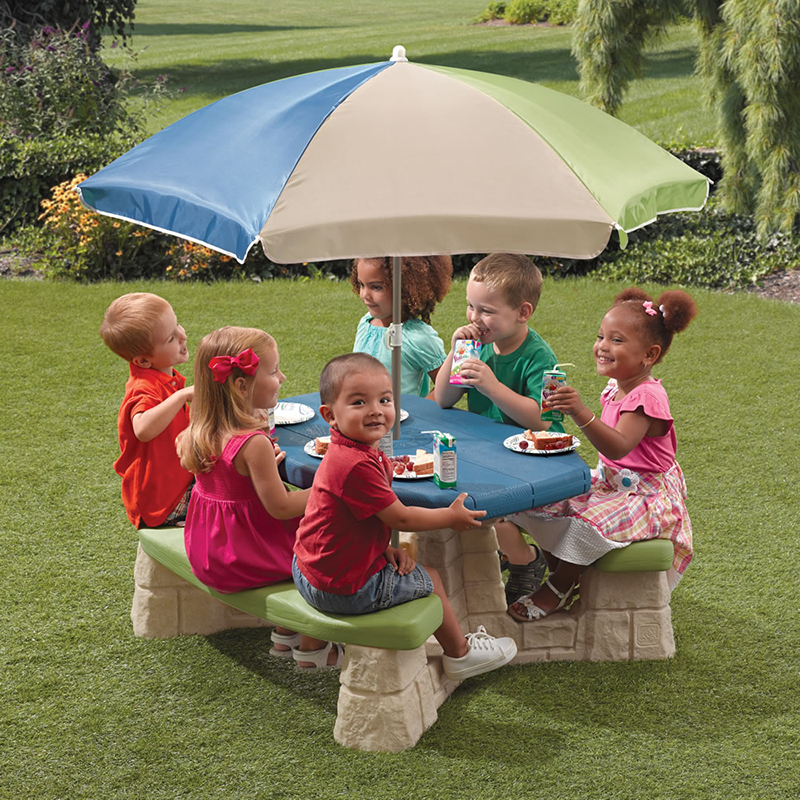 How cute those brick details on the support is! Your little rascals would sure love to spend crafting, snacking and playing here.
4. Fold 'N Store Picnic Table With Market Umbrella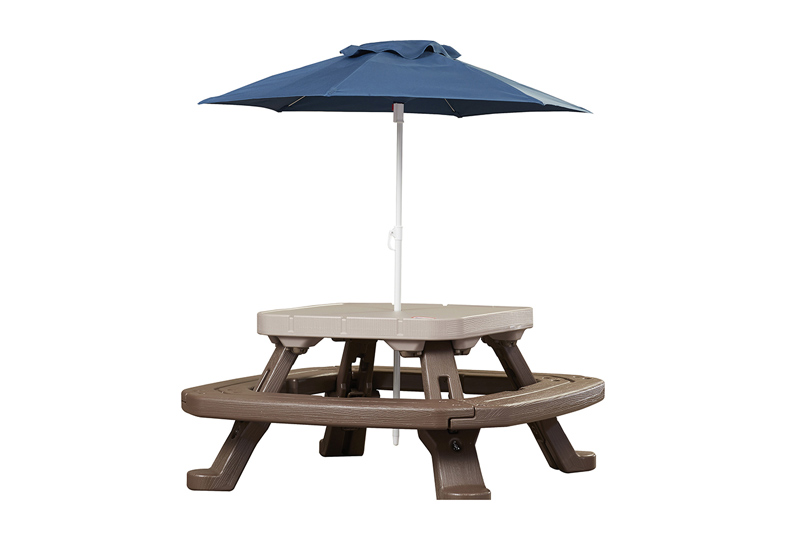 For those who loves convenience, this picnic table is right for you. This compact, four-sided table is easy to store or hang whenever you need more space or is not being used.
5. Kids Picnic Table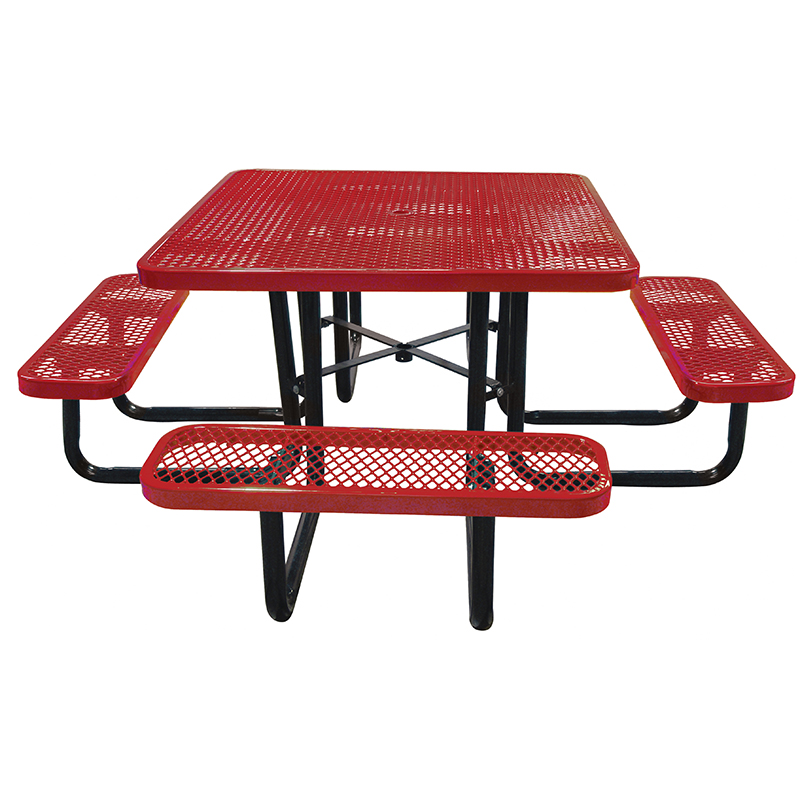 The striking hue of red and black is a perfect match for your vigorous youngsters. One more thing, this picnic table has steel patches that allow rain water to filter through to prevent puddles from forming on the surface as it adds a charming look to it. Cool, right?
6. Polywood Kids Picnic Table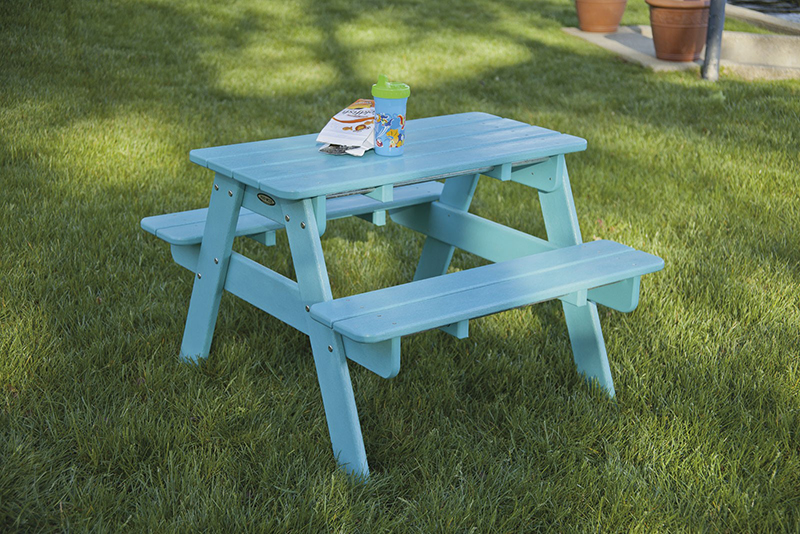 This dainty picnic table is constructed of durable HDPE Polywood lumber that provides the look of painted wood without the maintenance. It is solid, heavy-duty, easy to clean and it is available in 13 fade-resistant colors. You can relax while your kids have the time of their lives playing, snacking, and crafting with it.
7. Child's Picnic Table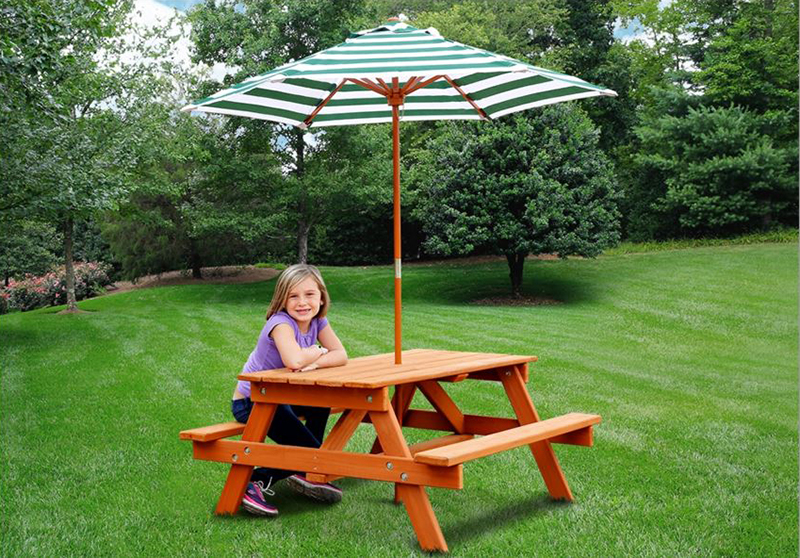 Add a wood charm to your backyard with this picnic table made just for kids. This table is made of factory stained and sealed cedar, pre-sanded with eased-edges for your children's safety. It includes umbrella and umbrella post to shade them from the heat of the sun or rain.
8. Kids Picnic Table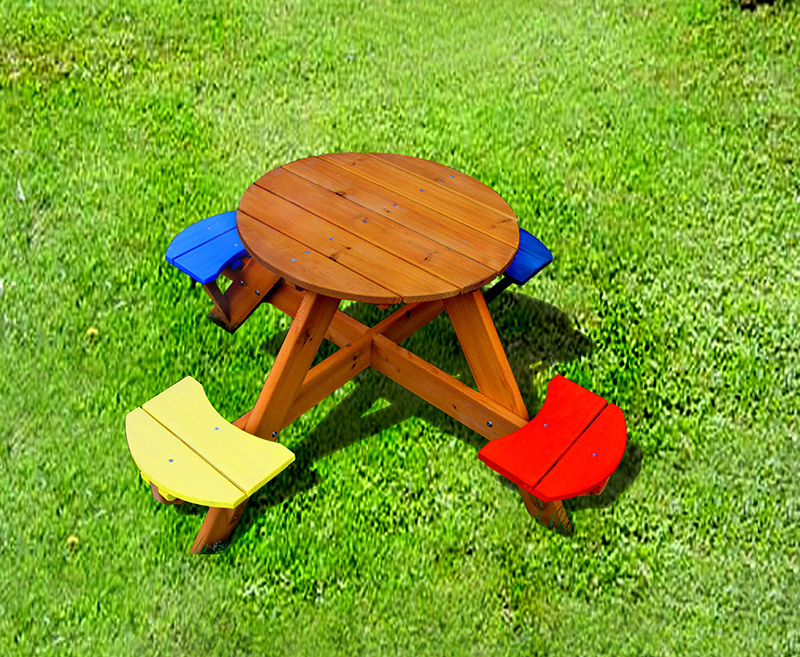 This round picnic table with built-in colorful seats is a great choice to bring fun and excitement to your garden patios, backyard, and even in your indoor game rooms. Its inviting charm is sure to appeal to you and your kids' liking.
9. Lifetime Children's Oval Picnic Table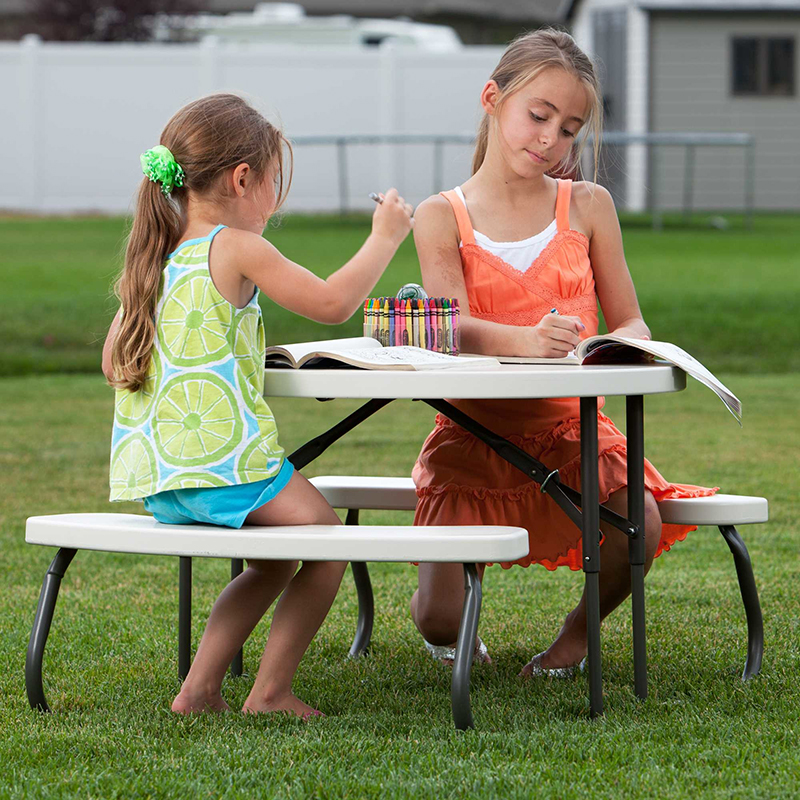 Looking for some portable and modern picnic table for your little tot, look no further because this folding picnic table from Lifetime Store is the right fit for you.
10. Phanty Pic-N-Rock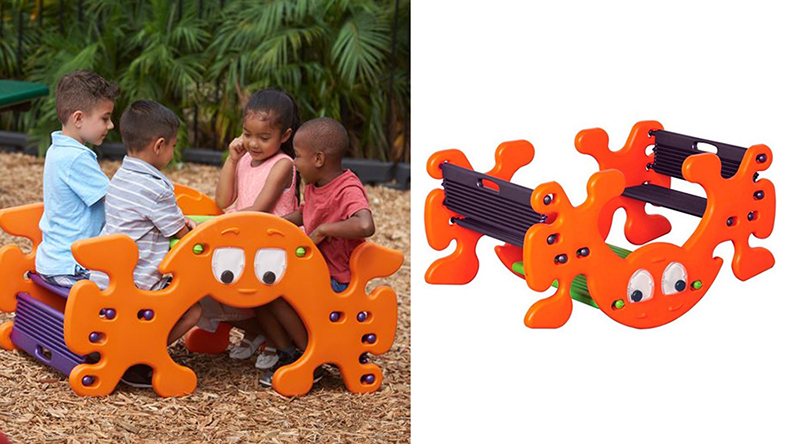 Keep your children entertained with this dual-purpose brightly colored furniture made especially for them. One side can be used as a picnic table and when it is flipped over it transforms into a safe and fun rocker that can accommodate up to four children.
11. Plum Children's Garden Picnic Table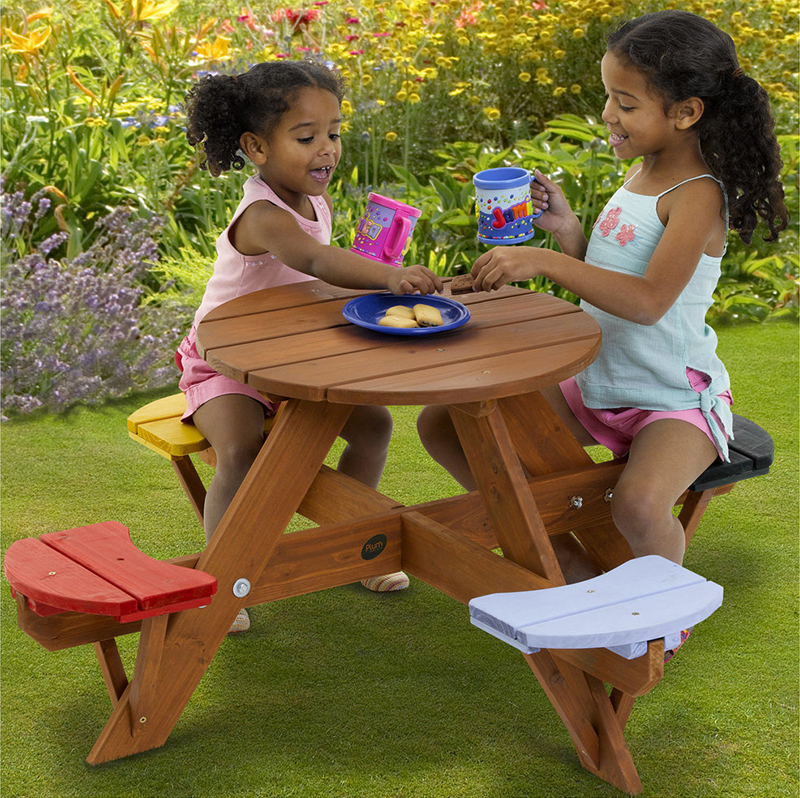 This round picnic table with colorful seats is perfect for toddlers who are still learning with colors. They can choose to sit on their favorite color and have lots of fun playing for hours.
12. Children's Skateboard Picnic Table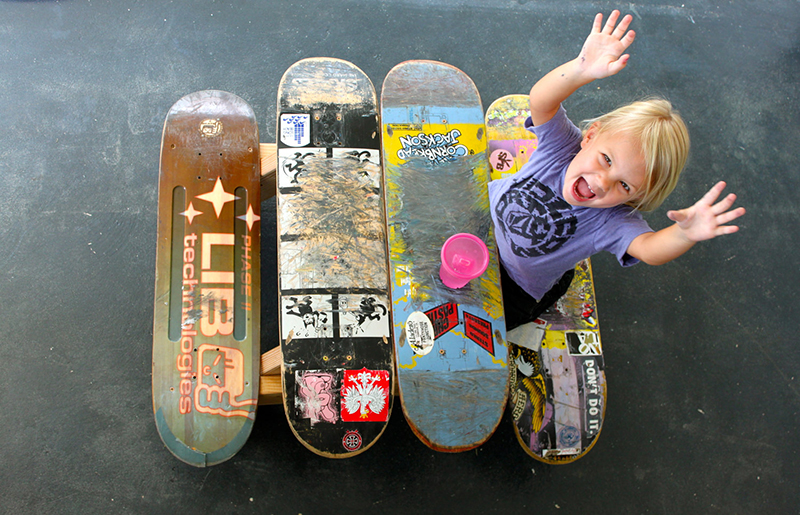 Skateboard for a picnic table? How cool is that?! Your little boy is sure to love and enjoy this awesome picnic table. There is an actual PDF file that you can download on the website so you can do it yourself if you got a lot of old decks you can use. Get those creative juices in your head flowing, you can recycle your old stuff and make it into something very useful that you and your child can enjoy.
13. Outdoor Table & Bench Set With Cushions & Umbrella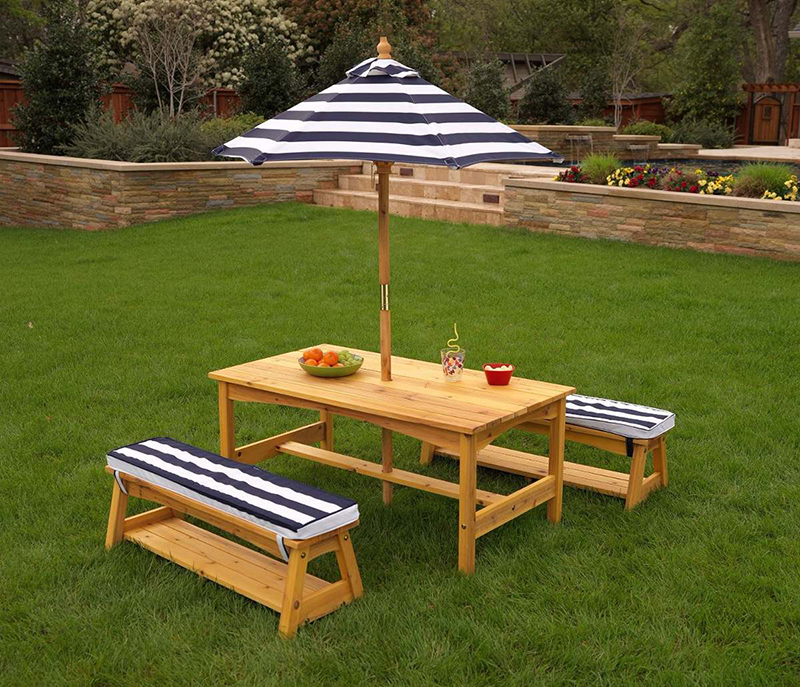 Add a chic and stylish picnic table to your backyard, patio or garden that your little fashionista will love. It is a great place to relax, play and eat lunch or some snacks that you and your little one will surely enjoy for a long time.
14.Kiddies Picnic Table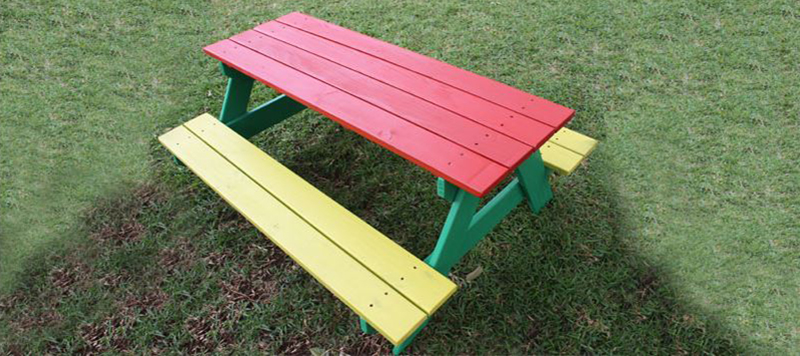 Encourage your child's creativity and imagination by adding this colorful picnic table to your child's play set. This will look fun and whimsy to any patio or backyard too.
15. Wooden Picnic Table For Kids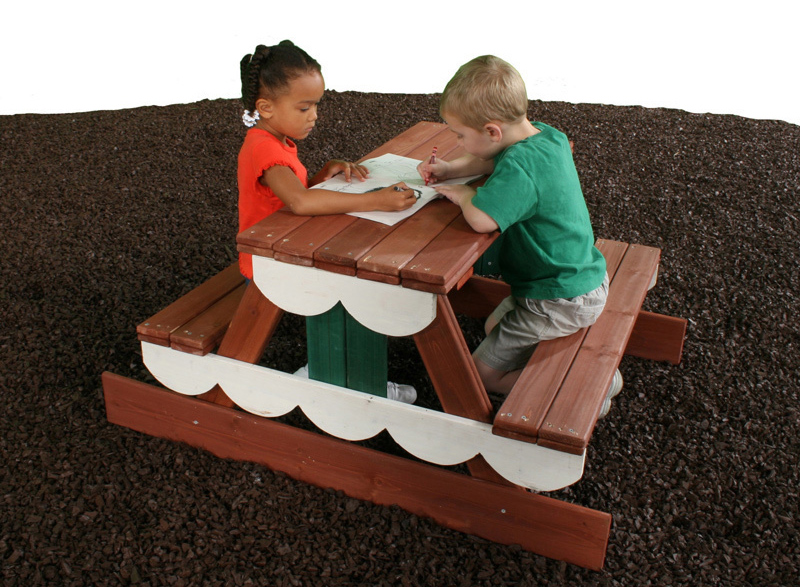 This wooden picnic table will add charm and long hours of fun and entertainment for you and your child. Its sturdy lumber require minimum maintenance too , so you could relax and spend more time playing with your child, not worrying how to keep this piece clean.
16. Kids Rectangle Tot Picnic Table
This picnic table is just the right size for your pre-schoolers. With its strong steel frames, easy-clean plastic tops and seats, and built-in carry grips, adults are sure to love it too.
17. Surfside Wooden Sand And Water Picnic Table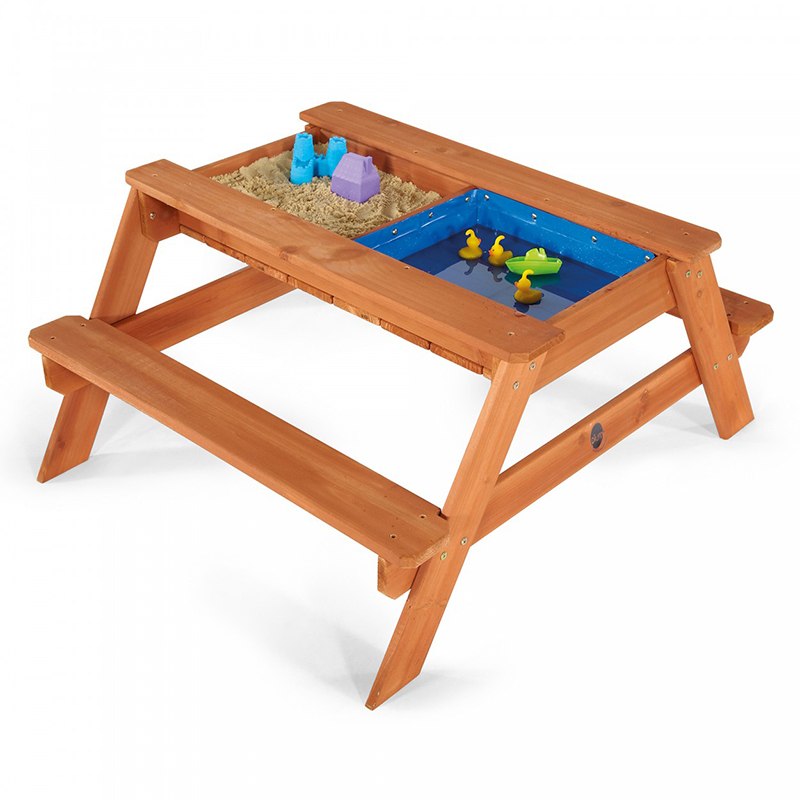 Bring in the summer fun in your child's play area with this activity and picnic table in one. Kids can play with sand and water outdoors, and converts easily into a picnic table by replacing the wooden lid. This is recommended for ages 18 months and above.
18. Magic Garden Collection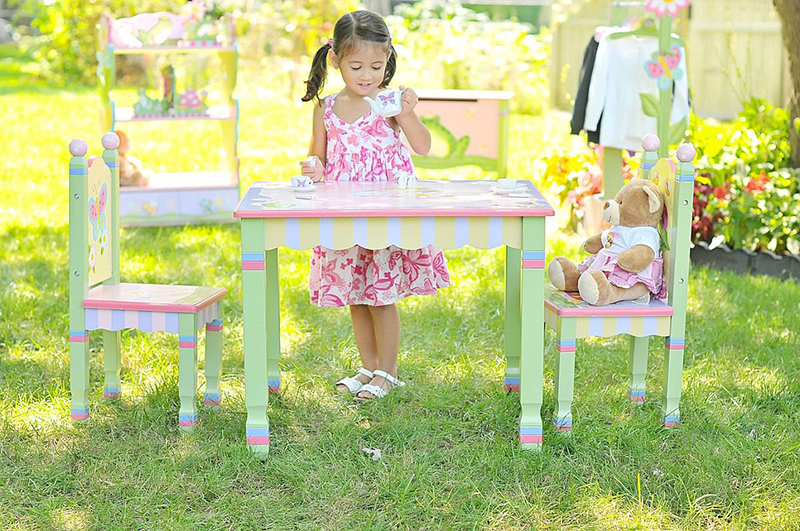 You little sweethearts are going to love this collection. You could use this indoor or outdoor, for a tea party with teddy bear or with friends. This adorable collection is sure to sweep their little feet off the ground.
19. Easy Store™ Picnic Table with Umbrella – Blue\Green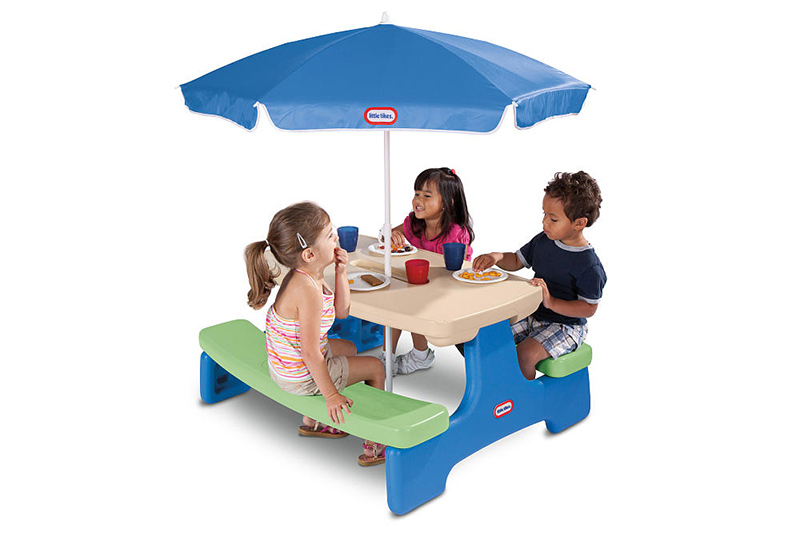 This portable picnic table folds for easy and quick set up and keeping. This can also be used indoor or outdoor as a play table or as a picnic table as it is. It includes umbrella to keep your little tots safe from the heat of the sun while having fun.
20. Dinosaur Kingdom Collection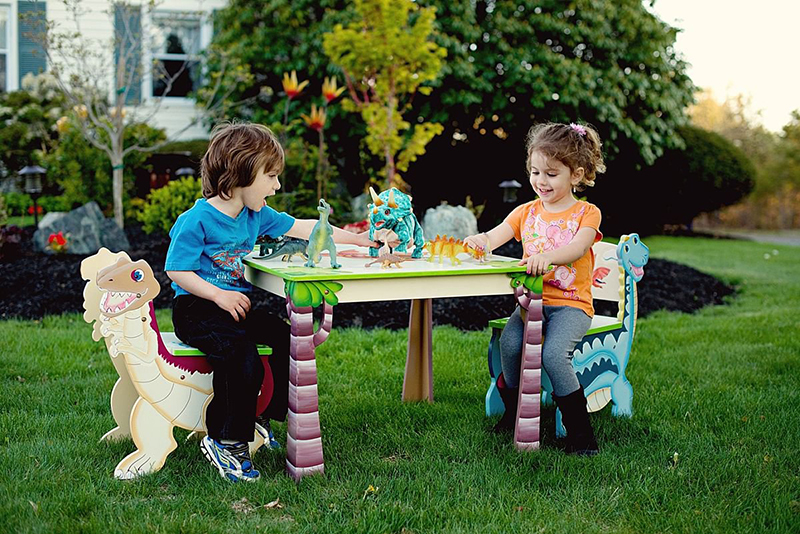 Bring in the fun and exciting adventure for your little explorer with this unique and playful collection. This can be used indoor or outdoor, but either way, you are going to give your child a Jurassic adventure of his life.
I am sure that you will agree with me that those picnic tables are all gorgeous. Some were made as simple as those of an adult version of a picnic table, some were done creatively and there are those with unique and whimsy look, nevertheless, all of which serve one purpose and that is to give kids a table where they can interact, snack on, do arts and a whole lot more. My children love looking at those awesome picnic table list. They keep asking me to get one for them after seeing one photo after another. Well, I can't blame them. They all look so interesting and fun. Kids will be kids and they deserve to play and have fun under the sun, with or without picnic table.