20 Beautiful Black Living Room Couches
If you think black is too dark, you'd change your mind after seeing this list.
Whenever we look into buying a new couch for our homes, we usually consider a black one because of its sophistication and class – plus it usually is ideal for homes because its maintenance is not so hard. Dirt doesn't seem to be as visible as when you choose a light color – especially the neutral ones. Of course, choosing a white one or a neutral couch is nice too because like black, it will definitely go great with anything.
So, for today, we thought of creating a list of 20 Beautiful Black Living Room Couches – the spaces in this list is quite of the contemporary type and I think, you know one or two living room in here as something familiar – not necessarily common, but something that might look like your own space or that of someone you particularly know. Go ahead and check out the spaces below guys!
1. 36 Denning Street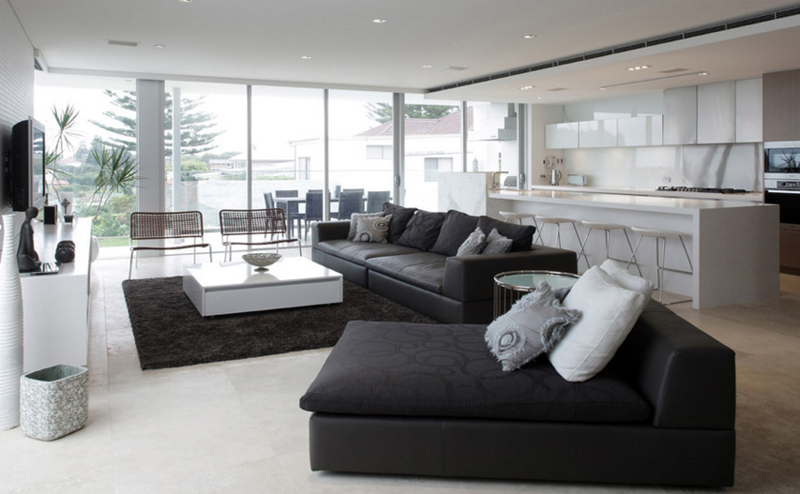 Look at what we have to start off this list! A simple black and white home that showcases a stunning set of black couches ideal for those people who really love to hang out in front of the television. The coffee table and the console is really pretty and I wish I had one like that!
2. 525A Upper Changi Road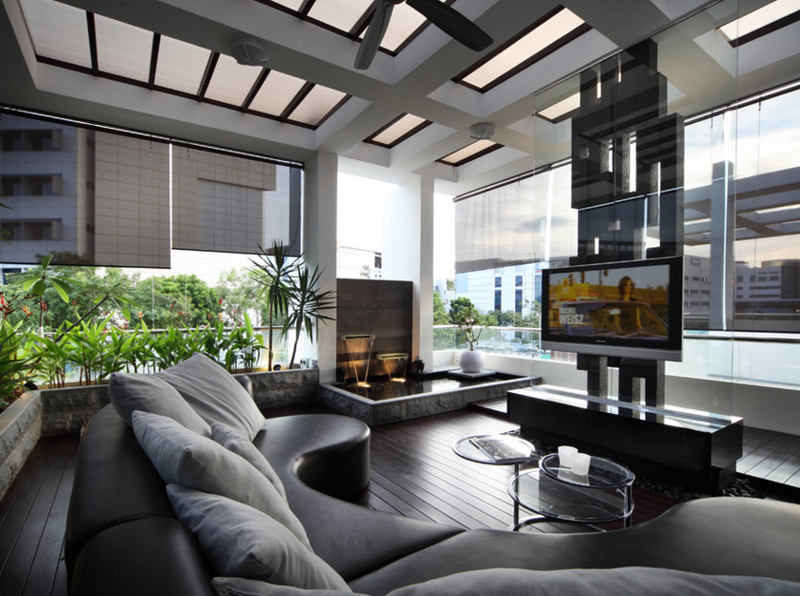 A leather black, no-angle couch is indeed a great addition to this contemporary-modern space. With a wonderful space like this one, I don't think you'd want to go out if you can just hang out and chill; drink Chardonnay and binge-watch The Big Bang Theory or Grimm.
3. Arlington Contemporary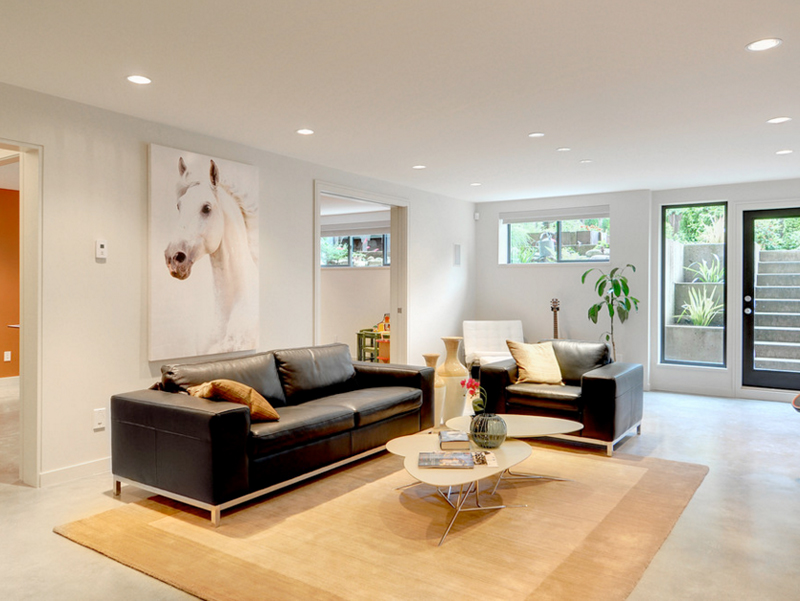 The white horse painting in this stunning home is just as awesome as the planters that they are seen from the inside because of the glass window beside the stairs. The black couch and arm chair combo look great beside the cute coffee table.
4. Artful Restoration for a Brooklyn Brownstone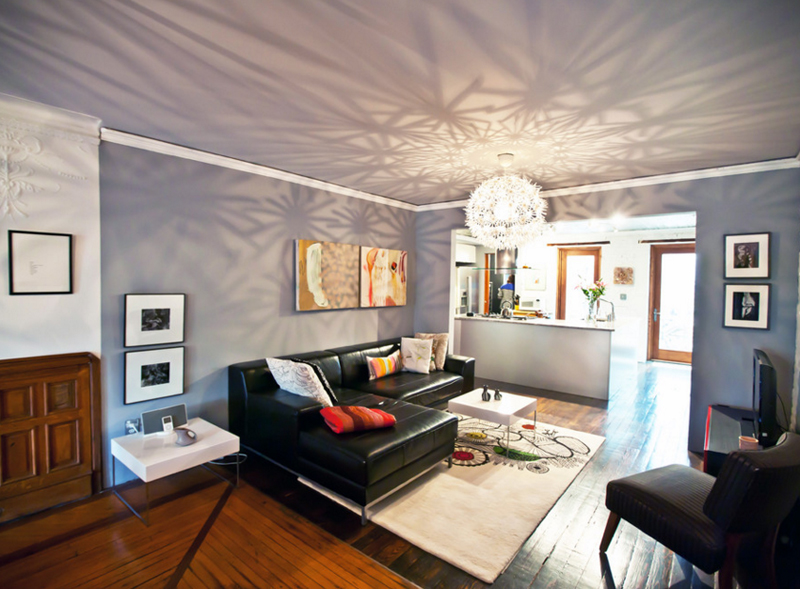 Look at the way this chandelier lights up this living room. The shapes that reflect on the walls and the ceiling, plus the way this lighting affects the entire living space is just fascinating. The black sectional couch contrast with the carpet and still looks perfect.
5. Auburn Residence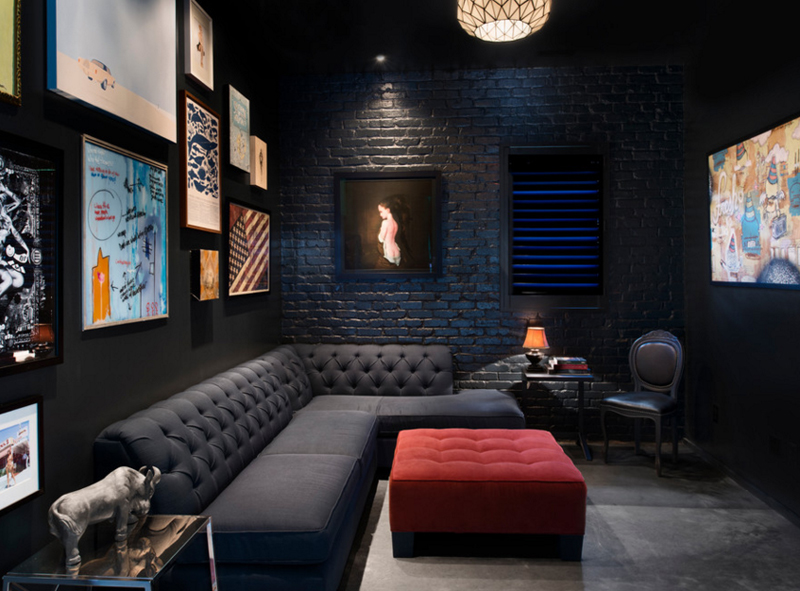 This tufted black couch is super beautiful; this space in general is just perfect – it has this entire classic vibe and all at the same time, it has this French cafe vibe too. The red ottoman that serves as the coffee table in fact adds color to this almost-all-black space.
6. Beverly Hills Summit Drive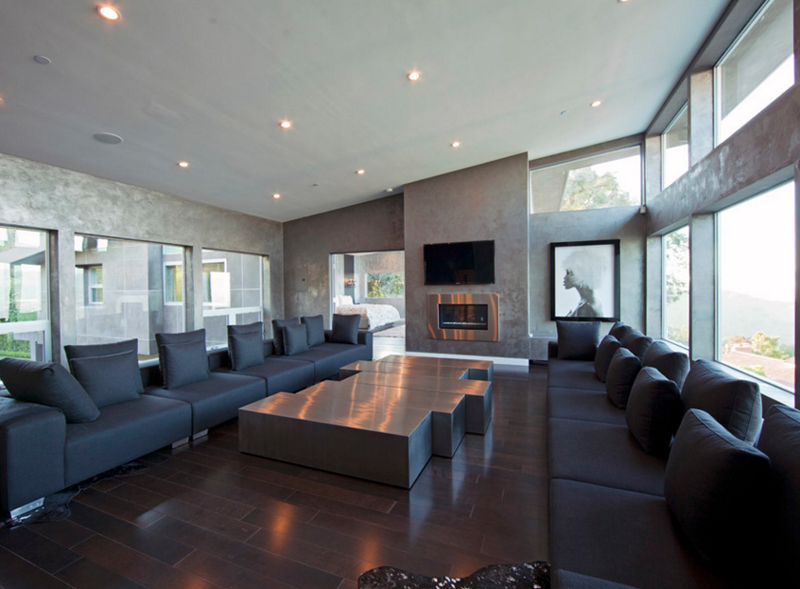 Can you imagine how many people can accommodate this living space? The long black couches in this Beverly Hills home is just perfect for get together and parties. The rectangular coffee tables are pretty neat too!
7. Cadboro Bay
Wherever Cadboro Bay is, I think this is one awesome home to be in! The furniture and decor in this home is fun, new and fresh. It makes you wonder how on earth spaces as beautiful as this are! Haha!
8. Dundarave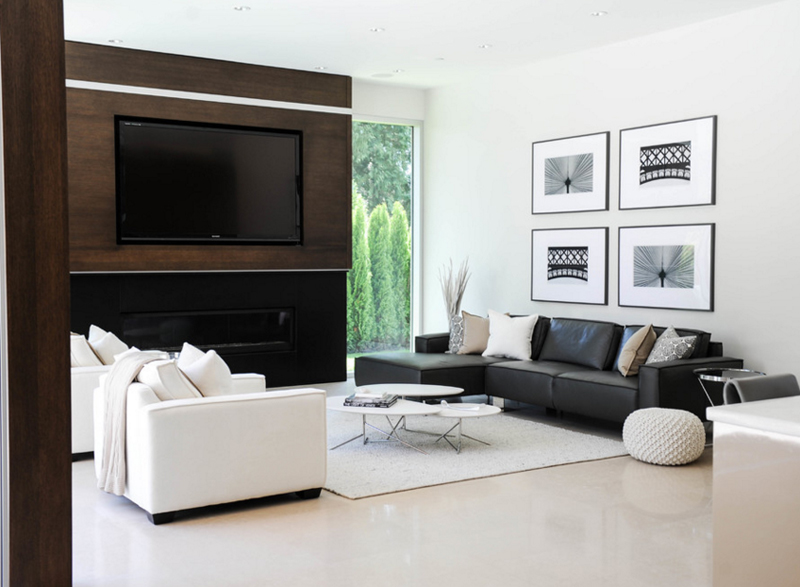 Isn't this one charming home from Twenty One Two Designs? The couches, the pictures on the walls, and the large television is just a few of the things that make this space stand out as a contemporary home ideal for starting families. It may seem large for a starting home but it is indeed one perfect space to be in! What do you think?
9. Godden Crescent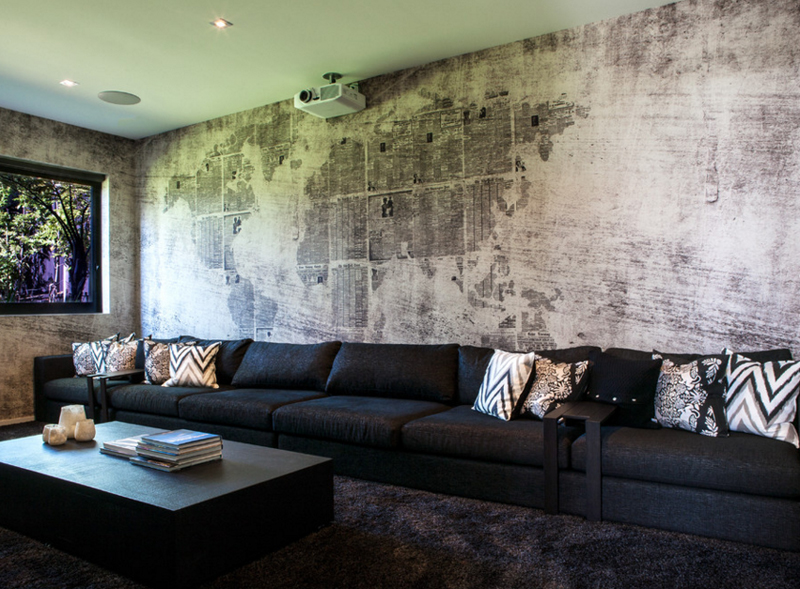 I am guessing that this is actually a living space for movie viewing. The long black couch is made prettier because of the nice wall and the awesome carpeting. The window on the side is quite a view though. Notice how the details on the wall seem to be like a map or something.
10. H. Richards Living Room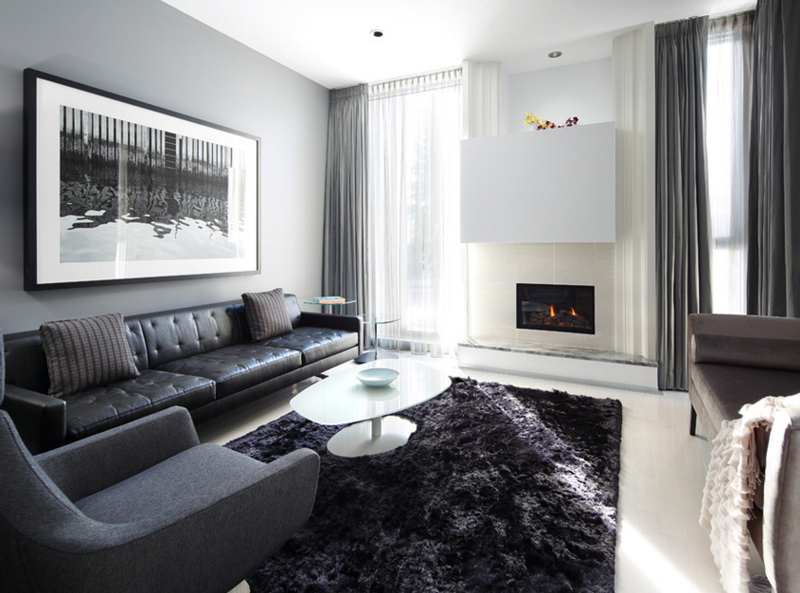 This living room is really pretty – the long drapes, the expensive area carpet is such lovely decorations that match well and really go well with the couches and the arm chairs in this space. If I am not mistaken, the rectangular space above the beautiful fireplace is a television – pretty cool.
11. Interiors from LDP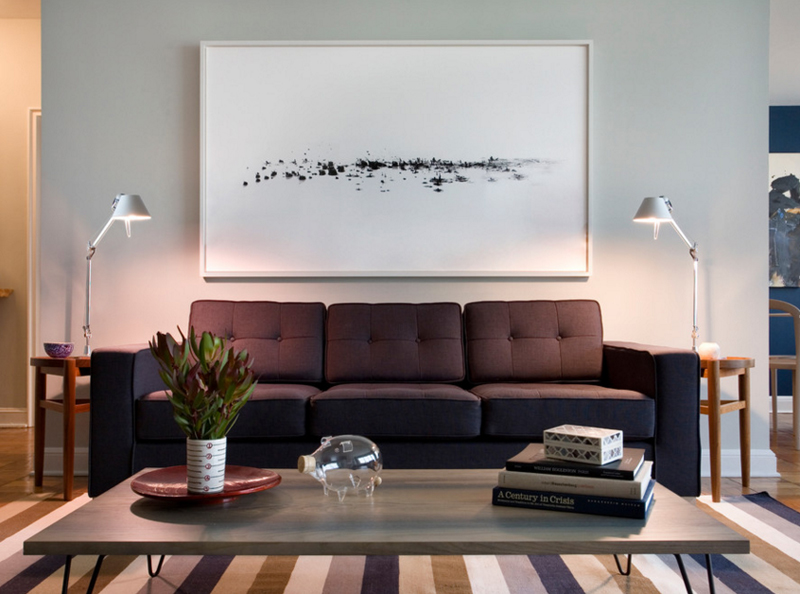 This simple living room indeed makes for comfortable living. The couch may seem alone but it surely completes the look already. The cute table lamps complement well with the large couch and large painting that is seen on top of the couch. Oh how I love small living rooms like this one.
12. Contemporary Living Room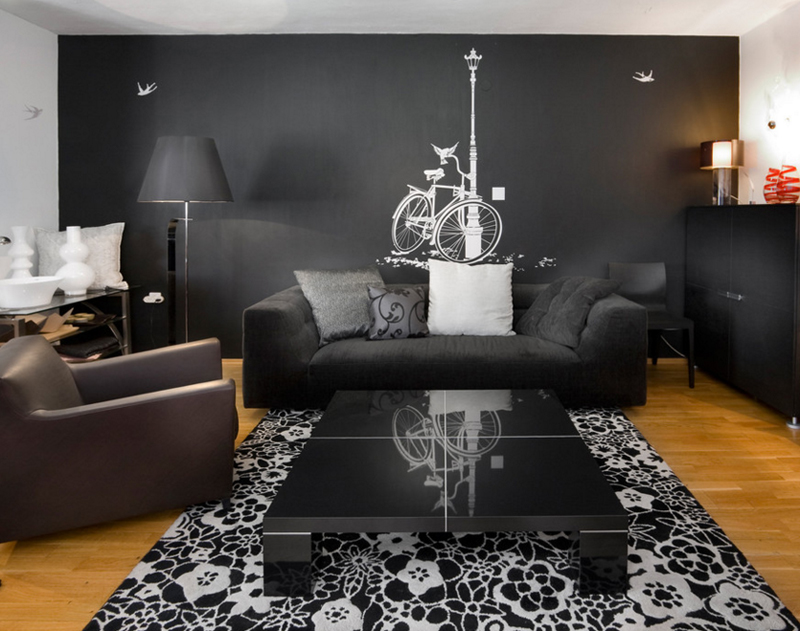 Elad Gonen indeed takes the best photos of living spaces! This is one fabulous example that showcase an awesome set of living room chairs, fascinating coffee table, stunning stand lamp and a black accent wall with a pretty wall sticker.
13. London Contemporary Living Room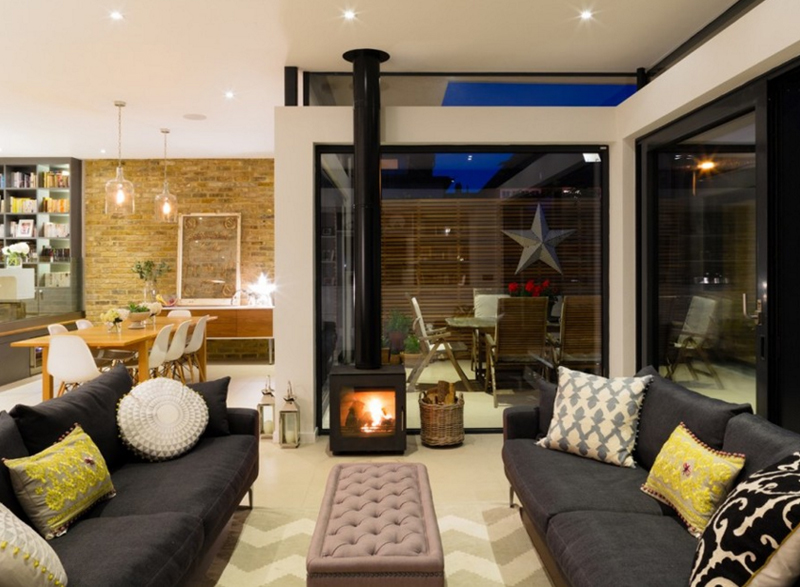 The cute fireplace in this living room sure is a conversation starter. For a country that does not really need a fireplace, this one is actually a pretty addition to a living room. The couches in this space adds a hint of class and modern vibe to this already contemporary living room.
14. Plateau Residence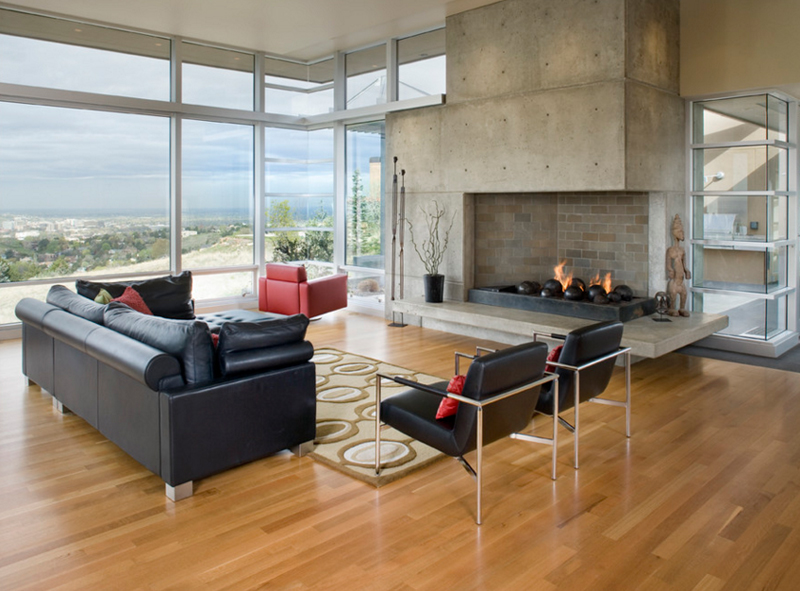 This large space sure is a great place for entertaining guests; although this space needs a little bit more seating, adding tables and chairs would be easy. A minimalist home like this one sure used the best furniture and stuff inside it which made it prettier.
15. San Juan Capistrano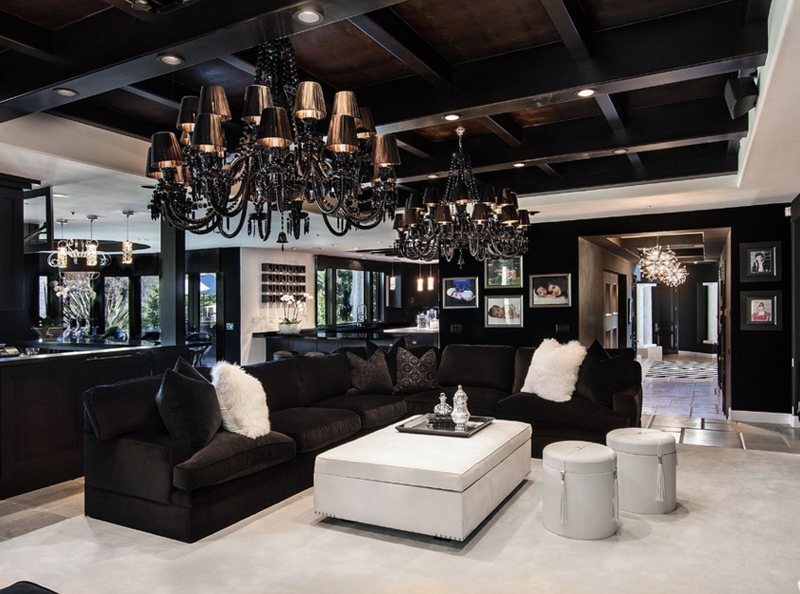 The dramatic remodel of this home is quite a surprise for the home owners. The colors in this space indeed made this room a bit dramatic because it in fact made it classier and sophisticated. The chandeliers are superb too!
16. Seattle Contemporary Living Room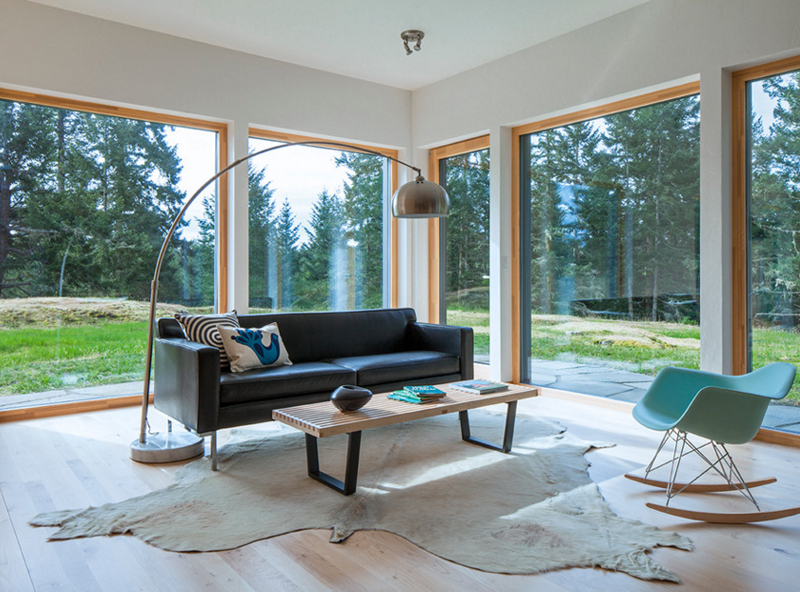 This is one large living space with an awesome view of the outdoors! It looks like there is a little seating area in here but if my friends would come over to visit, sitting on the floor wouldn't be that bad! Haha.
17. Smith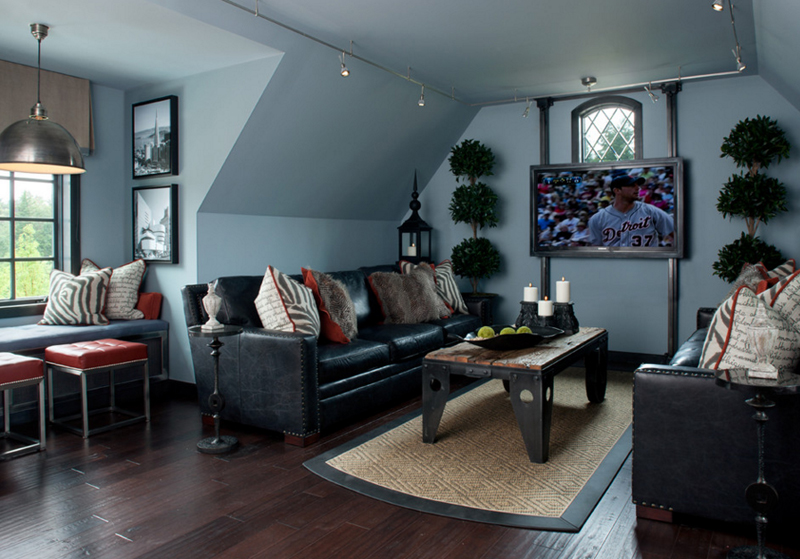 This space may look like your ordinary living room, but take a closer look and see the details of this living room – the cute window by the television set, the charming coffee table, the cool plants on the sides of the couches and the awesome flooring! This place is just marvelous.
18. Surrey House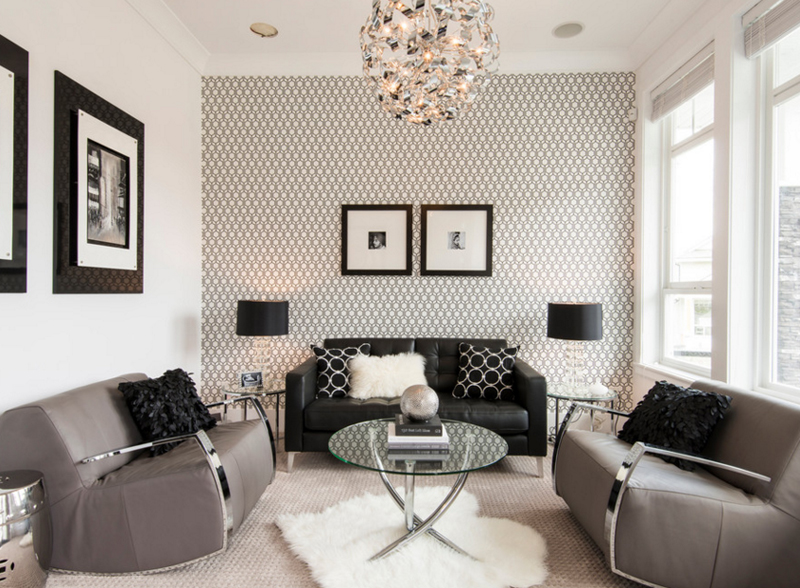 This black and grey living room is really pretty! The furniture choice and decorations is just right and perfect! The black couch matches the grey sofas just as it is. With a large window to brighten this room, this space is just lovely!
19. T Eatons Living Room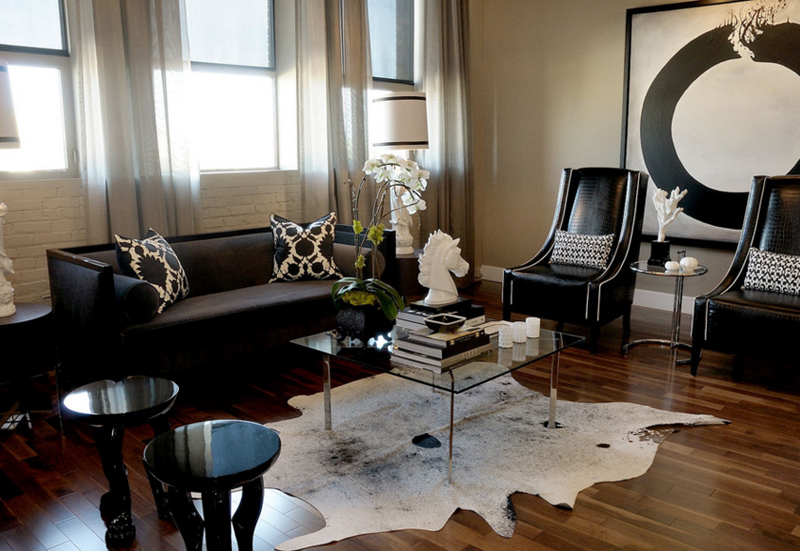 We might have featured this living room a couple of times but it still looks as fascinating as the last time we featured it. The black motif of this living room is just crazy awesome and definitely deserves a repeat on Home Design Lover!
20. West 1st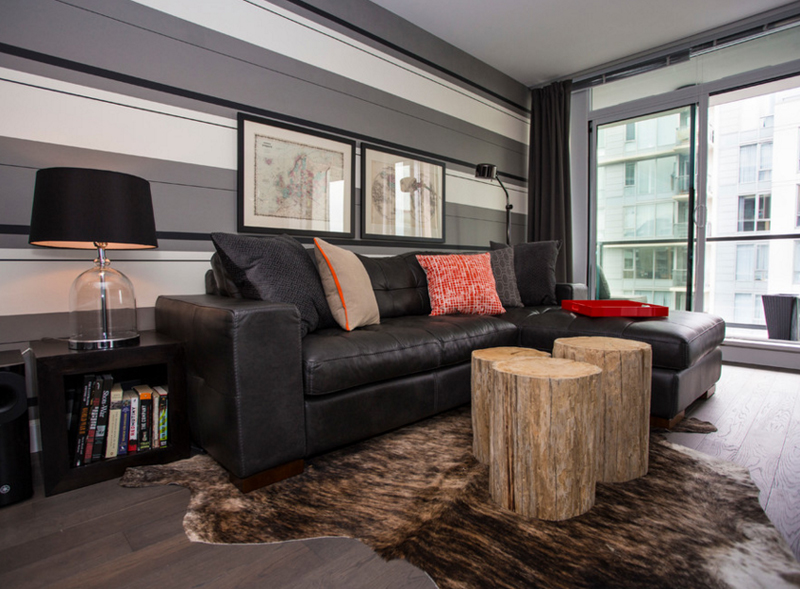 Well, this Vancouver home sure is a charming place to hang out in. It looks like this place is on higher ground that you see the other buildings on the background. This black couch sure complements the color of the walls and the floor – so contemporary and a great ender to this list!
I think that this list is totally fascinating! I have not been writing because of the holidays! And I think it sure is about time to give you guys something – a list of 20 Beautiful Black Living Room Couches! Tell us what you think about this list and we'd surely be glad for any inputs! Before you go though, check out other couch designs.