22 Cool Designs of Bunk Beds For Four
Oftentimes, some mothers out there would love to plan a room for their kids wherein it is shared together by twins, two brothers or sisters. But hey mom, what if you got a bigger family just like having quadruplets or having four kids but then you only have a limited space for your family. Then the only solution to your problem in this case would be to design a room that would accommodate your four kids. And I think the best to way to do this is to furnish the bedroom with two sets of bunk beds.
A bunk bed is one of the many styles of bed in which normally one bed is stacked above the other bed. Surprisingly, the style of this bed is the best way of conserving spaces for a bedroom most especially when it's for your four kids. So in this way the rest of the spaces can be used as a play area and other functional space that your kids can enjoy. Furthermore, you can achieve a fresh and organized design for your kid's bedroom. But of course for a more fun and lively space, this area will not just serve as a place to sleep – your kids can invite their friends and your families where they can share the comfort and calmness of the area.
1. French Chalk Wash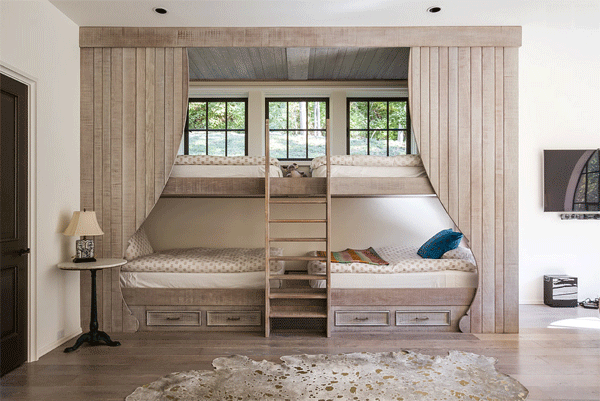 This is so stunning! The walls are beautifully designed and furnished with built-in bed drawers.
2. Man Barn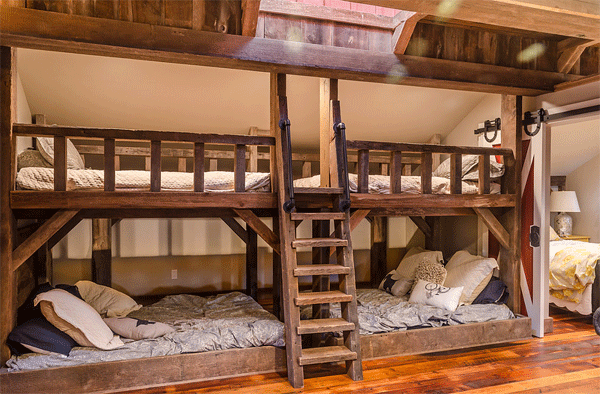 It seems that this would be a perfect room for weekend sleepovers of your friends and family. This would be a perfect set-up for barn houses.
3. Coastal Living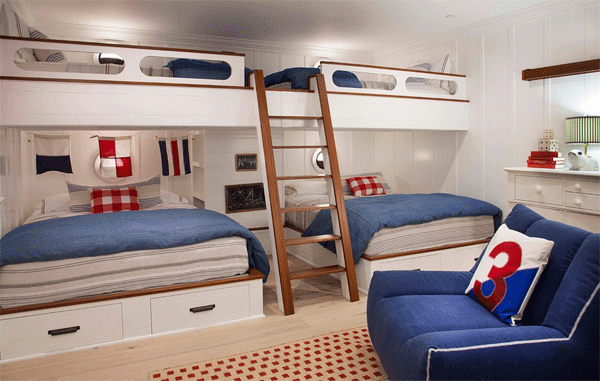 A two queen sized beds and two double beds above would accommodate a large amount of grandchildren.
4. Wolf Creek Ranch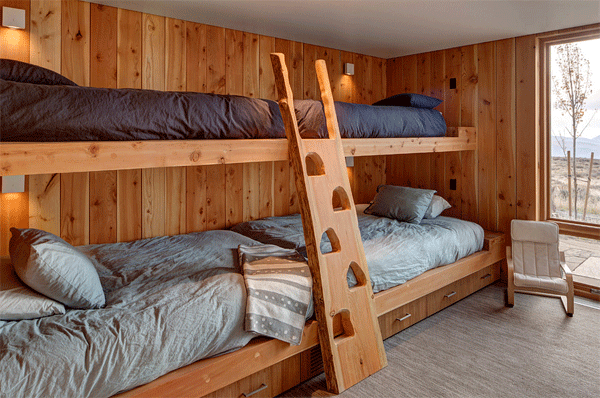 This space got a sleek design because you can see the smoothness of the materials used. It simply matches with the environment.
5. Newport Beach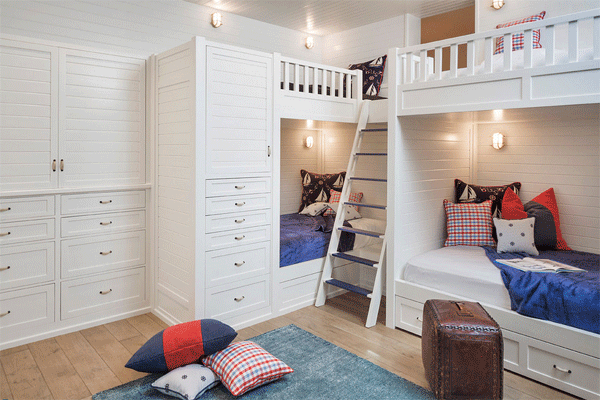 White paints would always give a clean and vibrant look into every room. Cabinets also play an important role in a room which makes it look tidy.
6. Lake Keowee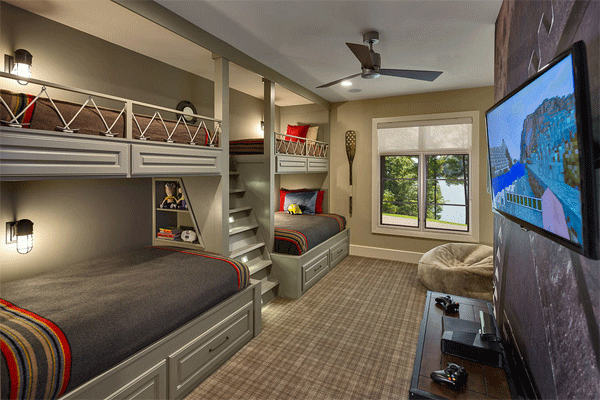 Your young boys would really love the color and the style of this room. Everything is neat and properly done.
7. Resort Home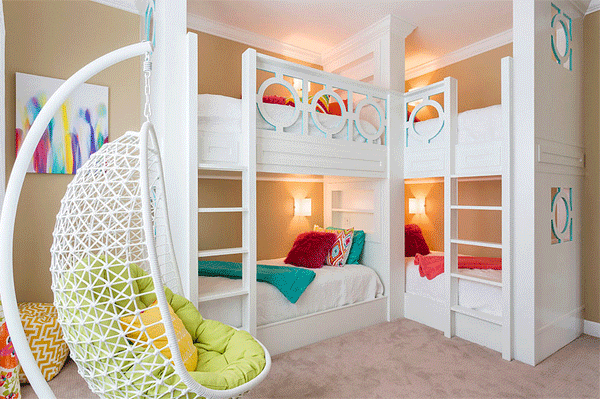 It would be very attractive to see if a natural light is well-balanced throughout the room.
8. Lynbrook-Houston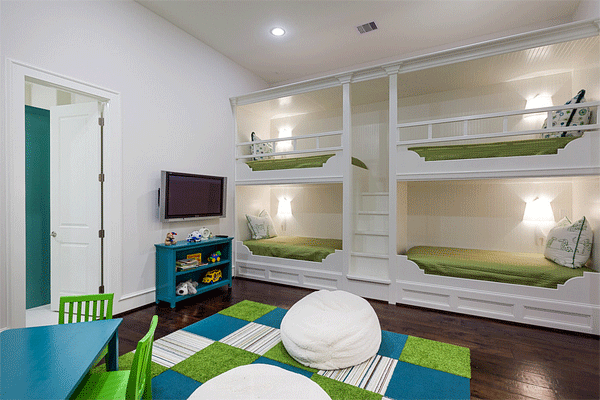 This room shows a good color taste. The color combinations really blend well that gives a vibrant aura to the room.
9. Lake Austin State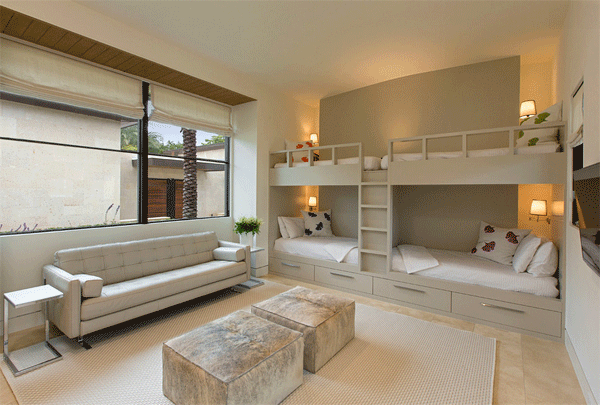 It seems like that this room displays a contemporary style. Adding up sofa and coffee table would look very soothing.
10. Kids' Oasis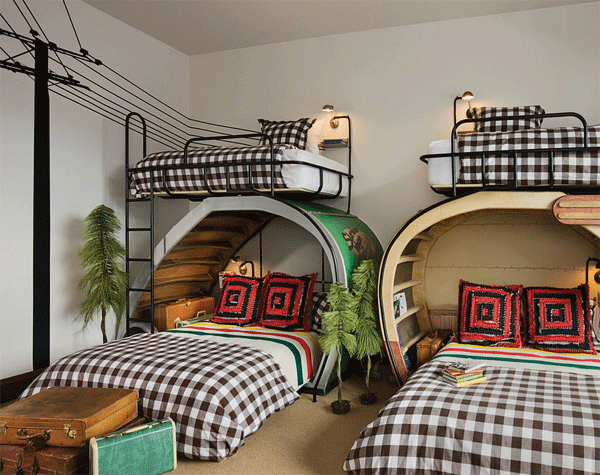 Themed room are very attractive for kids especially when you decorate it with antique materials.
11. The Bunk Bed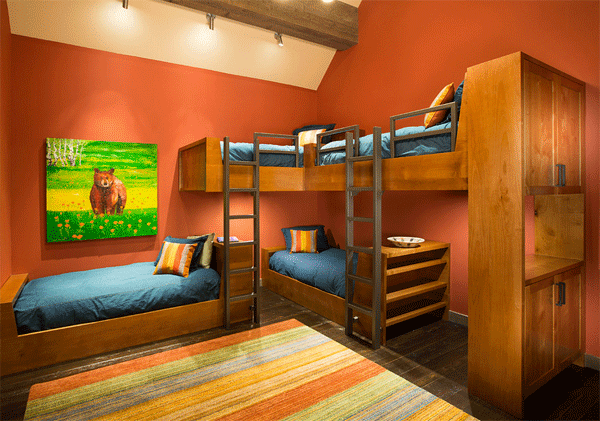 Bunk beds are a great idea for saving spaces. The design of this bunk room is perfect for mountain cabin.
12. Southwest Retreat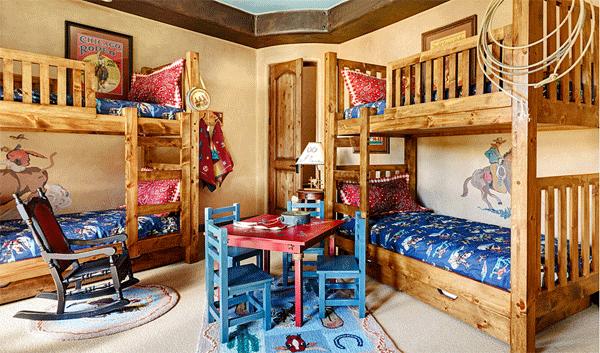 This one's for the boys! If rodeo is his choice of sport in the near future then this style would fit his taste.
13. Sconset Beach Front Home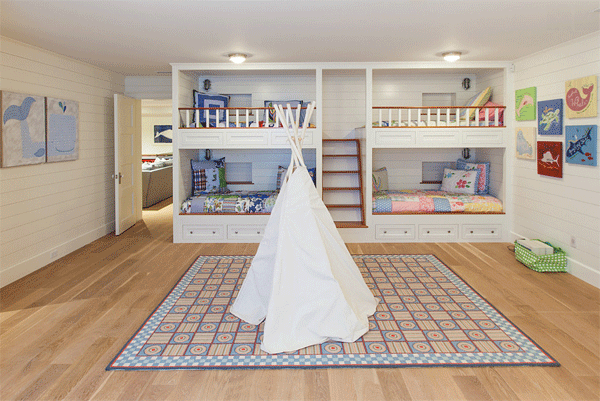 Since the bunk beds conserve the spaces, for sure your kids would enjoy a mini camping with their friends.
14. Bunk Room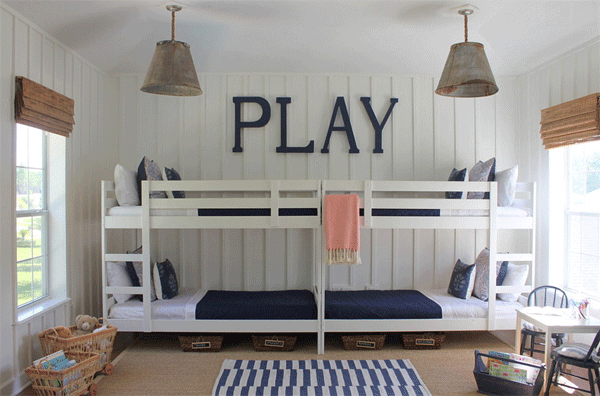 This style is simple yet has a very clean and organized look. It is very important that there is color coordination from rags, sheets and other linens.
15. Marco Island Remodel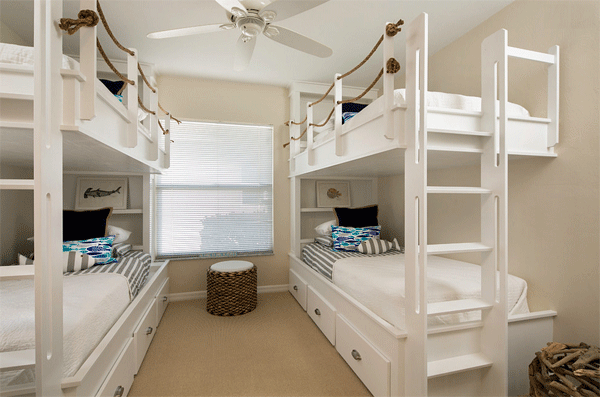 You must make sure that upper decks would still be safe to sleep on. Using a rope in this style would give a unique look.
16. Beautiful Mountain Residence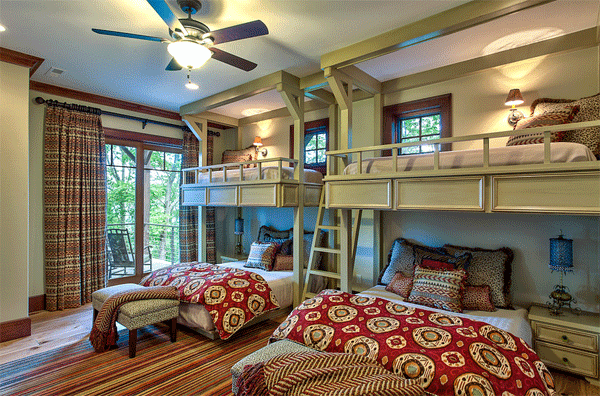 It would be great and very unique if you would try a different style of bed positions just like this.
17. The Farmhouse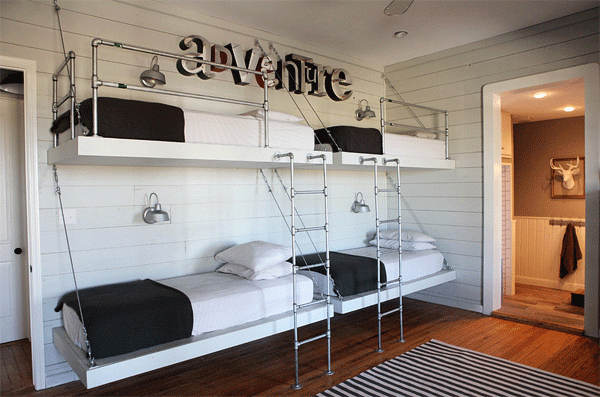 In this contemporary look, those hanging slab beds are offering a very distinct look and style.
18. Signature Beach Condo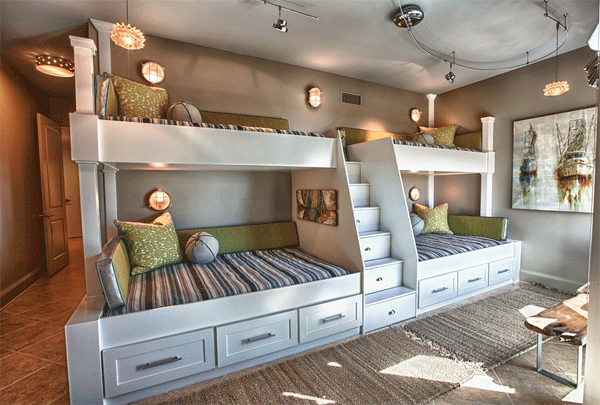 We just need to be creative! But of course, the stairs can be used as storage.
19. Cliff Road Area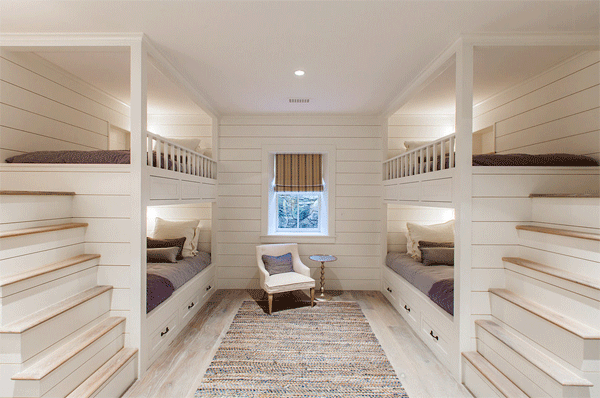 The stairs I think would be the most important part in this type of bed.
20. Balnarring Beach House
If your kids wanted to have privacy for their space then curtains are the right choice.
21. Central Park West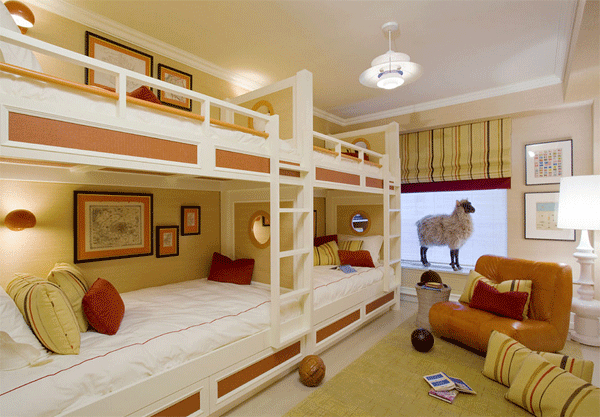 Rooms would always look attractive and presentable when you know how to play with colors.
22. 87 Crown Pointe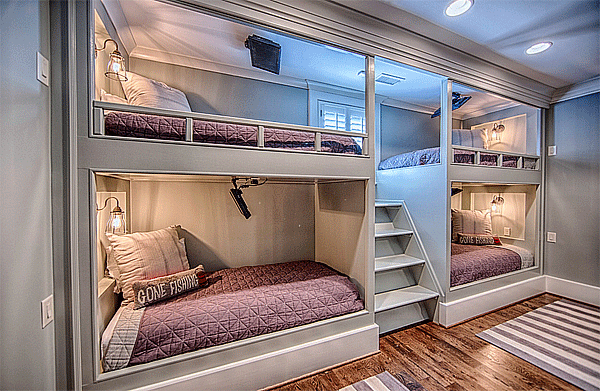 This one's got a classy look. Surely your kids would just stay all day in their bed watching with that ceiling-mounted LED television.
Having seen those beautiful styles and designs, I would say that at this point of time I know that your dilemma ends there, But of course since the world gives you many choices, you can also try other designs of bed wherein the its purpose and style would fit your taste.
Bonus Video: Making a Firetruck Bed Bunk for Kids