A Variety of 20 Dining Room Chairs with Cushions
Of course, it is more comfy to sit on a chair with a cushion. And you can have that in the dining room too.
Chairs are one of the most complicated things ever made in history of furniture and design in general. What do I mean? I'm sure that we have seen a lot of chair designs there is – some made with wood, some with metal and others with native materials – I mean, they are all nice to look at (depending on your taste, of course) but most of them are uncomfortable! Do we actually need a beautiful-looking chair when we can hardly sit comfortably on it?
For today's list, we will be showing you a list with a variety of chair designs that might interest you – they come in different shapes, sizes, colors and even material – but they all have something in common – they all have cushions to make our tushy as comfortable as much as possible, especially when you work like most people – sitting down! Take notes and check out the list and tell us what you think!
1. Caloosa Ave Residence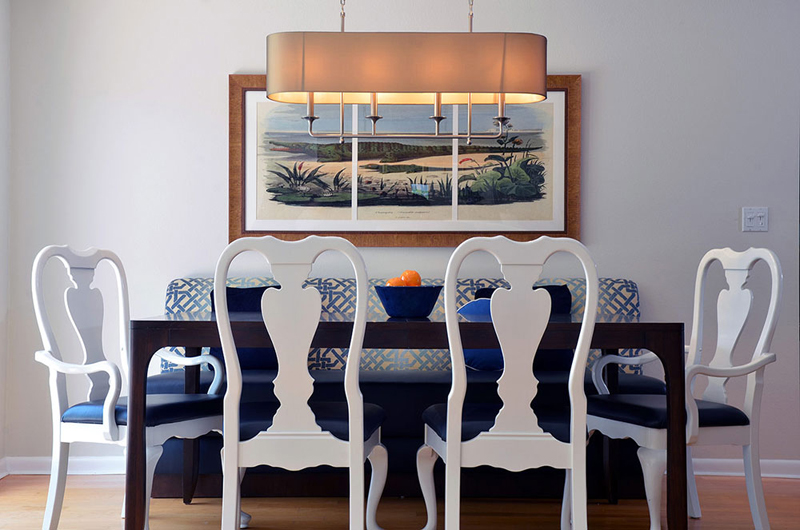 Let us begin the list with a cute white and blue dining set. The chair design along with that of the mini couch on the other side of the table sure is simple yet charming. I don't know what it is with blue that it always elevates a simple looking thing to something beautiful and perfect – just like the furniture in this space.
2. Malvern Residence 1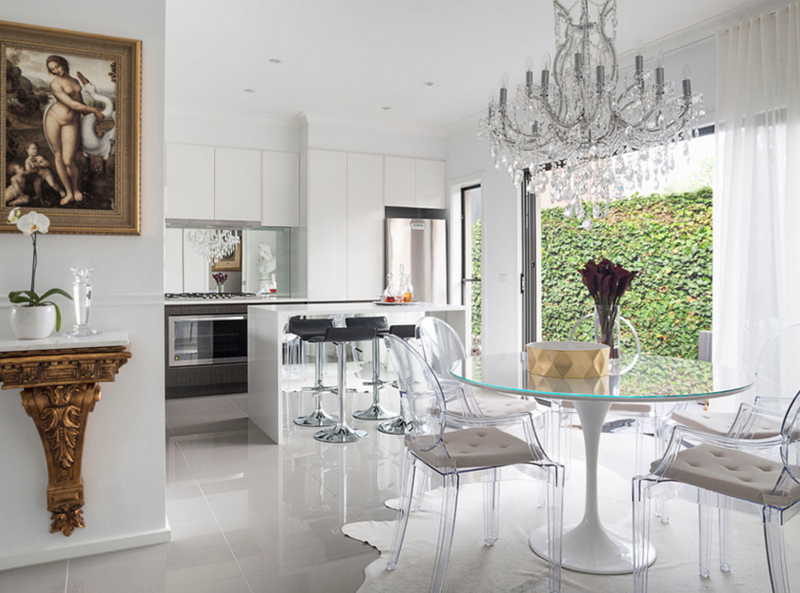 Well this is one fancy dining room set! Actually, this entire space looks incredible! The use of white doesn't get any better; it goes well with anything and even when all that you see in here is mostly white – it wouldn't be as pretty without the accents like the black chairs by the kitchen, the bronze shelf on the side and the bronze frame above it too.
3. Newport Heights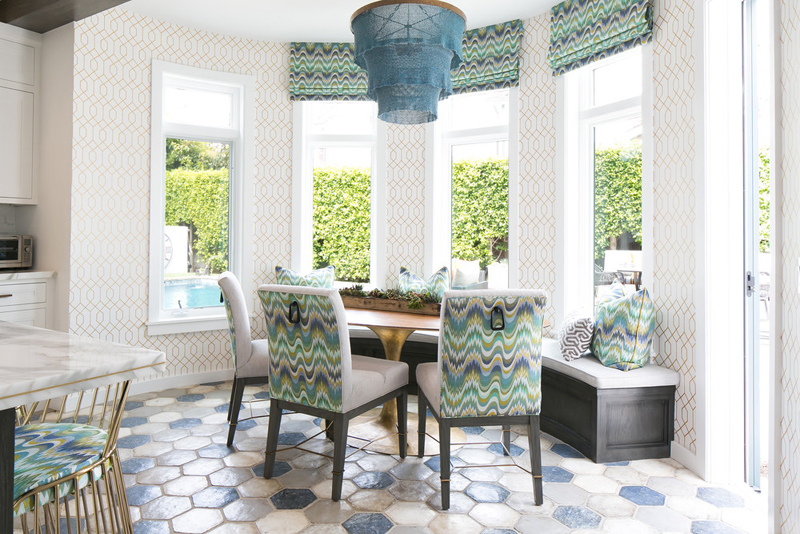 What do you know – a dining space with matching everything – the back of the chairs, the throw pillows, the cushion by the kitchen bar stools and the Roman blinds too! Well, what can you say about this one? Too much prints or nay?
4. Del Cerro Residence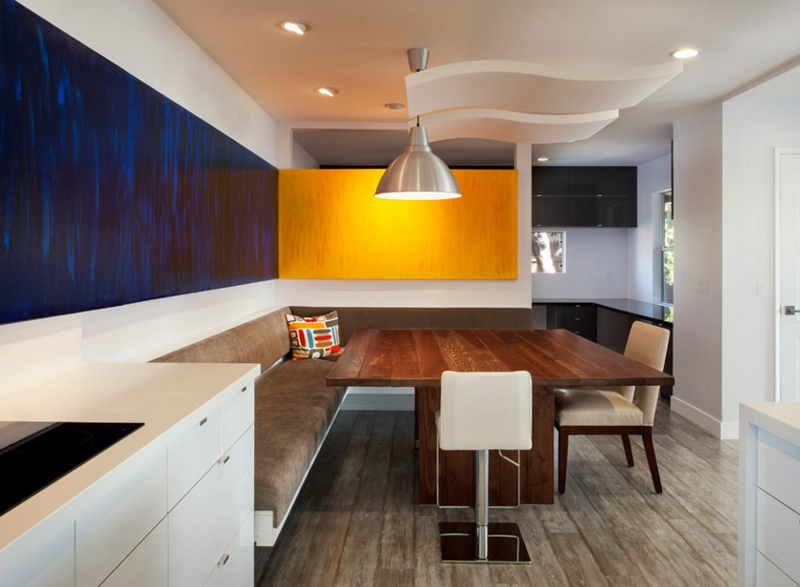 A contemporary dining room space with the right amount of color here and there and with the right choice of chairs and sectional. Two of my favorite things in this photo are the blue and yellow accent on the wall and the accent ceiling; how about you?
5. East 20th Gramercy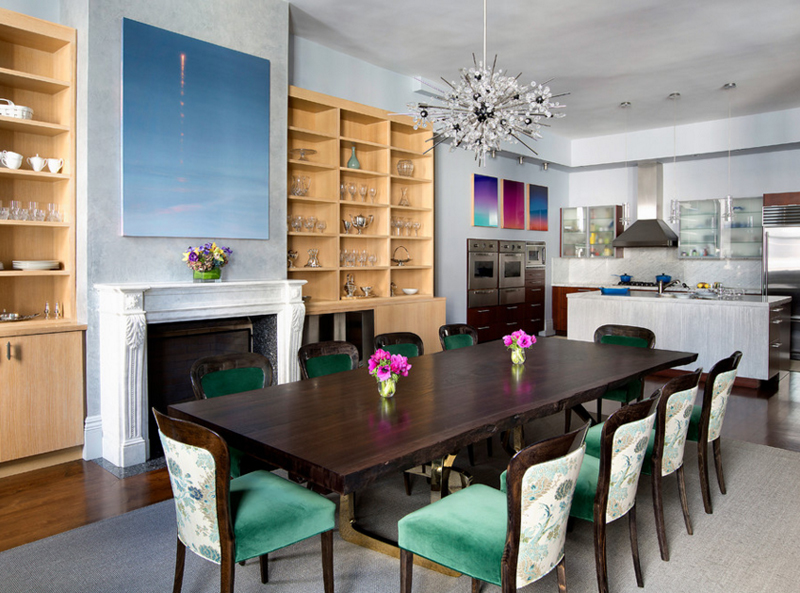 Aside from the beautiful green cushioned chairs here, we see wonderful things like the chandelier, the painting above the fireplace mantle and the large china cabinets on the sides of the fireplace. What do you think about the details of the back of the chairs?
6. East Lakeview Residence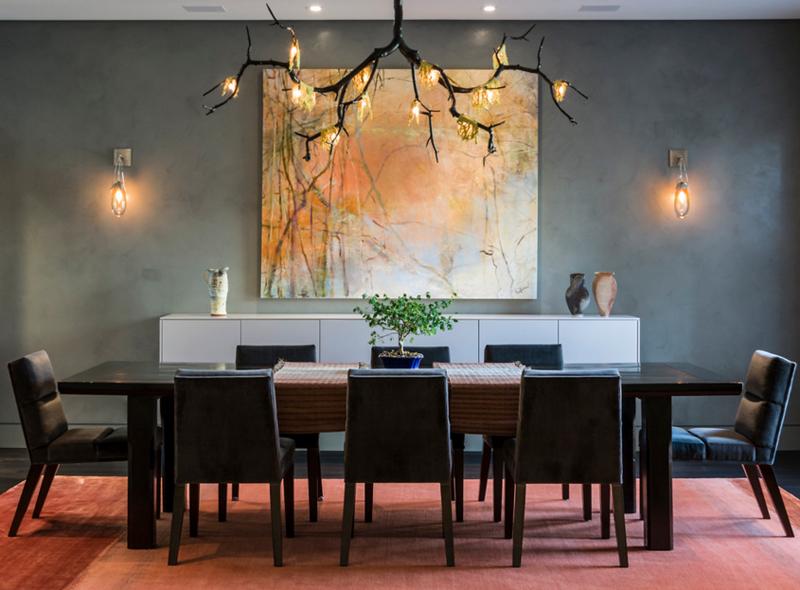 This East Lakeview home definitely belongs to a large family. The long table choice in here is fantastic because we see a lot of free space in the table and in the area itself. The choice of furniture and decorations here is quite a feast for the eyes of the lookers.
7. Forest House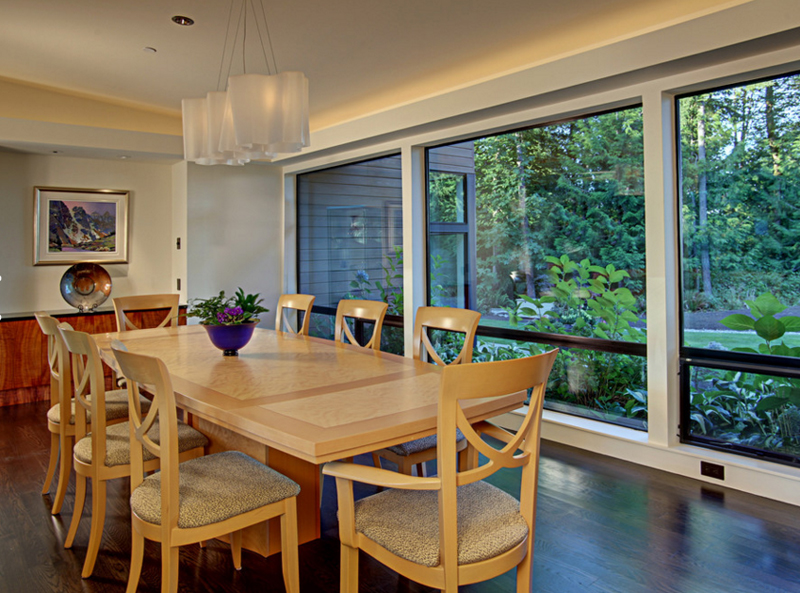 Here is one simple example of a regular-looking dining room with the exemption of a stunning view. The cushioned chairs in here look like something you can easily buy in a home depot or department store – and what convenience is that! Take my money!
8. Highline Loft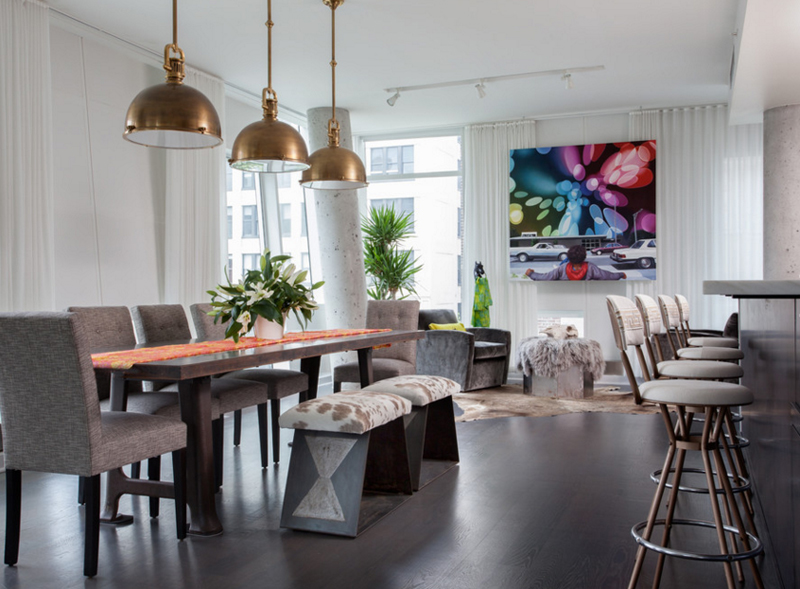 I know that I would just go on and on with the industrial pendant lights above the dining table; it just looks really pretty. I know that we see a lot of this pendant lights in department store or home depots and they even look alike – but they're just so pretty! Don't forget what it's actually illuminating – the table and chairs! Yes! This is just a pretty sight!
9. Washington CT Residence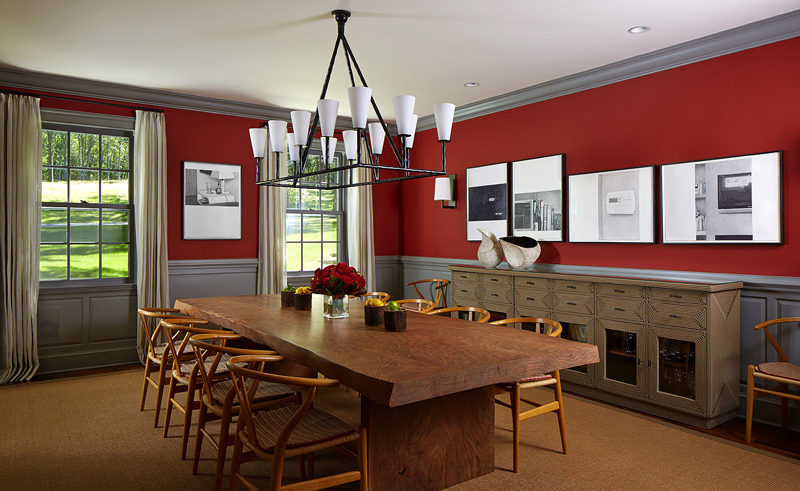 If you have extra-large dining area like this one – it should be clear that this is one heaven sent space! The things you can actually do with it are just plenty and if you're like me – you might have a couple of design plans already and you actually do not know what to do first. Spaces like this excites me, I think decorators love it too!
10. Minnetonka, MN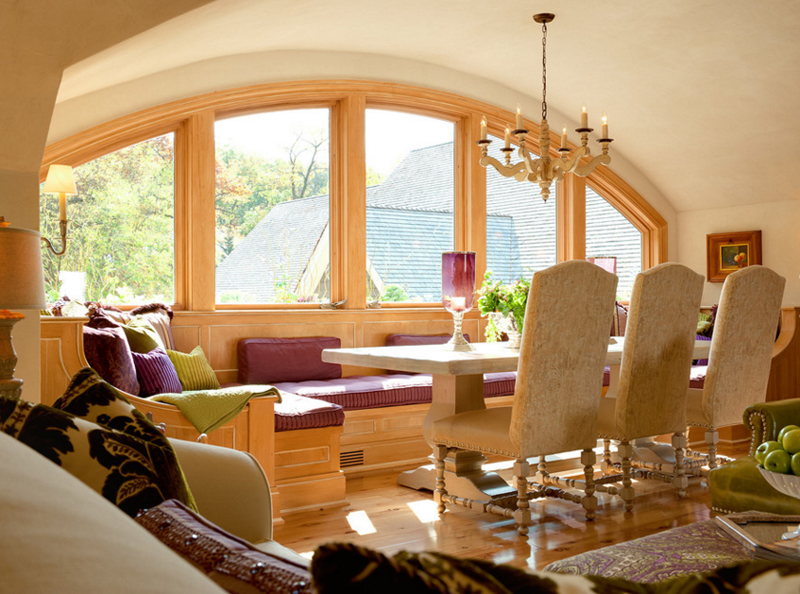 This home in Minnetonka sure has this wonderful setting for their meals. The sectional that connects to the wall and windows look interesting and fun and the beige dining room chairs look really stunning. The color combination used in this dining area is just something I would love to have at home – I think you'll do too, right?
11. Corona Del Mar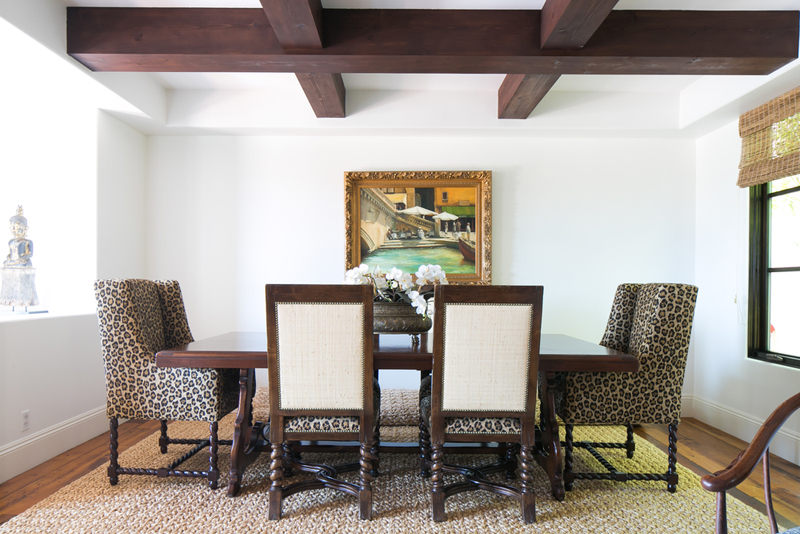 I know that there are really people into prints like this one and why not, right? The leopard print is beautiful and fun – and quite exotic too! If you notice, this dining room set has different variety of chairs and I think that's what makes it special!
12. Palma Plaza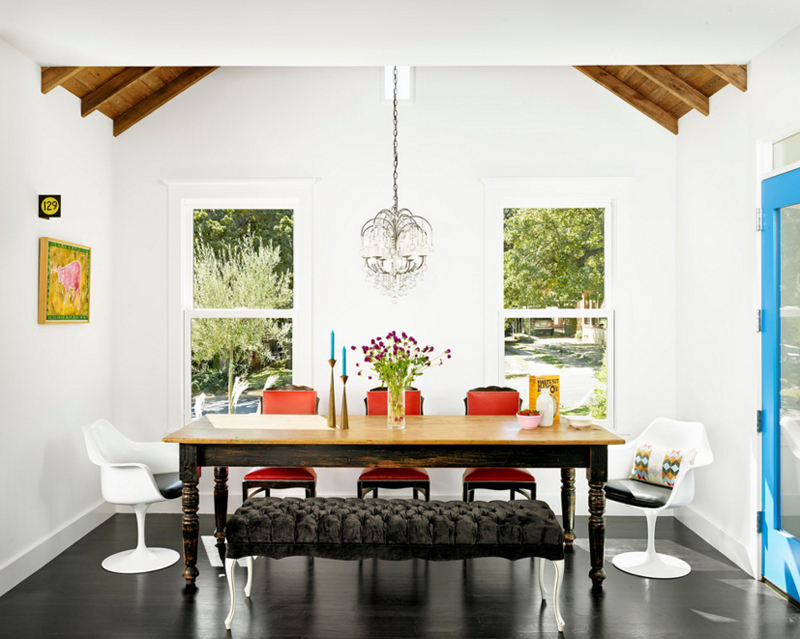 Now this dining room set has a variety of chairs that would pass for eclectic but still maintaining its contemporary and modern feel to it. The red chairs closest to the windows and the black bench has cushions built-in to it, while the white chairs at the ends of the table have those detachable cushions you can buy in any home depot.
13. Sagaponack Residence 1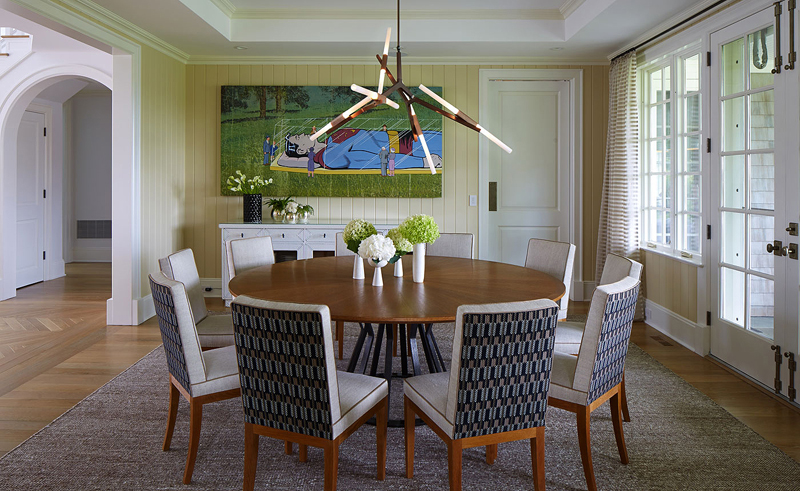 The simple colors of the fabric used in this dining room chairs complements well with the wooden table and it somehow match the area carpet too! See the awesome pendant lamp above the table? Pretty cool, right?
14. Sands Point Residence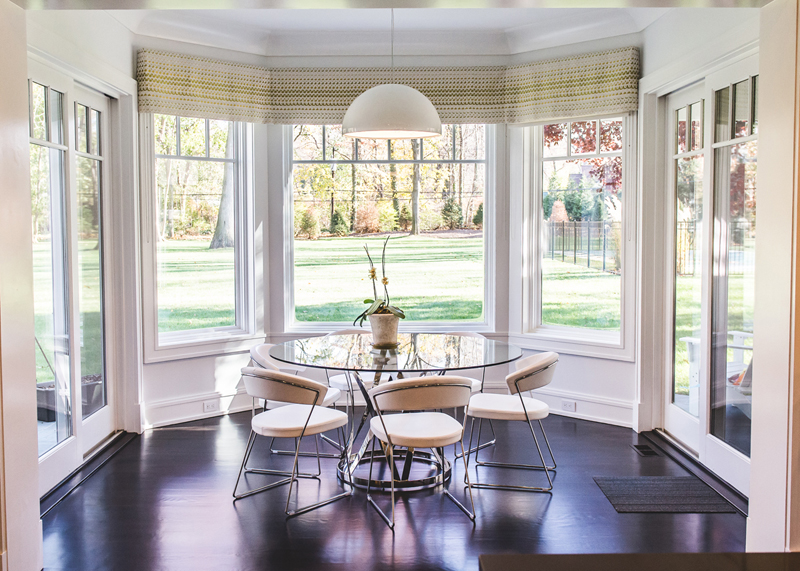 Now, this is one perfect spot to have your breakfasts! Large windows and doors that open to the garden where you know there is fresh air! Something that we basically need to have that perfect day! Comfortable seating and a view, what more do you actually need?
15. São Paulo II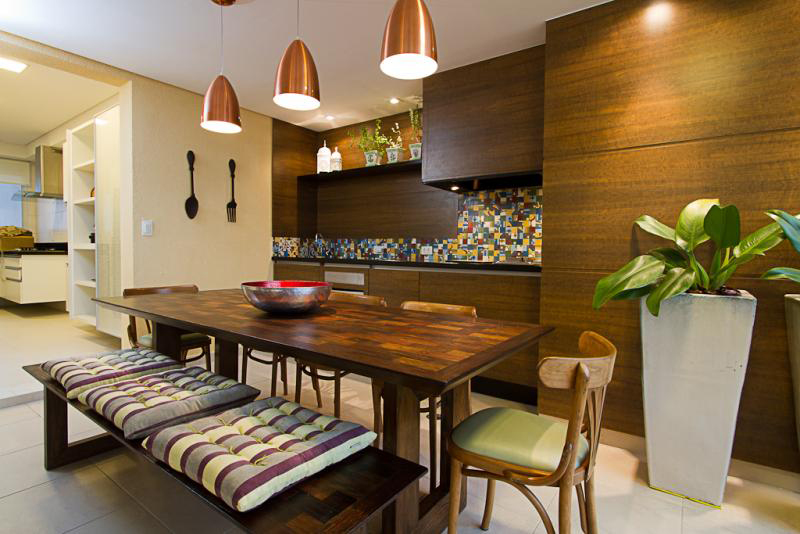 Talking about cushions and this dining room gives us pillows! Why not though, right? The added cushion on the bench is added comfort to the people who will be sitting in it. The color choice is nice too because it sure looks fun, just like the tiles by the sink.
16. Seamless Connections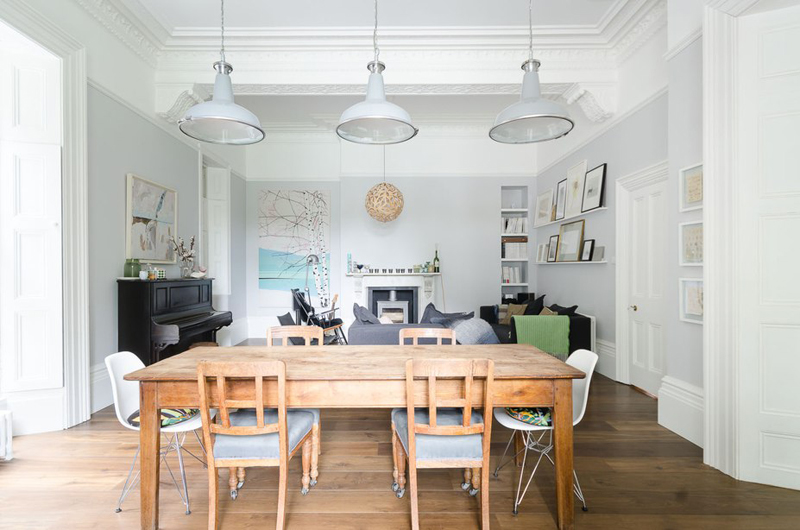 This may somehow look like your ordinary apartment with the least decorations and furniture (at some point you might even think that the things in here are inexpensive); but does it matter though when you are comfortable with the things in it and you enjoy them?
17. SF Showcase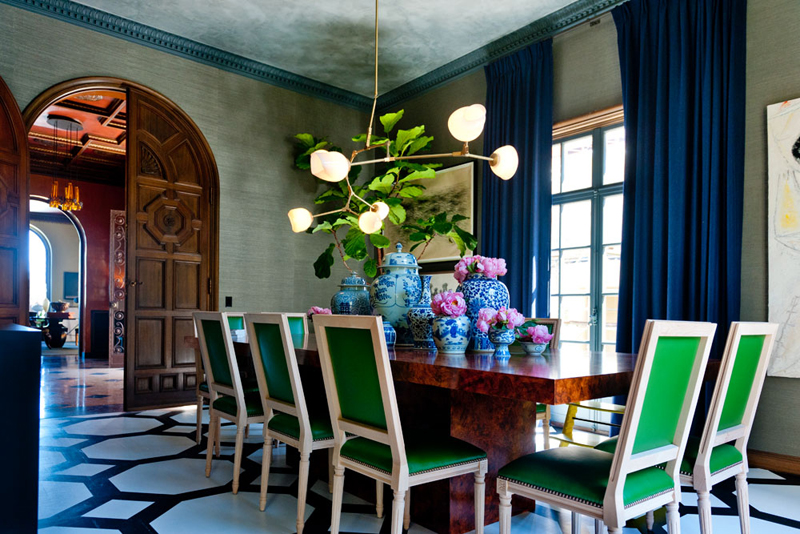 Green is one color that is never hard to love; this color is refreshing, easy to the eyes (they even said that once your eyes are tired, you can always look at greens and it calms your eyes) and really earthy. In this dining room though, we see the green chairs as something sophisticated and fancy.
18. The Lucas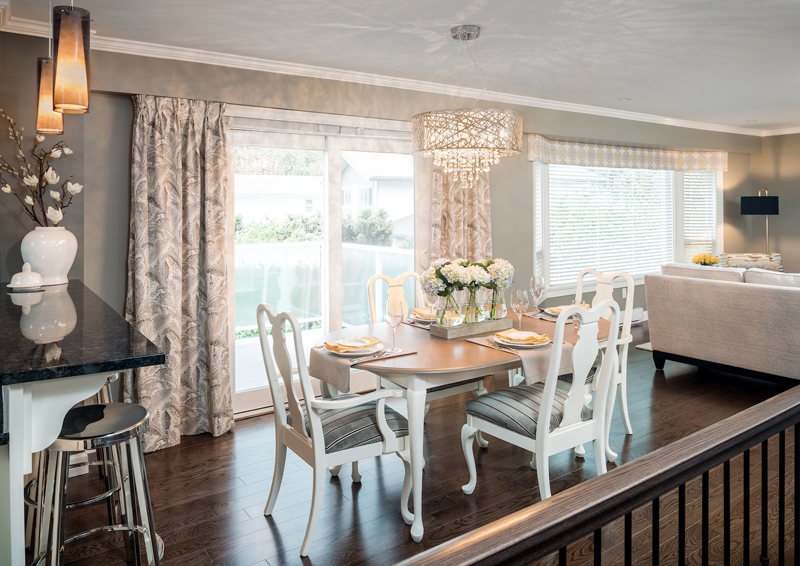 Just knowing the name of this home lets you know that this is one elegant and classy home. Homes do not have to be large to be elegant and classy – just look at this perfect example of classiness and elegance in a simple setting. The chandelier in the middle of the room made this dining area really beautiful.
19. Traditional Home in Napa Valley
I remembered writing about a list about pedestal tables, and seeing this table made me think how nice pedestal tables really are. Also, do you agree with me that the chairs in this dining room set are just pretty? It looks really eco-friendly and the use of purple foe the cushions sure elevated its look.
20. Cedar Lake Renovation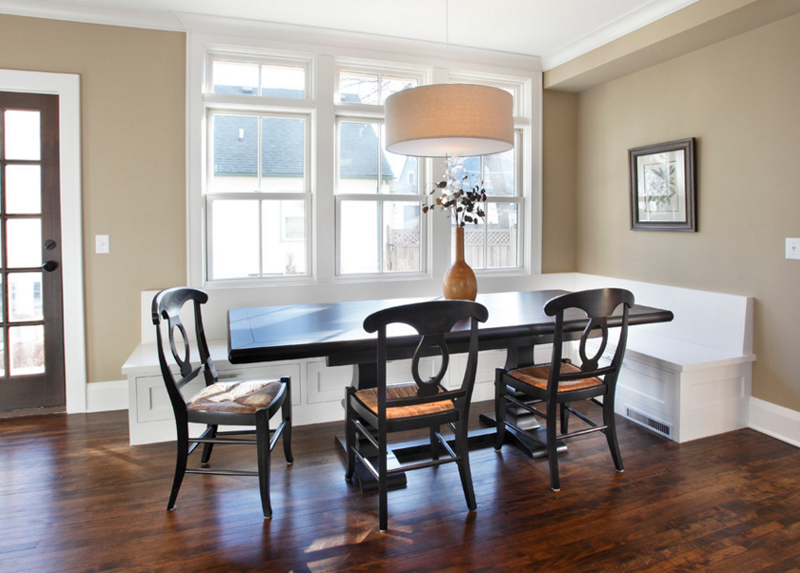 This may not be the best picture to end this list, but I think that we all have seen that one chair that has the least comfortable cushion there is – and I think, when you take a look at this one, you'll know that it sure looks uncomfortable but it still looks something we can manage.
Well, what do you think about this list? Notice that even when the chairs look really weird or uncommon, you know that it will be so much better than the chair in the park without the comfort of a cute cushion. If you think this list is neat, check out the 20 Pleasant Patio Furniture Cushions and see how much cushion has changed the game of chair design.