20 Charming Designs of Asian Dressers
We have completed a couple of spaces and pieces of furniture with Asian designs and Asian-inspired themes. Today, we have this list to add to the growing articles of Asian-themed furniture we have here in Home Design Lover – this time around, all about Asian dressers.
The dressers that we have in this list is pretty much multi-purpose because of the number of uses they have for us – they can serve as side tables, cabinets for your jewelry and small trinkets and as for their original use, some of the dressers on this list were medicine cabinets. The dressers in this list will not only be beautiful but rather interesting because of the simplicity they have and at the same time the ornate designs of some; take a look.
1. Antique Chinese Hand-Carved Chest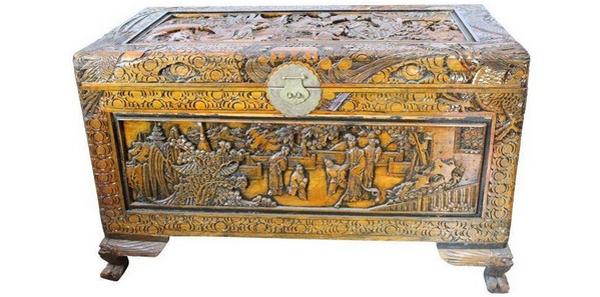 This camphor wood chest was hand-carved in China, circa 1900. There are heavy-relief carvings on all sides featuring different scenes and a brass handle to lift the top.
2. Antique Elmwood Chinese Apothecary Chest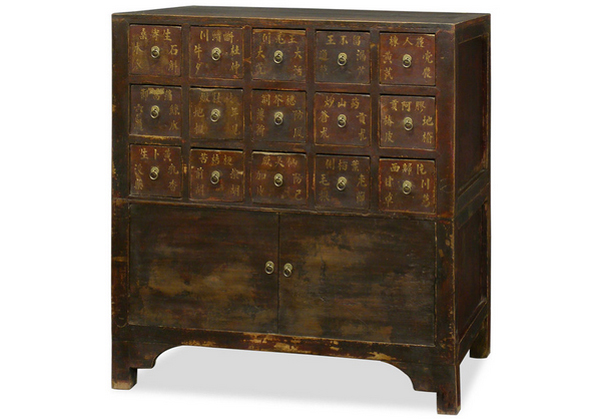 We have discovered this antique Elmwood Chinese apothecary chest from Shan-Xi province. It was made approximately 70-80 years ago. Each drawer has the names of the herbs stored in the past.
3. Asian Elmwood Chest of Drawers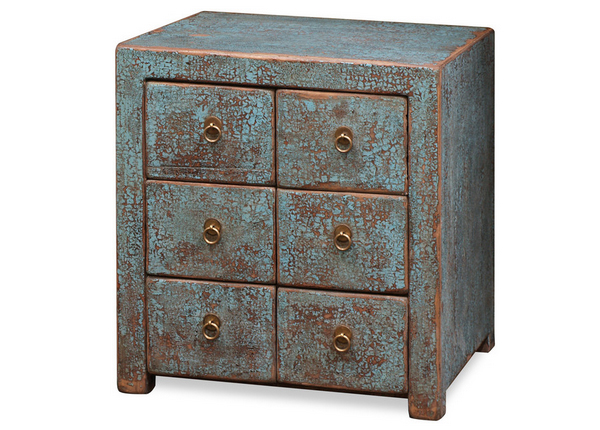 This handsome cabinet is ideal as a night stand or lamp table. The distressed light blue finish adds an antique character.
4. Bamboo 7 Drawers Dresser in Hand Rubbed Black
NOIR Furniture manufactured this awesome bamboo-style dresser in black with gold-plated knobs.
5. Black Color Peony Flowers Graphic Leather Surface Cabinet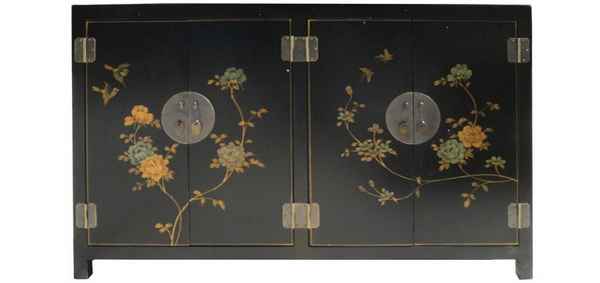 You are looking at a unique oriental black color two compartment cabinet. There is a thin layer of artificial leather over wood and it has peony flowers graphic on the front and sides.
6. Black Color Solid Wood Claw Leg 3 Drawers Small Dresser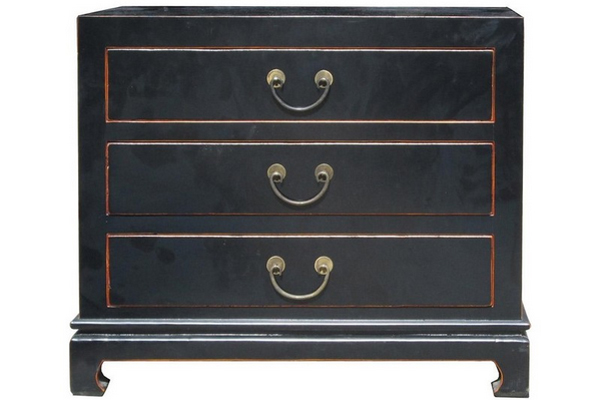 This is simple and neat design 3 drawers dresser. It is made of solid elm wood and comes with nice bronze hardware.
7. Chicken Feather Wood Jichimu Dresser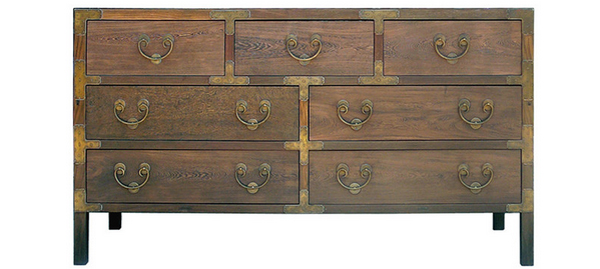 This modern style dresser is made of beautiful solid wood, chicken feather wood, Jichimu which has brownish wood color with chicken feather like wood grain.
8. Chinese Blue Lacquer Ink Scenery Console Sideboard Table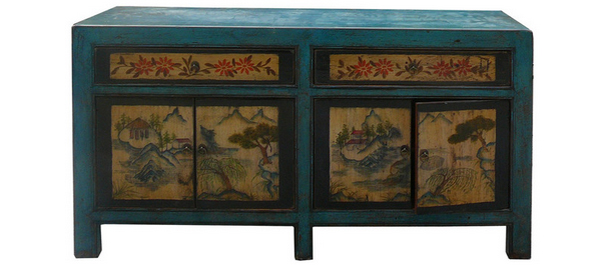 This is an old cabinet restored with modern blue lacquer surface. The front graphic is oriental ink brush water mountain scenery.
9. Chinese Red Phoenix Dragon Mirror Drawers
This jewelry / storage accent box is modified from the traditional Chinese box. It is made of cardboard paper and covered with artificial leather.
10. Chinoiserie Scenery Design Chest of Drawers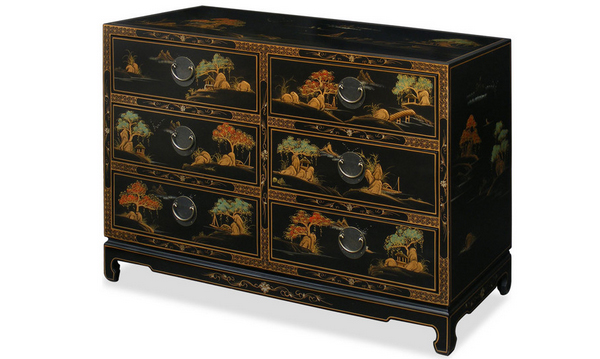 Magnificently handcrafted 18th century Chinoiserie motif on black lacquered wood, this chest has the traditional Chinese scenery and landscaping designs decorate the entire cabinet.
11. Elmwood Ming Chest of Drawers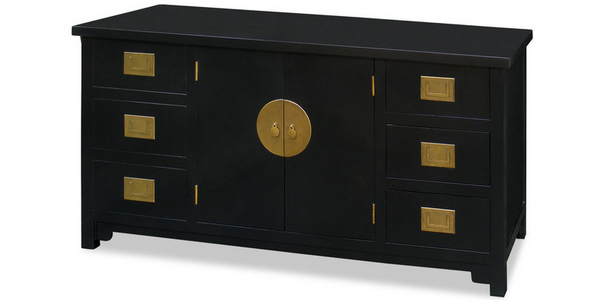 Distinct in its simple clean lines, our Elmwood chest of drawers is a fine example of Ming furniture style. It provides ample storage as well as visual appeal.
12. Hand Painted Tibetan Chest of Drawers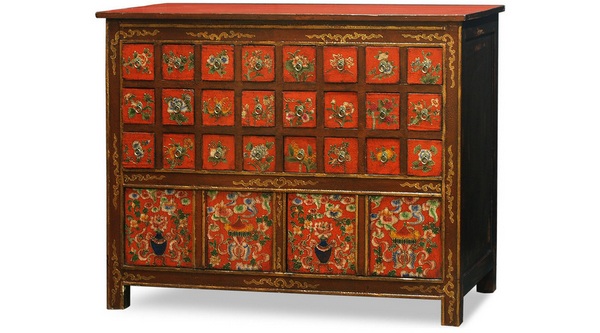 Combining functionality with traditional Tibetan design, this chest features 24 drawers and two large interior compartment at the bottom. The entire cabinet is hand painted with expressive attention to detail. The vibrant colors reflect the culture of the Tibetan people who are passionate with life.
13. Hand-Painted Tibetan Chest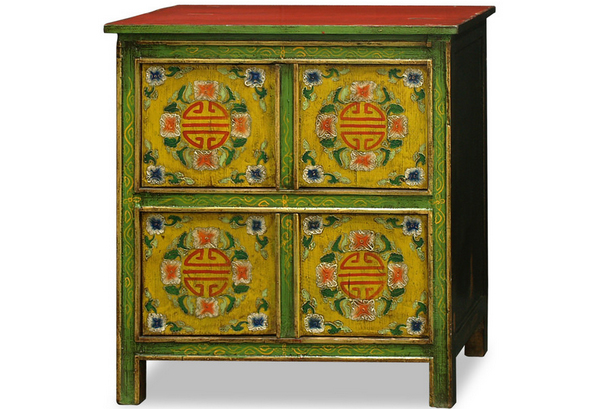 Adopted from Tibetan Art, this cabinet is uniquely hand painted with a vibrant floral motif design and long life symbols on the front.
14. Korean Antique Style 63 Drawer Apothecary Chest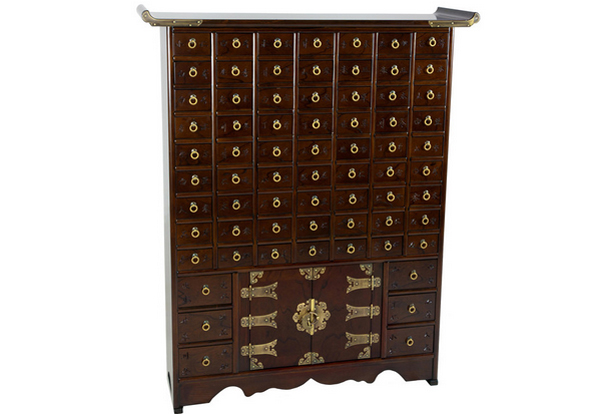 Authentic east Asian herbal medicine chest hand crafted in a classic Korean / Japanese antique design, with sixty nine miniature drawers, traditionally used for medicinal powders, minerals, roots and herbs.
15. Korean Medicine Chest
This multi-drawer chest was originally used by the Korean court apothecaries for storing the curatives needed for the health of the royal household.
16. Korean Tansu Style End Table Chest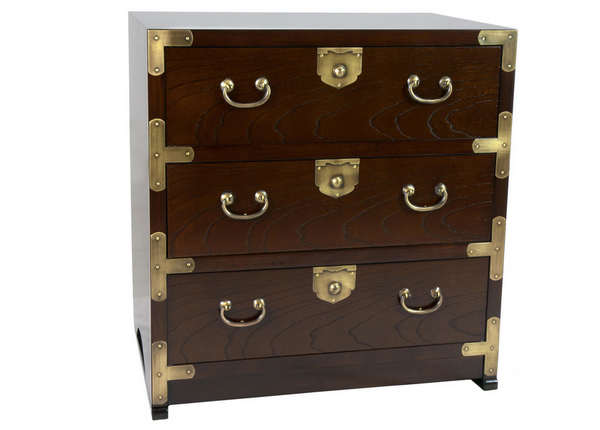 Practical and beautiful Japanese tansu style 3 drawer chest, nicely proportioned for a unique bedside lamp table, nightstand, or end table.
17. Long Chinese Dresser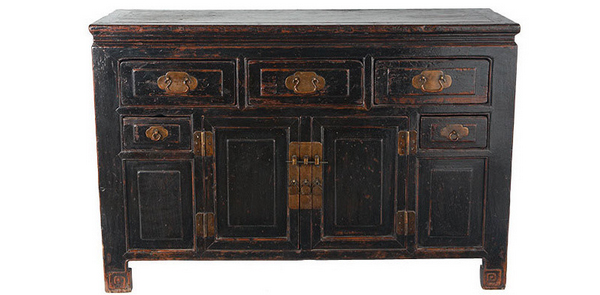 This beautiful Chinese dresser will give your room an exotic touch.
18. Petite Calligraphy Two Drawer Cabinet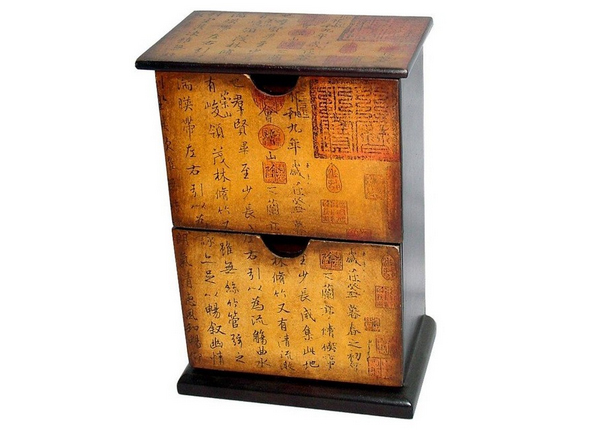 Decorated with a beautiful Chinese calligraphy decoupage appliqué, this small two drawer chest is a great place to store precious objects. The parchment color accentuates the antique style Chinese characters and the red "chop" designs.
19. Pre-owned Louis XV Style Chinoiserie Lacquered Chest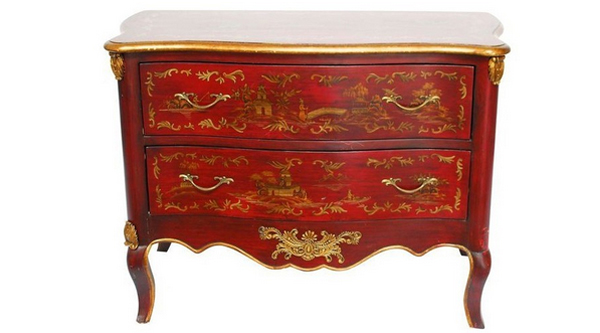 Reproduction Louis XV style chinoiserie gilt hand lacquered chest. Asian scenes painted on top, both sides, and drawers. This piece sits on four cabriole legs and has an abundance of gilt trim.
20. Tibetan Antique Fortune Lotus Umbrella Graphic Altar Dresser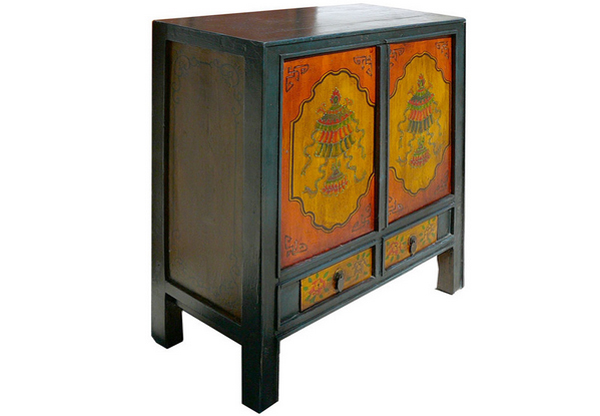 This Tibetan altar table is made of solid elm wood and hand painted with lotus and fortune umbrella graphic. This is gorgeous altar table and you can also use it as a unique TV stand.
There you have it ladies and gentlemen, a wonderful list of 20 Asian dressers that serves a couple of purposes that makes them not only functional but also interesting in terms of design and history. Among all the cultures in the world that I have read about, Asia has one of the most interesting and really beautiful.