20 Contemporary Dining Rooms with Circular Wooden Tables
Want to add a round table to your dining area? Here are ideas for you.
If you would want to save space in your living room and still be able to sit a lot of people in the dining room, you can always opt for getting a circular table; if you have a large dining space and you want to sit a couple more people – a rectangular dining table is what you should go for.
For today though, the list that we have is a circular dining room table that could sit from four to eight people and possibly even more. Aside from having the simplest design in the line of tables, circular tables are very nice to look and especially that since there are no corners, they are more child-friendly than most table designs. Check out the table design below and tell us which ones are your pick!
1. 29th Street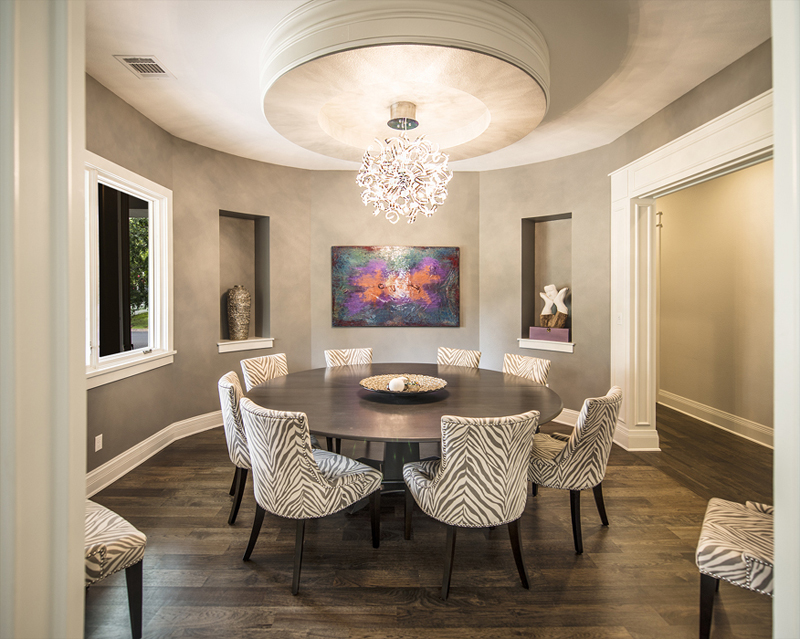 First on this list is from C-Reese Architectural Design, as you can see, the table sure is large and covers eight seats which are specialty chairs – if you notice on the sides, there are other two chairs which could mean that it could sit more if need be. What I love about this space is the almost oval space and that stunning ceiling that I think sure is perfect!
2. Atlantic One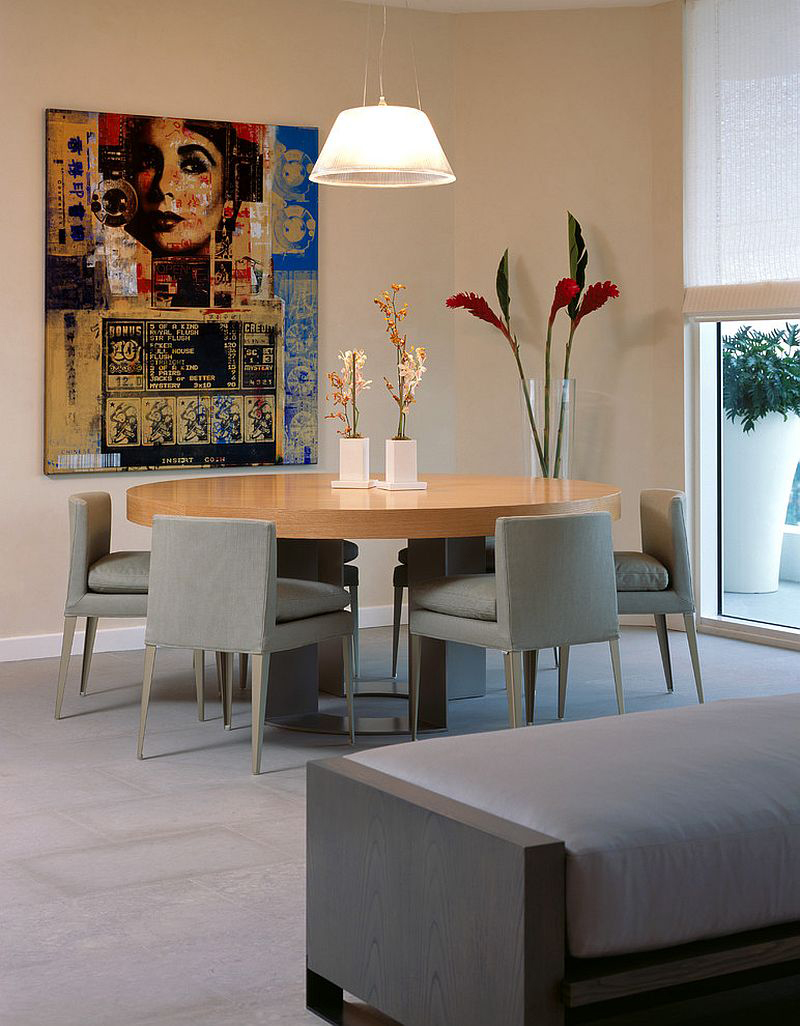 This six-seater dining table has a clean finish and is paired with contemporary designed chairs which has a flexible and neat color. If you notice, it matches with the color of the flooring and the seating by the living area which we see very minimal of. The picture on the wall sure is interesting and unique.
3. Carter Custom Home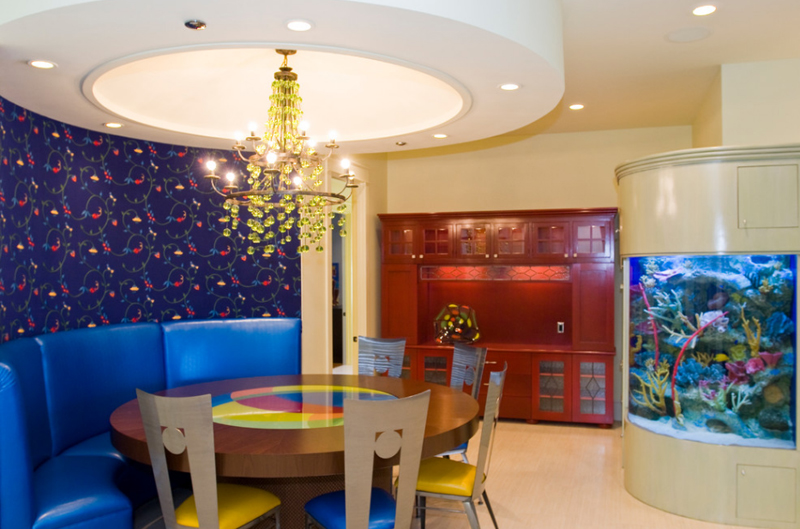 This Carter home sure looks colorful and funky. I'm not sure if this space is pretty tacky for you, but I think that this has more colors than it has to be. The sweet blue couch blends with the blue wall and the table's middle portion is pretty neat too! If you see the design of the chairs, you can say that this space has more stories to offer than what we see in the surface.
4. Chorlton Extension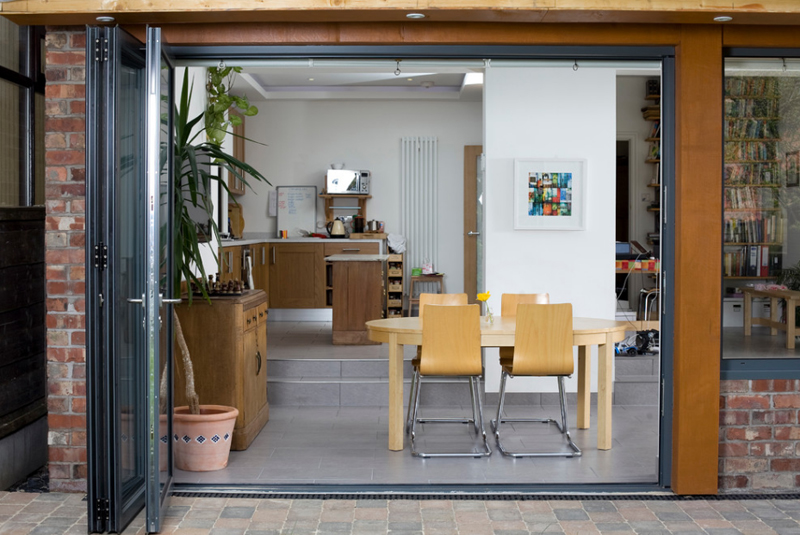 This dining area that opens to the patio sure looks simple but inviting. If our dining area has an opening like this one, I think that our family meals would be more fun and interesting because of the fresh air we have access to. The contemporary design of the table and chairs seems like they actually came in sets.
5. East Bay View Osterville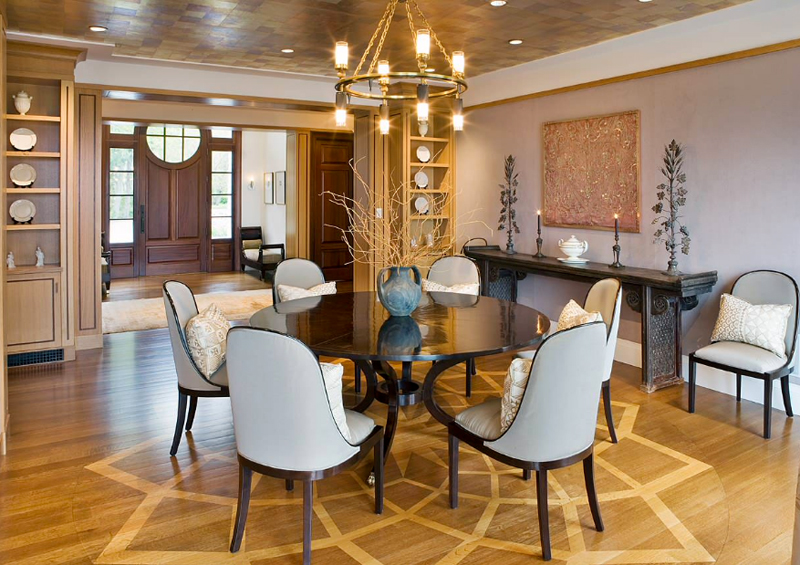 I am totally in love with the floral design on the floor where the dining table and chairs are placed! It's not always that we actually see something like this since it's usually rugs or carpets that are placed where the dining set is; if you ask me, this could be one of the prettiest spaces in this list.
6. Pacific Heights Residence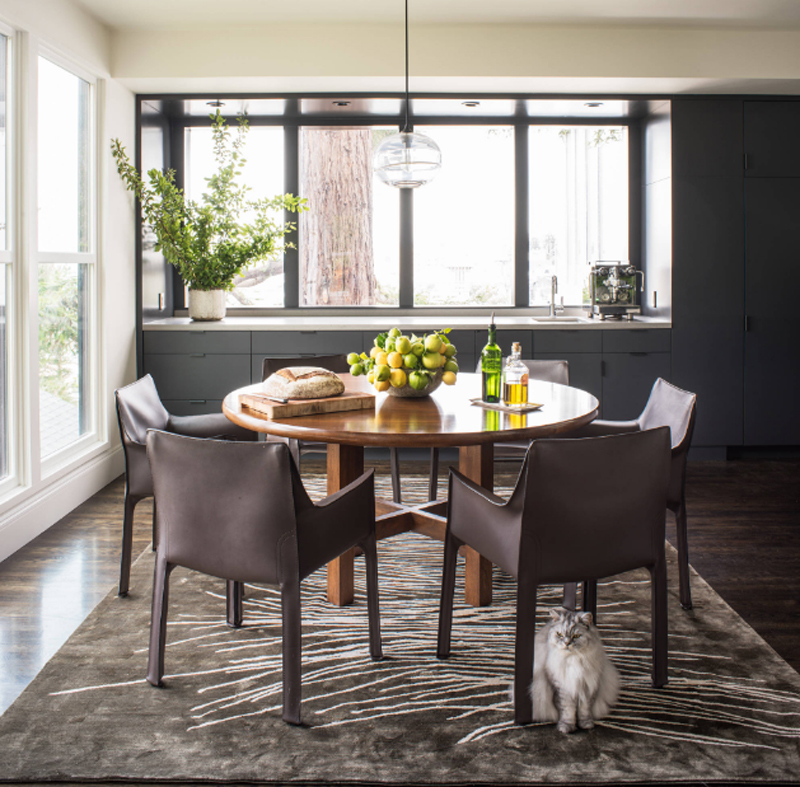 I don't know why the cat seems unhappy or grumpy, but I think if you actually have a pretty dining space like this one, you'd be one happy kid – or cat for that matter. The color palette used in this space is quite monochromatic but very much attractive and interesting.
7. Palm Springs Oasis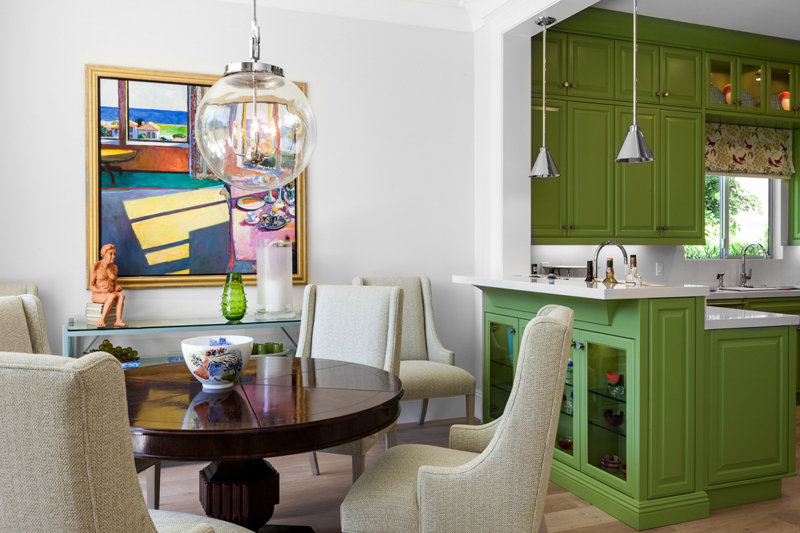 The green modular kitchen seen on the side sure is something that makes this space far prettier rather than when this is in another color. I mean, I know that this would be pretty but not as much as how it actually looks like this one. I love how this looks calm and relaxing to the eyes.
8. Paris Home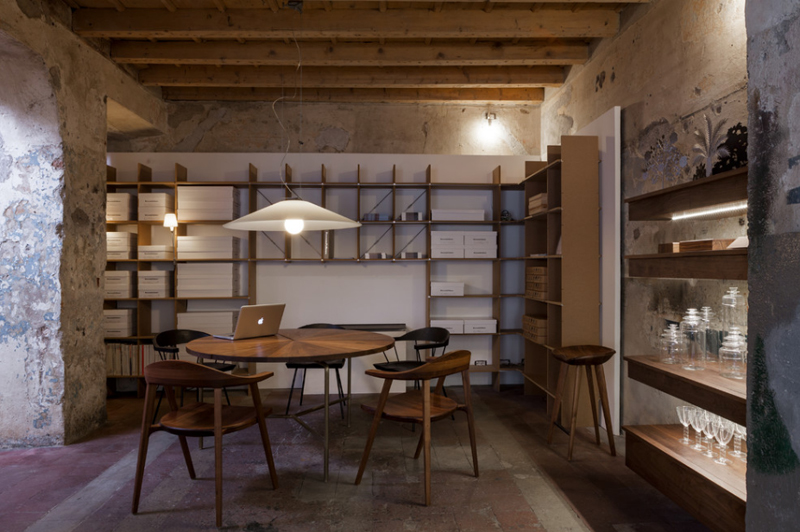 I am totally in awe as to how they staged this space to actually look like this one! The furniture – like all of it and the display cabinets looks totally awesome! This table belongs to an amazing list of tables that Bassam Fellows sell and I bet this design sells like pancakes!
9. Penthouse: Downtown Denver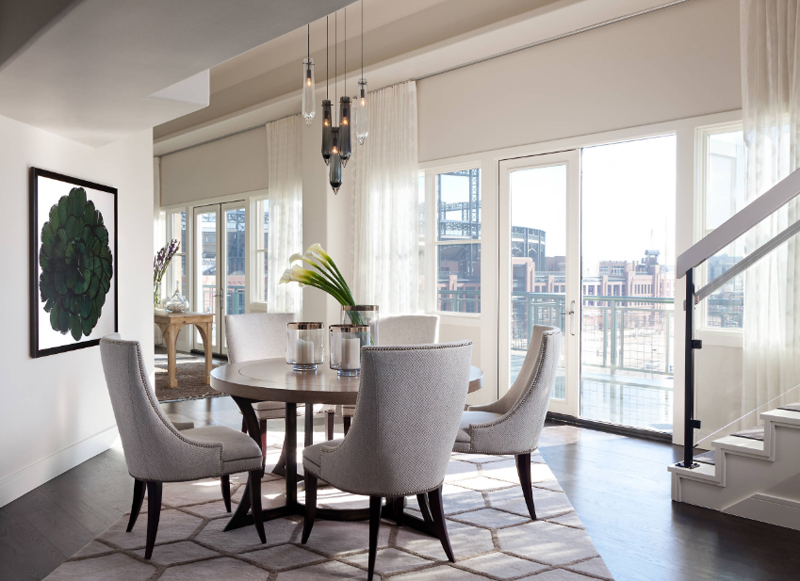 The gorgeous arm chairs used to pair the circular dining table looks pretty comfortable and cozy. I even wouldn't be amazed knowing that this dining area is adored by the people who would come to visit this stunning downtown Denver penthouse.
10. Ritz Carlton Private Residence 3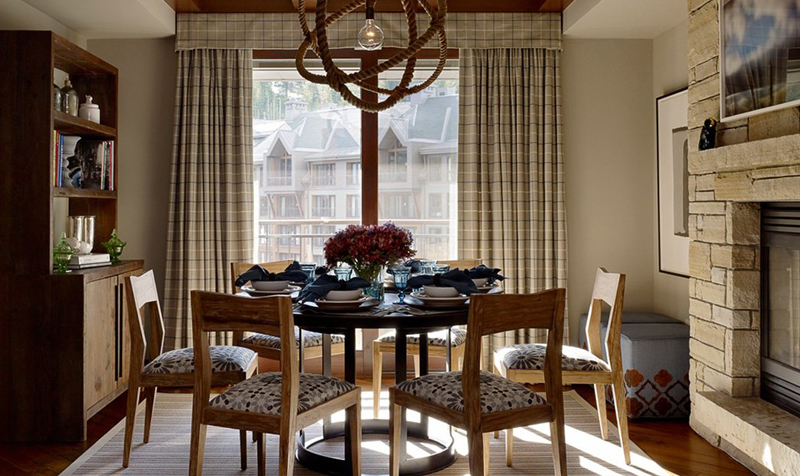 I chose to add this traditional dining space into this list because it sure looks fascinating and real pretty. Look at the choice of chairs with cushion used in here along with the table set too. The pendant light in the middle of the room looks quite interesting and unique too – what can you say about this?
11. St. Kilda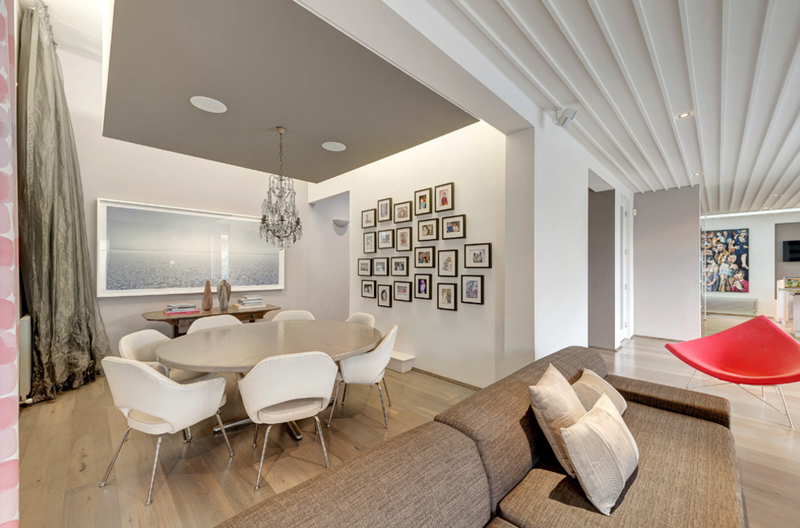 If you could have a dining space like this one, would you want to have more dinner with your friends? Because I know I would. Aside from having people over, mealtimes might mean better conversations with family members and friends. Of course, that does not depend on your furniture but on the people you actually invite over.
12. The Pavilion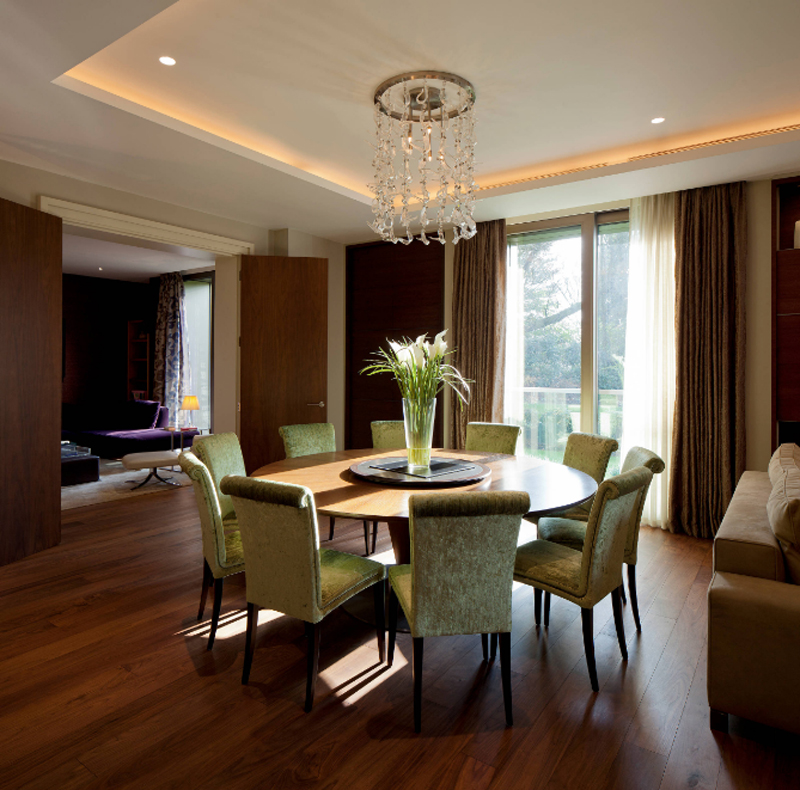 I am amazed with how lovely the chairs that are used for this dining set, but more than that of course, I admire the entire space that makes this dining room more homey and pretty. I love how there is just enough light that comes inside the room to light up the space – this means that there is enough light during the day and romantic lighting during dinners because of the lovely chandelier.
13. Trees on the Roof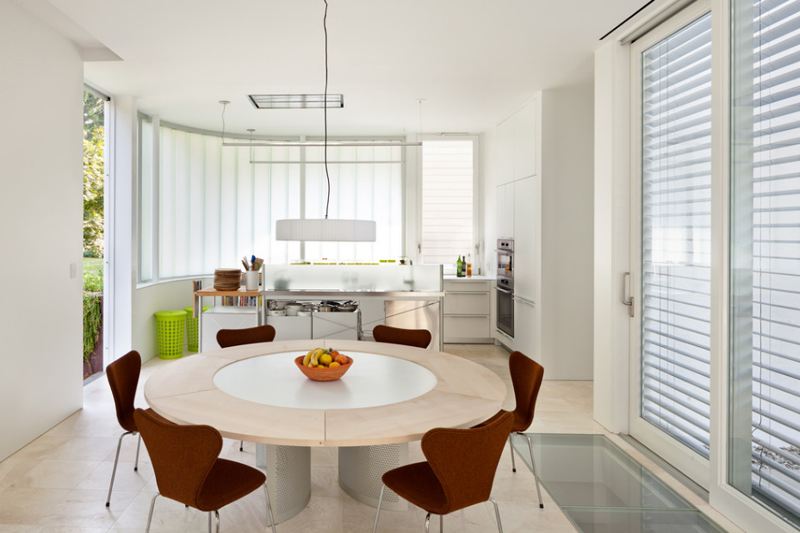 This dining table may not be entirely made of wood, but I think that you and I would agree that this is in fact a stunning table – with fascinating chairs to pair it with, this is one glorious space to be in everyday. Look at how luxurious this entire kitchen-dining set up seen in here.
14. Villa Dei Gemelli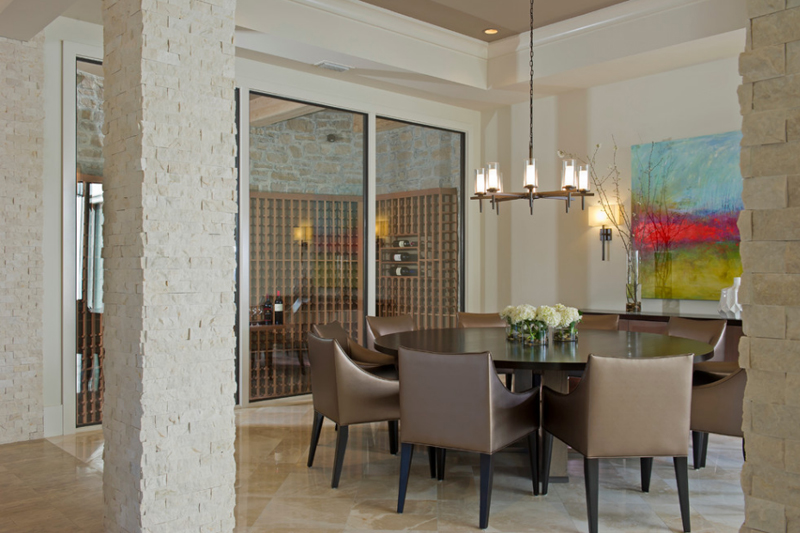 Comfortable seating sometimes is one of the essentials that you have to consider in making sure that your dining space is pretty awesome. Of course, along with comfy seating, choosing the right table is another factor to consider – like in living rooms, you can always purchase things that does not come in sets; it might be expensive, but for the most part – it's worth it.
15. Walpole Villa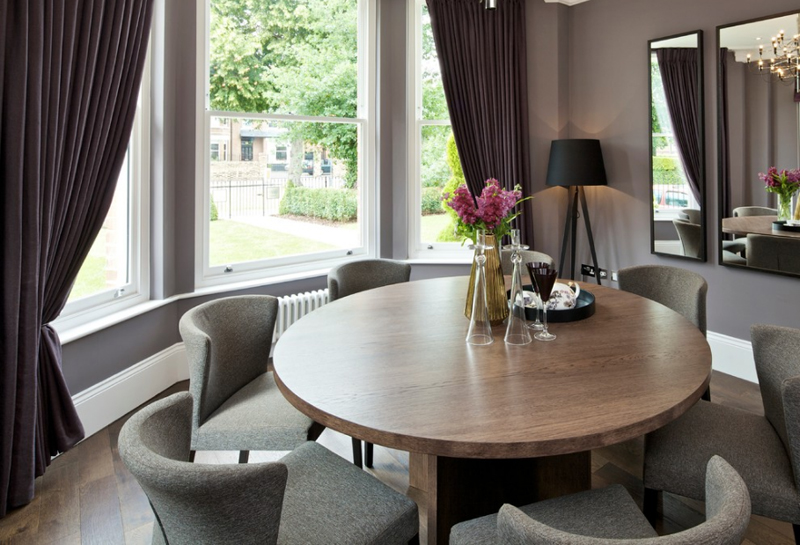 This is one extravagant looking dining room – it might be simple, but it sure looks classy and very much sophisticated. This space could possibly look prettier and cozier at night. Dining rooms that have windows close them sometimes could look creepy, but nonetheless charming.
16. Walsh Bay Residence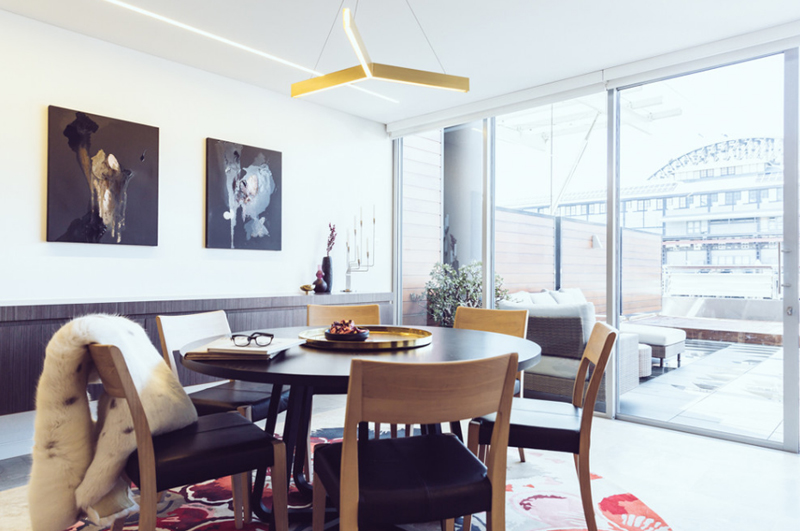 This is one dining room that could be the simplest in this list – but it sure looks like it's the prettiest too! The table is simple, the chairs are simple, the decorations around it simple, and yet it looks real pretty and charming and stunning all at the same time. Totally love this space!
17. Watson Circle Residence
Oh my! You need to rescue yourself if you drown in the classy beauty of this Watson home! The chairs looks like something you took out from a magazine and could actually pass for a chair in an office; the dining table looks super incredible – and take note, it's even so simple; and last but not the least is the large drum pendant that they added to this space is just wonderful!
18. Weston Modern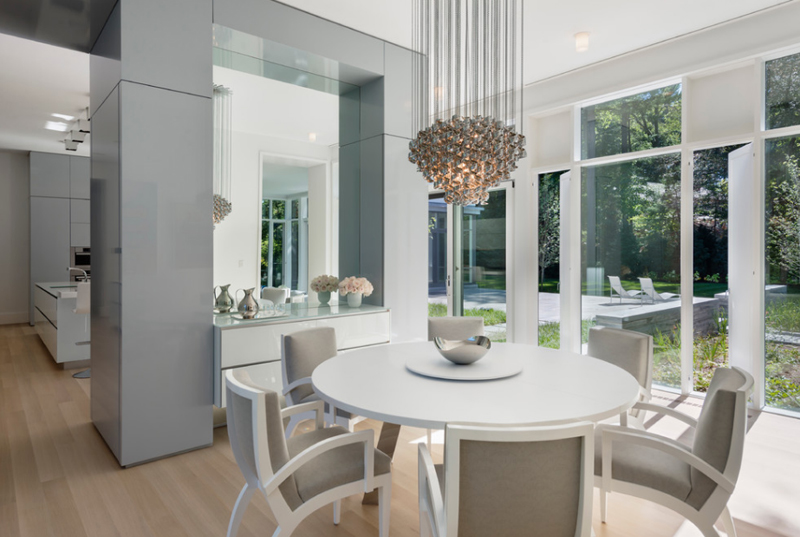 I think that this space is totally fantastic looking! The chandelier looks fancy, the table and chairs look perfect and the view of the outdoors seems like a great idea to visit every day after breakfast to have a short stroll and enjoy the view.
19. Wilton Classic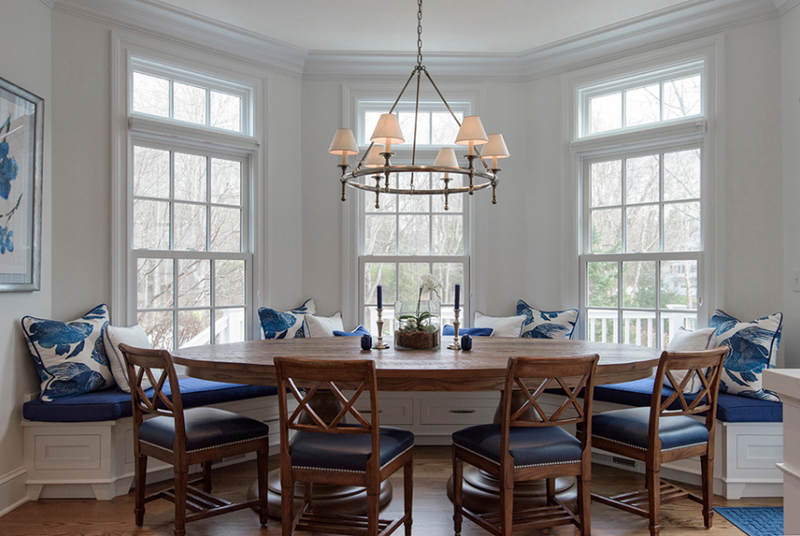 What a great color combination for a dining space! I've read somewhere that using blue in your dining room could hamper your appetite which means that you won't overeat – and it's always a great thing right?
20. Woodside House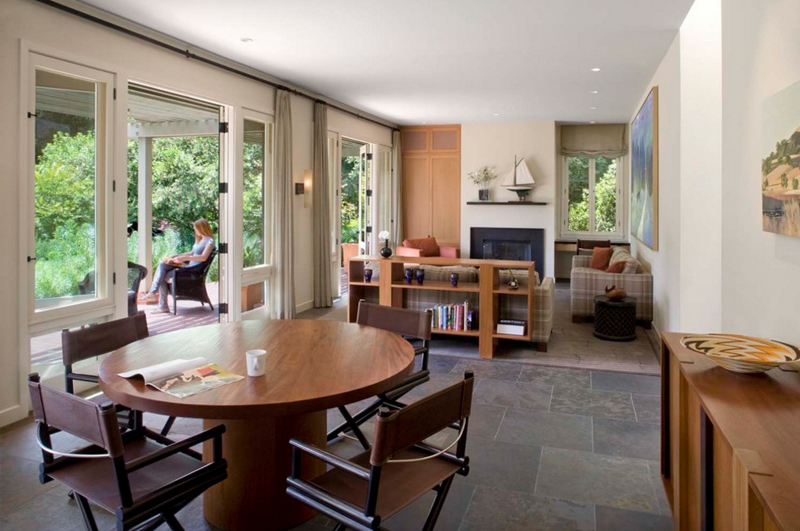 Last but not the least is this small dining space just across a cute living room. The use of wood for the furniture is very evident and it sure looks really pretty and very much homey.
If you think that this list of 20 Contemporary Dining Rooms with Circular Wooden Tables is awesome, you should check out the 20 Charming Circular Oak Dining Room Tables because these furniture lists are really pretty and charming. They add beauty to your home and comfort thinking that you could have an earthy thing inside your house and look all homey and very beautiful.