20 Pleasant Patio Furniture Cushions
Where to begin when designing your outdoor spaces? You should think of an outdoor space like a room! It is important to use furniture and fabrics appropriate for outdoor wear and tear but then layer in more comfortable accents like cushions, throw pillows and even a rug. There are so many great sunbrella fabrics to choose from allowing you to have a lot of fun with an outdoor space.
I also like to break up furniture sets creating a more unique feel so while the chairs and sofas are from the same collection the tables are a complete departure in both material and color. Look for pieces that complement each other. Check out the pictures we have for you below.
1. Bayshores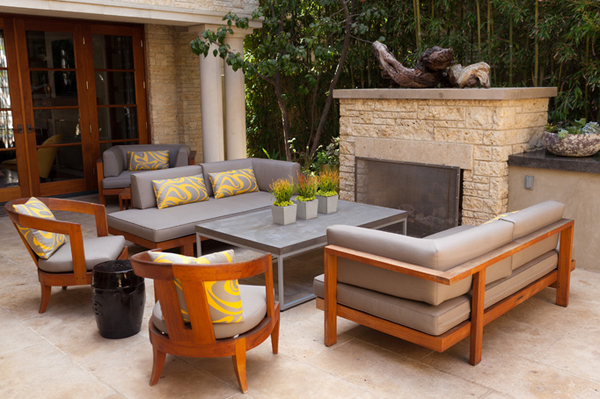 The patio furniture set we have here is simple but really fascinating because of the color combination it has with yellow and the combo with wood.
2. Carlsbad Patio Remodel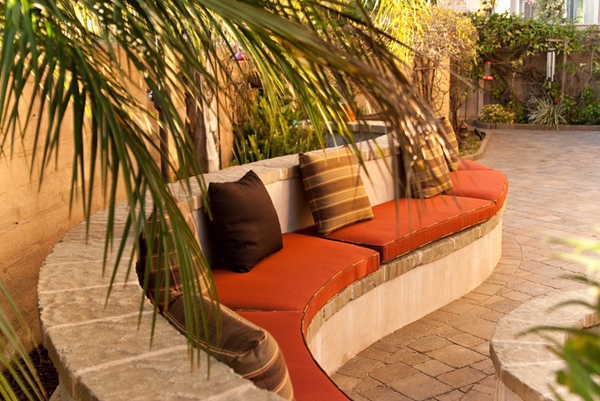 Curve a banquette around the perimeter of a patio to ensure lots of space to hold your guests.
3. Diversey Color Bound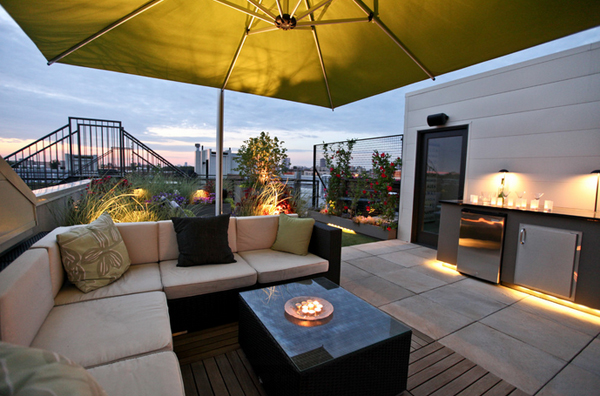 With a narrow space to work with we were challenged with maintaining an open feel but creating rooms that were functional. this rooms has a lounge area, sitting group, eating area and a service counter that will soon sport a large outdoor TV come spring.
4. Eclectic Style with Outdoor Furniture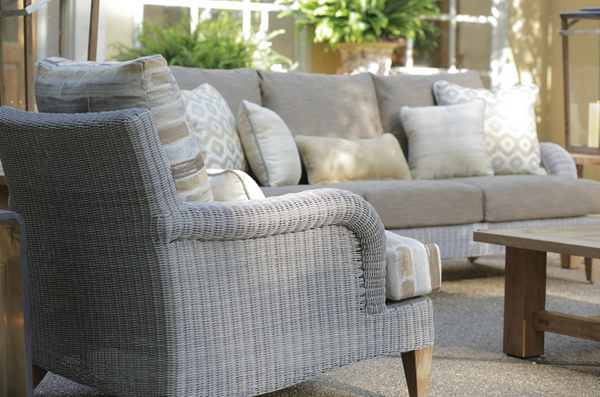 The new Summer Classics London collection features removable teak legs. Here we've mixed London with a Croquet Teak collection coffee table to create an eclectic style for outdoor patio space.
5. Fishers Island, New York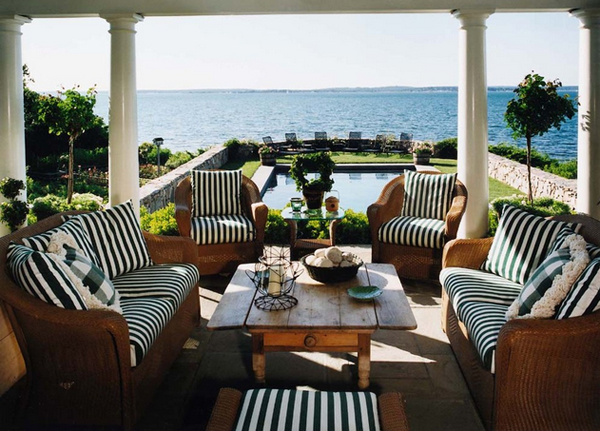 A large, covered veranda was added to the back of the house, looking out over the pool and to the Long Island Sound beyond.
6. From Kids to Quiet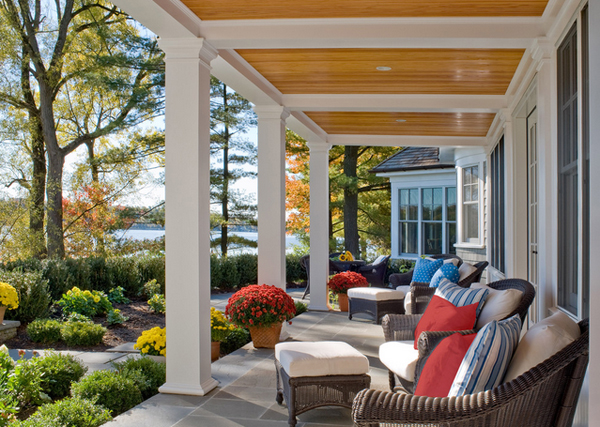 Fall mums inspire a few autumnal red accents as the seasons change around this porch.
7. Malibu Mediterranean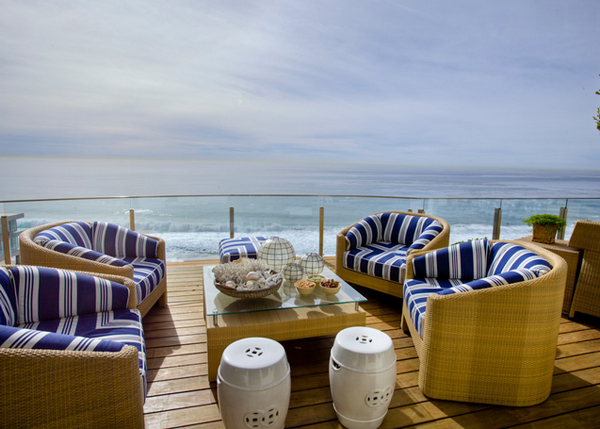 At this beachfront home, sandy neutrals get a kick from bright nautical stripes without competing with the ocean view. Deck your coffee table in driftwood, shells and sea glass arranged in a beautiful bowl to top off the look.
8. McLean Residence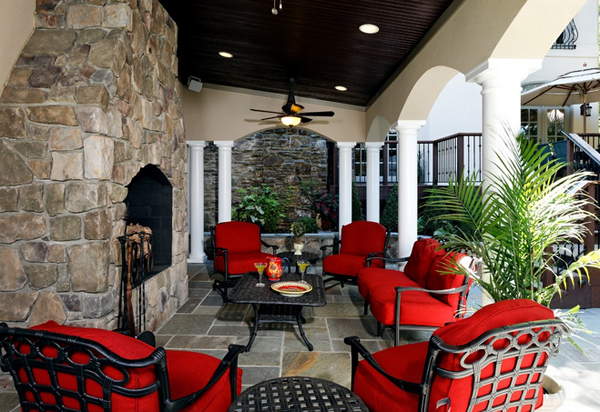 Don't you like the dark ceiling and the light walls? Pretty contrasting but lovely!
9. Milwaukee Country Home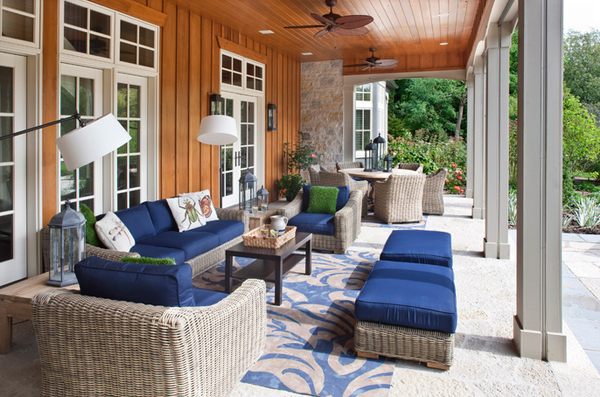 Exposed rafters, beadboard and the famous Haint Blue hue draw attention to this often-overlooked porch design opportunity.
10. North and South Terraces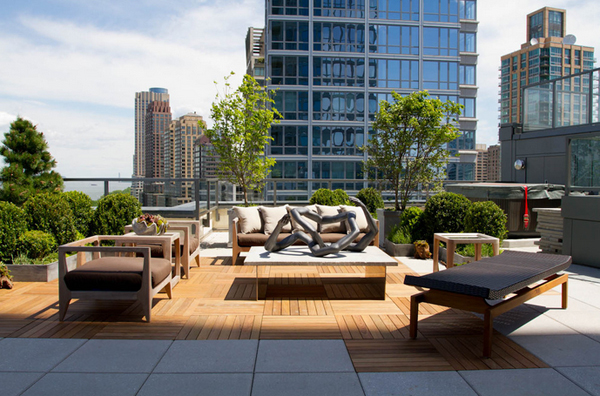 Just outside the kitchen is a 3,000-square-foot terrace that was designed by Gunn Landscape Architecture and Vert Gardens. Lovely, isn't it?
11. NYC Contemporary House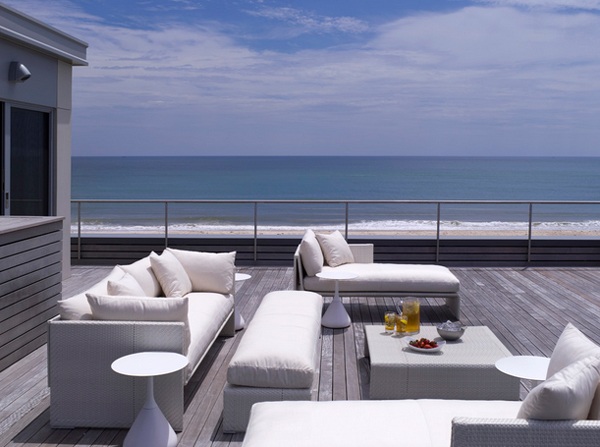 This stunning outdoor furniture is from Dedon, collection from Janus et Cie.
12. Old & New in Montecito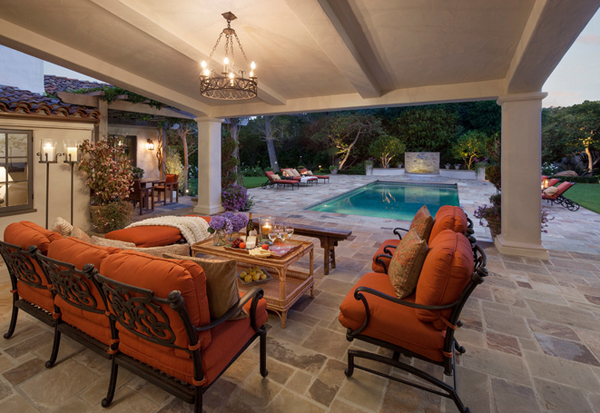 Note the back porch idea; I love living room feel of this space.
13. One Beacon Court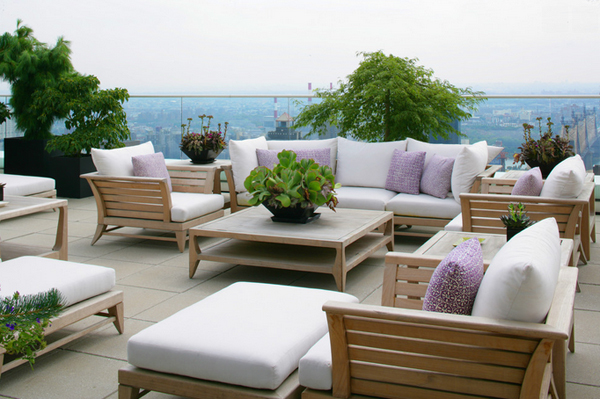 Oiling your teak can help it retain its buttery gold color and keep the grain from cracking, but increasing its moisture content can also make it mildew more easily.
14. Outdoor Furniture Cushion & Pillows in NYC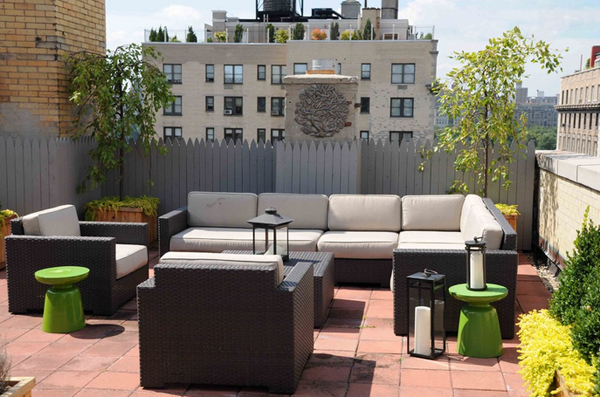 Roof patio in upper Manhattan. The Work Room built all the custom cushions and pillows utilizing durable fabric that can sustain the elements.
15. Philadelphia Indoor & Outdoor Oasis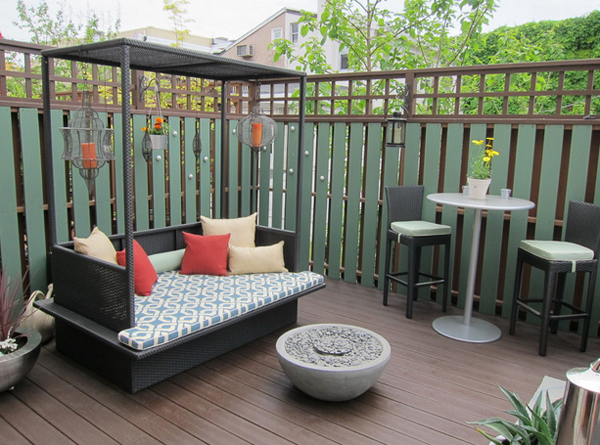 We transformed this outdoor space into a beautiful retreat and then gave the living room a design lift for indoor and outdoor spaces that our client can sit back and relax in!
16. Private Residence – Formal French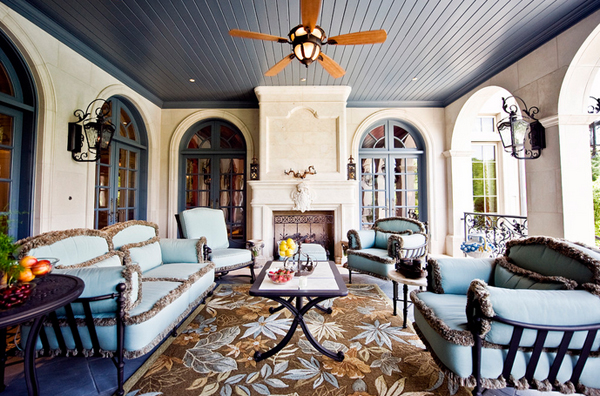 If it weren't for the arches on the right, you might not suspect you were outdoors. The furniture looks like anything but patio furniture, thanks to the audacious use of trim and an area rug that refuses to take a backseat to anything.
17. San Francisco Rooftop Patio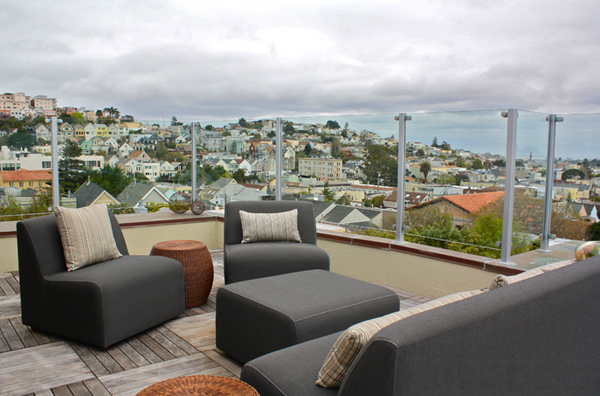 One of the major renovations was the construction of decks and patios. The couple converted the original rooftop into a scenic wooden patio overlooking the city and the bay, with glass siding for safety.
18. Suburban Hideaway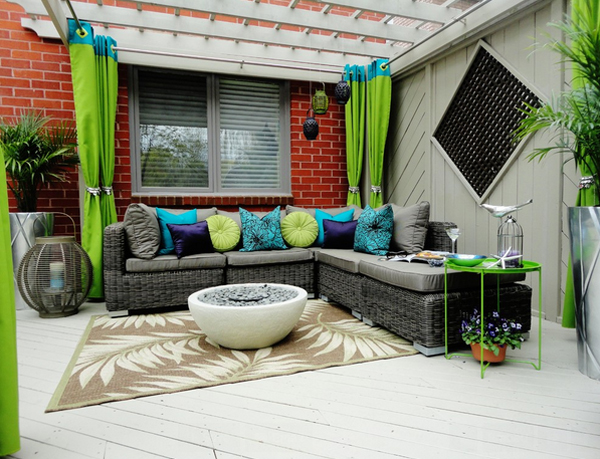 Wicker seating and stone bowl fire pit; what more can you ask for?
19. United States Patio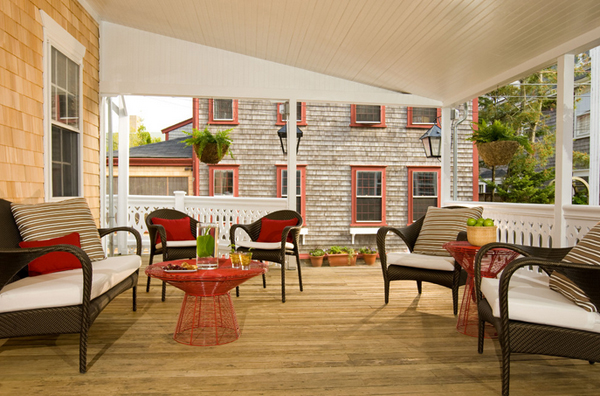 The two wire tables in this room kick up the modern factor a notch, as well as bringing in some bright red accents.
20. Yaletown Loft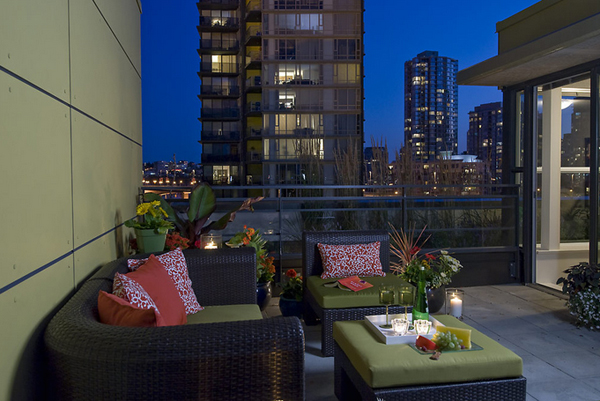 This patio furniture are ideal for dining outside the house in a non-formal manner of course; drinks will be great too!
There you have it, the twenty pictures of patio furniture cushions – you can see that you have tons of options and designs to choose from in furniture with cushions intended for the outdoors. There are a couple of the furniture designs above that I really fancy for our patio at home, good thing is that most of them are customizable.