20 Ideas to Arrange Kitchen Appliances
A kitchen won't be complete without the appliances. It is the appliances that aid us in cooking and preparing food and drinks. These are very valuable for every kitchen although the kind of items may vary depending on the needs of the homeowners. But how do you arrange your kitchen appliances?
You know that you can't just place them anywhere you want. You have to see to it that you will arrange them depending on their functions and how you will use them. You also have to make sure that they are not cluttered and are well-kept. So, we looked into some kitchens and checked how they arranged their kitchen appliances. To my surprise, they didn't just keep their kitchens functional and organized but also visually appealing!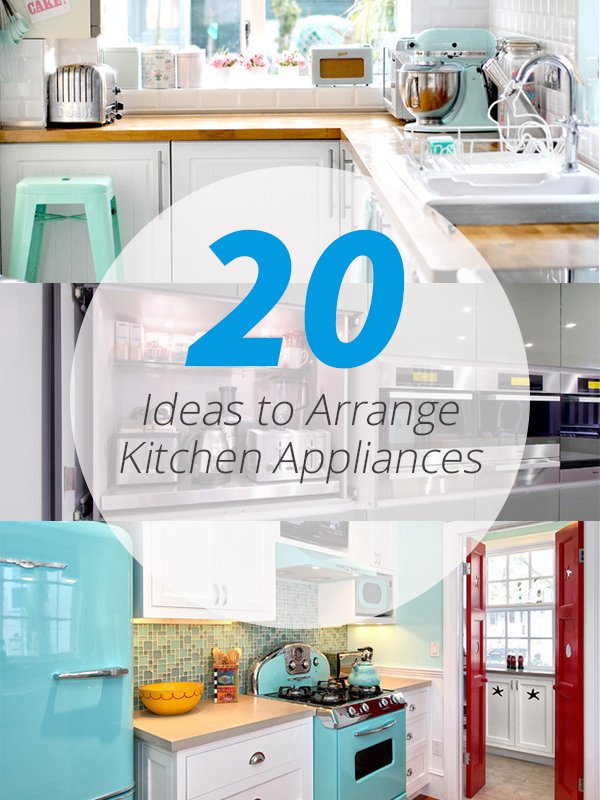 1. Lavender Cottage – Kitchen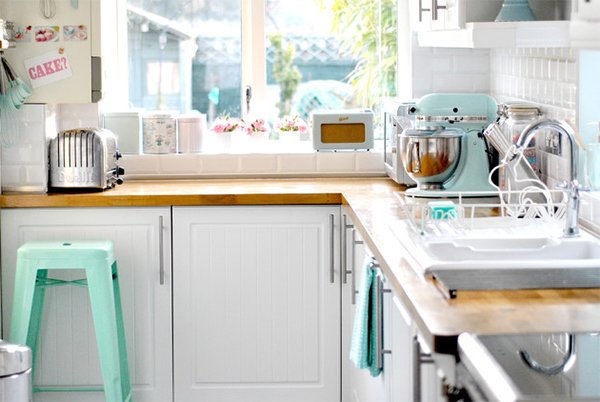 I like how the color of the standup mixer matches with that stool!
2. Northcote House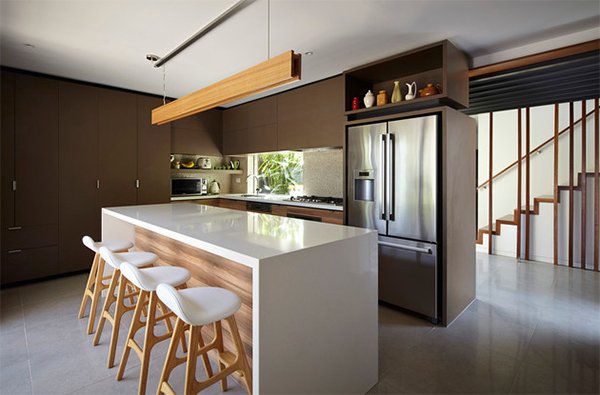 Notice how the small appliances were placed on one side near the sink of this kitchen.
3. Stephens Interior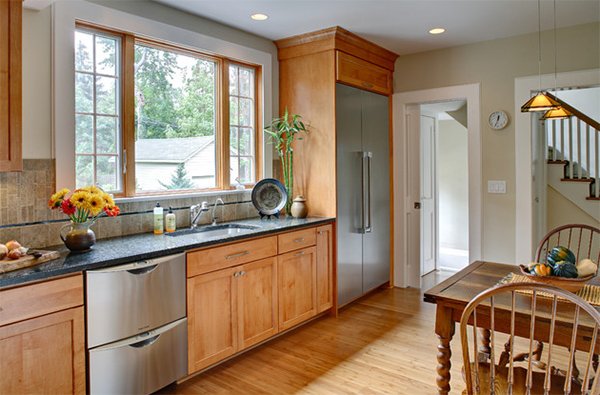 This looks lovely but what you cannot see is how eco-friendly this kitchen is with recycled denim insulation of the walls, Energy Star appliances and others.
4. Urban Loft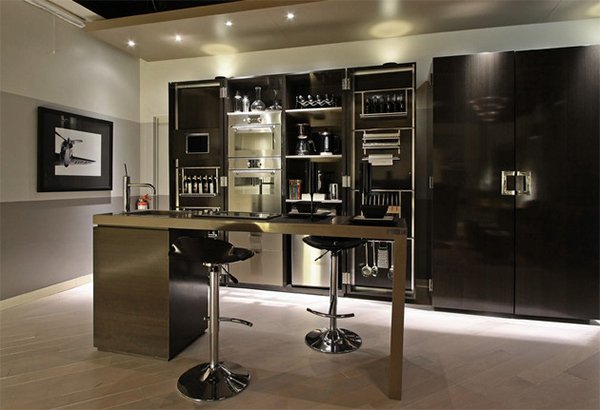 Despite the dark colors of the cabinet finish in this kitchen, it looks very sophisticated with the way it arranged its appliances.
5. Davis Bay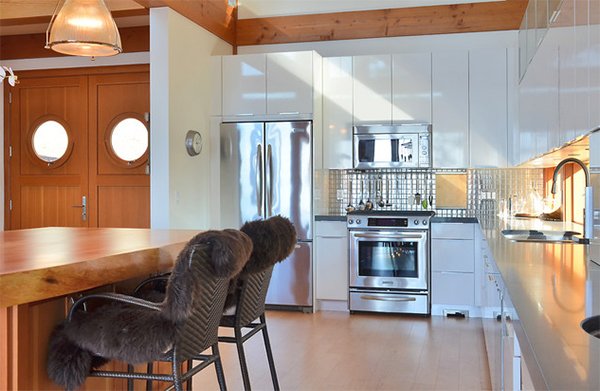 That silver backsplash adds glamour to this kitchen as it matched with the colors of the appliances.
6. Kitchen & Dining Room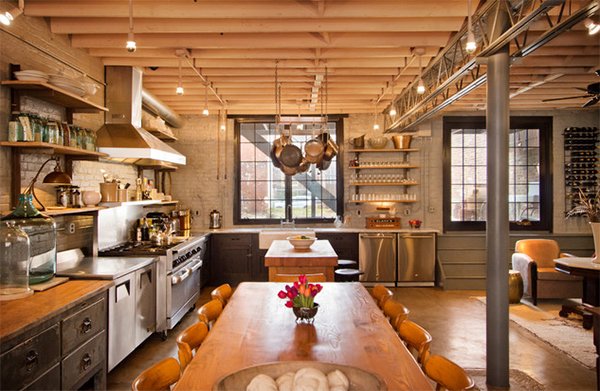 Putting all the big and small appliances on the same area would make work a lot easier just like what we can see in this industrial kitchen.
7. Rossington Architecture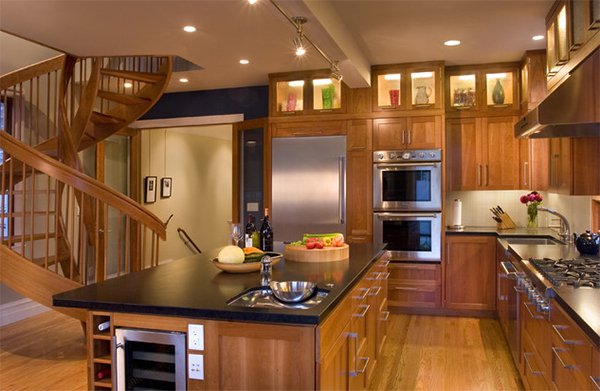 One good way to save space is to integrate appliances into the kitchen modular system just like this one.
8. Kitchen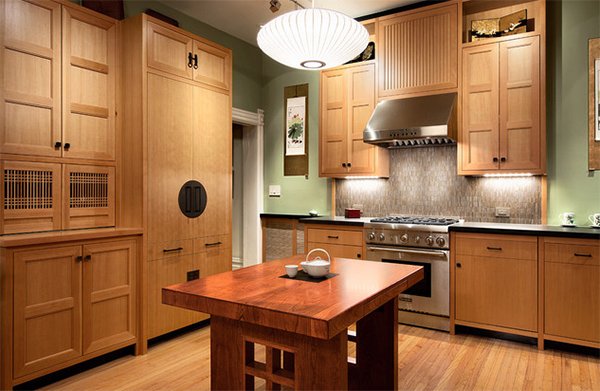 If you think this is all they got, other small appliances are kept in the cabinets.
9. A Place to Cook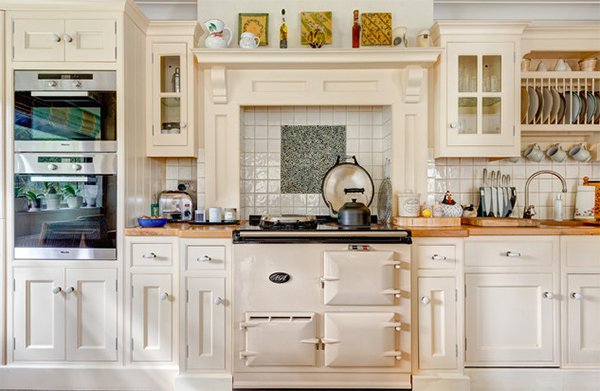 Some choose to just place the appliances on the countertop especially those that they use often.
10. Sea Ranch Residence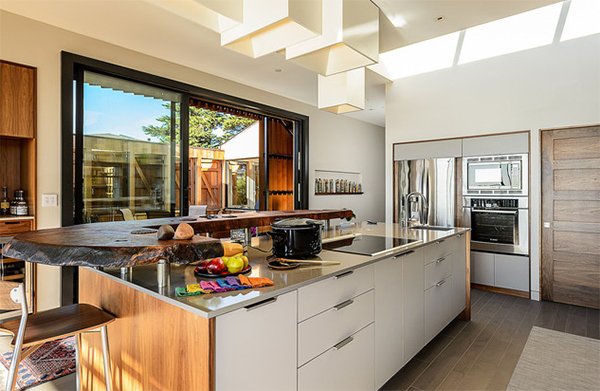 This kitchen looks neat since everything is organized and sleek.
11. Kitchens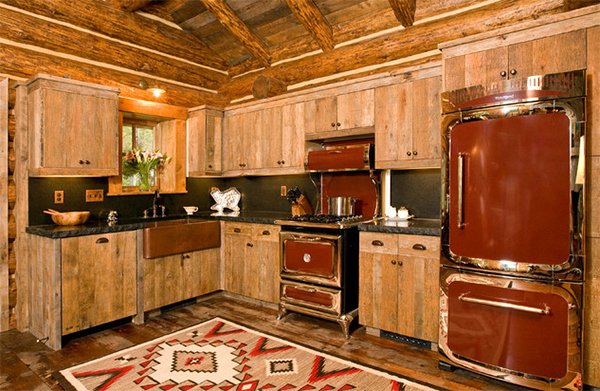 I honestly love the Classic Collection kitchen appliances here from Hartland Appliances. Just perfect to this rustic kitchen!
12. Apt Kaz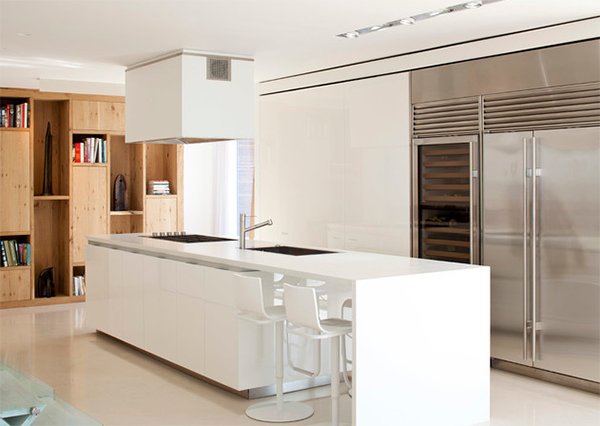 All of the small appliances in this modern kitchen sit in the white built-in cabinet next to the fridge.
13. Contemporary Kitchen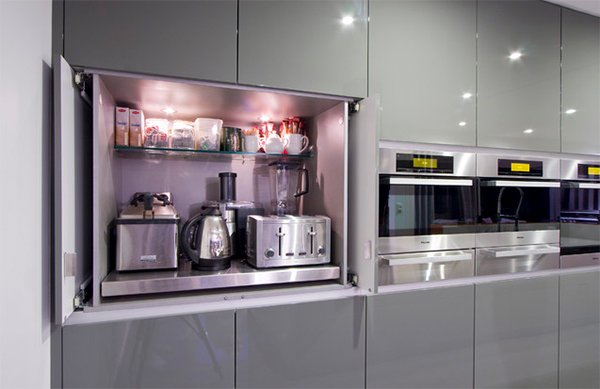 The functional 'working wall' of cabinets offer a storage solution for small appliances in this narrow kitchen space.
14. Model Homes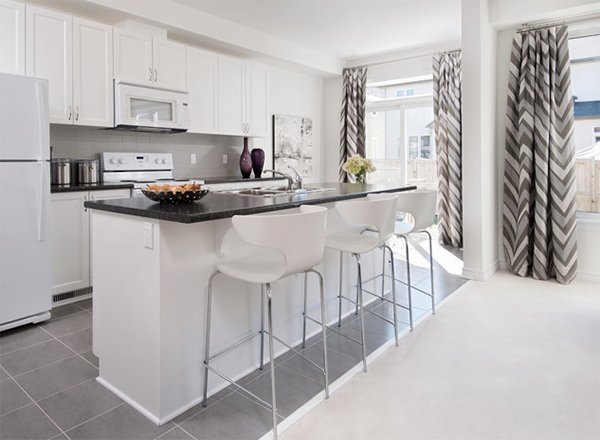 It is a good idea to use white appliances for a white kitchen! Everything looks neat!
15. Eclectic Kitchen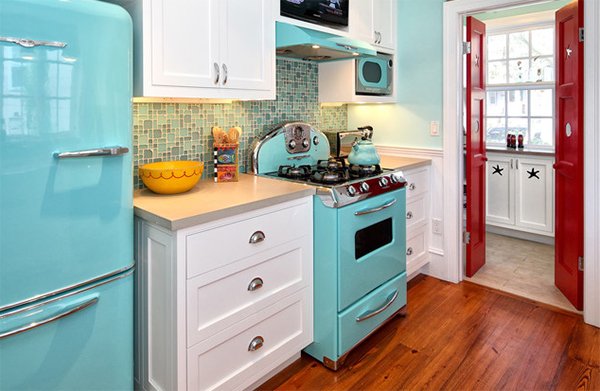 Retro appliances from Elmira Stove Works looked very pretty in this kitchen!
16. New Shingle-Style Residence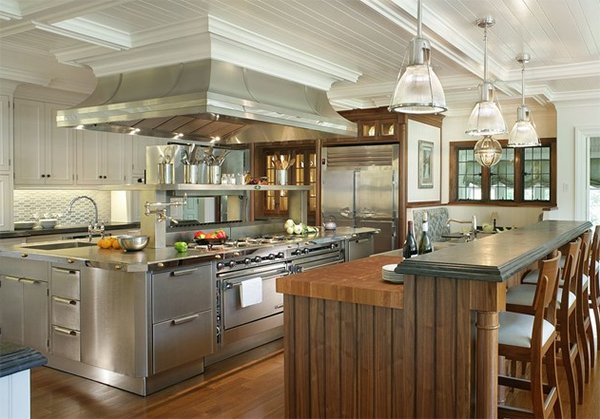 Such a spacious kitchen! What can you say about the manner of arrangement? Very well done indeed!
17. Rolling Hills, CA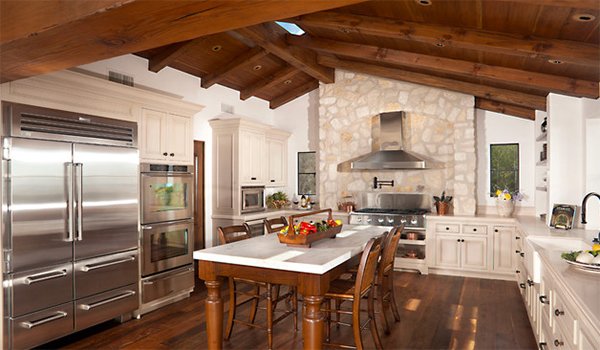 A good idea to on how to position large appliances with a kitchen of this shape. Note the section with microwave has deeper cabinets.
18. Seattle Downtown Condo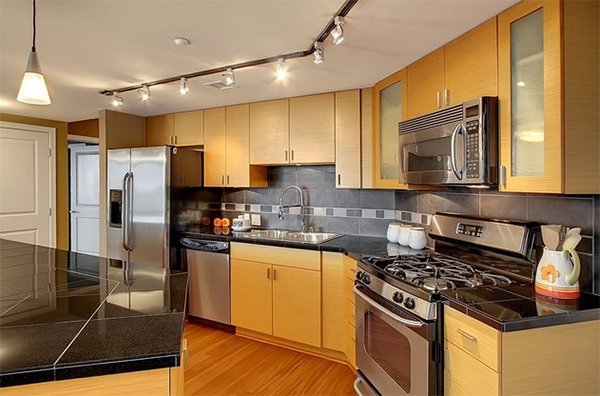 This kitchen is angled but who says you cannot work on a kitchen like this?
19. Contemporary Gallery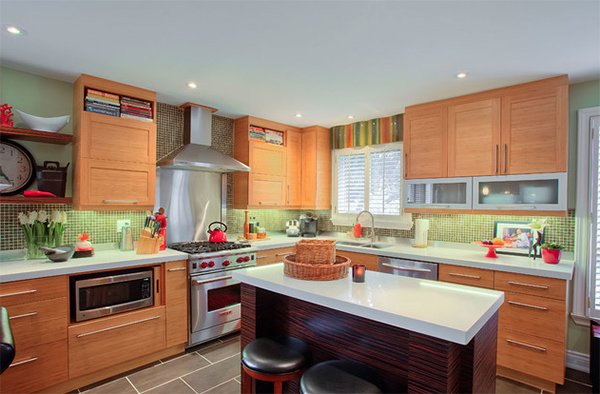 I love the colors of this kitchen! Take note of the microwave down next to the stove.
20. Lime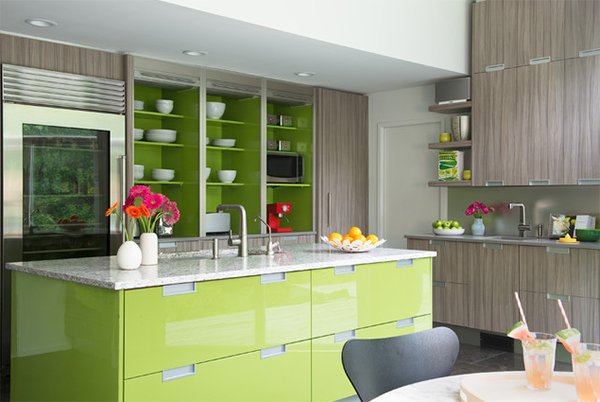 I find this really cute! Three appliance garages with pull-down steel tambour doors are used to store the numerous small appliances in this kitchen.
Who says you would just place your appliances anywhere and everywhere? Well, there is also an art in arranging them and positioning them. Doing this will give your kitchen an organized look and would also make work easier for you. See to it that you consider your kitchen's layout when you bring in the appliances.