California Home Addition Featuring Shou Sugi Ban Siding
This home has a lovely addition featuring a unique siding.
Some homes are being updated and renovated not just once but many times. We have seen homes like this in real life and this method actually works especially when you are tight on budget. This way, you will still be able to get the kind of home that you want even if it takes years to achieve that. Well, that is better than not being able to get your own home, right? Today, we are going to feature a house that didn't just undergo different renovation and upgrade but it also has a unique feature in its latest addition.
The house is located in near San Francisco, California which is completed in around 1999 by Min | Day and Burks Toma Architects. Back in 2005, Min | Day added a swimming pool in the house as well as other related outdoor spaces. After completing that in a few years, Schwartz and Architecture then came to the scene and began working on an addition. Aside from that, they also worked on the substantial remodel of the interior in 2009, which was recently completed. The addition of this Californian home with a beautiful interior and exterior, is clad in Shou Sugi Ban siding. Apart from that, you will surely love how the interior looks like since it isn't just relaxing but it is totally neat and very beautiful indeed. Let us take a look at the house below.
Location: San Francisco, California
Designer: Min | Day, Burks Toma Architects and Schwartz and Architecture
Style: Modern
Number of Levels: Two-storey
Unique feature: The addition of the house is clad in Shou Sugi Ban, which is a technique of charring wood in order to protect it.
Similar House: KL House: A Contemporary Home in the Forest in Quebec, Canada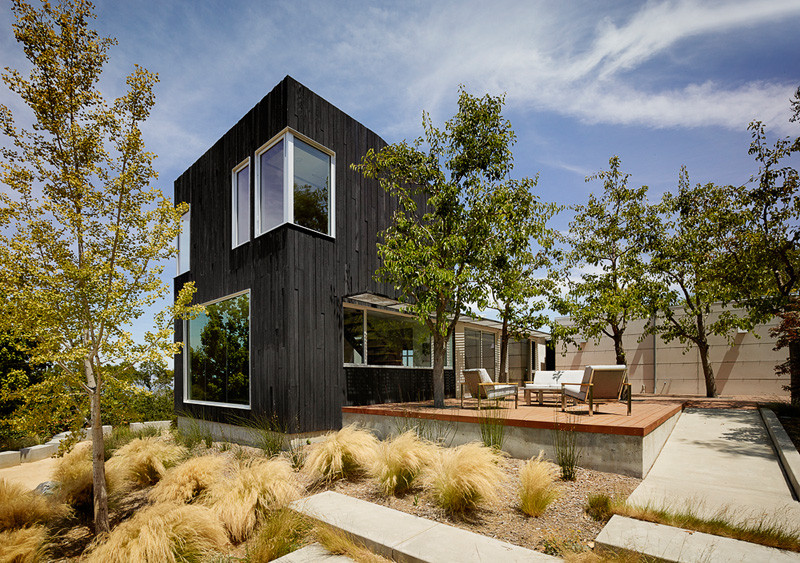 Honestly, I like homes like this which has a wooden deck and trees on it. It is like you don't need to go to the garden to get in touch with nature because you can have that in your own elevated deck. I also like it that the house has come contrasting colors in it.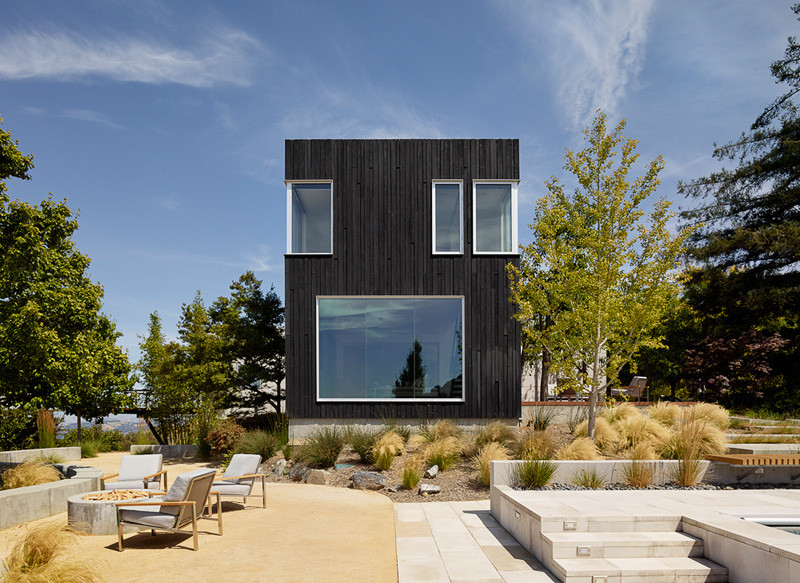 The house has a spacious outdoor area with some chairs around a fire pit. It has some grass and trees for its landscaping.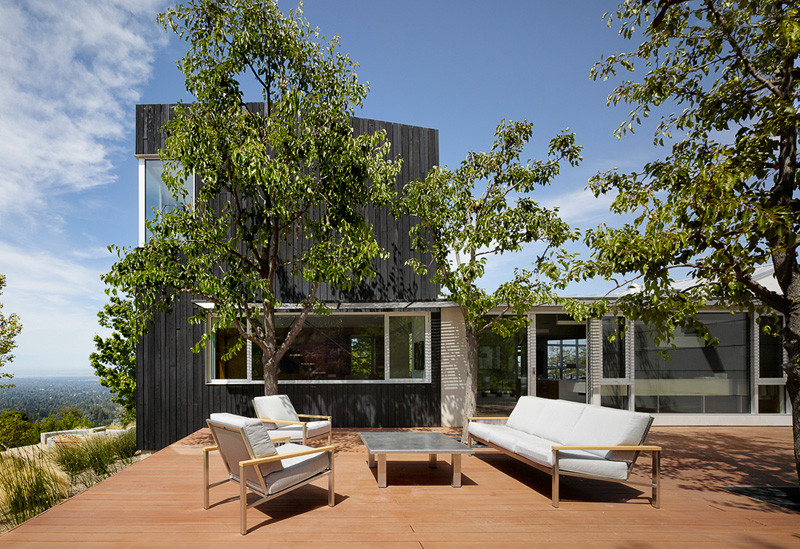 Schwartz and Architecture created a two-story addition for the house clad in a type of siding called Shou Sugi Ban. This is a technique of charring wood to protect it and it does look really lovely, right?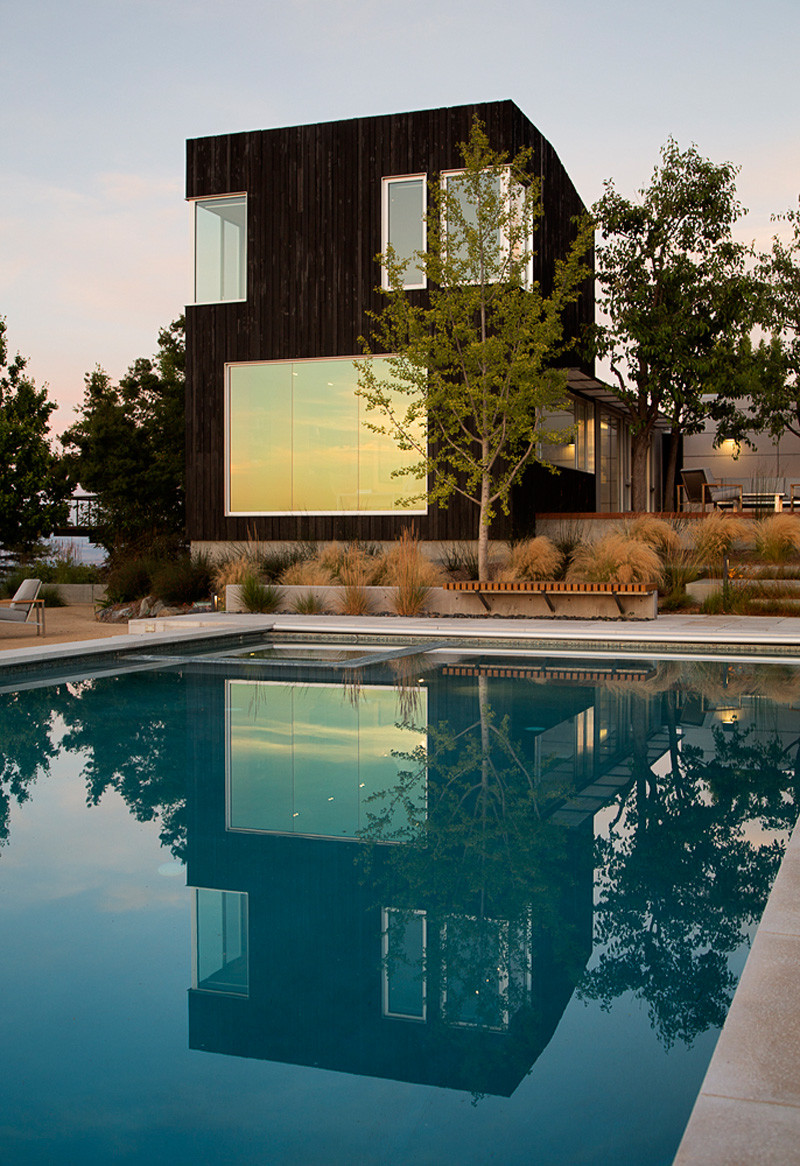 Outside the home is a swimming pool for those hot summer Californian days. What I noticed here is the bench attached to the concrete planter as well as the beautiful glass window of the house.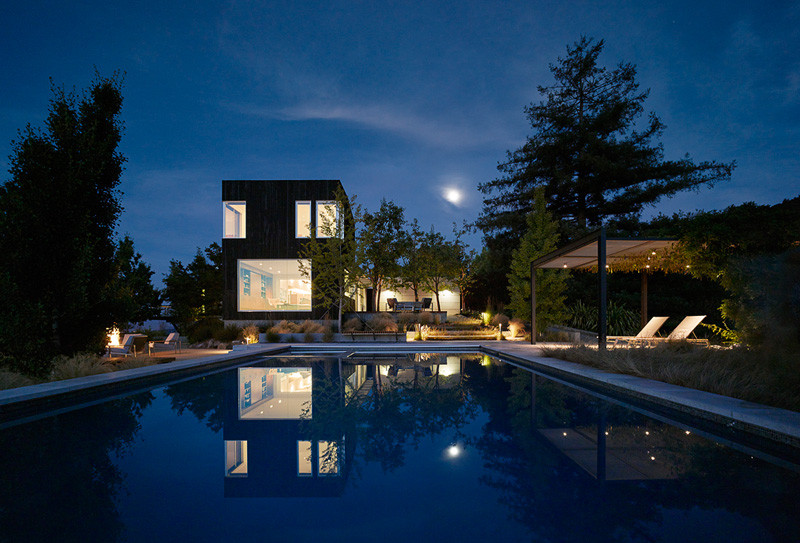 When night comes, the various areas around the pool are lit up, which includes the fire pit on the left, and the cabana on the right. It would really be nice to spend time in here for sure!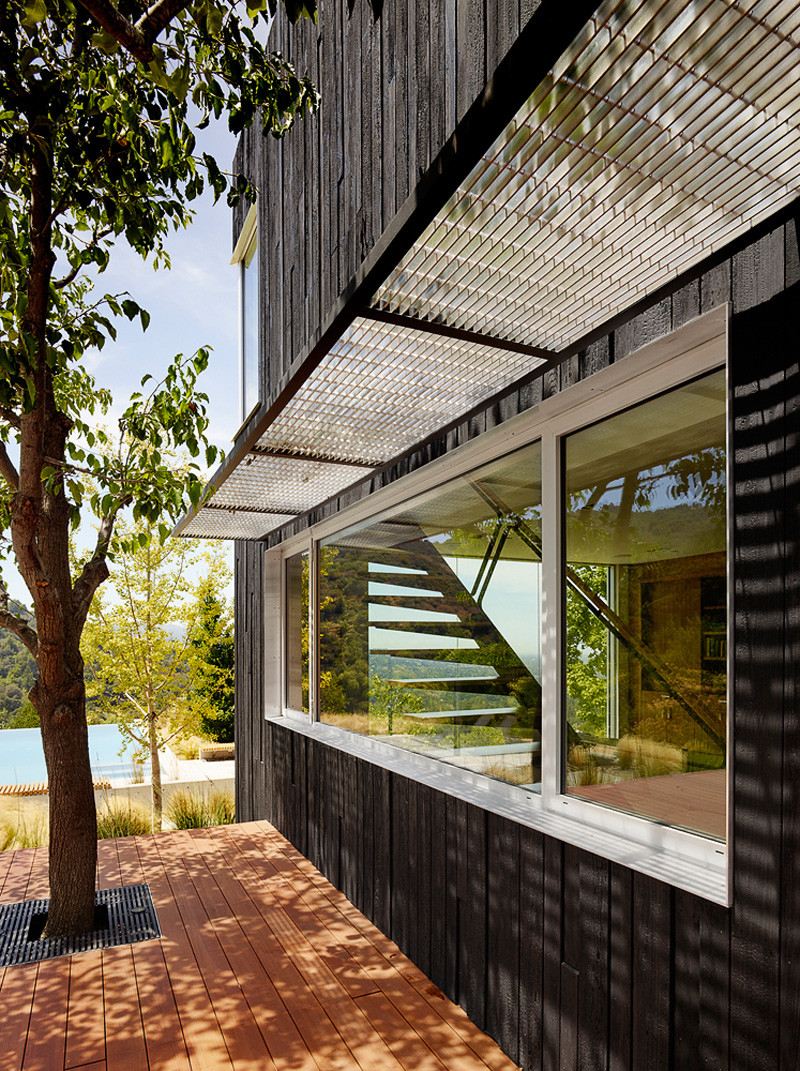 The home can be accessed directly off the deck which is nice because you can just visit the area anytime you want.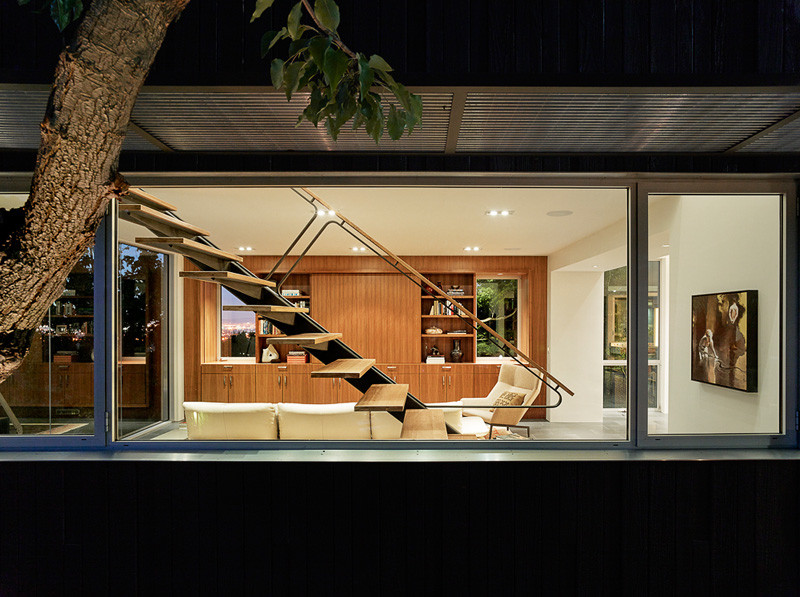 Large windows are seen all around the house that offer a glimpse of the interior just like this view of the living area and the staircase.
Read Also: Impressive Design of the Concrete House in Melbourne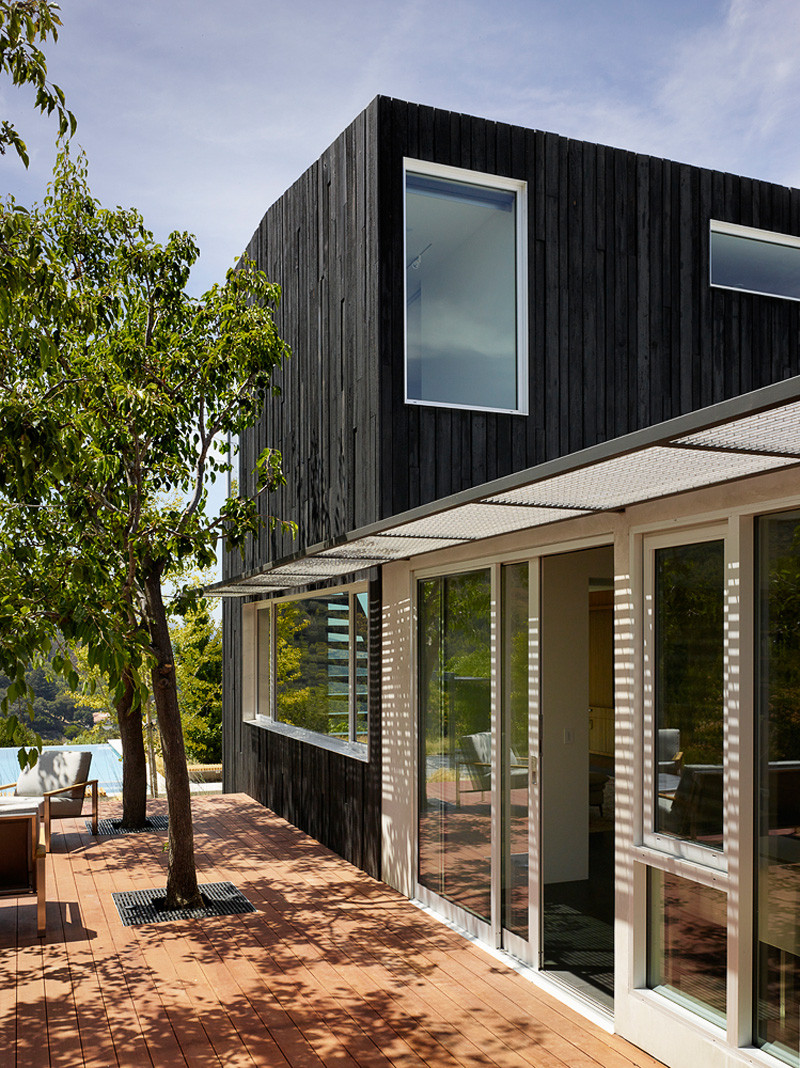 This is the wooden deck with trees in it. Actually, the deck is built around the trees. I like it that instead of chopping them down, they decided to retain it. Thumbs up for that!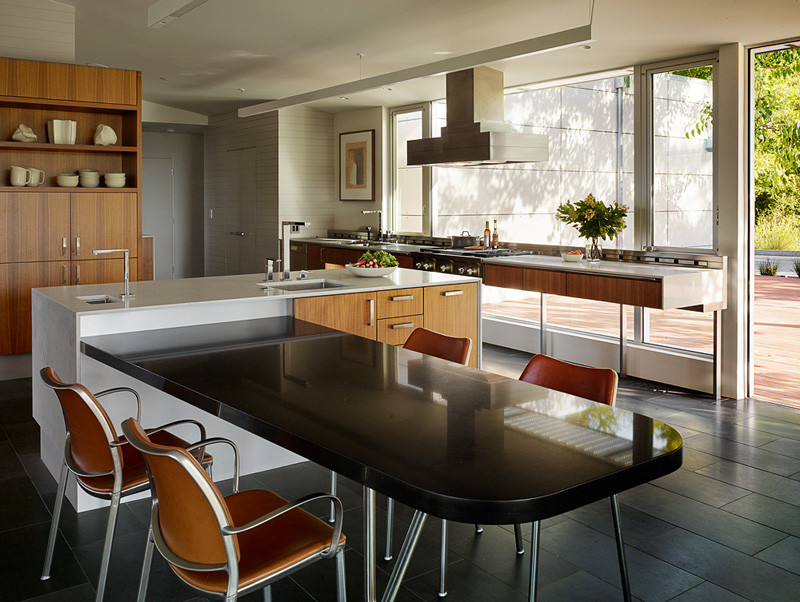 Just off the deck is the kitchen which has an island with an extension for an attached dining table. Aside from this attached dining table, I also like the use of black, white and wood in the area.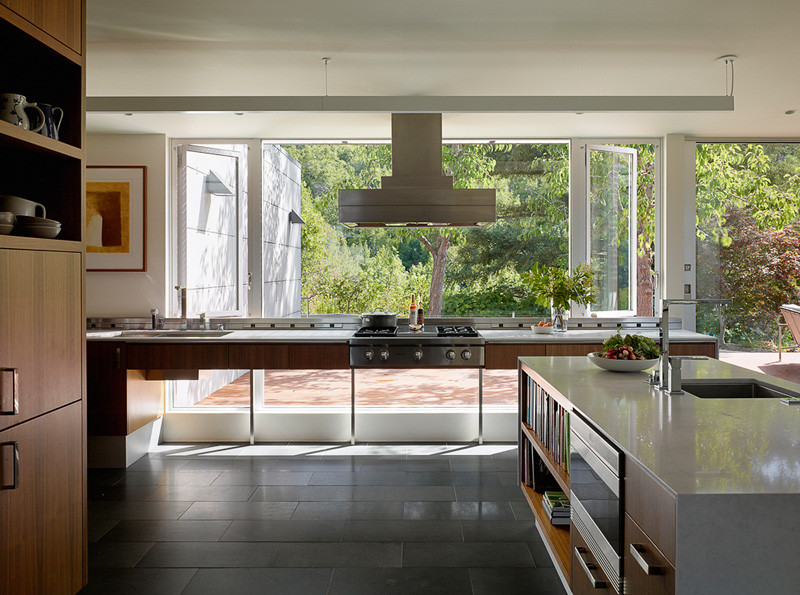 And this is the kitchen wherein you can see that the stove and sink are located along the window, with open space below. Meanwhile, its island has storage for books under it.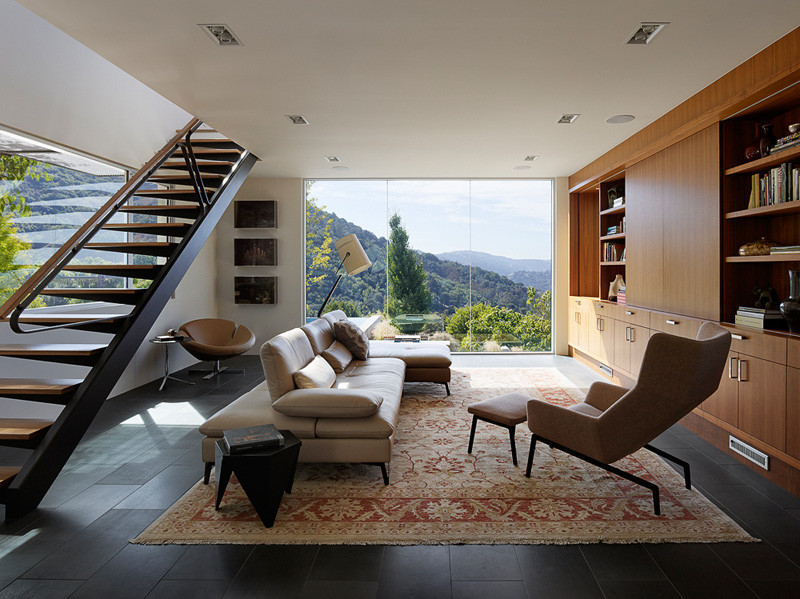 The living area has a wall of built-in cabinetry. Its comfy furniture sits on an area rug with intricate patterns. It also has a large picture window that perfectly frames the view around it.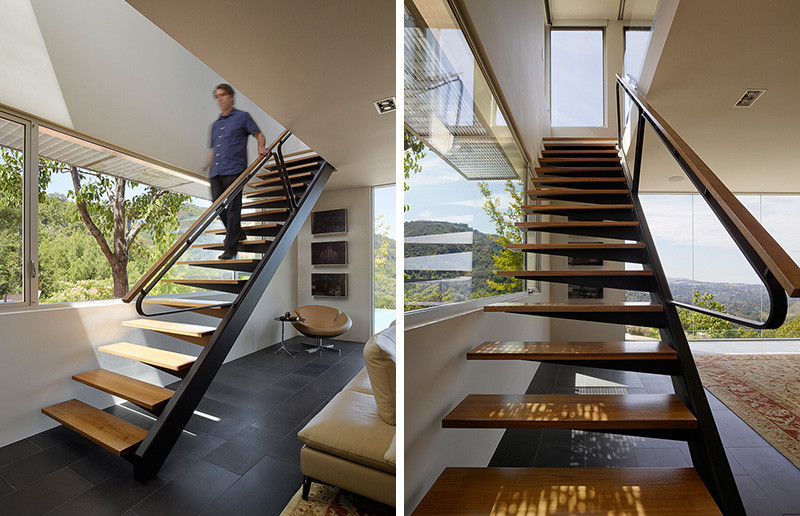 The stairs is one lovely feature of the house. See here are the stairs to the second floor which are thin, allowing light to pass through.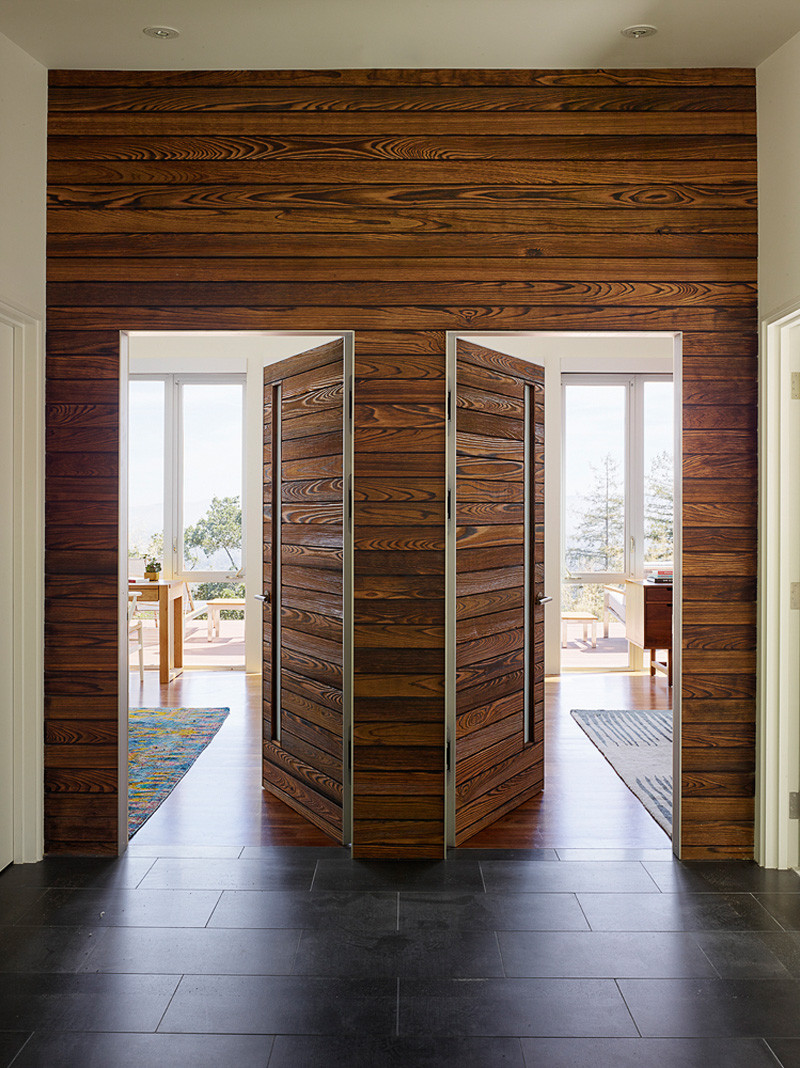 On the upper level, there is a wooden feature wall that welcomes you to the bedrooms. Beautiful!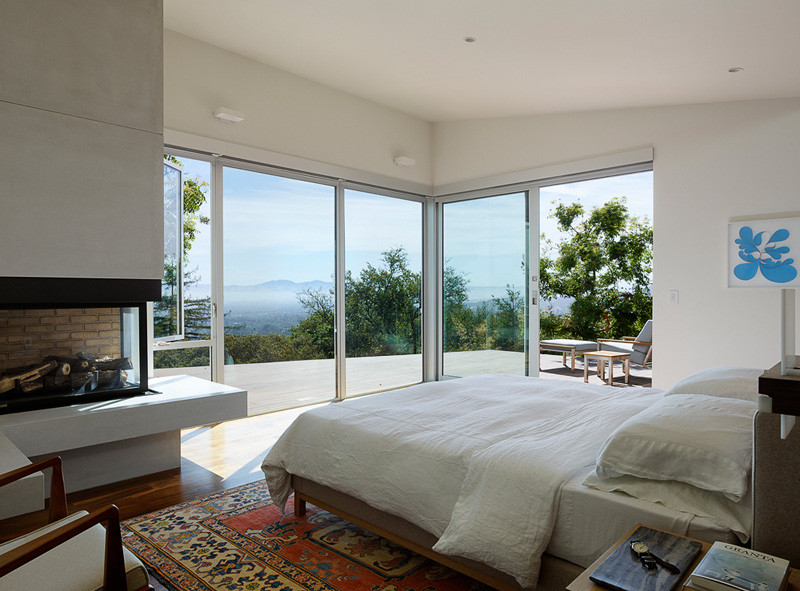 This is the main bedroom of the house which has a modern fireplace, and large sliding doors that open up to a deck.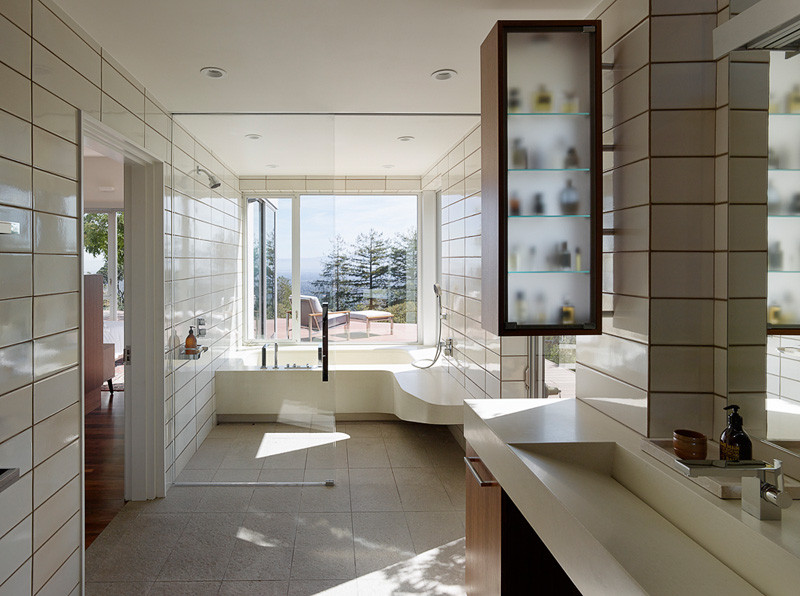 Meanwhile, this is the bathroom which is located off the main bedroom. This large bathroom has a bath tub that has full views of the surrounding nature and it looks really lovely in white.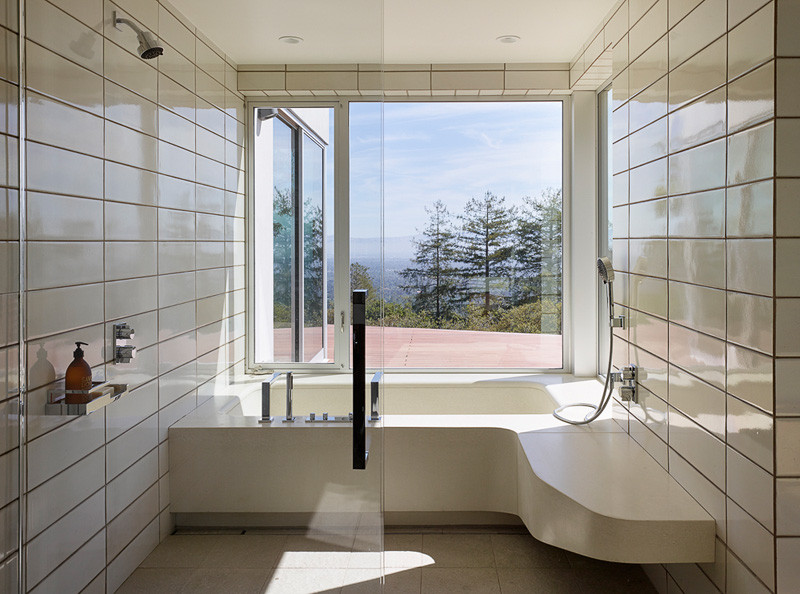 I love the design of this area because aside from that large window which allows a good view outside, the tub part extends to create a bench on the wall.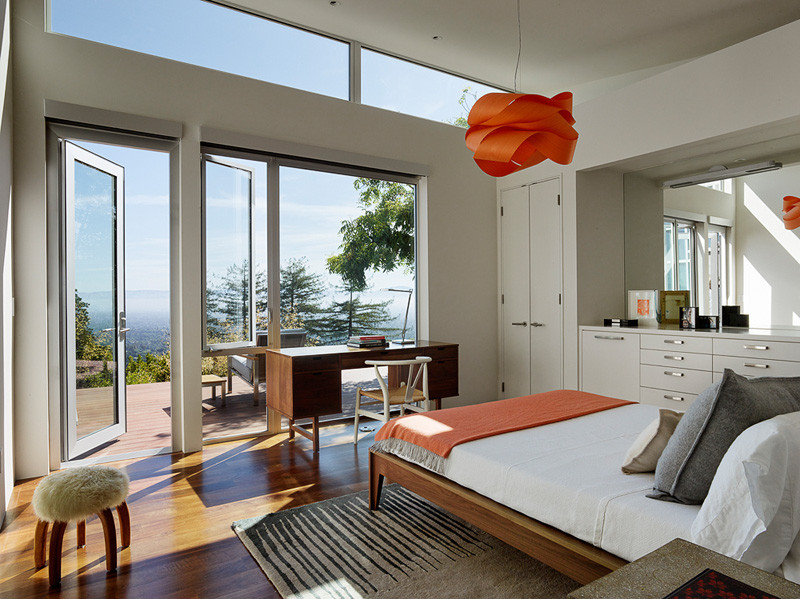 Seen here is another bedroom in the house with a wall of cabinets featuring a large mirror that have been built-in.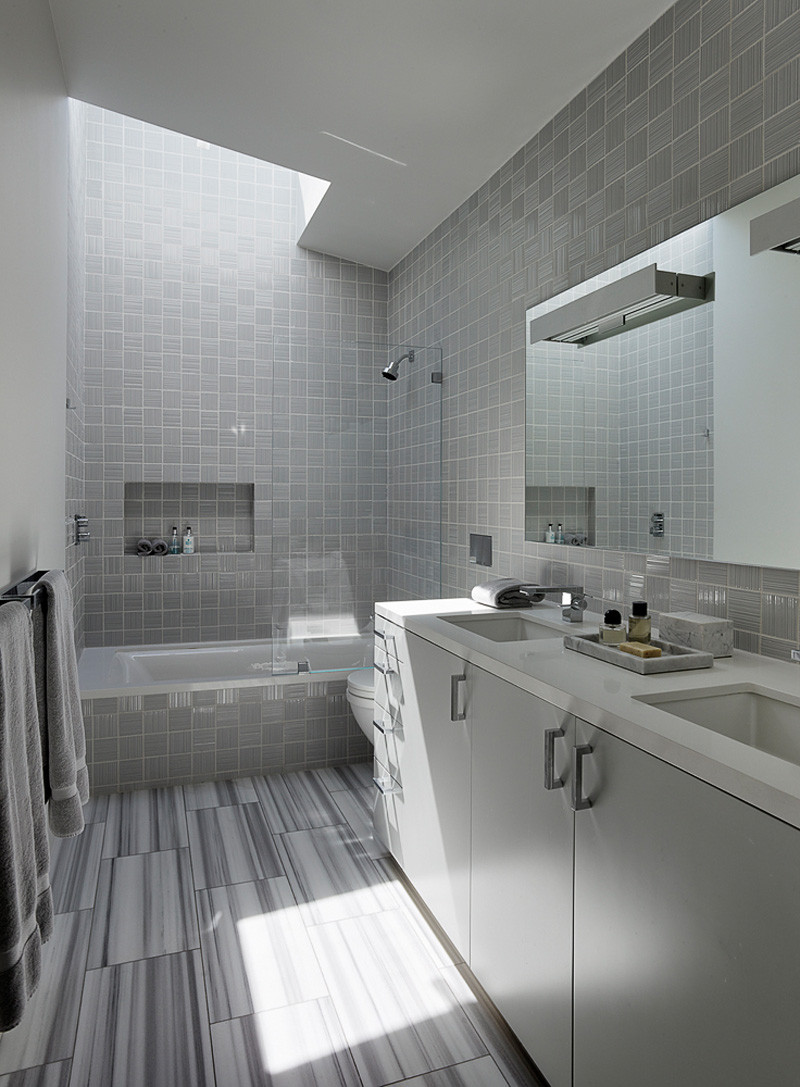 In this bathroom, shades of grey are used and are being highlighted by the skylight.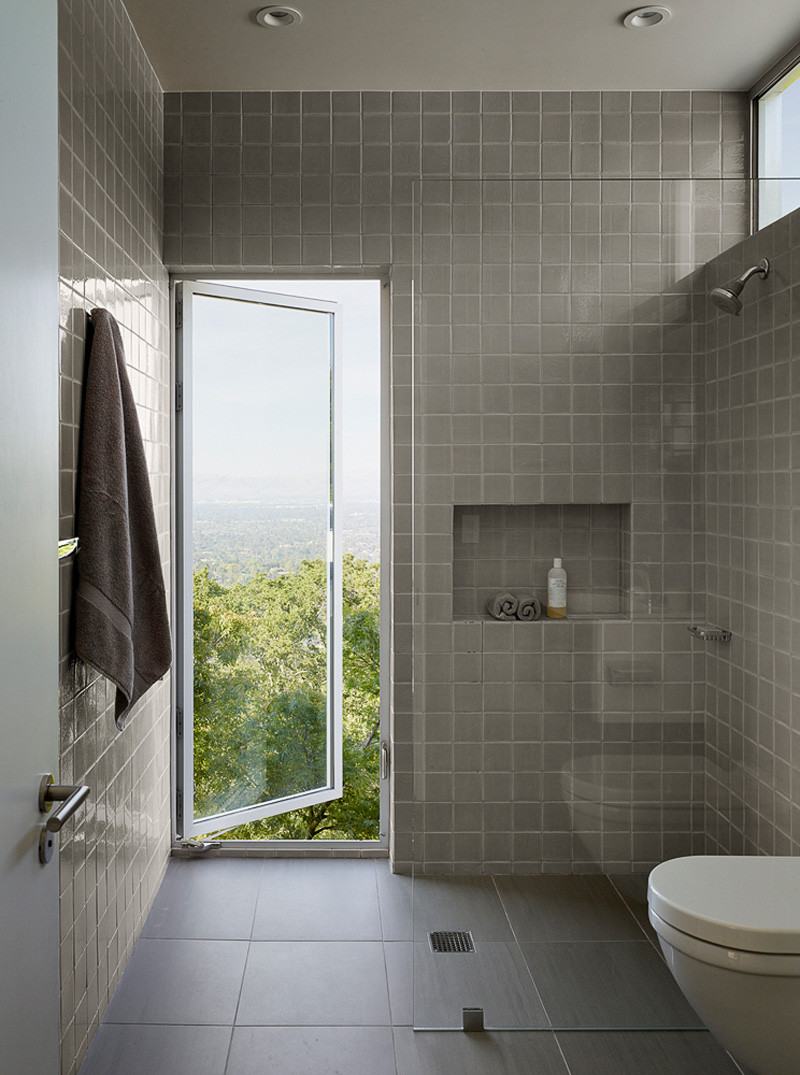 This bathroom features a tall window which opens wide to let fresh air in but the user has to be extra careful not to fall out! It looks a bit scary actually.
It looks like the house is a masterpiece not just by two but by three architecture firm which includes Min | Day, Burks Toma Architects, and Schwartz and Architecture. With that, we would really expect that the house will be a stunner both in the exterior and interior areas. The interior of the house has that midcentury look that most of us would be digging. It also has an outdoor area for everyone to enjoy. Overall, this is an ideal home to live in!