15 Cool Dining Room Ideas
A dining room is a room in a house where you eat your meal and dine with family and guests. Nowadays, dining room has defined itself in a different way. It is a room which is part kitchen and part family room, too. In homes with limited space, dining rooms can be an extension of the kitchen without walls to divide it and it can still look fabulous. Since dining room is a versatile place where your children can hangout, study or bond with the whole family it deserves to have a nice and beautiful ambience.
The perfect atmosphere in a dining room will allow everyone to enjoy and savor every family activity. So dress up your dining room, color the walls, mix the décors, or change your classic chandelier into modern, anything that can make it more beautiful and inspiring. So, whatever you may be thinking right now, whether you are up for some formal dining room design or something casual , use these 15 Cool Dining Room Ideas to do the pick-me-up make-over for you.
Dining With All Styles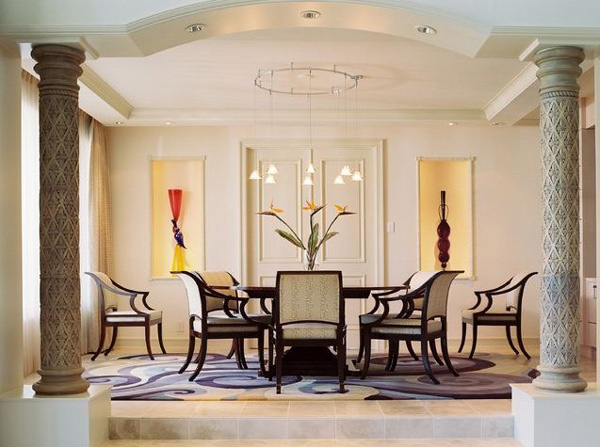 Update your dining room by mixing different colors and styles. In this room different beautiful decors are used to create a burst of colors and statement.
Fun Seating Arrangements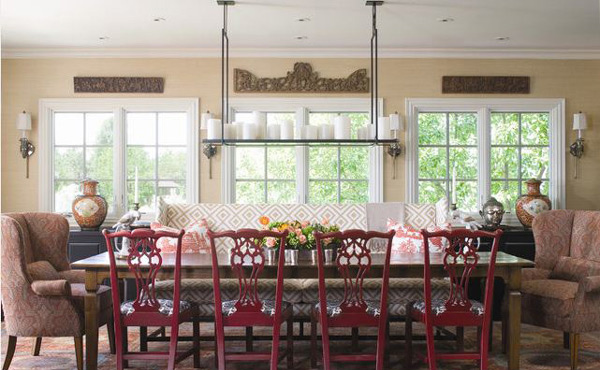 So you are not the traditional type and you need more seats for guests or you just want to make a unique yet casual vibe in your dining room. We say, try this fun seating arrangement- use a long dining sofa, wingback host and hostess chairs, red dining chairs, an antique dining table (if you have one), candle chandelier, rug and soft wall colors or at least a wall color that keeps the whole scheme together.
Unexpected Colors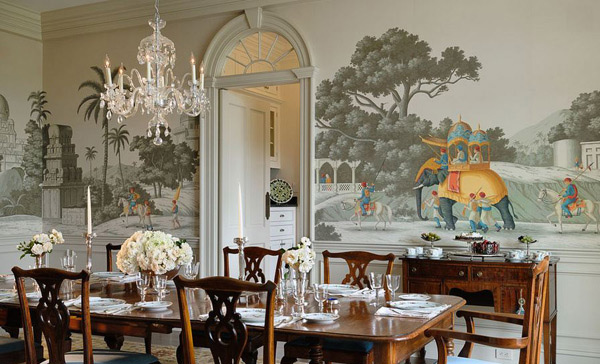 The whole dining decors and furniture round out this room for a classic and traditional vibe while the light and bright pop of colors make it livelier and chic.
Hang Those Plates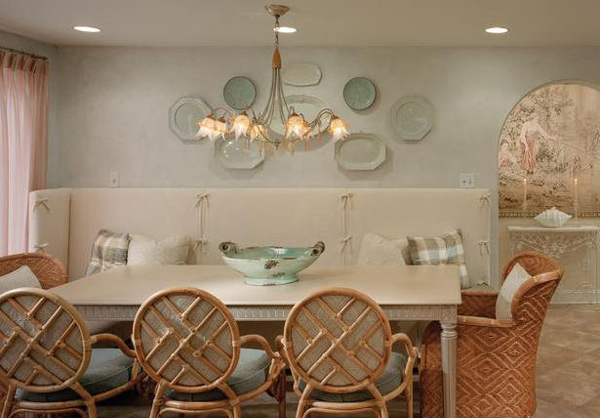 This Scandinavian country dining room provides a comfortable seating option and showcases an arrangement of plates as an artwork that complements the beautiful color of the wall.
Scale For Impact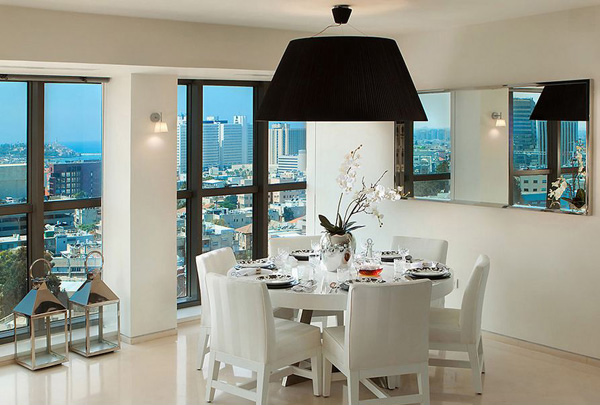 This large-scale black light fixture creates a huge impact in this white dining room. It brings drama to this otherwise blunt room and helps define the whole dining area from the rest.
Play With Patterns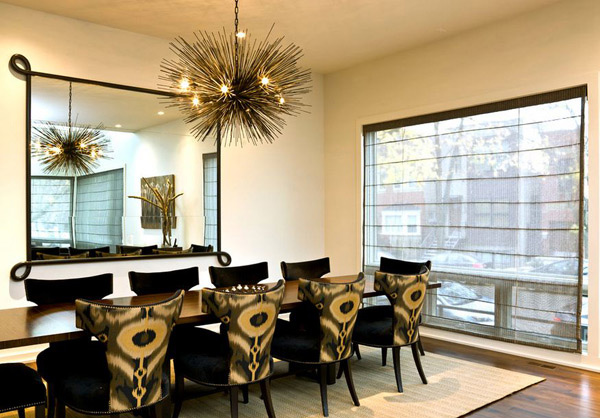 The sophisticated Ikat print that covers the back of each chairs, the sea urchin-like chandelier and the interesting mirror frame loops make an exotic yet modern flair to this dining room.
Stun With a Statement Piece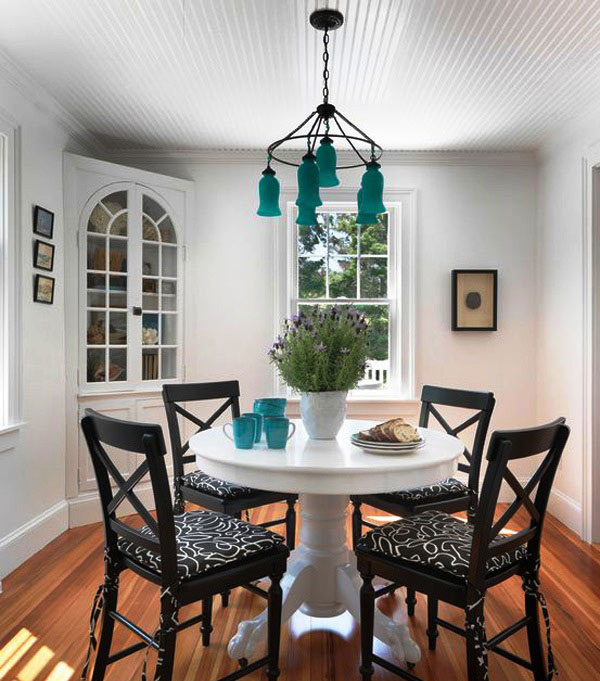 Choose a unique signature item in your dining room to create a focal point. In this crisp white dining room, a fun turquoise fixture adds a punch of color, making it stunning.
Grab A Motif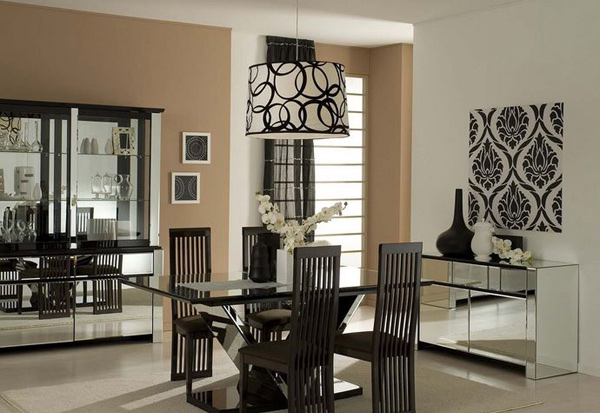 The neutral hues of black and white are flowing beautifully in this dining room; from the damask stencil on the wall to the decorative shade above the dining area extended to the decors around.
Mix It!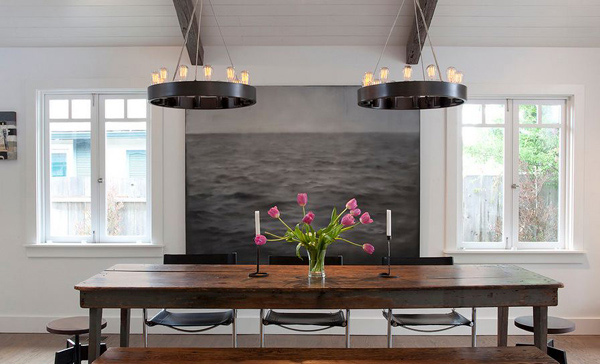 Do you want something bizarre? Go for something that doesn't match like this dining room design. The mix of the communal dining table, Eames chairs, stools and bench with a pair of industrial chandeliers, a beautiful piece on the wall and smack of sweet colored-centerpiece surprisingly go together with flair.
Cozy Up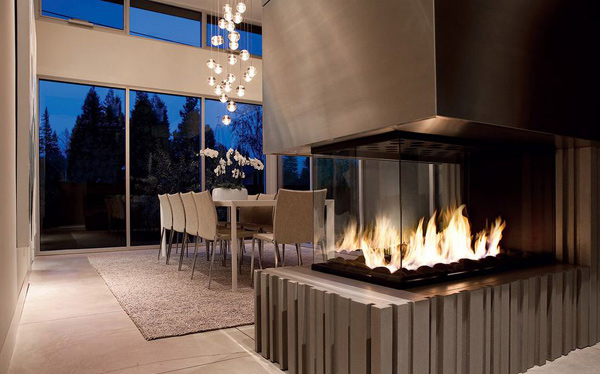 Let the fireplace create a cozy ambiance to your dining room.
Go Multifunctional and Stylish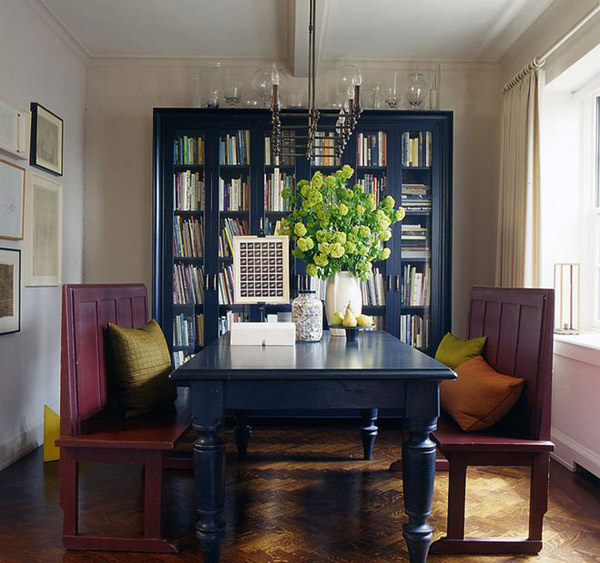 One inexpensive way to update the look of your dining space is to bring your bookshelves in the area and refinish your dining chairs and table with stunning colors. Your dining space can work as a study area for the kids or a workplace for you, too. It also serves as a beautiful backdrop for your dining furniture.
Highlight With A Masterpiece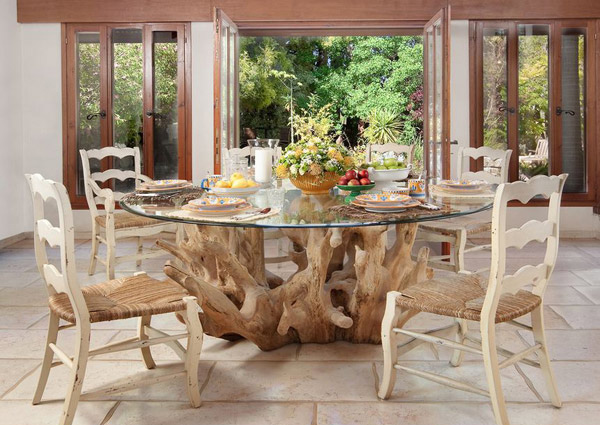 The sculptural table base makes a spectacular centerpiece for the dining room. This masterpiece is strikingly beautiful that you need to make the rest understated.
Bring The Banquette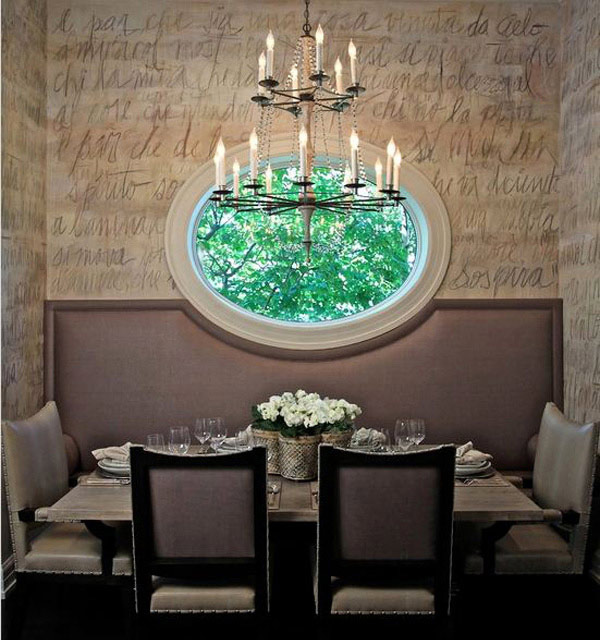 Make use of the limited space by using the banquette area as a dining space. The custom finish walls add character and graphic interest to this intimate dining area.
Extend Your Kitchen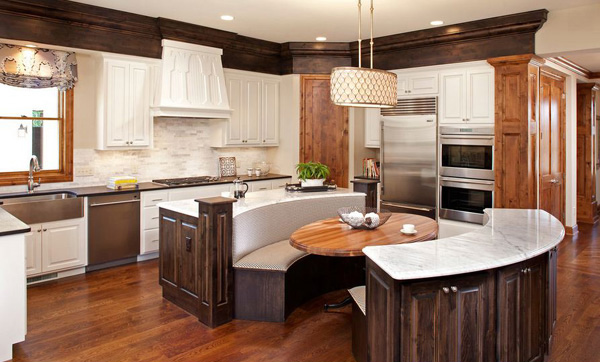 Squeeze your dining area to your kitchen space with this amazing, space-saving design.
Splash With Happy Colors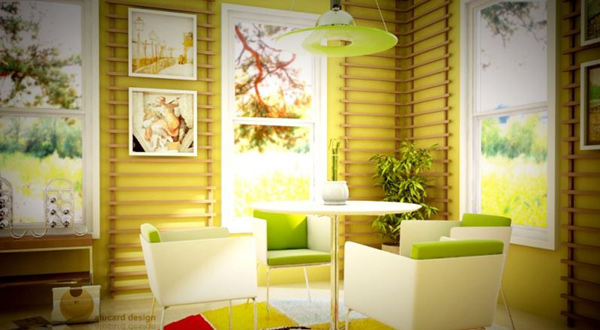 Nothing else could be more refreshing than to revive your not-so-interesting dining room with a splash of bright hues. Yellow and green are good for dining rooms. Yellow is said to increase your appetite and metabolism while green is soothing and welcoming.
We love inspiring you folks, and we are pleased to give you these 15 Cool Dining Room Ideas. Use these tips and ideas in making your dining room look fabulous and unique with personality. Thinking of getting a new punch for your dining room can be tricky sometimes. But hey, that is why we are here, to help you make it easier. Hope you enjoyed our collection for today as much as we did. Look into geometric dining room designs, you might want one similar to these dining areas.