Simple and Stunning: 15 Farmhouse Dining Room Designs
Hearing the term farmhouse would make us think of a home located on a rural area surrounded by trees and pastures. You would picture a home made of wooden planks and an interior that is kind of shabby with a lot of wooden furniture. Well, you can be right but did you know that farmhouse style has evolved and can even look stunning and totally trendy? If you weren't aware of that, we will surprise you with the list we have today.
A farmhouse style could use early American antiques, wooden furniture and even some bright and sunny prints in it. But most of them uses natural tones. We also observed that lighting is an important feature to come up with a farmhouse look. So, take a look at some farmhouse dining rooms we have collated below. Some homes in this feature are really farmhouses but some are also located in urban areas. Check them out:
Bridge Street Residence Breakfast Nook
The gray wash finish of the flooring pulls together a farmhouse dining area of eclectic style.
Senoia Farmhouse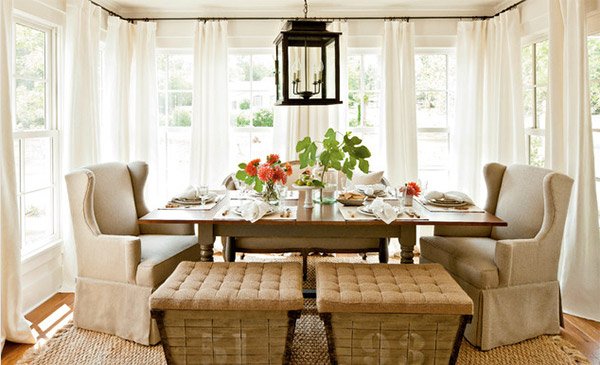 The wood plank storage bench, natural rug, antique lighting- all these worked perfectly well for this dining area!
Mixed Selection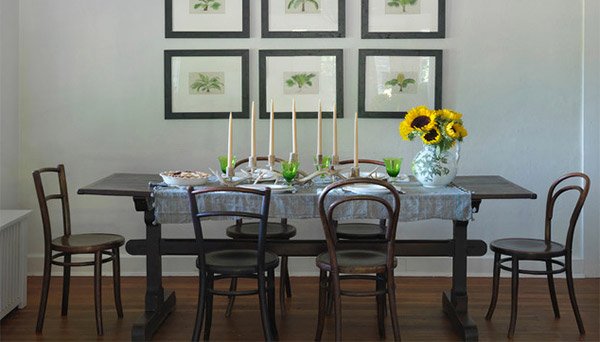 Farmhouse elegance! That is what you can see in this dining room. Check out the framed photos of trees on the wall which is a unique choice for a wall decor.
Contemporary Farmhouse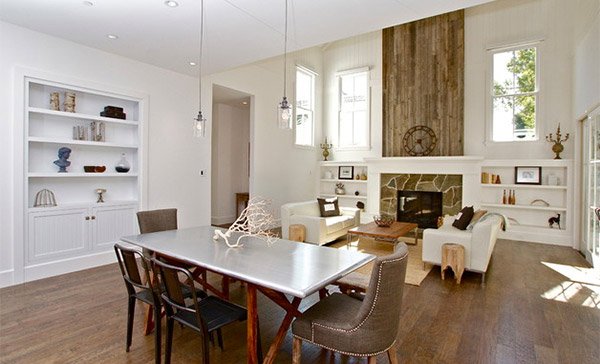 A mixture of metal chairs, stainless table with wooden legs and fabric chairs on the end looked stunning for this contemporary farmhouse.
Farmhouse: Sandy Springs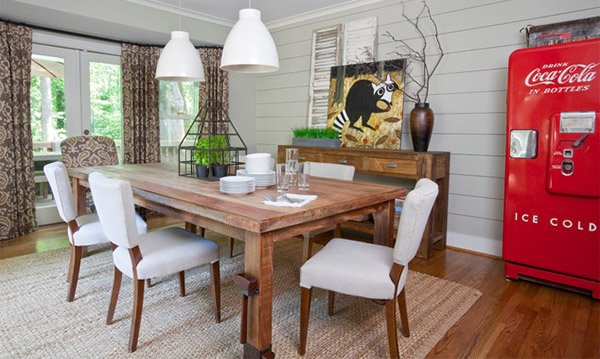 You can see wood on the flooring, table and chairs but the rug did a good job in breaking up the wood. That Coca-Cola thingy on the corner is an interesting addition to this room!
Thistle Hill Farm
A home is designed with history farm setting and this is how it turned out! The dining area was defined with the quilt-like area rug.
Casual Dining Farmhouse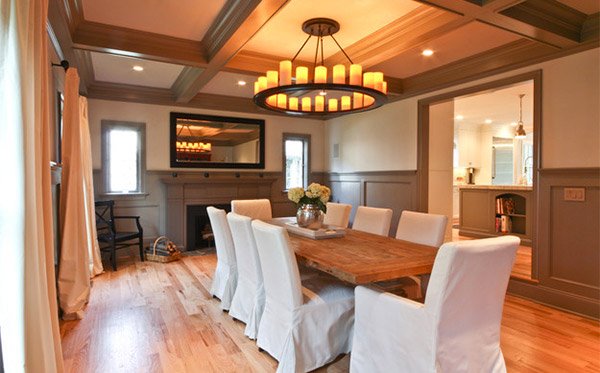 Coffered ceiling dining area lighted with Pillar Candle Round Large Chandelier that has natural-looking candles. The driftwood table and white chairs gave this area a farmhouse elegance.
Bryn Coed Farm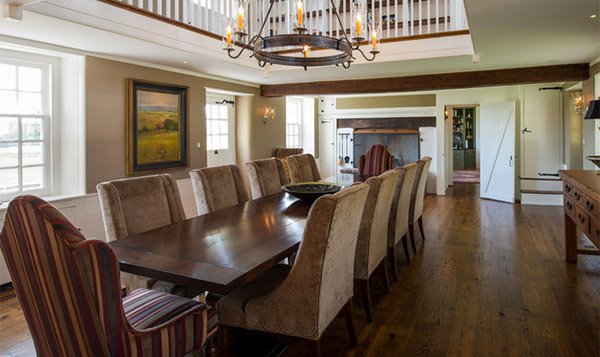 You know what completed the farmhouse look of this dining area? Yes, it is the customized iron chandelier! Totally fab!
1917 Farmhouse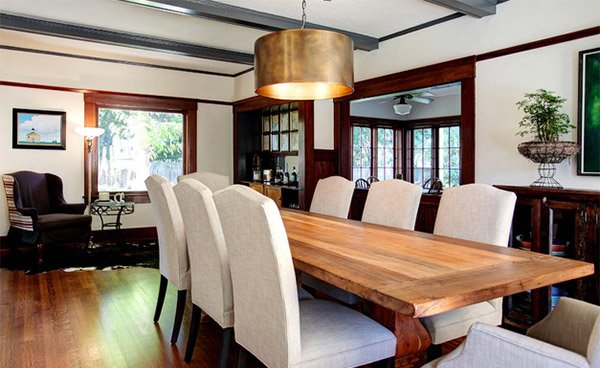 The table from Decor Pasadana created a spectacular farmhouse appeal for this dining area.
Newburyport Dining Room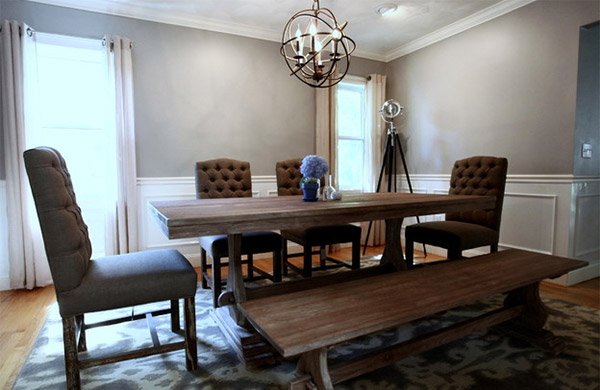 Tufted chairs paired with a pili table and bench pulled a farmhouse style. The round metal chandelier added some industrial touch to the space.
New Southern Home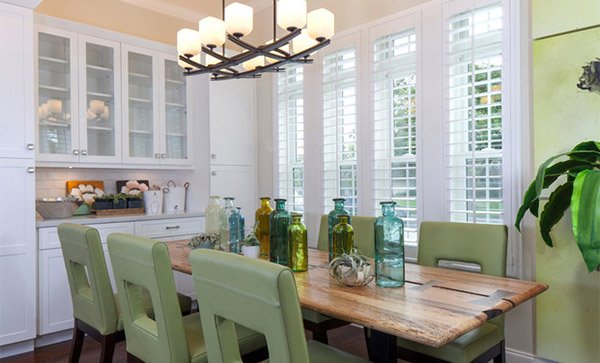 Are you a green lover? Take a look at this dining room with greens everywhere!
River Road Cottage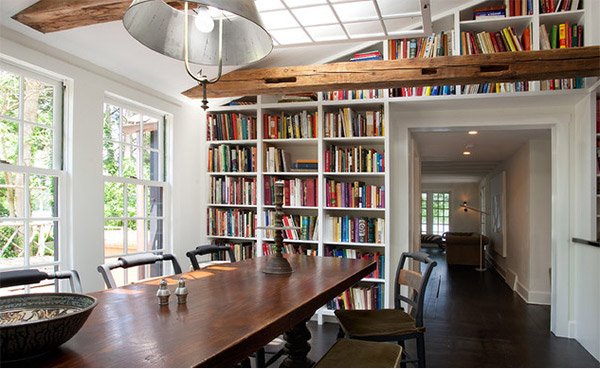 This dining area has built-in bookcases. Guess this area is doubled as a home library too!
Cold Springs Farm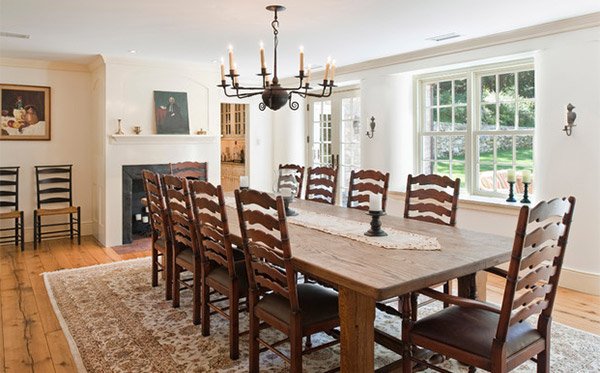 Lighting and dining set- all these looked totally farmhouse!
Compass Homes Model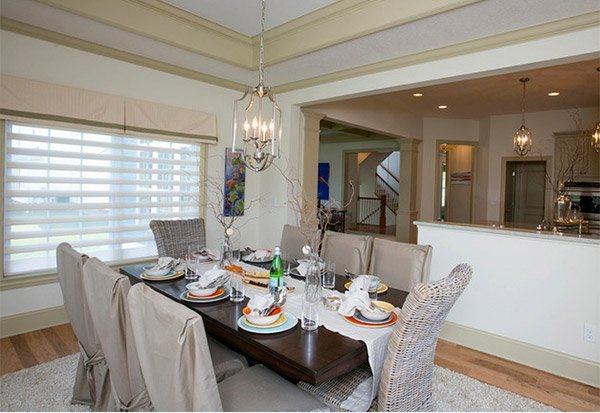 The chairs on the ends are different from the chairs on the sides but these sure gave the dining area a stunning appeal. Let us also credit the centerpiece and lighting.
Colorful Vintage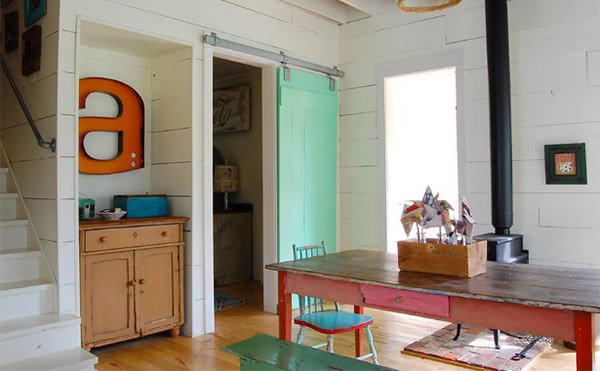 Who says a farmhouse can't be colorful? Check out this shabby chic modern space with a pop of colors everywhere you look!
What can you say about the above dining room designs? Well, if you think that a farmhouse looks boring and out of style, you are totally wrong! You can see that through the images you have seen above. Even a dining room with a farmhouse style of decor and theme can still look stunning! Want a different look for your dining room? You can go for the extreme of a farmhouse look which is a luxurious dining room. Whatever you choose, do not forget to consider your budget, your space and your taste when choosing a dining room design.