20 Gorgeous Black and White Dining Areas For Your Home
We are sure that you can still remember the time when we featured lists about black and white kitchen ideas, black and white living rooms and even bedrooms! These colors are the most commonly used during designing homes especially when we are talking about modern contemporary homes. The colors black and white is easy to maintain and looks really classy and sophisticated when used with the right amount.
Today, we will be showing you 20 Modern Contemporary Designs of Dining Areas that can be used in your very homes! The color palette basically is comprised of these 2 colors and is somehow mixed with other colors to put a little accent on the design concept. You will definitely love these photos and will be stunned with the furnishings that was incorporated in the designs as well. Take a good look at these photos ladies and gentlemen!
5FiftyFive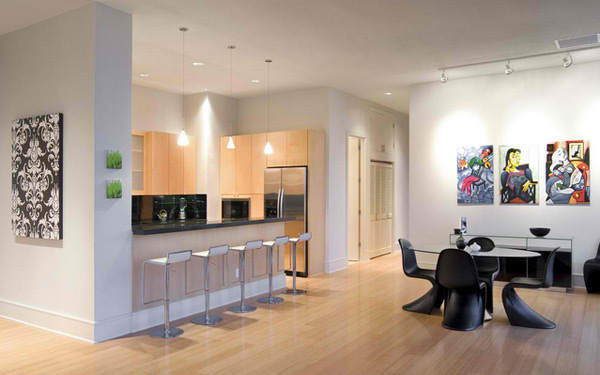 This four-seater dining table looks like one tiny detail in this large space, but when you think of it – it did make a whole lot difference.
64 Varsity Park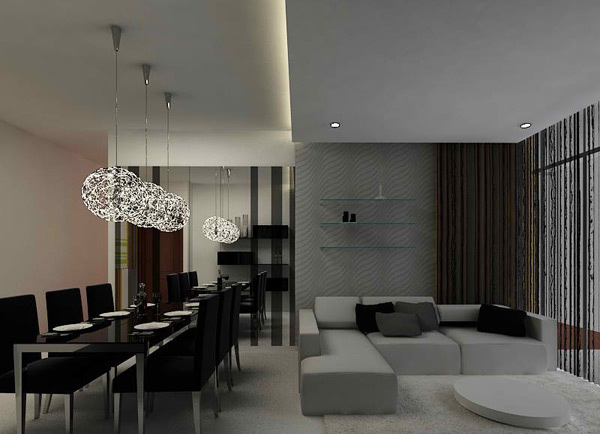 If you can remember this photo, this is the exact model we have shown you on the small living rooms – except that this was in black and white. Don't you just love the pendant lights above the dining table?
A Dine Area 2
A classic look for a classic home. Six-seater dining table made of hardwood placed directly beside a mirror. In feng shui, it would mean your blessings are multiplied!
Butterworth Dining Area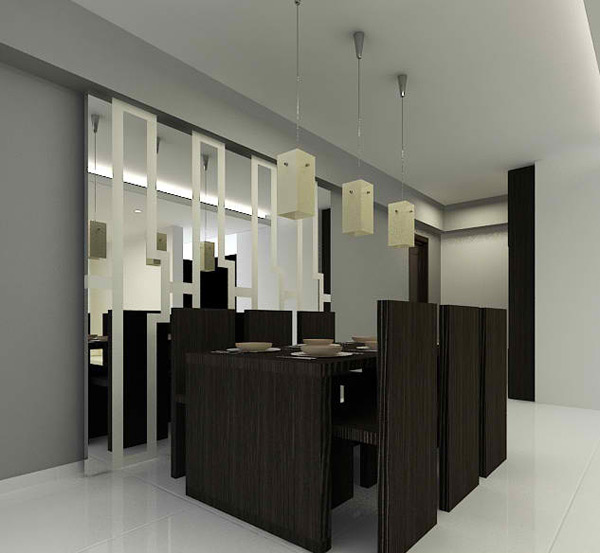 Another classic look for a dining area with the mirror on the side. Except that the chairs look uncomfortable, this look is really fascinating to look at.
Dining Area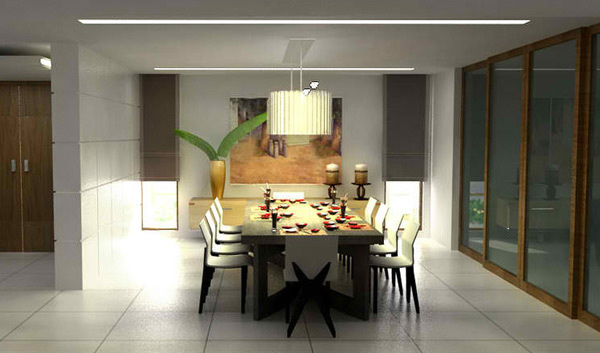 The color black may not be as visible as it may seem, but if you see the detail for the back of the chair, it sure is wonderful and unique.
Dining Area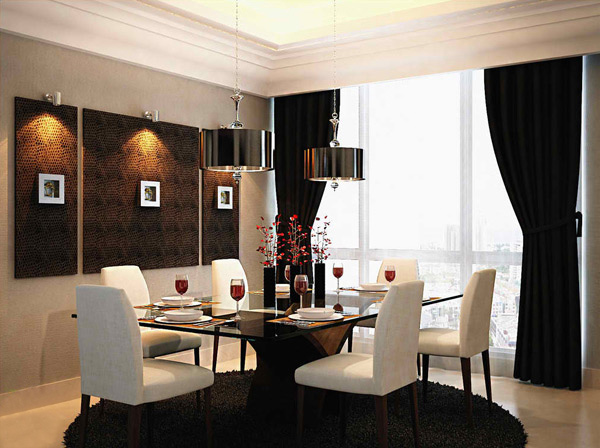 In a glance, we would think this place is in a hotel, the beauty is so sophisticated – you won't ever wanna leave this place. The furnishings complete the entire look for this dining area.
Dining Black and White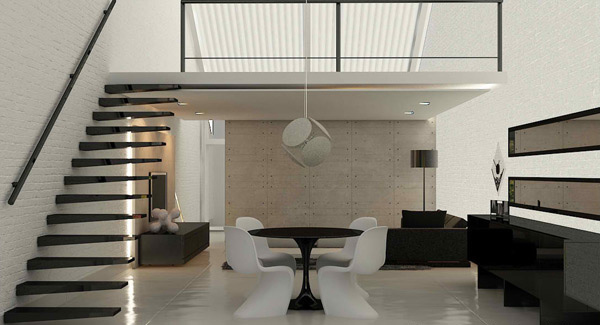 A black dining table and four white chairs – a simple dining set for a pretty big home. Everything in the house contrasts each other since technically, the home is black and white.
Dining Room in San Francisco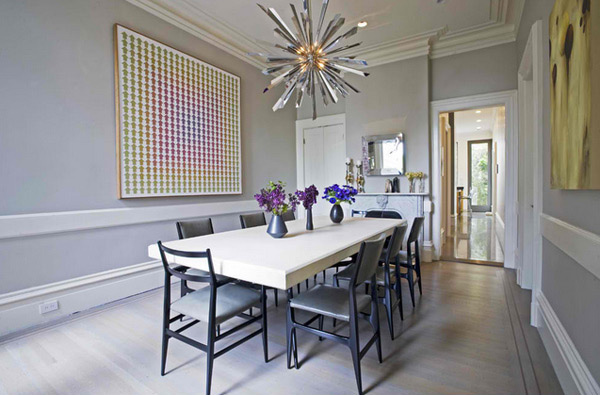 A San Francisco home with a simple dining area for a big family! The pendant light in the center of the room is one unique piece.
Martis Camp 246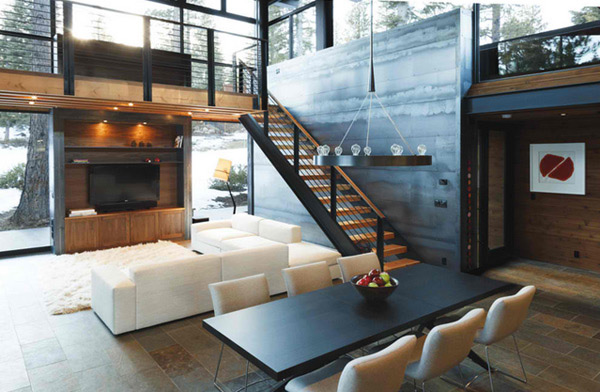 When you look at these chairs in the dining, makes you think it's so comfy and really pretty. The dining table in black also sets it off.
Modern Dining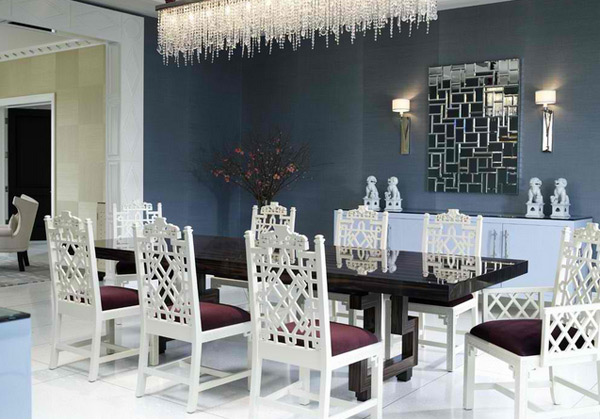 Don't you just like the details of the chairs? The cushions are maroon and the granite table is stunning!
Modern Dining Room in LA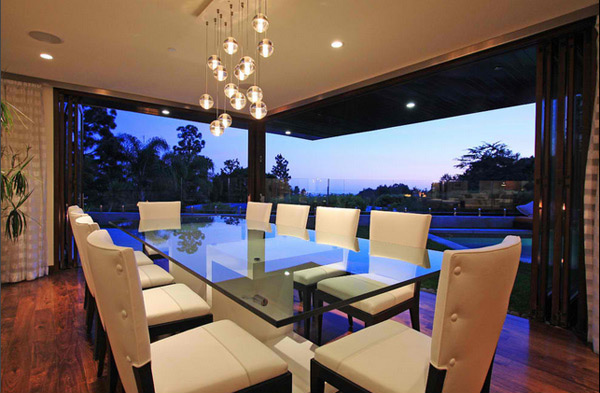 Modern comfortable chairs in a very sophisticated way! The beautiful backdrop deserves beauty such as this.
Modern English in Minneapolis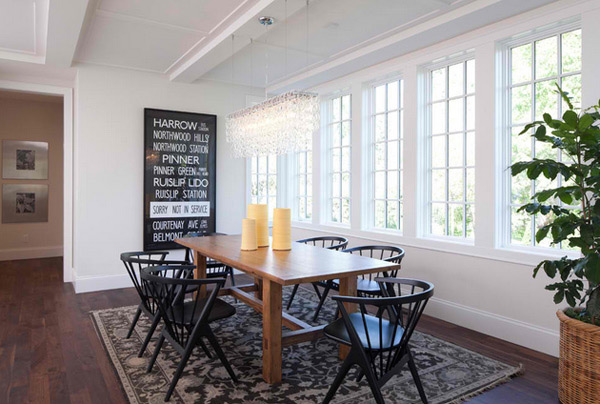 Simple design for a dining set in the pretty white home. The area carpet also is like the ones you can get in Persia.
Pacific Heights Residence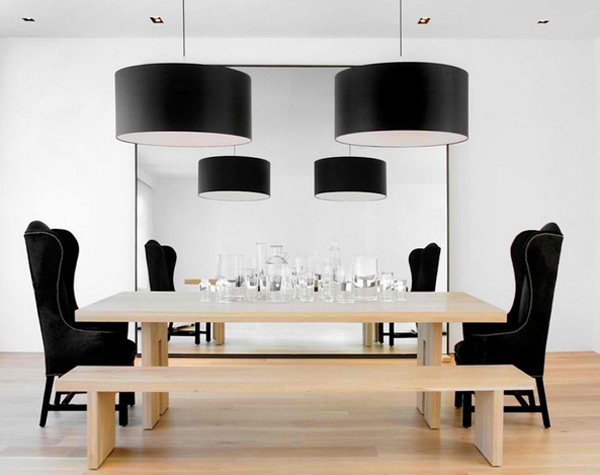 This room is magnified by the mirror beside it. With 2 beautiful and comfy vintage type chairs and 2 long wooden stools didn't look this beautiful.
Pilar House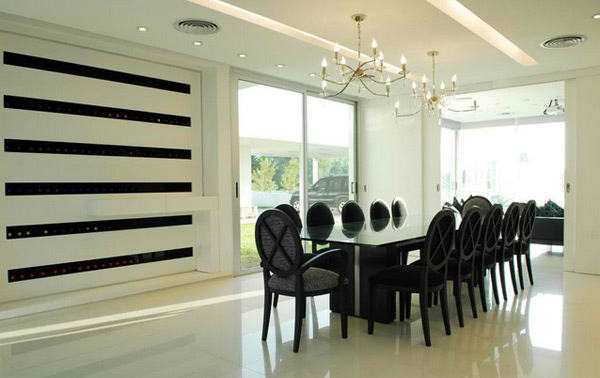 Seems like this is a home for a large family. A long table good for 12. Another example of beautiful and comfortable chairs that contrast with the shiny granite flooring.
Raintree Condo 2 Living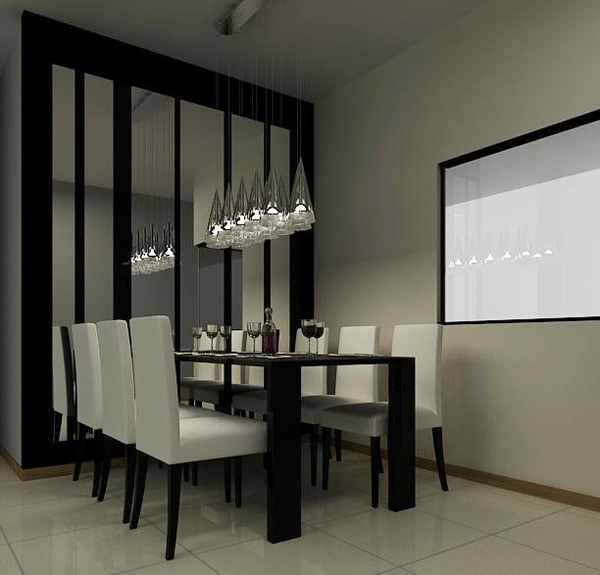 Looking at this photo you see how a simple set up with just two shades of color can actually look like a classic beauty. The table had a unique touch to it paired with simple chair design – perfect combo!
Sea Cliff Estate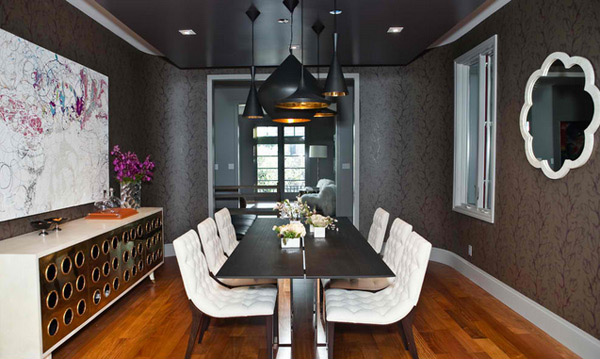 This home is one sure beauty to match! Great wall treatment, unique furnishings – what more could you ask for?
Simply Dining Area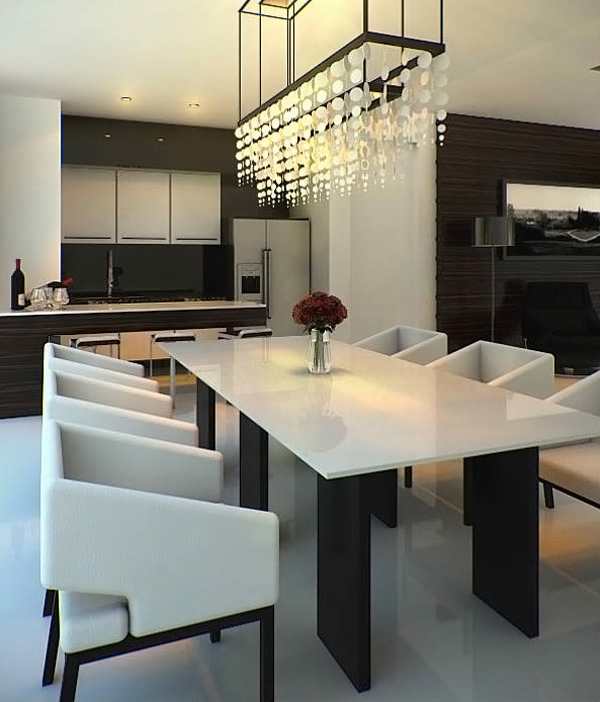 Using couch-like seats for the dining area cannot look like this, right? This set looks totally lovely and beyond uniqueness. Customizing items for the house can be expensive but really worth it if it will actually look as ravishing as this!
The Living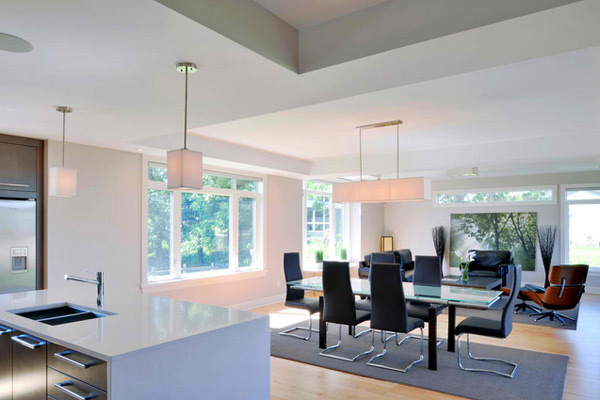 The chairs you are seeing in this dining set is like something you will be seeing in an office because of the use of steel for the base, but it sure looks modern, doesn't it?
Transitional Interior Design Gautier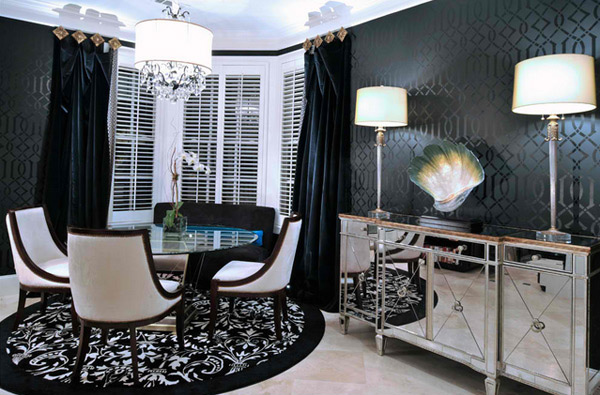 This is one superb example of a modern yet traditional set up for a small dining area. Great wall treatment, royal looking draperies, unique lamps and exceptional carpet work!
York Harbor Maine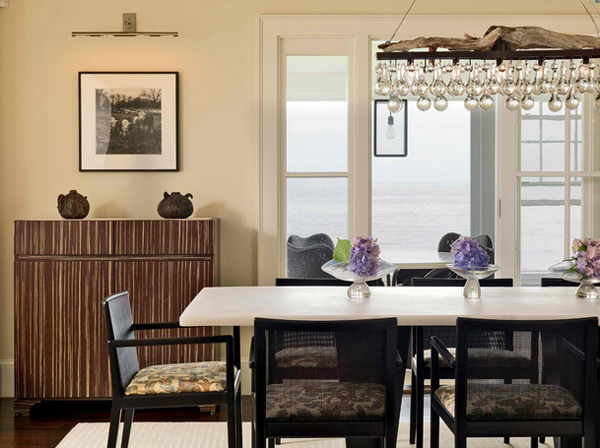 It is pretty usual to place a beautiful chandelier or a pendant light above the dining table – this one is sure a one-of-a-kind piece. The setting is pretty obvious, and the dining room that we have here really lives up to the beauty it is close to!
Did you love the photos we have shown you above? Again, these are the 20 Gorgeous Black and White Dining Areas For Your Home that was a treat for sure! In case you are considering redecorating your dining rooms, the photos will surely be a great help for your ideas and mock-ups or mood boards! They are perfect examples of room ideas in case you wanted to achieve the classic yet modern look for your dining room. Always remember that space is never a hindrance for your creative minds! Remain inspired and keep surrounding yourselves with more and more ideas – we are more than happy to show you more pictures everyday for whatever ideas you have in mind! Keep us posted!