20 Astonishing Dining Room Wall Decors
We are currently renovating our house, so my parents thought of adding a new dining space at home. With that, I was on the verge of searching for photos of dining rooms and items or decorations that we can actually add into the space. I had a concrete idea as to what style I wanted to achieve but my mother had something else in mind.
She asked me to collect photos of dining room wall decors so she can derive inspiration from them and check out items at the mall or online which she actually purchase. My mother is fan of online shopping so this list would pretty much help her in checking out the websites for the items we have on this list and I hope that you'd do the same. Let us check out the photos below.
1. A House At Caesarea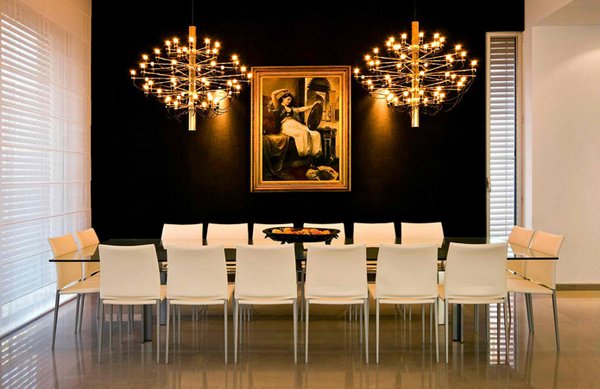 This may be my favorite picture in the entire list. The gold finishes on the chandeliers and the painting is really stunning. We would like to note that the table and chairs are actually simple, but thanks to great decor, this space is elevated to another level.
2. Bayshores Drive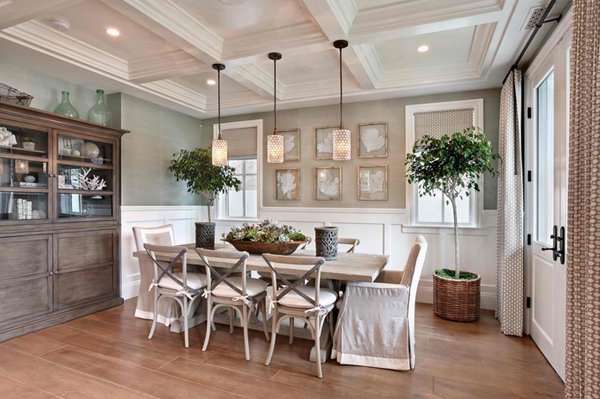 Simple beach style dining space with wood decors and furniture which is always loved by home owners. We love the framed leaves on the walls.
3. Canton Dining Space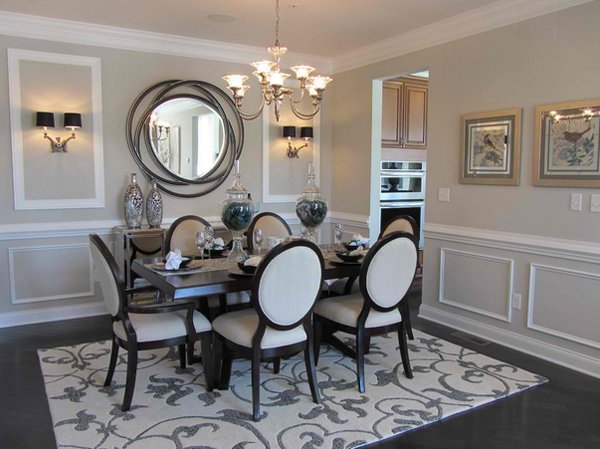 We are not sure if the wall decor is an Odalis mirror from Uttermost but adding mirrors in your home spaces creates an extended feel to it.
4. Carlsbad Dining Room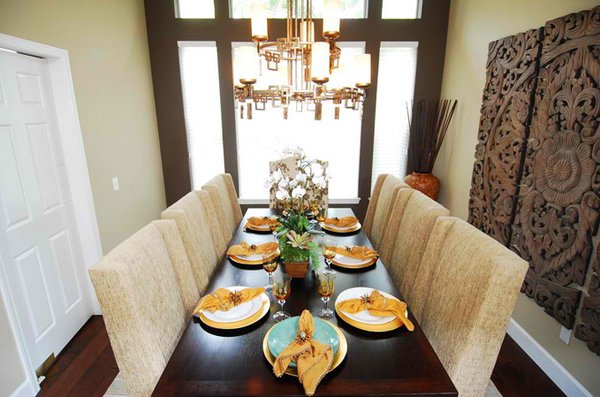 The wooden wall art on one side of the wall gives off an Asian feel to this dining room. We love the chandelier too!
5. Central Park West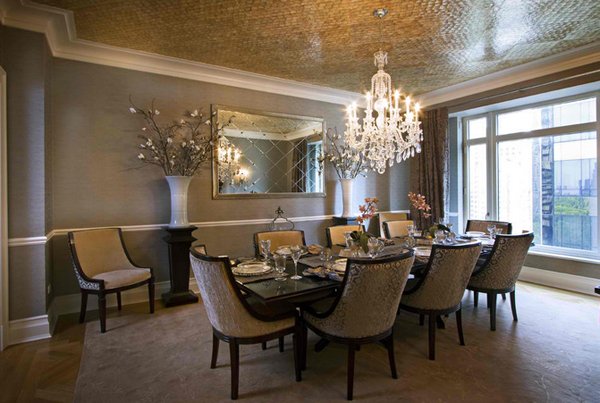 Transform your dining room ceiling into a work of painted and textured art. It's a masterful way to bring attention all the way to the top.
6. Contemporary New York Design
One red accent wall is just enough to bring energy and warmth to a small dining area – and note the faux-window by the red wall too.
7. Dakota Dining Room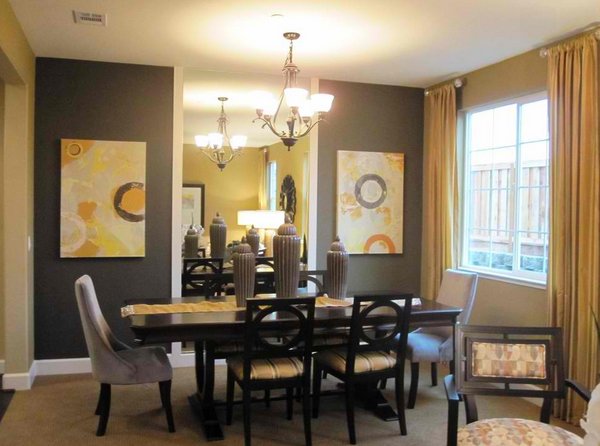 Yes, you can mix gray and beige paint colors, and gray and beige chairs. See how the artwork ties both neutrals together? This room is a great example of hues in harmony.
8. Forest Manor Model Home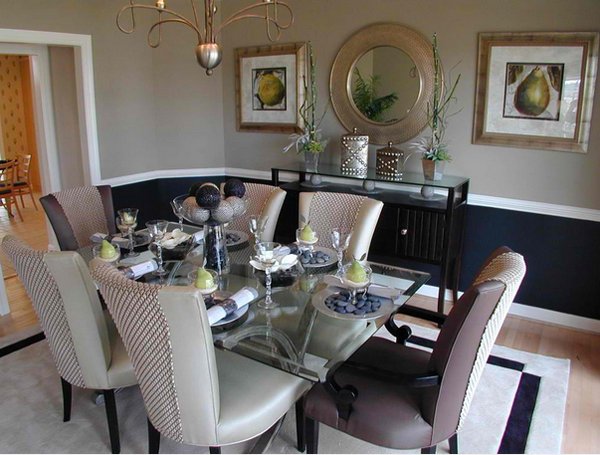 Dark shades can add drama to a space, but sometimes they're overwhelming on a full wall. Choose a two-toned look and to balance a dark and light color for a sophisticated and fresh look. Notice how the rug mimics the wall, pulling the style into the space.
9. Hidden Hills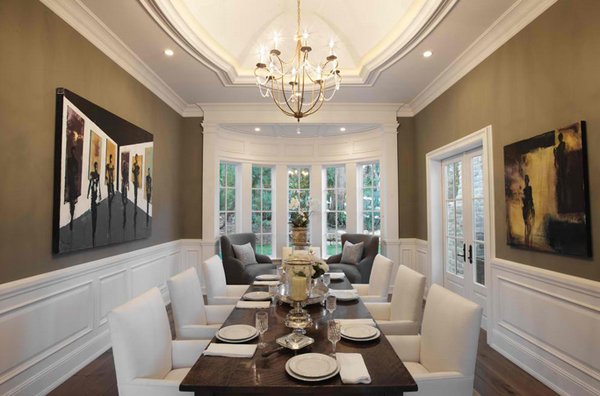 We have a white and brown combination for our dining set and look at the paintings on both sides of the walls. Pretty simple walls but with the paintings on them, the simple walls becomes interesting.
10. Honore-Transitional Dining Room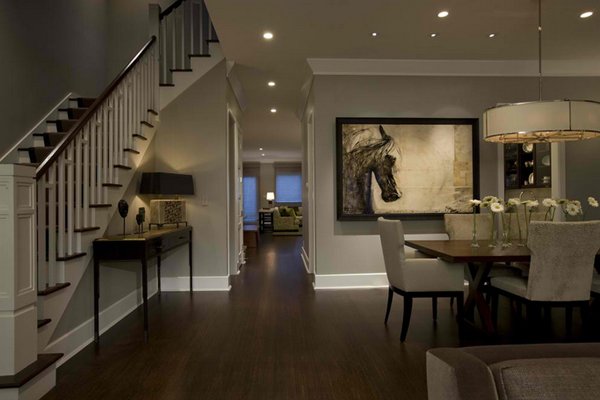 The horse art on the wall is one big thing that one cannot ignore! It's in black and white which complements well with the color palette of this space.
11. Katie Ridder Dining Room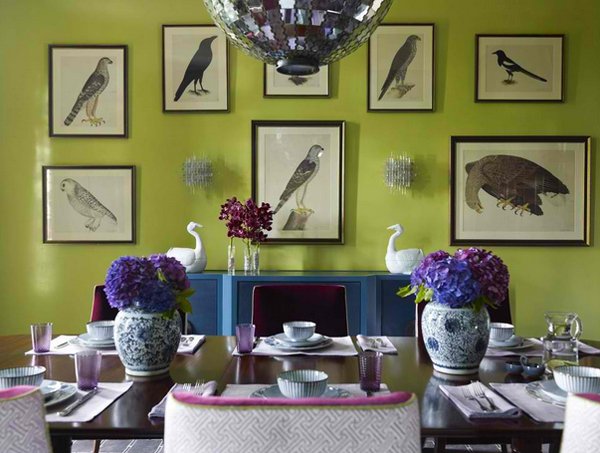 Here is a great use of color that is bold without being over the top. The bright yet soothing green on the walls is a beautiful choice. It is almost a neutral, but interesting enough to not be boring. This color goes with anything and everything while giving your space a punch.
12. Laguna Beach Dining Room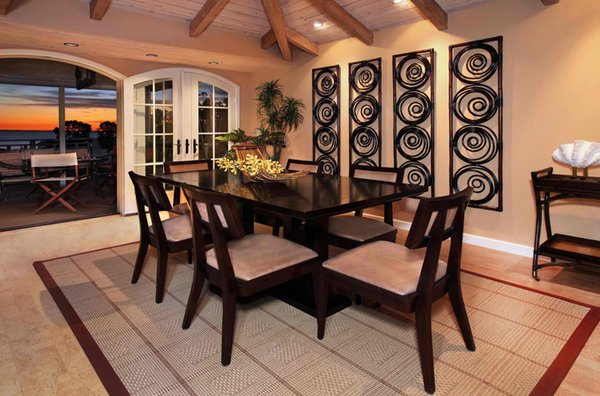 This inviting dining room fuses Asian simplicity with tropical warmth. It's the perfect setting to watch the sunset and enjoy a great meal with friends and family.
13. Lake Mary Rustic Style Residence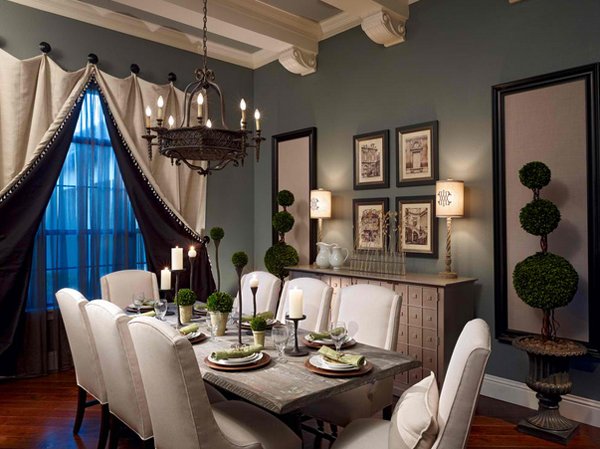 In a dining room, make sure there's at least 48 inches between each edge of the table and the nearest wall or piece of furniture. If traffic doesn't pass behind the chairs on one side of the table, 36 inches should suffice.
14. Lyndsey & Steve Dining Area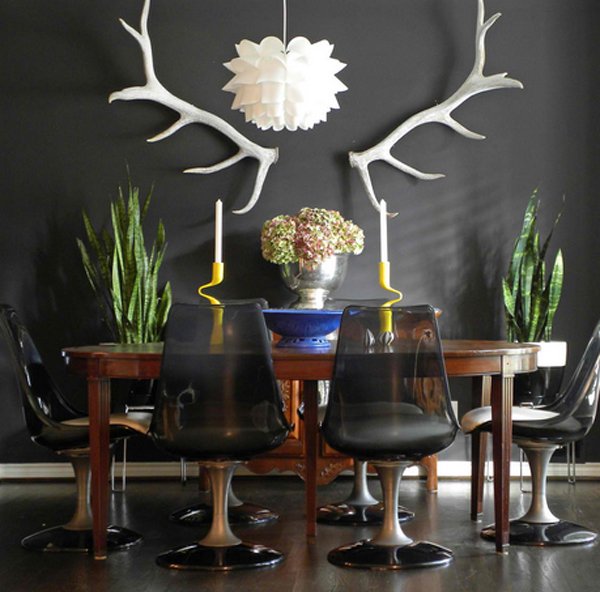 A black accent wall serves as a backdrop for a mix of modern and antique dining room furniture. The table is a hand-me-down from Lindsey's parents, and the antlers are a lucky find from a friend's basement.
15. Minneapolis 1929 Estate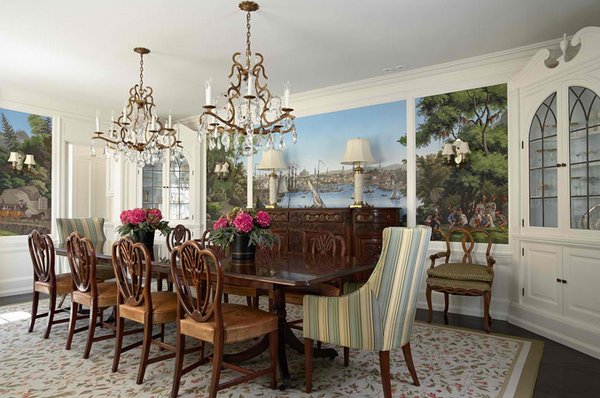 The dining room mural, Vues d'Amérique du Nord, is original to the house and has quite a pedigree. It is hand-blocked on canvas and was made by French company Zuber et Cie.
16. Old Westbury Neoclassical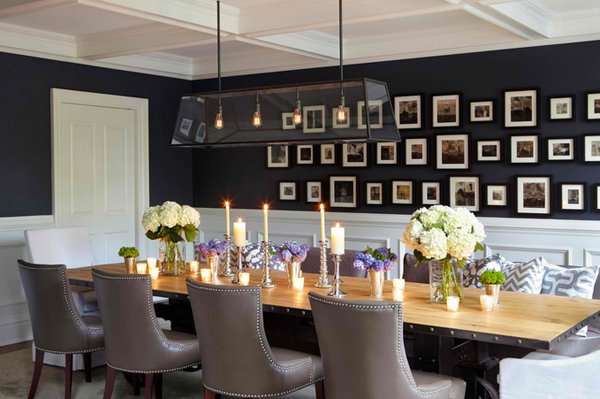 The walls of this formal dining room have all been paneled and painted a crisp white to set off the stark gray used on the upper part of the walls, above the paneling.
17. Orange County Dining Room
If I am not mistaken, the wall art is made from wrought iron. This art sure gives accent to the plain walls. Adding a large mirror added depth in this space too.
18. Portland Condo Dining Room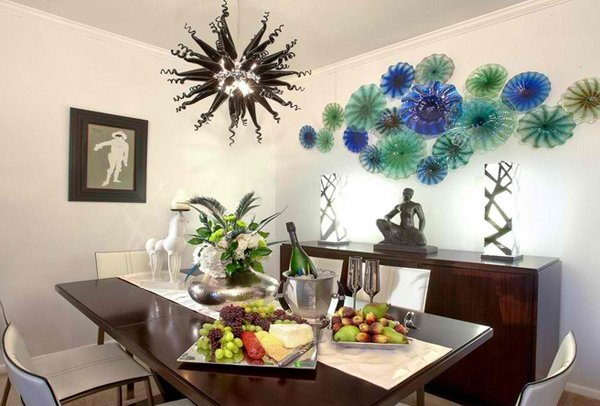 Elegant dining room featuring wonderful glass art on the wall as well as the chandelier.
19. River Ridge – Southwick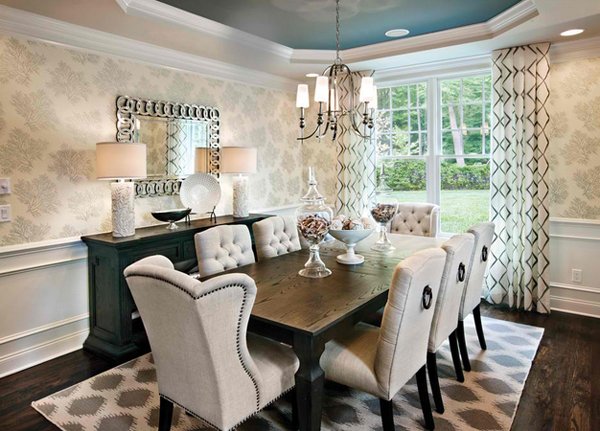 We have a caddoa rings mirror on the wall of a space with fancy wallpapers. We love the chairs for the dining set, how about you?
20. Stiles Fischer Dining Room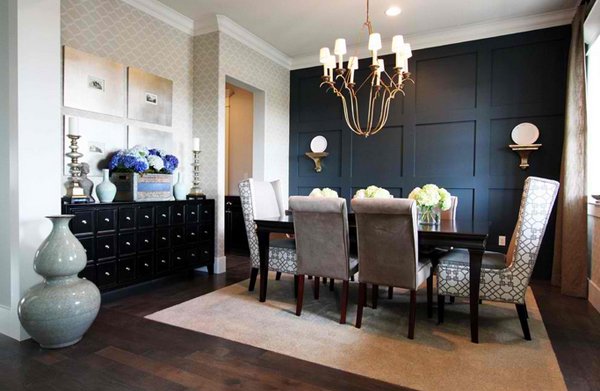 Only the outer parts of the host and hostess chairs are upholstered with a pattern in this dining room. It's just the right touch for this formal space.
The photos above that we have collected is a list of dining room wall decors that can help people like my mother who is looking for decorations to add in your dining spaces – may it be plates, painting, mirrors or whatnot. For me, this is one fascinating list, just like the dining room wall decals that was collated before. We hope to show off more of these decors here on Home Design Lover!