20 Gorgeous Green Chairs in the Bedroom
Bring a touch of freshness in your bedroom with a green chair!
They said that having greens inside your house makes it more calm and relaxing – and that is the reason why we created a list that would have green chairs in them! This might be a little thing but could actually go a long way because aside from adding a calming effect to your space, they basically add beauty and charm wherever you add them to!
Below is a list of 20 Gorgeous Green Chairs in the Bedroom – lists like this one is my favorite because it allows people – you and I, to actually visualize our bedrooms with green chairs in them. Believe it or not, this color could go well with any color combination you already have, so adding it to your bedroom for example would not mean that you'd have to alter a few things to actually adjust to it – check out what I'm talking about!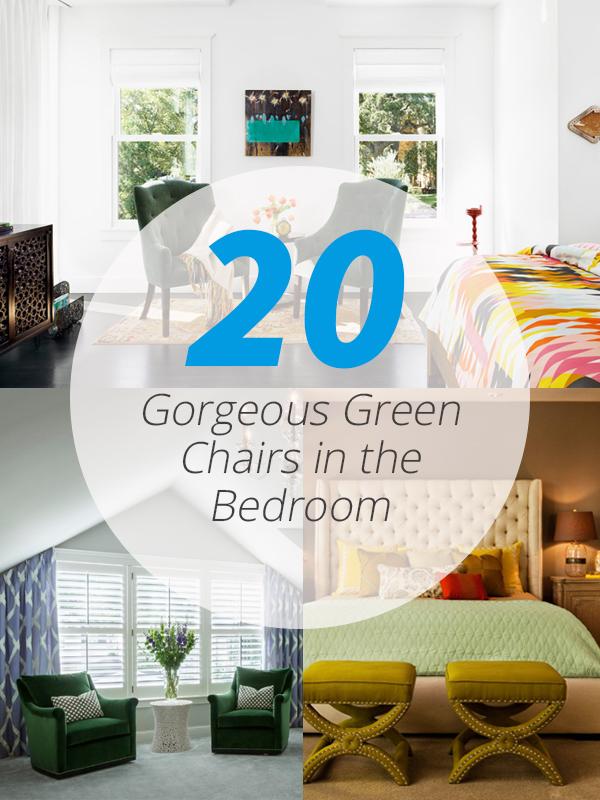 1. Danish Luxe Revival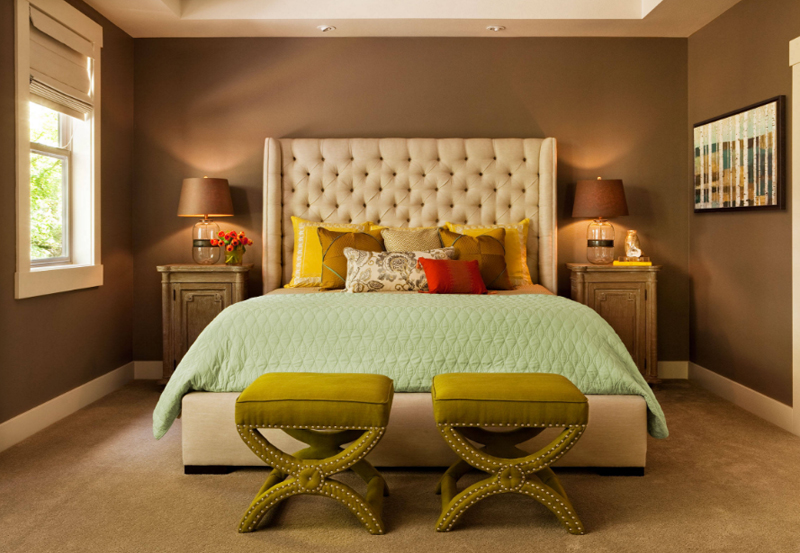 These apple green cute stools surely go well with the fabric used on the bed – from its base to the linens themselves. I like how they actually made the colorful pillows and mint green bed linen work with the entire color scheme. The cute stools added a hint of vintage in this bedroom which I think looks great!
2. 336 Park Avenue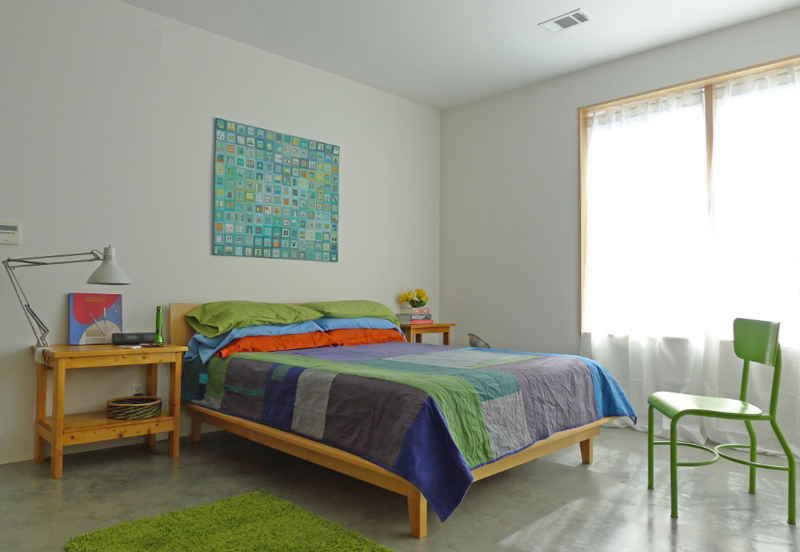 I wish that we have a prettier head board in here – the bed looks okay as it is, but I think it could have been better if it actually had a larger (more visible) head board to add something more on the wall. The picture or frame seen on the wall looks nice but still – I think this space could have been better.
3. Mesa Residence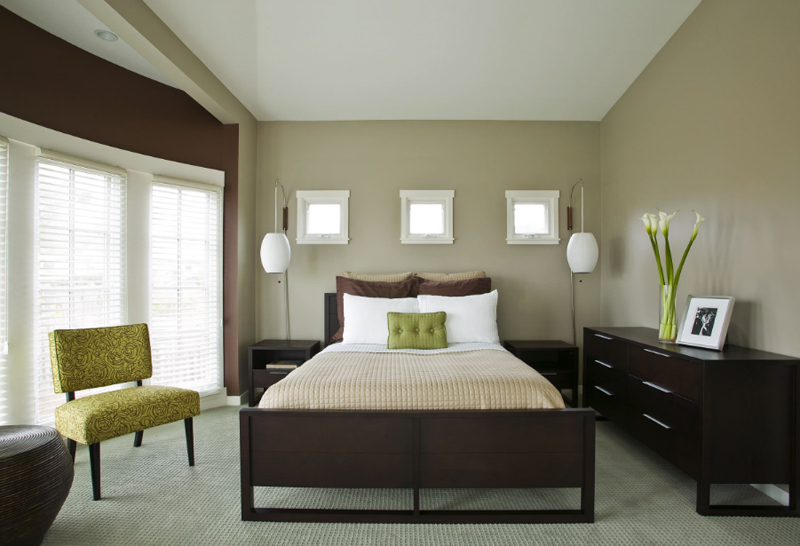 This is one minimalist but neat bedroom from Jessica Risko Smith. The color combination is basically more on the neutral tones but by adding the hints of avocado green accent chair, pillow and that lovely flowers on the side gave this bedroom a bit of color but a lot of love!
4. Summer's Lodge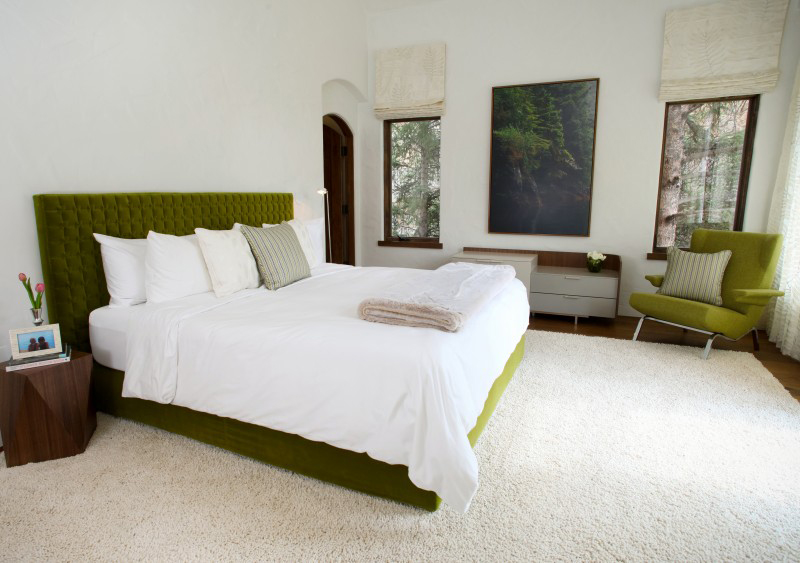 What do you think about getting matchy colors for your bed and your accent or reading chair? This bedroom is basically in white – it looks real lovely and definitely comfortable – and I think the greens made it look more homey and calm. Two things that you'd actually want and aim for in a bedroom!
5. A Room with a Hue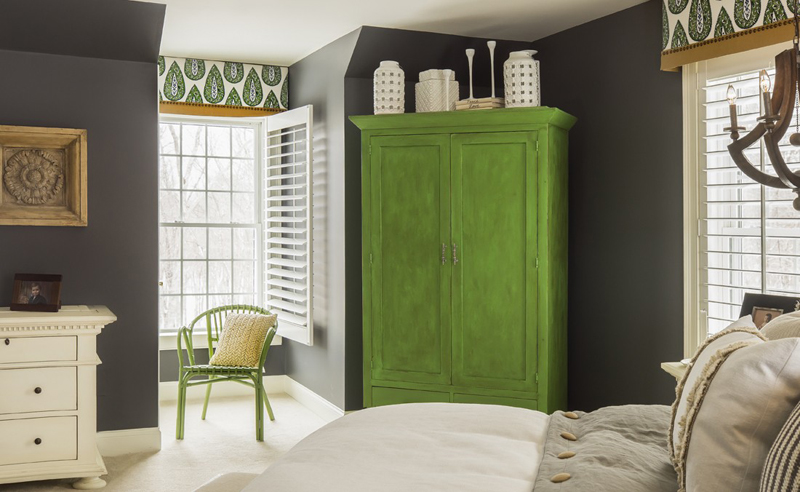 The green cabinet in here actually is really stunning! I love how it stands out because of the dark walls – which are by the way not black! I'm not so sure, but I am thinking that the space close to where the chair is, is actually a bathroom. All in all, I think this bedroom has a stunning choice of colors – not too girly and definitely not too dark!
6. Britannia Mills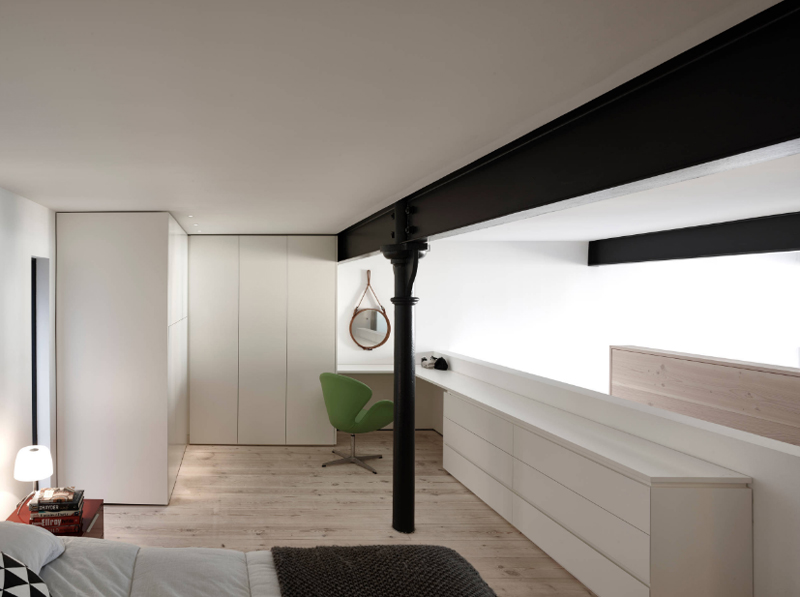 In a bedroom that is mostly black or white, adding hints of other colors (like in this case, green) in it actually gives a more lively feeling and aura to it. As much as a black and white combination is a classic one, adding bits of colors like in furniture or in decors, it creates a more stunning space.
7. The Capistrano – Quail West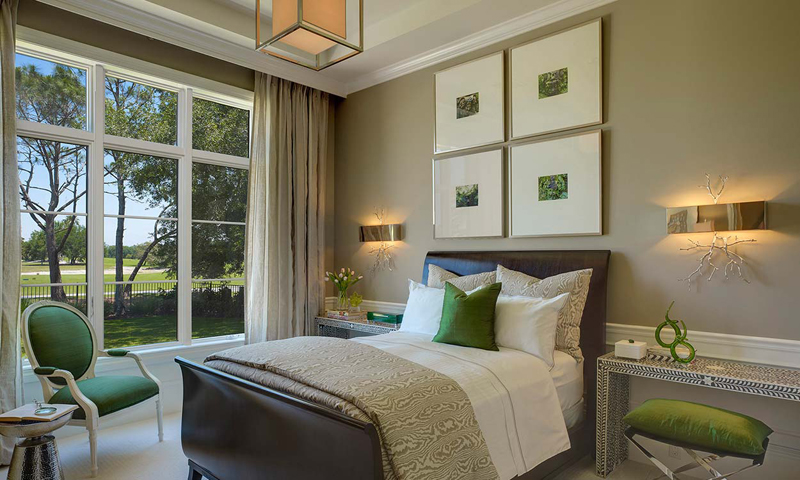 The greens in here are just beautiful – I think it's in emerald and it looks really classy and stunning! The chair by the window and the stool by the night are just perfect! What do you think about them though?
8. The Preserve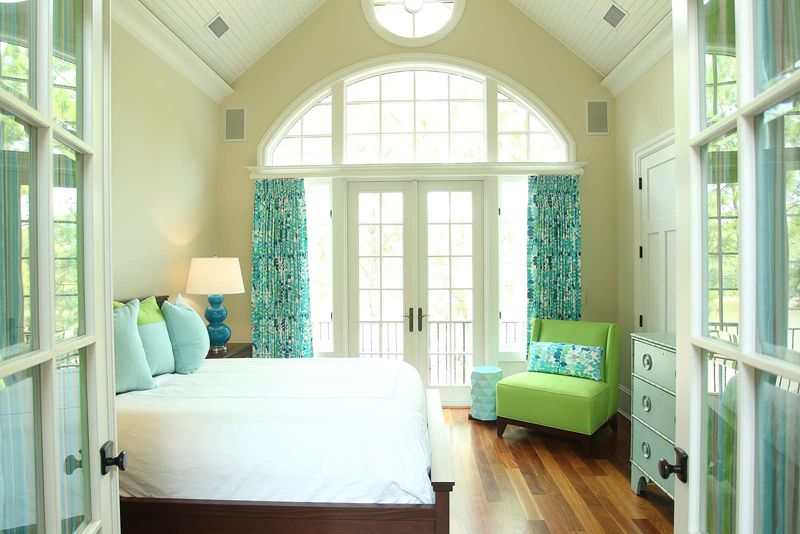 The colors in here are simply done – like with the room color, the linens and that of the chair. I also like how the flooring basically contrasts everything in here – wooden panels actually rock, they match everything and they always look great.
9. Bruce Avenue Residence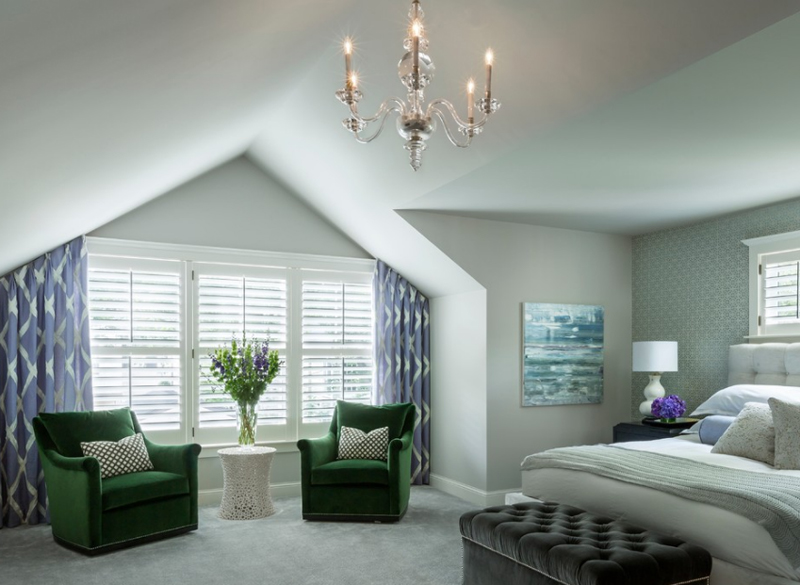 This darker color of green is quite interesting and beautiful – it's interesting because of how dark it actually is but then again still complements with the whole color scheme and it's quite a treat for the eyes. If you see it a bit clearly, you might notice that the wall paper by the head board looks a bit feminine, but I love it!
10. Jobe Remodel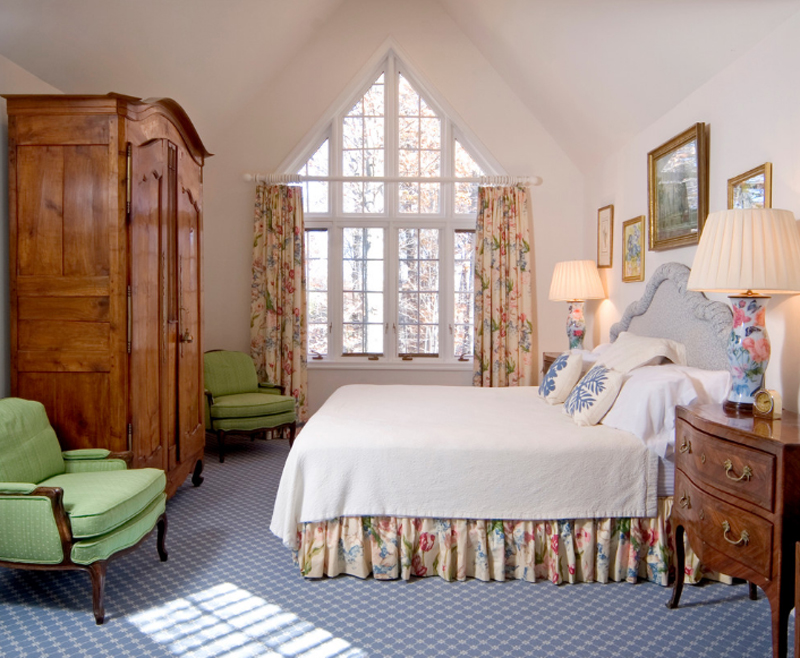 So, this is a bit of a traditional bedroom with its design and especially with the linens! The choice of the linens and the prints in here is a bit plenty but then again, these are the things that some people really love. What do you think about the design of the windows in here?
11. Balnarring Beach House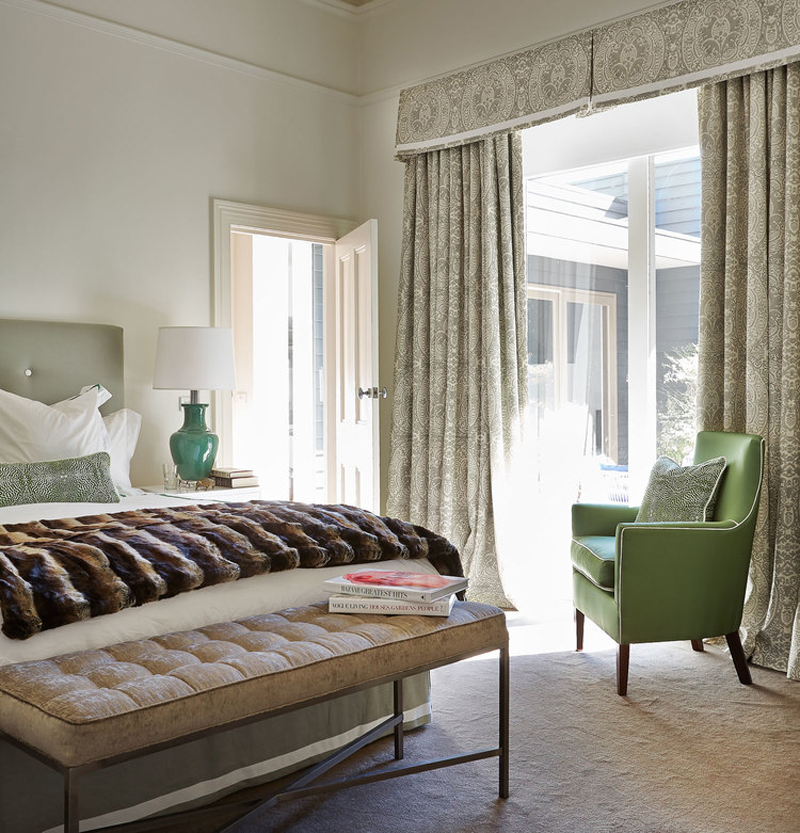 This beautiful bedroom looks really comfortable and nice. We only see a portion of the house but we can see how nice their choices of fabrics are and how pretty the furniture is in here. The green leather chair is a great choice to be added in this neutral-colored bedroom.
12. Shady Canyon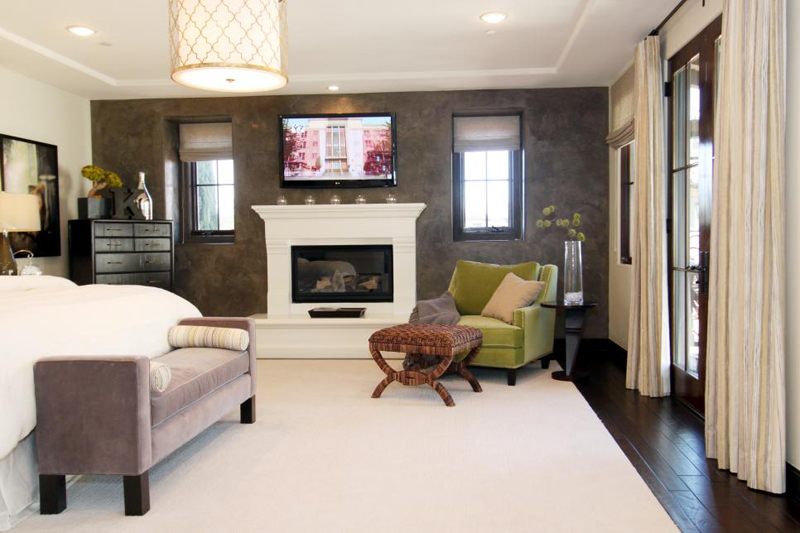 The large, comfy, green arm chair in this bedroom looks really nice. The material of the chair seems to be a bit velvet and I think it's nice and it actually match with the bench at the foot of the bed which seems made of velvety material too.
13. White Bedroom in the City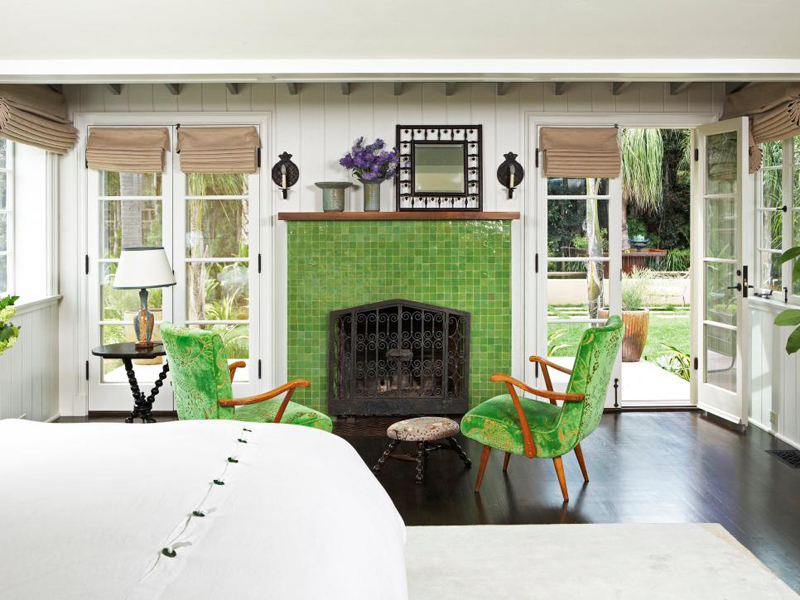 The green accents in this bedroom is quite evident than in most of the rooms in this list. The green tiled fireplace and the Asian-inspired green fabric for the arm chairs are really beautiful. Notice how much this bedroom looks like that of a cabin or a house separate from the main house.
14. Beach House Bridgehampton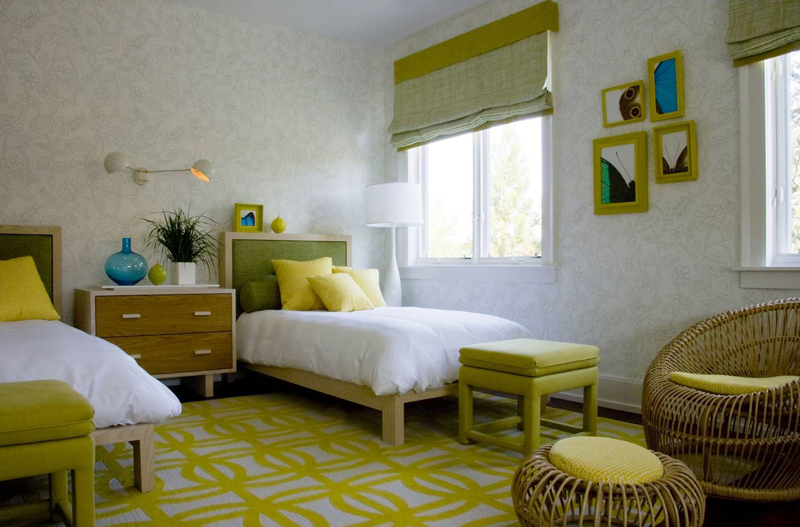 With bedrooms that is shared among people – getting common ground could be tricky, but then if the users of the said bedroom would be able to decide on a color scheme or theme, then something beautiful like this one would be achieved.
15. Vancouver Transitional Home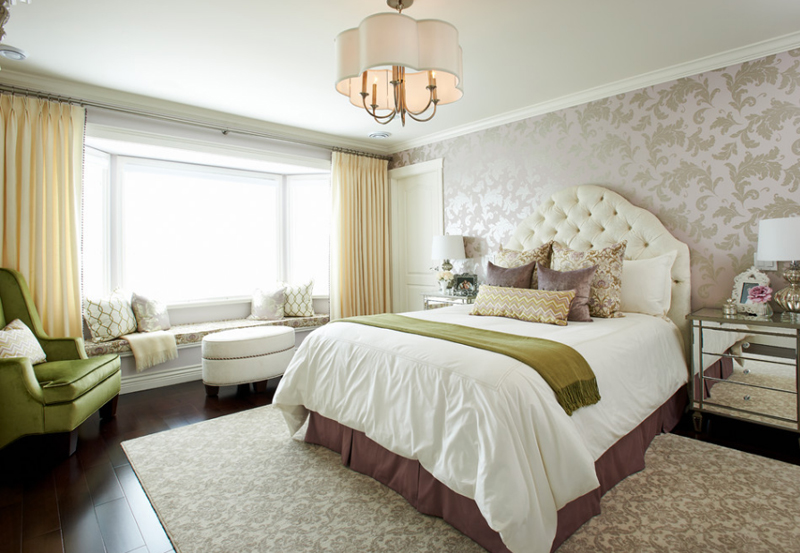 This bedroom is something people should be excited about – it has a beautiful look and aura; great pieces of furniture and decorations; stunning lighting fixtures and a definitely awesome design in general. The theme is a bit feminine but I think this is what makes it prettier than it already is.
16. Denver Home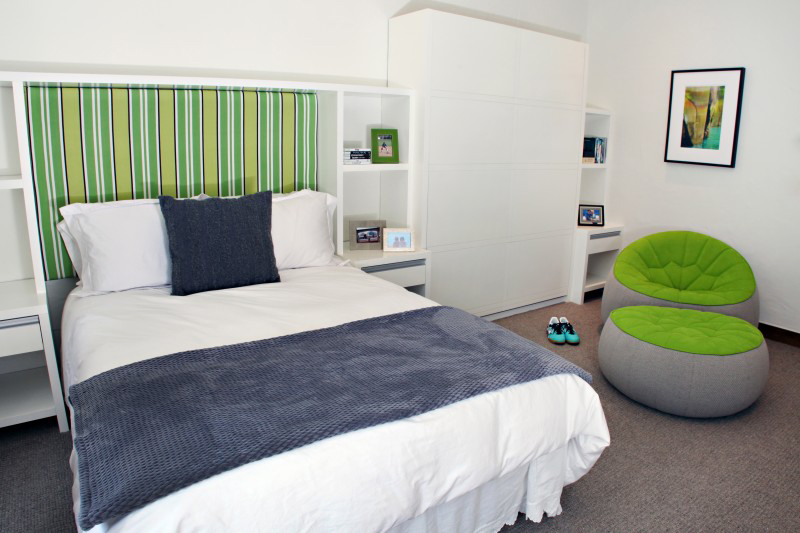 The bedroom color is very simple and even plain – but then adding the printed green stripes on the wall behind the pillow is actually neat and it really complements with the contemporary design of the chair and the foot rest. Well, it sure looks like green and grey look good together.
17. Weho Condo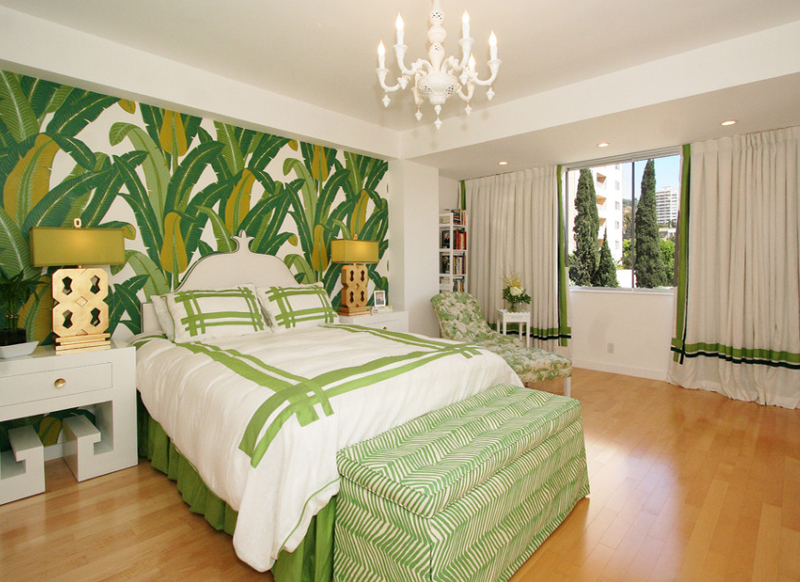 Familiar with this bedroom? I know I am! The prints on the wall and on the bed and the bench at the foot of the bed are real cool. I like how the drapes somehow match with the linens on the bed and basically everything in here just blend well with each other.
18. Santa Rosa Residence
I know that this is basically not a chair – because it looks like a small couch or mini sofa, but this still belongs to the chair family right? The color looks a bit similar to that of a leprechauns' outfit and I think it's really beautiful and regal-looking in here.
19. San Francisco Showcase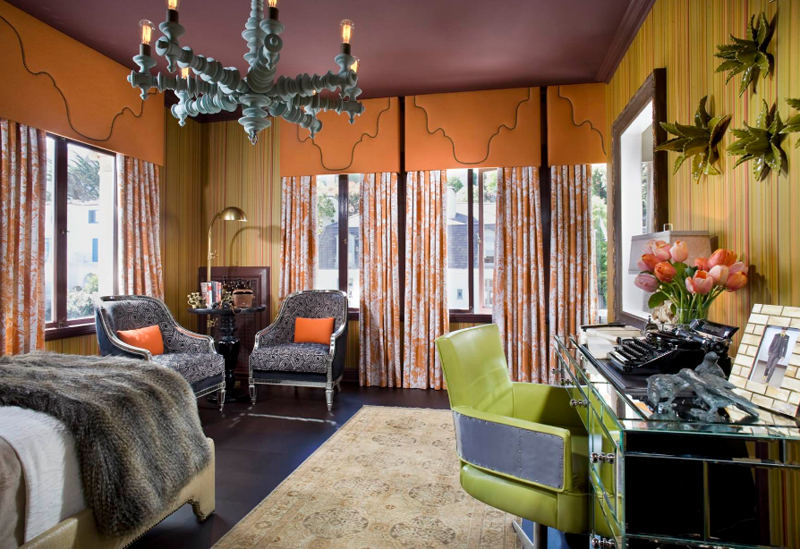 This is one interesting bedroom in general – the play on colors and prints on it is really something; something nice actually. The chairs in here is funky and unique and the drapes and the plant decals is quite interesting – in a good way.
20. Palma Plaza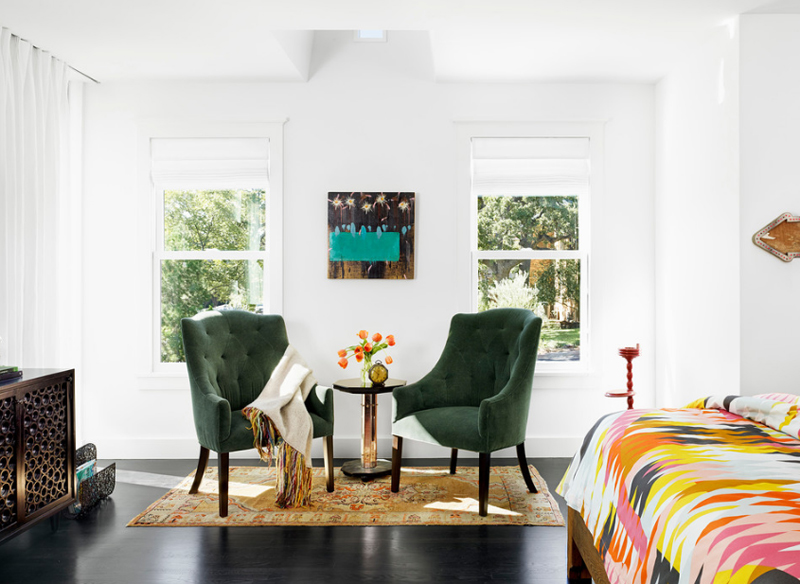 So the color of the linens on the bed is a bit weird – well, colorful really and then all of a sudden, the color of the chairs seems a bit off – because it is of blue green or something. Well, I personally like the chairs' color – it seems easy to maintain – and we all want that. Right?
Well, this list was fun! We were able to see a whole lot of different chair designs that came in different shades of green! And I think sharing these lists would mean reaching more people who could use them.