20 Awesome Circle Outdoor Folding Tables
There are a few reasons why round folding tables are better than rectangular or other shaped tables – example is when some people sit around a round table, they can see each other without having to rotate their neck too hard. That is one benefit that these tables offer.
Round folding tables could be the replacement of dining tables. They have many uses. Besides, they can be placed indoors and outdoors. If you always spend time lingering on your patio, then put one unit there. Place it in each area that you most frequently visit. Check out the table samples below and tell us what you think about them!
1. Aqua Bristol Round Outdoor Folding Table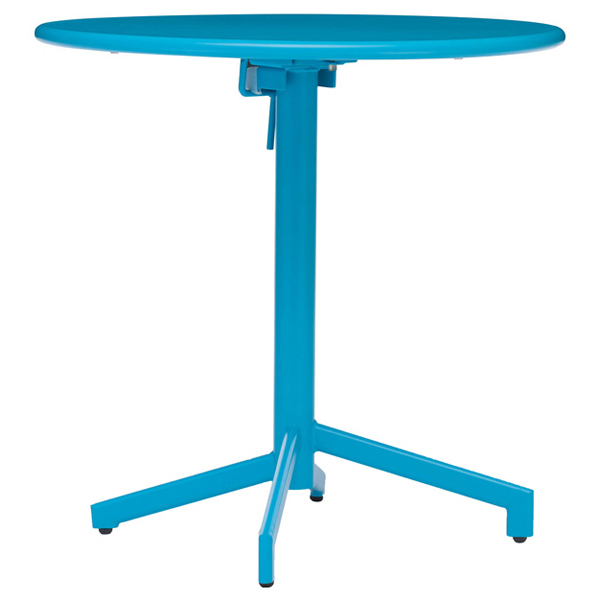 This aqua-colored outdoor folding table is pretty interesting because of the color it has. This table also comes in other colors which is a good thing because if you have a specific color in mind, the manufacturer may have them on hand.
2. Arc en Ciel Folding Round Table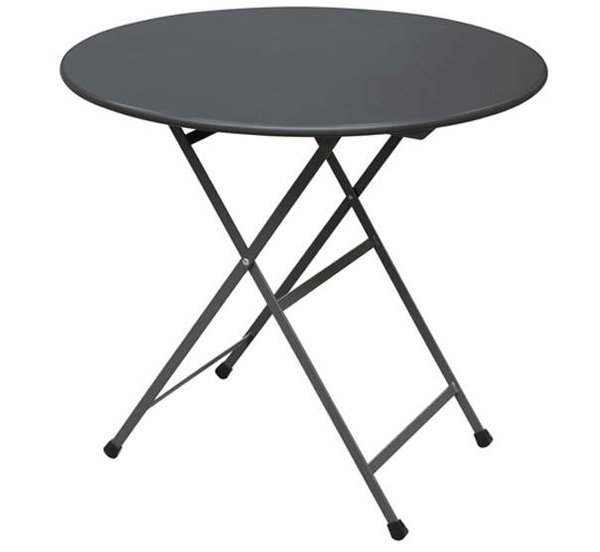 Here is one folding table with a matte finish to it. The color is not so bright but still classy and water-resistant.
3. Atlantic Outdoor Round Folding Dining Table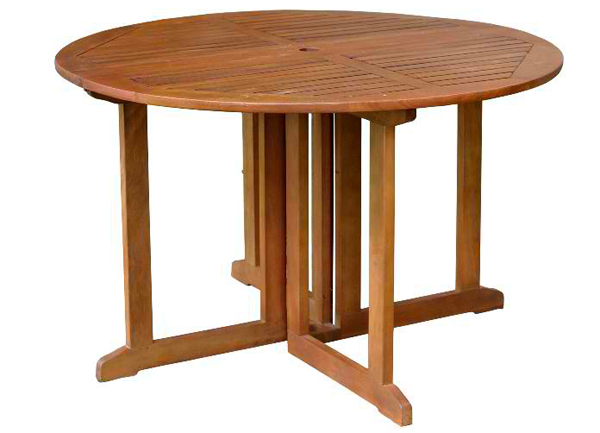 This table is a beauty; and along with its beauty, its function is great because it can accommodate a large group.
4. Barbuda Teak Folding 4-Foot Diameter Round Table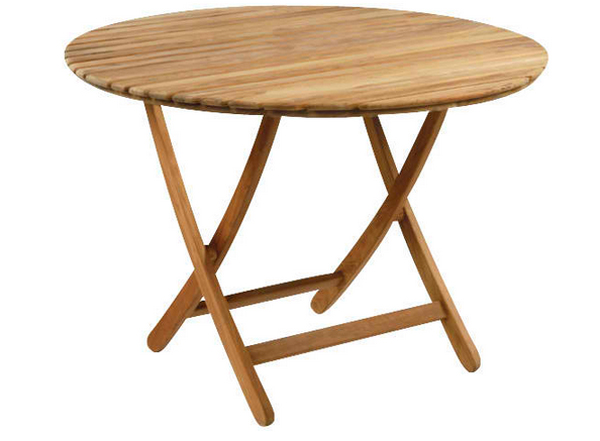 Whether sailing the seven seas in your yacht, or hosting an intimate gathering on your patio, this folding table rises to any occasion. You can seat six comfortably.
5. Butterfly 47″ Round Folding Table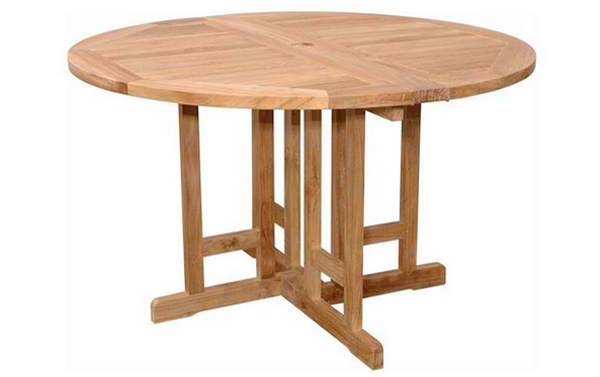 This Butterfly Folding Table features of 47″ Round is very convenience and practical for any occasion. It is perfect for boating, restaurant, and cafe where space is limited or the chairs are only required occasionally.
6. Cambridge Teak 40″ Round Folding Table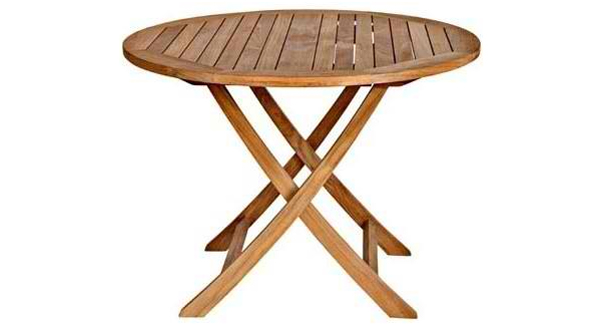 "Our Cambridge folding café tables are mobile and convenient to store. The 40″ table comes with a wood finished center hole piece to accommodate an optional umbrella," says Outdoor Furniture Plus.
7. Ellis Round Folding Table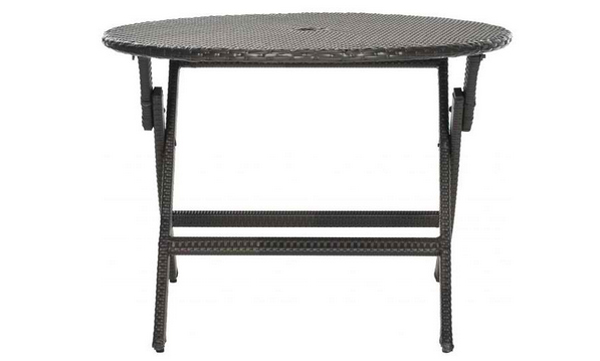 Made in the shade. The Ellis Round Folding Table brings the picnic home with its stylish table-top, complete with a pre-made hole for an outdoor umbrella.
8. F2 Modern Folding Dining Table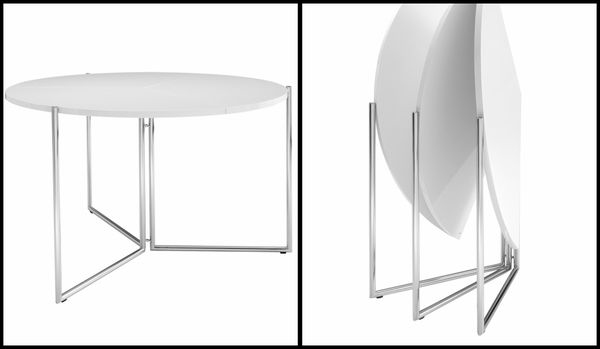 Round folding tables – especially those with an element of elegance – are tough to find, so we were pleased to discover Ligne Roset's F2. The table employs a clever folding system with three origami-like, articulated panels made from glossy white lacquer.
9. Mendocino Round Folding Dining Table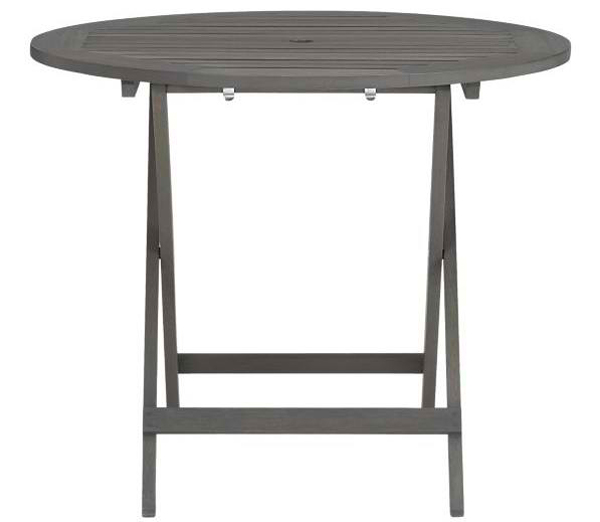 This folding table is fit for a glam meal alfresco.
10. Mika Outdoor Teak Folding Dining Table 31″ Round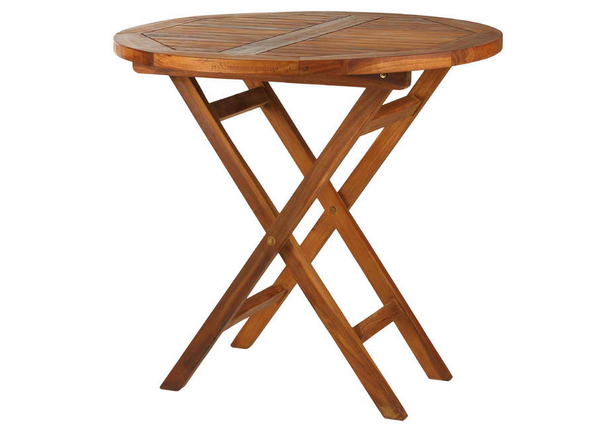 The Mika table is simple & stylish for your outdoor furniture needs and comes in a solid teak wood. Round shaped table measures 31″ diameter and comes in a natural teak wood for durability under severe climate conditions.
11. 4140s Steel 3-Leg Round Top Table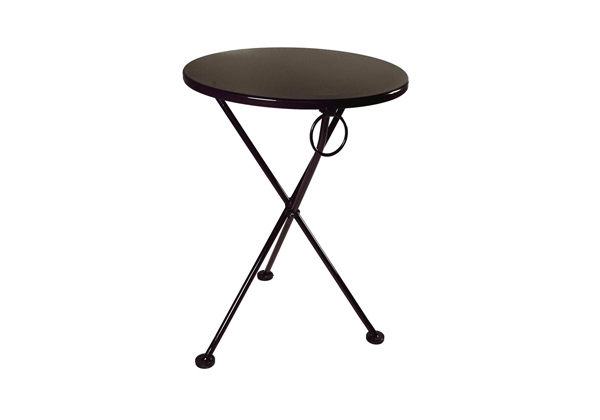 One folding chair in black that can be a coffee table and a side table.
12. Out of the Blue Twig Round Folding Table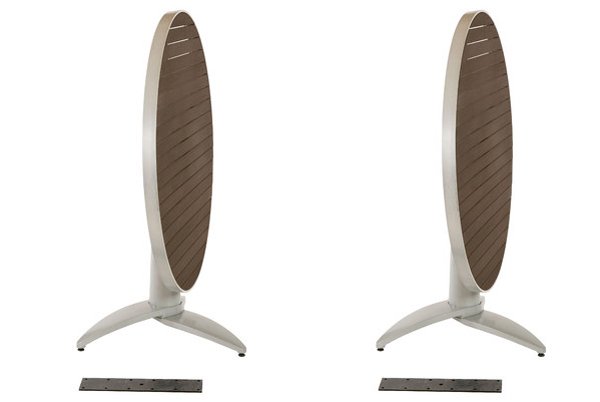 If you check one of our lists about folding tables, you will be able to see that we have one just like this, except that it was square. Classy right?
13. Plein Air Round Folding Table
Easily a picnic table, won't you agree?
14. Pub Round Folding Table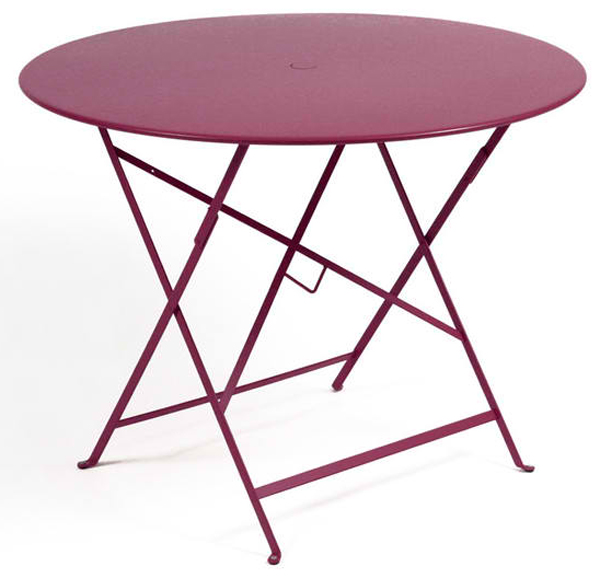 A design so close to home – the artistry of this design is so familiar and homey – it makes me feel really comfortable just seeing it.
15. Rebecca Large Round Table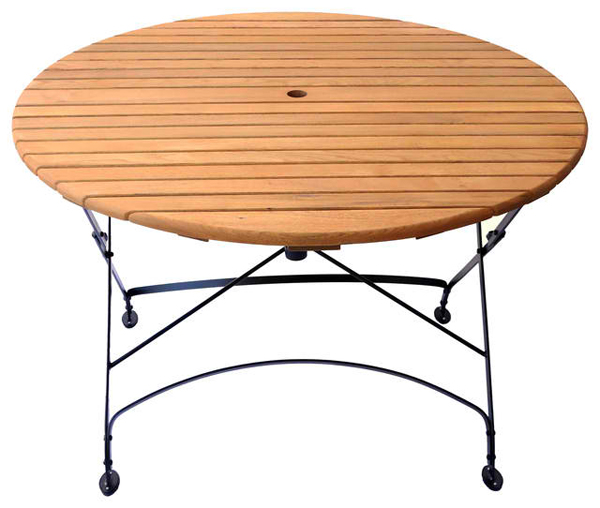 The black frame is made from steel, powder-coated and baked-on enamel paint for outdoor use. Do you like it?
16. Robinia Wood Outdoor Folding Table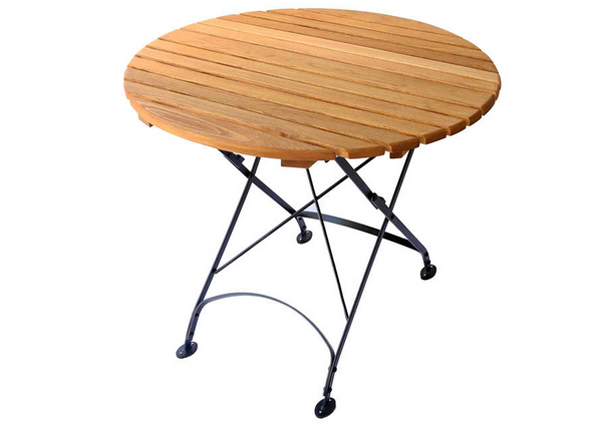 Robinia wood is resistant to decay. All of the wood used in our furniture is sourced from Europe and is 100% FSC certificated and is made from Poland. Interesting facts from the manufacturers!
17. Royal Tahiti Outdoor Furniture: 36-Inch Round Folding Table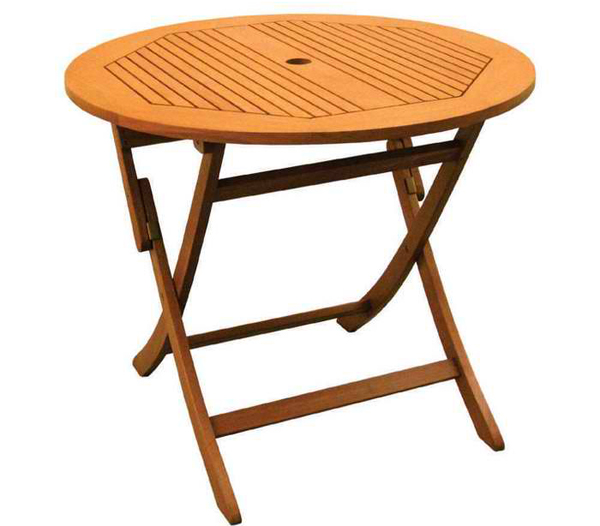 Add a couple of chairs to the Royal Tahiti 36″ Bar Height Round Folding Table and you'll have your own bar and bistro from the comfort of your home patio.
18. Teak Round Folding Table
Backyard City had this awesome table in their midst and we are sure thankful they shared this to the world!
19. Windsor 31″ Round Picnic Folding Table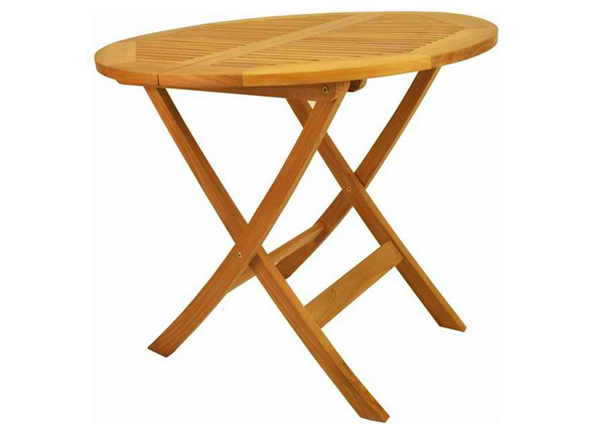 The Windsor 31″ Round Picnic Folding Table features an easy fold table which great for portability and storage. Easy to carry design with handle and can be fold completely flat.
20. 80cm Round Folding Table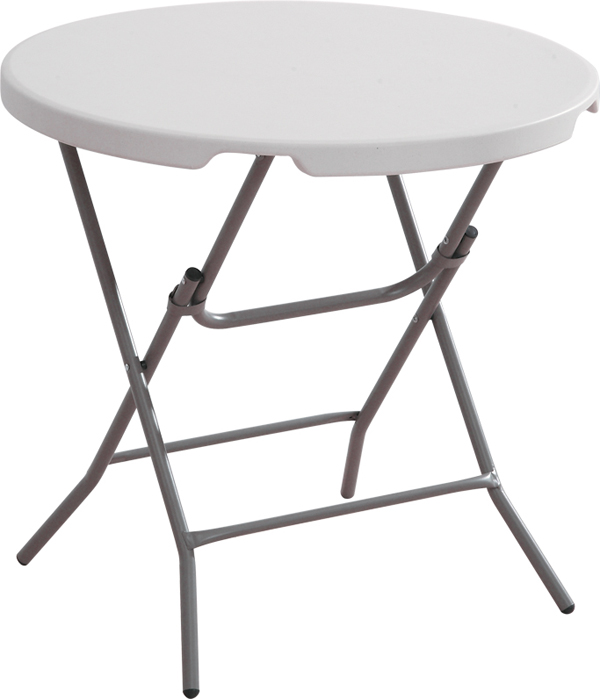 Saw this table somewhere? Sure! Because this one is available in the malls for that picnic you have been planning for a while now.
Round folding tables come in a plethora of designs, adding more pictures to this list should have been the best option, but if you go ahead and check out the sites where we got them, we know for sure that you will love the other designs available, just as we did! We sure hope to see more of you, here on Home Design Lover!