20 Pretty Mid-Century Chairs in the Bedroom
Bedrooms are one of the best spaces in the house that one can actually showcase their personality since they can incorporate a few things that shows what they like or love in it. Today, we have thought about collecting bedroom photos that would actually show a bit of what the clients or home owners want for their personal space in the entire house.
Below are 20 Pretty Mid-Century Chairs in the Bedroom that gives people a hint as to what the clients actually want. You would be seeing a couple of minimalist spaces, some transitional ones and the contemporary to modern spaces that even when they are contemporary or modern still incorporate mid-century furniture to their bedrooms to create a certain aura modern furniture could not do. Check out the list below and tell us what you think about the spaces below!
1. Axford Residence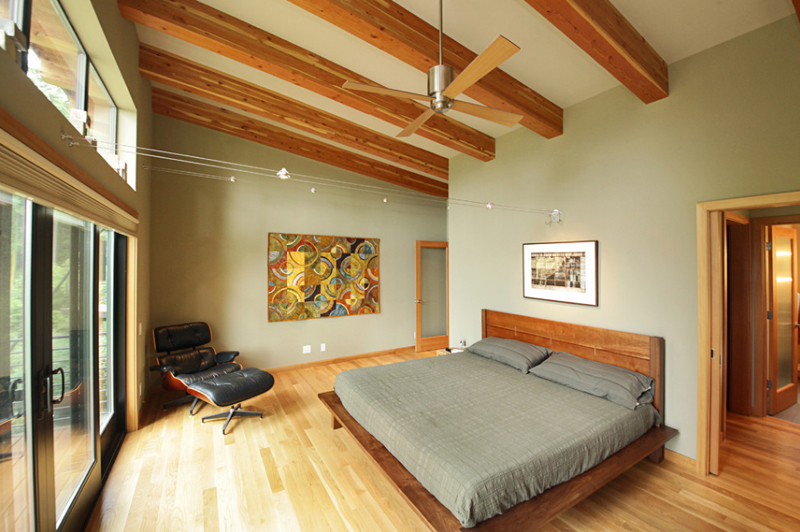 This minimalist bedroom sure has a few things in it but seems enough for someone who just wants to sleep in and chill. Since this bedroom has high ceilings and large windows, ventilation and lighting is never a problem – even in summers! The exposed wood beams, the flooring and the bed base and headboard looks incredible and lovely!
2. Boston Condo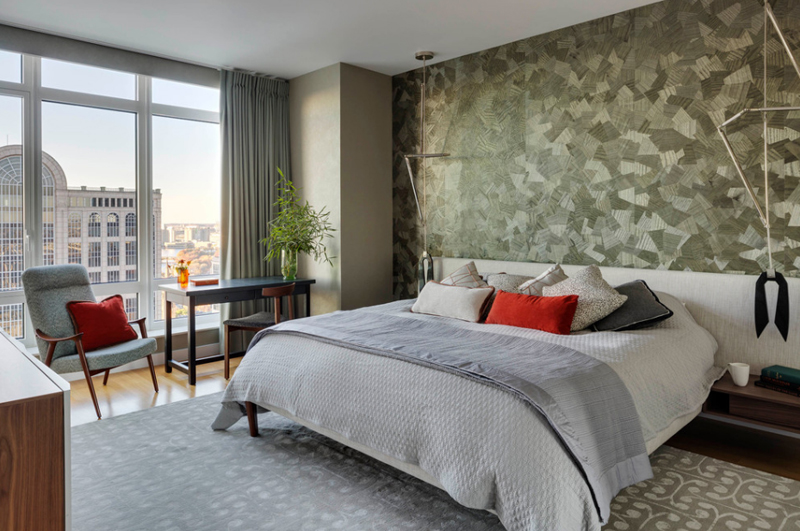 The chair by the window looks simple and even vintage but it looks really fancy. The color may seem simple but it matches well with the entire color scheme that this bedroom actually have. I love the accent wall especially because of how cool it looks and how it contrasts with the floor carpet.
3. Contemporary Mountain Penthouse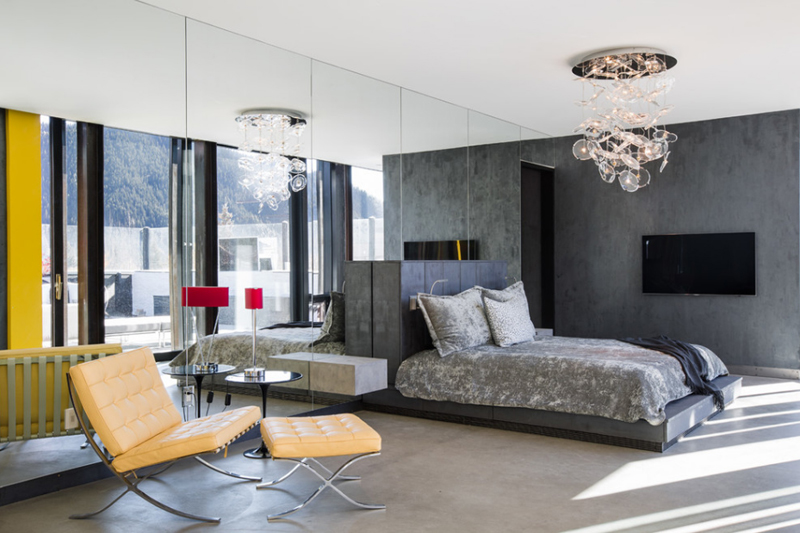 I know that when we actually see this type of chair and foot rest we know it has a hint of contemporary and a hint of vintage – that's the beauty of mid-century furniture and decorations, they set for us beautiful things to look at and use at home or in the office.
4. Dreamy Bungalow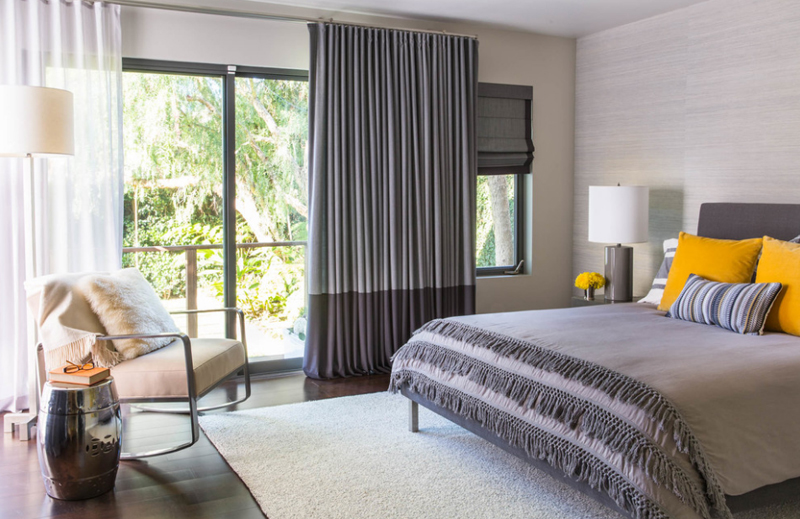 The neutral color combo that this bedroom has is quite inviting and calming too. I love how they added bits of yellow like on the bed and on the night stand just to add a hint of color to the space. What do you personally think about the chair and the accent table beside it?
5. Holiday Home by the Harbour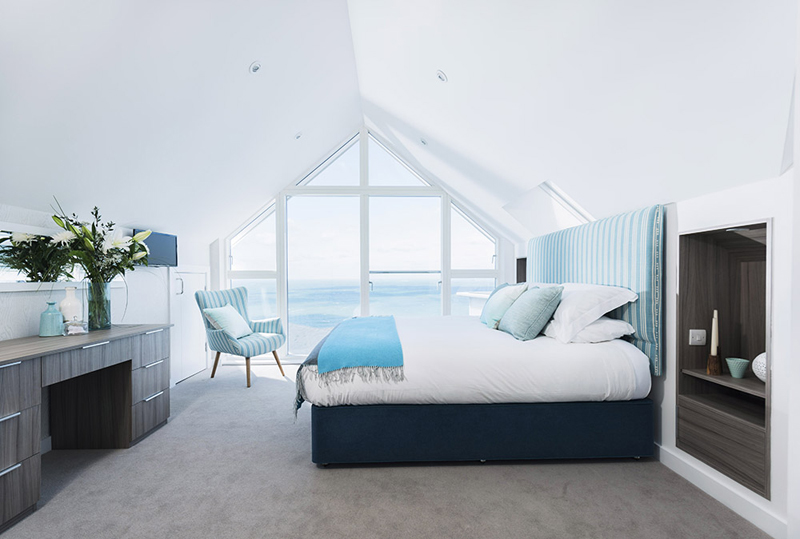 From the name of this project we know that it's a home by the beach and with an interior like this one, you know that this is indeed a great location for rest and recreation away from work and the bustling city streets! The minimal decoration and things inside this room means that one can surely rest well while staying here.
6. La Cañada Residence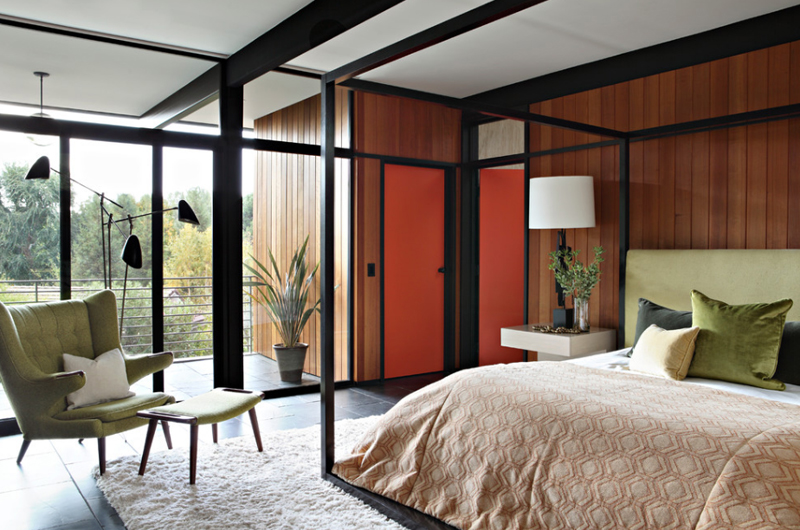 The charming color and design of the chair in this bedroom pretty much looks really vintage and I think with it came the thought of mixing a throw pillow with the same color to actually match it. This bedroom is designed to actually have ample lighting and ventilation thanks to the large glass doors and windows.
7. Manhattan Residence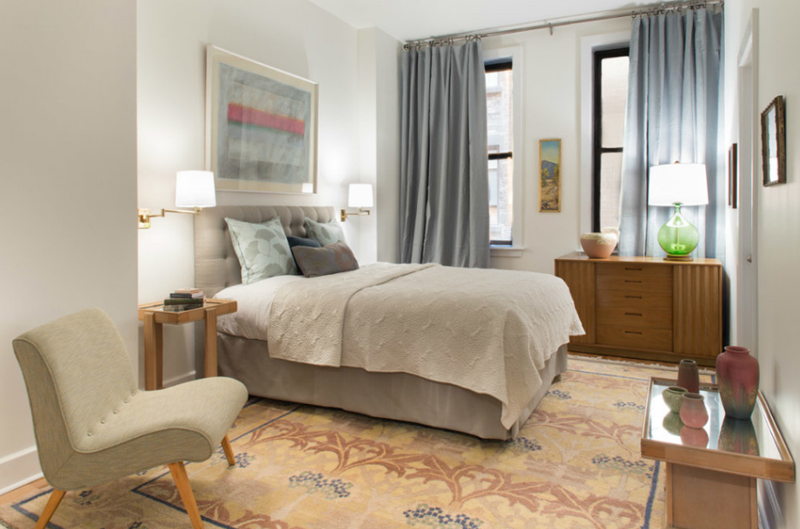 Do you feel like this bedroom could actually pass as something secluded which could mean discomfort to others? I don't actually know if you kind of feel that something that I felt when I first saw this photo. The space is not large nor too small to actually feel cold or secluded but it sort of does.
8. Miami Townhouse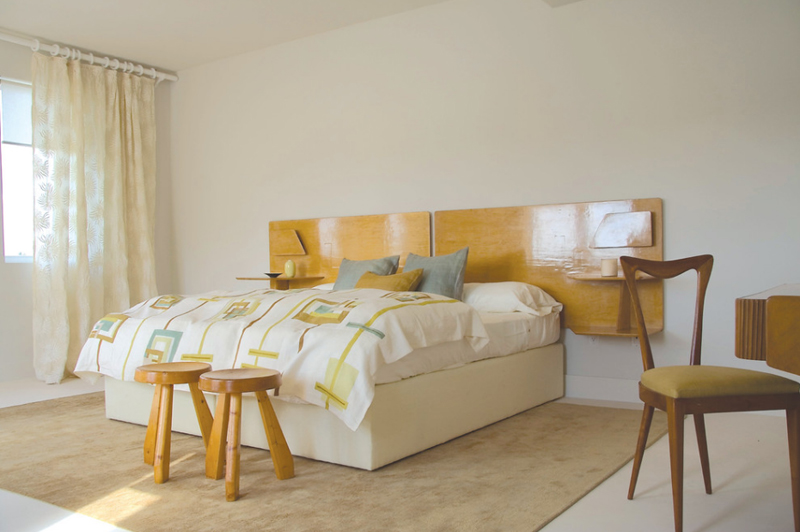 What an interesting and unique headboard! It's obviously wood and they designed it to actually have shelves on the sides to feel like you have night stands on both sides of the bed. The wooden motif is seen in the choices of decorations visible in here – the side chair and the stools at the end of the bed.
9. Palm Beach Oceanfront Penthouse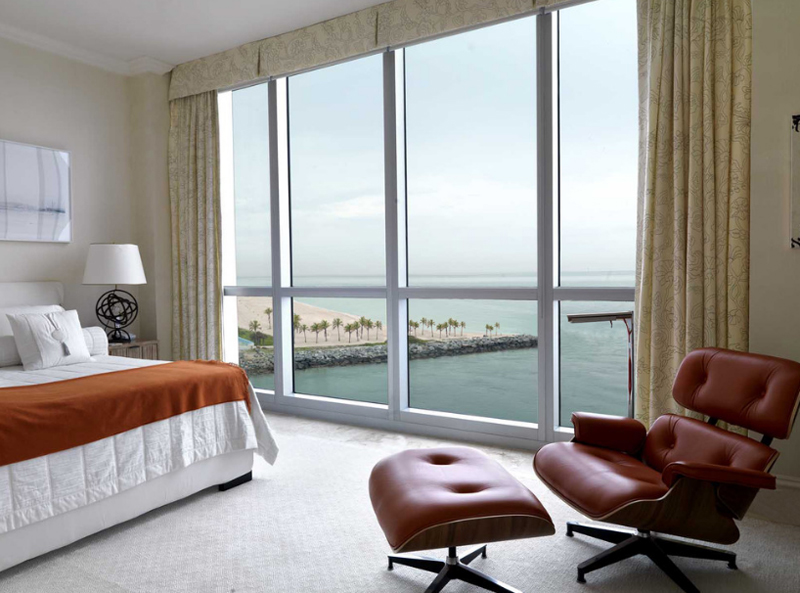 This arm chair and foot rest it similar to the one in the beginning of the list and you and I both know that this pairing it in fact from the mid-century section of home depot if they ever have one! The color looks nice but not too feminine which I like plus with that awesome view – I think the owner or the designer could put a small bean bag and no one could care less because they're too busy enjoying the view.
10. Park Slope Townhouse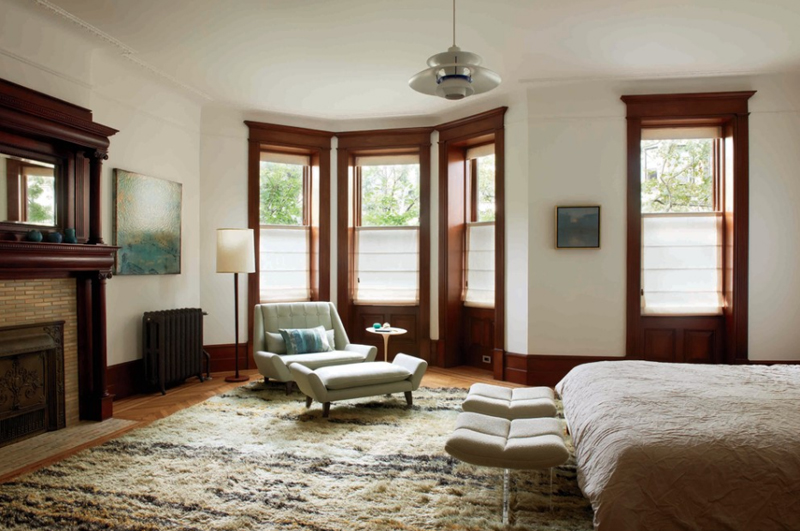 Look at how cute the arm chair and foot rest combo looks like! It even has a small side table where you can place your phone or maybe a drink while you're enjoying the chair and maybe reading a great book. With awesome corners like this one, I think this bedroom sure is interesting and cool.
11. 1 Hanson Street Luxury Condo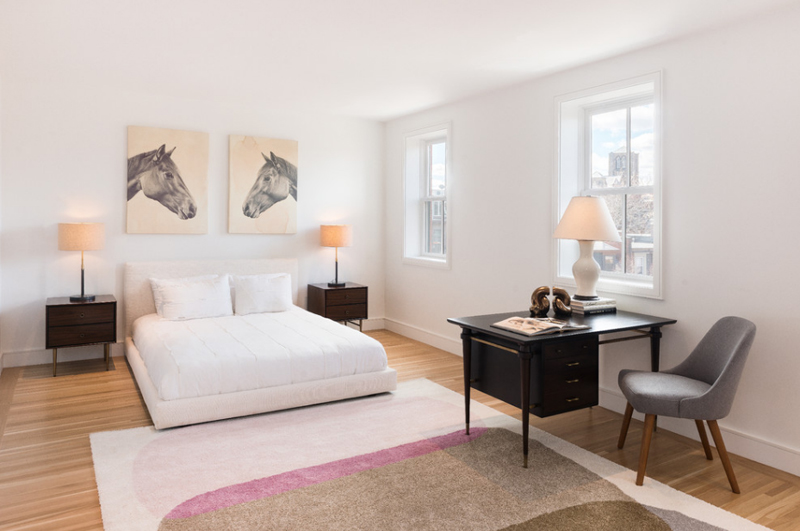 Talk about interesting art you can display in the bedroom! The plain white walls couldn't have been prettier because of those horse photos! They said that placing horses photos in the house is actually good luck – well, I think this bedroom has all the luck it needs!
12. Pierre Paulin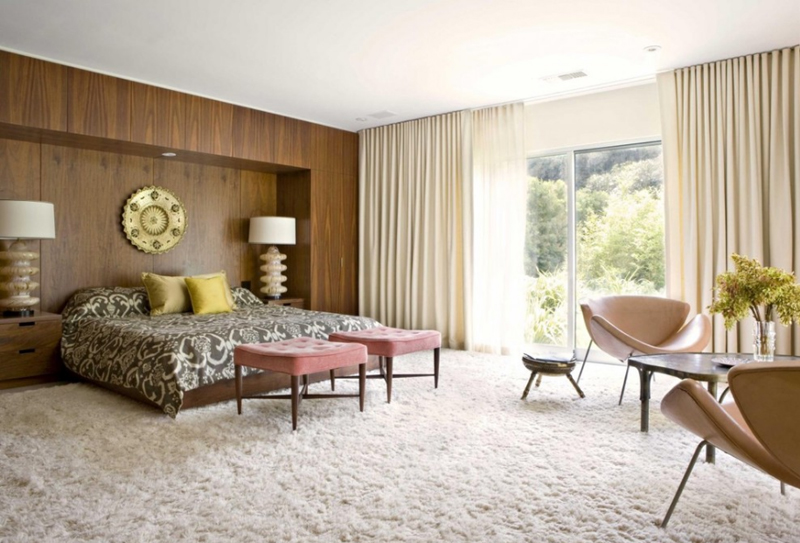 I am very interested with the Pierre Paulin style slice chair in beige! The color looks real spectacular even when this is actually a neutral tone. The contrast of the colors in this bedroom is quite subtle but very much evident and I think it's what brings beauty to this space. Do you agree?
13. Bracknell Gardens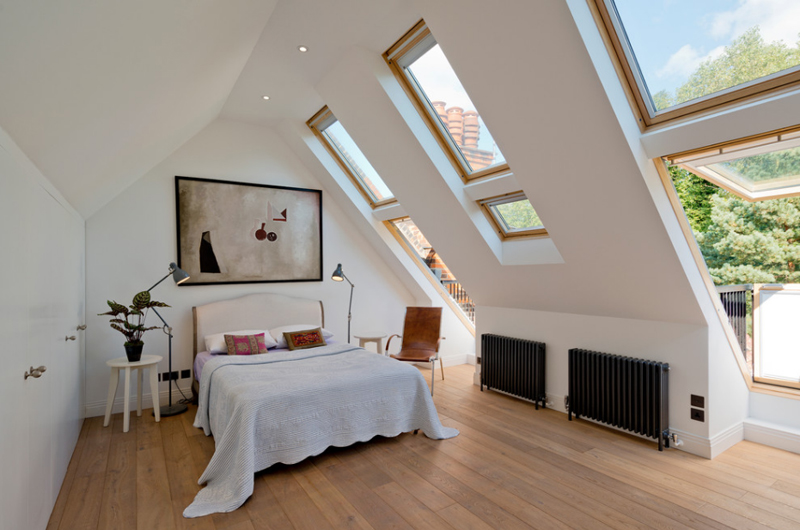 Skylights for windows in your bedroom! Why not, right? This bedroom sure has access to all the stars at night and all the sunlight during the day and it looks fabulous! What more can one ask for, right? Even when there are minimal things inside this bedroom, it has the incredible outdoors that somehow compensate for it; whatever the case, I think this bedroom is awesome!
14. Portage Bay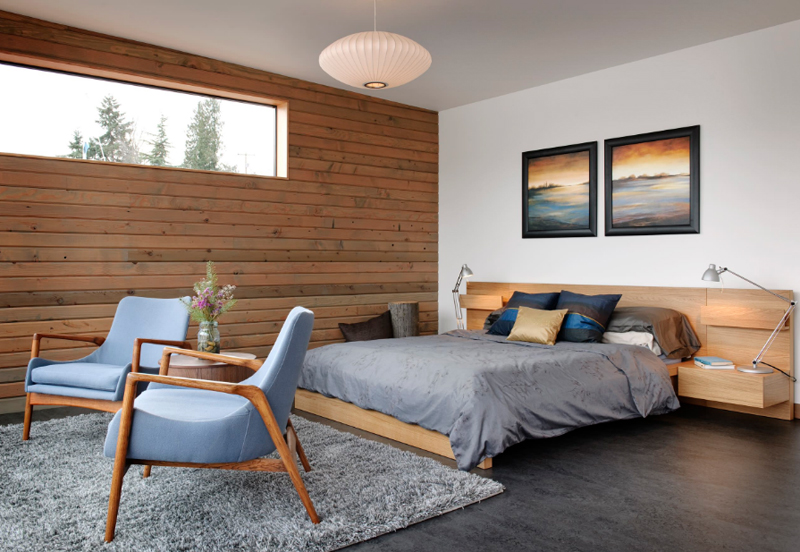 Comfortable blue chairs are seen at the foot of the bed which I think complements well with the grey area carpet, linens and the flooring. The wooden aspects of this bedroom look nice too! Even the painting on the walls, and the awesome night stand that actually is connected with the head board! Oh, this bedroom sure rocks!
15. SkyRidge in Riverside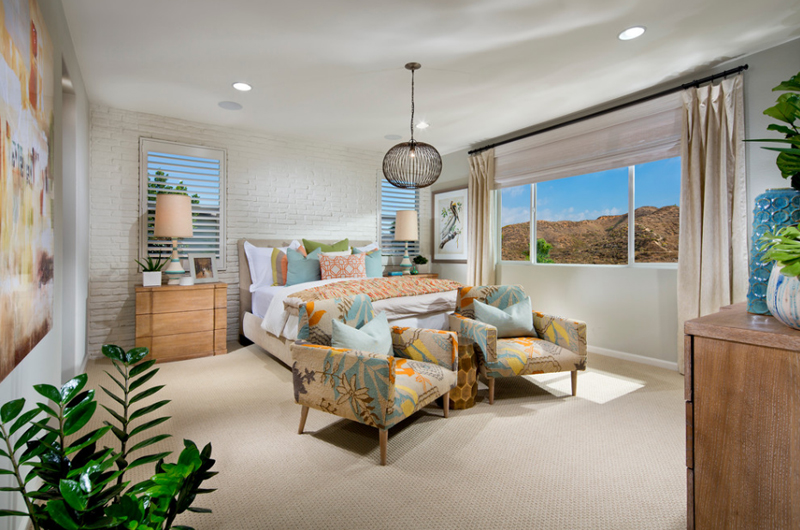 I feel like the view by the window seems Photoshopped or something – but nonetheless, I think this bedroom is adorned with stunning interiors that I think is enough; if the view is in fact real, I guess this home is blessed with awesome outdoors. Let us go ahead and admire the floral mid-century chairs and tell me what you think about them?
16. Big Sur Cabin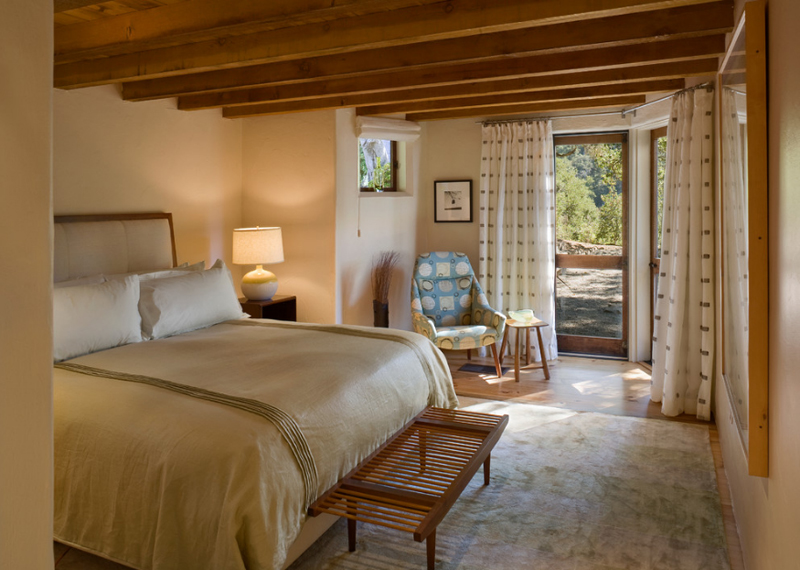 This bedroom seems to have the minimum height requirement for bedrooms but it still looks a bit lower than standard because of the size of the bedroom in general; this bedroom though has enough bling to make it real pretty with the furniture added to it along with the right amount of linens and view.
17. East Lakeview Residence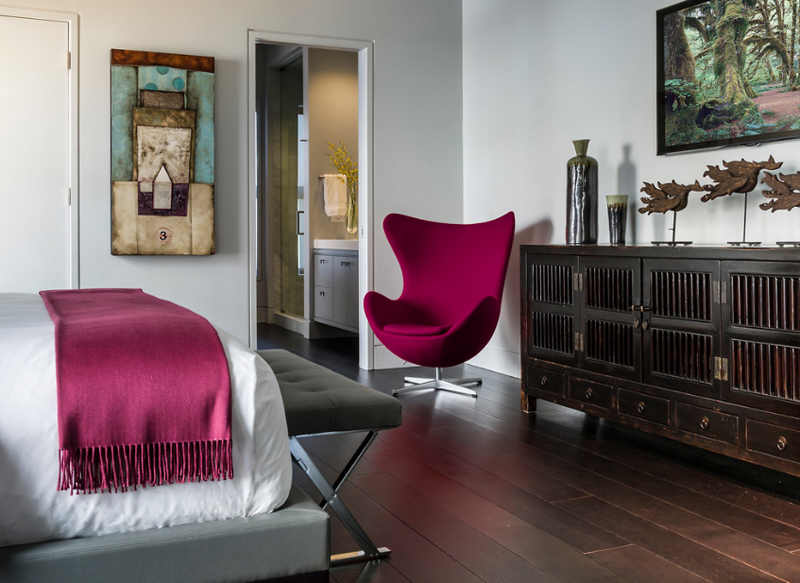 I can't say I don't like egg chairs, because I do in fact. The color of the egg chair match with the accent linen added to the bed to make it real presentable and pretty. With vintage furniture seen beside the egg chair, I think the contrast of archetypes and details is quite prominent and real beautiful.
18. 86B: Contemporary Cottage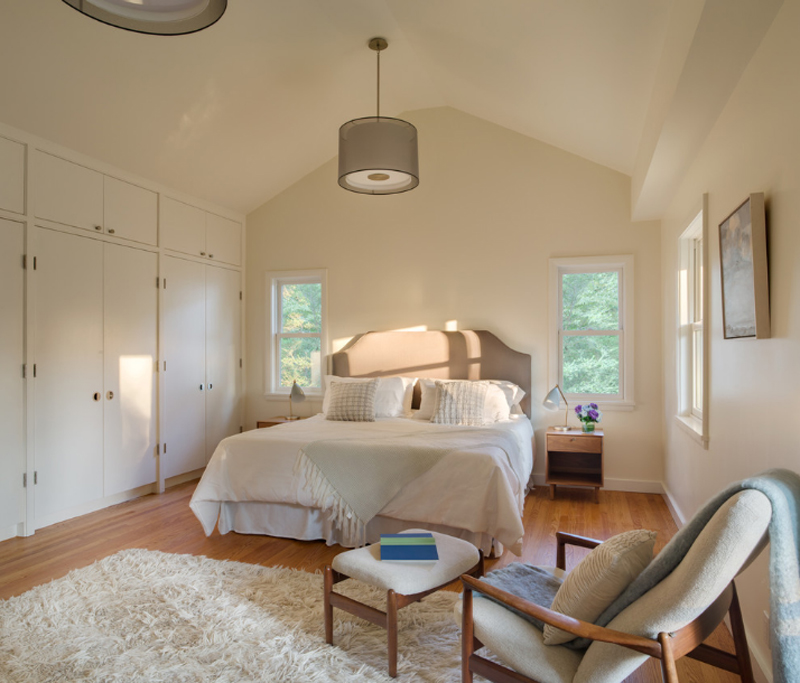 This is one cozy bedroom with very less color and bling but sure looks comfortable and neat. For the most part, bedrooms do not really need much except for a decent bed, ventilation and lighting for one to be able to really rest or chill after a long day at work; bedrooms does not need to be filled with teddy bears to make it cozy and wonderful – just like this one!
19. 27 East 11th Street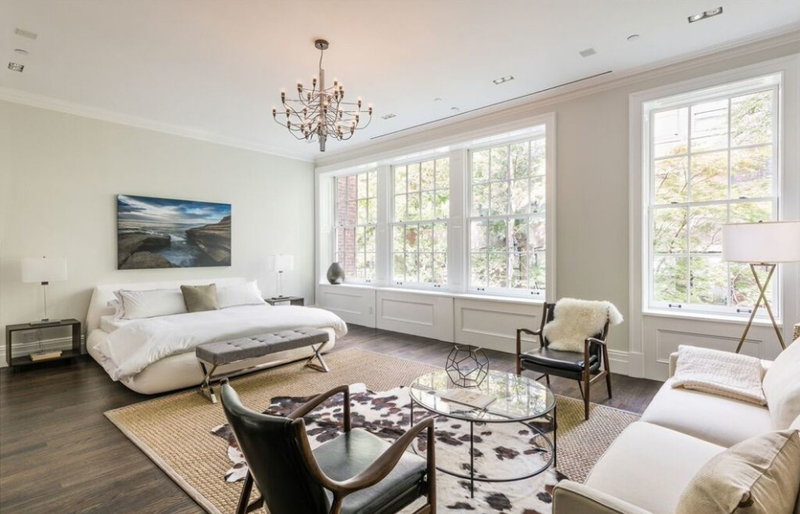 Second to the last bedroom on this list is something from Studio D and notice how stunning this bedroom is! I haven't checked out much of their work but it seems like they're on the right track; designing spaces as stunning as this one – with the right pieces of furniture and decorations to match!
20. Hollywood Hills Transitional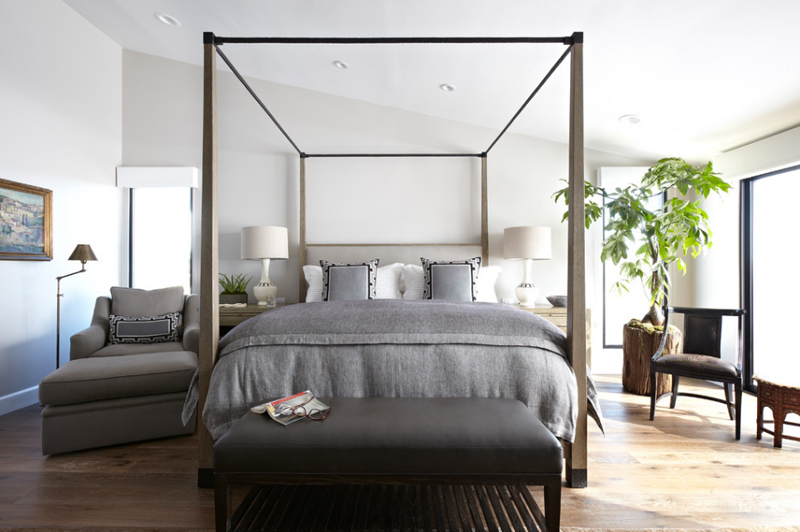 If you do not like the arm chair on the left, you can opt to use the other one on the right, why not, right? This bedroom is adorned with mostly grey furniture and linens and it looks real sleek and contemporary, and since they used mid-century furniture, they added more class and fabulousness to this entire space.
If you have seen some of our lists about bedroom furniture like the 25 Bright Mid-century Modern Bedroom Designs, I think that this list about the 20 Pretty Mid-Century Chairs in the Bedroom is something that you could possibly admire too. These bedroom spaces are not mid-century necessarily, but they somehow opted to have these furniture added to them because they not only add beauty but charm as well; a little bit of story I guess.