15 Charming Square Dining Room Tables
Having a square dining table for your house is quite a smart way to save space depending on the size of your dining room. Tables like squares and rectangles can simply be placed in a corner and it seems alright, compared to using round tables which occupies space and can't definitely be placed in a corner. That maybe the best reason why people prefer square tables compared to round ones.
So, today, we will be showing you a couple of pictures that comes in different sizes but one definite shape – a square. The 15 Charming Square Dining Room Tables below are great inspiration when choosing a dining table fit for your home. Always remember one thing, how many people will be using the tables to for your designer to know what table size to use or so that you'll know what to get in the store when you start shopping for your dream dining table.
Capitol Hill Remodeled Home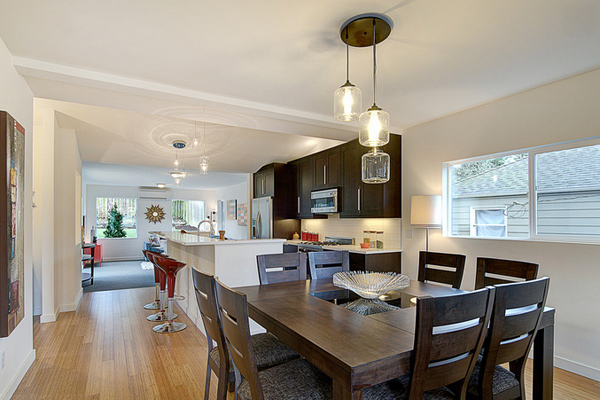 A giant square dining room table not only showcased the size of this room, but it also created a strong focal point suggesting fun gatherings and conversation.
Contemporary Dining Room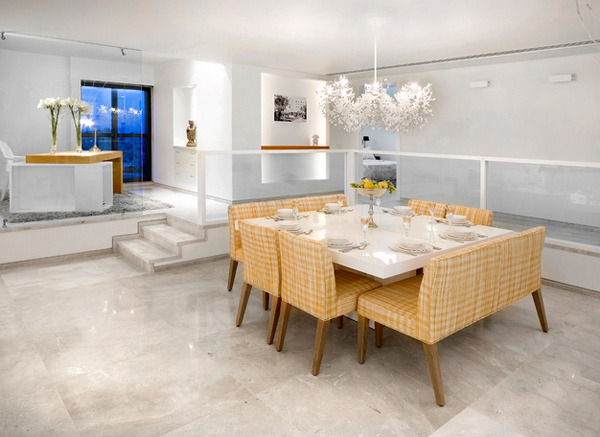 A square dining table creates a cozy atmosphere, and it is easy to see everyone at the table without having to lean over. However, this may not be the best shape if you often entertain a large number of people.
Corona del Mar Beach Home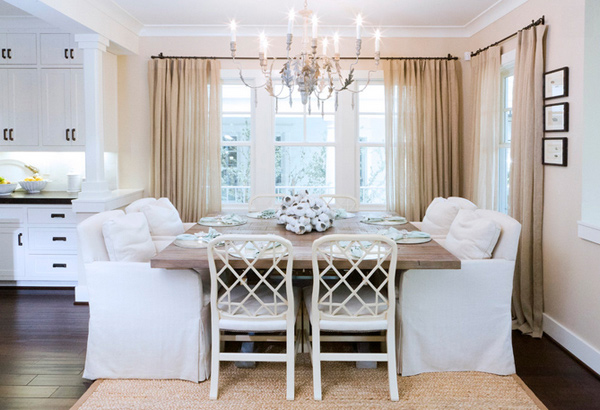 Don't you just love the shabby chic feel that this dining area has? White space and white chairs matched with cute chairs that complement well with the brown square table.
Dark Wood Dining Table By RattanWood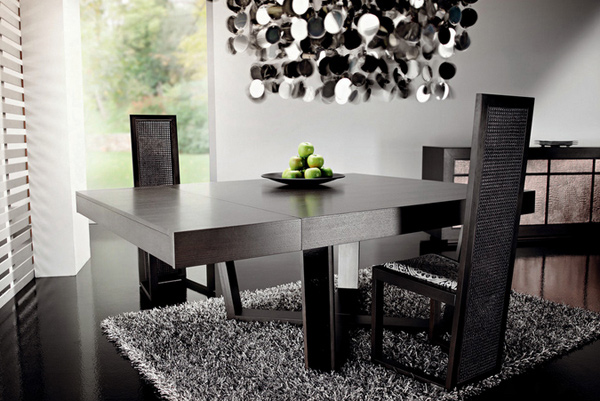 Think minimal. There's no rule that says you must crowd every inch of your table with chairs. The idea is to cater to your needs: if only two chairs makes the most sense, then two chairs it is! This setup creates a little breathing room around the table.
Fairview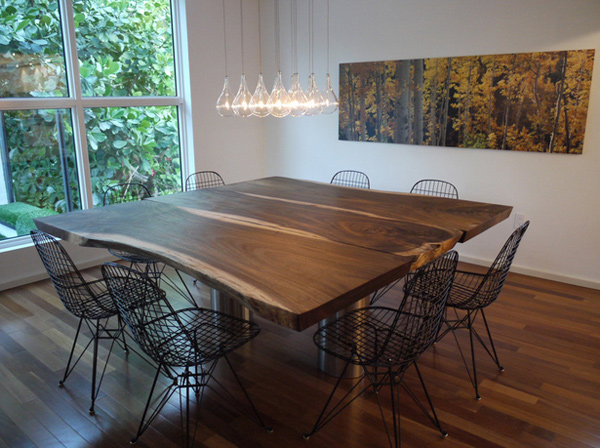 This Miami modern dining room is actually too hot to handle! It seems minimal and really sexy.
Gloucester Road Apartment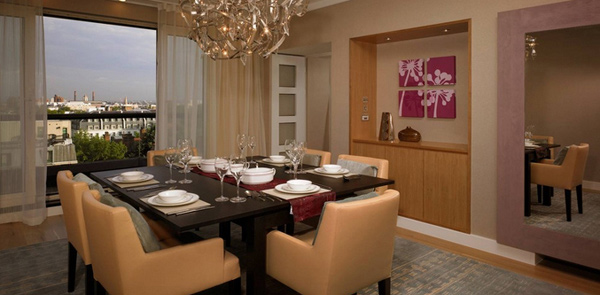 Note that the orange padded chairs that are used in this kitchen are definitely owning it with a dark colored table.
Hampden
This stunning square dining table was purchased in an overseas antique shop which surely looks pretty in this almost Mediterranean dining area.
Horseshoe Bay Lakehouse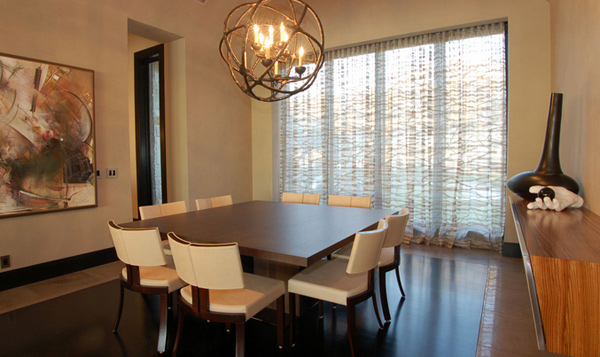 Evidently, the use of a square dining table makes one contemporary space a bit modern. Using complementary colors make it prettier too.
Lovell Kitchen and Dining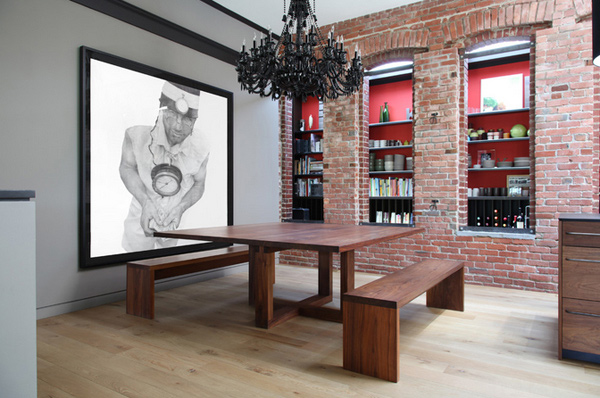 According to a source, the shelves in the adjacent dining space replaced windows that had been removed during a previous remodel. Although the team considered putting in windows to match the originals, the view out back to an adjacent building was so awful; they decided to install shelving instead. This change still maintains the structure's historic exterior.
North Oaks Contemporary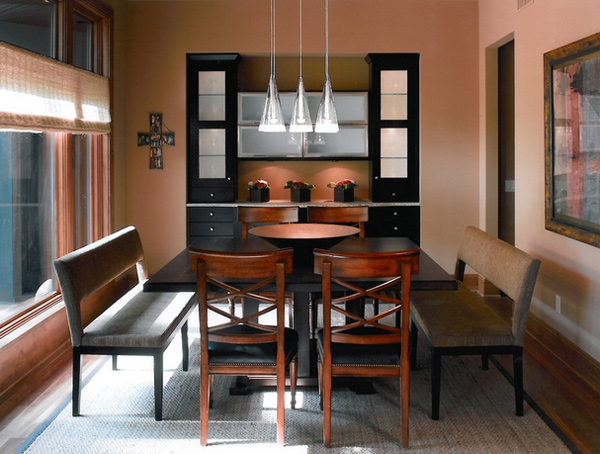 Bruce Kading Interior Design said, "The table is a custom piece we designed and had made by Black Wolf Designs, and the benches are by Directions in a COM fabric purchased through a showroom at IMS in Minneapolis."
Spa House on the Lake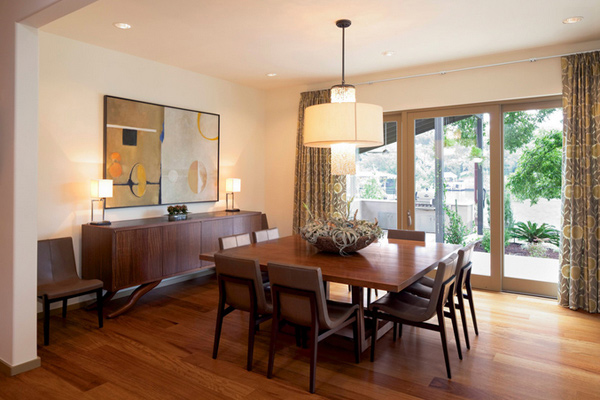 Go square. If your room is square, a square table, like a round one, makes for a more intimate dining experience because everyone is an equal distance apart. Also it will look great mimicking the room shape around it.
Sunset Lake House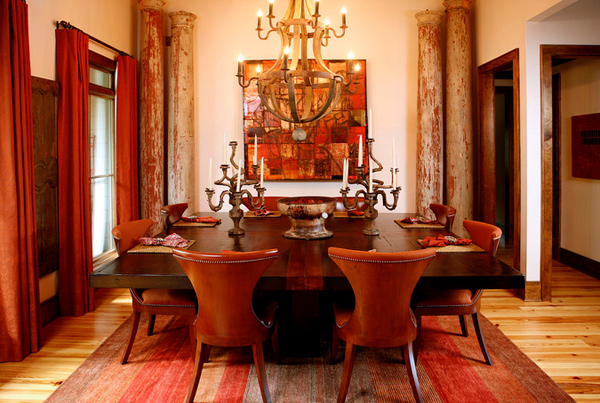 The two-tier wooden chandelier helps to lessen the formality of this space. Imagine substituting one of bronze, crystal or brass – the room would instantly feel more imposing. Note the stunning square dining table.
The Parade Ascot Vale Victoria Australia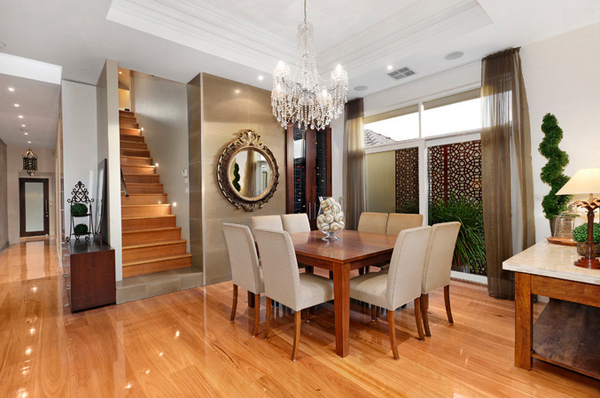 There is a richness of materials such as polished floor boards, stone tiles and shear window coverings here. The room looks out onto a small water pond with decorative laser cut screens on the wall.
Westwood Residence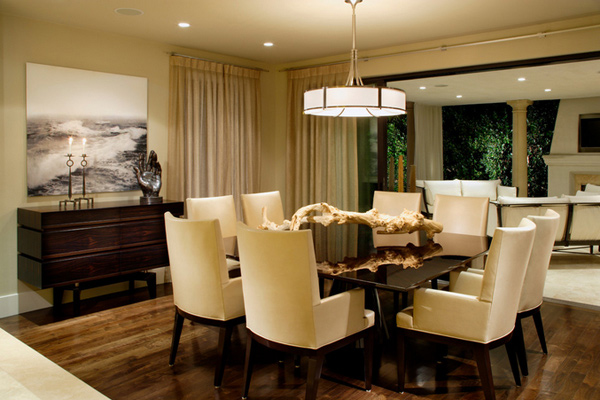 This dining room table is definitely stunning. Using a darker colored glass paired with comfy white chairs. Notice the decor in the center of the table which makes this space really stunning.
Yellowstone Club II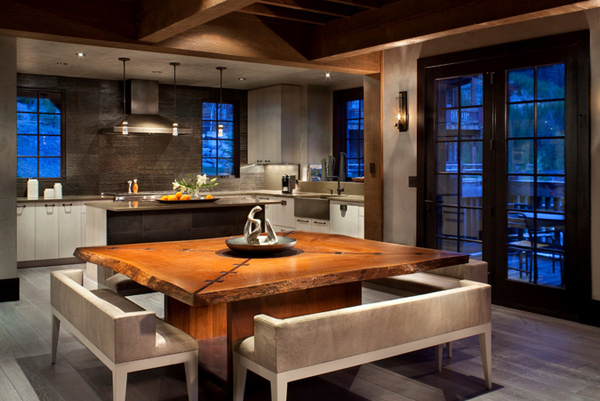 This table may look extremely heavy, but let's just say, no matter how heavy this one is, it sure is pretty and matches the stunning mini sofas used as dining chairs.
Like the round table, the bigger a square table is, the harder it will be to reach for food. If you are looking to seat more than eight people comfortably, try out your table in person. You might be better off with a square table that comes with leaves that you can turn into a rectangular shape for a dinner party. So we think that the list we have above – the 15 Charming Square Dining Room Tables are one of the best tables you'll ever want. For more modern inspiration, check out 15 Black Modern Dining Area Ideas and tell us what you think!