20 Bold and Beautiful Blue Chairs in the Bedroom
How about blue chairs in the bedroom? That would be totally cool, right?
Considering the fact that we already have recorded a couple of lists here in Home Design Lover about bedrooms and about chairs – I never thought for one second why haven't I thought about prioritizing this list because this is my favorite color! I have made one recently about red chairs in the bedrooms and yet I'm creating this one just now.
If you have been following the lists that I've been making, I think that you would have noticed my fascination with the color blue. Anyway, since we are already in this topic, why don't we go ahead and explore this list with the most wonderful, fun and unique blue chairs that there is in the market. If you can, notice how much comfortable all the chairs are in this list – and I would assume this is because these chairs are located in the bedroom – comfortable chairs were chosen, check it out!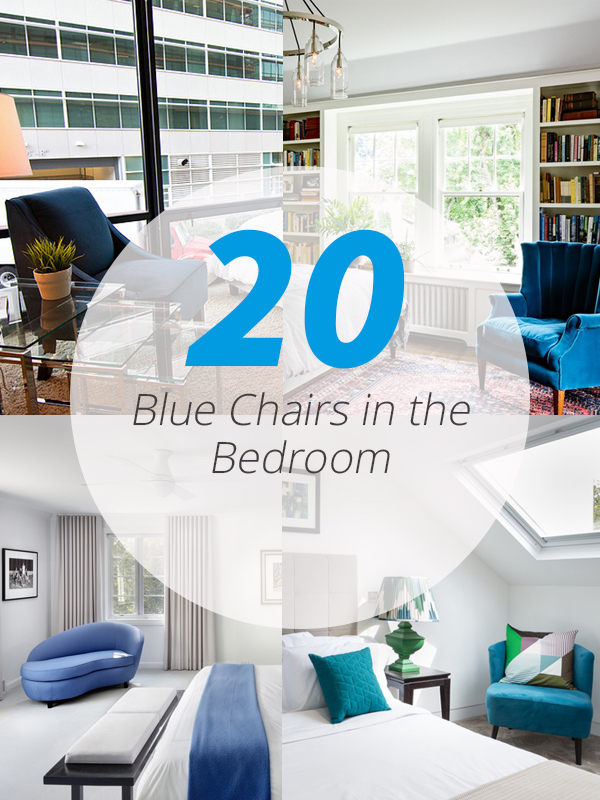 1. Back Bay Townhouse 5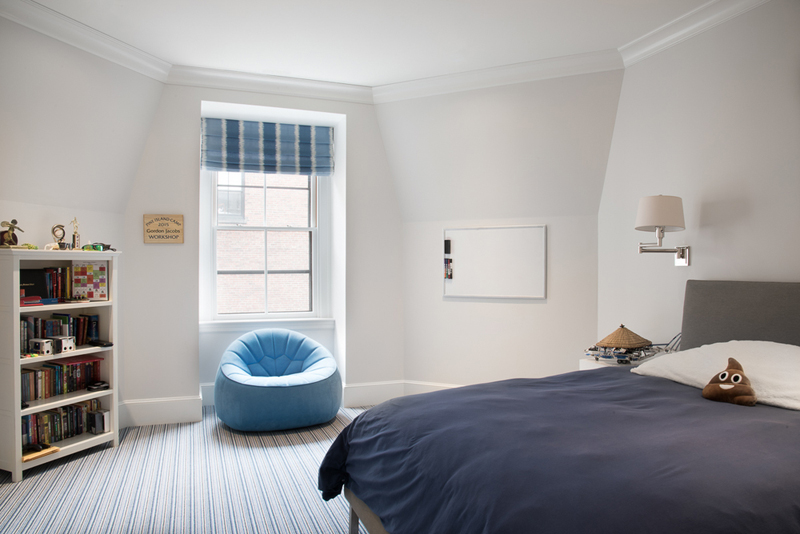 To kick off this list is a cute and comfortable-looking blue chair that somehow resembles a bean bag. The color of the chair is a bit similar to that of the shade on the window. Although this bedroom looks really comfy and neat, I think the minimalist theme makes the blue chair stand out even more than that poop pillow on the bed.
2. Country Club Loft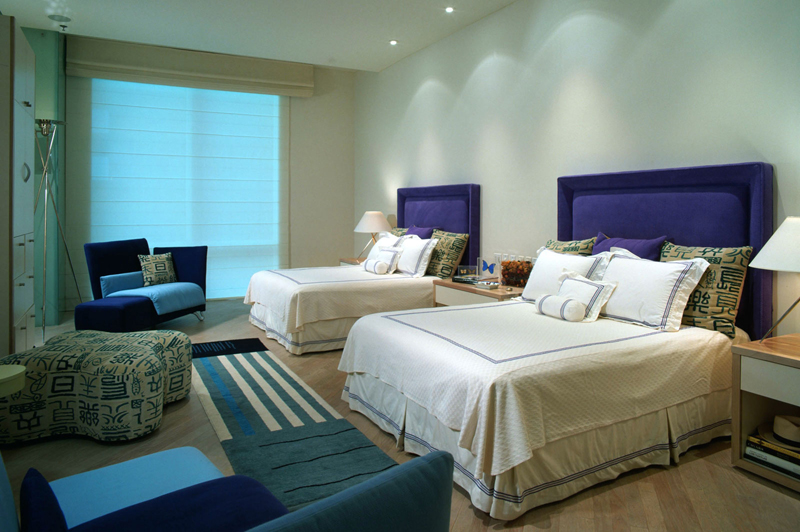 Shared bedrooms really fascinate me; belonging to a family wherein space is limited and having a twin sister, I have always shared a bedroom with someone – and well, as much a space for oneself is nice, sharing it with someone always gives me comfort.
3. Downtown Condo
What can you say about the color combination that this bedroom have? The blues and the purple somehow make itself work. Adding the white lamps and the white drawers created a more neutral look but still maintaining that sophisticated feel and aura.
4. Eagles Nest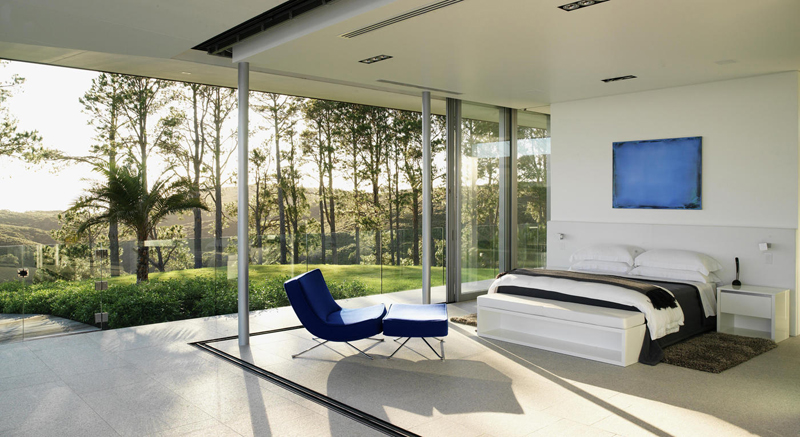 Well, what do know! A large bedroom and surroundings! I'm sure that there is something that would enclose this bedroom (for sure) and I think it's awesome and even breathe-taking to just be in this space because of how much nature you see every time you actually open your eyes.
5. East Hampton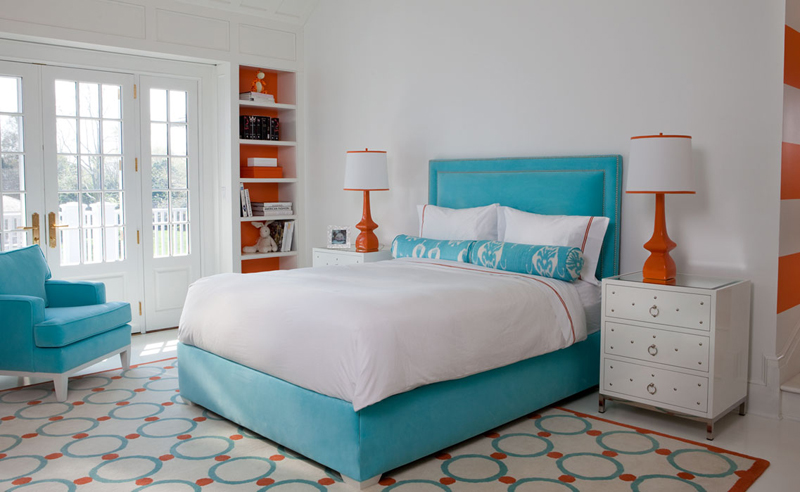 Now, here we are with a bedroom designed by Connie Cooper Designs. The color combination is just cute and fashionable, I should say. It's very much unique and somehow out of this world – but not in a bad or negative way. I like how the designer really went out of the box on this one. Maybe this is one common color combination, but I think this was executed with grace and a stunning outcome was produced.
6. Glencoe Residence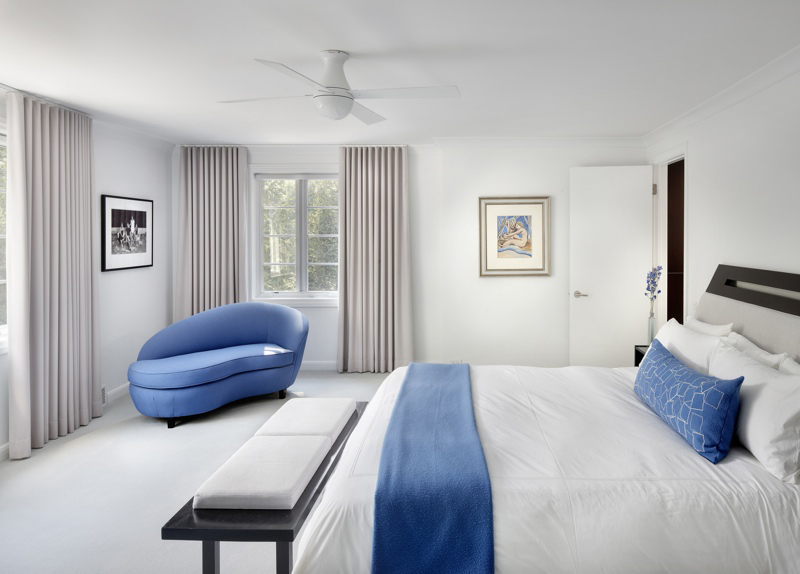 A cute lounge chair is highlighted in this bedroom photo. I think that this very white bedroom is like heaven sent. The blues really stands out and yet it still maintains a very promising space worth your money. If I'd actually have this bedroom to myself, I think I'd consider myself luckier than most – blessed even.
7. Hanover Contemporary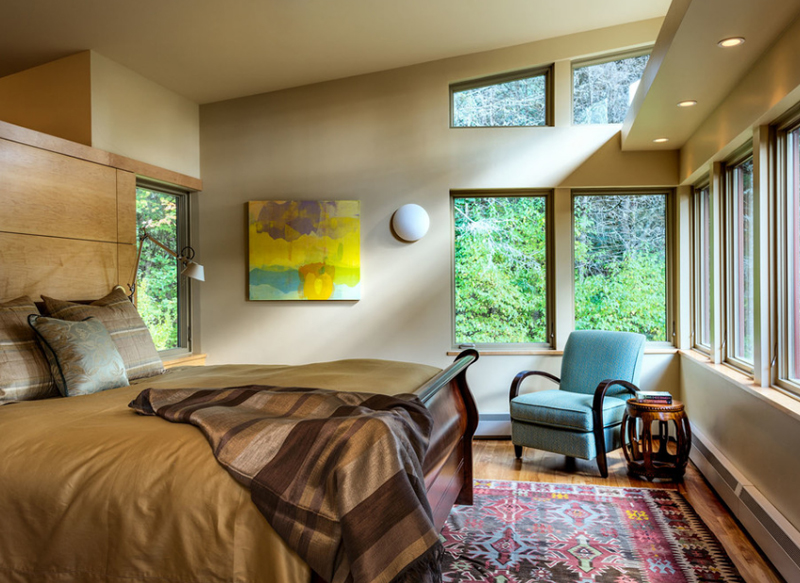 I do not have the exact name of this charming blue armchair but I think that it's okay – especially that this chair looks pretty comfy as it and where it is. The view of the outdoors is quite inviting if you ask me – I'm not really an outdoorsy-type of person with this view from my window (if ever), I would really reconsider my circumstances.
8. Logan Loft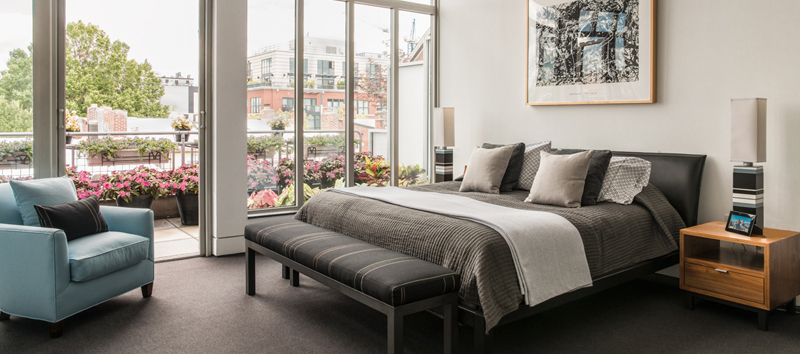 This bedroom sure has a wonderful view. Aside from having glass windows, the view outside is just spectacular. Closing the drapes in this bedroom seems like a bad idea knowing that there are a lot of beautiful things waiting outside to be discovered.
9. Luxury Penthouse Hyde Park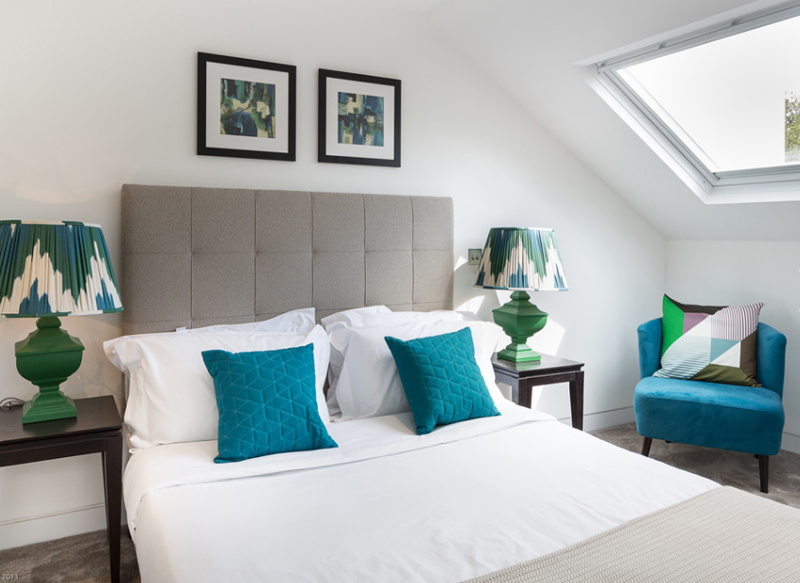 The table lamps in here is just fascinating – it has a unique color combination which makes it somehow hip and fun; and then by adding the blue throw pillows and accent chair created a whole new experience, especially for me. It shows us a simple yet awesome possibility of a color combination that really pans out.
10. Maida Vale Residence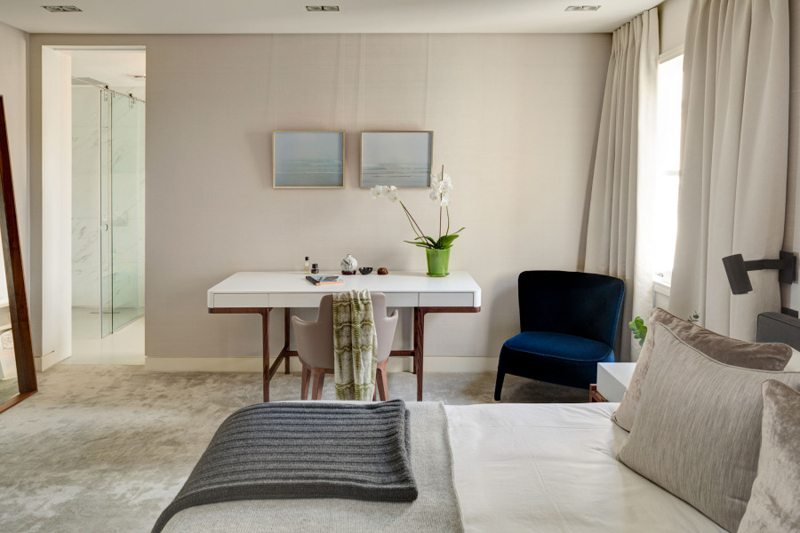 Check out the blue chair by the window looking all-fabulous! Neutral-colored spaces are really nice to beautify; and I think, looking at this bedroom, adding the lovely blue chair created an aura that makes this space quite a treat!
11. Minnetonka Modern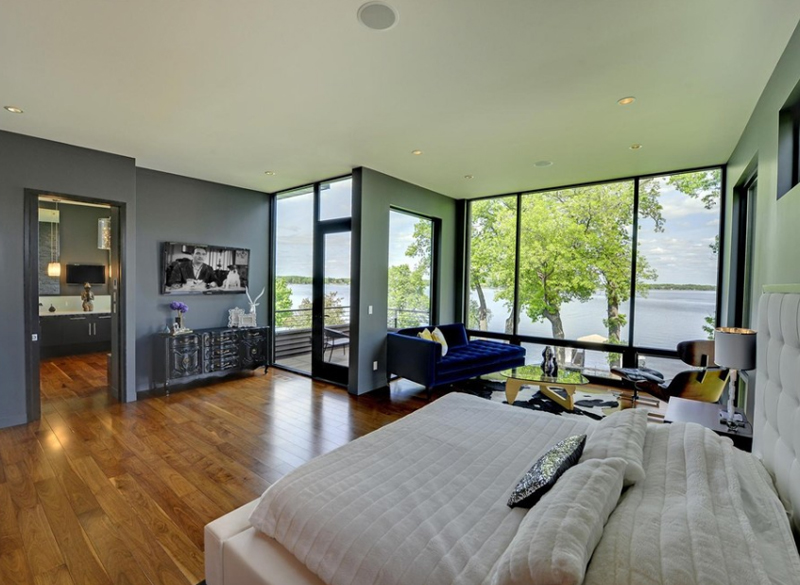 I know that it might be a bit farther in this photo, but I'm sure that you can see the blue lounge chair clearly in here. The royal blue color is just nice – it stands out in this space where we see neutral colors surrounding it – aside from the beautiful view outside – which me realize that the position of the lounge chair is just perfect!
12. Modern Minimalist Beach House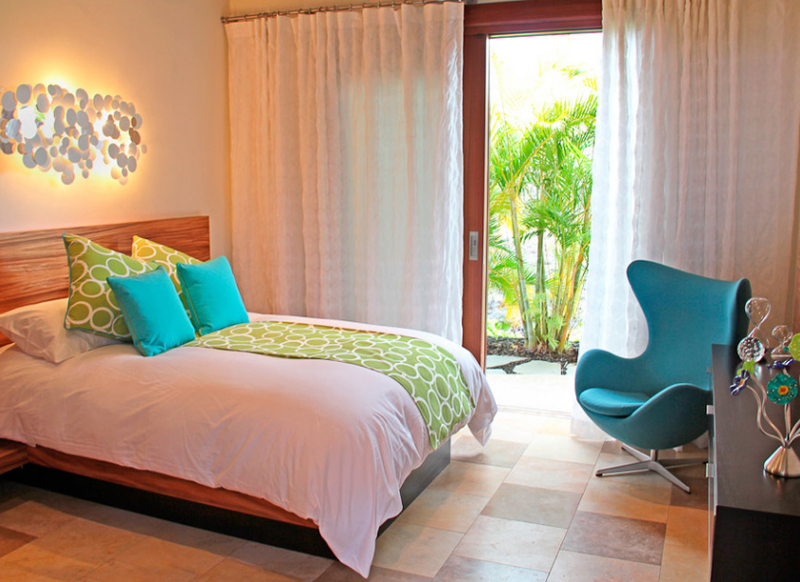 The colors seen in this bedroom is quite fun! Blue and green is definitely a popular combination that works well, especially if you find those two tones that would really blend together and nicely complement one another – just like in this bedroom. And, oh, by the way, I love the egg chair in this bedroom photo.
13. Modern Moroccan Condo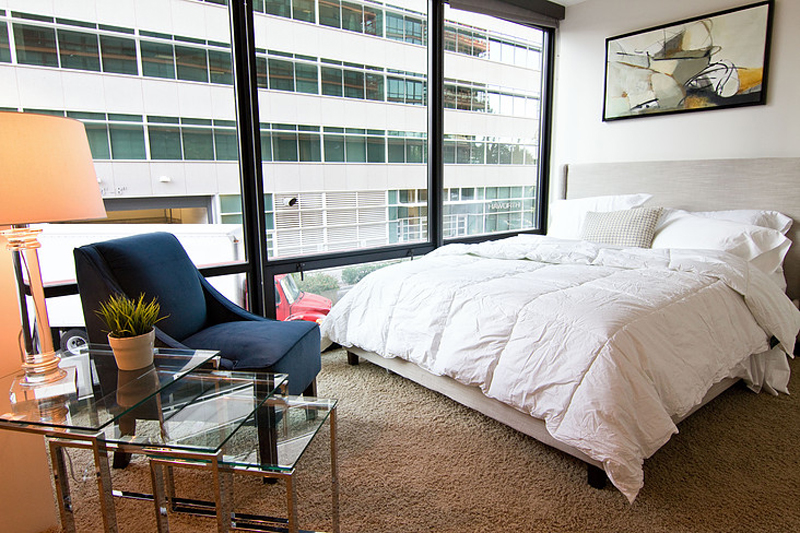 Have you seen the latest installment of Captain America? Remember the building where the King of some country was killed in a bombing? The other building which we see by the large window somehow reminded me of that. Staying in a hotel in the middle of the city is nice once in a while (well nicer if you're used with it), but I think I would still prefer seeing trees outside my bedroom window.
14. Mt. Tabor Tudor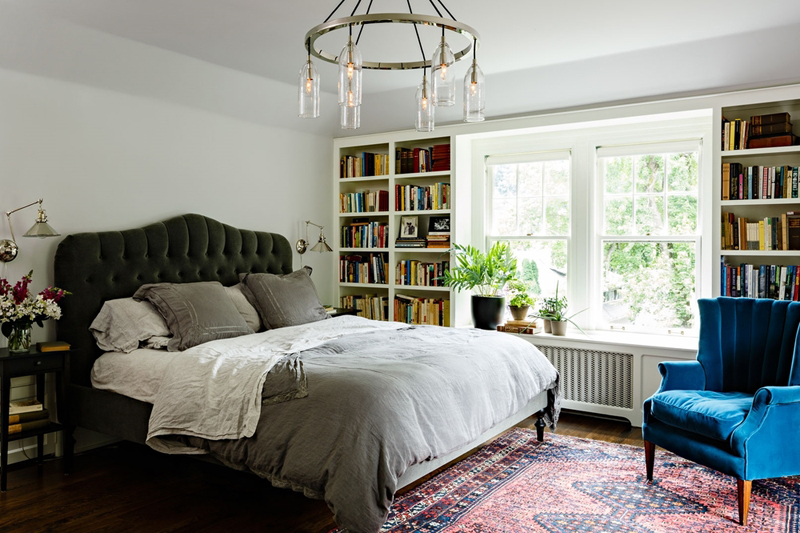 A high back blue arm chair is adorning this simple yet homey bedroom. The large bed with those two large bookshelves on each side of the windows is just a wonderful sight to wake up to every morning. If you ask me, I think that if this bedroom had a different color for the bed, I think this would prettier; but then again, the blue arm chair pops right out and it's just so cool and fun!
15. Newport Beach Vacation Home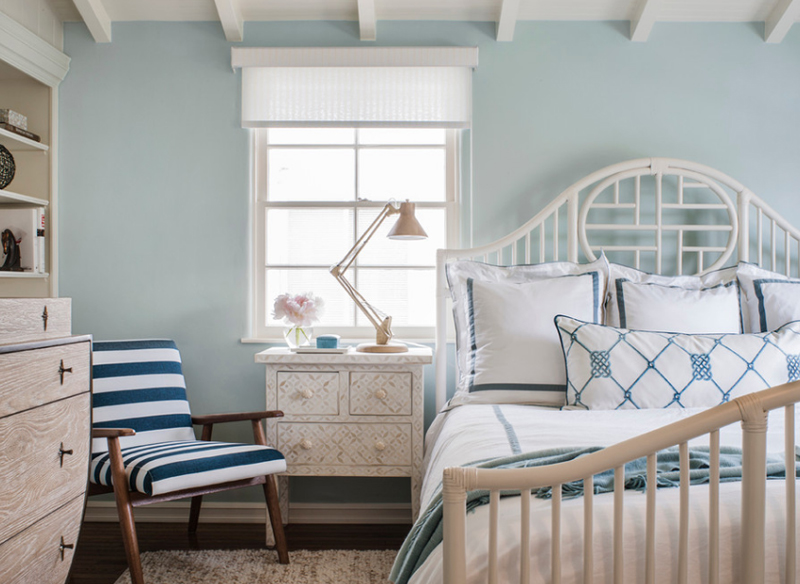 I personally like the light colors in this bedroom – the white and blue combination especially on the pillows are charming. Aside from this vacation home being by the beach, I think the color combination is just superb. I also love the striped arm chairs that is just beside the night stand.
16. Pocono Residence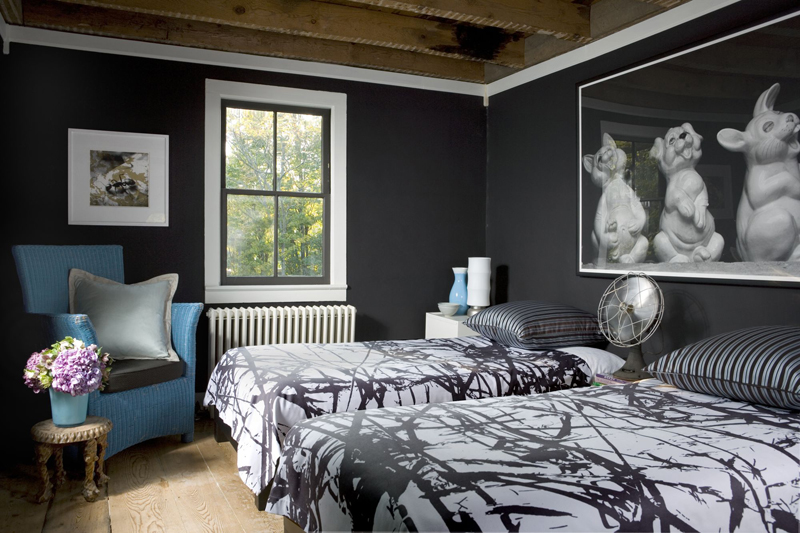 With a color palette to work with (maybe from the client or their suggestion), designers are able to manipulate how one space can actually look like. In this case, we can see how the matte black and light grays create that feelings of darkness but this was lightened up by the softer shades of blue and white (and maybe the flowers too!).
17. Rockwell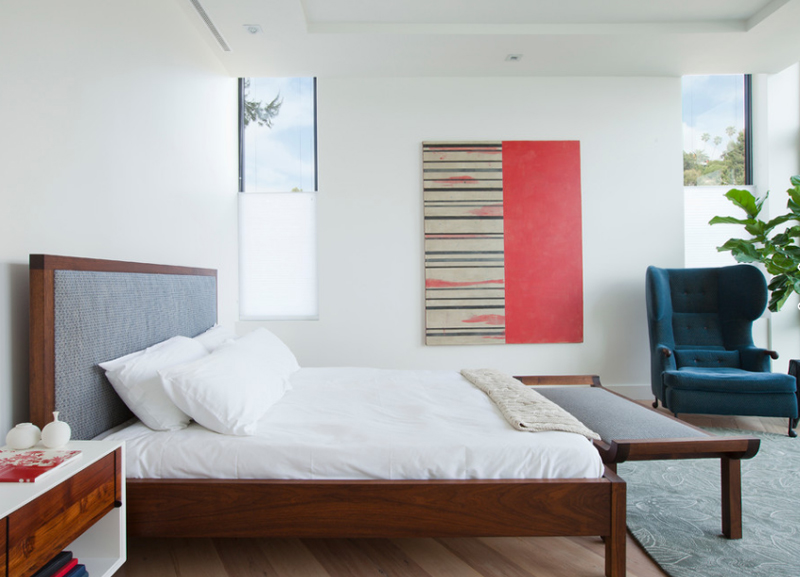 In a contemporary, white bedroom like this one, designers and home owners would be able to really play and experiment as to what they really want for the certain space. Like I said once before, an empty room is a blank canvass that designers can really do their magic on.
18. The Sterling
The velvety blue accent chair in this bedroom sure is pretty. If you might have noticed, this bedroom has the most neutral colors used on the walls, the floor and even in the bed sheets. The large mirror in here is quite a charming piece that completes this bedroom.
19. Walper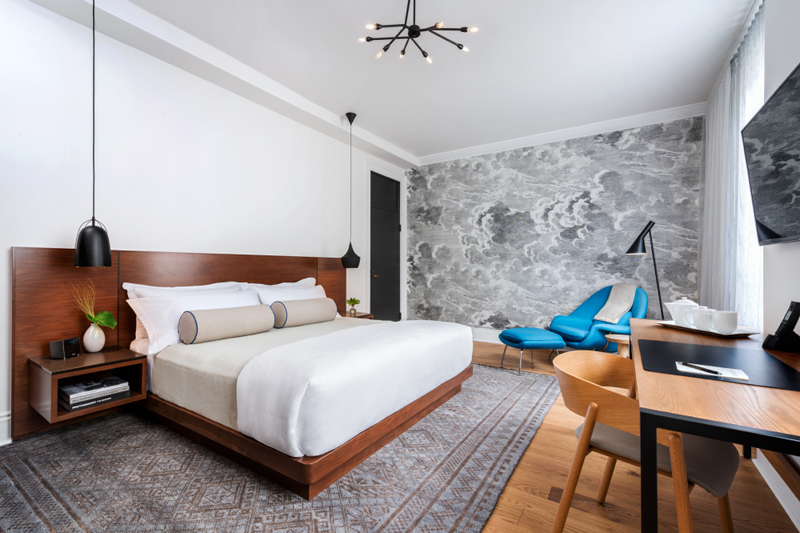 This bedroom has a cute set of furniture which you most likely will not easily find in the market. I love the beautiful base, headboard and night stand and the accent painting on the wall – or, well, the wallpaper, I guess. This bedroom is a beautiful example of a contemporary bedroom.
20. Wicker Park Historic Restoration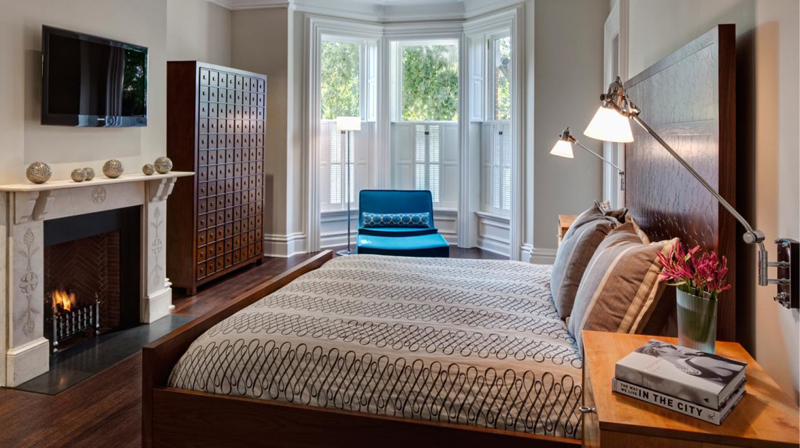 The accent blue chair in this bedroom sure is different from everything inside this space that's why it's pretty much the center of attraction or the conversational piece in this space. I love how accent chairs bring about difference in one space and make it all better.
Lounge chairs, arm chairs, egg chairs – whatever the name there is for chairs – these are all chosen for the very primary reason – comfort. As part of the relaxation package we want out bedrooms to offer, I think having a cute accent chair in there completes the look and feel we are always aiming for. With that in mind, I bid you adieu, and until then, check out the 20 Inspiringly Charming Blue Living Room Chairs and share them with your friends!