Sail On With 15 Nautical Themed Bedrooms
Want to give your bedroom a makeover? Or you might be currently thinking of a good bedroom theme, well, we will give you one idea that you could try. If you have that inclination to boats and other nautical items, then why don't you try a nautical themed bedroom? It isn't just for kids or teenagers but it can also be good for adults too.
For today, we have gathered some bedrooms that are nautical themed. Each bedroom design has different approaches on how they applied the said theme. You will surely be happy to know that there are a lot of ways to do it your way! You don't even have to spend a lot especially if you have a nautical collection. Now take a look at what we have collated for you.
Easton Village Model Home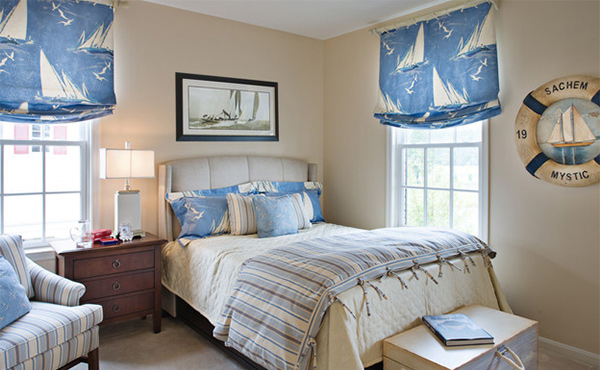 Combination of white, gray and blue is perfect for a nautical themed bedroom. Its use of sail prints for the curtains and putting up the life ring picture made it look even more nautical.
Country
Geometric patterns in navy blue and white matched with the sailboat coverlet gives that kind of impact the designer wanted. It also used nautical inspired lights on it headboard.
Easton House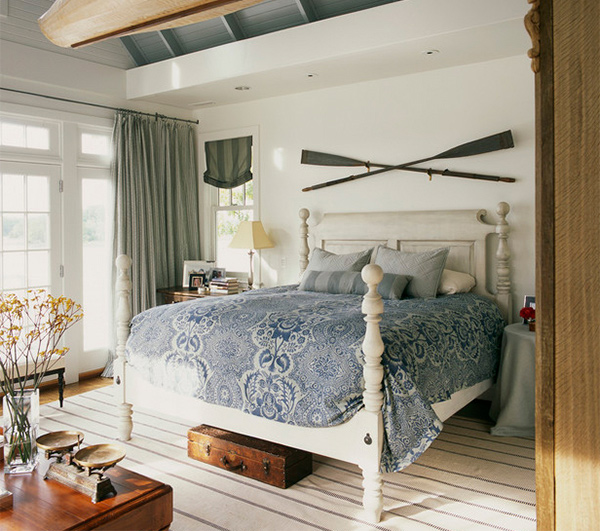 The canoe on top of the bed and the oars above the headboard are no doubt nautical in theme! The bed is from Ralph Lauren with a whitewash effect over grey base.
Belle Helene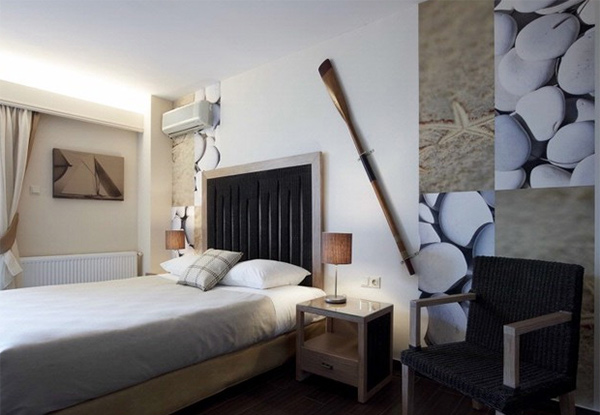 A modern nautical bedroom- yes, you can still make it look nautical even with minimal decorations in it. The oars and wall mural said it all.
Belvedere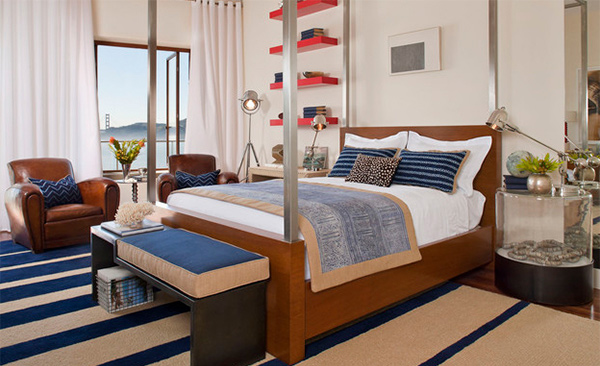 You don't have to see sails or oars to get a nautical bedroom. The tone of this contemporary stateroom has inclination to art deco era yacht.
Nantucket, MA Residence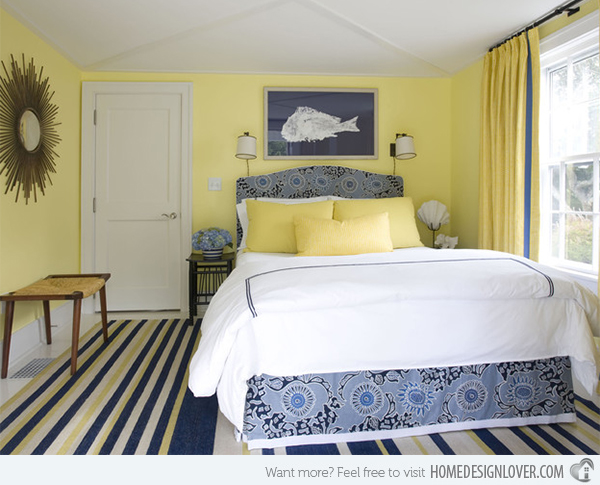 Custom colored rug in yellow, white and blue from Vanderhurd enhanced the look of this bedroom.
CC Traditional Bedroom Charlotte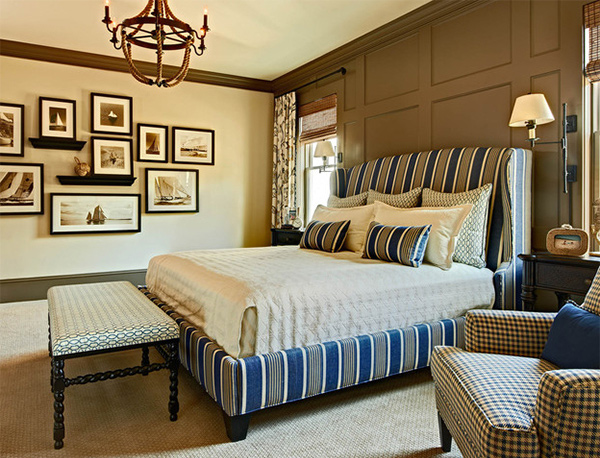 Nautical wall decors gave this the nautical look it wanted including the colors and patterns in it. The chandelier from Pottery Barn added a rustic feel to it.
Isle of Palms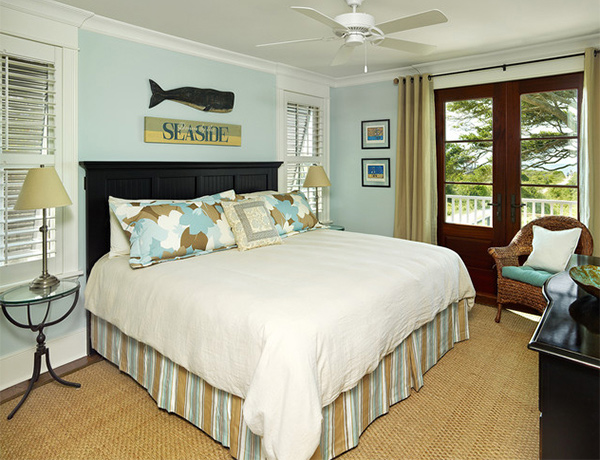 Pale blue walls, light color combos, white coverlets, colored dust ruffles, fish sign- all these complete the nautical theme of this bedroom.
Window Coverings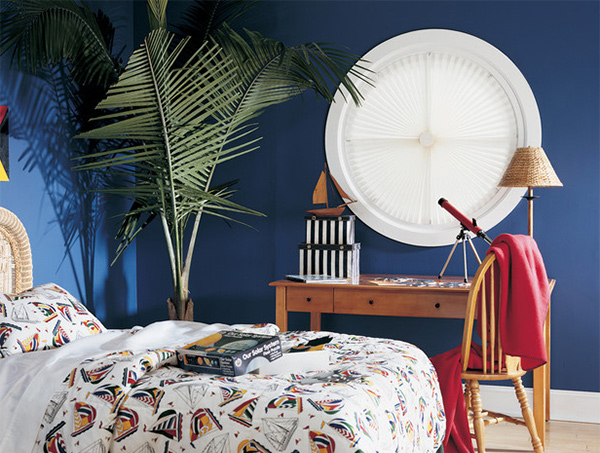 One look at this would tell you that it is indeed nautical themed. The duvet covers in sail prints, nautical window and other decors in the bedroom gave that impact. We love the addition of the palm tree in this room.
Fintastic Aquarium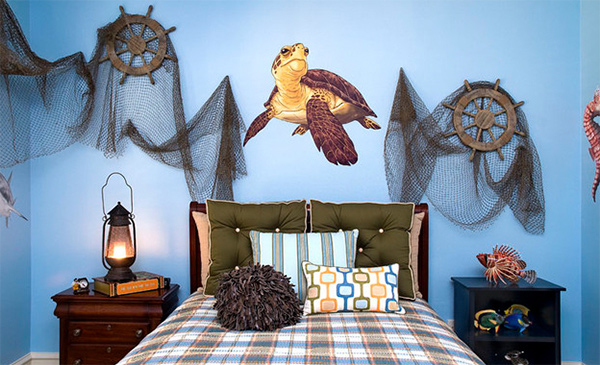 For sure you will immediately get the message of this bedroom. The turtle wall decal, captain's wheel, fish net, coral and other accents created an underwater and nautical appeal.
Nautical Navy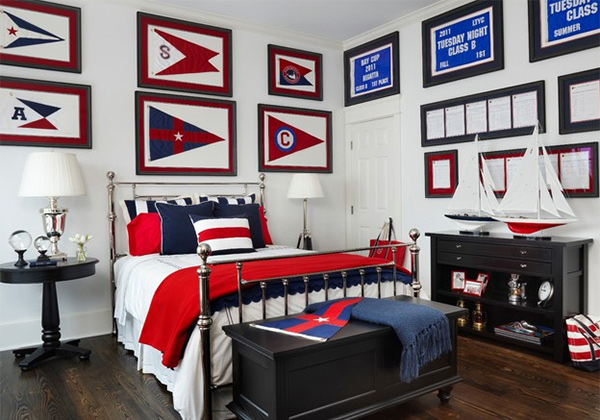 Navy nautical bedroom seen from its flag decors and color combinations. Even the lamp has a navy design on it.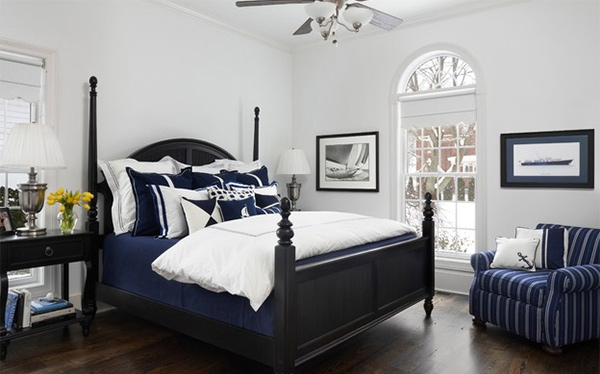 Shelf White wall paint by Benjamin Moore allowed the dark navy blue color to pop in this room with a nautical navy concept.
Valley Street Duplex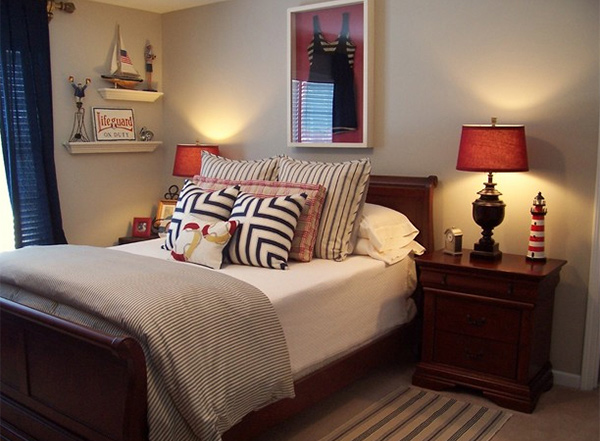 A vintage swimsuit as wall art fitted to the theme of the room. The pale gray walls are a nice background for the navy colors in it.
Atwood Residence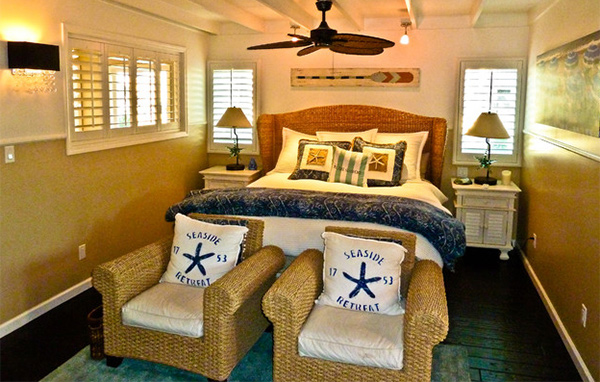 Beach and nautical themed bedroom with it accessories inclined to that like the throw pillows, oar wall decor and others.
Anita Roll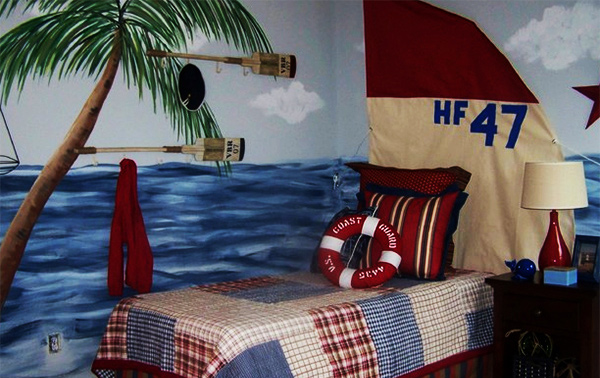 This bedroom is indeed nautical themed! The wall mural, oars on the wall, life ring on the bed and even the colors were all so nautical in appeal!
So if you are planning to have a nautical themed bedroom, this list will surely give you ideas on how to do it. You can actually just pull off decors or even just combine nautical colors. There are many ways to do it like what you have seen in the bedrooms above. Aside from going nautical, why don't you try checking on sports inspired bedroom? Just in case you feel a bit sporty.