20 Ways to Create a Gallery in Your Bedroom
There are many ways to decorate the walls. It can be done by adding wallpapers, painting them or adding wall decors. Aside from beautiful wall sculptures, one way to decorate a boring wall is creating a gallery. And a gallery can be added anywhere in the house, even in the bathroom! But today, we are going to show you a list of bedrooms with galleries.
For sure you have seen many bedrooms with photo frames on the wall. Most of them complete the bedscape or are just added to one side of the wall. We have collated pictures of bedroom interiors that made use of a gallery to decorate their private spaces. You would surely get ideas from the list below.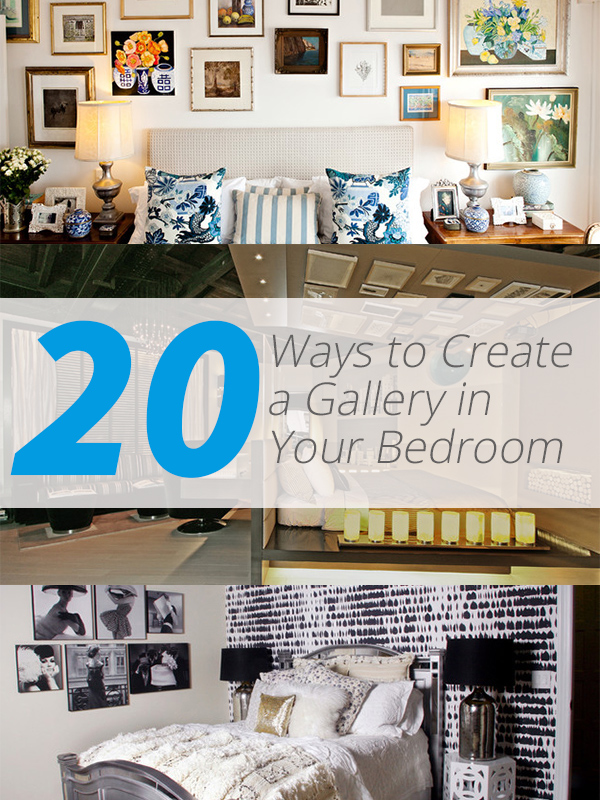 1. West Chelsea Studio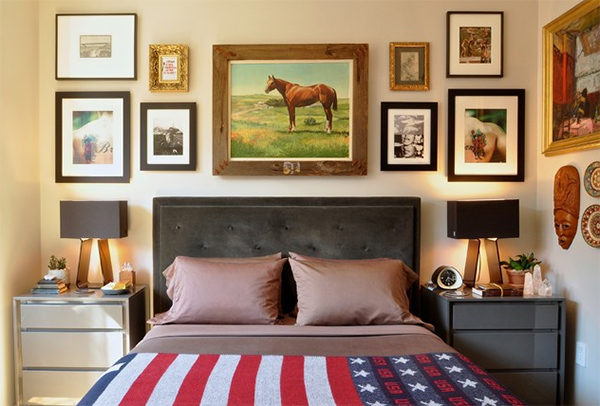 A sentimental horse portrait is the highlight of this gallery bedscape in a New York studio.
2. Urban Loft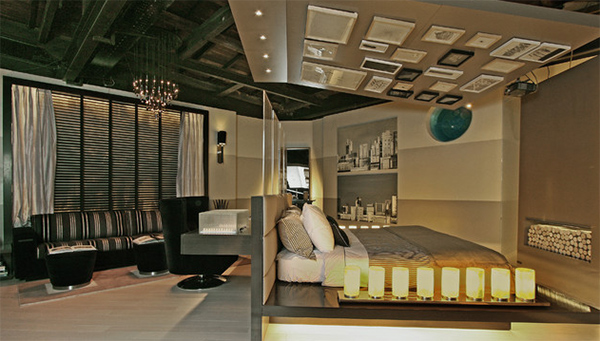 Who wouldn't love this idea wherein the gallery was placed on the ceiling above the bed?
3. Cheerful Bedroom with Gallery Wall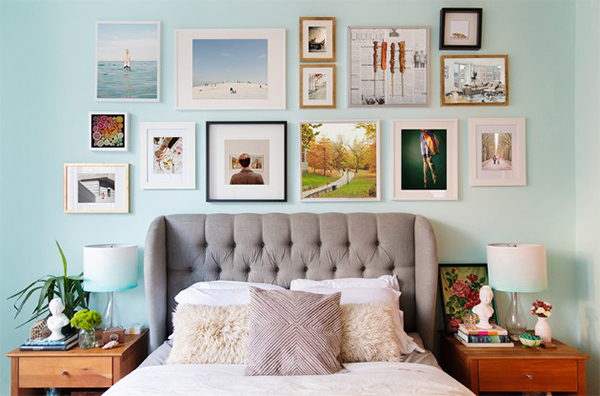 This is indeed a cheerful way to decorate the walls.
4. Fort Worth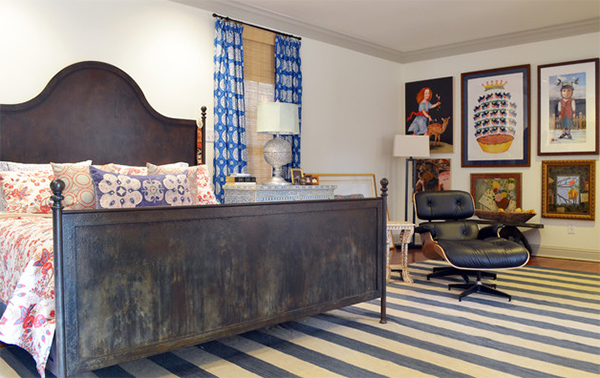 You can also add a gallery on one side of the like this one.
5. Retro Beach House in Florida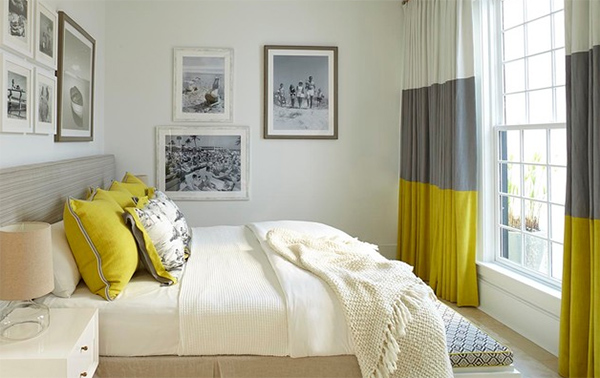 A wall-to-wall gray headboard surrounded by vintage black and white photographs.
6. Victorian Railway Carriage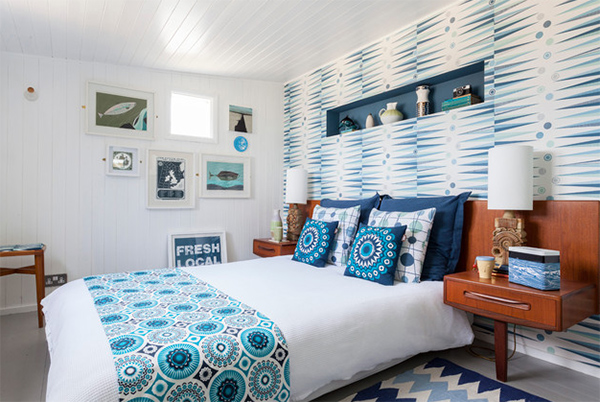 Bright blue fabrics add personality into the bedroom with a gallery near the small window.
7. Teen Room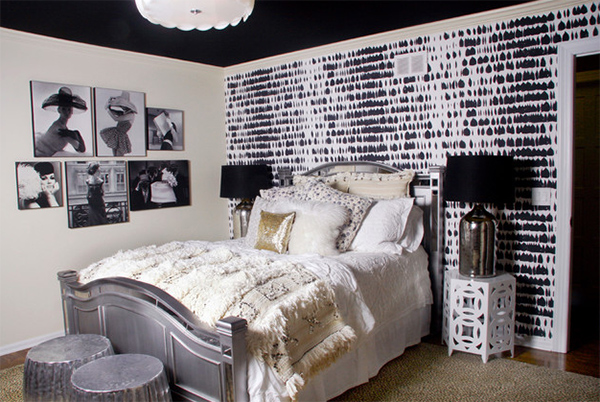 Aside from the beautiful wallpaper, that black and white gallery is lovely!
8. Leslie Hunt – Westwood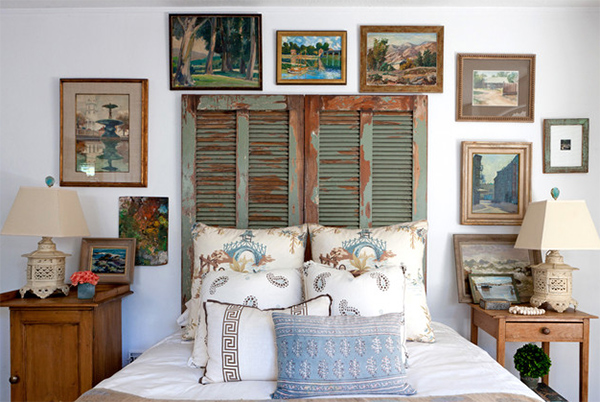 Combining an antique shutter and gallery wall creates a gorgeous bedscape.
9. Rye Dutch Colonial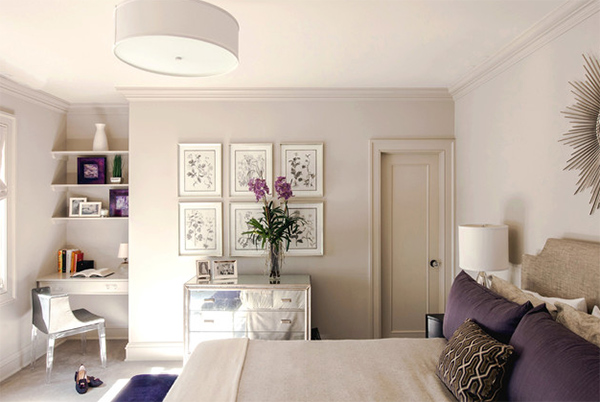 Pretty flower prints were framed to add blossom to the gallery of this bedroom.
10. Gallery in Bedroom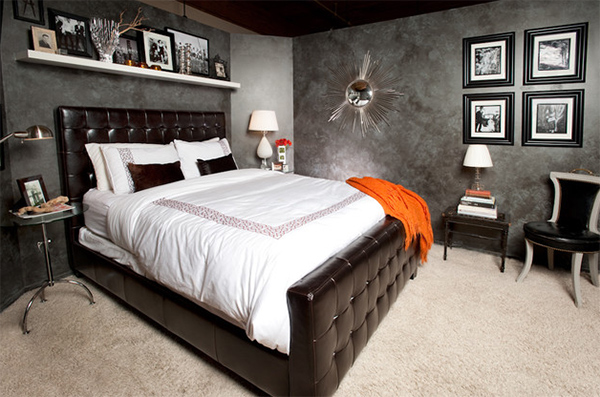 A photo shelf and framed photos on one side of the wall. Lovely!
11. Union Square Loft Bedroom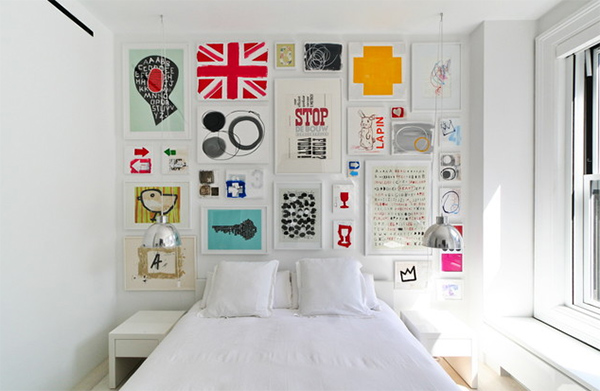 Love the look of this bedroom with all those photo frames!
12. Bungalow 5 Designer Spotlight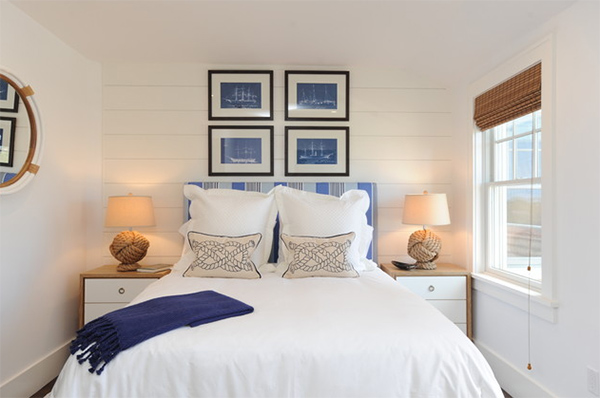 A nautical themed bedroom with a mini gallery above the headboard.
13. Hilda's House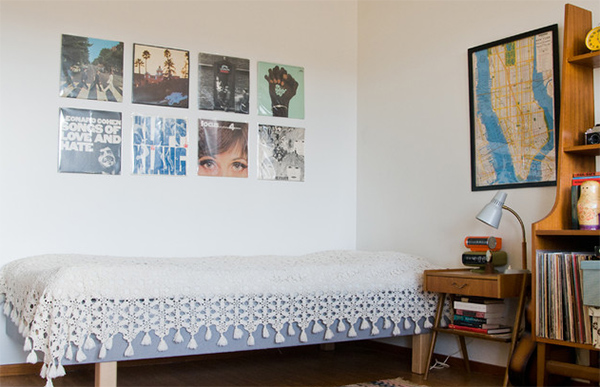 You can simply gather some photos you like from a magazine and put them on the wall.
14. Sarah Greenman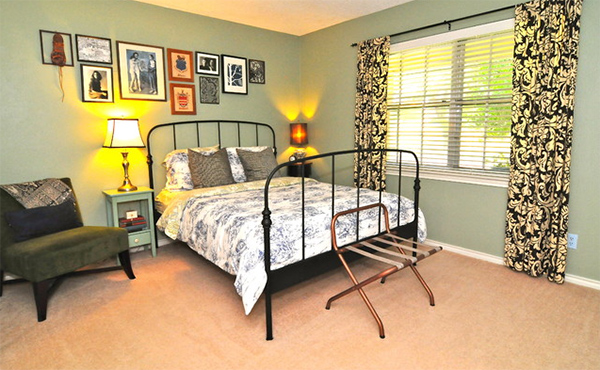 An interesting wall grouping of photos above the headboard.
15. Bestumveien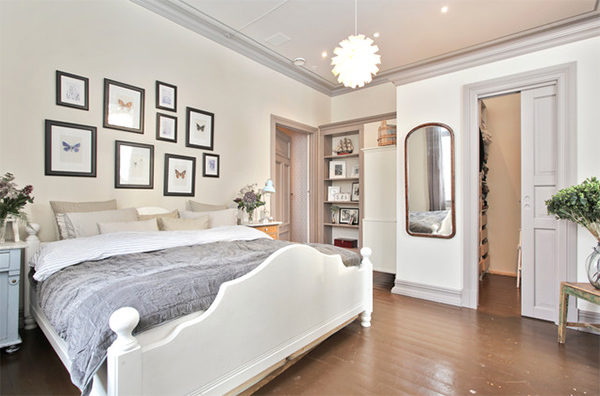 A beautiful transitional bedroom with a gallery of butterflies.
16. Finlay Eichler Major Remodel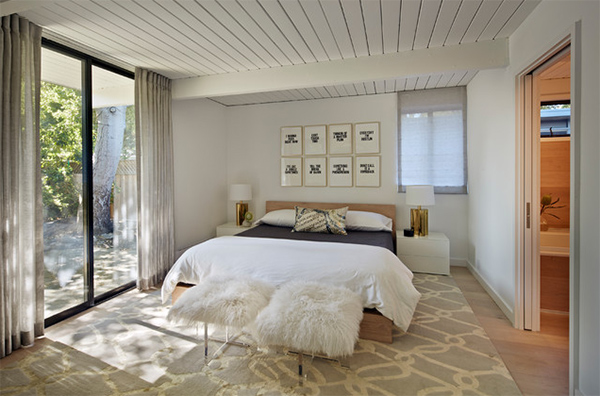 Frame photos of quotes could also be a lovely decor for the bedroom.
17. Bayside House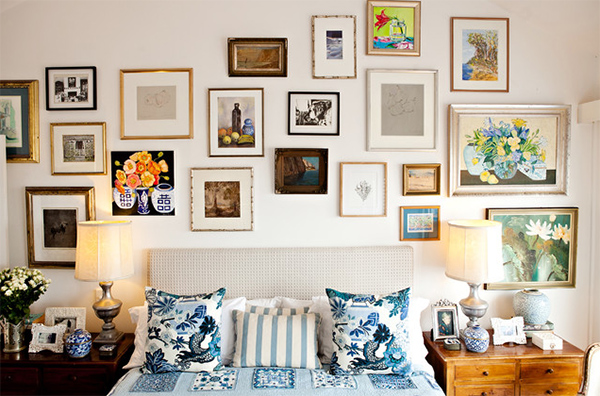 Using photo frames of different sizes would be an amazing addition to the bed.
18. Pittsburgh Family Home Makeover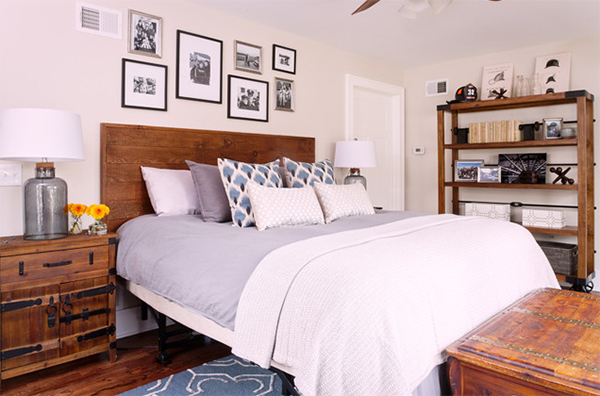 A beautiful traditional bedroom with black and white frames. The color scheme of the bedroom is lovely too.
19. Avila House Tour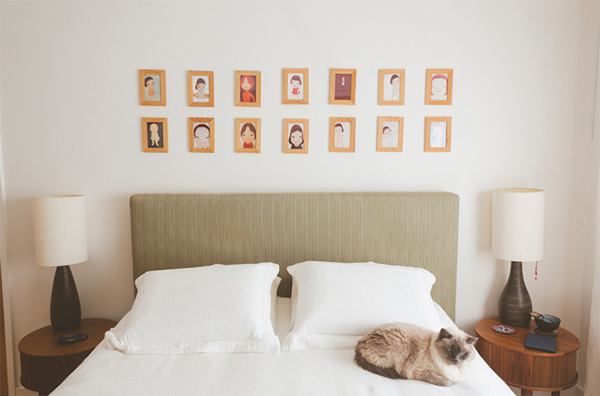 A cute way to decorate the bedroom using small photos.
20. The Olivers House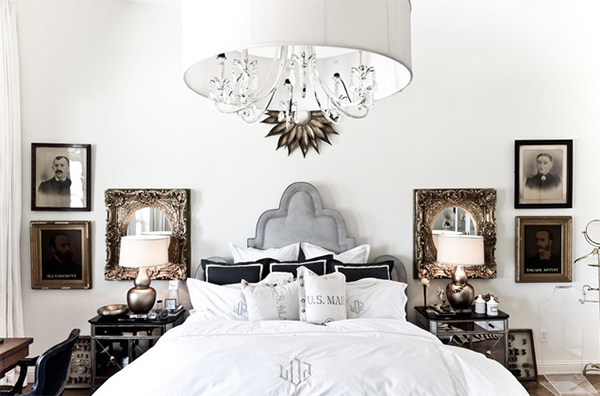 Another good way to add frames to the wall is to observe symmetry like this one.
Isn't this list beautiful? There are indeed many ways to decorate the bedroom with frames. Creating your own gallery is one way to spice up the bedroom using photos you have printed or cut out from magazines. You can also frame your collections as well which is a good way to showcase them. You can use different sizes of frames of similar sizes. Do you like the idea of adding a gallery in your home?