15 Refreshing Bedrooms in Yellow and Green Colors
Colors play a huge role in creating the kind of atmosphere for a space like how white could result into a serene ambiance and how red can make a room look bold and even romantic. We have so many colors to choose from and for sure, you will be able to pick the right colors for your very own bedroom even the number of choices are limitless. We will give you one idea for a color combination today. That is the use of yellow and green for your bedroom.
Yellow is happy color and green is coordinated with nature. When you combine both, you get a lovely interior that exudes a bright and refreshing look. We have gathered bedrooms of those colors for today's feature. You are about to see bedrooms that range from modern to traditional ones and even master bedrooms to kids bedrooms. Whatever your private sleeping area is, the colors yellow and green are perfect patterns in adding life to your space! Take a look at the list we have below.
Dennison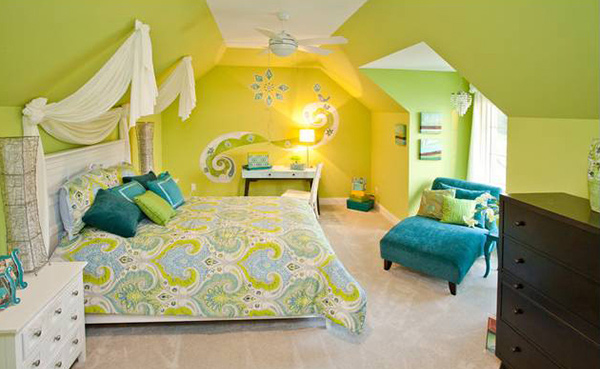 The swirly wall decor in this bedroom brings out the artistic side of the owner. With the lamp on the vanity table, the wall art seems like to sparkle.
Shingle Style House, Historic Seaside Town, Rhode Island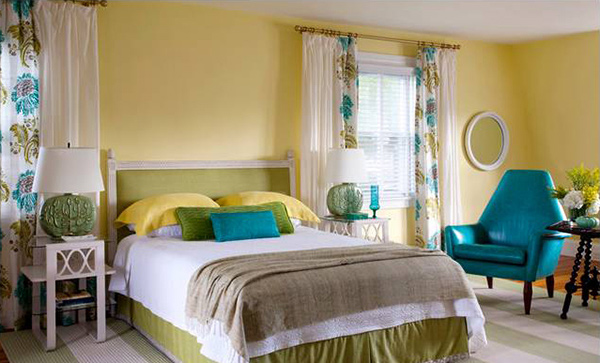 The drapes were important elements in this bedroom as it add more colors to the space but the yellow wall and the green accents really pops out.
Volo Green and Yellow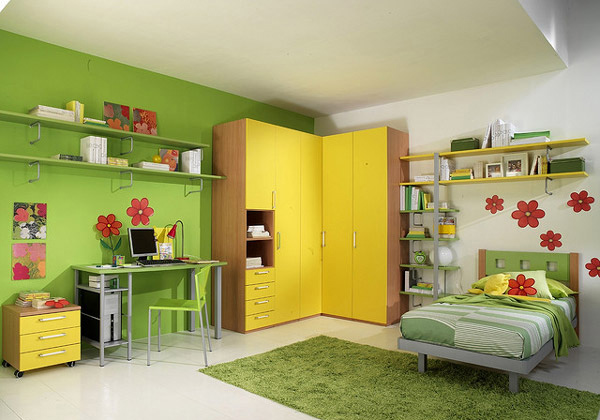 One playful bedroom in yellow and green. The floral wall decors which are also distributed in other areas of the bedroom are lovely.
Yellow Green Teen Bedroom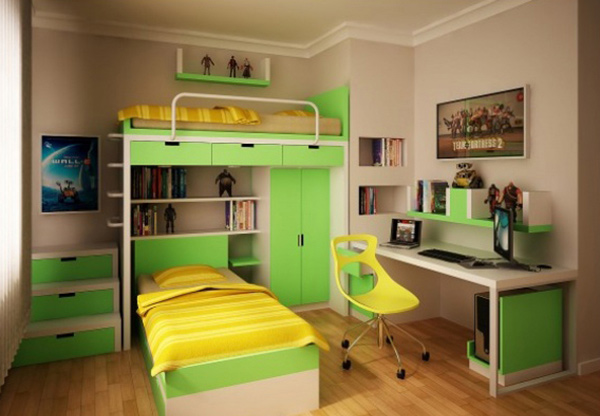 Your teenage boy will love a bedroom like this since the colors are very relaxing to the eyes.
Cedro and Zafferano Bed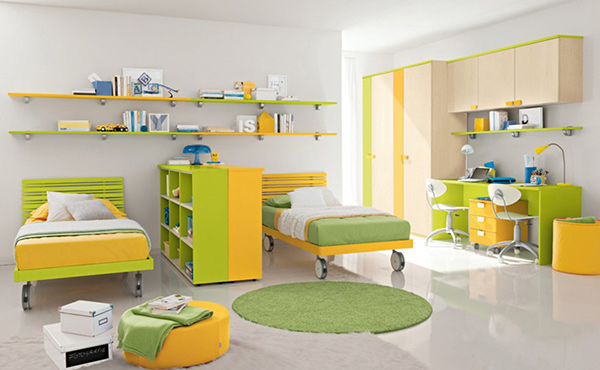 Aside from the yellow and green colors, note the stripes on the headboards wherein the usage of colors were inverted for the other headboard. Nice, right?
Coastal Project 1
It seems that this bedroom shy away from too bright colors and opted to us lighter ones.
Green and Yellow Guest Room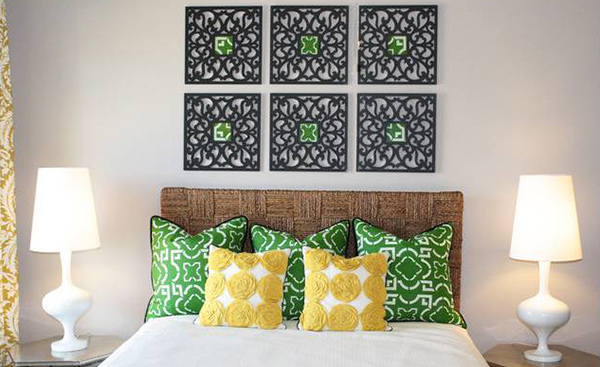 The wall art on the bedroom is very creative as it used fabric from the green pillows.
Bedtime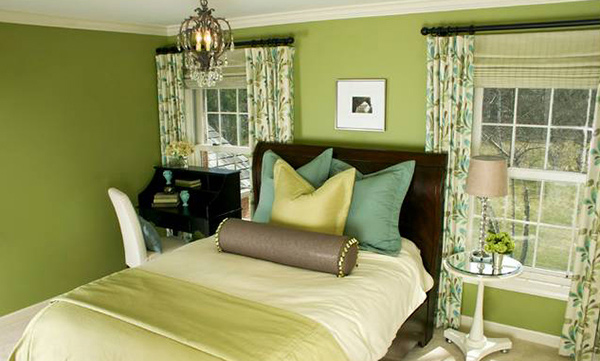 Green walls and yellow fabrics on the bed matched well. That chandelier is a dramatic addition to the space.
Pistacchio, Lavanda Bed
Green, yellow and blue is seen in this space. Guess what, blue looks good in it because when you mix yellow and blue, green is born!
Calming green master bedroom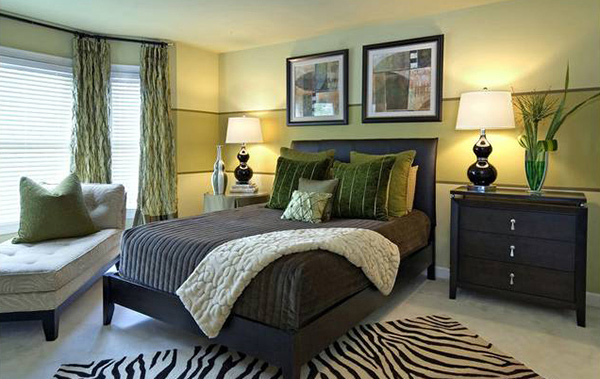 The stripe on the wall bear yellow colors in different tones. The green throw pillows on the bed are perfect accents to this space as well as the zebra printed area rug.
Heart Traditional Style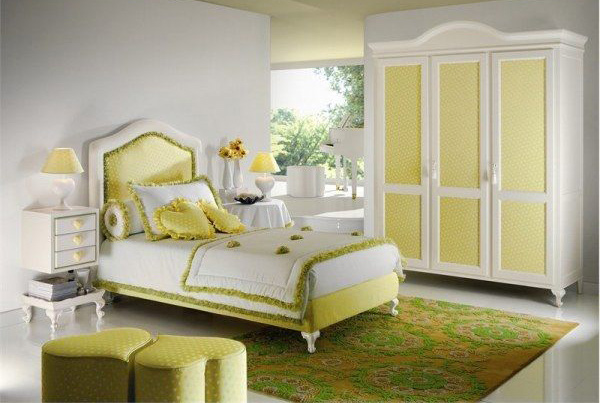 If you have a heart themed bedroom, it doesn't necessary mean that you place heart in every corner of it. This bedroom has heart pillows and ottomans which looks totally nice!
Master Bedroom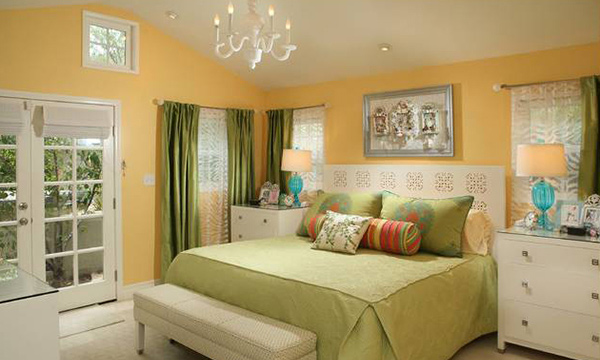 The headboard of the bed has a unique design and is enhanced by the yellow walls and green drapes.
Beach House Bridgehampton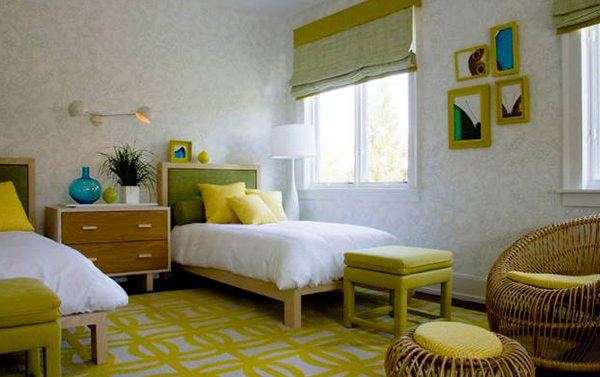 Yellow pillows and patterned carpets sure are perfect for this bedroom that has pops of lime green everywhere!
Bianco-Opaco, Zafferano and Pistacchio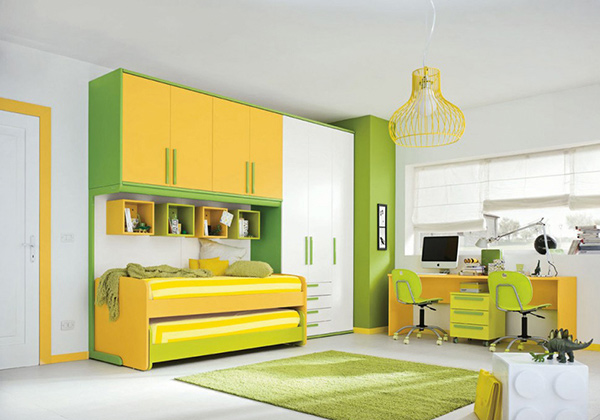 A modern bedroom for two little kids who were given their own study space and beds.
Play/Guest House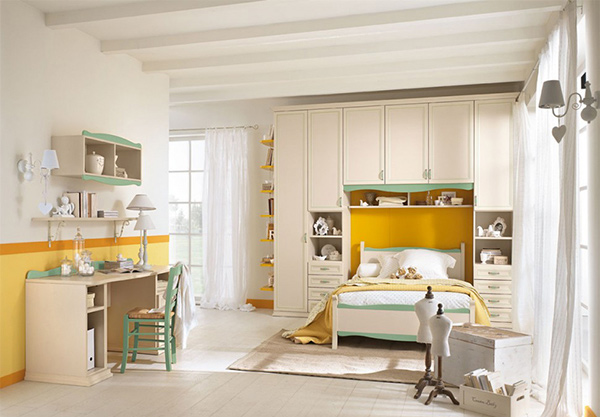 Got a white bedroom? No problem, you can place a subtle addition of yellows and greens like what is seen in this bedroom.
Lovely. Just lovely. We really like how yellow and green looked together. You may have noticed that the yellows and greens in them come in various shades and tone but whatever these are, they are all conceived from yellow and green. You can even see turquoise, lime green, light yellow and some are near ochre. So, which is your favorite bedroom from the list above? Want more inspiration? Come back for more here on Home Design Lover because we still have a long list of inspiring posts to share with you!