15 Industrial Bedroom Designs
Industrial bedroom design is an urban signature that combines simplicity and authenticity. It is eccentric that it can showcase different kinds of elements and yet comes out with character and charm. Industrial bedroom design incorporates utilitarian edge with rough textures and sometimes aged woods. It may have a modern or traditional touch but mostly it features raw or unfinished materials. It may also have concrete floors and or walls but most of the time it has exposed brick walls to serve as a backdrop. It may also feature old wood beams and ceiling pipes to get that industrial punch, as well as sleek metal lighting and stainless steel accents.
If all of what was mentioned intrigued you, then there is no need to fuss. We have gathered 15 Industrial Bedroom Designs that can help us kick start the inspiration and get the look you are after. Browse through our gallery and discover the beauty of industrial style.
Black & White Apartment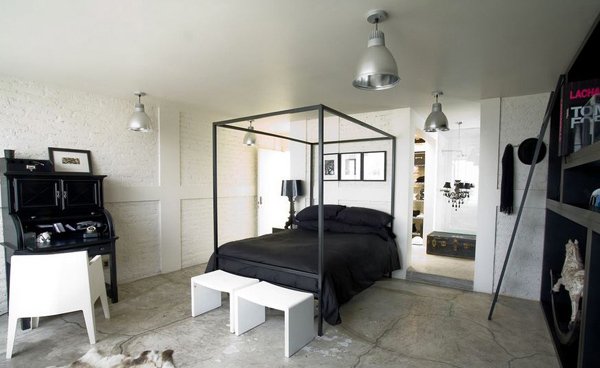 Create an edgy modern look with a black and white scheme, polished concrete and an industrial steel lighting.
Von Hagel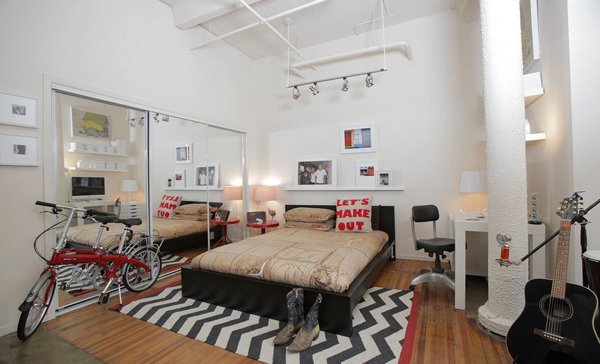 The high ceilings and stark white interiors create an airy atmosphere in this industrial chic bedroom design.
Industrial Bedroom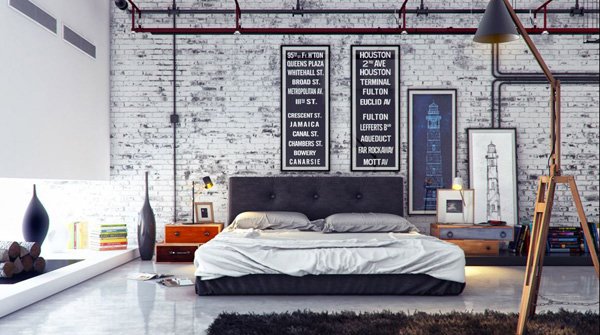 This space offers a glamorous appeal to the industrial interiors. The exposed brick walls and ceiling pipes are soften by the addition of a faux fur area rug and large-scale art decors.
Lucy Call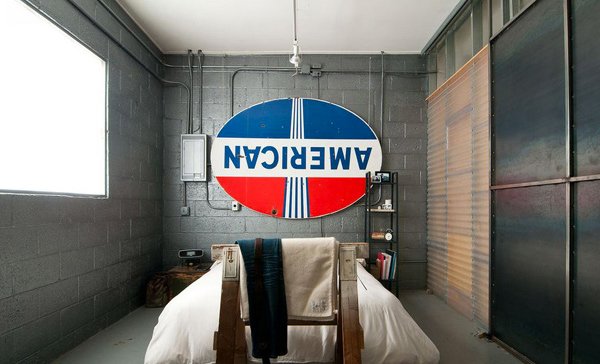 Get the gritty appeal with this gray-scheme industrial bedroom design.
Bedroom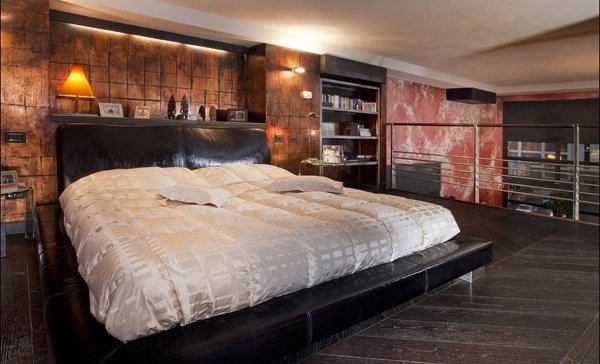 The rustic appeal and the textures in this industrial loft bedroom design create an air of modern grandeur.
Blalank Studio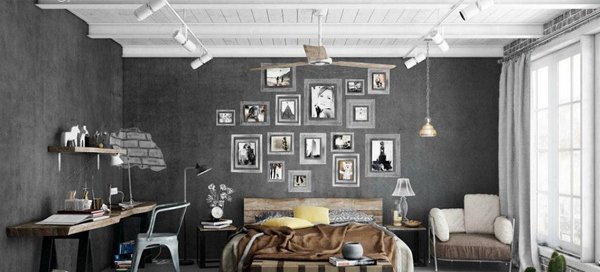 The addition of wood and white ceiling creates a warm tone and balances the cold charcoal gray scheme of this industrial bedroom.
Renovation Design Group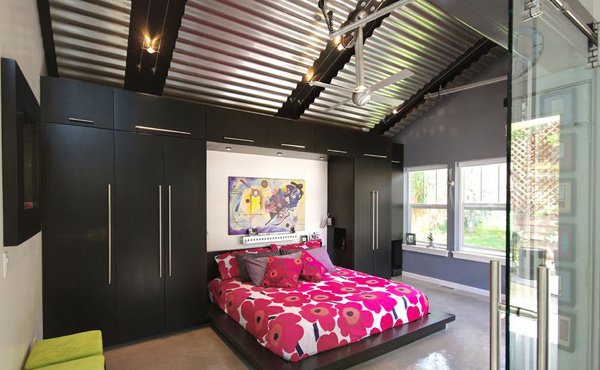 This super-stylish industrial bedroom with steel ceiling panels, stainless steel propeller fans, a glass garage door and a striking combination of colors is perfect for an urban chic glam.
Igor Sirotov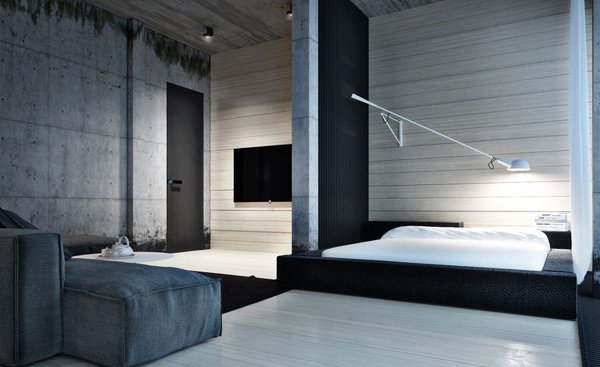 This space is a perfect style if you are looking for a modern minimalist industrial bedroom design.
Bohdan Townhouse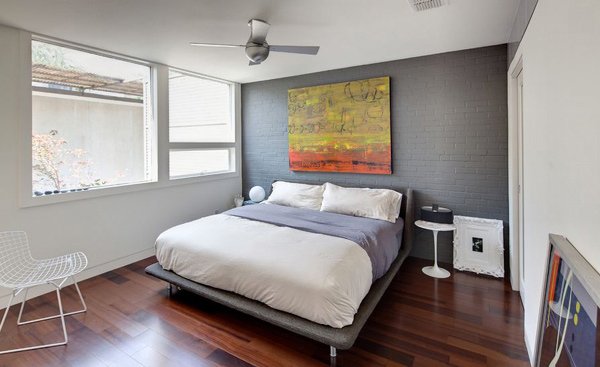 Here is another modern minimalist bedroom with a twist of industrial style that uses gray and white to accentuate the artwork so it can take the center stage.
Chatham House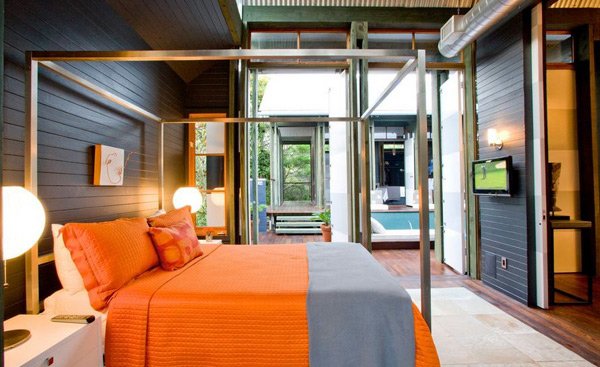 Give a punch to your industrial bedroom by choosing bold colors to fight the usual cold scheme of stainless steel and neutrals.
Stacy Weiss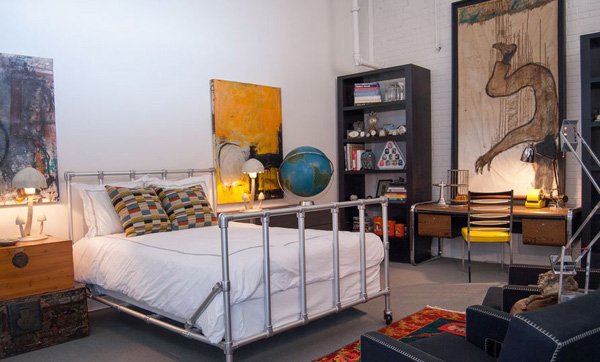 This industrial meets vintage setup bedroom is brought to life by using vibrant and compelling art.
Maxim Zhukov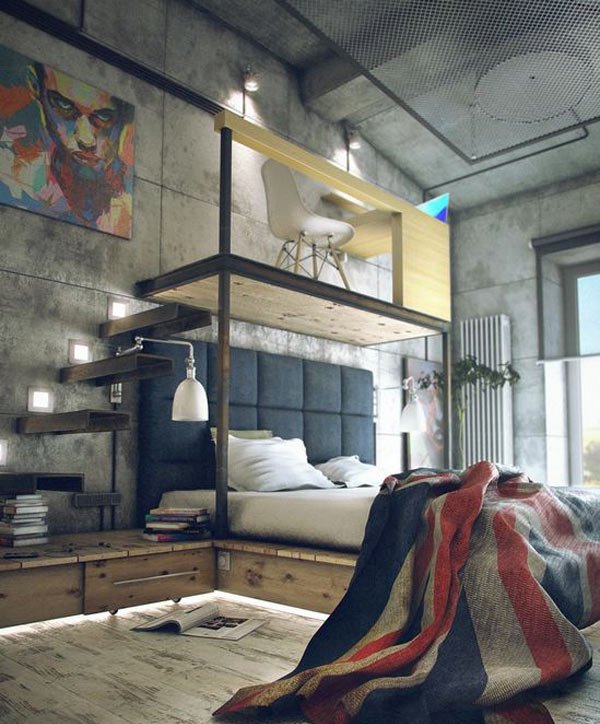 Talking about maximizing space capacity in style, this industrial bedroom design says a lot.
South Philly Row House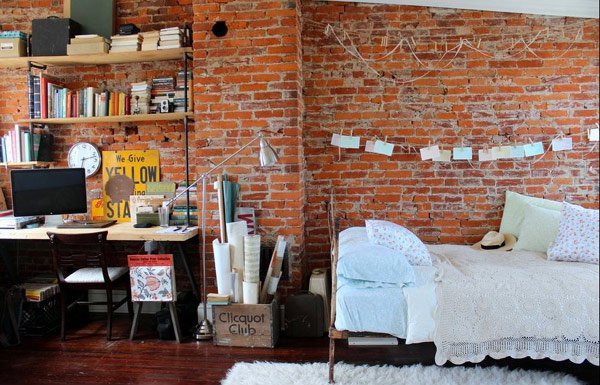 We love the industrial and vintage feel in this bedroom design. The combinations of unexpected elements that work well create an eccentric touch.
Eyebrow House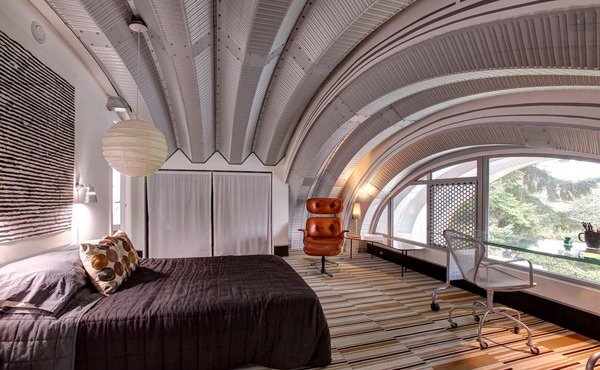 The steel arches and modern furniture create a futuristic appeal to this industrial bedroom design. An amazing, one of a kind creation by Papazian!
Ramon Zancanaro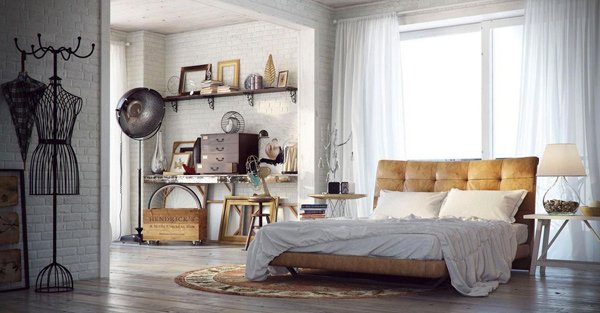 The mustard-toned soft leather makes a great focal point in this industrial yet full of vintage finds bedroom design.
There you have the beautiful list of 15 Industrial Bedroom Designs we collected for you. A lot more designs and ideas to expect here in Home Design Lover! We hope that you have a great time browsing our gallery of wonderful, peculiar mixture of different eras in a stylish industrial bedroom design.