15 Storage Bench Designs for the Bedroom
Bedrooms has to be free from clutter. Well, it doesn't mean that just because the bedroom is a private area that you will just leave it untidy and unorganized. You have to make sure that the bedroom is kept clean and the stuffs are arranged well. This is vital in order to maintain a good environment for resting, sleeping and relaxing. You can achieve this by regularly cleaning and keeping clutter in your bedroom. You also need to have enough storage areas.
One smart way for your storage is a bench because it is space saving and multi-functional. You will be able to have furniture for seating and for storage in one. Also, it can be a stylish addition to your bedroom especially if they have beautiful designs. We have collected some storage bench designs for your bedroom.
Skyline Furniture Cotton Storage Ottoman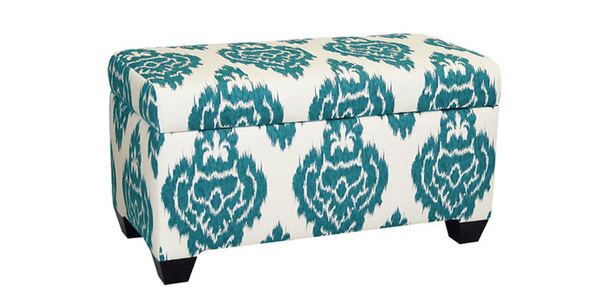 A storage bench with damask prints in green- this can be the kind you are looking for that would fit your bedroom's design.
Northlake Upholstered Storage Bench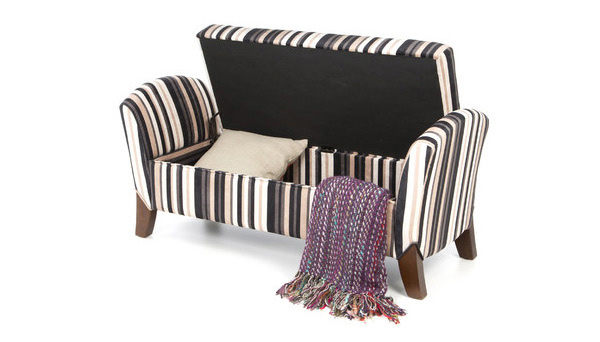 A striped bench in Cappuccino with a well-designed arm rest.
Gorgeous Fabric Storage Bench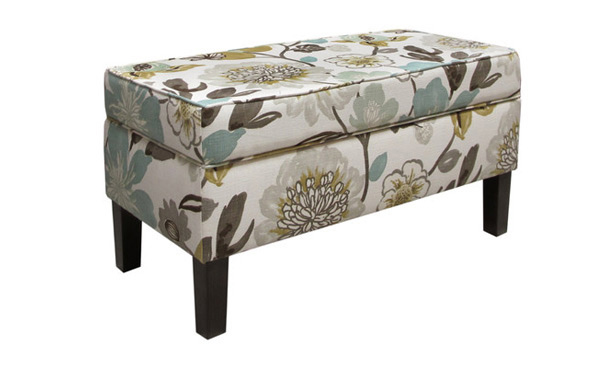 Get a luxurious contemporary look with this storage bench that sure is sturdy.
Custom Bench Rectangle Storage Bench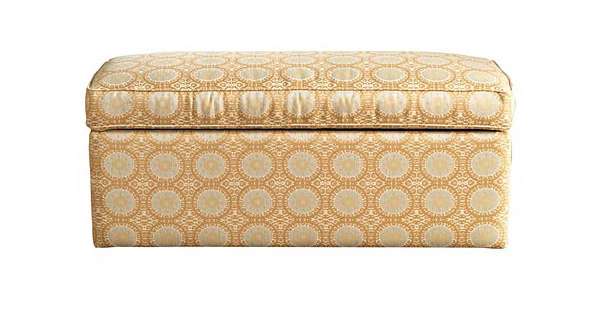 The prints on this bench are lovely and so feminine. It can be a good choice for your bedroom especially if the colors you use match with its shades.
Chevron Storage Bench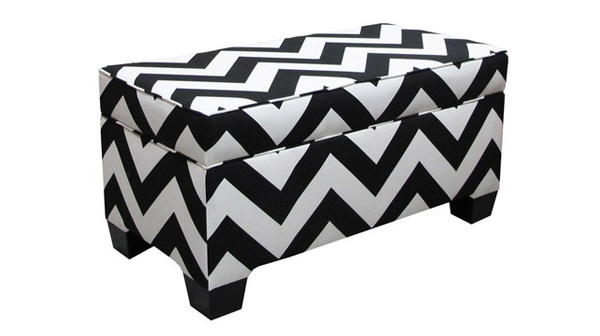 Geometric lines in black and white are an appealing touch for this storage bench.
Westfir Entryway Storage Bench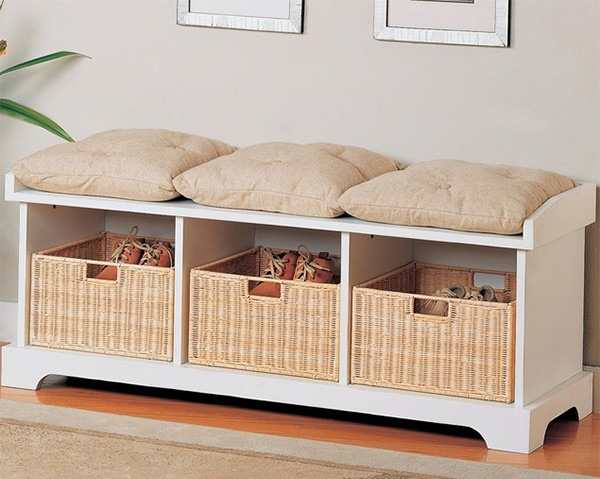 A different design for a storage bench but this one sure works well, too.
French Script Storage Bench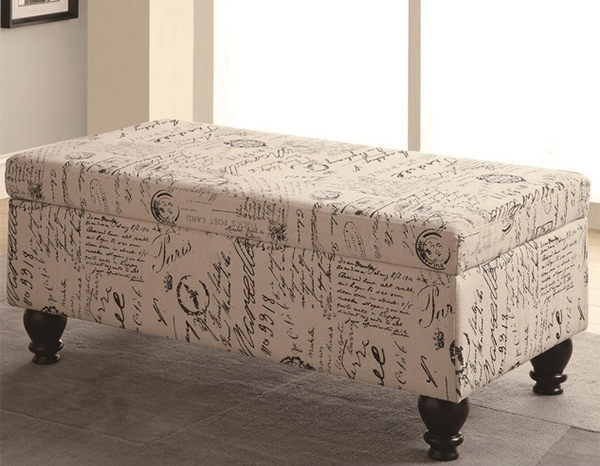 This storage bench looks so lovely and vintage-y. Having one could certainly help you keep your treasures inside it.
Mariolla Faux Leather Storage Bench – Red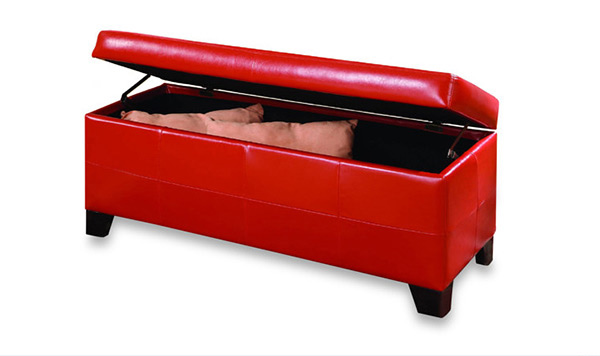 Add a stunning red bench to your bedroom with a big space under it for your storage.
Cognita Storage Bench by Herman Miller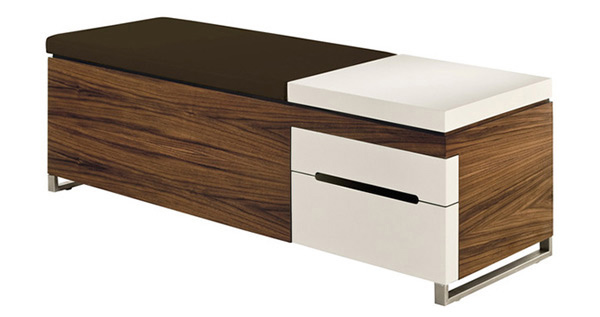 A wooden bench with modern design that also comes in red and white combinations but still retaining the wooden texture.
Phoenix Signature Tan Upholstered Bench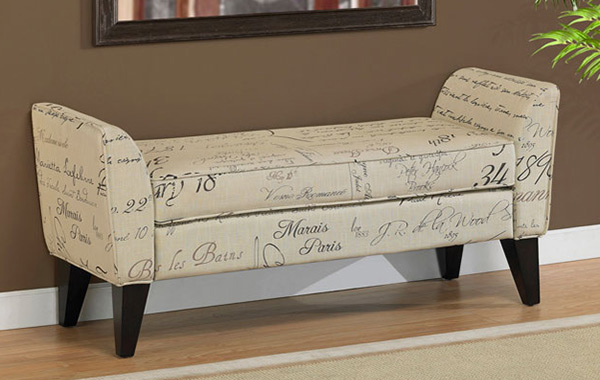 Vintage seating with some prints on it. This can be the perfect storage bench for you.
Skyline Furniture Skirted Storage Bench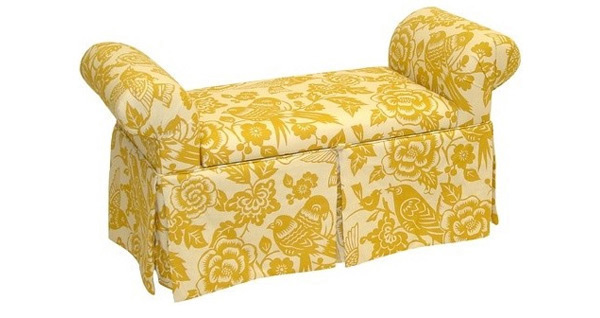 You won't see the storage area for it is hidden under the skirts. This color is lovely and would give a touch of brightness to your bedroom.
Cloud Fabric End Bench
Classical storage bench with drawers in it and intricate carving for the legs that matches the bed.
Kent Wall Hugger Storage
You won't just get a bench and a storage area in one but you will also have a fashionable addition to your bedroom.
Pulaski Tangerine 330 Bench in Sable Finish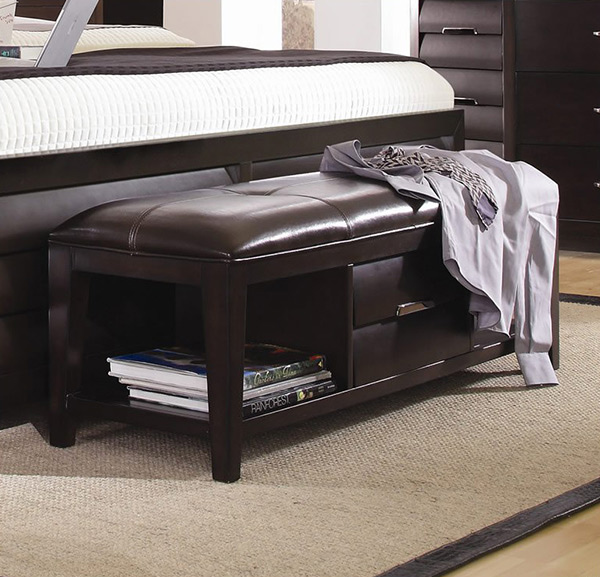 This bench has divisions under it to create a storage area. The padded seat sure is comfy making this bench dual function.
Wicker Storage Seat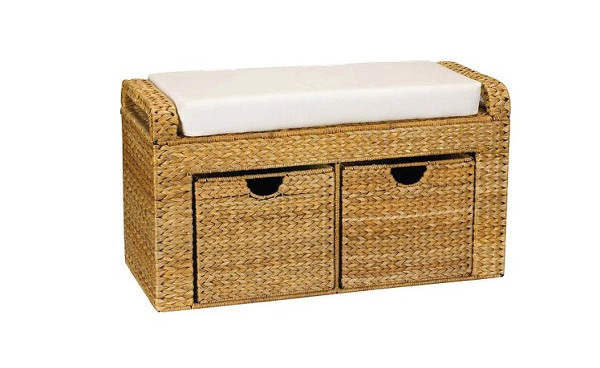 Get nature's touch by using a wicker storage bench for your bedroom.
Well, these are just a few of the storage benches you can find. There are a lot more of it that comes in different designs. Some designs that you see above can even be customized with the fabric you desire to use. You can match it with your bedroom's decoration, coverings and window treatments. Working on your bedroom's interior? Why not check some bedroom color schemes that you could use.