Summer Fun! 21 Relaxing Colorful Outdoor Spaces
When we think of outdoor spaces, what immediately comes to our mind is nature. Yes, aside from the natural scenario, we get to see some structures as well as furniture in the garden. Instead of using natural tones, why don't you make your outdoor space fun and relaxing and bright? You can do that by adding colors.
If you have an outdoor living room, a patio, or a sitting area in the garden, give it some makeover by adding colorful throws and decors. You can also add flowers with beautiful colors too.
For sure, with a colorful space, you will feel even happier and you would love to spend time with the family there. Here are some outdoor spaces we have collected that used different colors.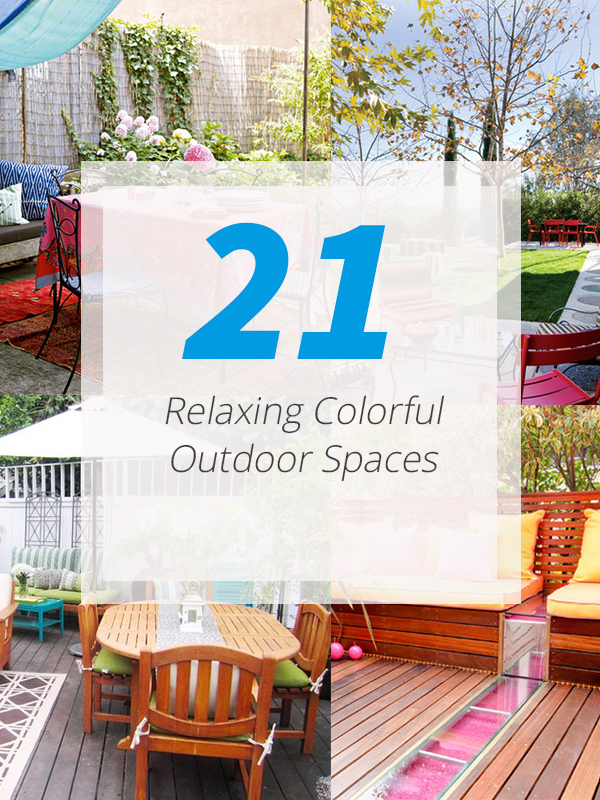 1. Decorate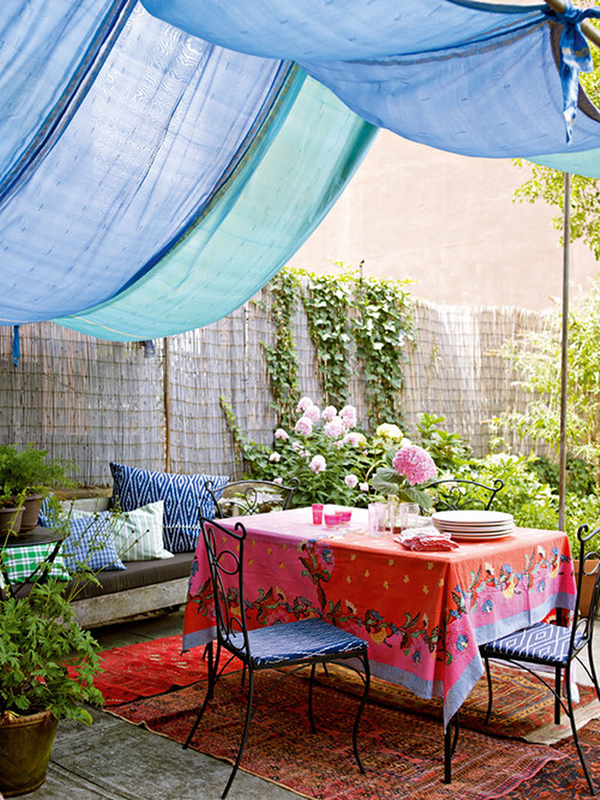 This outdoor space looks lovely with the fabric cover as well as the layered area rug.
2. Nina van de Goor's Home – Roof Terrace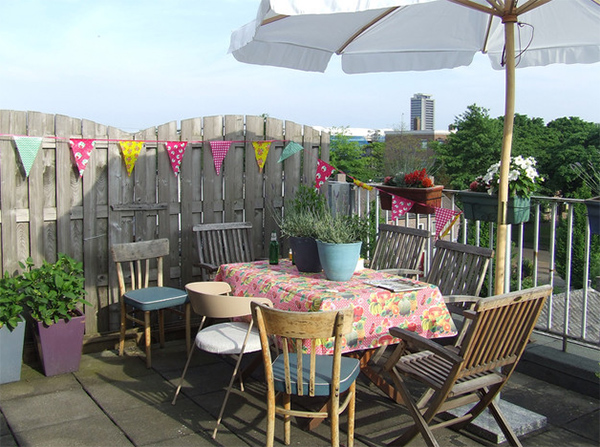 Add some buntings and a printed fabric for your patio and your all good!
3. Waikuku Woodland Garden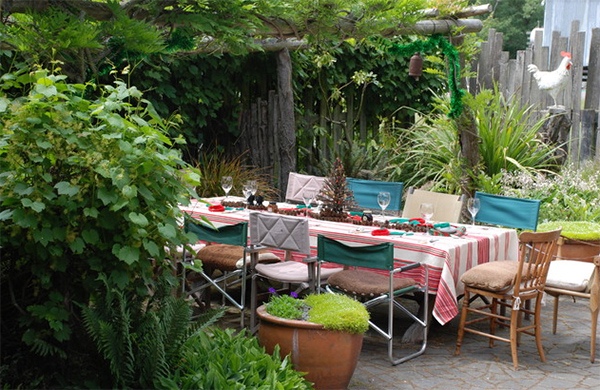 Landscape design is all about creating beautiful spaces which set the scene for people to live in and enjoy being in.
4. Colorful Outdoor Furniture
I so love this one! The stripes in different colors are just stunning and so modern!
5. Walnut Travertine Pavers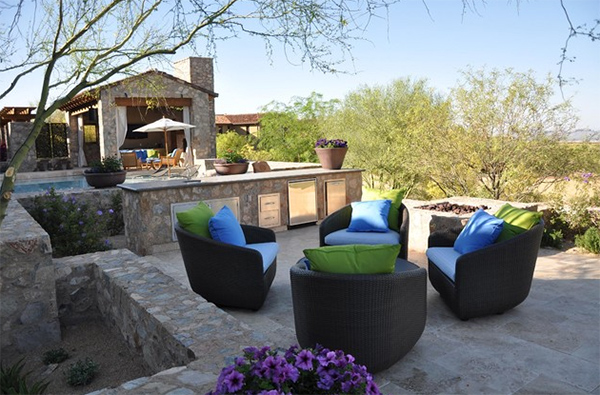 You can also limit yourself with two colors if you want to.
6. Glynallyn Terrace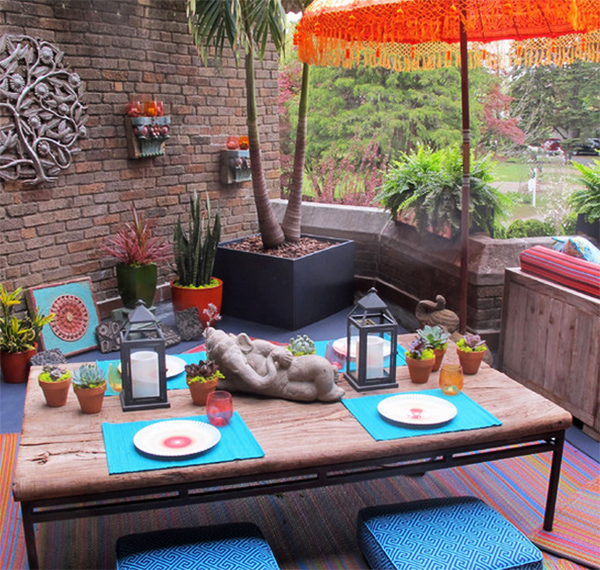 Colors are everywhere in this space! From the tables to the floor!
7. Outdoor Oasis in NW Washington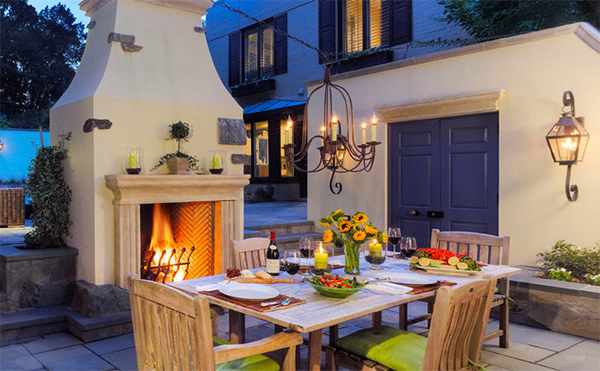 A romantic date with husband would be awesome in this outdoor dining area.
8. McDonald Residence in Magnolia Seattle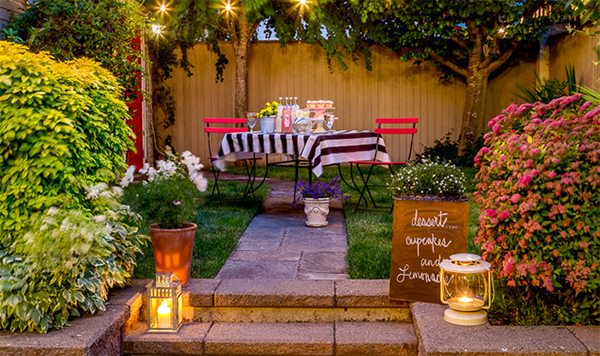 Boost your ambience with lanterns and signs! This one is so lovely, dramatic and romantic!
9. Dock Landing Porch Patio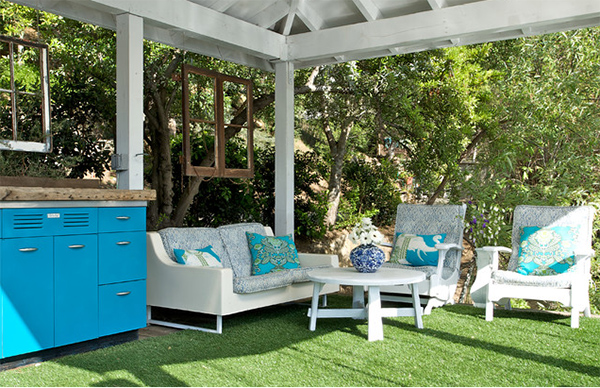 Use greens and blues together for the outdoor space. They'll match well with the surrounding.
10. Garden Ornament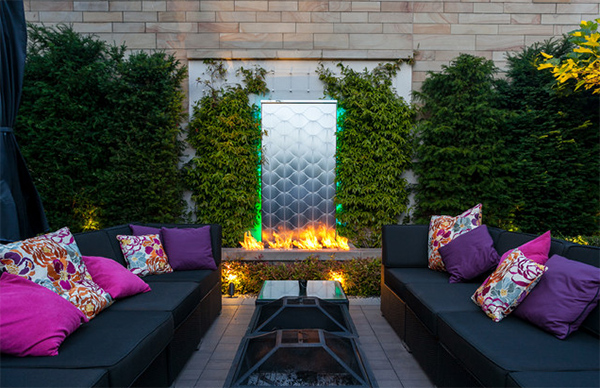 That outdoor fireplace is so gorgeous! Purple and pink throws with printed ones look lovely here.
11. Montagu Square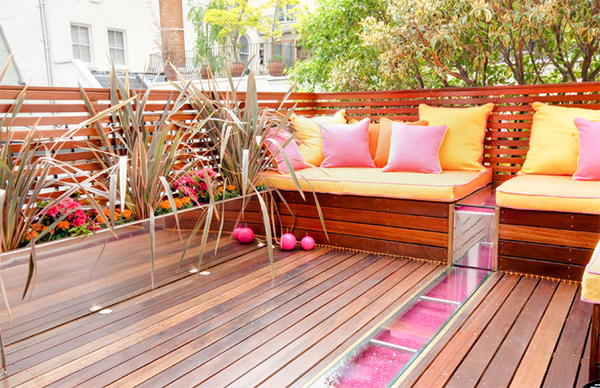 Orange and pink looks so sweet just like what you see in this courtyard.
12. Roof Terrace Central London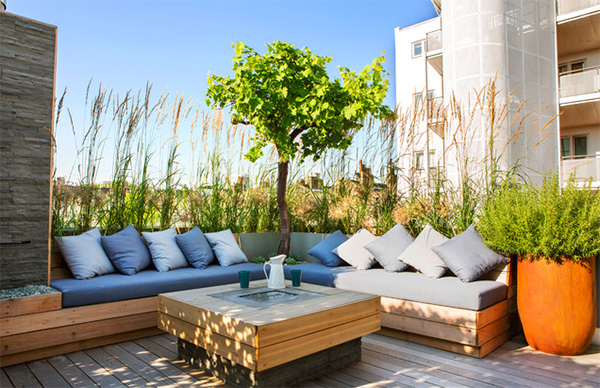 An outdoor sectional with gradient colors of blue and gray.
13. Eco Artist's House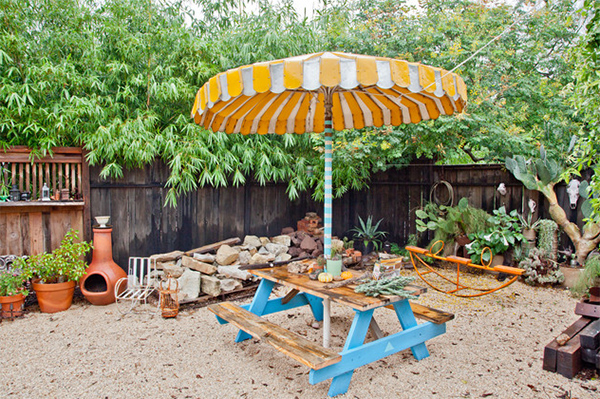 A bit vintage-y but this one looks totally beautiful and perfect for an outdoor picnic.
14. That Pink Outdoor Kitchen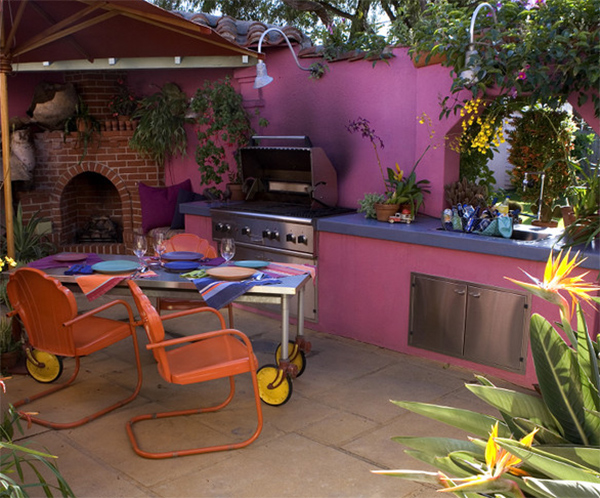 What about having a pink outdoor kitchen? The add some retro colors too!
15. Ruppert Backyard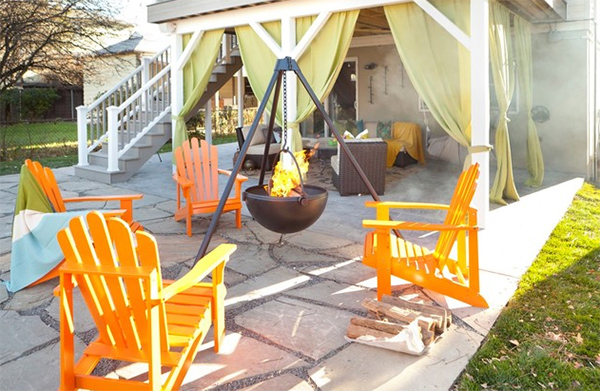 Orange chairs, green drapes and that fire pit! Oh, it would be so exciting to be here!
16. Chapel Hill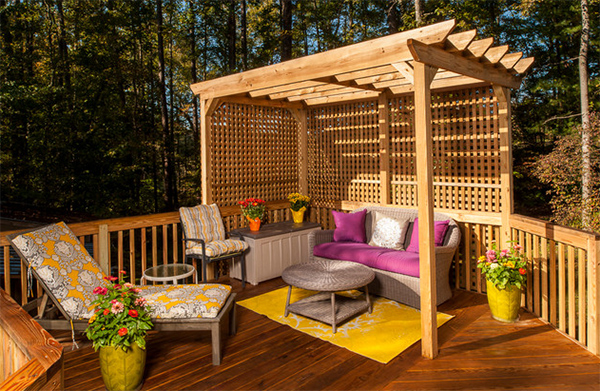 Yellow, purple, red and orange-all these colors look pretty with wood.
17. Greenwich Village Townhouse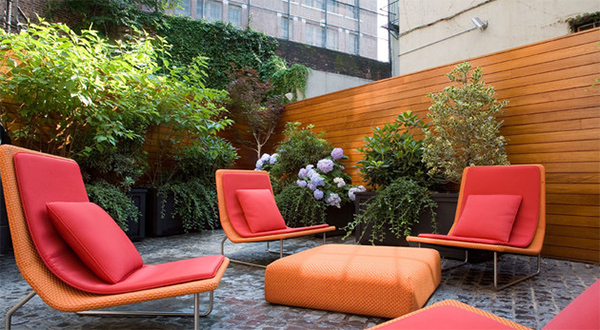 Red and orange furniture are perfect for this outdoor space with plants of different species. A perfect landscape of shurbs and other plants combination will have a big impact.
18. Outdoor Living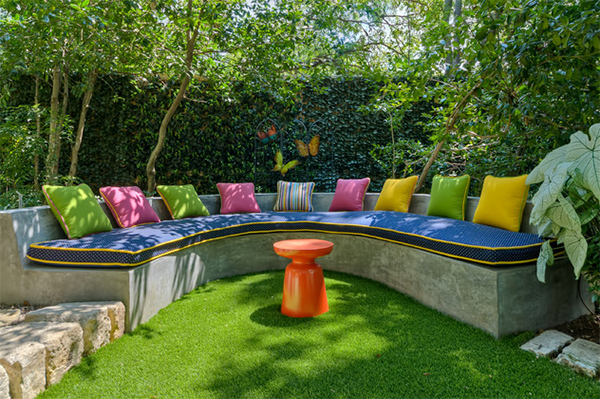 A concrete arc-shaped bench would be lovely. Add a cushion and colorful throws to complete the look.
19. Howe Street Remodel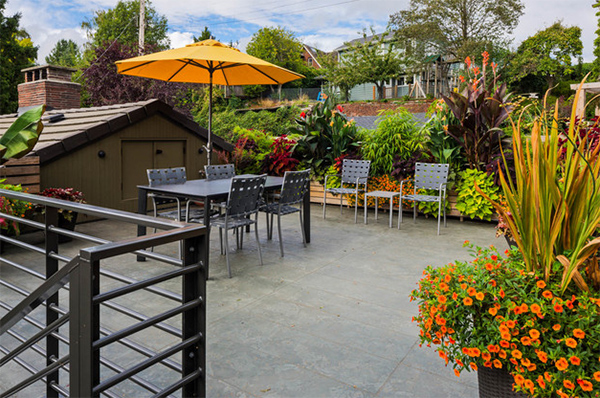 For this one, it is the flowers that brought color to the space as well as that umbrella.
20. Cococozy Hollywood Hills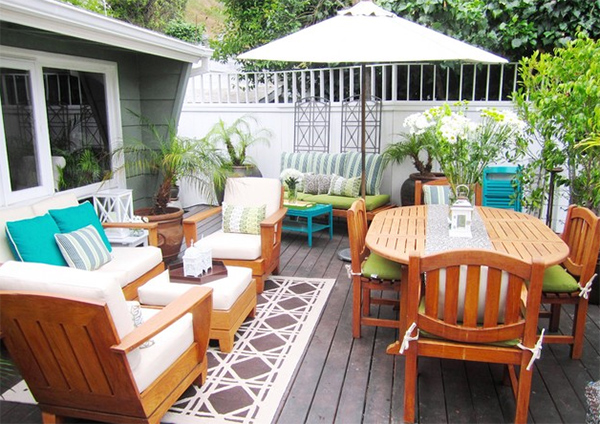 How about if you play with patterns and colors and various types of plants?
21. Casa Real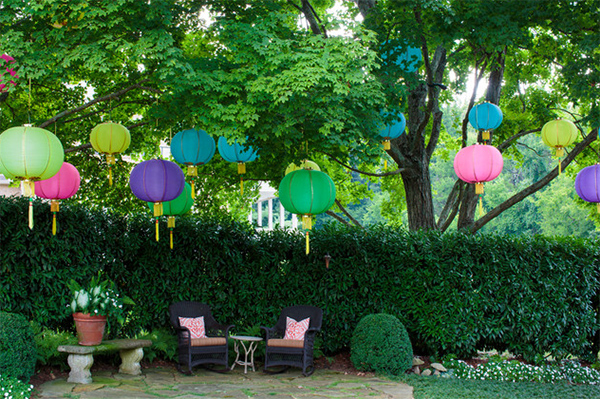 Just a simple seating area but the Japanese lanterns did the entire job to make this look gorgeous! I know this looks romantic at night time.
Beautiful! It would really be nice to add some colors anywhere in the house and yes, even in your garden! Be creative with how you decorate your outdoor space because it will not just make you proud for owning a lovely space but it will also be even more inviting for guests and relatives who would visit your home. You can surely enjoy both daytime and night time parties outdoors!