20 Outdoor Koi Ponds to Add a Refreshing Positive Garden Aura
Bring in positive energy to your home with a koi pond.
When I was younger, I am always pleased to see an aquarium of fishes. As a matter of fact, we have our own aquarium – we make those for our business. Aside from that, I am even more pleased to see a koi pond with its natural look, not to mention those beautiful fishes in it.
For me, it is a mere water feature and is solely added for aesthetics, but what I didn't know is that it is actually something that adds value to the home and would also have an impact to the owners of the house as well.
Koi ponds are man-made ponds that are used for holding koi fishes. The fishes are carp bred that come in variety of sizes and colors and are stocked in ornamental ponds. It is usually as part of a landscape but would sometimes be added in the interior too. Koi ponds can are also designed to promote health as well as growth of the Nishikigoi or Japanese Ornamental Carp.
In China, a legend about a carp that swam towards a dragon gate turned into a dragon because of its perseverance and endurance. In Japan, these fishes are a symbol of masculinity, positive qualities and the strength to overcome difficulties. They believe that when you persevere, you strengthen yourself. They are also used as a symbol during Children's Day wherein families hang Koi windsocks.
You see, koi fishes aren't just there to add a more refreshing appeal to the area but it has a deeper meaning from other Asian families. Now, let us take a look at some koi ponds that I have collated for your inspiration.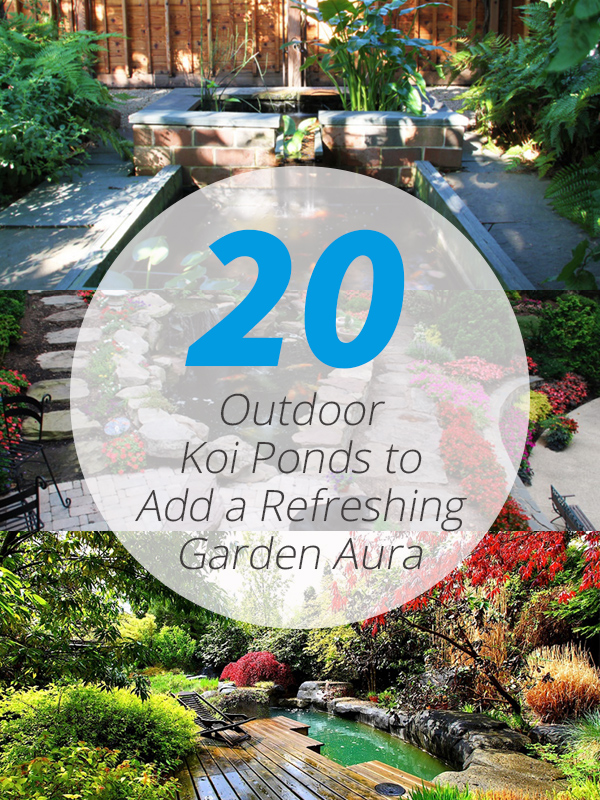 1. Landscape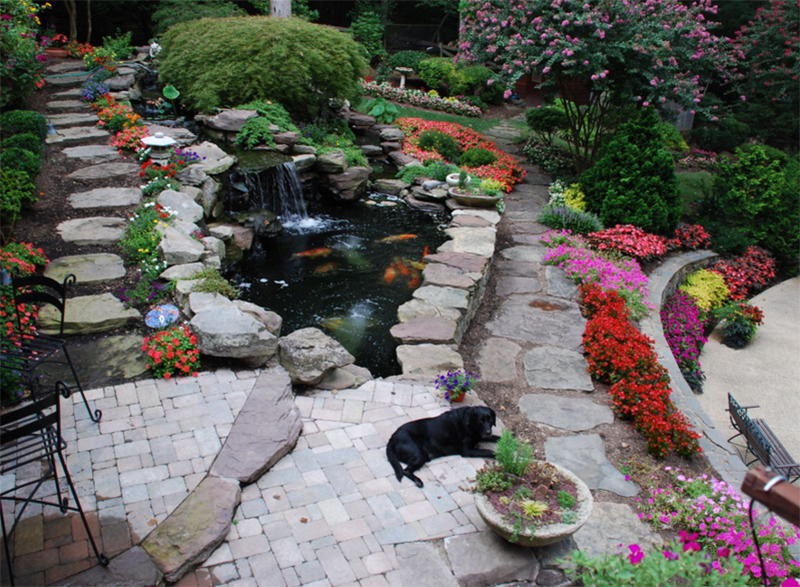 A natural man-made pond is seen here with waterfalls. Flowers and bushes are surrounding the area that adds beauty to it. Notice that on the other side is a pathway made of stone and an area where an outdoor living space is located defined by pavers on the floor.
2. Chevy Chase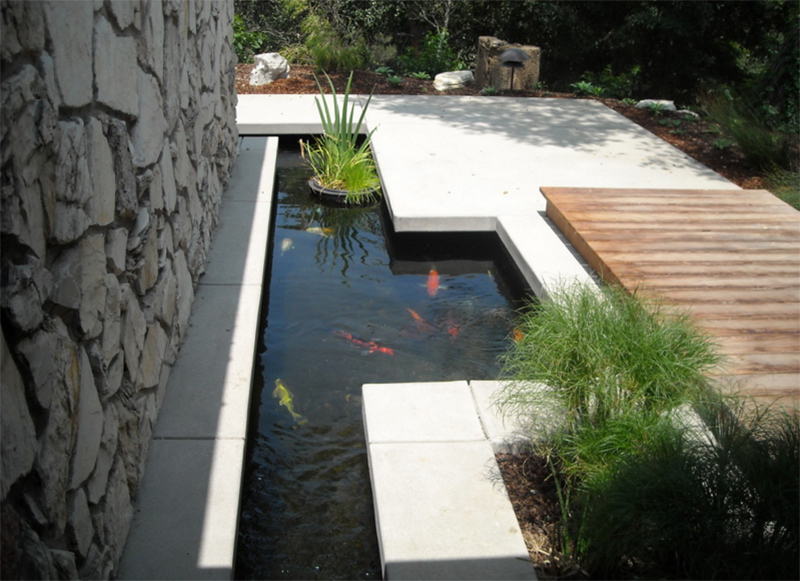 This one is a modern koi pond. As you can see it has straight lines on it and has a geometrical appeal instead of a free form with stones. Here, you can see the stones on the wall.
3. Outdoor Koi Pond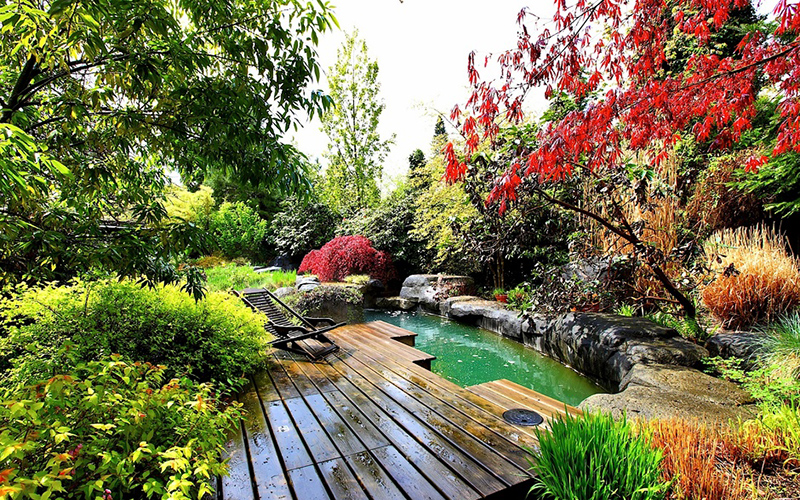 Look at how stunning this garden is! It has so many trees and other plants with various foliages that also come in different colors. A wooden deck is a good spot to relax while enjoying the scene.
4. Private Residence with Koi Pond -1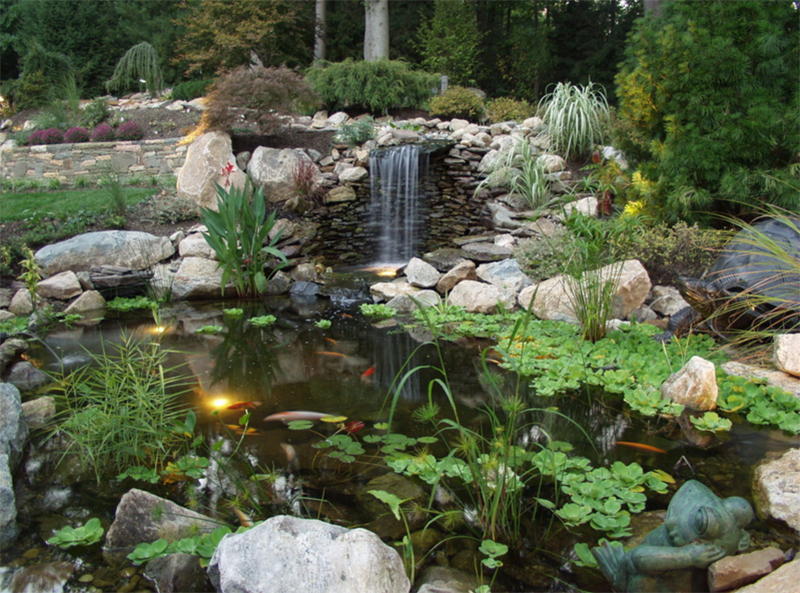 Another koi pond with waterfalls and some rocks on the waters. You can see that this looks natural too with all the lotus floating on the water as well as some grass too.
5. Exedra Architects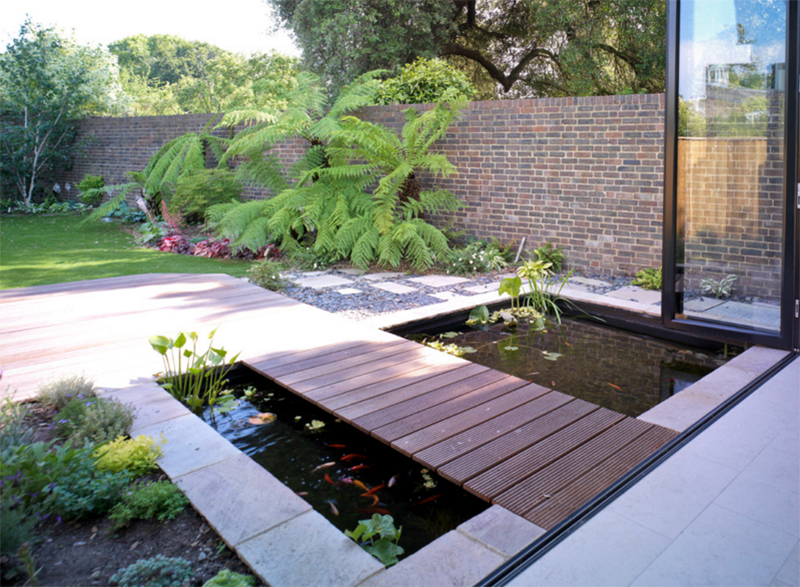 When one enters the home, they are greeted by koi fishes swimming under the wooden bridge. Of course, you can also choose not to pass here as well. Isn't this a nice feature?
6. Garden Pond Rydal, Pa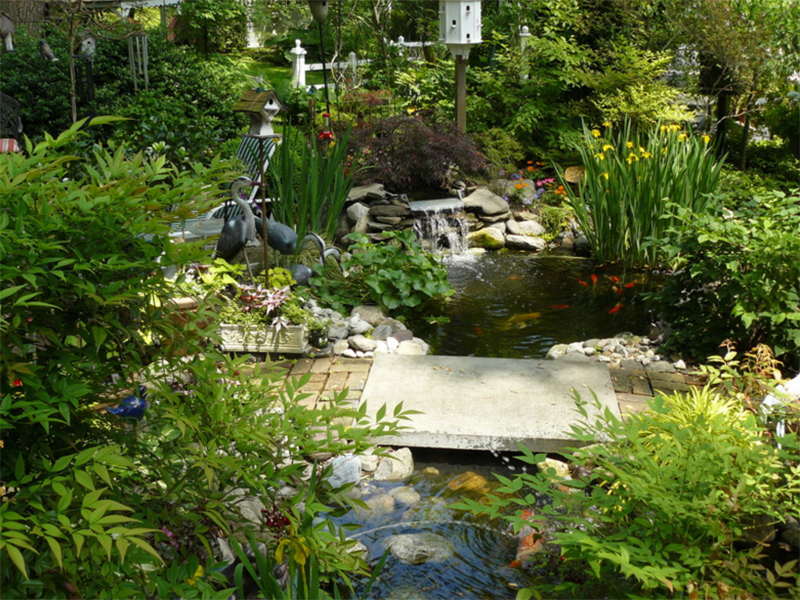 If you have a more spacious pond, then you can go for one similar to this! Notice how it used grasses, bushes, stones, planters and many other garden decors and accessories. The overall is very stunning and relaxing!
7. 31 Albion Place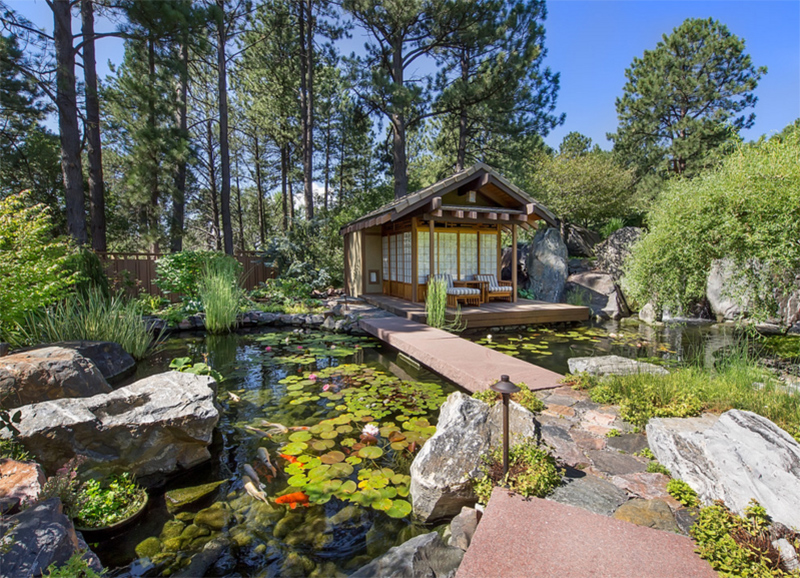 The best way to bring nature to your garden is to surround it with plants and water just like what you can see here. With the looks of it, I am certain that one would feel very much relaxed while in that Asian cottage.
8. Koi Pond/Water Garden-HGTV Amazing Water Homes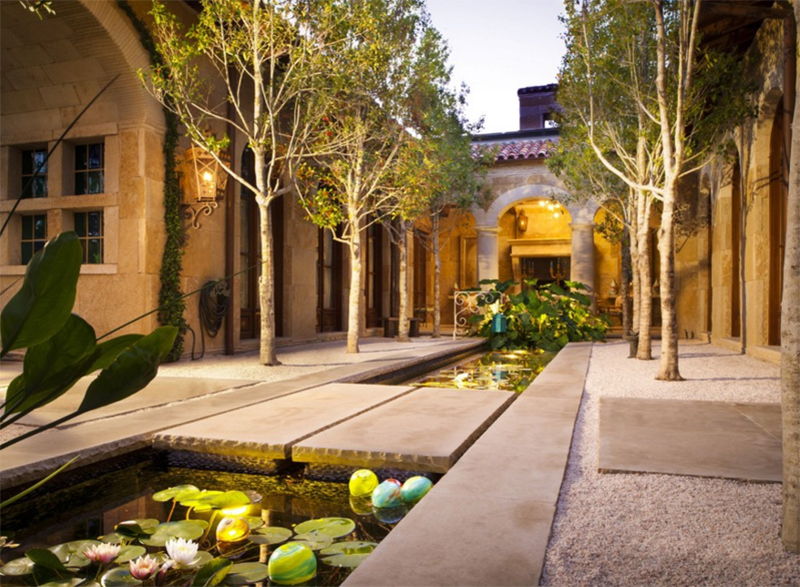 Want to add a koi pond but doesn't want it to be literally appear like a "pond"? You can do it this way. Break a part of your outdoor flooring and add some water into it. It looks pleasing to the eyes and especially with all the floating decors, plants and lighting on it.
9. Suburban Oasis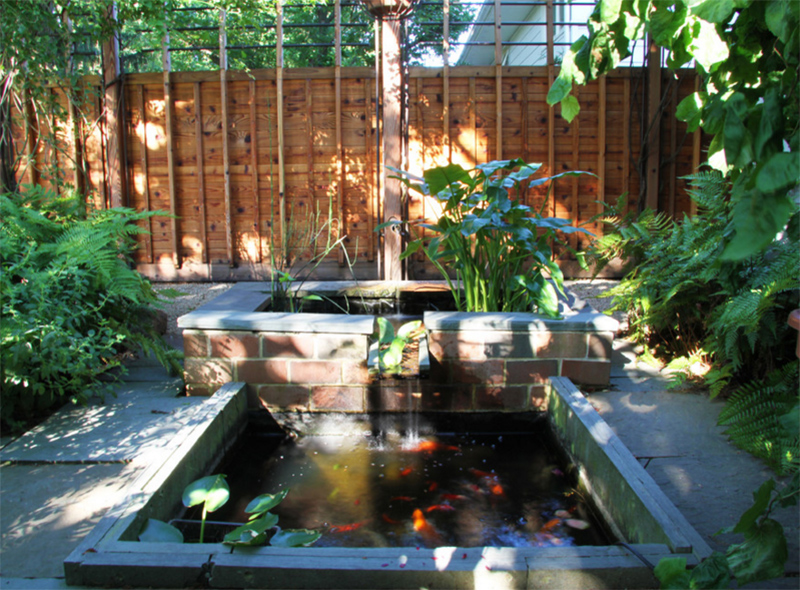 You can also add a square-shaped pond on your garden too where you can stock the koi fishes.
10. Kaufman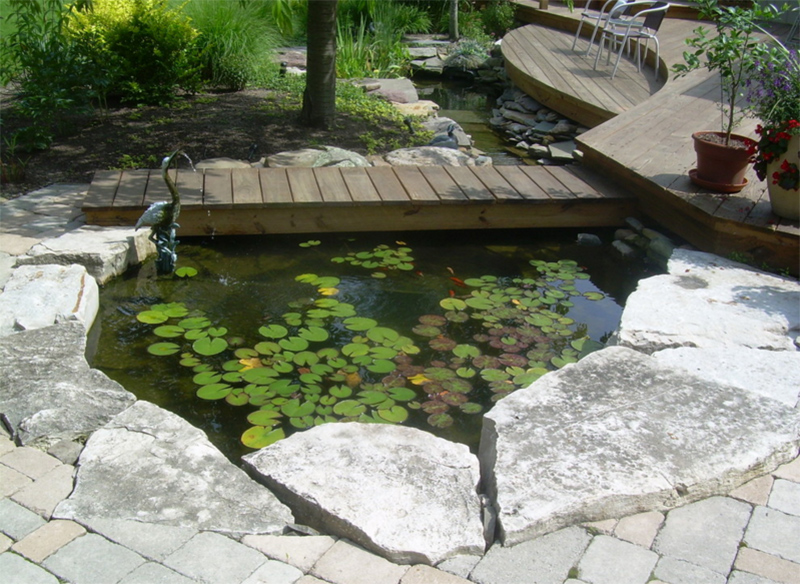 Another natural looking pond where in a wooden bridge directs guests to a beautifully designed deck made of wood too.
11. English Tudor Estate & Garden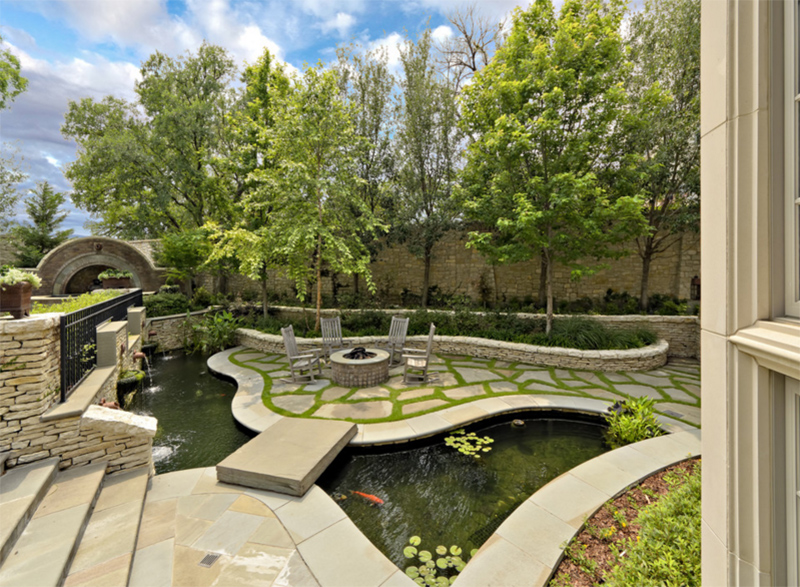 A traditional garden has a big koi pond. I like what they did to that part where the grass created a beautiful irregular mosaic-like design.
12. Great Outdoor Spaces & Pools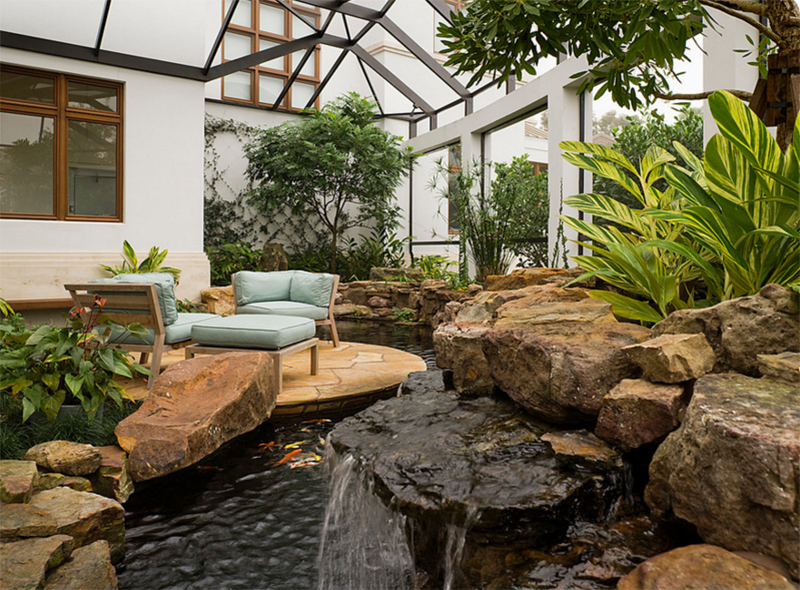 If you have a screened garden, you can still add a pond to it like this one. Notice that it has stones around it as well as plants of various types. Like the idea of having a circular flooring where the chairs are placed.
13. Montcalm Street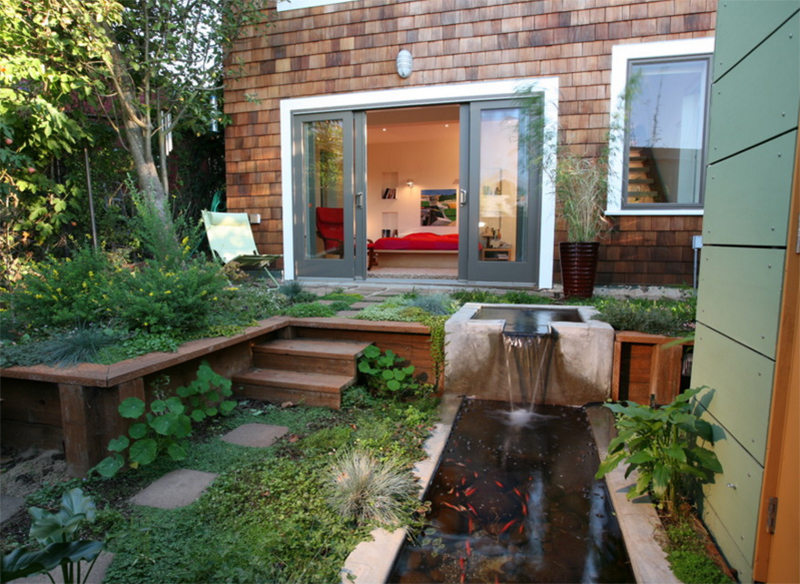 Guests are welcomed by this koi pond in rectangular shape. It has another water feature above it that brings water to this area through a waterfalls.
14. Outdoor Living with Water Gardens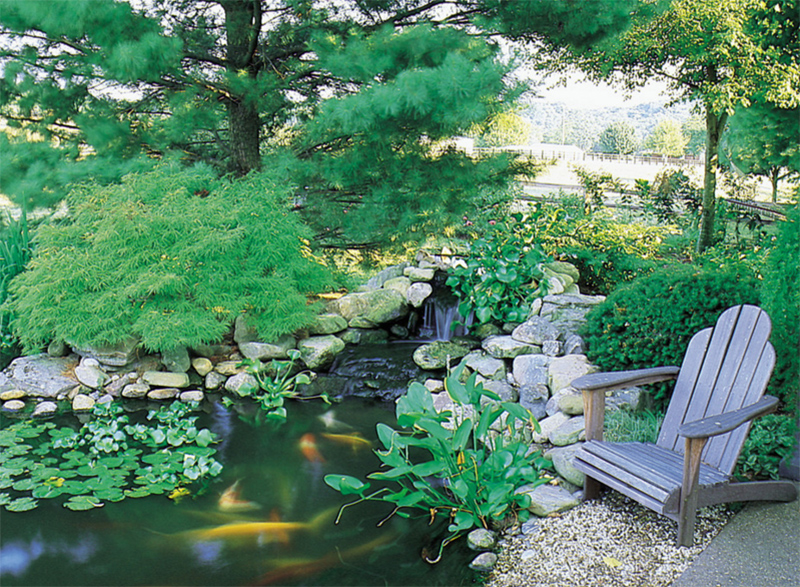 Rock that natural pond once again with a different style. This looks like it really is a real pond because of how it is seamlessly connected to the ground. And looking at all the greens is indeed refreshing to the eyes.
15. White Falls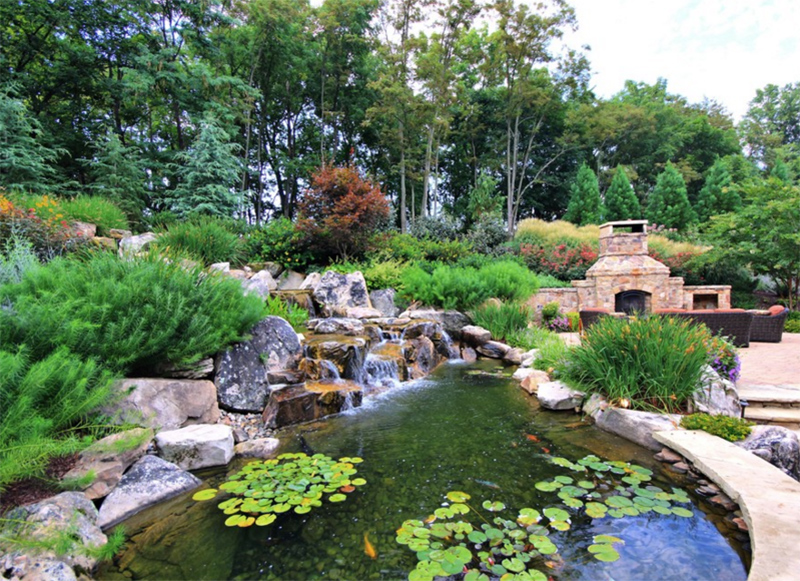 You can also have an elevated pond like this one with more beautiful waterfalls that are created with stones and rocks. This sure is a perfect spot for picture taking!
16. Water Gardens and Waterfalls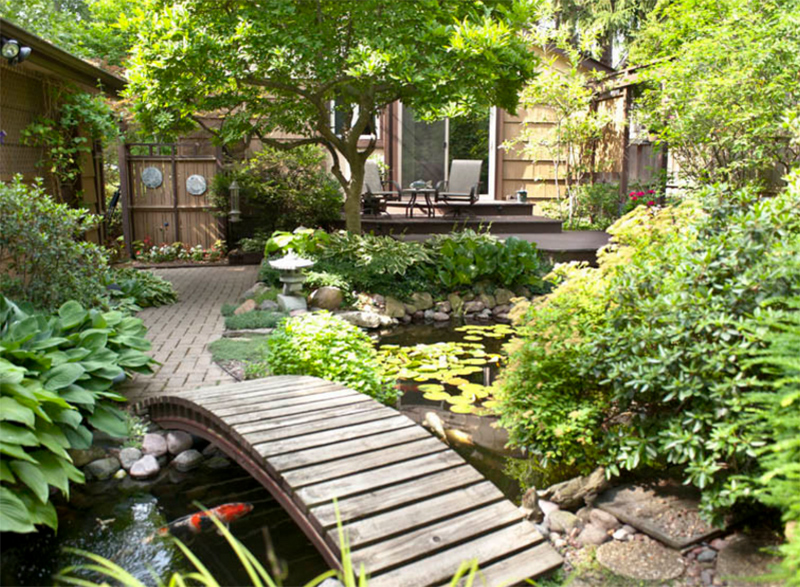 A curvy wooden bridge connects the pavers to the garden area but that is not all, under the bridge are koi fishes too! This is indeed a spacious garden as you can see.
17. Entry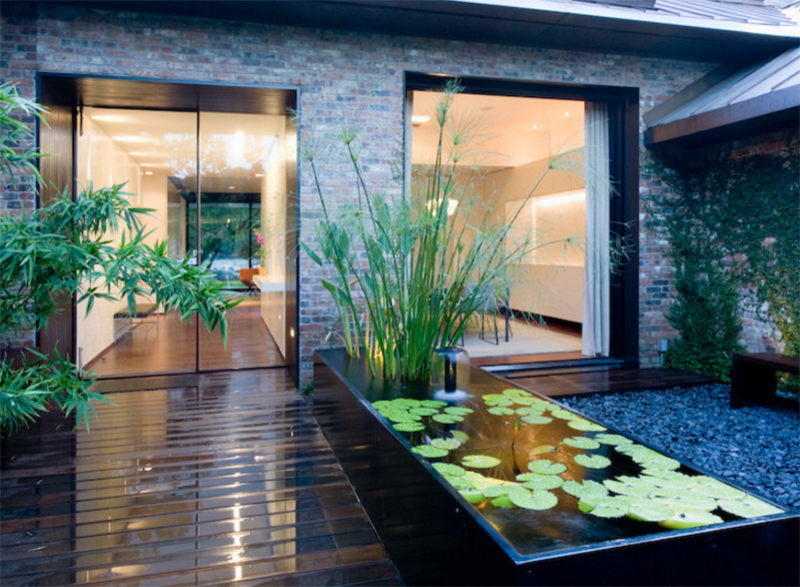 A beautiful modern home has a rectangular pond right on its facade. And yes, it may appear like a simple container with water but with the plants on it and the fishes, it looks a whole lot better!
18. Noosa Little Cove Australia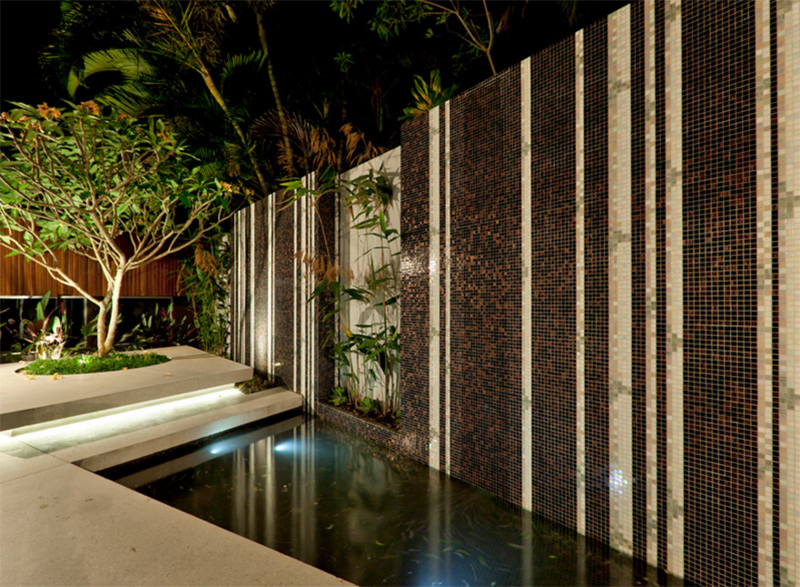 I like what they did to the wall of this garden. But it sure is expensive. Aside from that, they added a pond on it with a modern design too. I also like that tree which is on an elevated surface that looks like floating.
19. Contemporary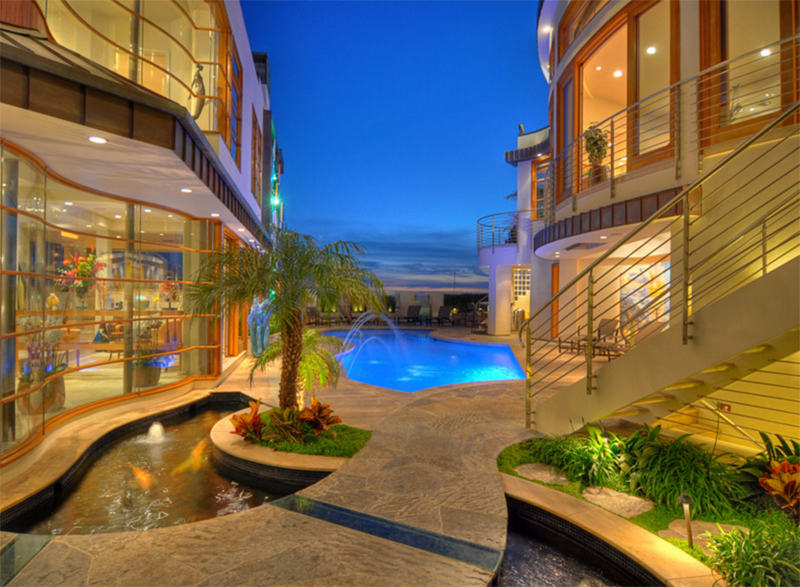 Totally breathtaking! Aside from a pool, this also incorporated a koi pond on another part of the garden. I really love the look of this one especially that they experimented with the forms even for the pool area.
20. Japanese Home in Northcliff, Johannesburg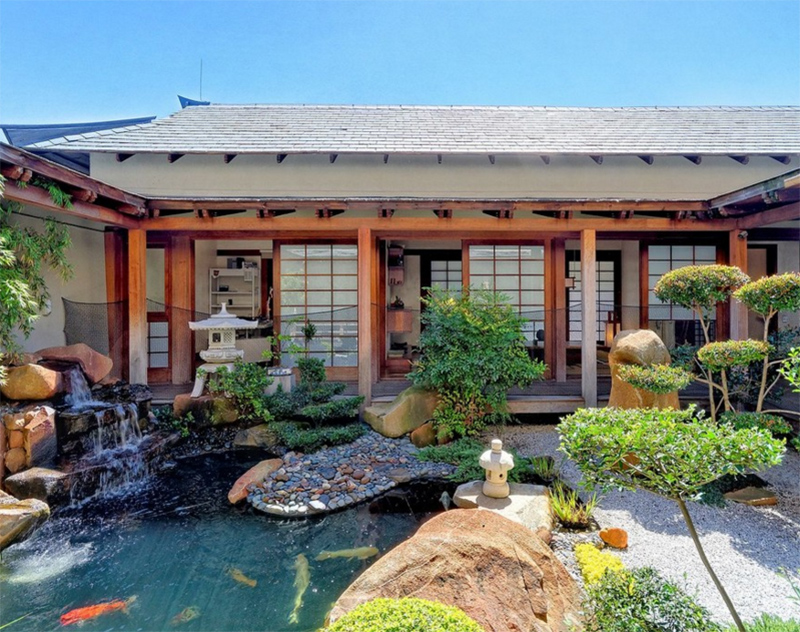 Apparently, this is a Japanese home and it is just right to have a koi pond in the garden. Don't you love the look of this one?
As what we have seen in the images of Koi ponds above, we have observed that they come in various designs and styles. You can always have a modern koi pond or one with a natural look with stones or even added waterfalls. Yes, there are many ways you can design a koi pond. Just see to it that it will match well with the look of your garden or your interior. This way, you can give a unified look to the area. And it might even bring a positive aura to your home and to those living in it too just like what our Chinese and Japanese friends believe in. Nevertheless, with or without tradition, a koi pond is indeed something that will bring freshness into the home. Do you have a koi pond in your garden? Or are you thinking to get one?
Bonus Video: Epic Koi Pond Construction