20 Lavish Cube Leather Poufs
Combine the softness of a pouf with the sophistication of leather!
Poufs, like ottomans are kind of expensive – especially for a furniture that we do not really need; but like any furniture that we have seen – whether in our homes or that of our friends and relatives, they are useful. As much as we want a pouf or an ottoman, if we do not have enough budget to purchase one, it sure says that it is not a priority – unlike of course say, a sofa – I'm pretty sure that you'd preferably purchase a sofa than a pouf or an ottoman especially when you just transferred from your parents' place to a new one that you'd live in.
Today, we will be showing you a couple of pictures of poufs in leather – so that means that you would be seeing them in animal leather and in the usual leather that we see in furniture and even in bags and shoes. The poufs below are actually really pretty and somehow similar to ottomans but maybe a bit fun and beautiful. Haha! Of course you can compare if you like. Go ahead and check it out guys!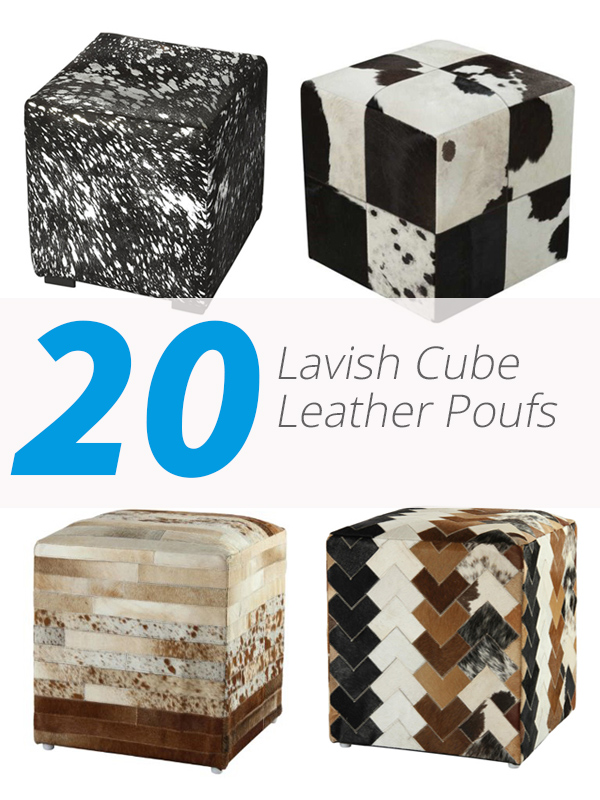 1. Black Leather Pouf with Crystals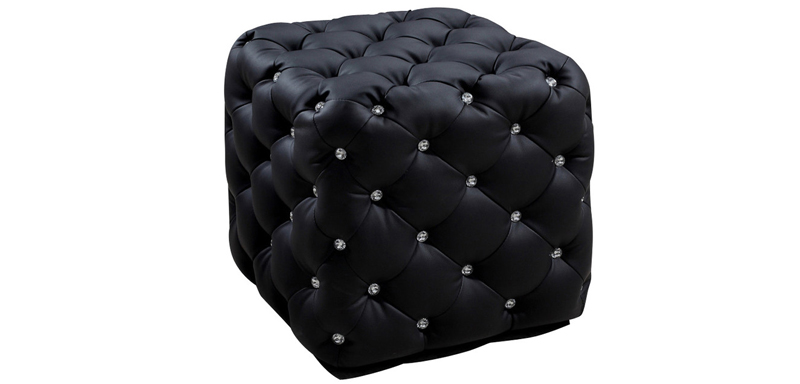 Honestly, after I made the list of cube ottomans, I saw this pouf and I said to myself that I'd be writing one list with this one in it. Look at how stunning this leather pouf is! It has all this crystals inserted on its tufted areas – I just love this one.
2. Dacre Cube Pouf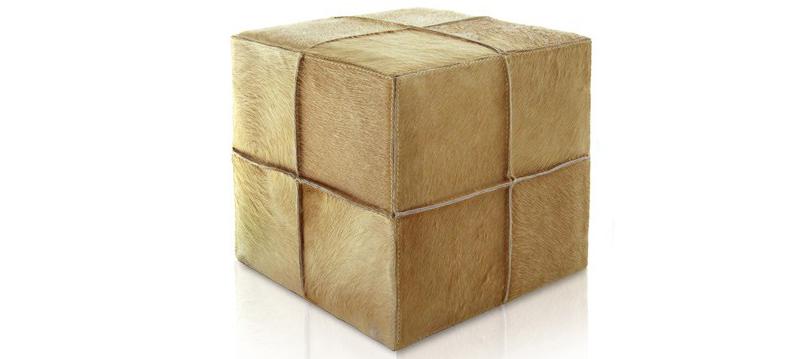 This is one pouf that looks really pretty and all at the same time creepy! I mean look at the skin and how much it looks really real. I'm not sure if this one is real or fake. Anyway, altogether it's still pretty.
3. Loft Hair on Hide Pouffe

I'm not sure what animal skin this is from or what it is resembling but the color is quite something like that of a cow and you can really see how the black and white hair combine really well.
4. Oman 38 Pouf Cube

This pouf has a pretty velvety look to it. It somehow looks brownish and a bit maroon red or something. The simple look to it is great because it looks it can pass contemporary but still work as traditional or even rustic. You decide.
5. Patchwork French Roast Brown Leather Pouf

I love quilts and a patchwork like this one is really neat. The color combination kind of works and it is really something anyone would love to have in their living rooms or even in the bedroom!
6. Alcide Pouf

Tufted poufs are really nifty – and looks like Alcide poufs come in different colors and they are all beautiful. Cheetah Designs actually showcase more similar designs that I think you would love.
7. Brown Leather Arrow Hide Pouf

Here is another sample of a pouf that is made of animal hide that was made into patches. I can't say that this are animal hide from different kinds of animals but it looks like it does.
8. Dorado Bonded Leather Pouf

I love the color of this Dorado leather pouf – it seems like that of an old barrel and I think it's quite pretty and somehow vintage. This one looks great that it can go into a contemporary space or a mid-century one.
9. Bob Pouf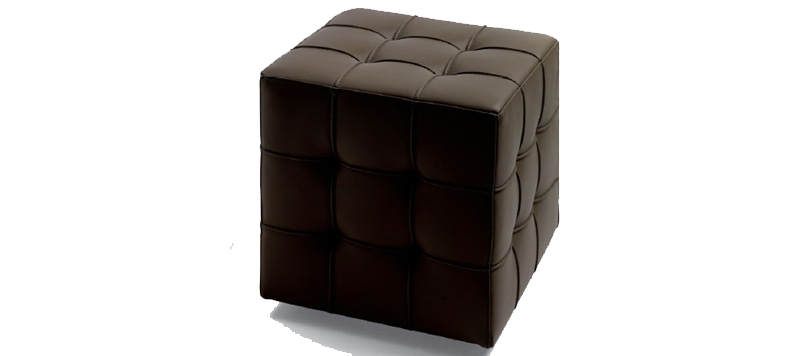 When I saw this pouf, I showed it to my sister that we actually call Bob. She was kind of happy about it because it looks contemporary, neat and really something she could consider having. What do you think about this one?
10. Pouf 56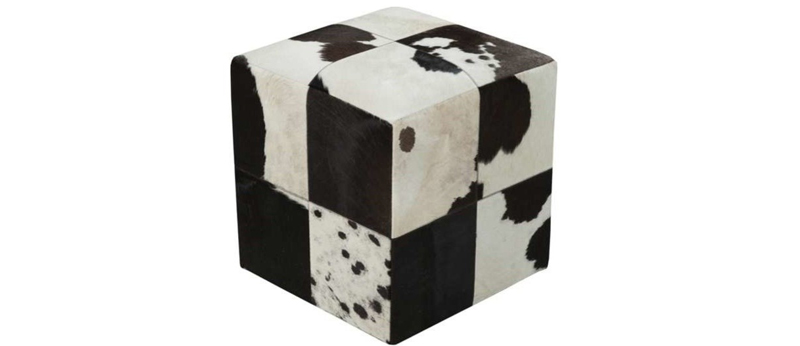 Pouf 56 is one example of much accent furniture we have on this list. You may have noticed and saw a couple of poufs in here that can easily pass an accent stool of some sort, and I'm sure that you'll find them appealing and very special. Am I right?
11. Patchwork Pouf Ottoman

Here is another of those poufs that have patch work done in them – this time, it was made to look like a chess table but of course it is a woven cover done right. Poufs like this with themes are quite cool and fun.
12. 21-inch Brown Leather Striped Hide Pouf

This striped hide sure is interesting; again, it is a pouf with all this patch work done to it to make it more interesting. Although at some point, I'm thinking that this type of style was created to use those left over hide (if they're real) to limit waste to none.
13. Brown Cube Moroccan Leather Pouf

The contrast of the colors of the pouf and its stitching is a usual thing that designers do from time to time – if they actually use the right colors, the design however simple comes out really pretty.
14. Longhorn Hide Pouf

This hide pouf is from Massoud Furniture and it sure seems that a lot of designers and manufacturers follow suit when it comes to designs like this because apparently it allows designers to save the leftover hide from other furniture that they have made before poufs.
15. Emerson Leather Coffee Pouf

Another special pouf from Jamie Young Company and look at how neat this one is – it has a nice color and it also has simple stitching. If you check the ottomans I made before, you will be able to see something similar to this one.
16. Diamond Hide 21-inch Brown Leather Pouf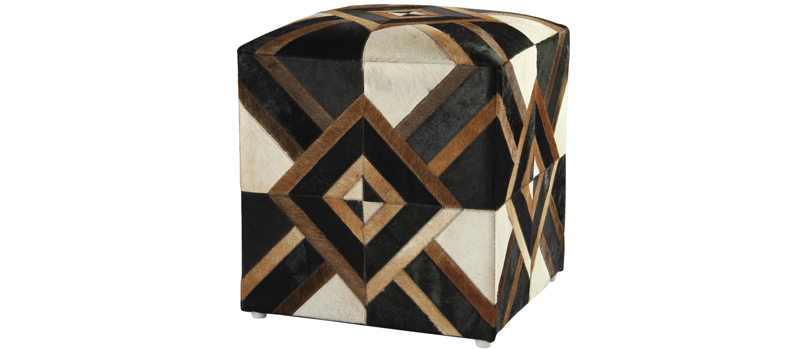 This pouf, whether a main furniture in your house or just an accent one, I bet this would definitely be a great conversation starter once your guests see it – I mean, look at how cool it actually looks and feel (quite sure about this part).
17. Nightfly Faux Leather Pouf

Now this is what I'm talking about – one very gorgeous piece of furniture! This is the type of leather that you see in some designer bags and shoes that girls go gaga on! I would surely want to have one of this.
18. Striped Diamond French Roast Leather Pouf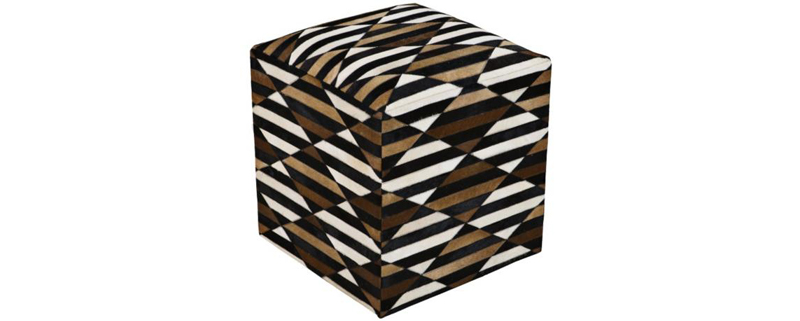 Looks pretty fun right? The crazy quilt look it has to it is quite playful and somehow sore to the eyes when you really focus on it, but this is one piece of furniture some buyers would love to have because it looks so funky!
19. Glade Runner KE Beads Hassock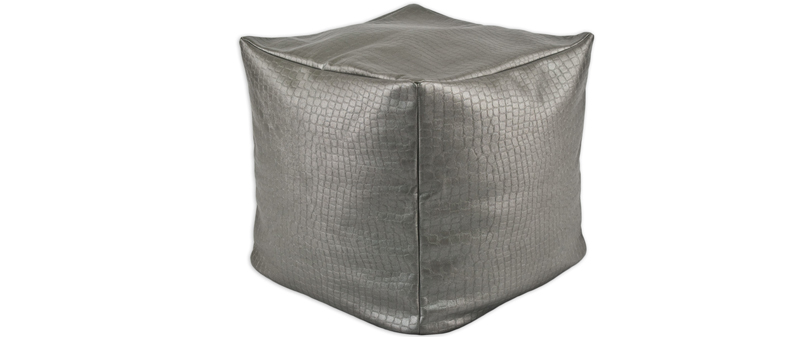 This color is tagged as steel and just look at how stunning this one is! If I loved the black one before this, I think I love this one more! I mean, aside from having an awesome color, this one is rather unique, don't you agree?
20. Vintage Pouf

I'm sure glad that we were able to put a vintage pouf in this list. Although it is at the very end, I still think that one is something that collectors would love to have – it has a look and an aura that may somehow shows history to it.
If you think that the leather ottomans is quite a catch and an awesome list, I think that this one – the 20 Lavish Cube Leather Poufs is just as good and maybe even prettier. Both the collection is a stunning set of wonderful furniture that people would really love seeing every now and then – if not in their homes, at least in the home depots or the department stores close by!