15 Inspiring and Beautiful Moroccan Coffee Tables
We are you sure that you remember when we actually featured a list of gorgeous Moroccan chairs that you can use as accent chairs or conversational pieces for your living rooms – today, we have another list that will showcase a wonderful list of 15 Inspiring and Beautiful Moroccan Coffee Tables.
These tables that we are talking about are but ravishing and authentic designs from our Moroccan friends. The designs are eye-catching and really heart-warming. This shows much of the beautiful culture their country has. The table designs come in rectangular, circulars and some hexagonal tables. Take a look at the 15 Inspiring and Beautiful Moroccan Coffee Tables we have below.
19th Century Burl Wood Moroccan Table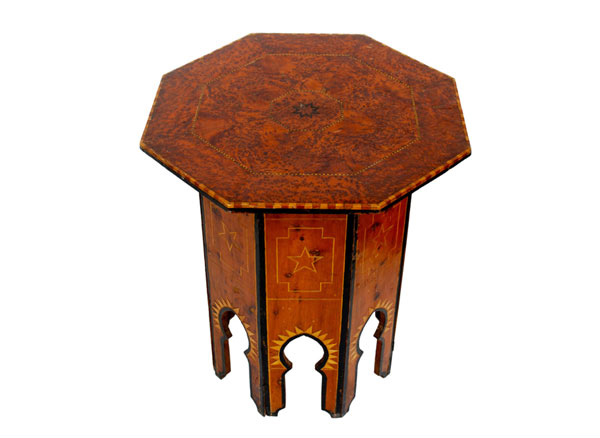 Beautiful octagonal Moroccan tabouret with burl wood veneer. Very unusual and lovely piece.
Bone Carre Ethnic Moroccan Table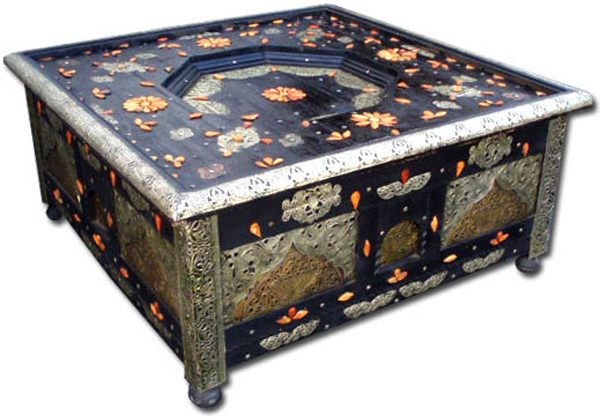 According to its description, this is an exotic & unique handmade Moroccan camel bone and silver table, great workmanship. Add to your home decor the exotic tone with this unique piece of furniture.
Hand Painted Hexagon Moroccan Drinks Table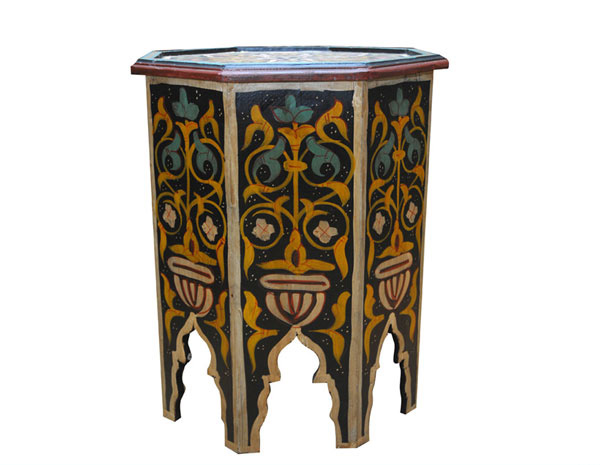 Its hexagon and it's hand-painted, how else would you want your authentic Moroccan table to be?
Kasbah Coffee Table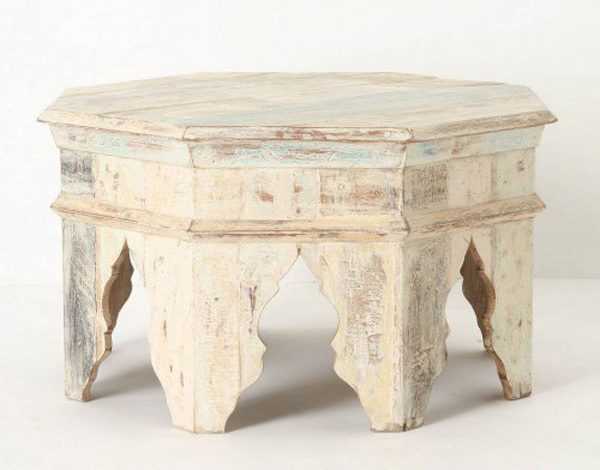 This chunky octagonal table inspired by Moroccan archways is calling my name! I can just imagine spreading out a stack of fresh magazines and a glass of mint tea and kicking my feet up here after a long day.
Moroccan Brass Tray Table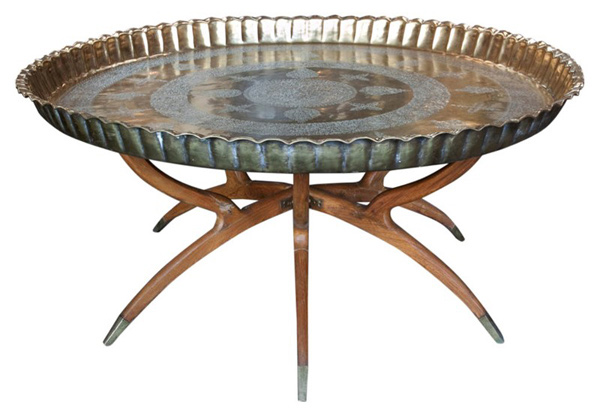 Look at this interesting piece of furniture. Circular hand hammered 42″ brass tray on folding mahogany wooden folding stand.
Moroccan Grill Coffee Table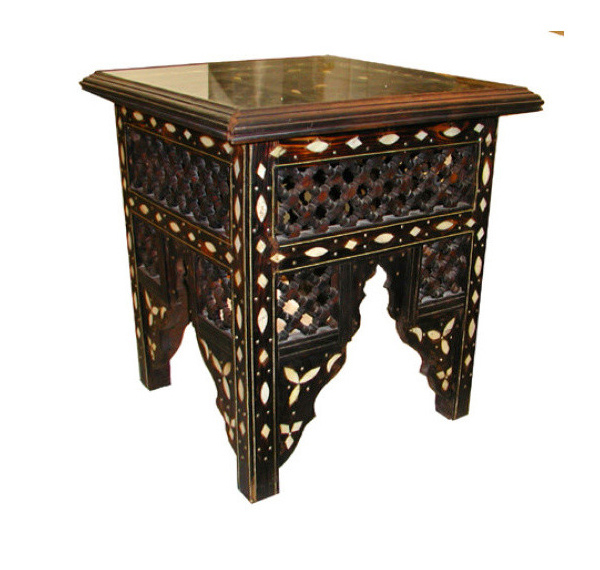 Use this gem of a table on the side of your bed or next to a couch. Either way, the detailed woodwork complemented by bone inlay will give you an exotic place to rest a beverage and a book. Pair this with a rich Middle Eastern rug for a worldly and well-travelled look.
Moroccan Iron Lace Coffee Table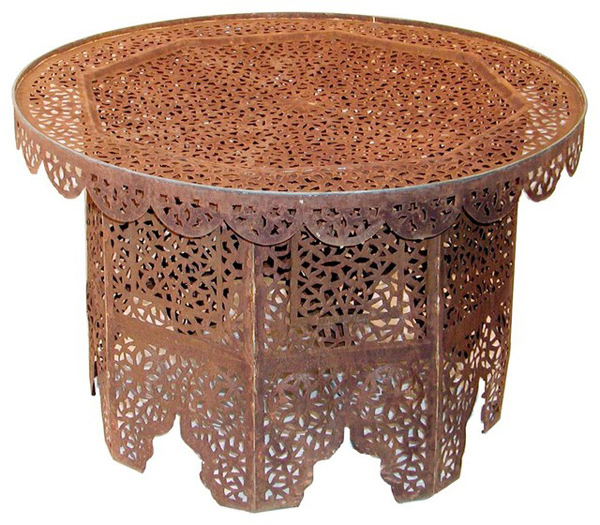 Lacey cut-out iron in an authentic rust finish and scalloped skirt adds a feminine touch to rustic decor or outside covered porches.
Moroccan Mother of Pearl Moroccan Style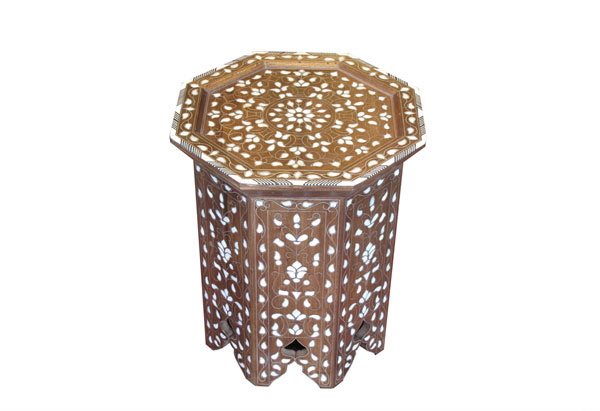 Akbik Gallery says that this octagonal shape side table has an ethereal look that adds impact to its surroundings. It has a mystic look and design and it brings beauty to any room.
Moroccan Painted Table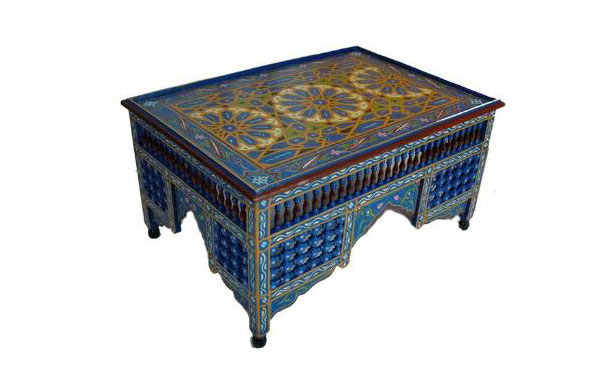 Look at how stunning this carved wood hand painted table is. Its blue and a real beauty.
Moroccan Table with Brass Top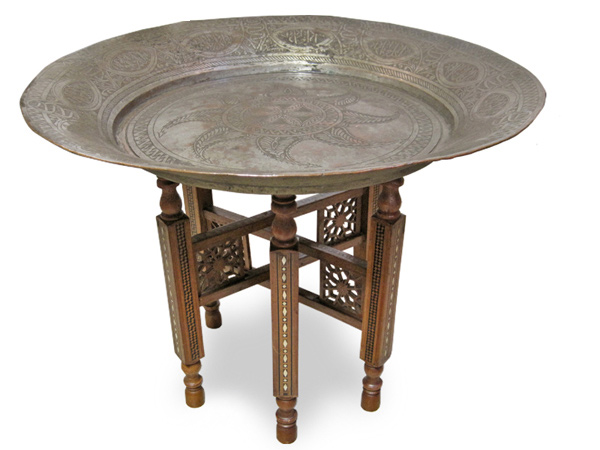 This is sure one interesting piece if you ask us.
Multi-color Lena Moroccan Table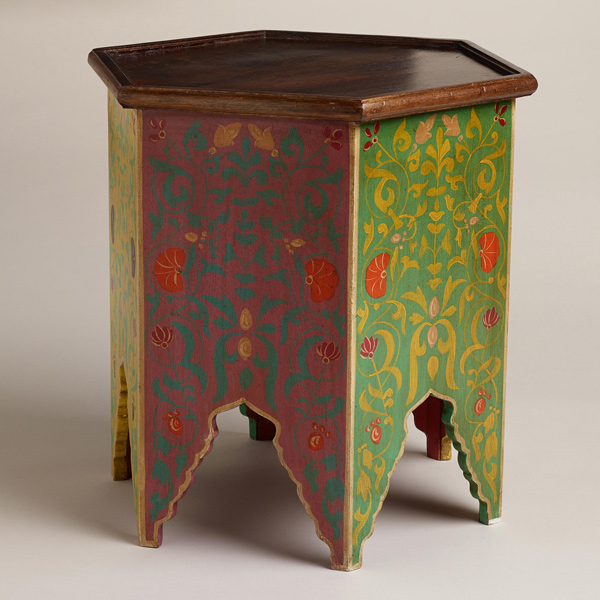 Exquisitely hand painted with an exotic floral design, our exclusive Multi-color Lena Moroccan Table is a stunningly vibrant addition to any room.
Regina Andrew Gold Leaf Beveled Glass Top Table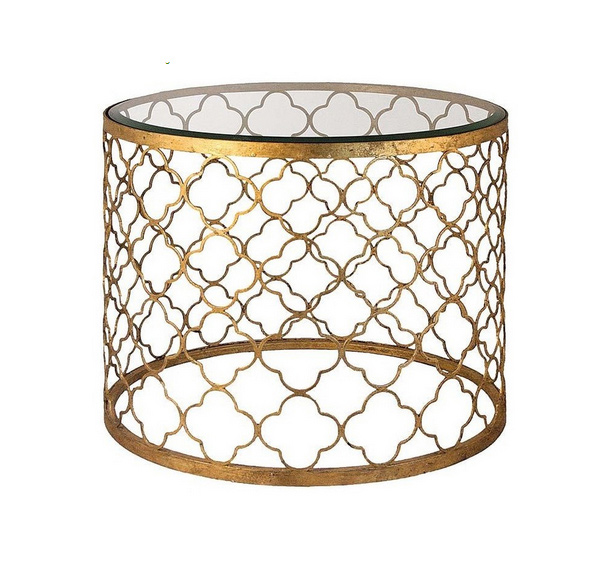 This beautiful side table combines the simple shape of a cone with the pattern of gilded quatrefoil within it. This combination makes it a very versatile piece that can fit in with any design styles.
Syrian-Moroccan Coffee Table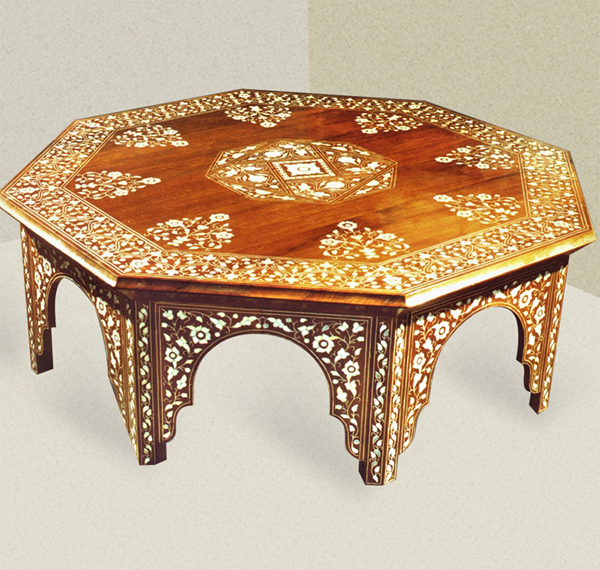 Looking for an inviting coffee table with a Moroccan twist? This octagonal table adorned with floral design of mother of pearl is intricately inlaid on solid walnut.
White Metal Coffee Table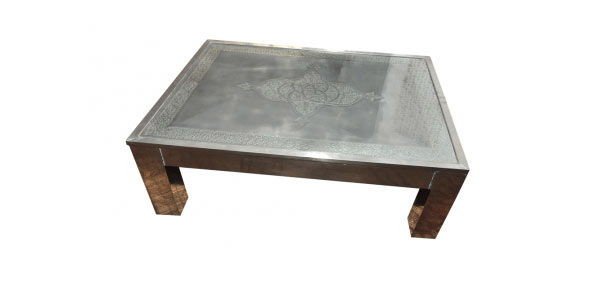 Statement and style in one piece. A large White Metal Coffee Table with quintessentially Moroccan engravings. You can make this bespoke by ordering it in a size to suit your living space.
Zouak Cream Table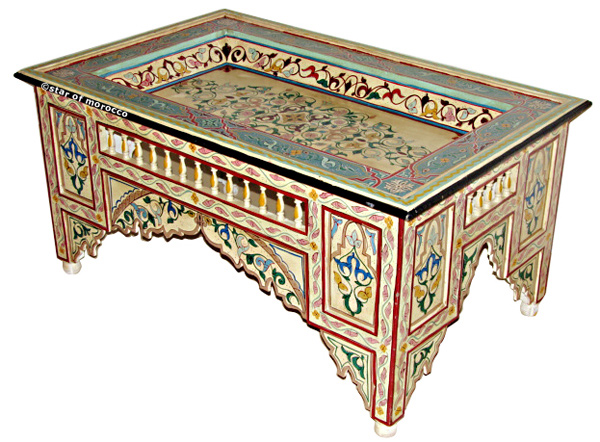 This Moorish-style table, with unparalleled artisanship revealed in its hand painted motifs, evokes the warm hospitality of Moroccan homes.
Interesting as each one is, we hope that you loved each one because of their unique mark in the design industry. The list about the 15 Inspiring and Beautiful Moroccan Coffee Tables is sure one interesting list to go back to when picking up a theme for your homes. The list we were telling you about the 15 Interesting Moroccan Chairs is here and we hope that you check it out again. Hit us with those comment!