15 Interesting Moroccan Chairs
So we are not here to be giving out tips like how to bring the Moroccan vibe in your home because we're here to talk about chairs – all fifteen of them – this list is about Moroccan Chairs which will feature fifteen stunning and out of this world chair designs we don't get to see every day!
Moroccan design feature exotic mingling of ornate patterns and vibrant colors – although this is mostly true for this archetype, when you see the majority of the designs of their chairs, you will be seeing more earth tones and neutrals. The details on the chairs are outstanding – very unique if you must; but they are made from great passion and awesome history. Ladies and gentlemen, the 15 Interesting Moroccan Furniture.
Arm Chair Inlaid with Mother of Pearl on Walnut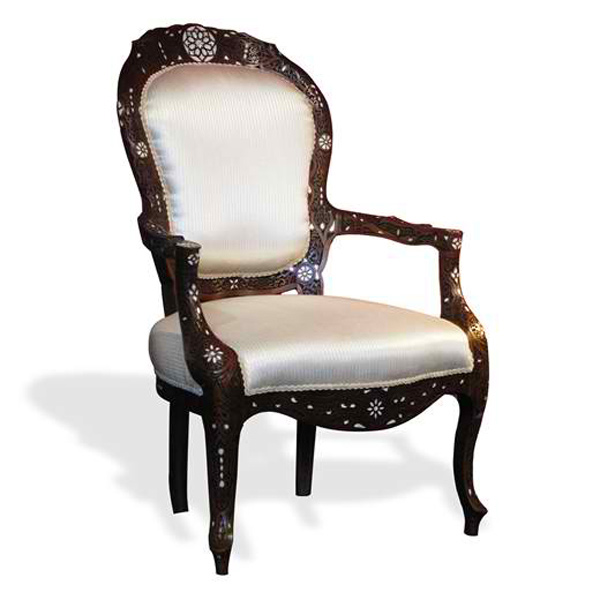 Elaborate arm chair inlaid with mother of pearl influenced by Louis XV Design. The east meets the west in this chair. The carved designs and inlay on this chair are out of this world.
Elegant Moroccan-Syrian Mother of Pearl Chair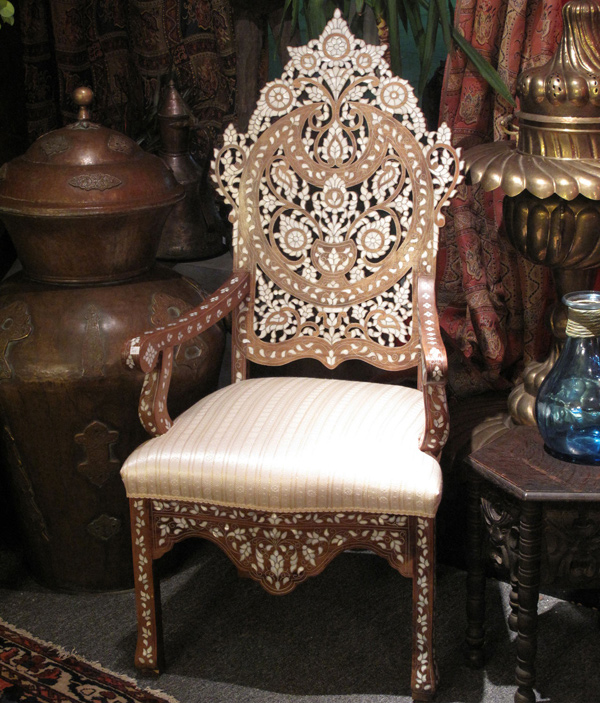 Stylish Syrian arm chair. Hand-pierced – carved and inlaid with mother of pearl and silver metal wire on solid walnut. It has lovely floral designs and Luxury intimate look as if it came from an Arabian nights Palace.
Ethnic Berber Chair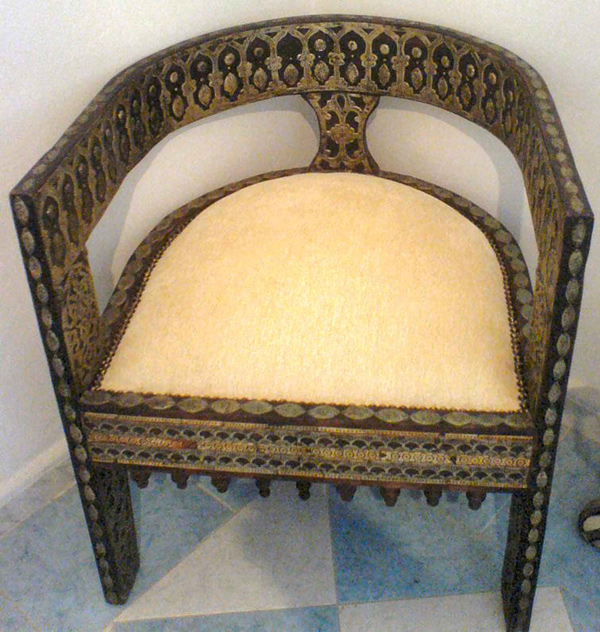 The unusual design for this chair makes it one of a kind especially in the Moroccan design category and the detailing is just stunning
Genesis Greenwich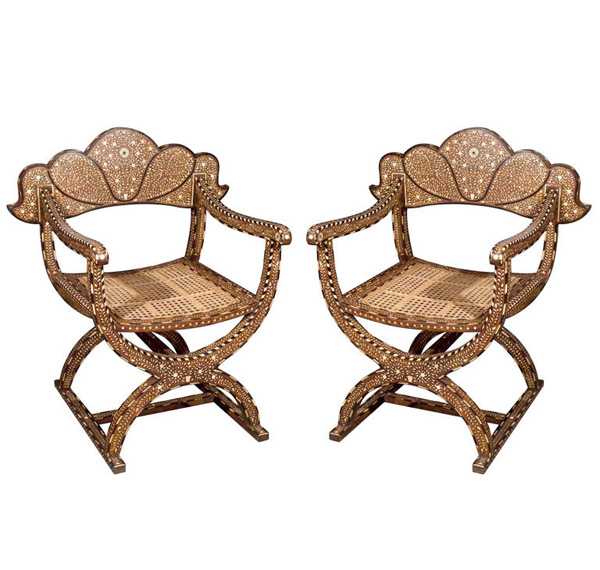 Pair of heavily inlaid decorative Moroccan armchairs which look perfectly stunning – especially when placed in your living room!
Grand Moroccan Inspired Teak Open Fretwork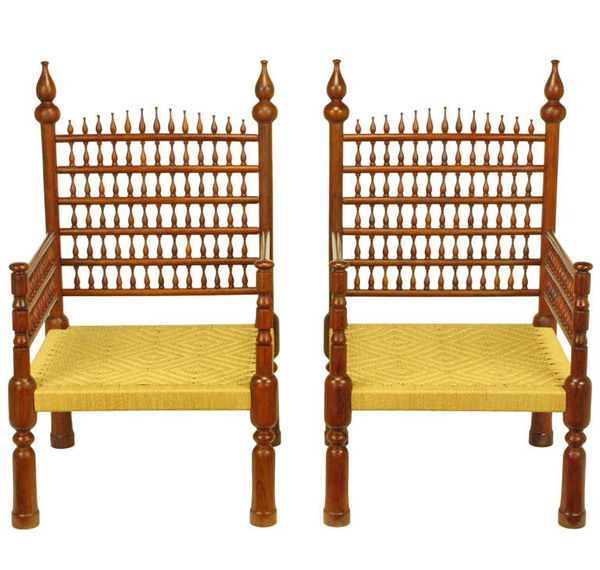 Beautiful carved teak wood and woven patterned rush seat arm or throne chairs with Moroccan styling.
Hand-carved Syrian/Moroccan Chair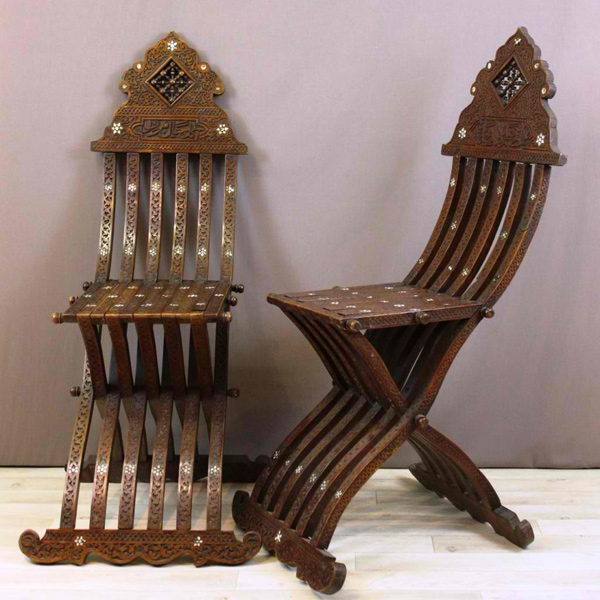 Charming chair hand-carved overall with the most beautiful details of floral designs on solid walnut. It is sized perfectly for a dressing area, a power room, a bedroom or a living room.
Hill Crest Collection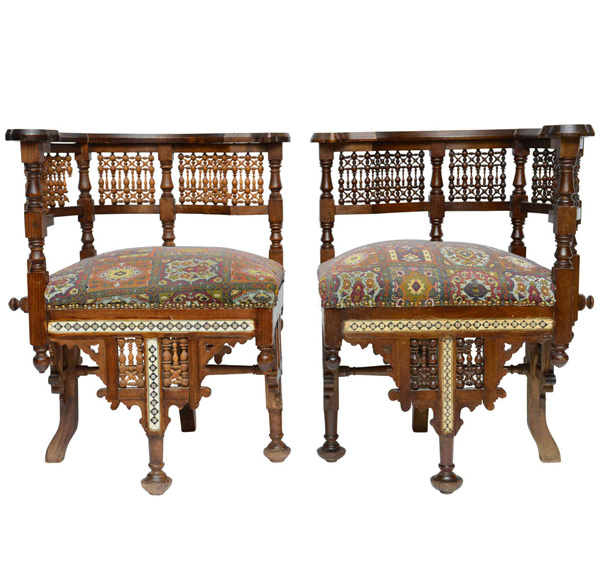 Pair of Moroccan Arm Chairs with Bone & Ivory Inlays, maybe used as a tete-a-tete. Side table available could be used between the two depending on your room arrangement.
Inlaid Moroccan Chairs with Geometric Design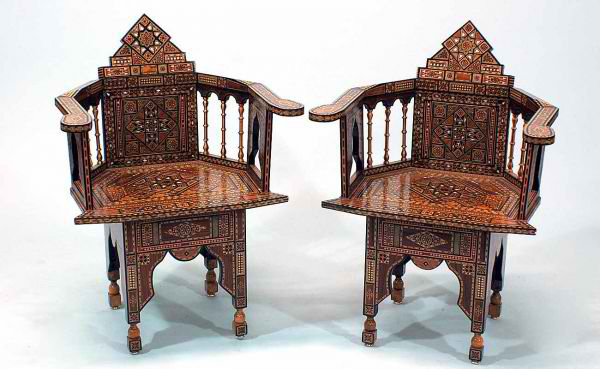 You are looking at a pair of ornately inlaid Moroccan chairs with overall geometric design which looks extremely vintage and one of a kind.
Morrocan-Syrian Hand-made Marquetry Chair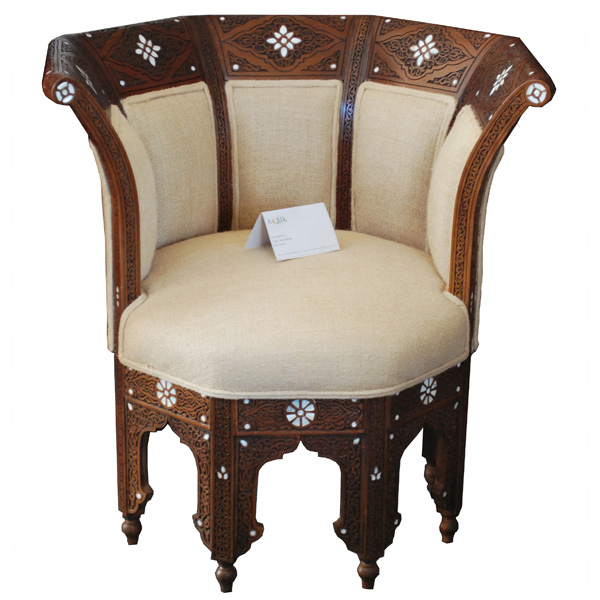 Levantine, Moroccan design hand-made chair inlaid with mother of pearl on exotic marquetry finish.
Rietveld Medina Chair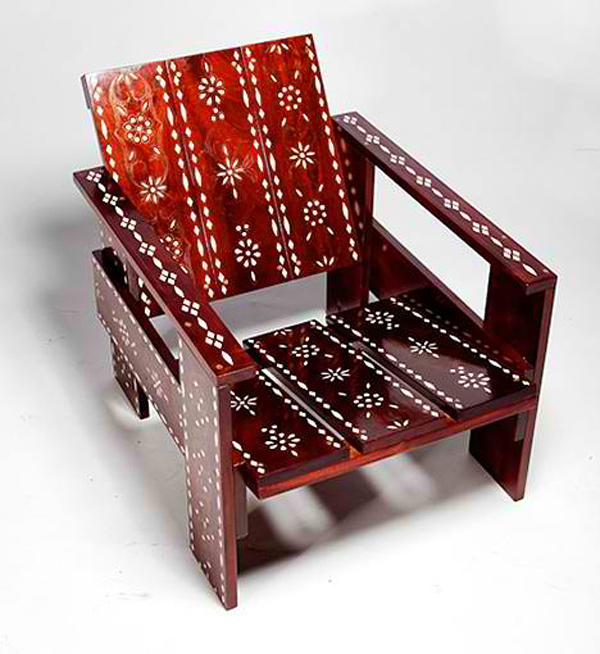 Traditional Moroccan materials such as copper thread and sheep bone are used to create patterns in this update on a classic by David van der Veldt, the Rietveld Medina Fauteil.
Syrian Moroccan Lounge Chair Inlaid with Mother of Pearl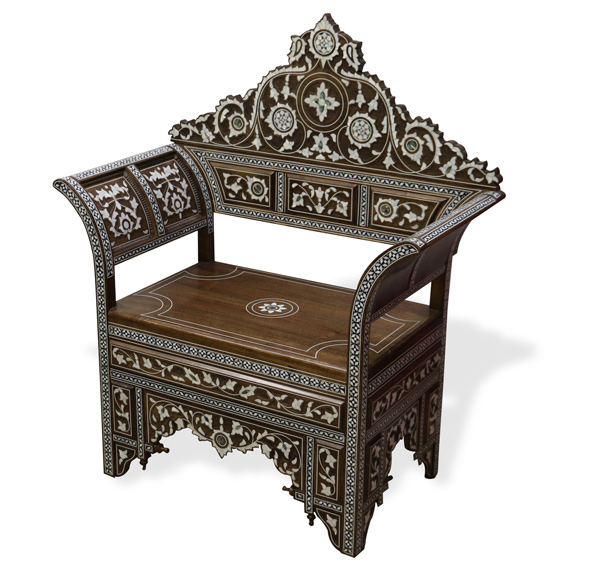 Exotic Syrian / Moroccan chair inlaid with mother of pearl and abalone on solid walnut. It has a royal feel as if from Arabian nights. It comes with a muslin upholstered cushion.
Syrian Hand-carved Inlaid Chair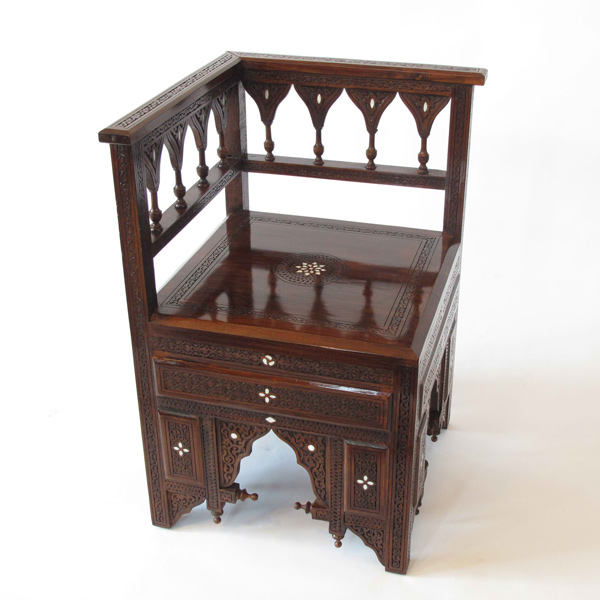 We definitely love corner tables! And apparently, corner chairs too! This Moroccan-Syrian corner chair may look simple, but look deeper and see the intricate details.
Black Princess Chair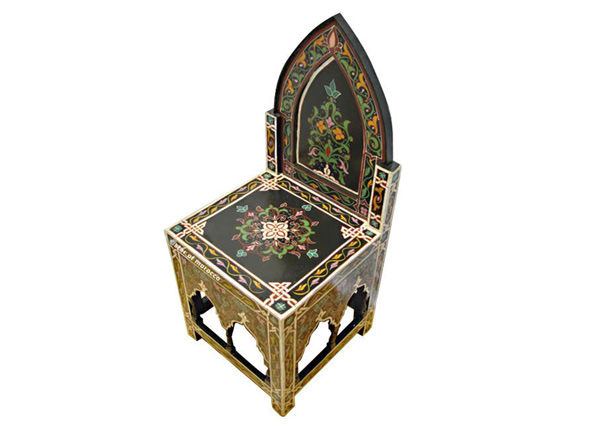 This is one interesting piece to acquire since it looks too vintage or to princess-y; if that word even exist. It's design and intricate detail is superb and surely stunning.
Decorative Moroccan Slipper Chairs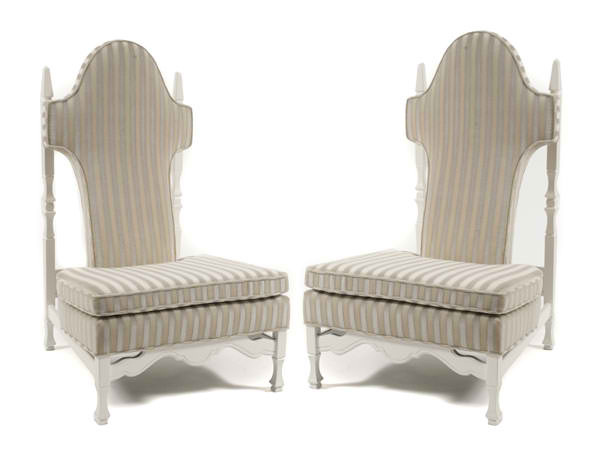 Glamorous pair of over-sized high back Moroccan slipper chairs. Newly reupholstered in gorgeous silver grey and cream striped mohair on hand carved white lacquered frames. Very striking and regal presence.
Sahara Red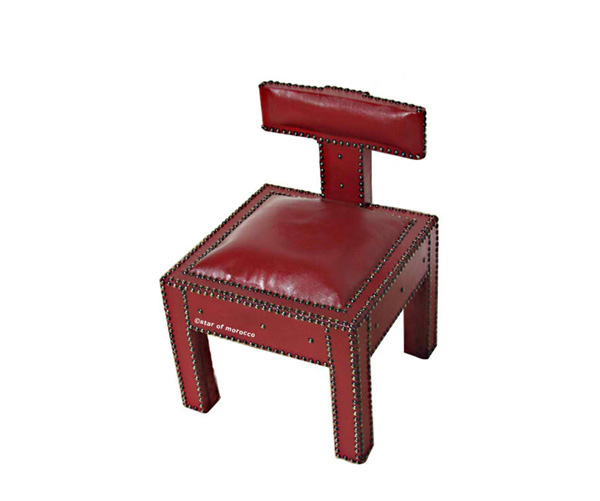 Sahara Red is basically a low-back chair with this unique backrest and deep red color. The studs in it make it more contemporary than it already is.
Elaborately carved wood furniture sets the backdrop for vivid reds, oranges, blues, and greens; while pouf ottomans with intricate stitching lend a relaxed-but-stylish feel to any room and if you noticed all the arches and points involved in their chair designs and details. Note all this is true with the 15 Outstanding Moroccan Living Room Designs and we think you'd say the same is true with the 15 Interesting Moroccan Furniture.