20 Pink Accent Chairs in the Living Room
Bring a touch of pink in the living room with beautiful accent chairs.
The color pink is usually associated with baby girls which is the reason why we usually see it in nursery rooms but aside from that, we can also use pops of pink anywhere in the house by adding some decors or even a furniture in it with that color. If you love pink but you don't want to overdo it, here is a list that will give you an idea of how to bring in the color to your living room.
Since we are talking about the color pink – why don't we continue to check out this list about 20 Pink Accent Chairs in the Living Room that I think might haunt you for days! I know that there are adult women still into pink (or any color there is, really), and I think it's wonderful how we have fascination with colors, but I thought it was only on clothes, and not in the main color of their homes – check this one out!
1. 1960's House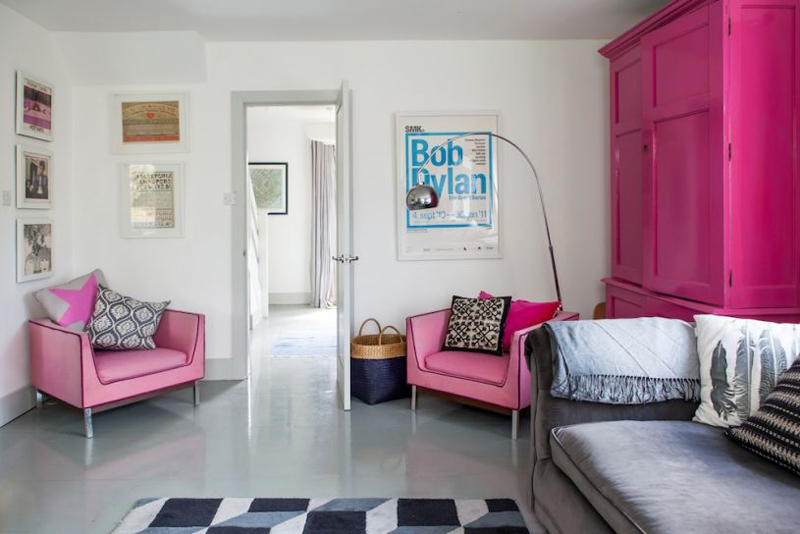 Talk about pink chairs and a pink cabinet at the opening of this list! I have been a fan of pink stuff when I was younger and I get that, but when you're like a legit adult and still loves or is pretty much addicted to specific colors like pink is kind of weird for me.
2. Bennett
I really love the color of the walls of this living room. I mean, I love the color blue and this shade is just real sweet. It's nice that they combined the blue walls, the pink accent chair and white everywhere. This entire living room is just fabulous and I think people would really love this space.
3. Atomic Ranch Renovation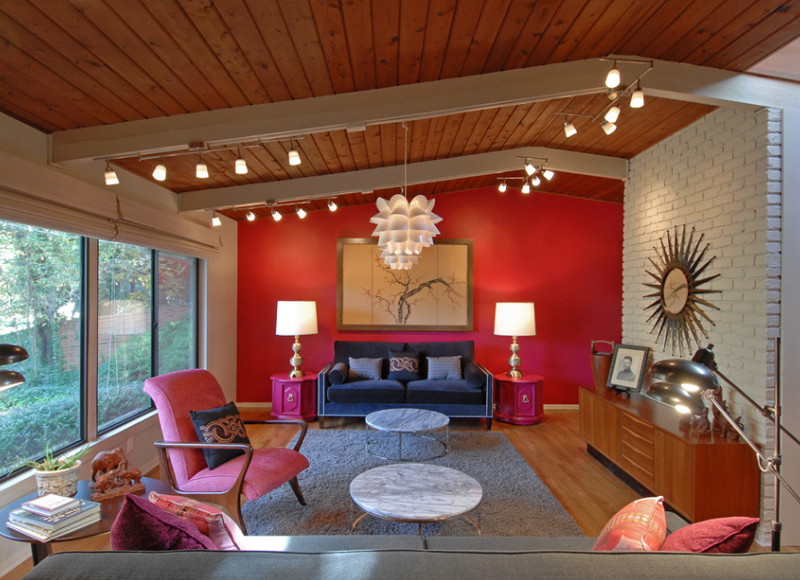 I've been on crushing this living room for quite a while and it sure is a perfect for this list.
4. Colorful and Eclectic Living Room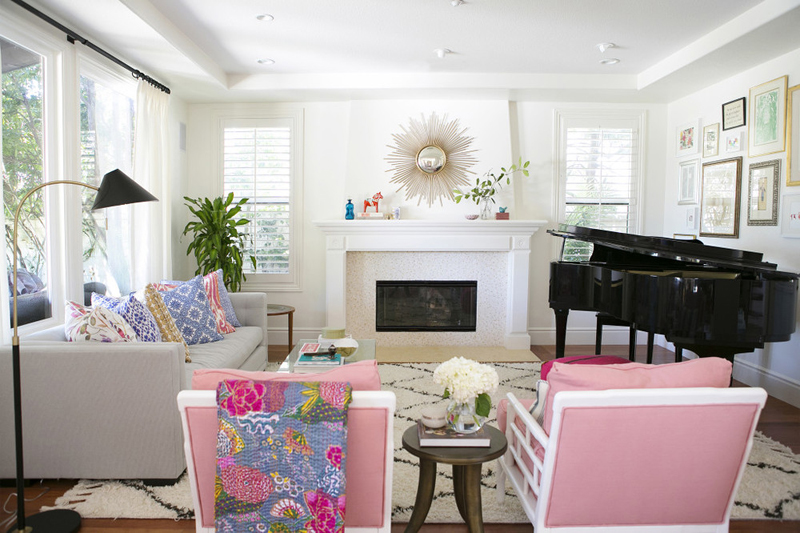 I know that the pink chairs in this living room are facing the other way (which really makes me sad), but then we can see how cute the shade of pink that these chairs have.
5. Marina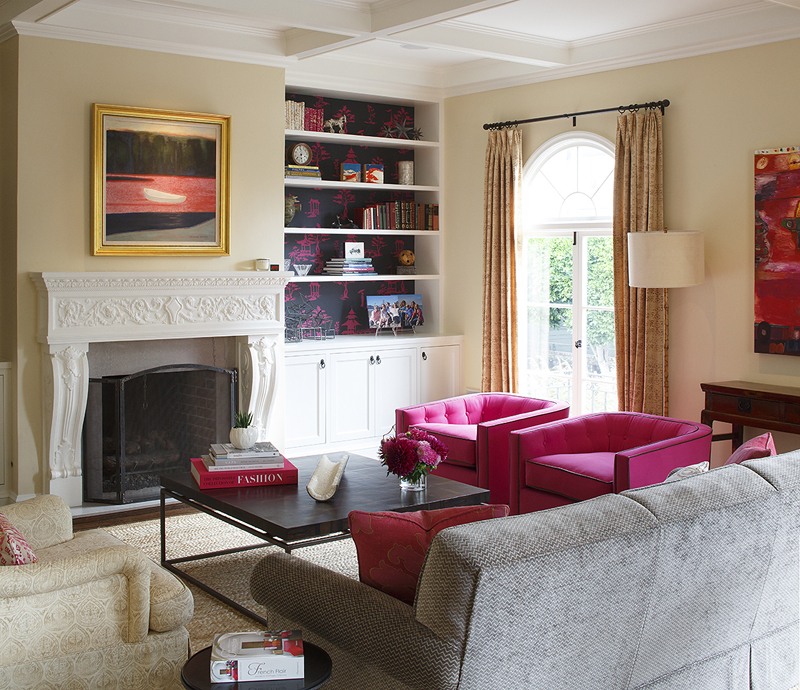 If I am not mistaken, the chairs in here are in fuchsia. In this space, I would like to think that this color is just perfect for this home.
6. Radlett Family Home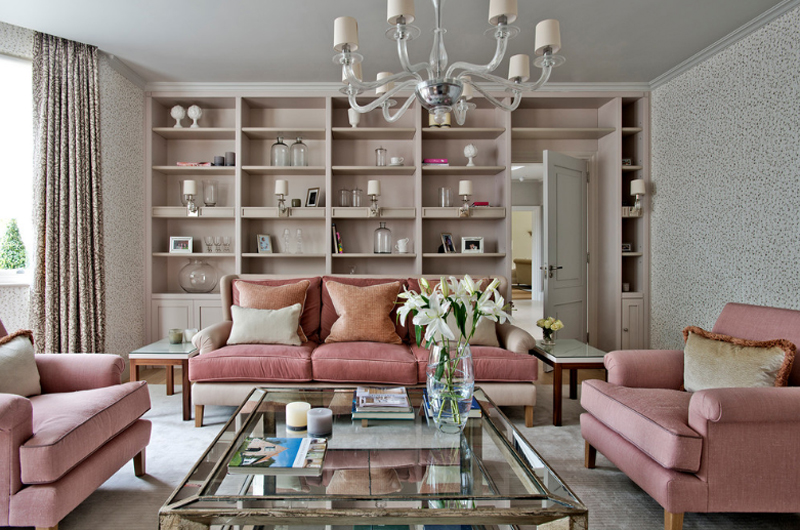 Look at the divider of this living room? What do you think? I personally love walls that are turned into cubby holes and serve as cabinets or something of that sort which I think is cool because you can always use it to display all the beautiful things you want to show off to your visitors and still be a wall and a space divider! Right?
7. 1930's Transformation East Molesey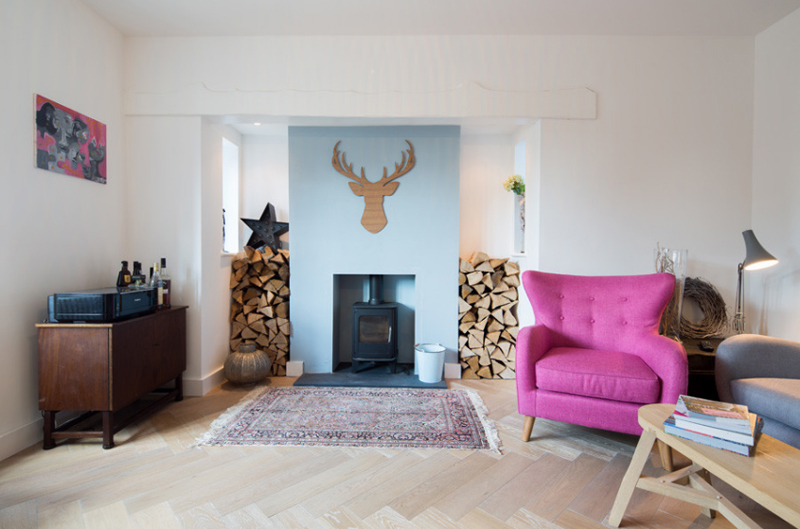 But what do you think about the way this living room is staged? Yay or nay?
8. Chelsea House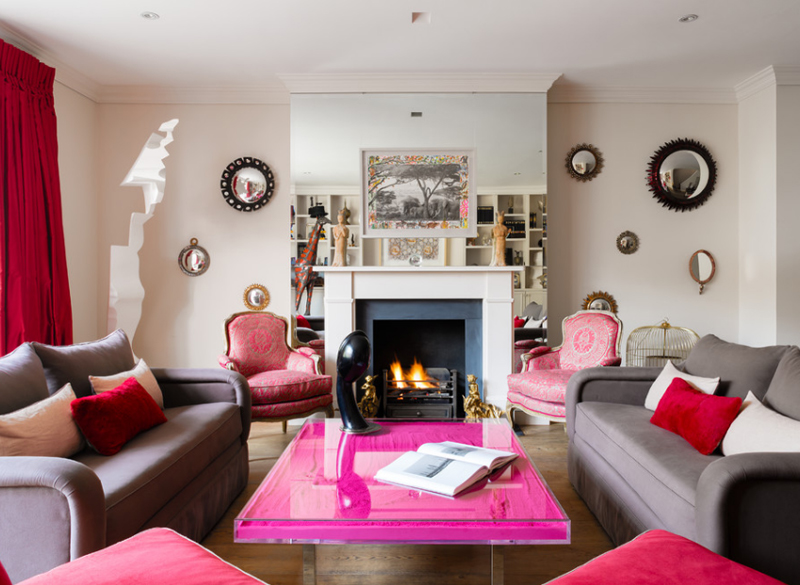 Pinning mirrors of different designs and sizes on the wall is just pretty cool. At least the wall is not quiet – right? Check out the printed cushions on the vintage chairs close to the fireplace.
9. Burlington Addition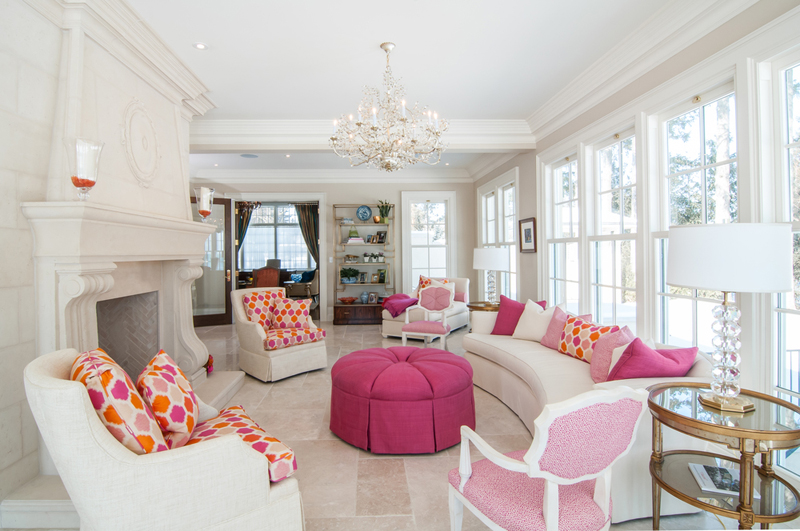 What can you say about this pretty in pink living room which I think is just charming and wonderful! The choice of furniture and decorations is also wonderful and real special; at least that's how I feel about it.
10. Ladbroke Grove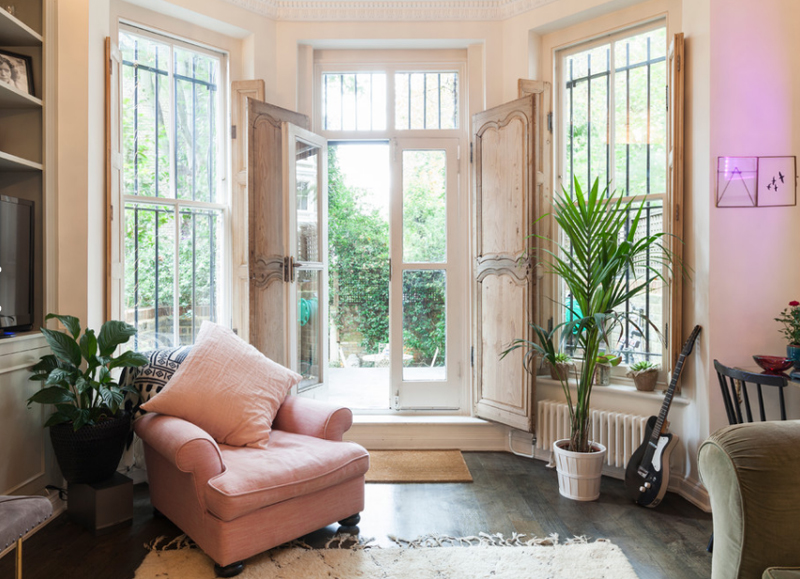 I think this pink arm chair (as comfortable as it actually looks), I think it seems old and used – I wish they picked a prettier pink chair though!
11. Marin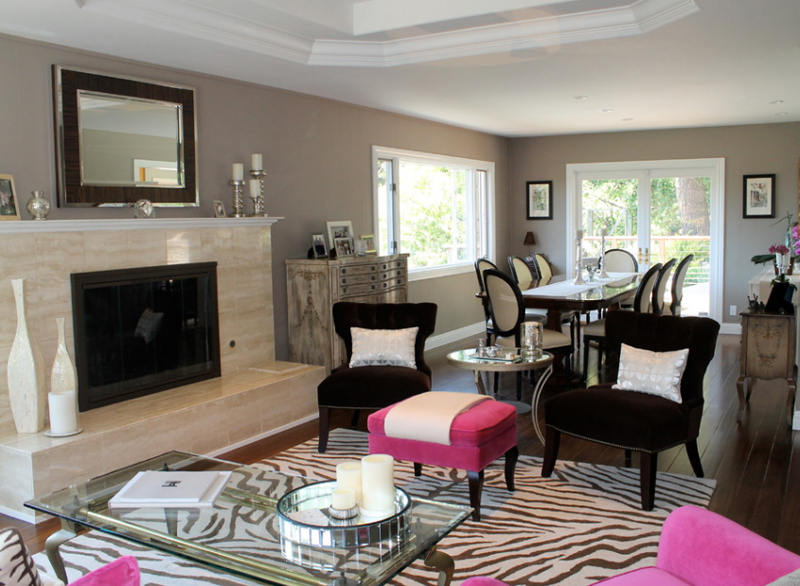 I really wanted to get the other photo of this home with the pink arm chair in it, but I was not able to get a better quality for the picture so I was stuck on this one. But then I did it and I'm pretty happy about myself!
12. Stately Manor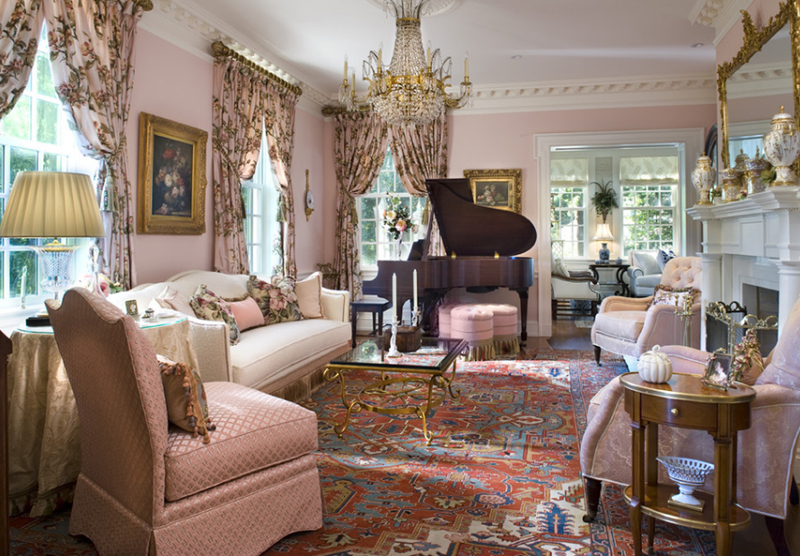 A traditional looking living room with all the pink things one could ever want and need in her lifetime. I would assume that this manor is owned by a woman or a bunch of women who loves the color pink! Look at all the pink this space has! I think that other parts of this house are actually in pink too!
13. Timeless European Charm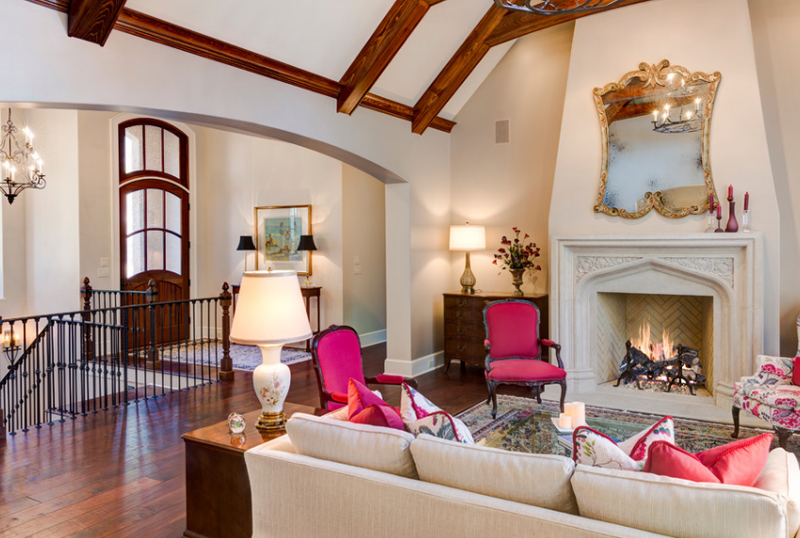 This charming living room looks real fabulous! From the name itself, it has a timeless European charm which I think people would really notice when they see and stop to really admire this living space. I think in general, the entire house is timeless and real fabulous! I think this space is just lovable and fancy!
14. Middleway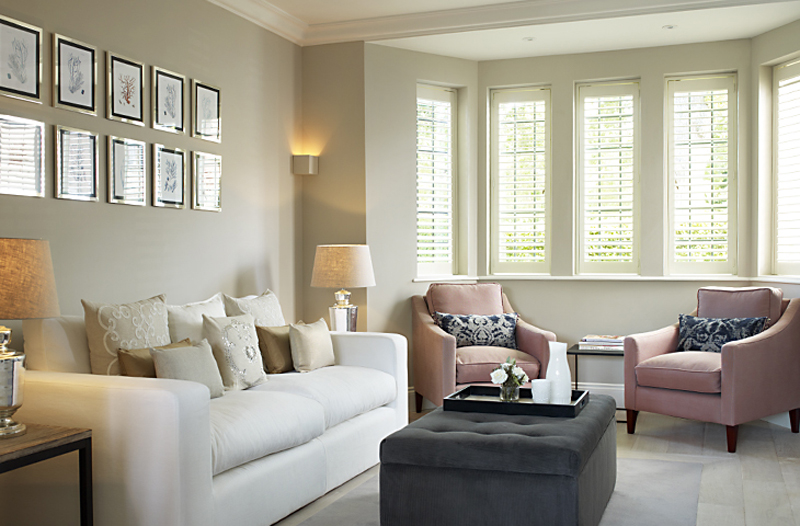 From this angle, I can say that the arm chair in this living room has a very light shade of pink. It's real sweet that it's like that and well, I think this living room has a cute feel to it because of all the light colors seen in here; nothing seems to scream anything dark in here – except maybe for the ottoman which is a good choice so that this space would just have a bit of a contrast.
15. E 10th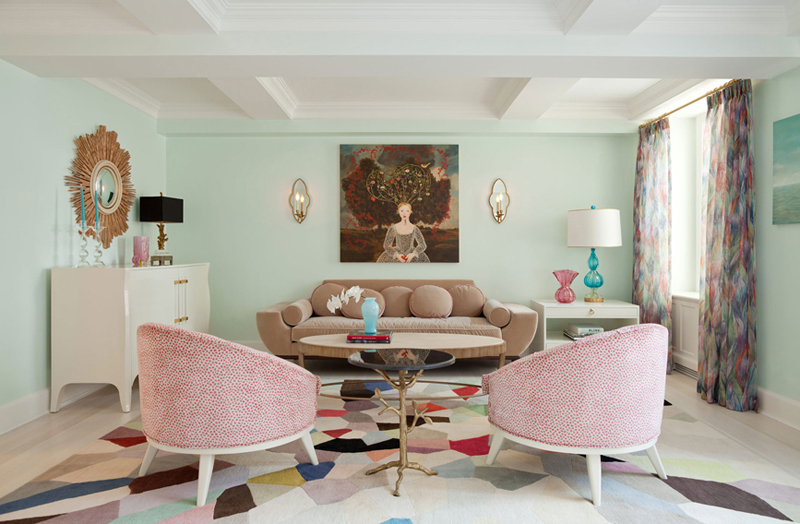 I guess this living room is a great one too with its colors and choice of furniture.
16. Glam Ranch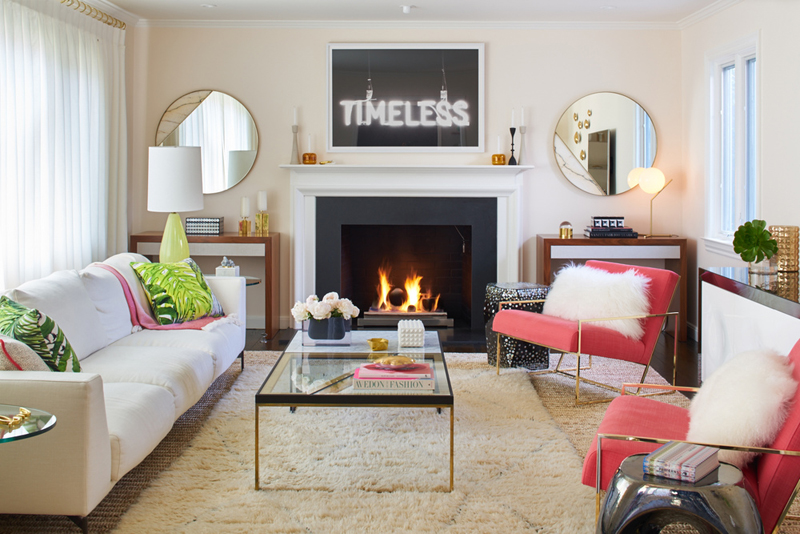 This is one the chairs that I personally love on this list. They are really pretty and like, real gorgeous! Adding the furry pillows made it prettier because it became more chic and classy I guess. This living room has a cool tag line which I love – it sure is timeless!
17. Laguna Niguel Remodel
What do you think about the print of the accent chair or mini couch in here? It has a similar color to that of the pillows on the grey sectional and I think it is really neat that they did that. Adding a bright colored chair to a monochromatic room is a great idea – all the time.
18. D'Aquino Monaco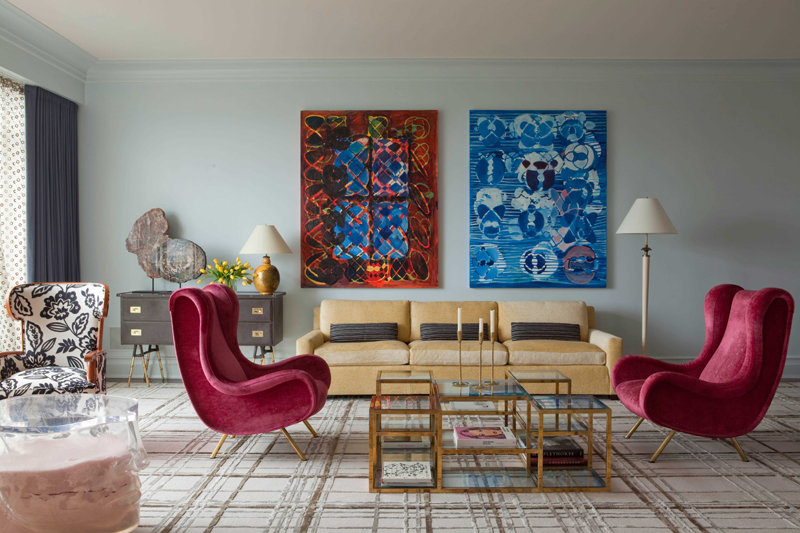 A living room with almost all of the colors in it. The color of the arm chairs in here seems like its carnation or fuchsia and it's so pretty. I think that the design of the chairs itself is real neat and pairing it with a beautiful coffee table does the trick for me!
19. Kellogg Road Residence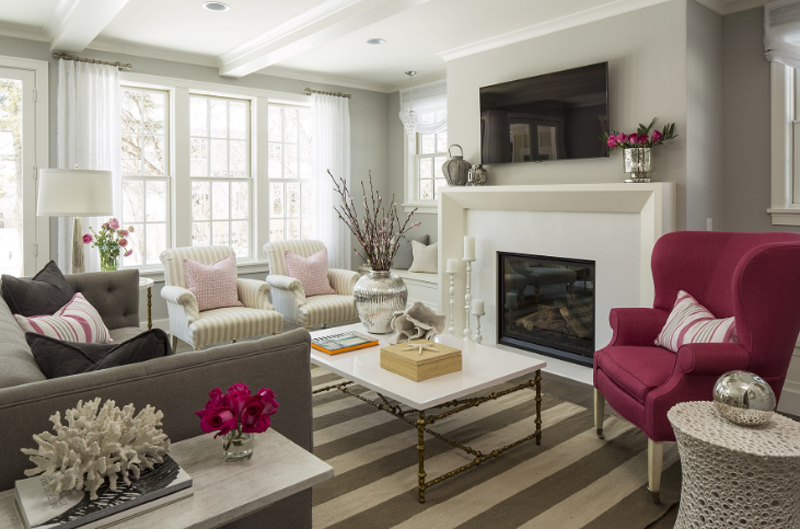 At first, I think you'd say that this is not a pink chair – but it is! Of course it's of a darker shade and it just looks wonderful. I even think that its color complement well with the lighter colors around it.
20. West 18th Chelsea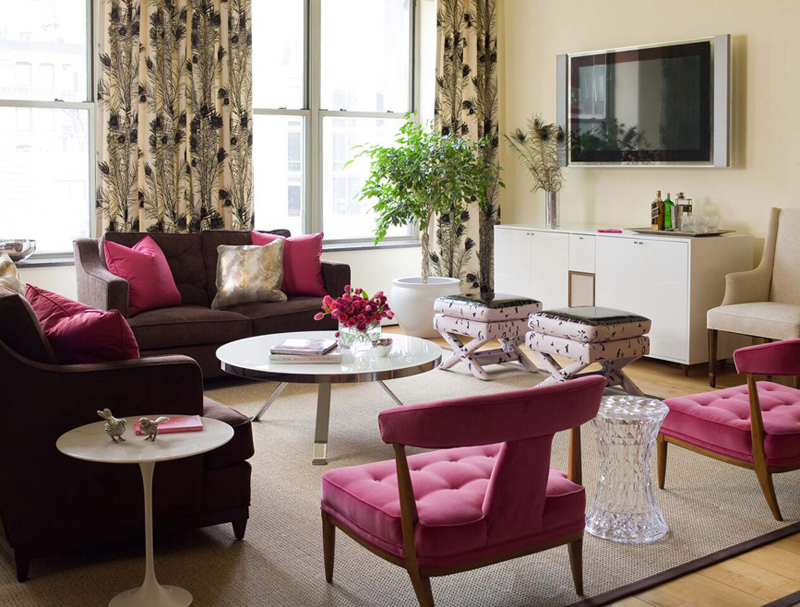 This is definitely one awesome finisher for this cool list that we have. I think that as much as I loved pink when I was younger and it's a usual choice for feminism or something, I still think that adding too much of it on one place is not a real great idea; this living room has enough pink in it, so it's cool!
I know that it's a bit far off, but I want you to check out the list I made recently about the how geometric patterns was used in the dining room walls and share them to your friends like this list too! That list is a different story, but then again, we discover people's fascination on things, colors and stuff and I think it's just all too wonderful. Tell us what you think of the lists we are making in here!