15 Superb Stainless Steel Dining Table Designs
Are you a fan of modern or industrial-style furniture and decor? Because here in Home Design Lover, we thought of gathering a few dining room table designs which showcase both industrialized and modernized feel to these furniture. We are talking about glass, stainless steel and a bit of plastic from time to time. If you are indeed a fan, check out the 15 Superb Stainless Steel Dining Table Designs have prepared for you.
The list below showcase fifteen table designs that vary in color, shape and sizes. What's nice and interesting about them is that whether you have a contemporary, eclectic or modern home, these tables will definitely be perfect for you. There are more designs and colors for these tables, but we hope that you would actually love the 15 Superb Stainless Steel Dining Table Designs below, let us go ahead and check them out.
Diesis Extendible Dining Table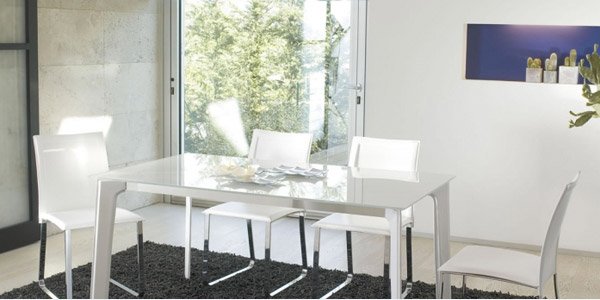 White chairs and paired with a shiny glass rectangular table. Simple, sleek and definitely stunning!
High Voltage Oval Table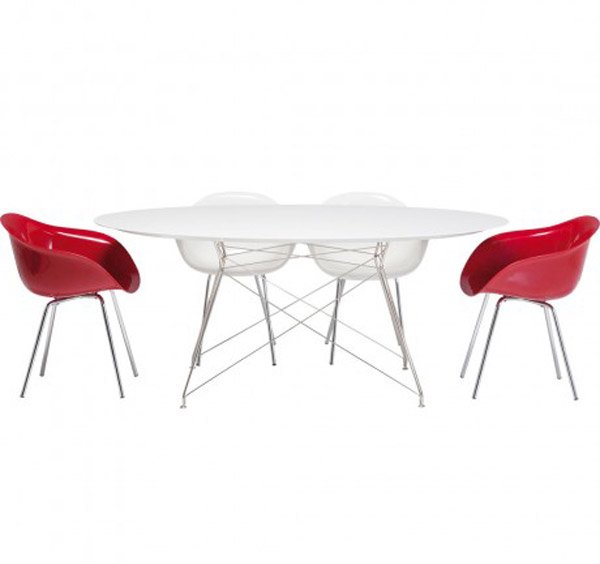 We love how the designer thought of combining two colors for the seating of this dining table. The color red sure made this entire set stand out!
Infinity Dining Table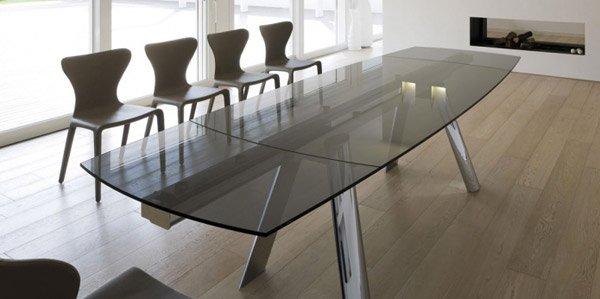 This table might look like something you'd see in a conference room, but believe us, if you have a family with more than six people, this table is for you!
Madison Walnut Table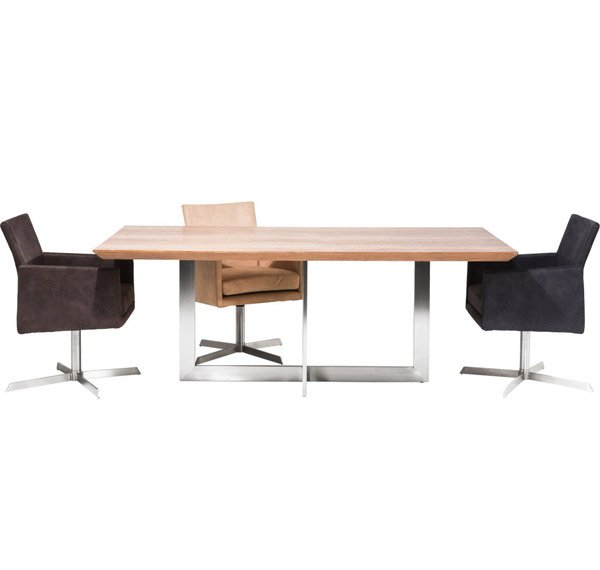 Combining wood and stainless is one good move, sometimes, even when the wooden part is already broken down, the stainless steel parts still remain intact.
Mikado Table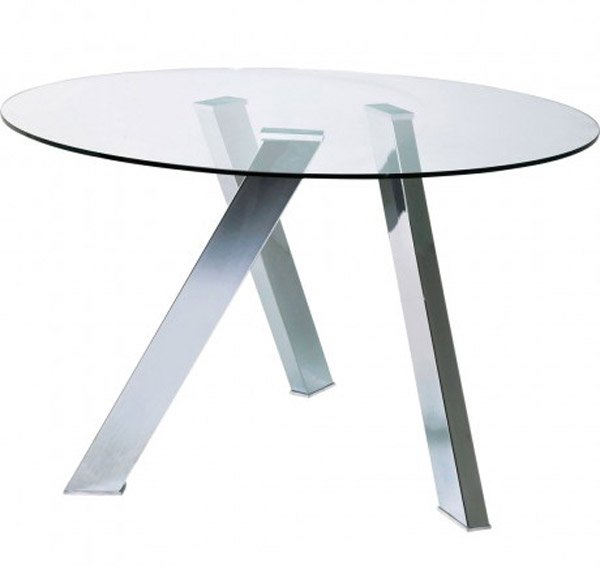 Mikado Table in this picture seem enlarged which makes the leg design rather compelling and attractive.
Minimal Dining Table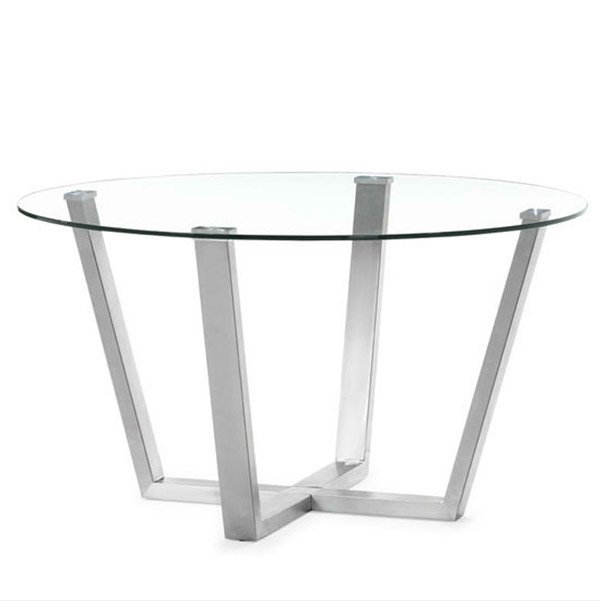 Brickell Collection has a few choices in table designs, but what they lack in number, they compensate with design and quality, just like this lovely table.
Naxos Dining Table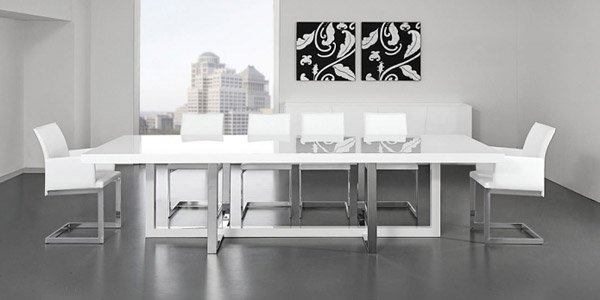 This is a very gorgeous space equipped with superbly designed and created dining room table and chairs. Note that the aura is just so calm and refreshing.
Novel Dining Table Stainless Steel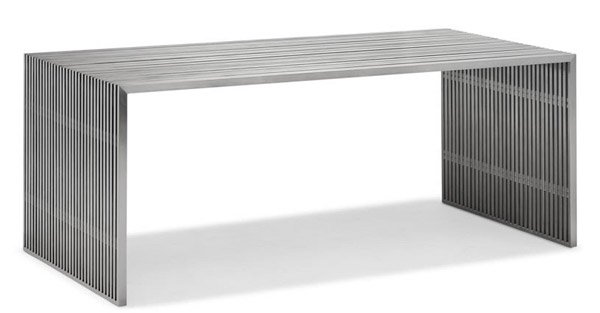 Inspiring design, don't you think? It seems like an art piece.
Pablo Dining Table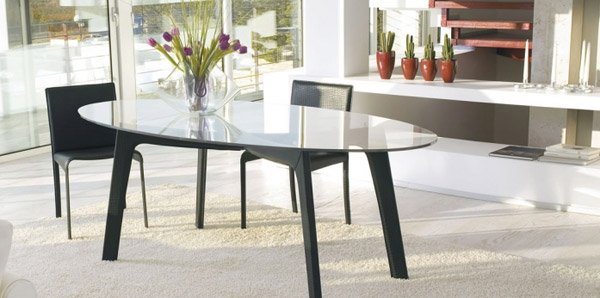 Pablo Dining Table – with a glass oval table and lovely black stainless steel legs. We're betting that you'd like to have this one for your home.
Pine and Steel Trestle Table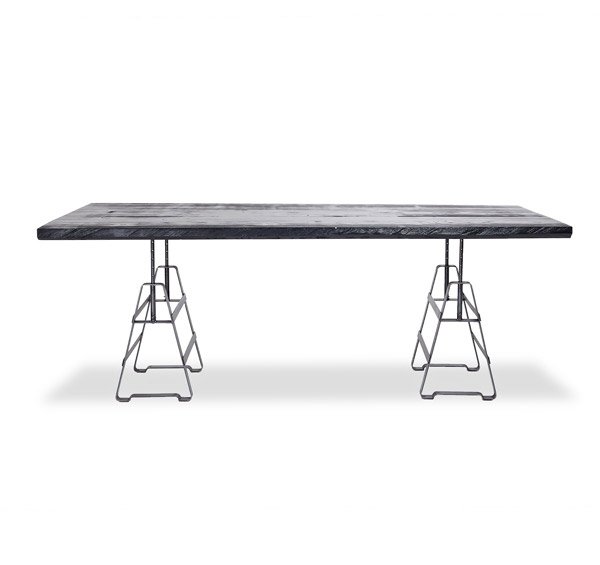 Fine design and creativity in terms of the leg work on this one.
Resort Dining Table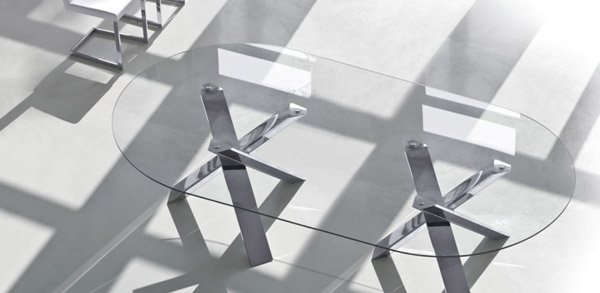 Do you remember a child's toy with the same shape as those legs? Tell us about it, because we sure remember one, and they're usually colorful and paired with a ball.
String Dining Table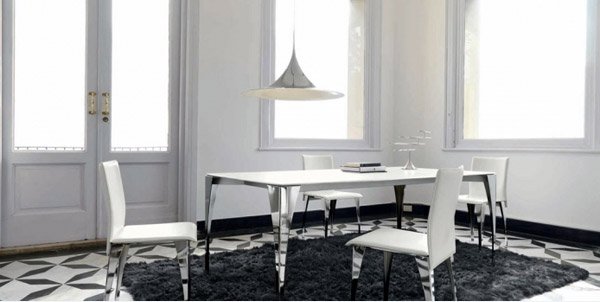 The space is divine and so is the carpet work; and the industrial pendant lamp, it's just so vintage and really pretty. It complement well with the table and the chairs.
White Glossy Table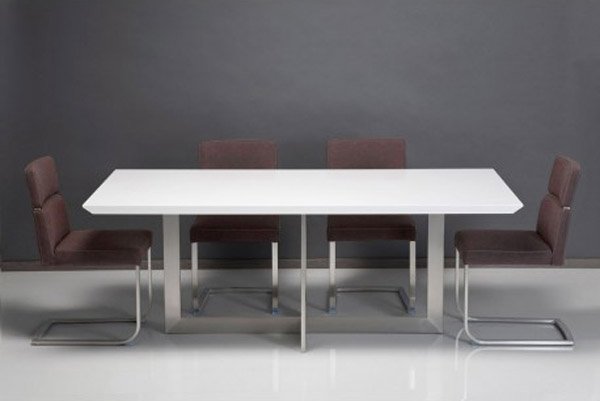 Too glossy? We guess not. The design is simple and a space-saver. We love it.
Dining Table with Stainless Steel Legs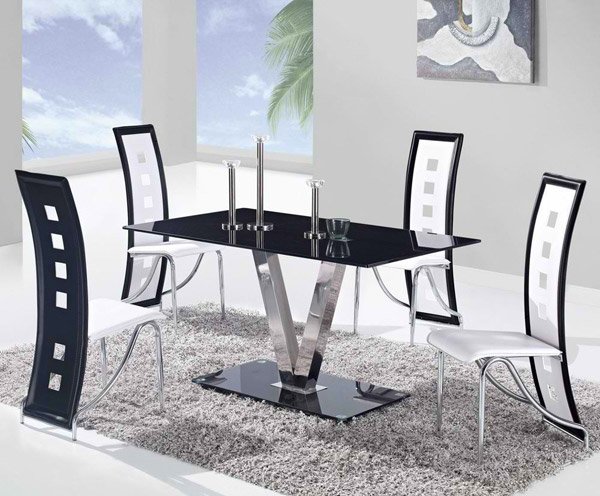 The contemporary glossy black table will compliment any dining room. It features a rectangular shaped tempered glass table top, V shaped silver legs and a glossy black base for an upgraded look.
Stainless Steel & Glass Modern Dining Table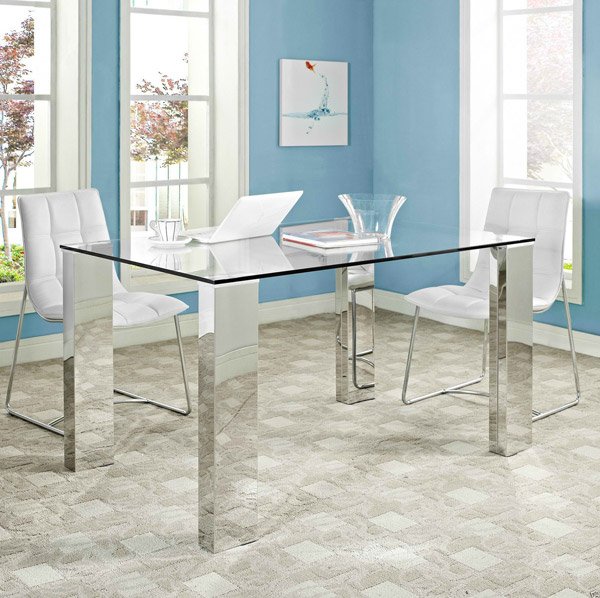 Hasten a forceful and compelling drive with the 4 Post Glass Top Dining Table. Four prominent stainless steel legs support a tempered glass top in a display or determination and action. Conquer your environment as you open the window of opportunity.
How did you like the 15 Superb Stainless Steel Dining Table Designs? They show us a different way into involving stainless steel to a more contemporary and modern design than just all eclectic and industrial. The designs may be simple, but the clean lines created by the stainless steel make it all worth it and special. Take a look at the 15 Shimmering Square Glass Dining Room Tables which are really pretty too. Have fun and happy weekend!