25 Murphy Bed Designs Perfect for Small Spaces
To save space in your small home, why not try using a wall bed?
Sometimes, we are left with no choice but to live in a small space. While others prefer to live in a small space than a spacious one. So, if you are living in a home with a small floor area, you will surely end up exploring ways on how to save space. Well, aside from good planning on your layout, you can also use transforming furniture so that it can be used in different ways. I actually admire items like this very much!
With that, I have collated some designs of Murphy beds that were added in various spaces from living spaces to bedrooms. Most of the areas can be used as a living space during the day and a bedroom during the night. But you can also use if for your bedroom too. If you want additional space for some activities at daytime, you can just keep your bed. A Murphy bed is also called a wall bed because you can keep it by bringing it up to the wall and it looks like part of the wall. Nice idea, right? So, here are some Murphy bed designs I have collected for you.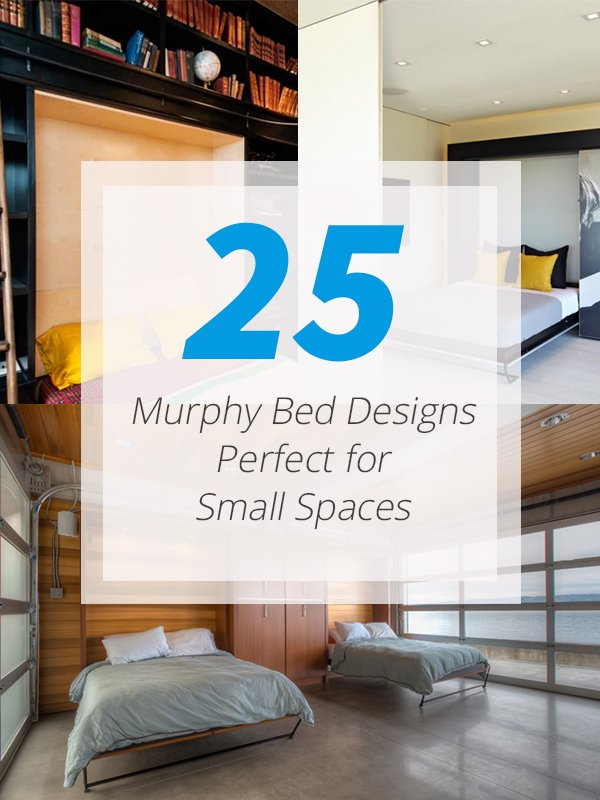 1. Small Space Living in Outport Community, Port Rexton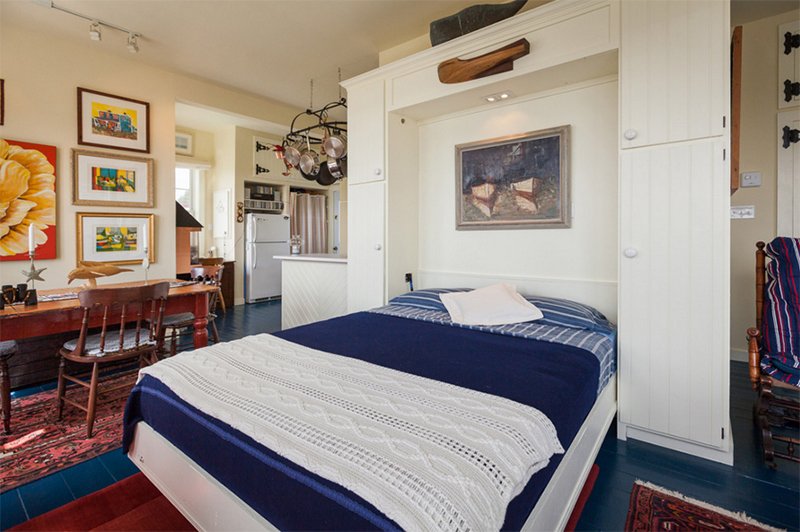 A small living space can be converted into a bedroom with wall bed. Notice that it seems to have a nautical theme here.
2. City studio apartment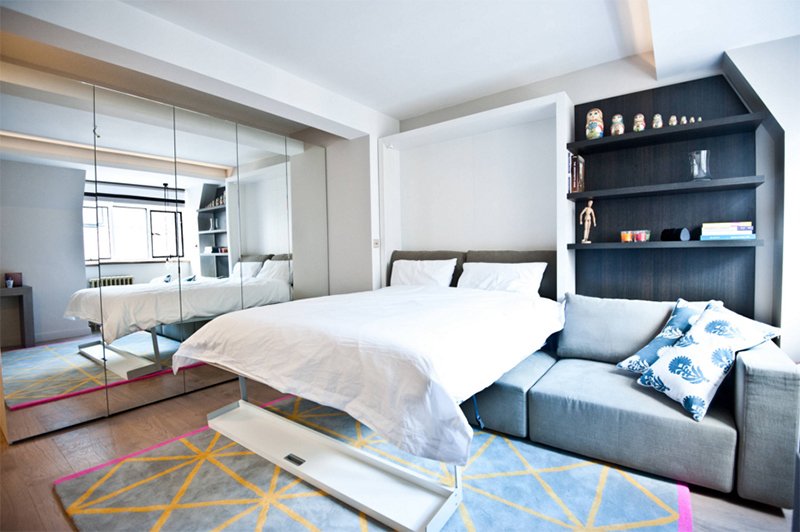 I like the area rug used here. It is a good idea for a DIY since you can spray paint the lines. Aside from the bed and the sofa under it, it is also nice that the wardrobe has mirrored doors.
3. Vintage Modern Living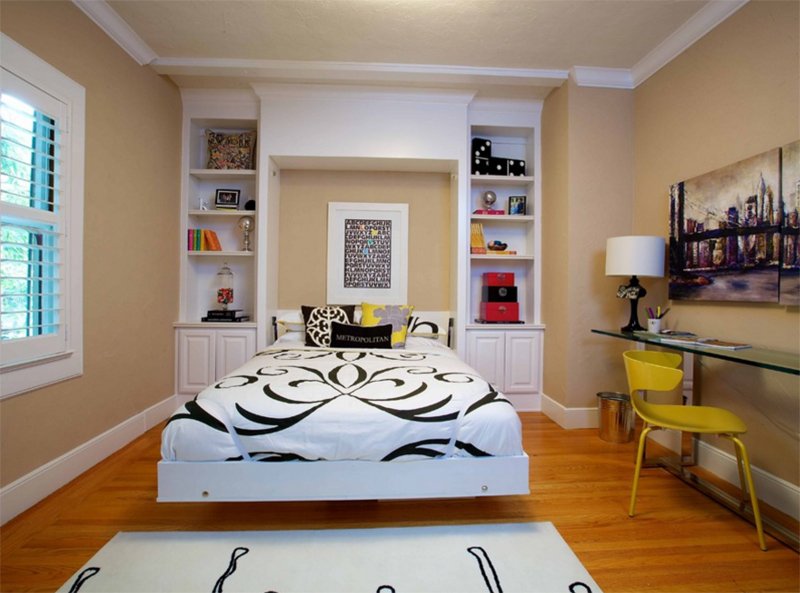 This bedroom doesn't just have a wall bed but it also have a beautiful combination of yellow, white and black.
4. Modern Showbiz by SB LA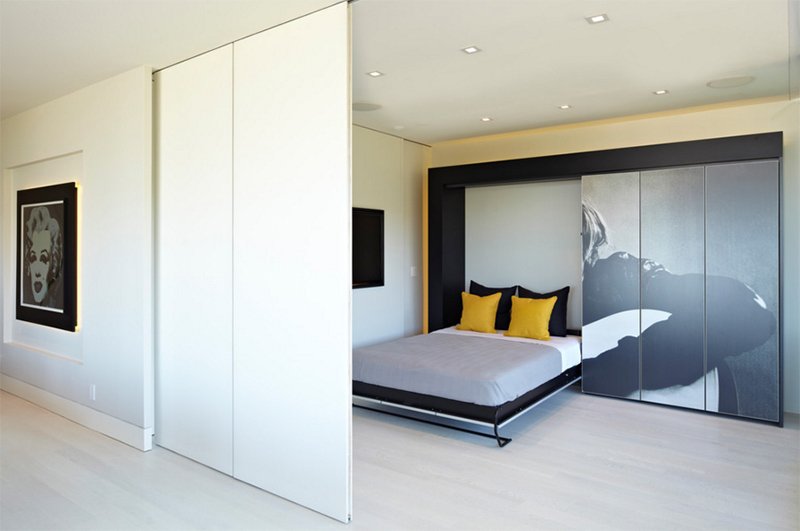 A modern bedroom with a Murphy bed that features a printed door. I can tell that once you put the bed down, it will complete the picture.
5. Central London Apartment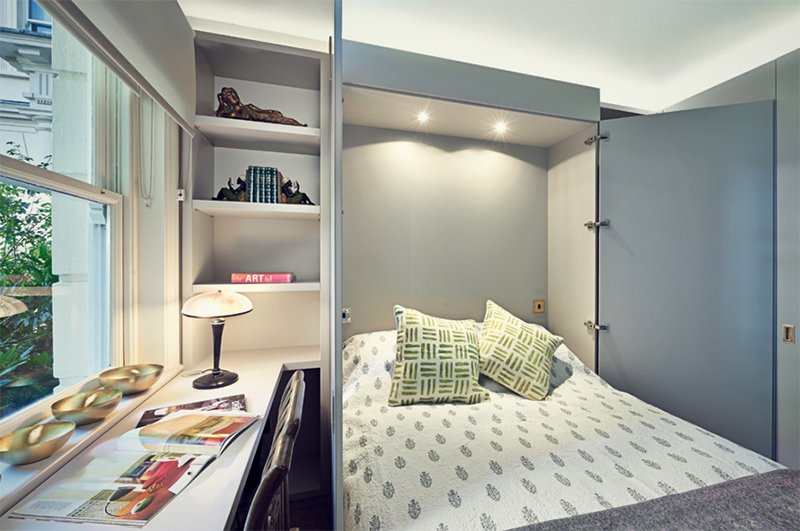 For this one, the Murphy bed can be kept behind doors. When the bed is placed down, the doors can also add privacy to the bed area.
6. Unfolding Apartment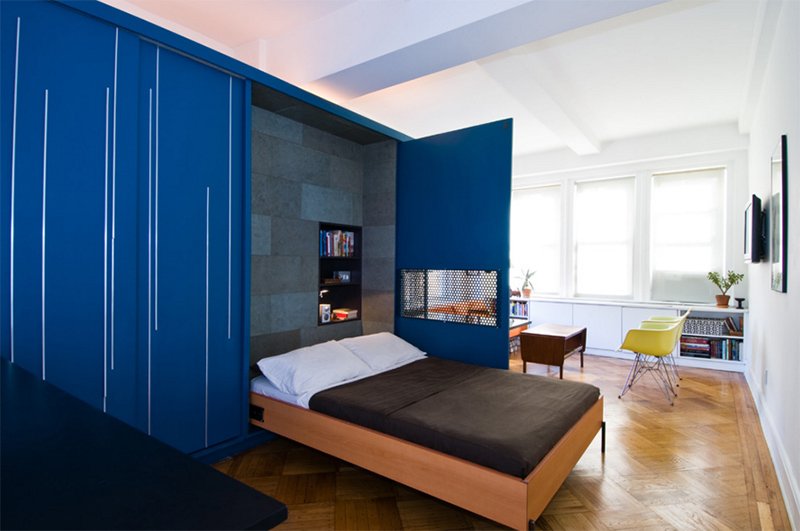 Another modern version of a Murphy bed. What I like here are the storage space on the wall and the wallpaper they added to it.
7. Featured Home Office/Murphy Bed Project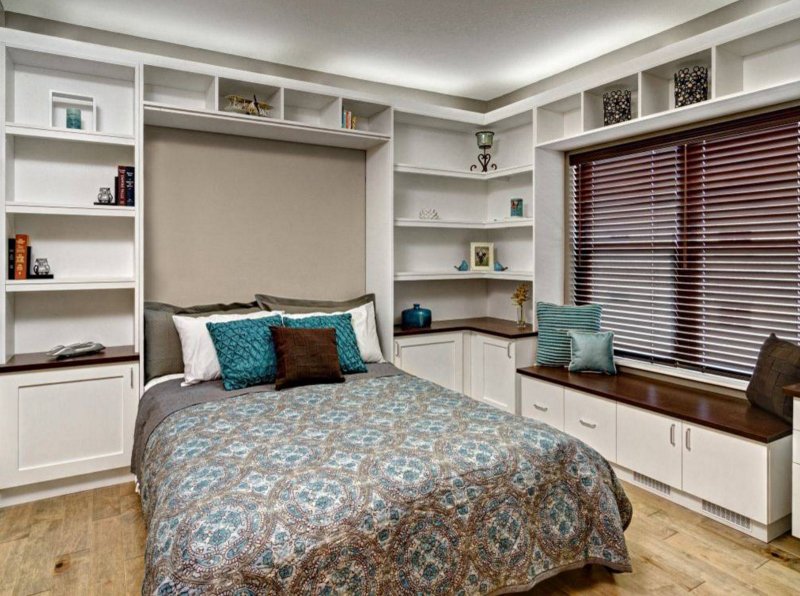 Shelves surround the Murphy bed as well as a built-in bench that is just near the window.
8. Hamilton – Eclectic Industrial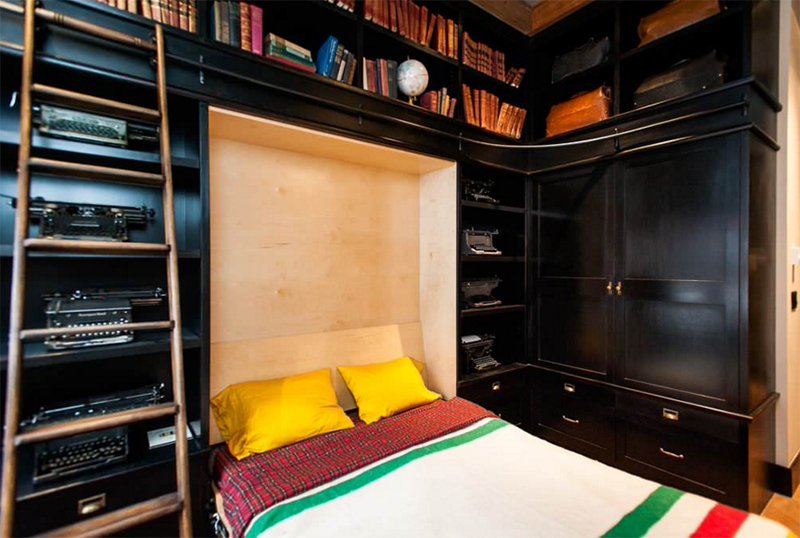 The bedroom is filled with vintage typewriters which we can see on both sides. This adds appeal to the area. When the bed is put up, all we can see is a wall of display items.
9. Cabana with Murphy beds down.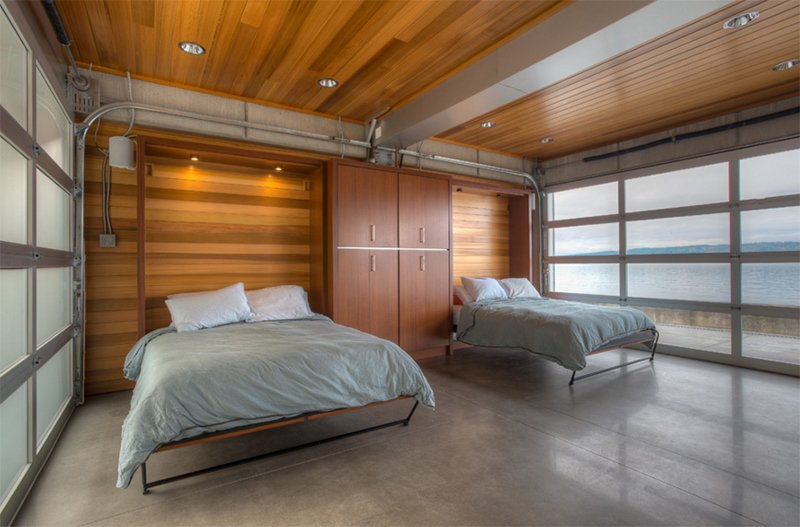 You can also have two Murphy bed in one bedroom. Yes, that is indeed possible and you will end up having a spacious room once you put the beds up.
10. Transformer Loft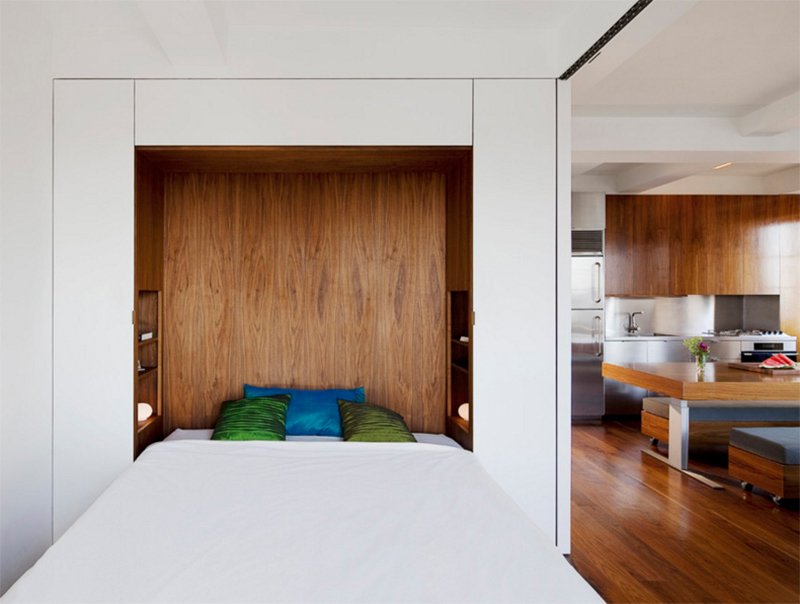 A modern small residential space with a Murphy bed that has a combination of white and wooden texture. Notice that at the sides there are shelves too.
11. Lake Country Builders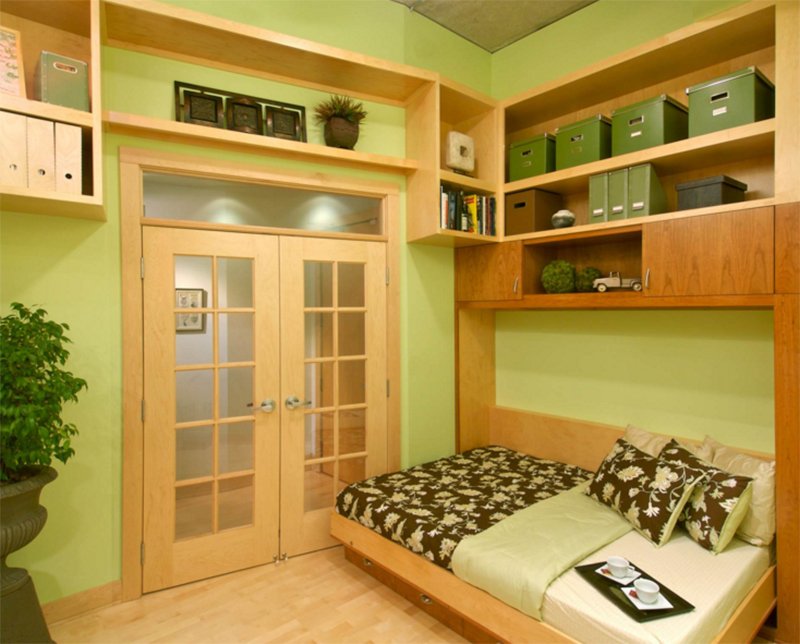 This room looks Asian to me because of the colors it used and the addition of plants too.
12. Small Space Living in Outport Community, Port Rexton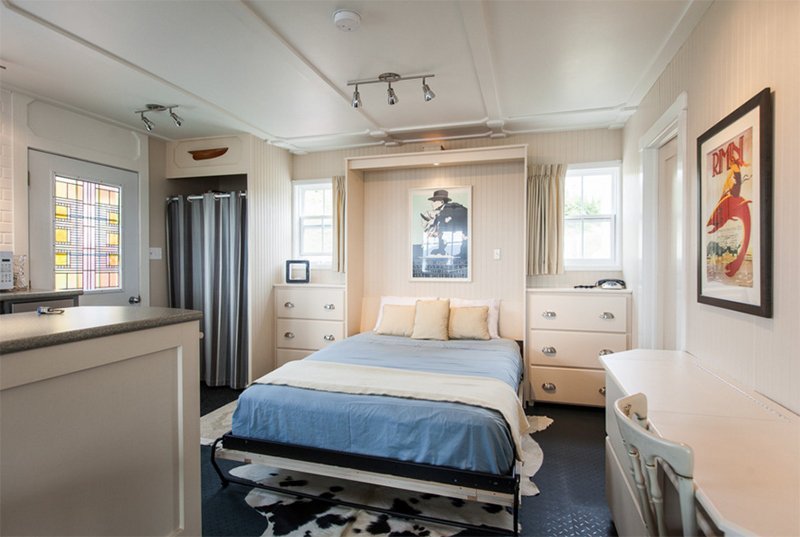 Notice that the wallpaper here for the bed area as well as on the wall is the same and it compliments with the floor as well.
13. Naples Living Room – Zoom-Bed , Murphy Bed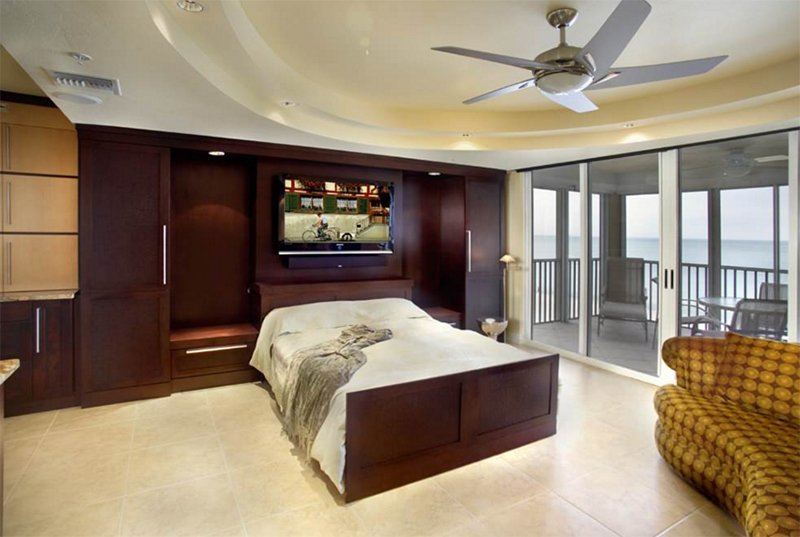 This one doesn't just have a Murphy bed but a television on top which can be concealed by putting the bed up.
14. Contemporary Family Room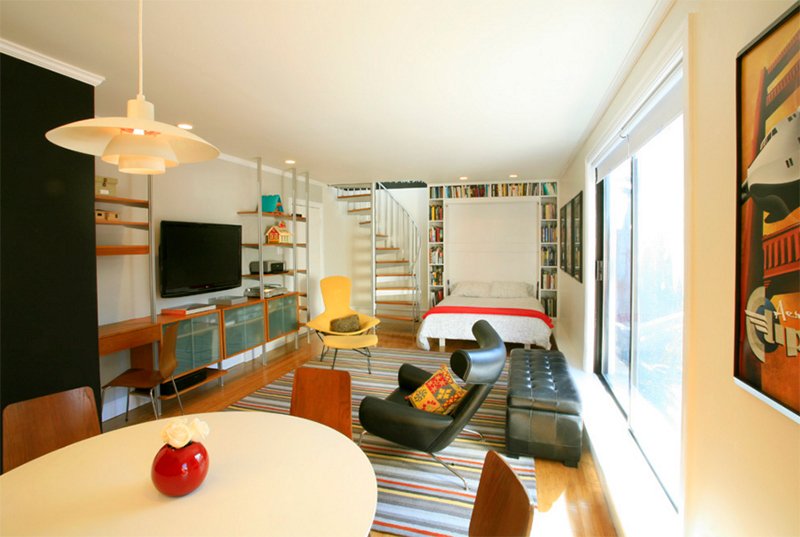 For a small space, this would be a good idea. The Murphy bed here is surrounded with a bookshelf.
15. Cary Bernstein Architect Eureka Valley Residence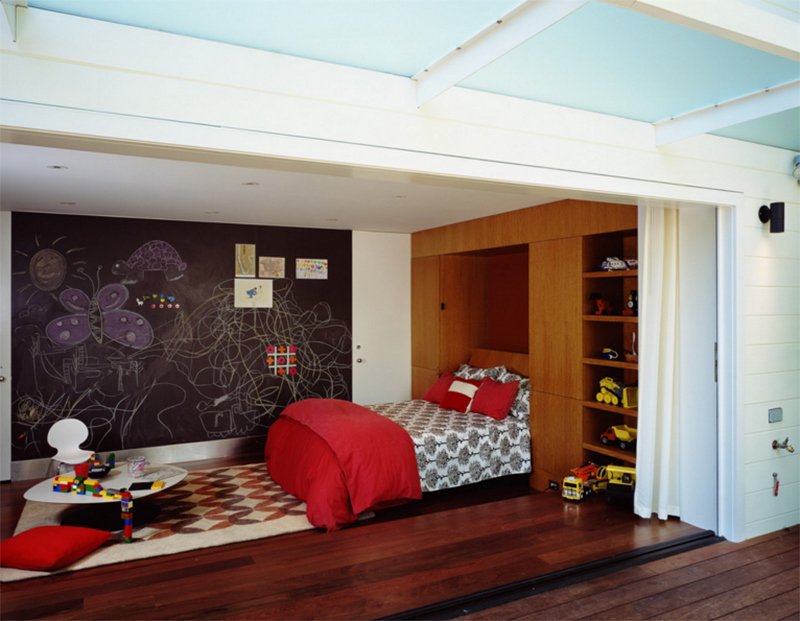 For a kid's space, a Murphy bed can also be added too like what you can see in here. It is just the bed covers that vary. Bring in a more exciting bedding set for a kid's bedroom.
16. Large Custom Wall Unit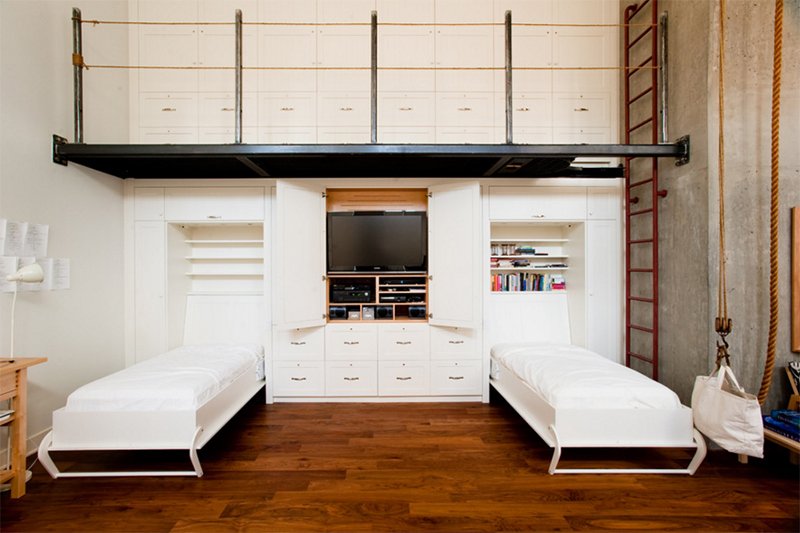 This one looks like a bedroom for boys. Aside from space-saving beds, it has a mezzanine where a row of cabinets can be found.
17. Clyde Ave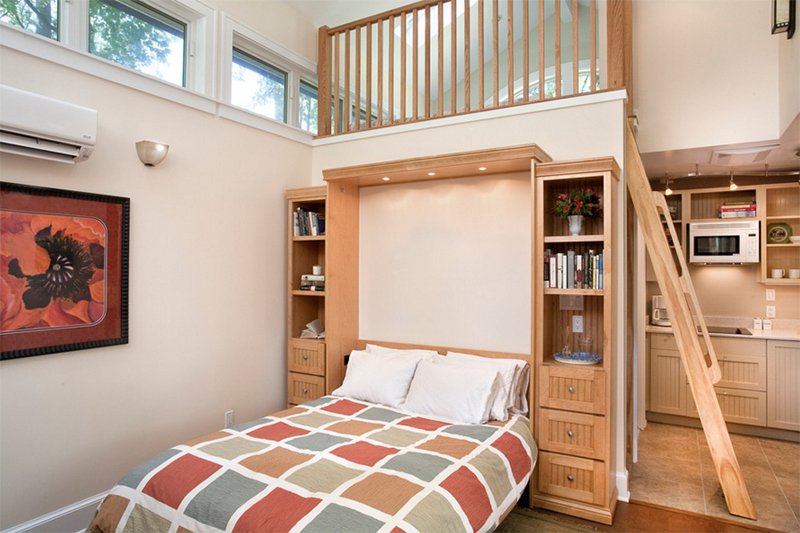 This one doesn't just have a Murphy bed but even a mezzanine above it. Now that sure is a space-saver indeed!
18. Jerry Bussanmas
If you have a small space in the house, it would be a good idea to use the wall in this manner. Notice the windows just above the bed.
19. Ranch House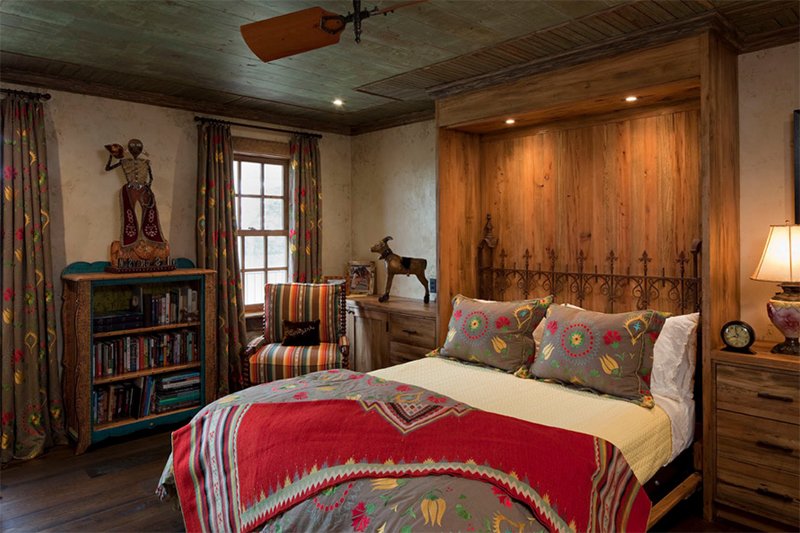 An eclectic mix of Traditional design & Modern details are seen in this bedroom that looks interesting and is at the same time livable. What drives its color scheme together is a beautiful antique Persian Carpet.
20. Home Office with Hidden Guest Bed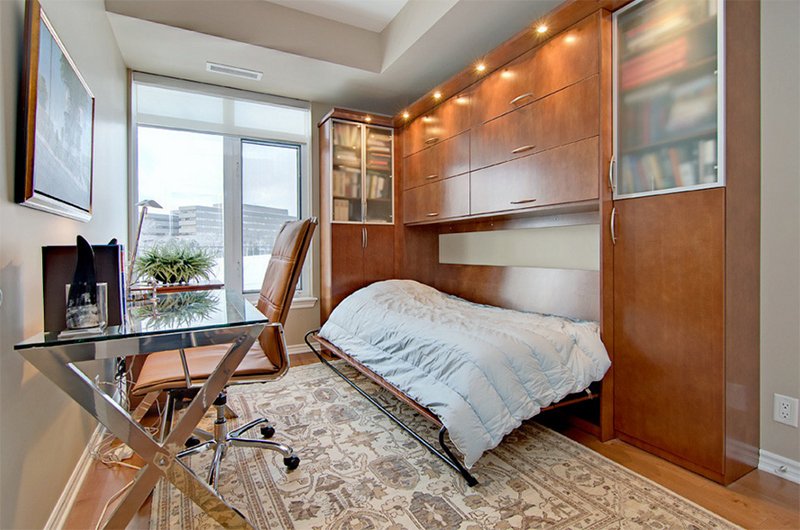 You can also have a Murphy bed that can be folded and kept on this manner. It also has cabinets around it too for storage. Pretty neat space indeed with a working area.
21. Guest Bedroom in Modern Victorian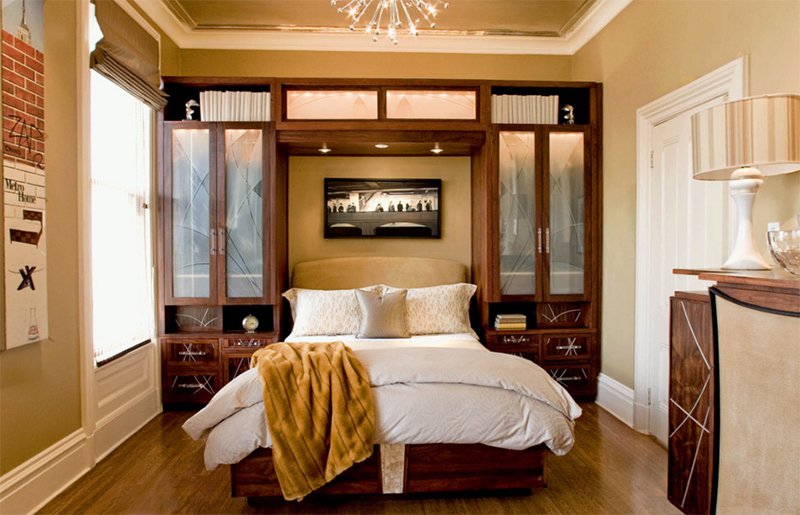 Aside from the Murphy bed, it has a wall system with plenty of storage areas around it.
22. contemporary detached accessory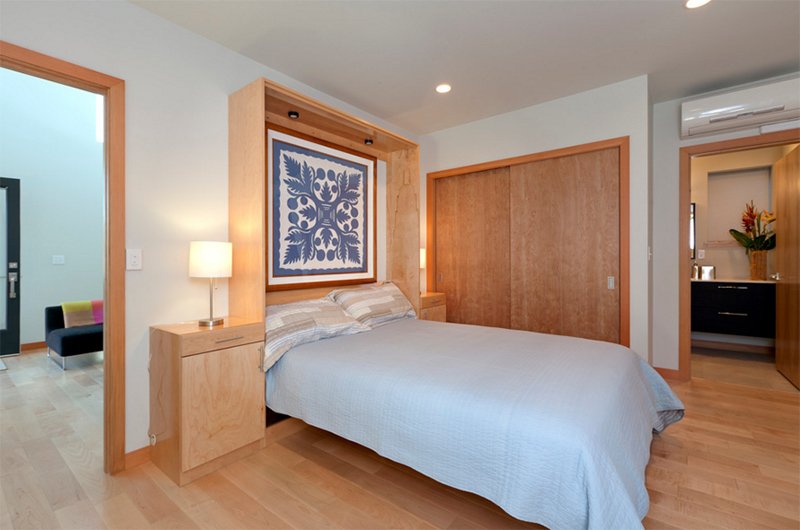 This one retained the texture of wood in it and it looks really nice especially with the wall decor added to the wall.
23. CT Pool House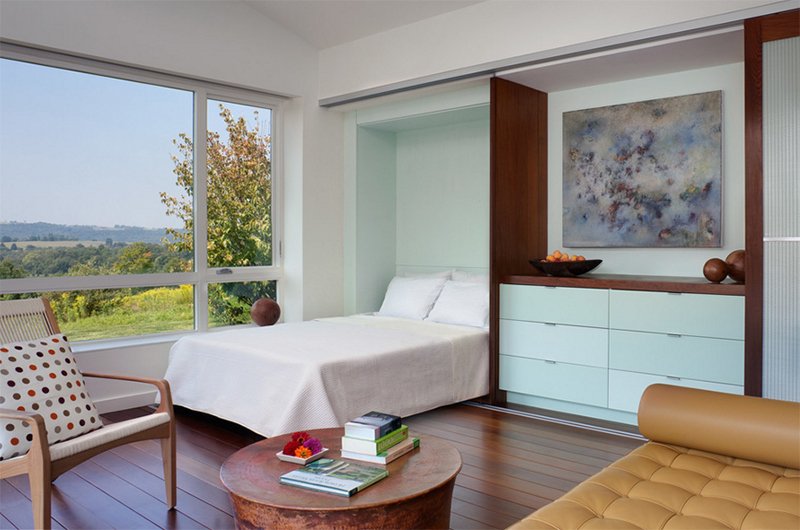 Aside from the Murphy bed, one could have a good look at the beautiful scenery outside through the windows.
24. Fogscape / Cloudscape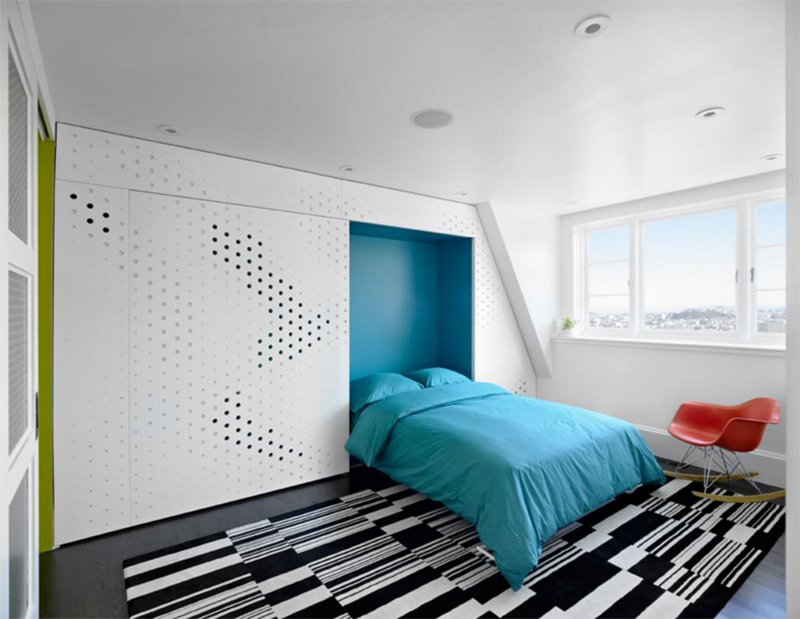 Who wouldn't like the look of this one? I like the idea that the wall is painted blue which is similar to the bedding set.
25. 5 to 1 Apartment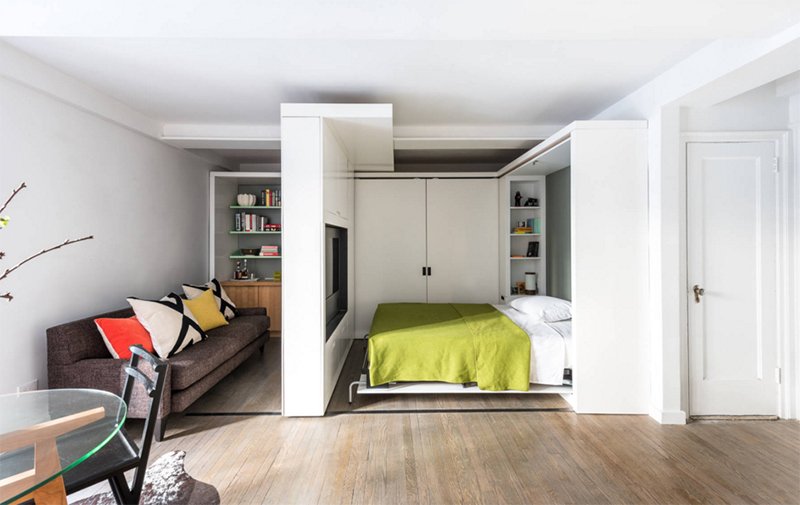 This one used a motorized sliding element that creates a distinct spaces within a compact 390 square feet Manhattan apartment. And it has a Murphy bed with built-in nightstand with power and bookshelves that are tucked into the bed opening.
Murphy beds can come in different designs even if they all have a similar look because of course of their type of bed. But then again, you can still be creative with the way you design it and place it in your home. Aside from the bed itself, you can also express your creative side with your choice of bedding and duvet set. So, if you want a space saving bed, a Murphy bed would be a great idea. But if not, there are other bed types that you might also like to use.