15 Space-saving Wall Beds for Small Bedrooms
For apartments and condominiums, it is good to use space saving furniture because these dwellings aren't blessed with much space. There are tables that can be folded when not in use, sofa that can also be a bed, chairs that can be a table, sofa that has storage areas under it and many more. You can even use the space under the stairs for additional storage. Today, we will feature some wall beds or also known as murphy beds.
Wall beds, from the name itself are beds that can be kept on the wall during the day or when it isn't in use. Beds like this have different features. Some merely have a stand on one end while others utilize that stand as a display area. Others have shelving on the wall while still others can be transformed into a sofa. Furniture like these will help us master the art of space saving and make good use of every room in our home. Let us look into some wall beds that we have collated today.
Nuovoliola 10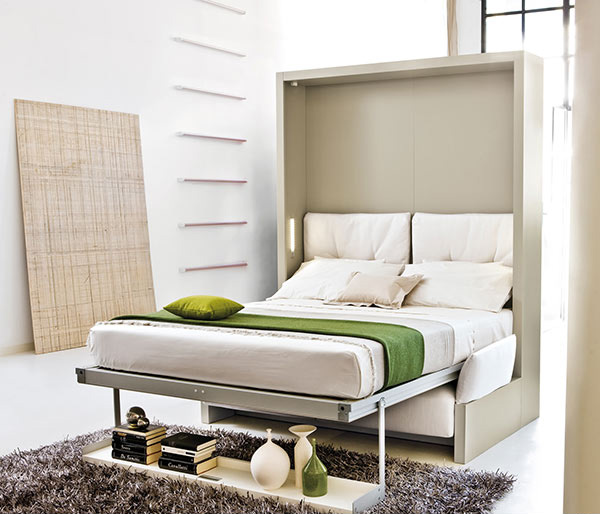 This sofa wall bed unit can be converted easily with one simple step into a bed with wooden slatted base. Under the bed is a sofa that can be revealed when the bed is placed back to the wall.
Siena Collection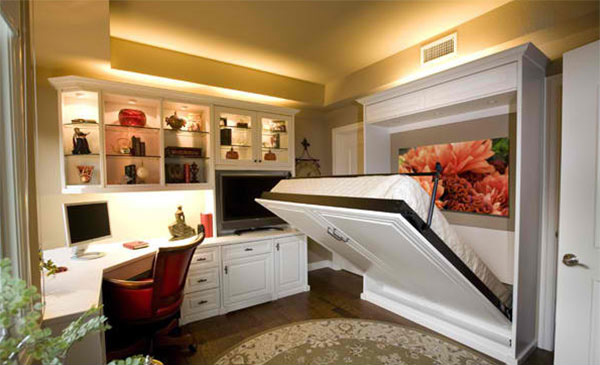 This bed has some engraving and molding on its "case" as well as the bottom of the bed which is equipped with a handle to easily pull it down.
Large Custom Wall Unit
What you see here is a custom Wall unit with integrated Murphy Beds and Media Centre. It has two storey storage with custom metalwork walkway/ladder attached to it.
Vancouver Wall Bed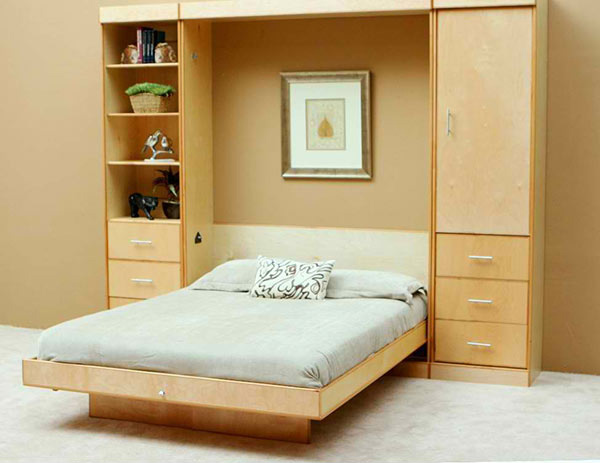 Aside from the bed, it has storage areas on both sides which are good for keeping personal stuffs and belongings.
Altea Book 90/120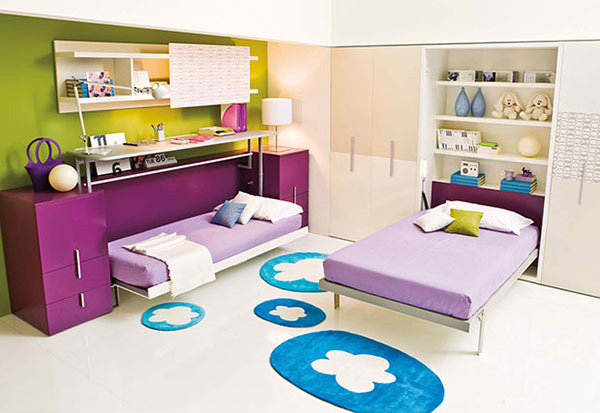 When the bed is in this position, you can see shelves on the wall but that can also be hidden when the bed is pulled up.
The Aalto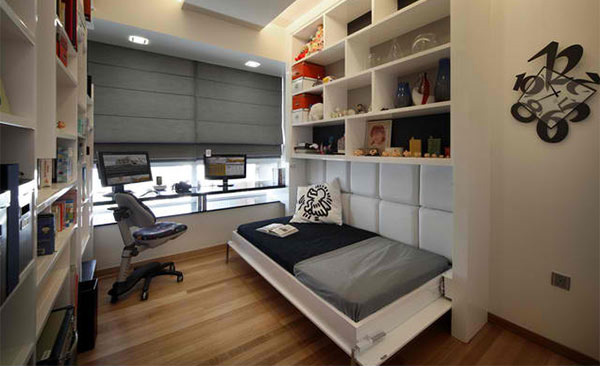 This small bedroom will certainly have more floor space once that bed is raised to the wall. The upholstery on the wall is a good decor too while adding a soft wall for more comfortable sleeping.
Unfolding Apartment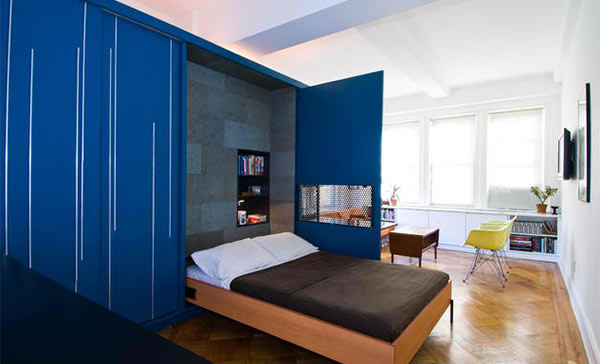 The bed is custom and made from hardware from a few different companies. Notice the perforated grille to let the sunlight through to the bed. Nice design, isn't it?
Poppi Ponte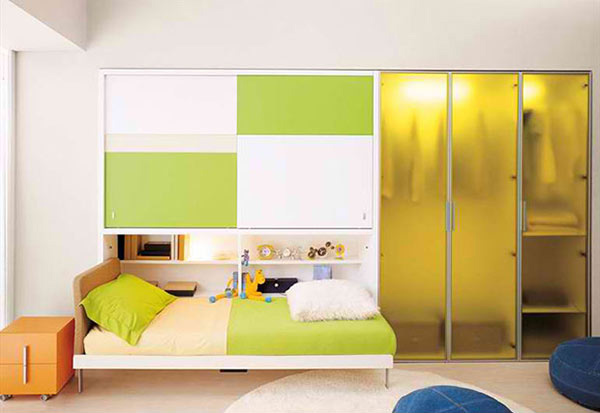 The color of the bed cover matches well with the storage area as if they are in one. This looks good with a transparent wardrobe just beside it.
Lollisoft IN Bunk Bed System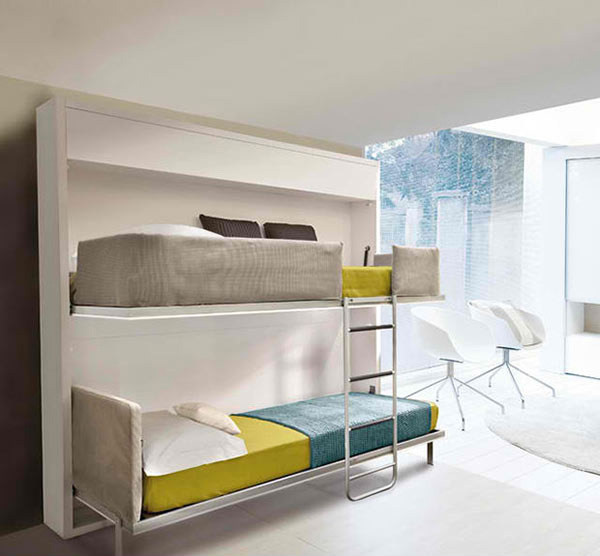 A double-decker good for siblings that share the same bedroom. Both of these are wall beds.
Transformer Loft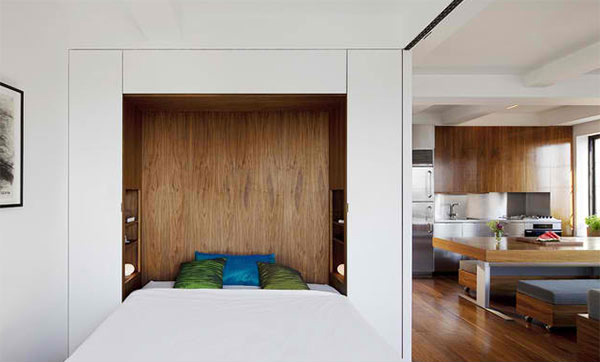 Everything in this Transformer Loft is custom made and of course, that includes this wall bed that has shelves on the sides. This 500 square feet loft uses Walnut without stains.
Two Twin Wall Beds In Home Office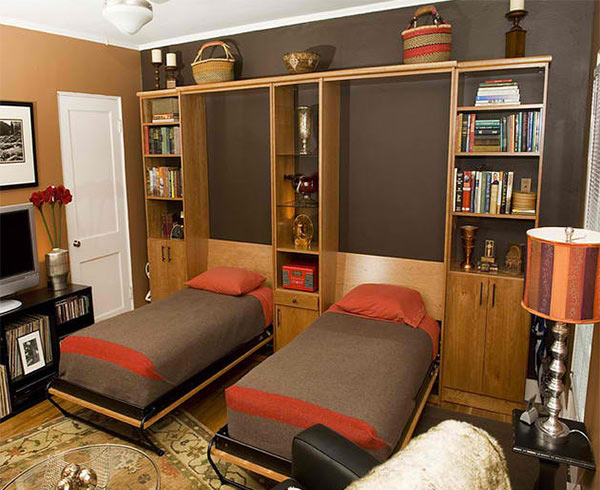 Two twin wall beds designed is the perfect pick for a small bedroom occupied by two people or siblings.
Lollibook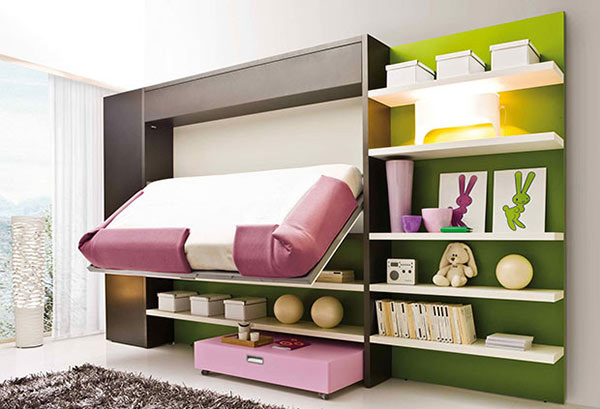 Unlike the other beds, this one has shelves under the bed making it appear like a loft bed too.
Lake Country Builders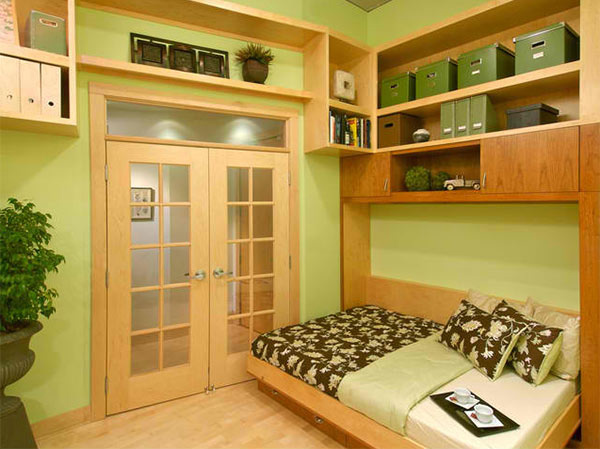 This is a custom murphy bed that looks perfect for this contemporary bedroom with a little Asian appeal.
Ulisse Sofa Wall Bed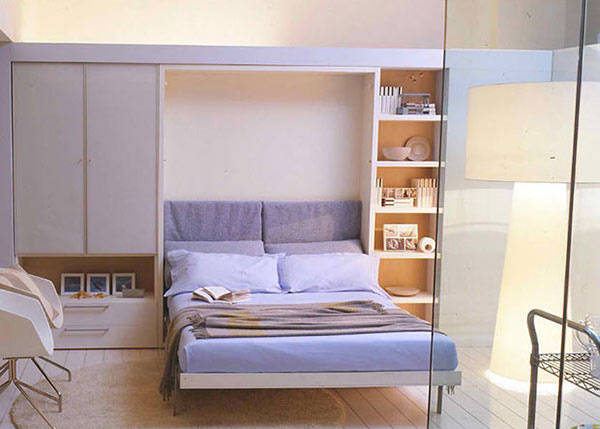 Aside from the shelves on the right, it also has a cabinet on the left as well as drawers. This also has a sofa under the bed.
Summer Flame Wood Finished Home Office with Murphy Bed Pull Out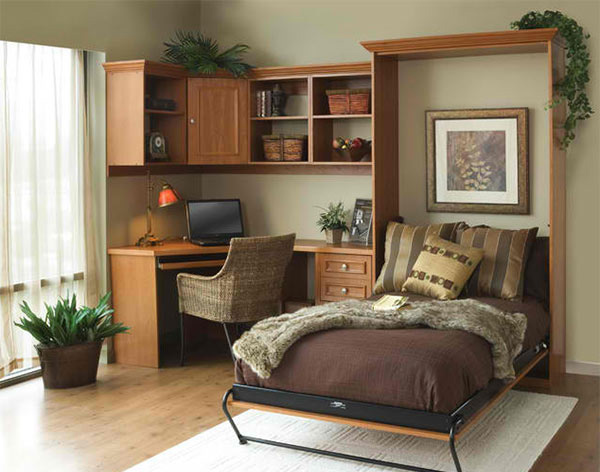 This comes as a set including the corner desk with upper and lower shelving for an appealing home office. And of course, the murphy bed good for you or for overnight guests.
We know that you ended up jealous with this list of wall beds especially those that can be turned into a sofa during the day. Well, you are not alone because we envy it too! It is really nice to have a bed like this for it can let you save a huge amount of space when the bed is not in use. Aside from being space savvy, these wall beds look sleek and beautiful too. But if you prefer a bed that is permanently there but still got that sleek appeal, try a platfrom bed that has a low-lying style but high in sophistication!