25 Rectangular Coffee Table Ottomans in the Living Room
Ottomans are also great as coffee tables like what these living rooms used.
You might not be into the regular coffee tables and maybe pick a fancier choice (at least I think so), this list is pretty much for you. Ottomans like any other furniture out there comes in different shapes, sizes, colors and designs – today though, we'd focus more on the rectangular ottomans that both designers and home owners use as a coffee table instead of a chair; know that an ottoman can be used as both.
Below is a list that covers and showcases living spaces that have rectangular ottomans used as their coffee tables. The said beautiful and functional furniture is seen in different colors and designs which surely captures its beauty and surely complements the entire space they are placed into. Do check out the list below and tell us which one could pass for your own living rooms!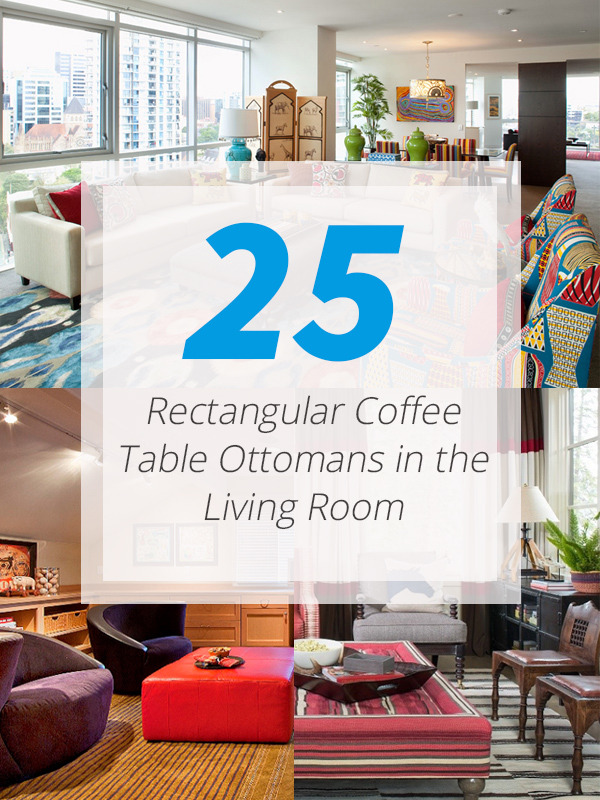 1. Avenue Brights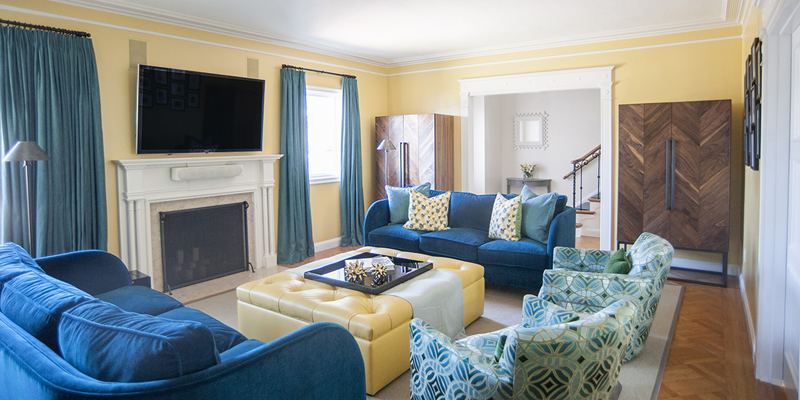 When it comes to design and decoration options, the colors blue and yellow really works well, just make sure you have chosen the right shades. This living room is definitely spacious and it is a smart move to use a yellow ottoman to match the walls while the blue couches match the curtains. This definitely works!
2. Balboa Island II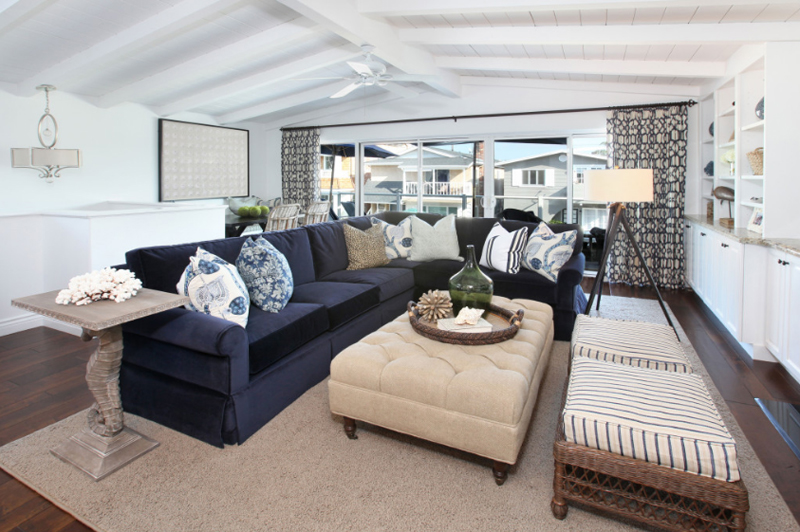 This beige ottoman is pretty and it contrasts the dark shade of blue of the sectional couch. The blue couch definitely looks comfortable although a different area carpet color perhaps might do a trick or two.
3. Belvedere Residence
This rectangular ottoman sure looks stunning amid the light colors of this living room. The entire space is located in a well-lighted side of the house and the color choices make the entire area even a lot wider and relaxing.
4. Bunny Run Residence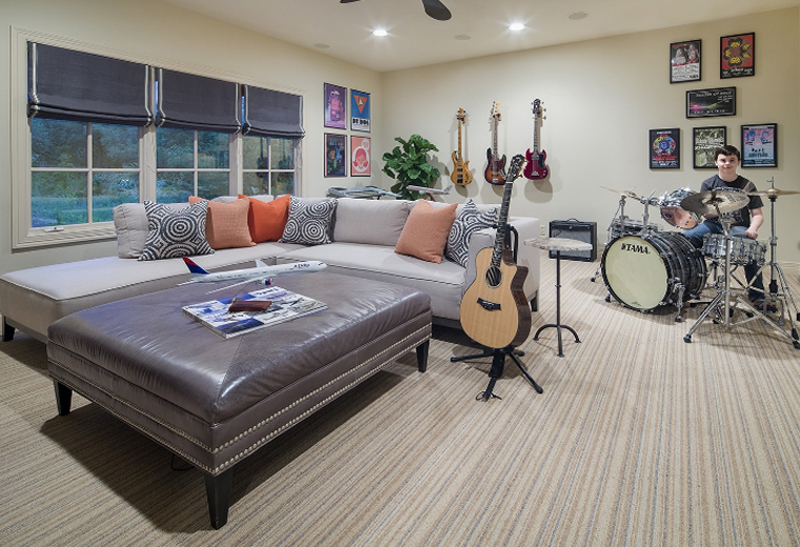 This sure is one big rectangular ottoman but for a wide living room space, this is not so bad an idea. If you are having friends over, they sure will feel comfortable. Having your drum set and guitars in the living room is not usual for some homes but since it is where friends and family gather around, then jamming can definitely be in the list especially for the musically-inclined families out there.
5. City Living in Brisbane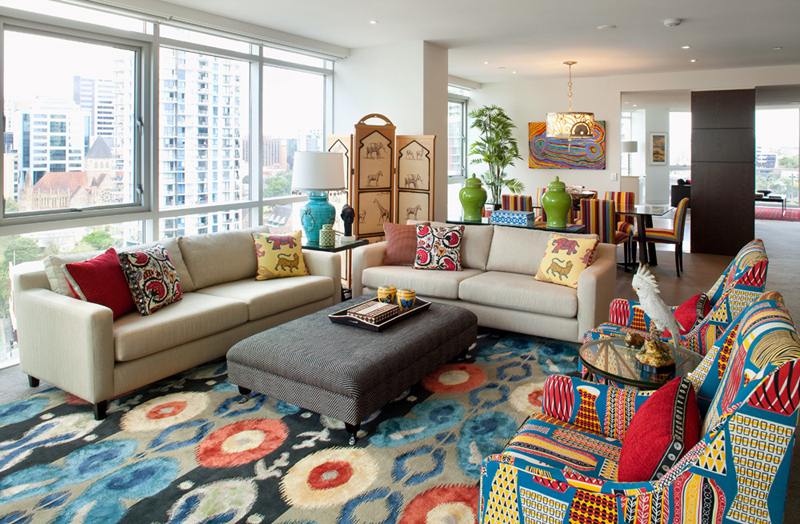 The colored patterns present all over this living room give the room an eclectic feel. The decorative pieces are also unique and help complete look. The plain couches and ottoman are matched with patterned throw pillows and are carpet while the printed chairs have plain solid-colored throw pillows.
6. Deer Valley Vacation Home
This vacation home used design with only a few colors and patterns. The ottoman's design is complemented by the area carpet, the chair and even the curtain and throw pillow patterns. The wide windows give sufficient lighting into the living room and the big curtains will work nicely for adjustments if necessary.
7. English Tudor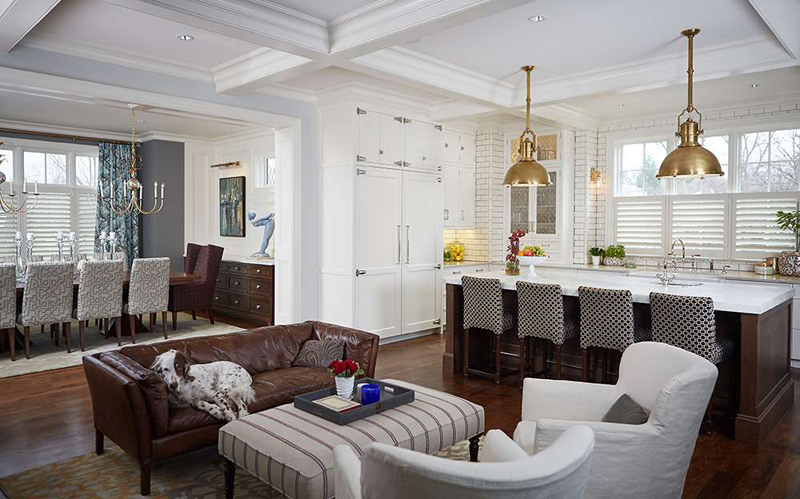 This is definitely a nice home and the interior design is something you can add to your list of possible ideas for your current or future house. The living room takes only a small area in this home but take a look at how the ottoman somehow matches the chairs in the counter and in the dining room.
8. Harbor Island Residence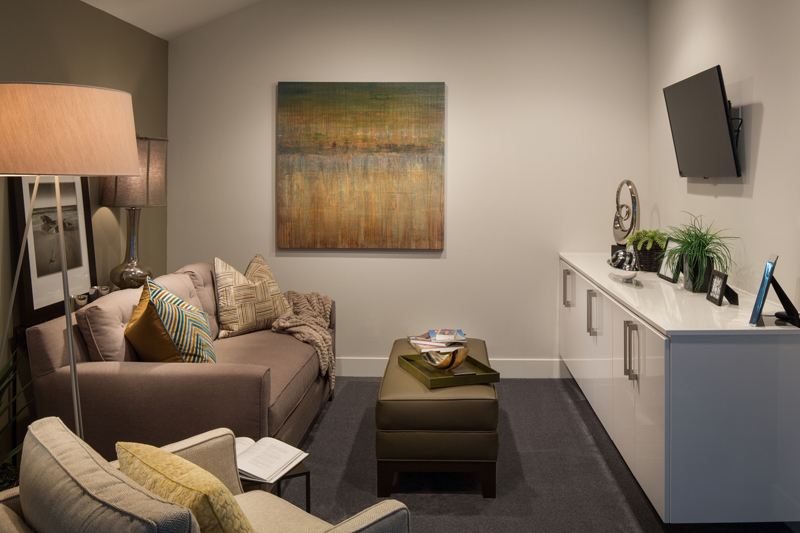 This rectangular ottoman is a nice dark shade of olive green which looks beautifully in this space and its dimensions are appropriate for a small living room like this one. The decor and design are minimal but this idea might definitely work for your condo unit or if you are trying to maximize a small living room area.
9. Hawthorne at Point West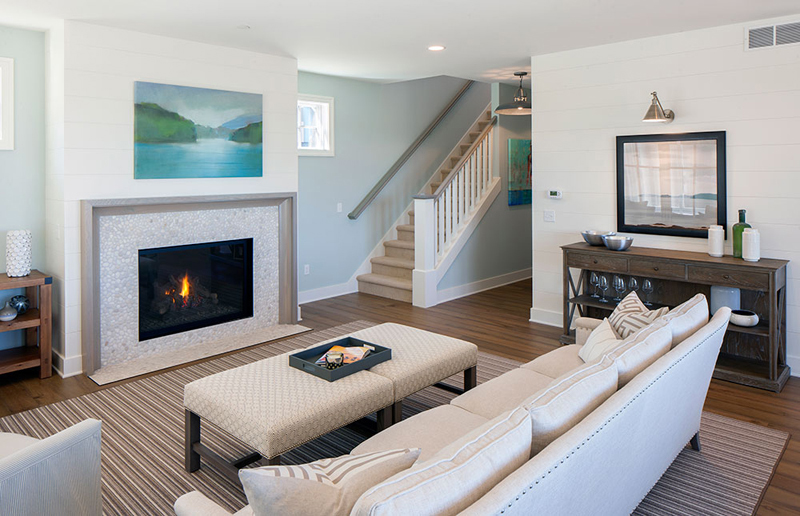 For the lover of neutral tones and nude colors, here is a living room idea for you. Light colors make the area look a lot brighter and cleaner while the fireplace creates a good contrast and a cozy feel to this area. Wooden decor or furniture will also work well if you plan on adding them to your living room.
10. Lagoon View Residence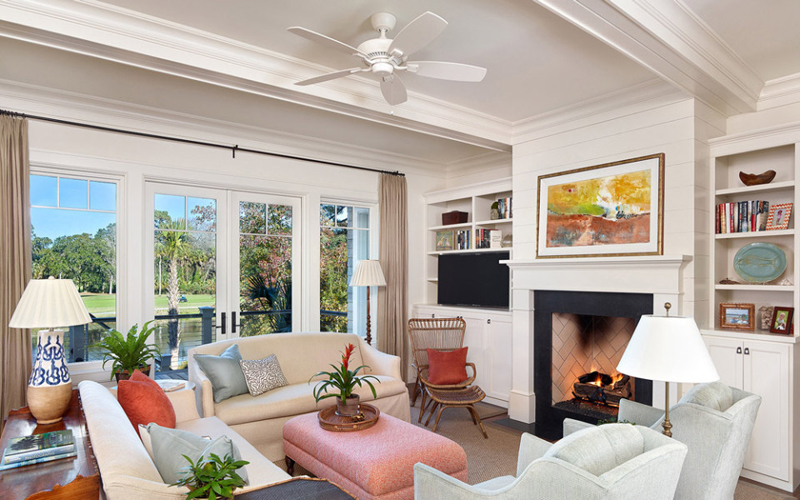 The view outside this home is stunning and even inside has a lot to see. I might not be much of a pink lover but this pink ottoman is a light shade and definitely works just fine in this whole ensemble. The fireplace sure makes this big living room cozier and more intimate.
11. Laurel Court House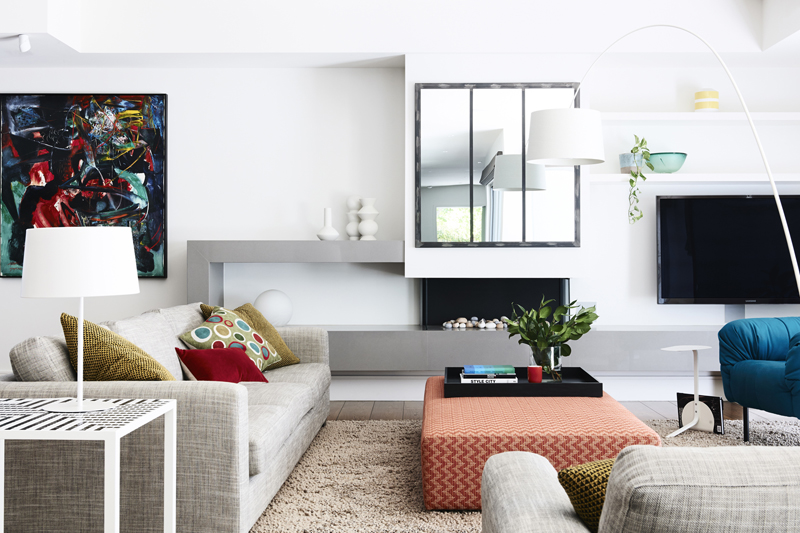 This house looks really modern with all the color choices and the geometric shapes. The long rectangles like those on the ottoman, television and couch are balanced by the squares of the mirror and painting.
12. Meydenbauer Sophisticate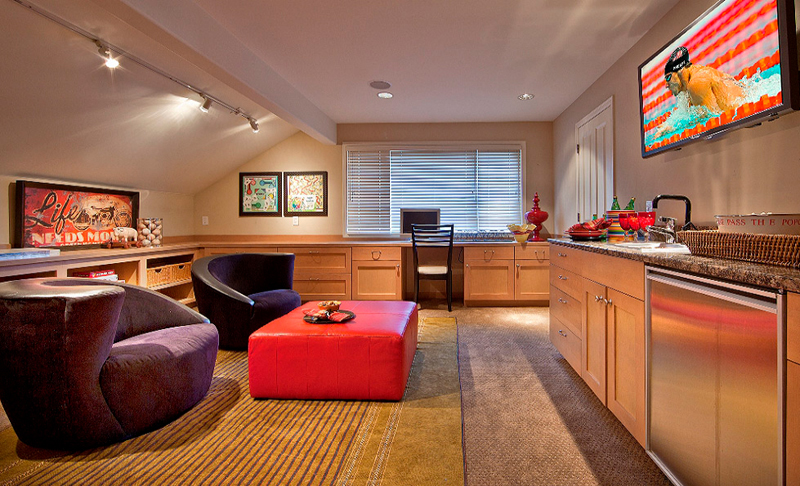 This living room has interesting furniture pieces and color choices. The couches look eccentric but definitely cool and those color contrasts the choice of ottoman. The lighting is also pretty neat which I think makes this space exceptional.
13. Modern Glam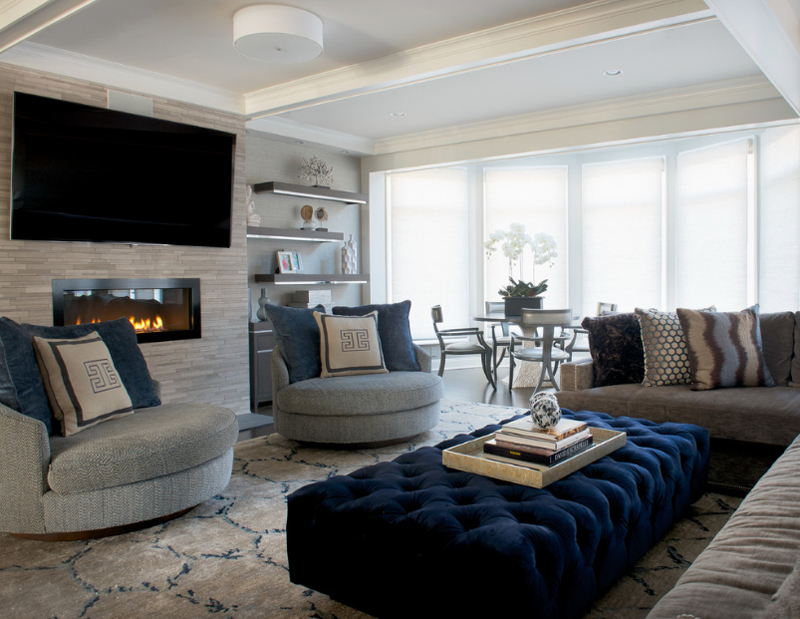 Large yet cute furniture is in here – from the sectional, the circular arm chairs and the stunning royal blue ottoman – I mean, what do you a space this beautiful – a beautiful living room? I think that was corny, but I'm sure this is one simple yet stunning space to be in – comfortable and beautiful!
14. N Tacoma Traditional Home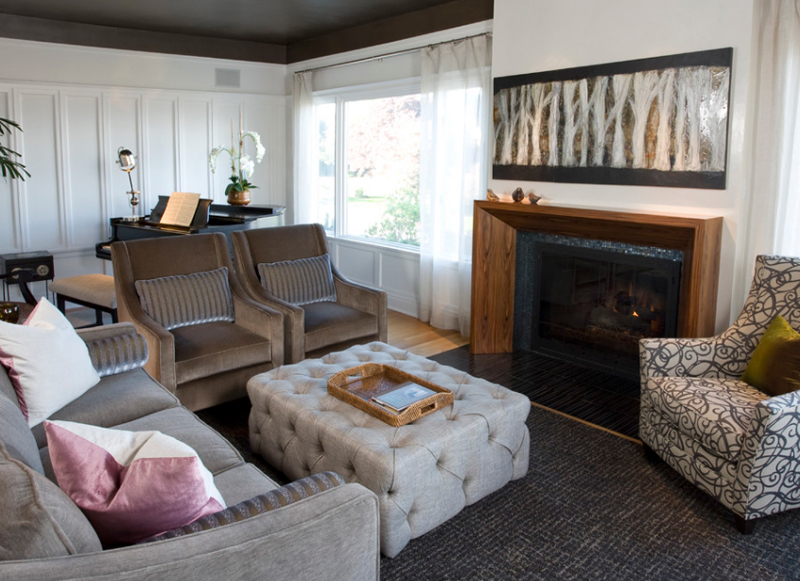 Note that most of the ottomans in this list is tufted, it seems like the usual design for them, but I'm sure that you have seen other ottoman designs, here in Home Design Lover, in other websites or in magazines. I like how light the color of the ottoman in here which I think makes it the perfect center piece.
15. North VA Family Room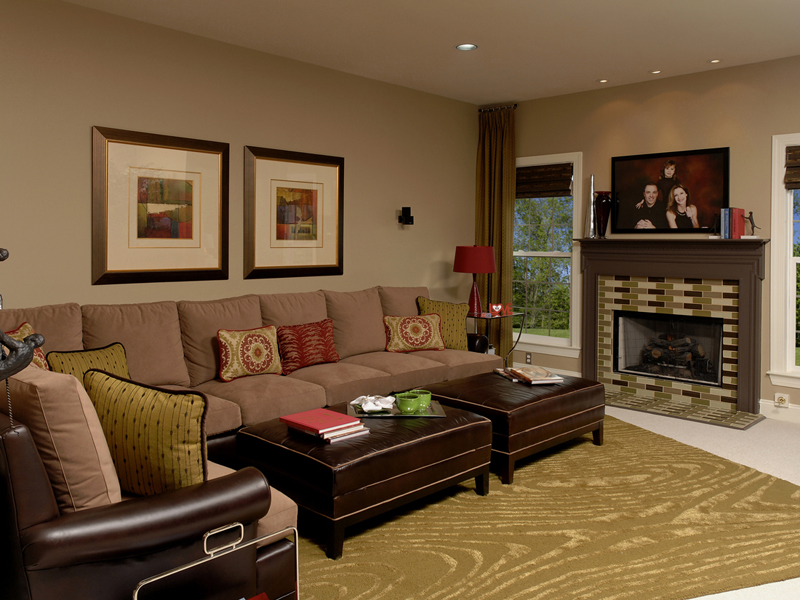 If you have the time, check out how many living spaces in this list use two ottomans as their coffee tables to cover how long the couch is in the said space. In this family room we see that we have a long couch that is why they really added two ottomans for the mere function of it.
16. One Harbour Green Residence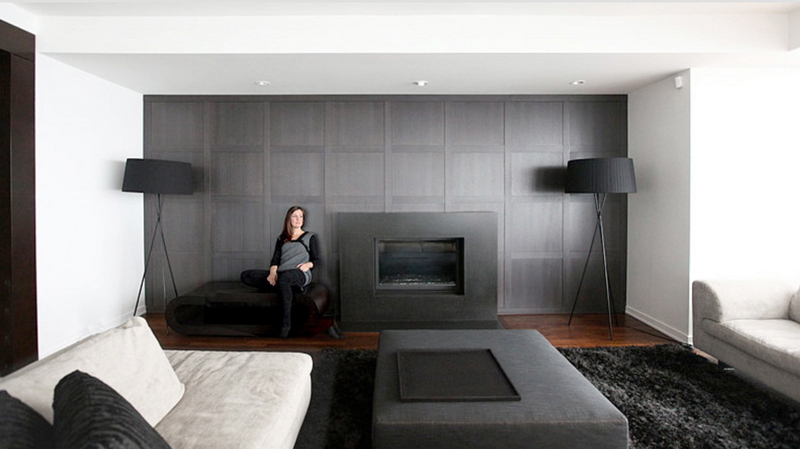 This is surely something we can always pay attention to – a black and white space (or maybe with a hint of grey, here and there). This living space has minimal furniture and almost no decoration except the stands lamps – but even that is something needed in the space, so basically, not a decor. Minimalism at its finest!
17. On Point Farm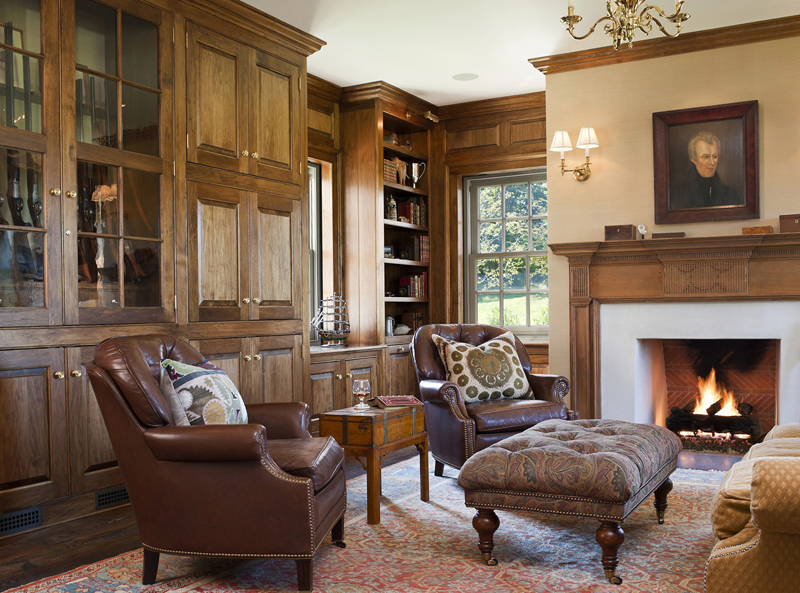 This new country home sure has a lot of things going on – the wood works is definitely something they should be proud of because it's just really neat; the furniture and decorations in here may be minimal but I think that this is what makes it really stunning. Spaces like this one reminds me of our Grandfathers would usually have – all natural, basically anything in black or brown.
18. Rockport, MA
The colorful print on the ottoman makes it really interesting; because it is basically surrounded with plain colored and beautiful furniture – a couch and two cute arm chairs – I think this Rockport home is just too good! Having white walls made the colors in here really stand out!
19. San Juan Capistrano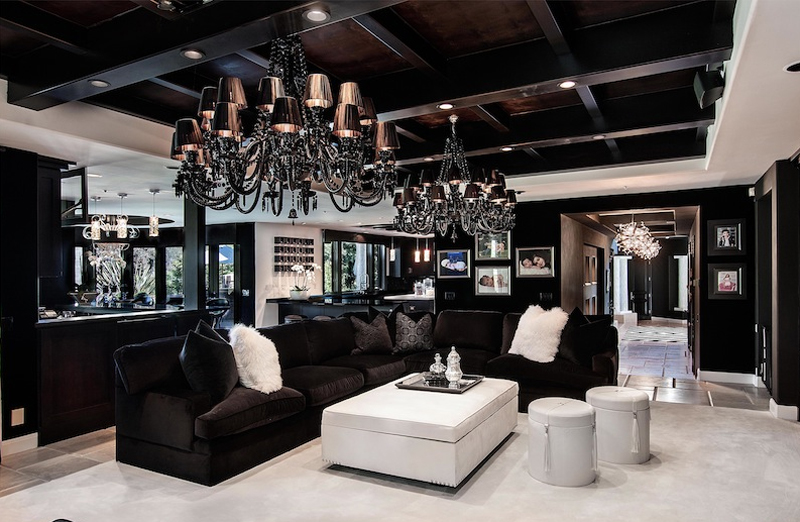 What a ravishing living space! Well, a ravishing home for that matter! The black and white drama never ceases to amaze me, especially when it's done in the most sophisticated and fancy way! I mean, right? From the furniture to the grandiose chandeliers – what more can you actually ask for? Food or wine, maybe?
20. Sidell Trail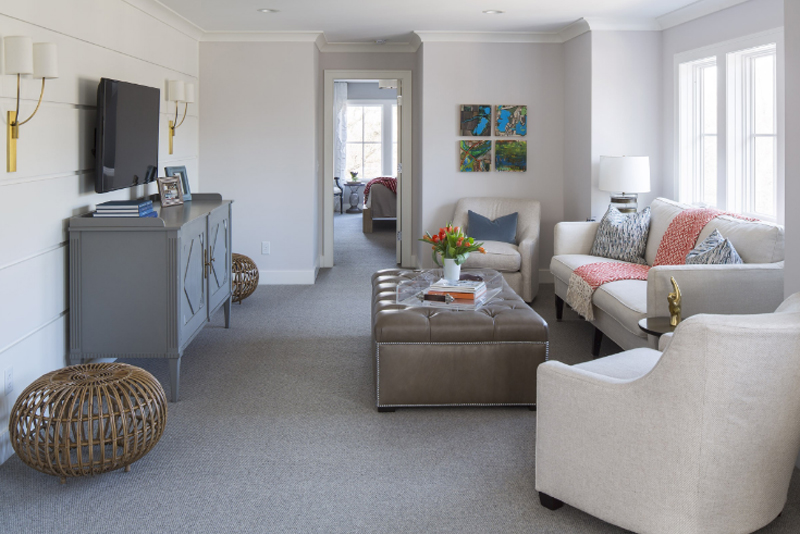 A cute homey living room is seen in this photo of Sidell Trail. The white (or off white) couch and arm chairs contrast well with the color of the large rectangular ottoman and the grey console below the television – they are all just sweet. I also think the idea of this space having enough space to walk or run around in.
21. St. Luke's Mews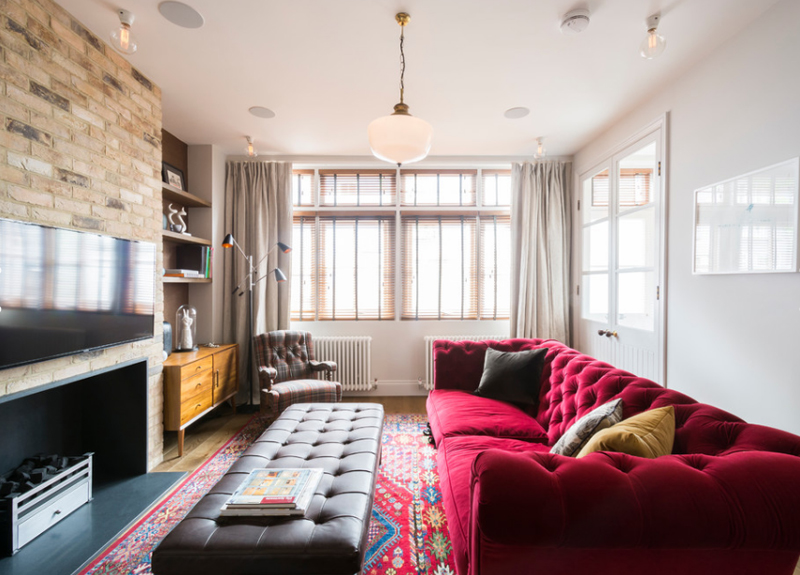 Tufted couch and ottoman that surely is both long and interesting. I have never seen an ottoman this long and I think this one is just fascinating. The colors and textures seen in this space is just beyond words, I love it! See how crazy awesome one can do for their space when it isn't that wide or something.
22. Suburban Bliss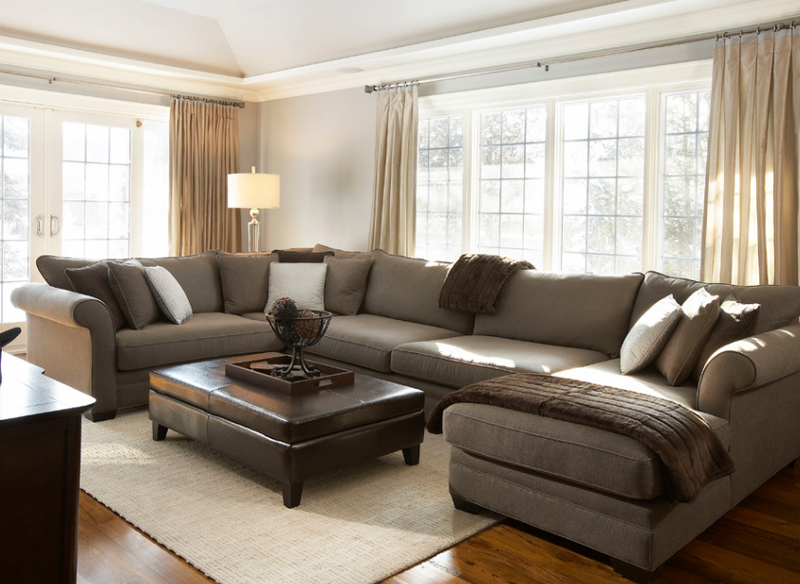 I know that that place is very contemporary and neat – but I wish that this space needed a bit more color. Don't get me wrong, I love neutrals but from the name of this home, I wish that it has a little color – maybe on the pillows or on the decors on the ottoman.
23. Toorak Residence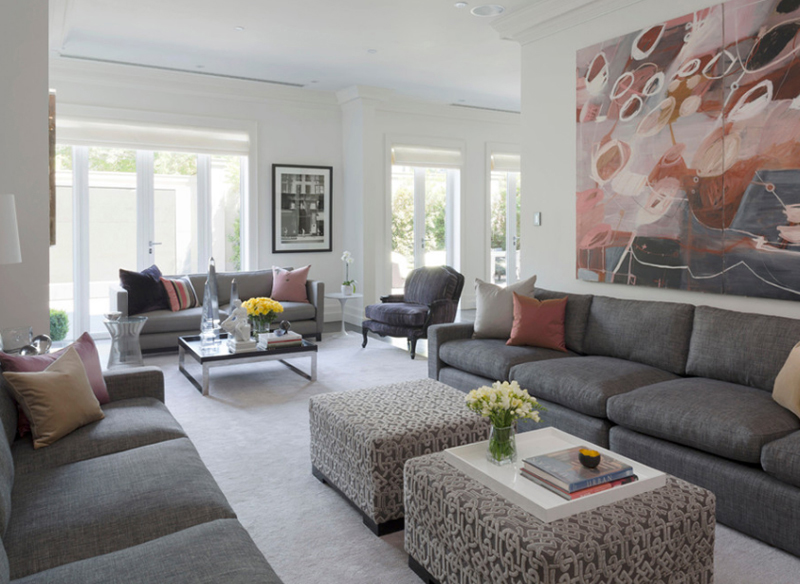 Adding two ottomans as coffee tables make this space a bit more fun. It's a nice idea because the couch is a bit longer than usual, so adding two small ottomans allows for visitors to place their drinks or phones on the table while chatting and whatnot. Tons of seating in here though.
24. Washington Square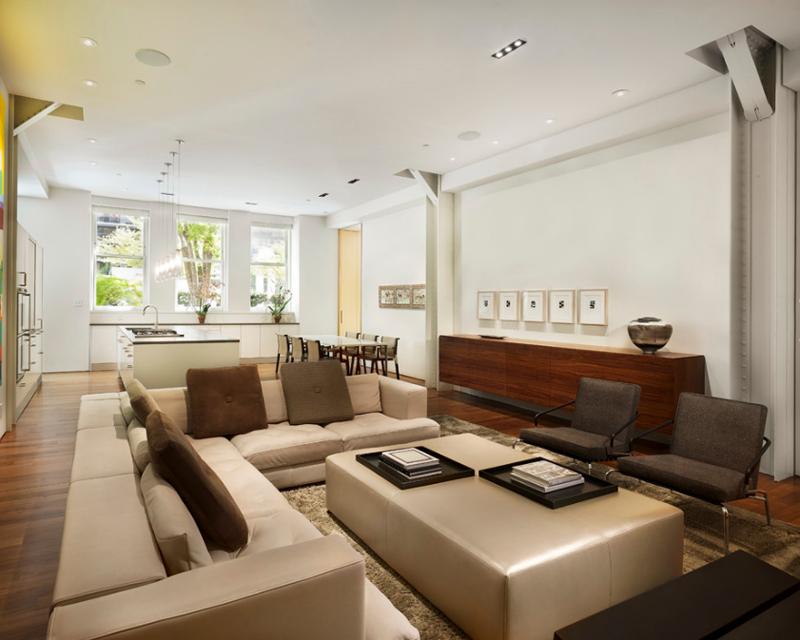 A neutral-colored living space with the walls, the decorations and the furniture. I think that the matching sectional and ottoman is nice, but I think it would have been nice to get a different colored one; the material of the ottoman sure is perfect though! I love it!
25. West Coast Victorian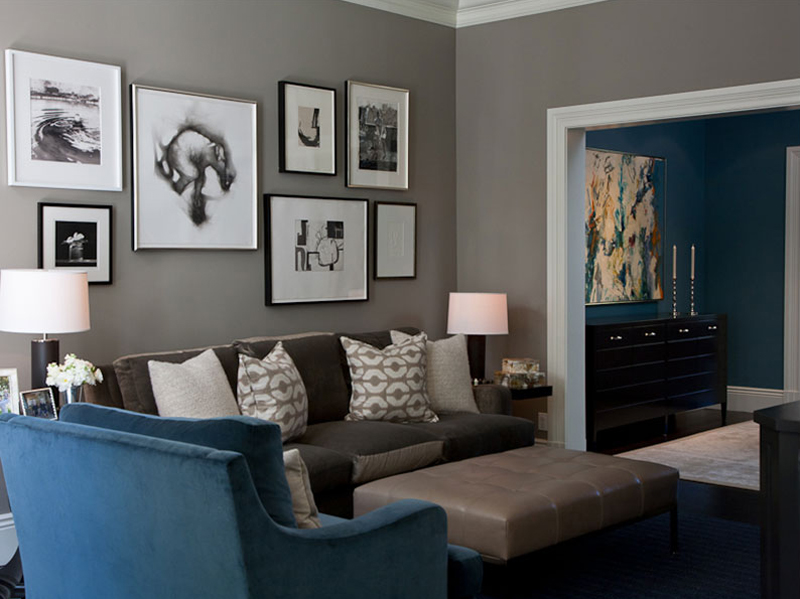 Last but not the least is one neutral ottoman a bit like mocha in color which actually complements the grey couch and accents the blue arm chair on its side. If you notice, the color of the walls in this living area and that over the arch is really neat! Also, how do you like the black and white photos on walls?
So, I am a little bit happy that this list is kind of longer than usual because honestly, there are tons of beautiful ottomans out there (as well as lovely spaces) that needs to be shown off! This list of 25 Rectangular Coffee Table Ottomans in the Living Room is somehow a remake of another beautiful list we have here in Home Design Lover. Send us some love by checking out and sharing this list as well as the 20 Plain Furniture Upholstery in Ottomans! More lists coming your way guys!