20 Gorgeous Brown Antler Chandeliers
Want a rustic nature inspired lighting for your home? This is the one you need.
Antlers as we all know are horns that we see from animals like Bambi or Rudolph; in short, animals like that of a deer or something similar to that family. Isn't it amazing how much attention this kind of animal decorations is catching people's interest. I mean, we all hope for the best – that if you get an original antler decoration, may it be for lighting or wall decors, that the animals who used to own the said antlers were already dead rather than them being killed just for this.
For today, we have a list of 20 Gorgeous Brown Antler Chandeliers that I think are really pretty and one of a kind. Believe it or not, unless the chandeliers or wall decors are imitations and mass produced, you will not see them having the same design and detail. Of course, they will be similar and related to one another but having two antler chandeliers exactly the same is close to rare. Now, let us go ahead and see the antler chandeliers below.
1. Alpine Antler Chandelier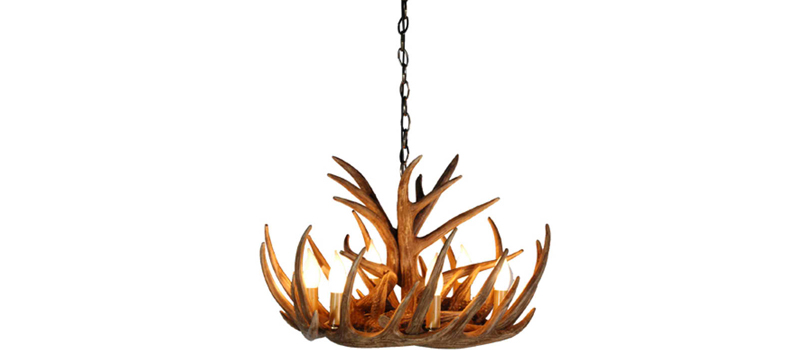 This Alpine antler chandelier looks kind of simpler than most of the chandeliers on this list, but take a look at the cute effect of the standing antlers where the chain is actually connected to.
2. Antler Chandelier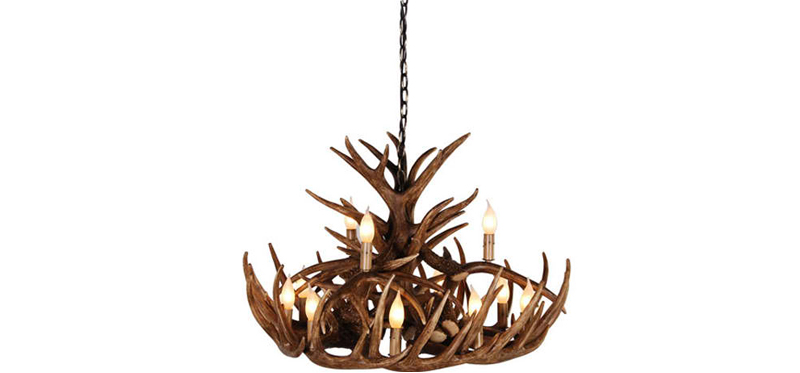 The darker shade of brown of this antler chandelier somehow gives it a more rustic effect to it. The aura it gives off is kind of mysterious and Phantom of the Opera-ish.
3. Antler Chandelier Two Level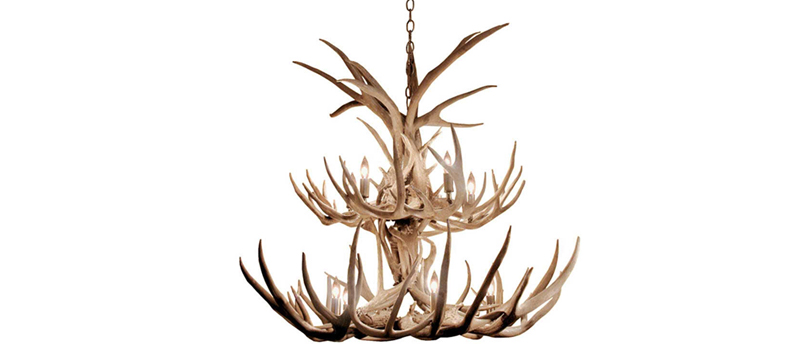 This light brown colored chandelier sure reminds me of a two-tiered cake you can order in the bakery. The effect of having a larger circumference on the lower part and then a smaller circumference on the upper part is kind of sweet.
4. Coues Deer Antler Chandelier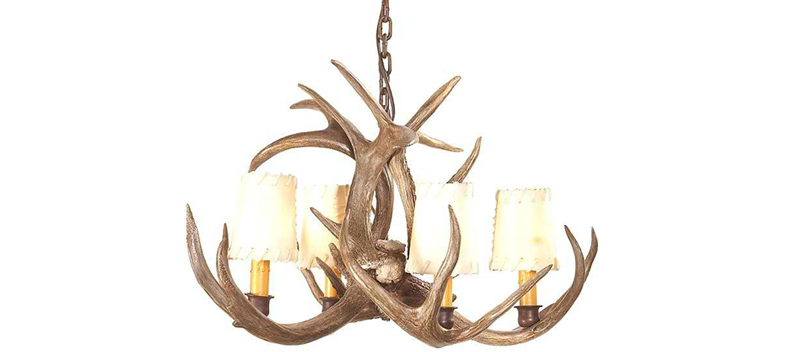 This is one 4-light deer antler chandelier sold by Furniture Home Design that sure is quite one rustic lighting fixture, not just because of the antlers itself but the detail on the lamp shade that covers the bulbs of this fixture.
5. Fight Me Natural Antler Deer Chandelier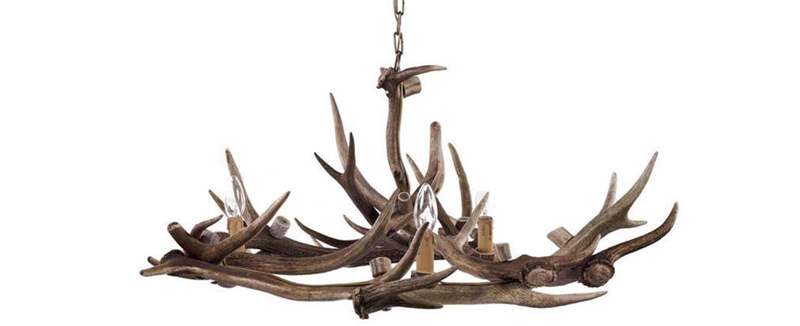 I can't tell why this fixture is called 'fight me' but it sure looks like whoever got these antler (if they're legit) had to fight for it. Haha! That's just me thinking aloud.
6. Mule Deer 12-Light Natural Brown Antler Chandelier

This chandelier is one bad-ass lighting fixture. It's tall, somehow Mediterranean and really rustic. The fact that this is one tall or long chandelier, it would really look great for spaces that has high ceilings.
7. 12-Light Brown Antler Chandelier

If you have noticed, this is also a 12-light antler chandelier like the one above this, only that this is lighter in color and shorter in length. Although chandeliers are great anywhere in the house, I think that this is not so great if you have this above your dining room table.
8. Rustic Antler Chandelier Natural Finish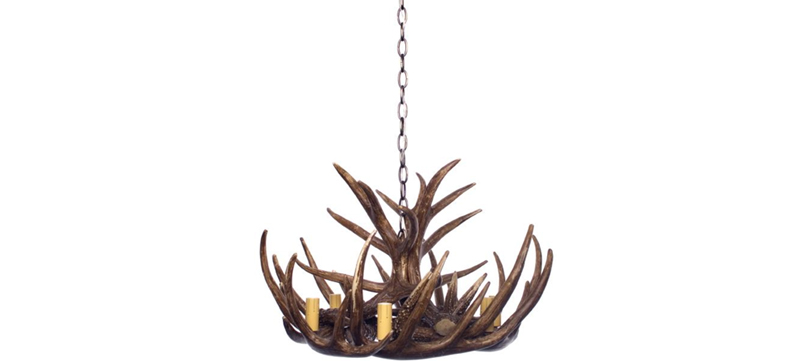 Allissias Attic sure has created an awesome rustic example of an antler chandelier; I'm sure that there may be something more rustic example out there but this is indeed a refreshing look because it looks so real.
9. 5-Bulb Antler Chandelier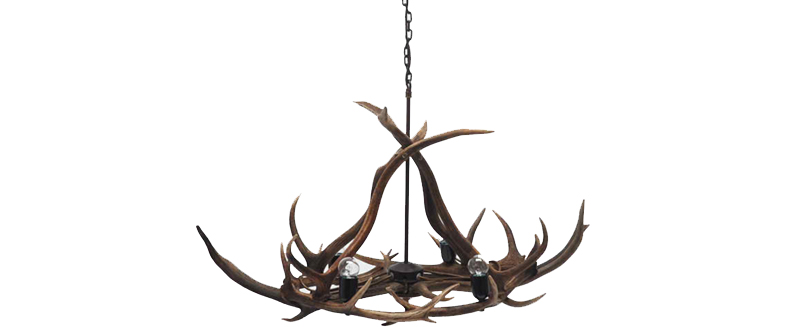 We see a minimal number of antlers used for this chandelier. It seems either they have a limited antler supply or that they wanted to achieve a minimalist approach to the rustic touch this lighting fixture was designed have.
10. 6-Light Antler Chandelier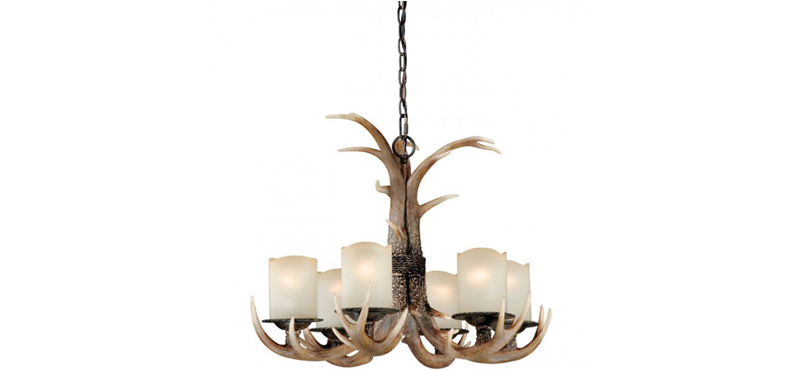 According to what I have read about this antler chandelier, it is made from walnut, and it sure is pretty, right? The color is just right and the shade that covers the light bulbs is quite a neat move for me. DO you
11. 28-Light Brown Antler Chandelier

Bethel International has a few of this beautiful antler chandelier that are made from shed antlers; of course we would not want to kill live animals for chandeliers, right?
12. Andy Reeves Antler Chandelier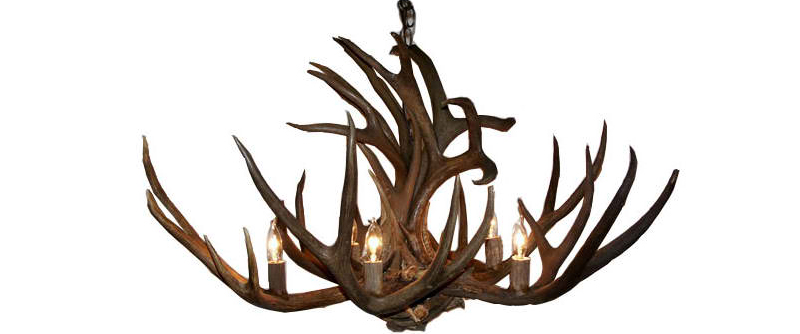 A darker brown would mean a more rustic appeal to an antler chandelier. This one tier antler chandelier sure seem simple but really homey; it may have been because of the small bulbs used in it, but still, it looks 'friendly' enough for me.
13. 5-Light Natural Antler Hanging Chandelier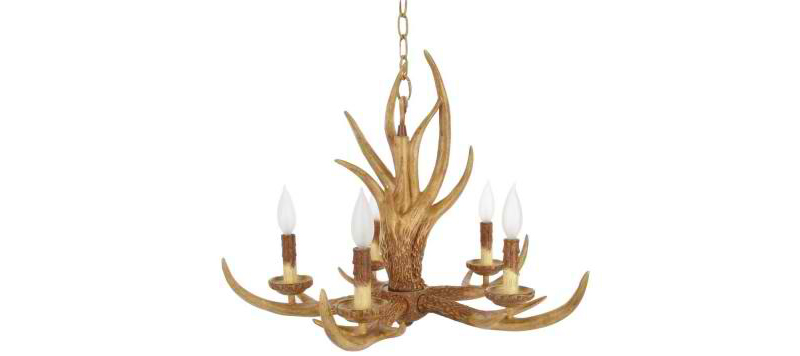 Here is another example of a cute antler chandelier. Honestly, I think that there are a few designs like this one; take a quick look with how this was connected in the middle – not so hidden but definitely the best way to connect it.
14. 24-Light Mule Deer Triple Tier Antler Chandelier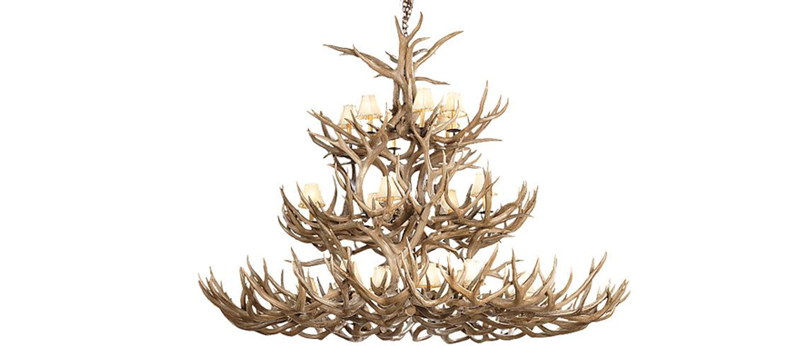 Now look at how stunning this three-tier antler chandelier! I kind of looked real hard for this one. I actually wanted a sample of at least one simple antler chandelier and one grandiose one! Well, this one's the grandiose one. How well do you like it?
15. Faux Deer Antler Chandelier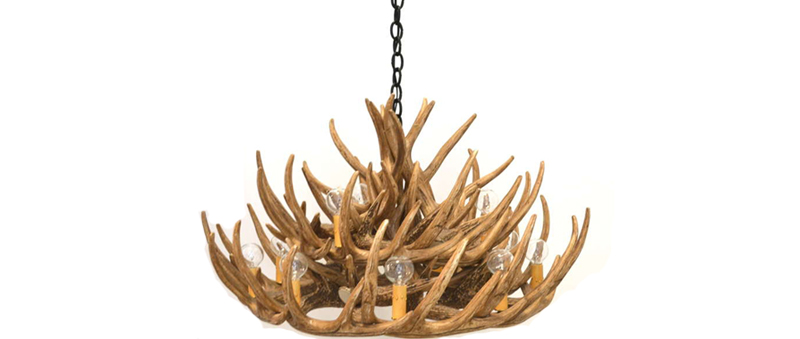 Another 'baby' antler chandelier. It's quite small, simple but very charming. I wish the color would have been a little bit darker for a more sophisticated appeal. Small chandeliers like one is ideal for dining room spaces or in the bedroom.
16. Deer & Elk Antler Chandelier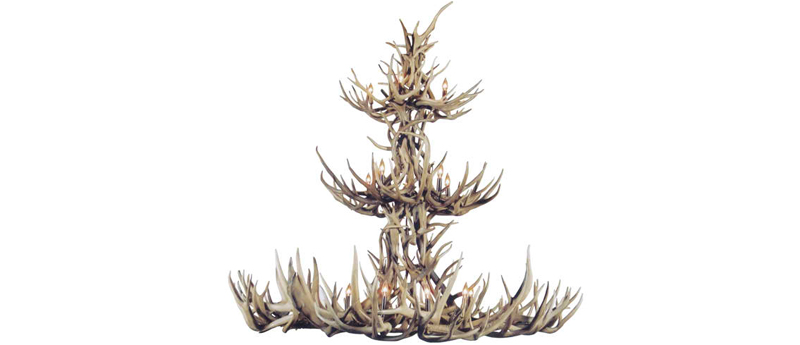 Here is the first three-tiered antler chandelier that I found and I like the aged look to it. Its light color sort of shows that it has aged quite a bit which is a good thing, right? How do you like this?
17. 15-Light Rustic Antler Chandelier

This 15-light antler chandelier is kind of traditional, in a sense that they really placed individual lamp shades on each of the 15 bulbs and the design of the lamp shade is quite traditional and sort of old.
18. Whitetail Deer North America Antler Chandelier

This antler chandelier from the Art Factory is quite cool. Like all of the antlers on this list (I hope), are all made shed antlers. I believe that like me, buyers and homeowners would want to have the real thing but would basically prefer the ones manufactured and assembled from wood or plastic.
19. 12-Light Natural Brown Antler Chandelier

If you have noticed, this might be the only antler chandelier with this design. I can't quite explain it but it doesn't look like the others that look like stems or twigs, do you see what I mean? At some point I imagine this one looks like something of an ear
20. 6-Light Replica Antler Chandelier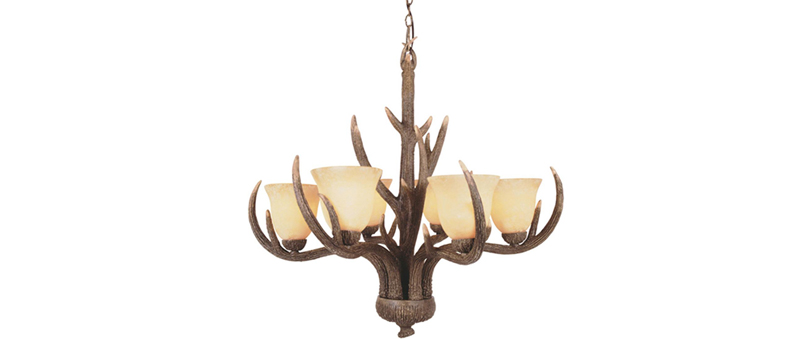 I'm guessing that this antler chandelier is made from plastic or something of that kind; I'm pretty sure though that this was made to look really elaborate and exactly what an antler is supposed to look like. It's really beautiful though.
I'm guessing that you have already seen the some lovely lighting fixtures and I bet that those are the types of rustic lamps that you usually see. For today though, you did see an awesome list of antler chandeliers that you do not see every day. For a country and environment that I live in, this is one of the things I have never seen! More cool things and surprises from us guys!