15 Semi-Flush Mount Lighting For Rustic Interiors
We have featured lights that will fit a home with a modern vibe. There are also lightings for contemporary and even traditional spaces. But today, we will feature a list of semi-flush mount ceiling lights that will look good in a rustic interior. The items also have that rustic appeal in it varying from traditional style to contemporary ones. A semi-flush mount ceiling light is the kind of lighting that is attached to the ceiling but is suspended a bit from it.
We have collated some semi-flush mount ceiling lights that has a rustic look. But if you expect them to look antique, you are wrong because some even look modern although there are also some items in this collection with a traditional design. Yet, whatever they look, they will still be alluring additions to your home interior once you pick the right piece, size and design. Now, come take a look!
3 Light Semi-Flush Mount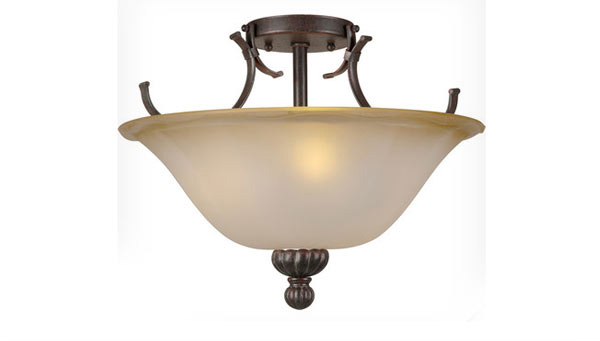 Your rustic interior will look fab with this semi-flush mount lighting with black cherry finish.
Grandview 12 Light Semi Flush Mount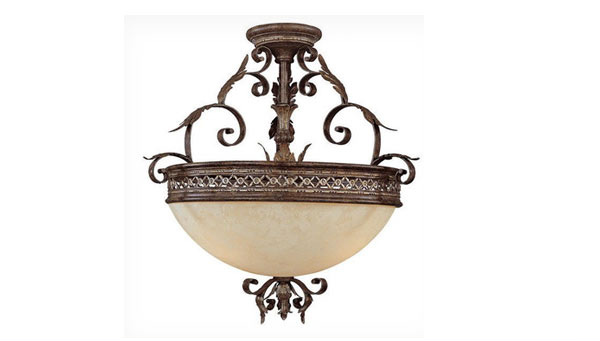 Rust scavo glass shade is used for this traditional lighting that will add drama to any space!
Natural Mica Collection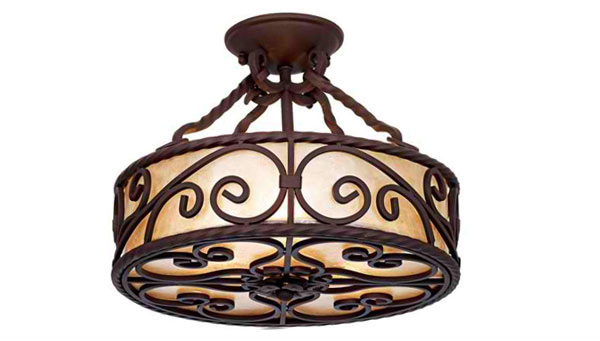 Instantly give a rustic appeal to your home with this antique looking semi-flush mount lighting with swirls.
Galeana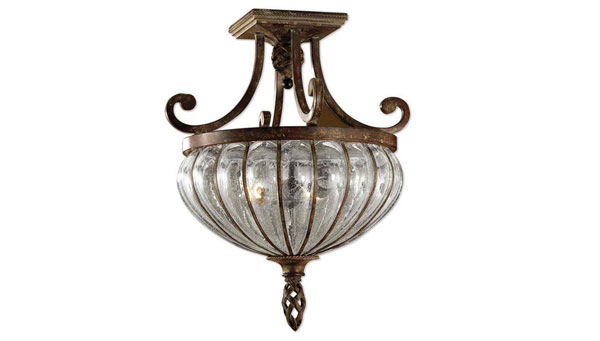 A Venetian-inspired, mouth blown glass globe that is banded with iron in bronze clay patinas to replicate age.
Elba 2-Light Glass Semi Flushmount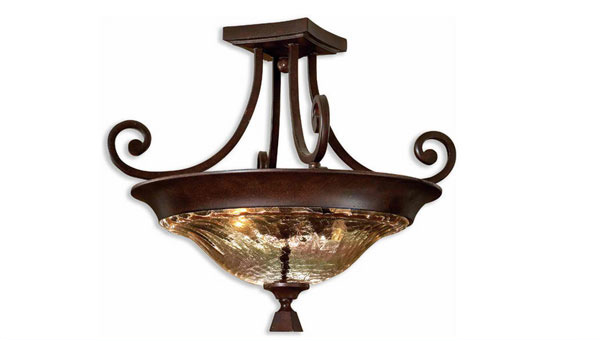 Curved arms, square shapes and accents are featured in this alluring lighting. Its design can certainly enhance even your foyer!
Edison Bronze Ceiling Light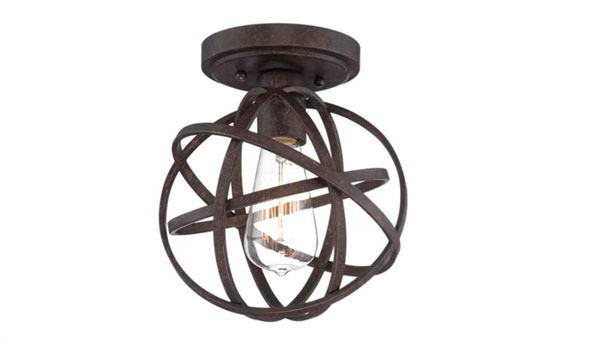 This will be perfect for a rustic and industrial interior. It is designed like a round atom cage with the bulb in the middle.
Barclay 2 Light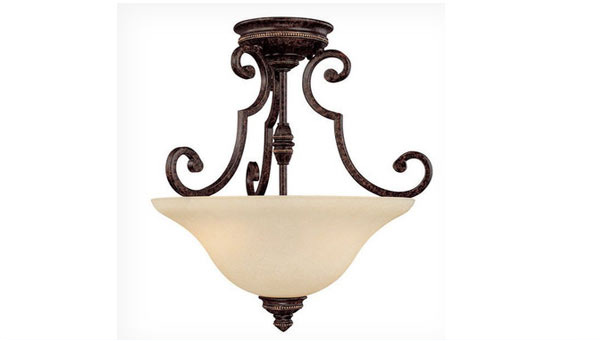 Traditional style lighting with Mist scavo glass shade. The swirly design in makes it a fab addition to the interior.
Camden Hill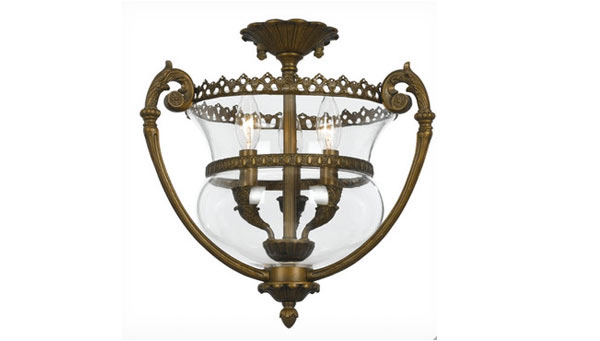 Isn't this a cute vintage-style lighting? We love its lacey look at the tip of the glass!
Amber Scroll Art Glass 20 1/4″ Wide Ceiling Light Fixture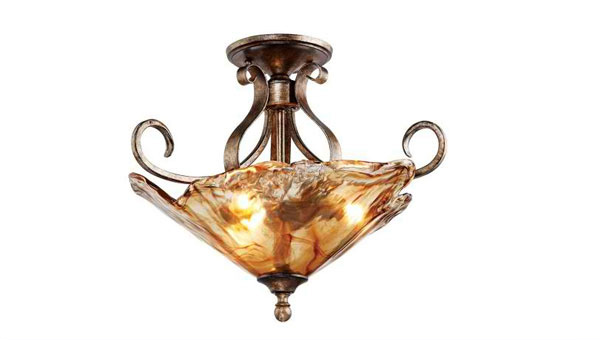 It isn't just the scroll forms that made this appealing but also the free form amber glass used in it.
Alexander, 2 Lt Semi Flush Mount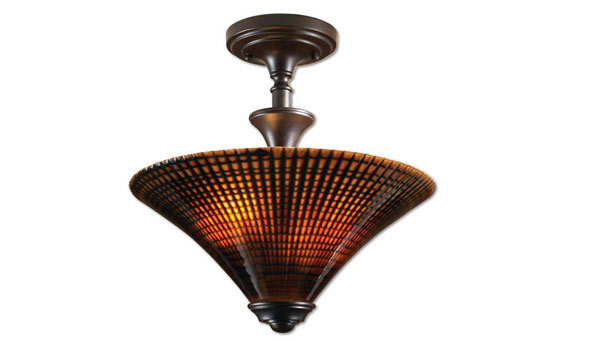 The art glass used for the lighting will make it a good choice for the entryway, bedroom and in any space you want to add it to!
Somerset 3 Light Semi Flush Mount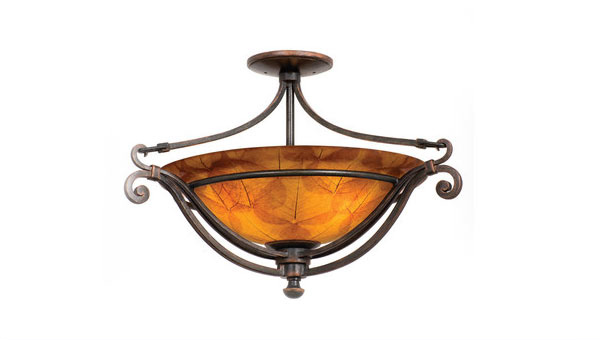 If you think this semi-flush mount light is ordinary, you are wrong! Take a look at its leaf shade and you will fall in love with it.
13 3/4″ Wide Twining Leaf Ceiling Fixture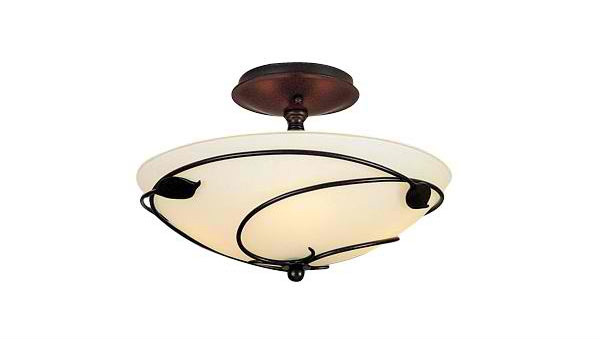 The mahogany finish of this leaf designed semi-flush mount light has impressive details that will make you proud of it once you get one for your home.
Chinese Style Classical Curtain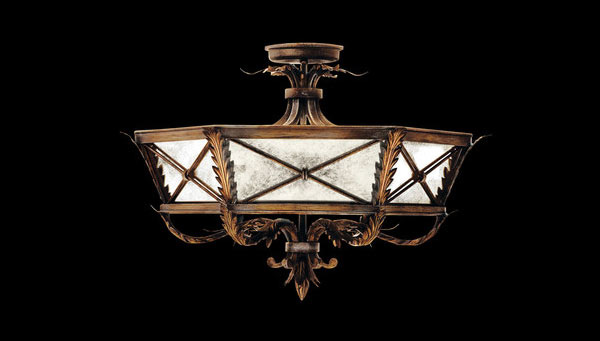 This lighting spells elegance in every detail of its design! You will feel like royalty with this!
16″ Wide Fabric Drum Shade Ceiling Light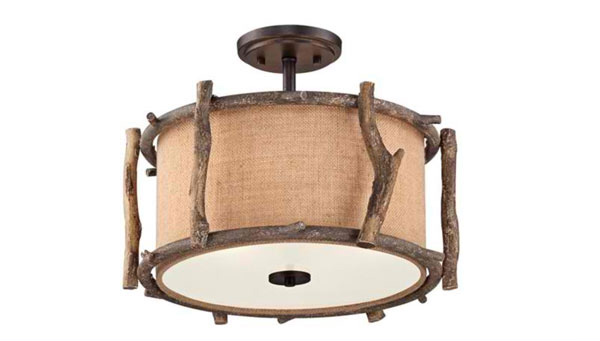 Well, no one will deny the rustic characteristic of this lighting as it used wooden design in it. This will not just look good for a rustic interior but even for a natural themed home.
El Nido 18″ Round Ceiling Light Fixture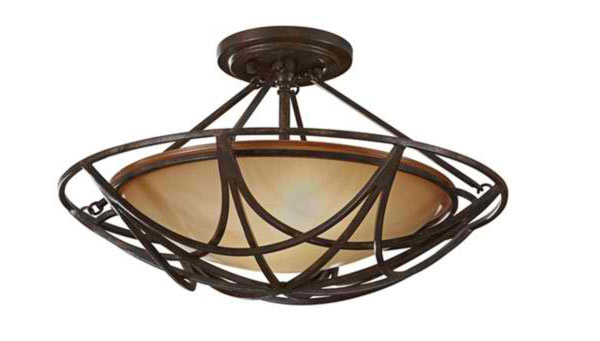 The lovely juxtaposition of angular lines and soft curves wrap up the sophistication of this piece which kind of reminds us of a nest.
The architectural lines of every semi-flush mount light featured above differ from each other and they have their own rustic appeal that sets each one apart from the other pieces. There are various styles in this list but we are sure that you have picked a favorite piece that will look perfect for your home. Adding lightings like this can bring balance and a versatile look to any interior. Same aura can be given by the silver drum flush mount ceiling lights if you want a different touch.