Refreshingly Neat 15 White Dining Sets
Getting white dining sets for your dining room is one way to create a minimal and neat look. This can also pacify your interior's appearance if you used so much color for the walls and added intricate detailing for the decorations and accessories. But it can also create a minimal and refreshing look to a dining room that has white in most areas including the walls and flooring. There could be a lot of dining set colors and designs that you can choose from but using white can give your room a different impact.
Well, you might not be able to totally understand this without seeing some pictures that show white dining rooms. That is why, we have collated some white dining sets to give you ideas on what design you can choose for your dining rooms. Check out also how the dining areas were set that made the dining sets look a lot better. Scroll down and see a collection of white dining sets in different designs and materials.
Modern Dining Contemporary White Dining Table with Angled Base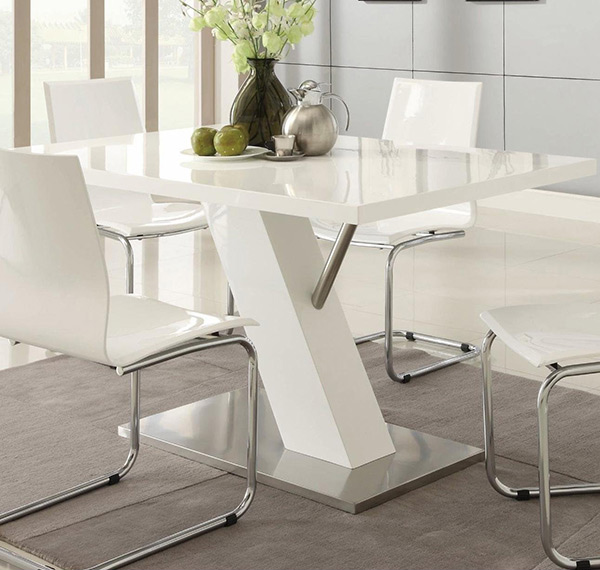 Look at how lovely this set is with chrome finished legs and bases and clean white finish for both the tables and chairs. This fits both modern and contemporary spaces.
Domus 7 Piece Dining Setting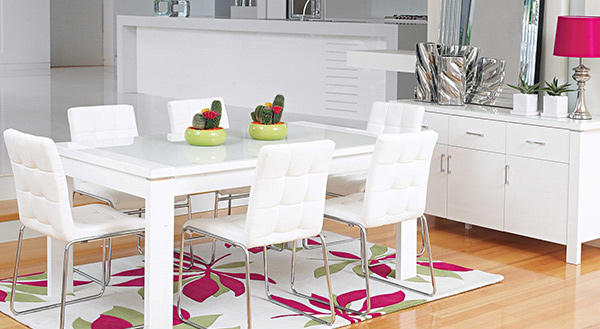 The luxurious upholstery for the chairs and the glass top table create a perfect match for this modern dining set.
Meridian 5 Piece Dining Set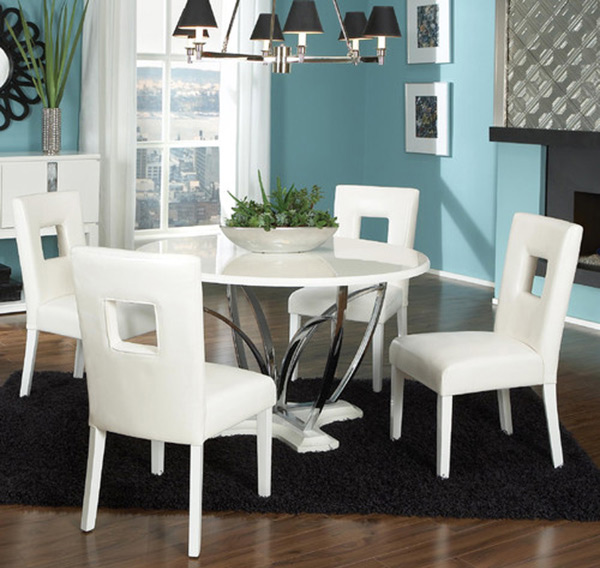 This one is perfect for a small space not just because of its slim design but also due to the use of a round table. It has a smooth and clean geometric design in high gloss white finish.
Mega 7 Piece Dining Suite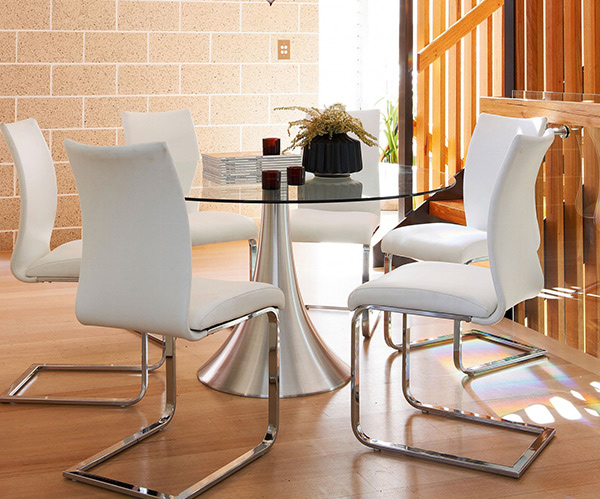 Brushed aluminum and tempered glass were used for this Mega dining set. Give the utmost dining comfort to your family and guests with this dining set.
New Tracy 5-Piece Casual Dining Set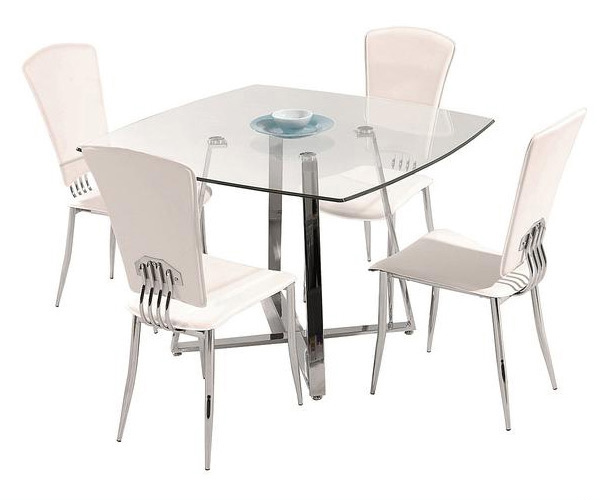 With this dining set, you'll surely get a stylish dining room. Check out the details you can see on the back of the seat making it appear truly stylish.
5-Piece Casual Dining Set
The stainless legs look so beautiful with its sleek curves that make it look feminine. This dining set could be a perfect focal point for your dining area.
Hollywood 9 Piece Dining Suite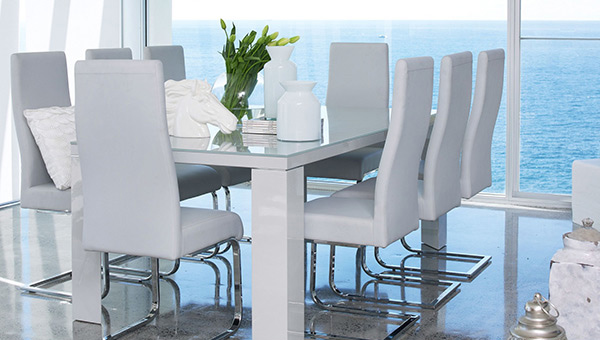 Bring in a contemporary vibe with his set that features steel and tempered glass elements making it get a more modern aesthetic.
Arizona High Gloss White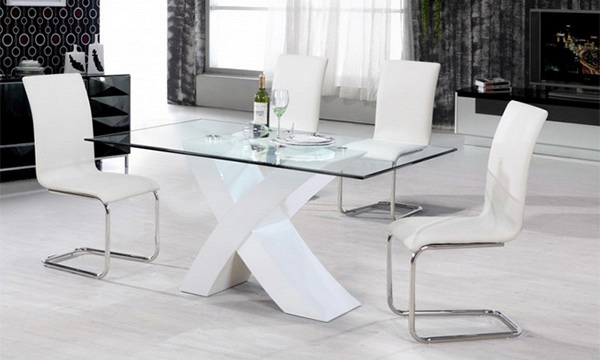 The base of the table looks unique with its crossed design. It was made even more beautiful in white color with a glass top. The set of chairs also look perfect to complete this stunning set.
Sundance 5 Piece Dining Set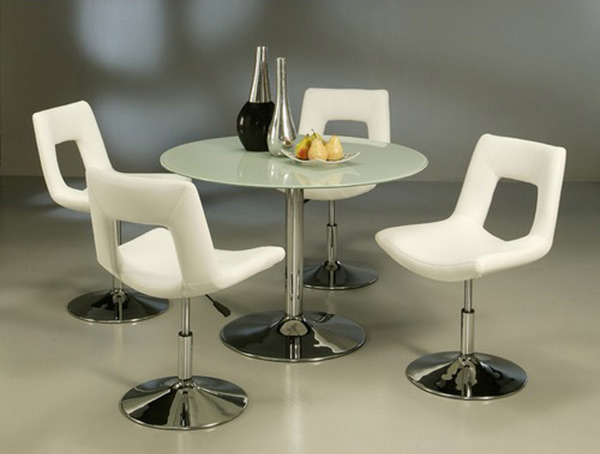 Table and chairs are finished in chrome with a frosted glass tabletop in 44″ wide. Stunning design isn't it?
Sarah 7 Piece Dining Suite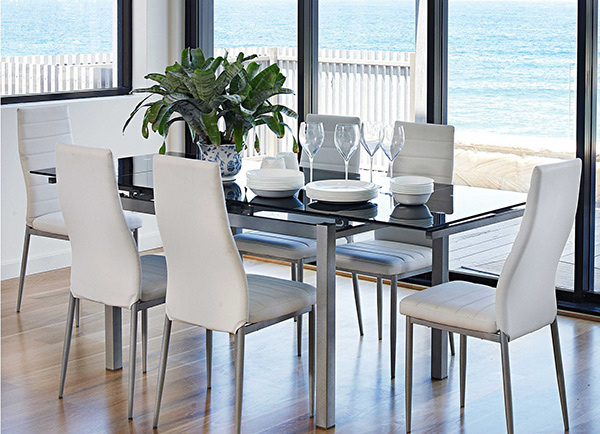 Simple dining rooms will look minimal yet elegant if you add this Sarah set into it.
Modern 75″ Dining Table in White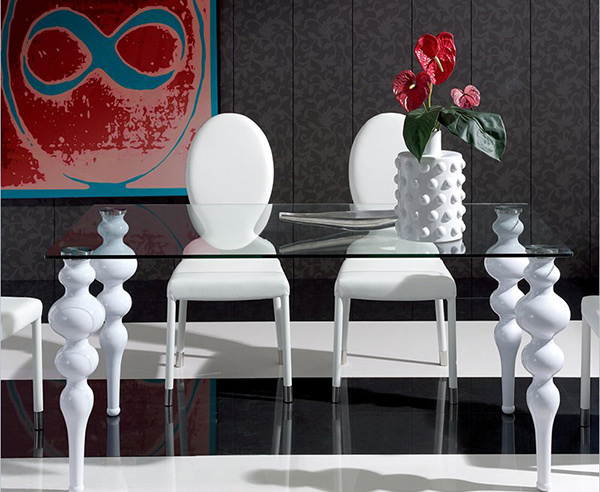 Mix up contemporary and classic approach for a dining set and you will get a look like this! Durable wood was used for this set in white finish to create a touch of elegance.
Feather Dining Set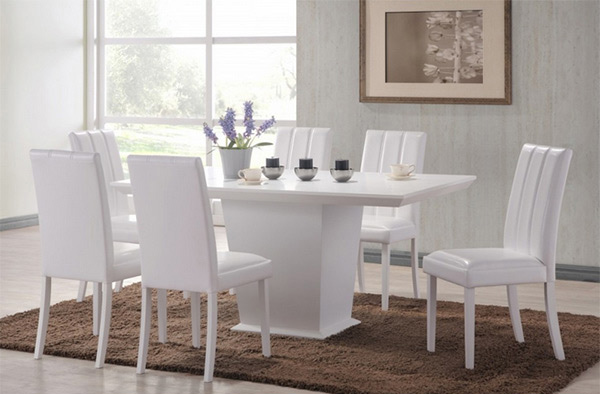 Rubber wood with Veneer is the primary material used for this beautiful white dining set. Its beauty is indeed as soft and light as feather!
Nightfly 5 Piece Rectangular Dining Table Set in White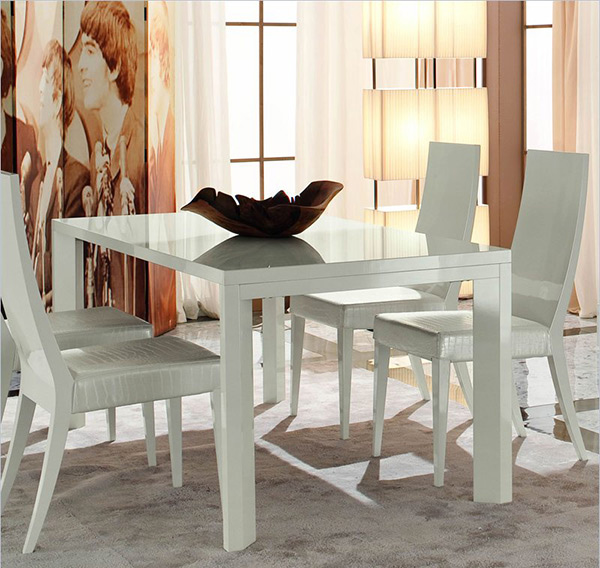 The seat is in crocodile leather effect material with a wooden back for the chairs. This effect make it look gorgeous despite its simple design.
Costilla Dining Table with 4 Chairs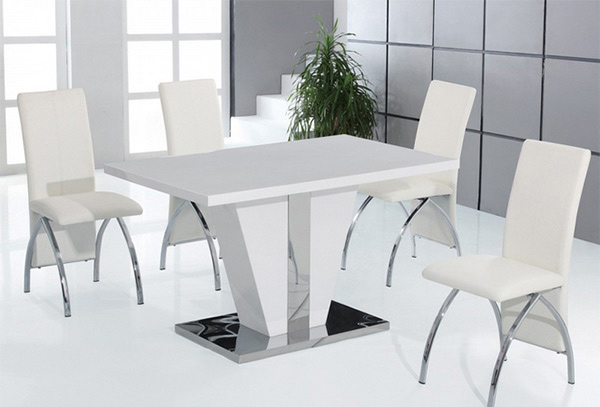 Costilla has high gloss finish with stainless steel base looking so fabulous in its unique pedestal table.
Modern White Set with Extendable Dining Room Table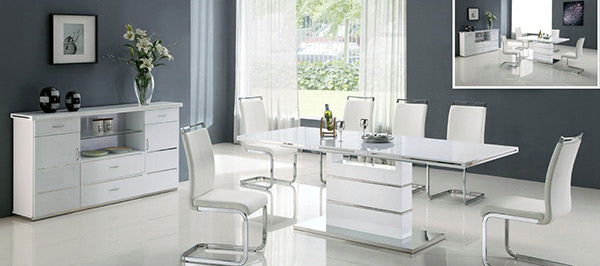 You'll surely agree with us that this set is truly appealing with sleek lines for a modern look.
You have just seen some white dining sets that come in various designs and made up of different materials. Now, if you want to get a dining set for your room, you can try to get inspiration from the above designs. You can also try black dining sets or maybe dining sets with multi-colored seats. Anything you choose can look good as long as you work well with the interior design of your dining room.