Add a Touch of Class with 20 Black Dining Sets
There are different dining set designs that you have seen. This might even confuse you on which one you would get for your own dining room. But don't be. If you want it to look minimal, get the ones in white or cream or black. Black dining sets look fashionable despite its dark color. It can also add a classy touch to your dining area.
We will be showing you some black dining sets for today's round-up. You will surely be able to appreciate the beauty of these sets especially that the pictures we opted to show you were actual set-ups of these dining sets. Want to see them now? Scroll down and check them.
Xenia Dining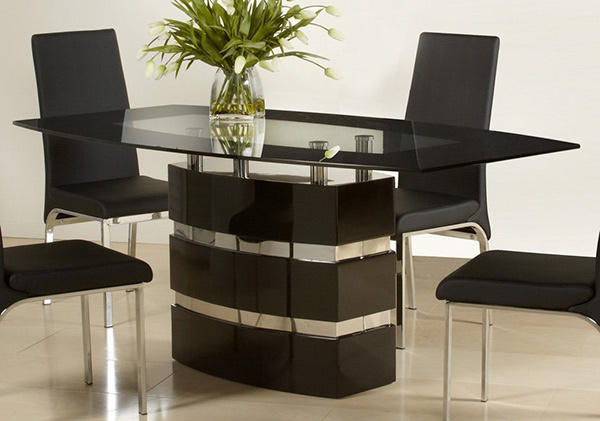 Look at the tempered clear glass construction for the table in black gloss finish, isn't it lovely? The pedestal type table sure made a huge difference to the entire look of this set.
Papario Collection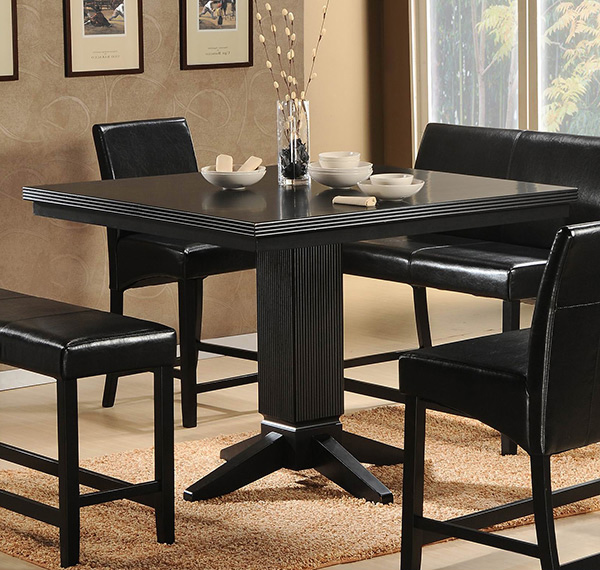 If you want a simple design but would give you the kind of comfort you want, then this set is the right choice!
Wenge Dining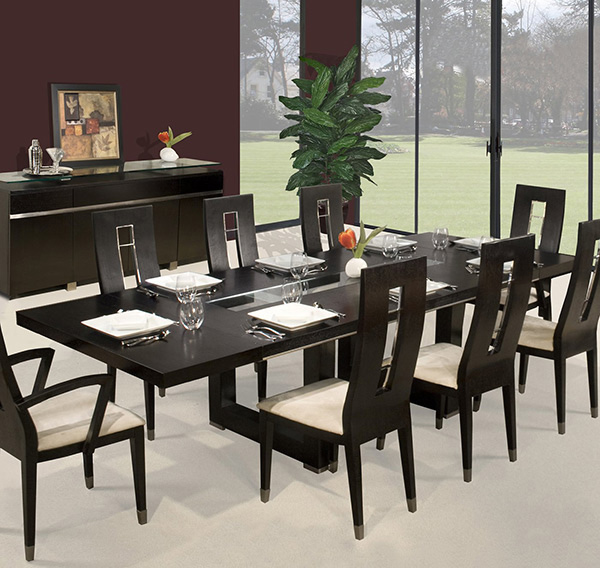 An awesome contemporary dining set with stainless steel accents and clear glass inserts for the table. The overall look is just so stunning especially with the chair designs that go with the table.
Black/ Silver Metal Corner 3-piece Dining Set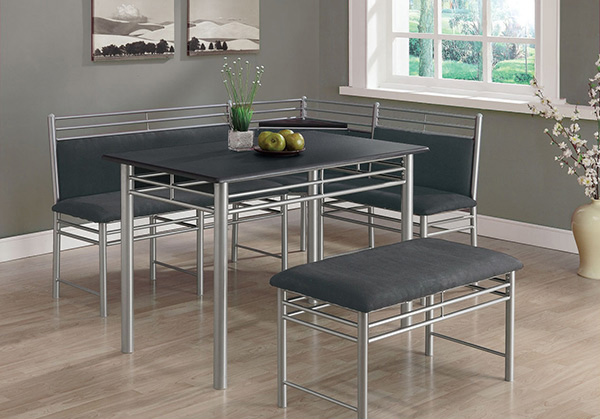 Space-saving set made from silver metal base and seating with micro-padding. A simple dining set for a minimal looking dining area.
Folio 5 Piece Dining Set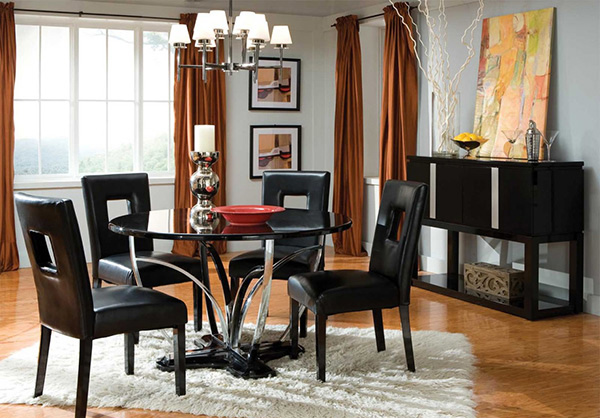 Get a contemporary dining area with this beautiful set of upholstered chairs and a table with high gloss finish.
Daisy Trestle Dining Table, Espresso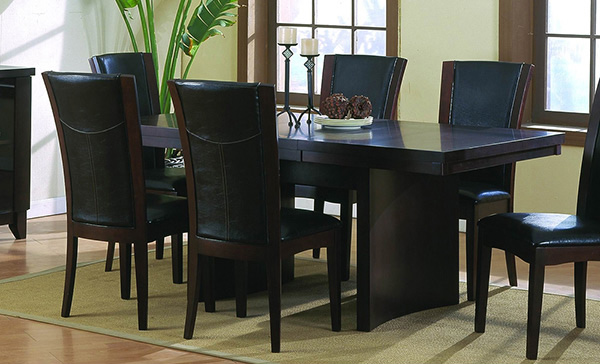 Clean lines and sleek curves are used in the design of this set made from hard wood and Cherry veneer.
Diva 5 Piece Dining Set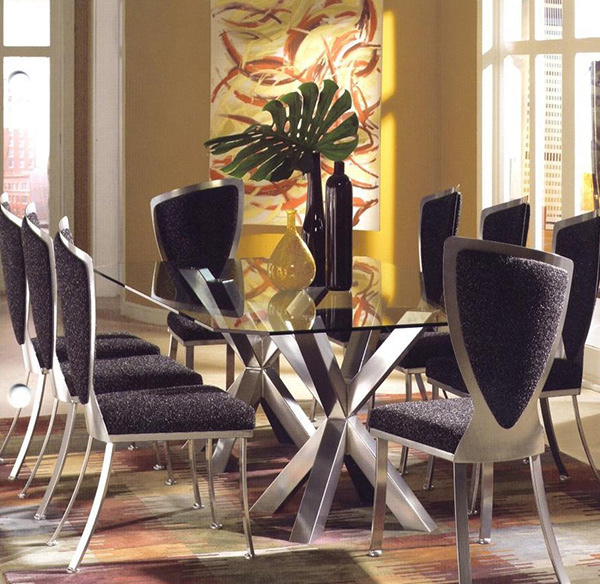 You'll surely agree with us that this set looks stylish especially with the design of the seats using high-quality powder-coat metal construction.
Trend Dining Table with Lirica Chairs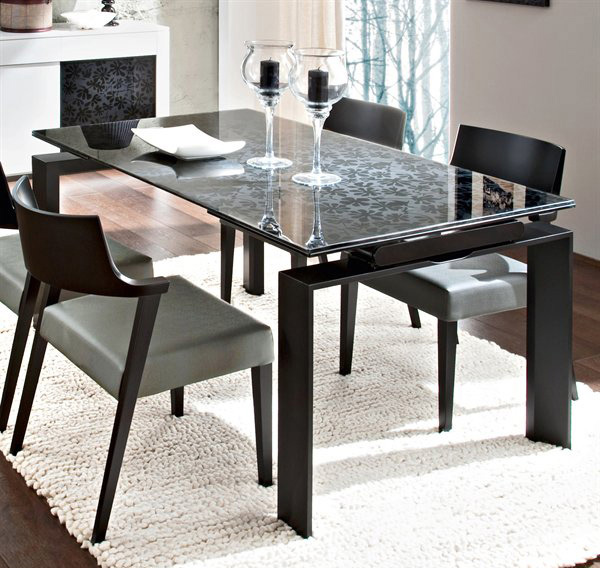 A well-designed set from Domitalia using beech wood frame. black lacquered metal slides and tempered glass top. This will make your dining room ready to entertain guests and family members.
Diamond 5 Piece Dining Set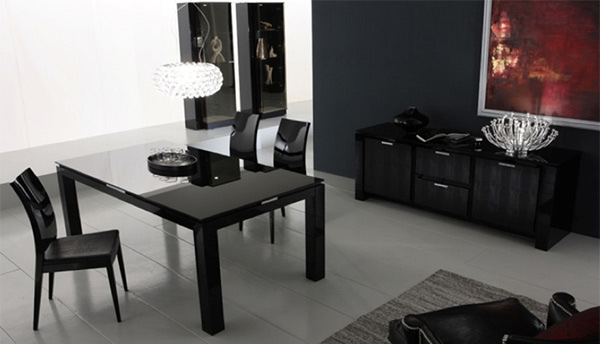 Constructed of gloss lacquered surfaces, glass, leather effect and Strass Swarovski Crystal. This dining set can no doubt add a unique touch of elegance to your dining area.
Moira Ebony 5 Piece Dining Set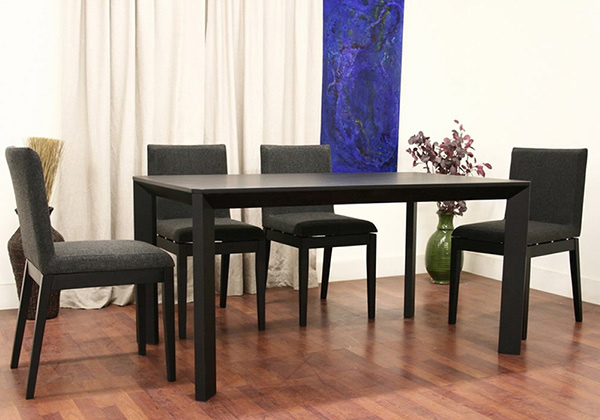 A stunning set of furniture with black veneered table having detailed wood grains and comfortable chairs in upholstery.
Carter Dining Set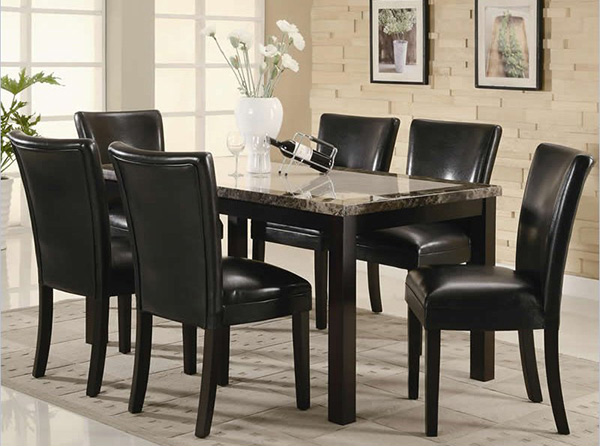 This dining set is just fitting for a contemporary interior. Aside from the upholstered chairs, its faux marble table top is one elegant feature of this set.
Stilt Boxter Counter Height 5 Piece Dining Package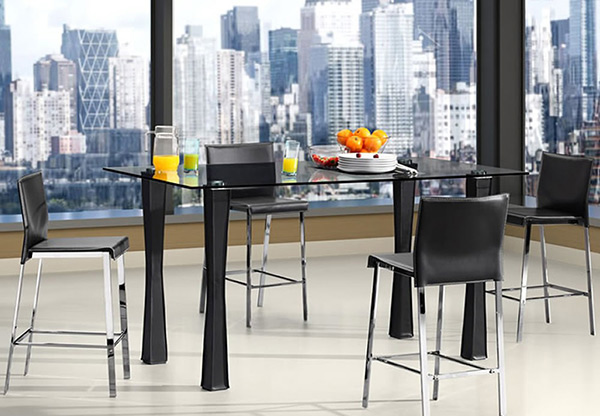 This seaside living room sure is classy and homey at the same time. Function was never compromised for beauty in this sample.
Dover Dining Table in Espresso Finish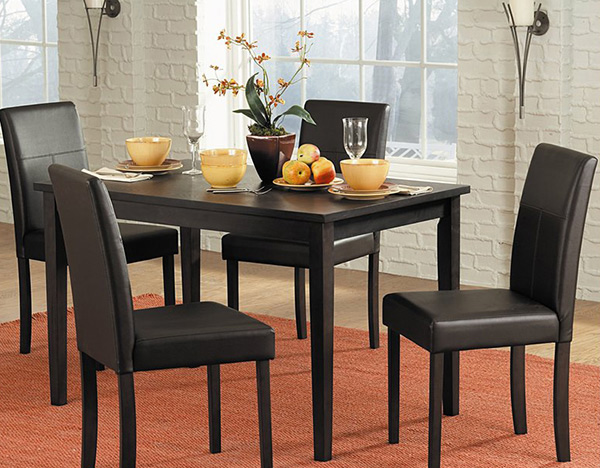 Great for casual dining giving your guests the kind of comfort they look for in a dining set.
Liftoff Trafico 5 Piece Dining Package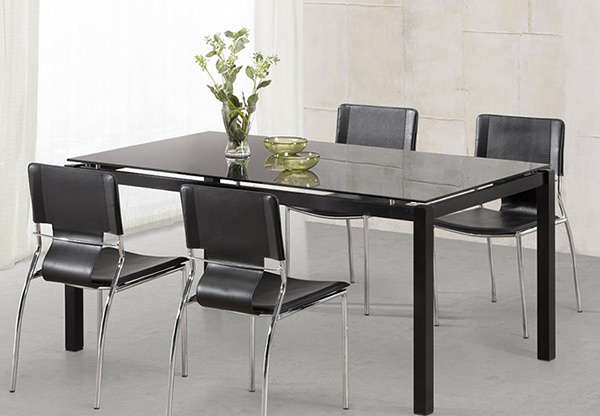 This set boasts its unique floating design. The table has a painted tempered glass top with glossy epoxy-coated base.
Contemporary Marble Dining Set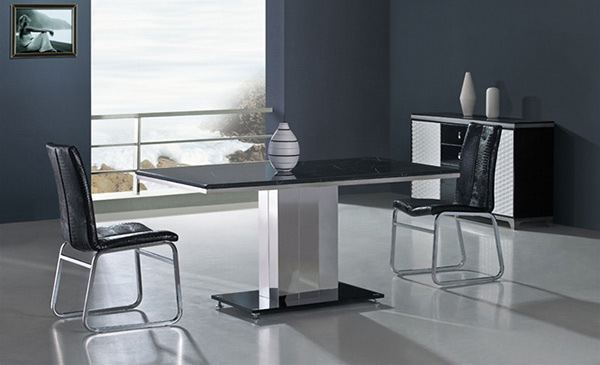 With stainless steel frame and marble top, this style is sure to set a wonderful dining area in years.
Charmin Modern Dining Set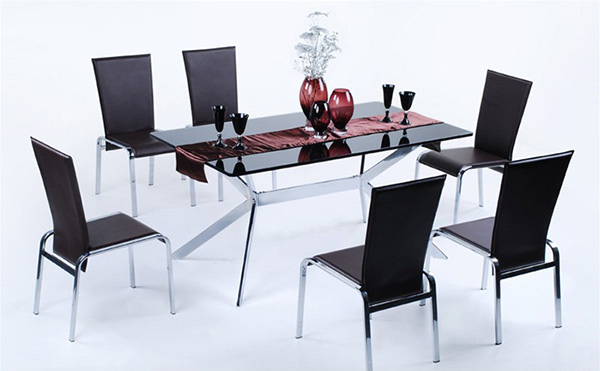 A modern dining area deserves this kind of dining set! Sleek lines were used to make it totally modern and stunningly beautiful.
Arts & Crafts 5 Piece Dining Set in Black Finish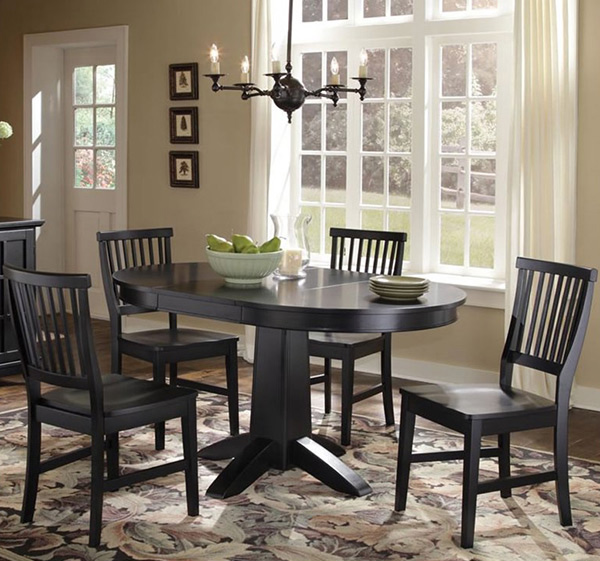 A dining set made of hardwood solid and black finish for an Arts and Crafts design.
Kylie Modern Dining Set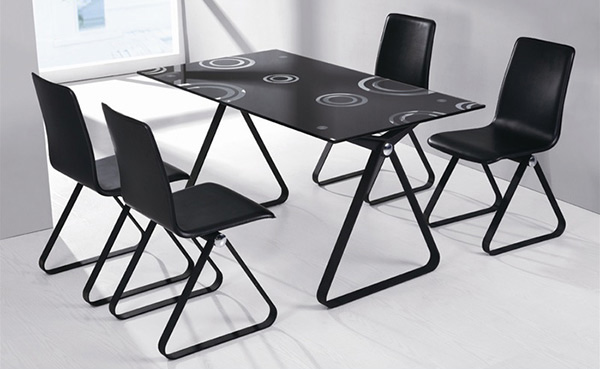 Distinctive design with black tempered glass for the table. This modern set is one good addition to the dining area.
Park Terrace Patio Dining Set in Black Weave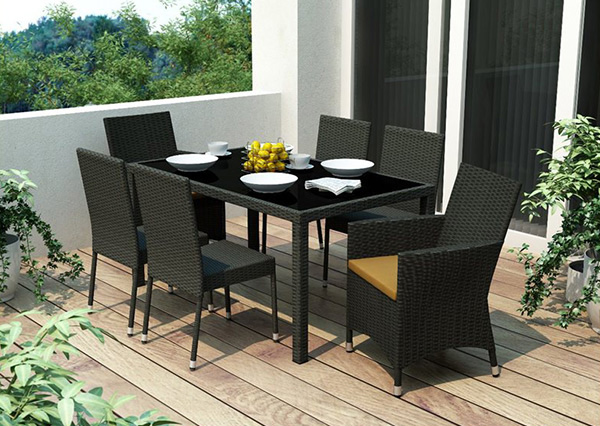 An outdoor dining set in black weave. Your outdoor dining area will look gorgeous with this set in it.
Coco Dining Table with Glass in Black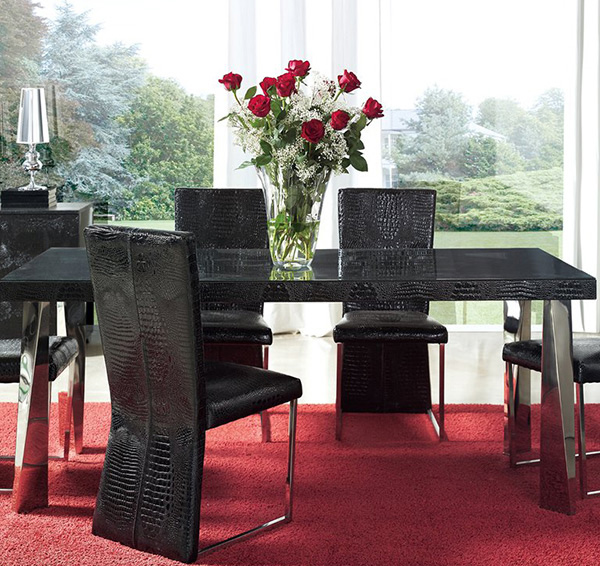 A combination of contemporary and classic design which looks so beautiful especially with the high-gloss eco-leather finish that appear like ultra-modern in style.
These black dining sets are really stunning. Even with its dark shade, it adds a wonderful twist to your dining area's look. But the trick is, you should have lighter wall colors so that the dining room will not look too dark. If a large dining room table is want you need, you can also check our collection.