20 Captivating Rustic Benches
Adding a rustic bench to your interior could be a stunning accent!
Adding a natural look for your home is made easy by bringing some rustic elements to your home. Rustic furniture will always be a breath of fresh air in an interior filled with modern or urban furnishings. Isn't it beautiful to see something raw and natural amidst the chrome and glass you see all around. Drawing yourself to nature is one way to get rid of that tense and stress mind and body of yours and get the rest and Zen you very well deserve. No, it is not easy to get a relaxing vibe in our modern home, but with a little help of rustic elements and may be an indoor plant or two it can happen. There are varieties of styles on this one. It does not always mean "get that huge log and make it a bench" kind of style when we say rustic seat. There are a lot of very interesting designs with artistic twists that are wow-worthy and will perfectly fit in whatever style you have for your home.
It cannot hurt to have a charming natural-looking bench in the house. After all, these versatile charmers can be used to pair with your dining table and chairs, squeeze into a hallway, an accent to your living room, at your porch or may be place at the foot of your bed. Believe me, you will be amazed to see how it can change the mood in your home. All sorts of rustic flairs can easily make you feel homey and relaxing. Let us face it, city life can be so cruel and going home to a place where you see almost the same kind of furniture with that of your office can just remind you of the stress you had at work. May be not everyone get to feel this, but most often than not it does feel like it. So, for today I gathered 20 Captivating Rustic Benches to add a little of the country and rural flair to your urban living. Check out these amazing benches by scrolling down.
1. Reclaimed Boat Bench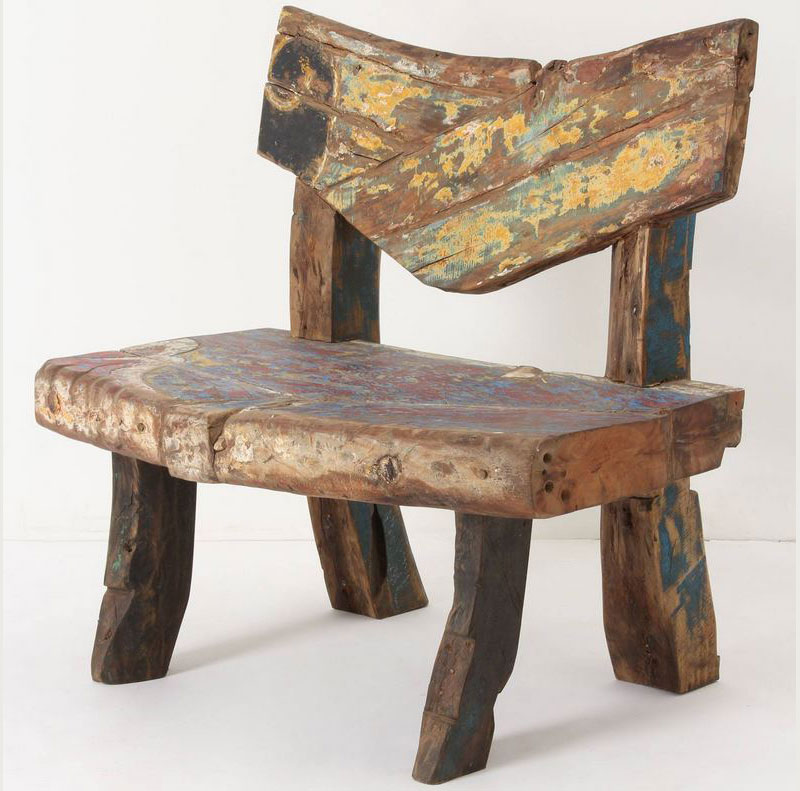 This beautiful seat for two was crafted from a reclaimed wood of a circa 1900 Dutch fishing boat. Its storm-weathered appeal will sure look stunning at your porch or living room.
2. Gemini Rustic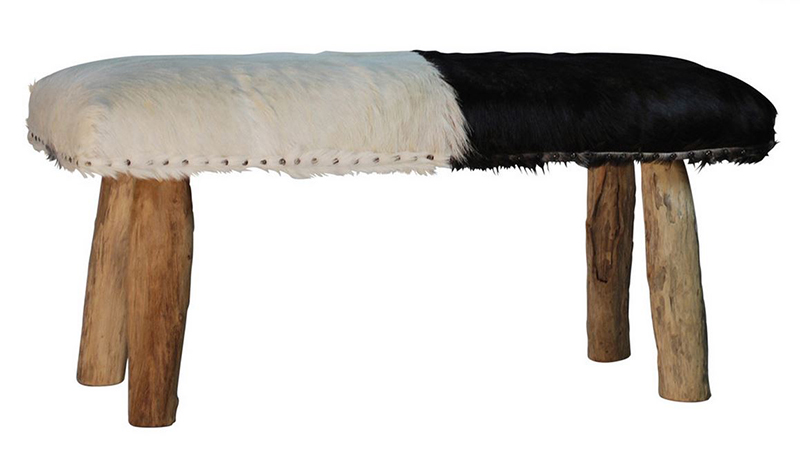 Be fabulous and rustic at the same time with this lovely wooden bench. Its black and white shaggy seat covering is sure to complement your contemporary home interiors in style.
3. Elio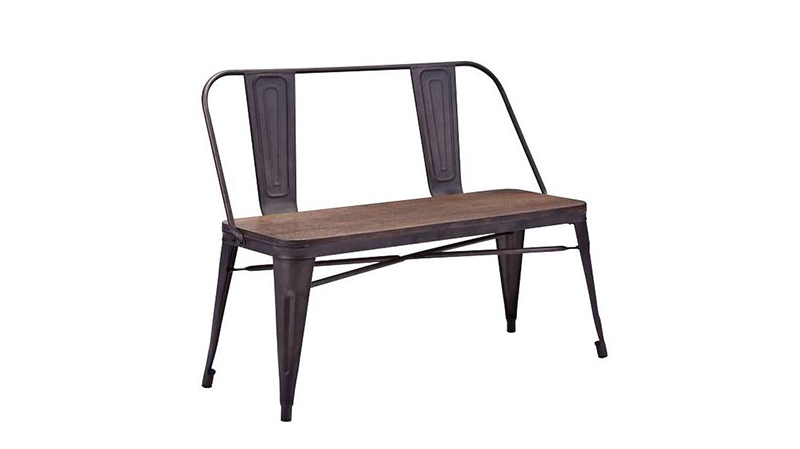 Give your home a vintage and rustic touch with this beautiful indoor bench. The featured antique finish and bamboo wood seat is a perfect addition for your dining space or living room, bringing rustic elegance and romantic flair.
4. Lille French Country Louis XVI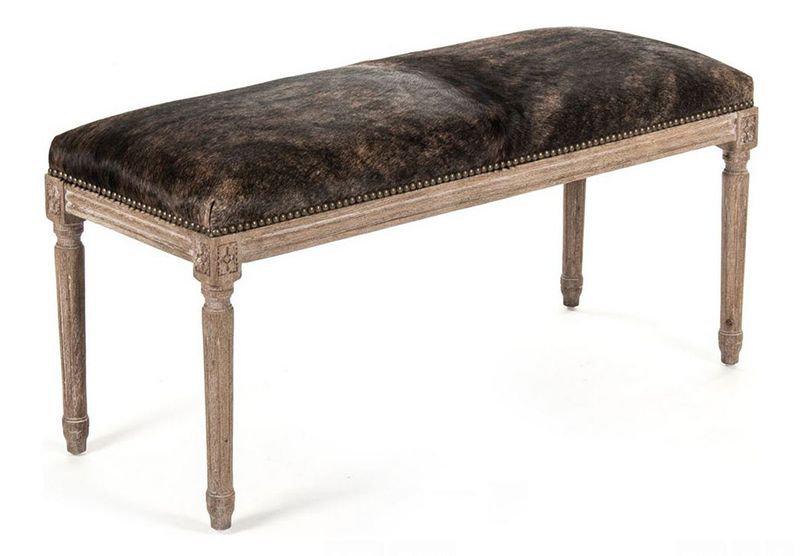 This bench features stunning brown cowhide upholstery that makes it an elegant and sophisticated piece for any home setting. Let this beautiful seat bring charm and elegance to your home by placing it at your entryway, hallway or at the foot of your bed.
5. Morocco Print Studio Day Sofa Slipcover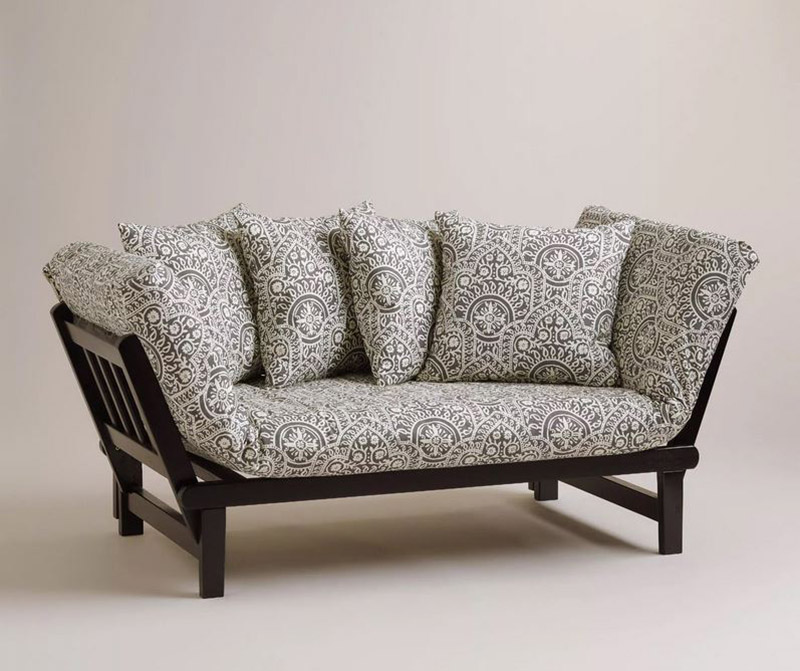 A mod way to add rustic element to your home, isn't it? The global-chic pattern in cream and dark gray creates a stylish statement that makes an interesting accent to your home. Place it in your living room for a cozy and chic look.
6. Amory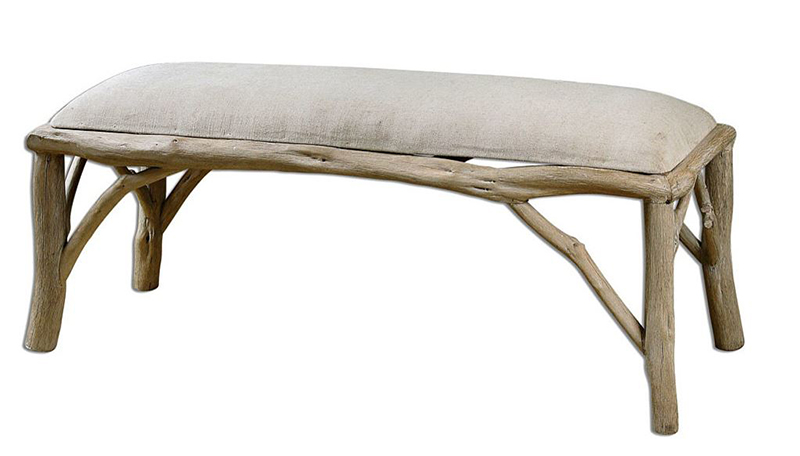 I love how this bench reminds me of woodlands! The airy and all-natural look as if it was just cut down from a tree makes it a stunning statement that exudes a relaxing vibe. A great addition for your bedroom or foyer where relaxation and warmth is encouraged.
7. Deacon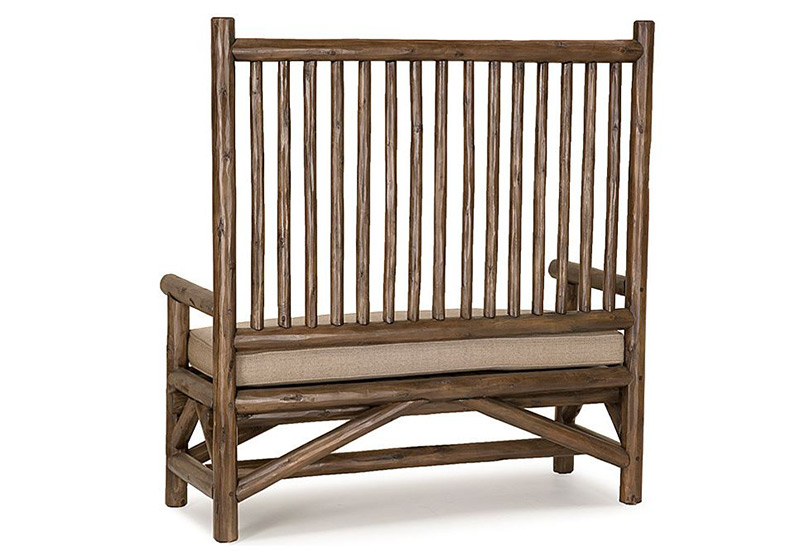 The high back feature make this charming seat different from the usual bench we see every day. It gives a sturdy and strong look making it a bit masculine while adding throws with different patterns and attractive colors will give this rustic piece a chic appeal.
8. Isabel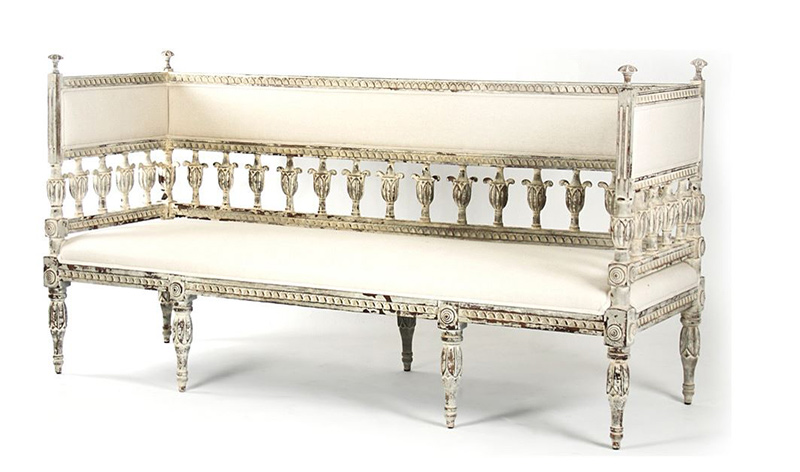 Want a bench that looks classy and elegant in every detail? Then look no further, this lovely seat features ornate carvings and weathered appeal that brings European flair and rustic elegance that will make your space look adorable.
9. Modena Seating Storage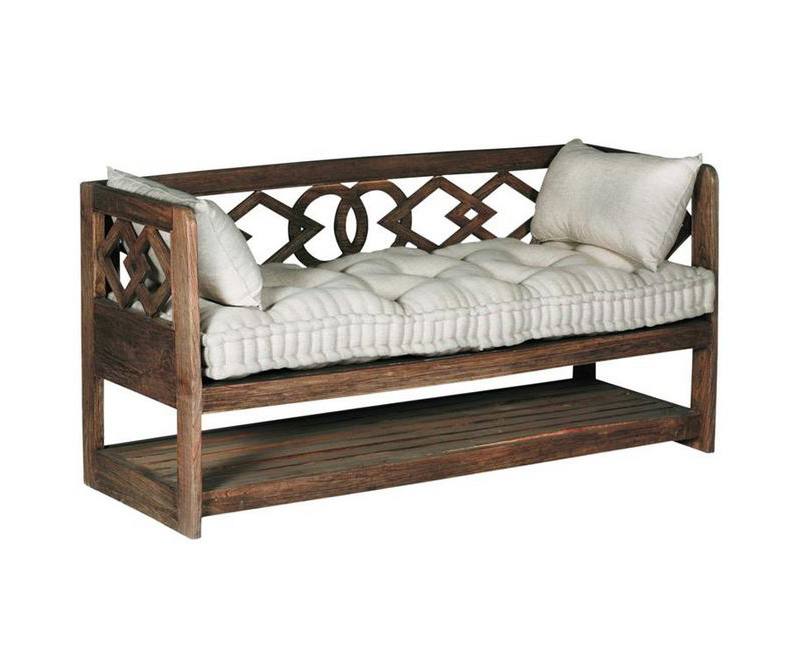 This Art Deco styled bench will give your home interior a punch of rustic charm and sophistication. Its geometric shaped natural wood and tufted French linen cushion gives off a modern flair while its shelf underneath gives a lot of space for storage. This piece is great for hallway, a reading nook or alongside a dining table.
10. Leagrave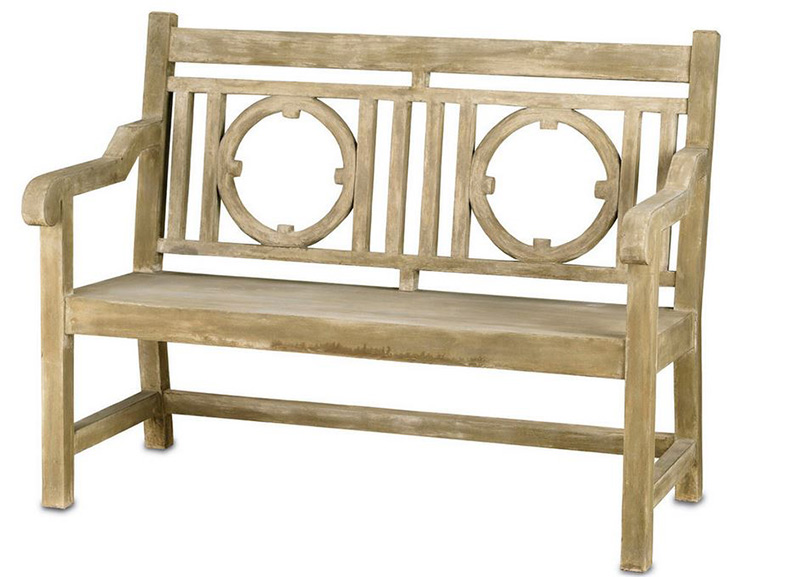 This simple, yet elegant sturdy wooden seat will look amazing at your hallway, porch or even in your garden. Its weathered finish and stylish back design bring charm and whimsy as well as comfort and inviting appeal to any space.
11. Rustic Bench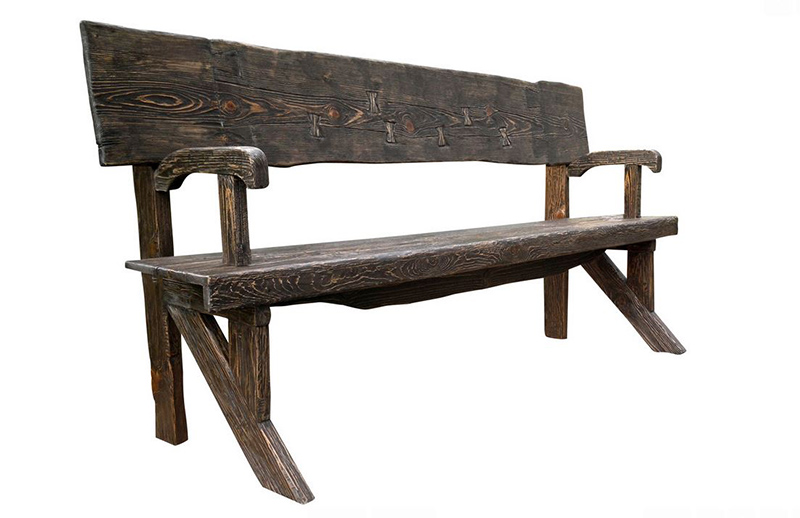 A lovely piece that will add whimsy and beauty to your outdoor space or even your entryway. This rustic bench with its natural wood finish is a one of a kind statement you can add to your home.
12. Horsehead Rustic Bench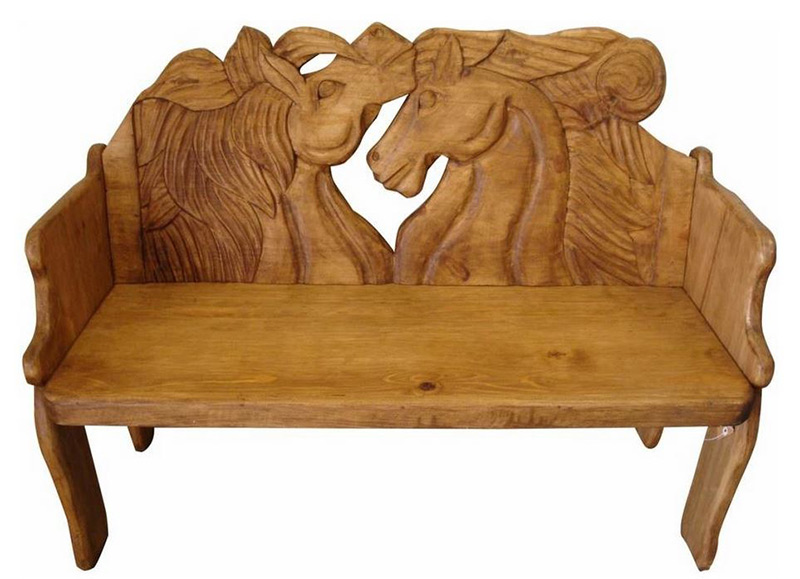 A stunning statement that is sure to give a unique look in your home. This bench is hand carved and hand painted that offers rustic elegance and timeless charm.
13. Yukon Storage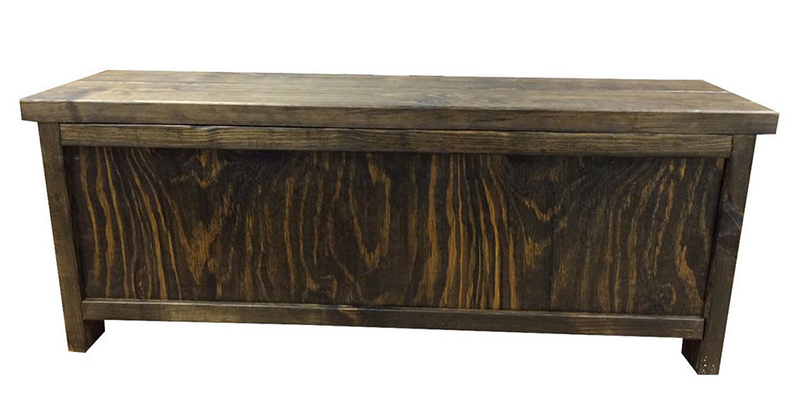 Storage benches are great for hiding all your clutter, may it be reading materials, shoes, toys or board games and other sorts of valuables you got. It makes the right piece for a foyer, mud room, at the foot of the bed and even in living room. It can also work as a mini library stand in your reading nook or hallway. Its rugged elegance will definitely add charm to your space.
14. Boudoir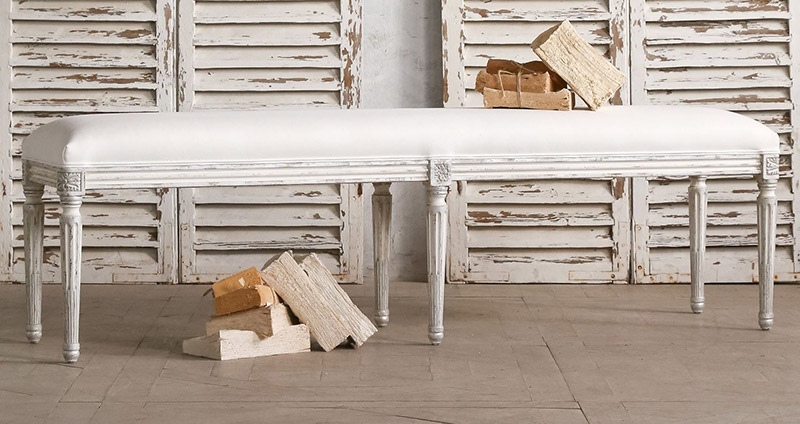 Classically European styled bench with exquisite detailing and feminine flair, this piece will be a magnificent addition to your home. It can lend softness and romantic touch may it be at your entryway or bedroom space.
15. Rustic Dining Bench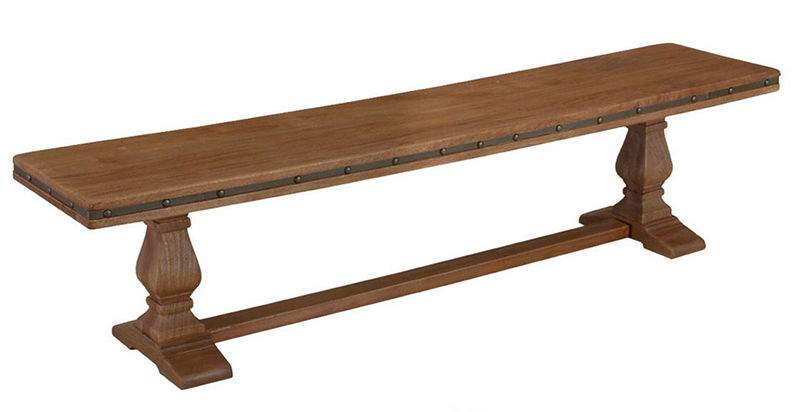 Notice the rich wood tone and lovely turned wood details of this sturdy mango wood. It brings warmth and country charm to fit in your space beautifully.
16. Kato Folding Bench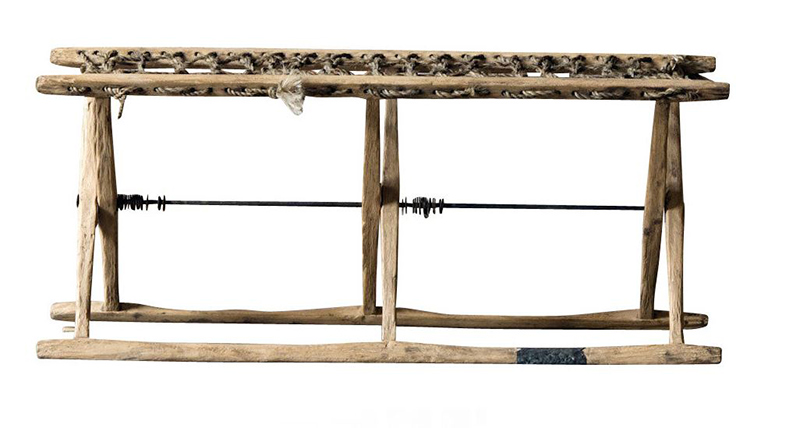 Check this innovative antique folding bench, awesome right? It will sure make a striking rustic piece to your home.
17. Paris Rustic Country Storage Bench Seat- 37″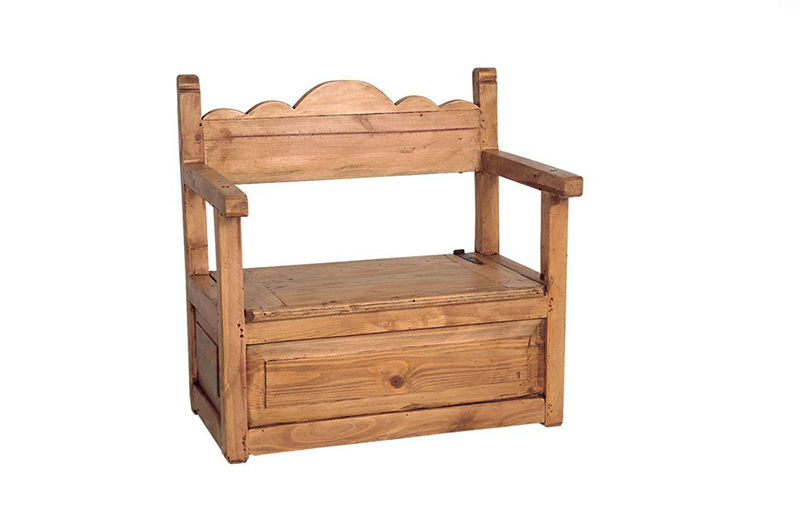 This beautiful seat with its sweet, soft curves and clean lines makes a darling piece for your foyer. Its storage functionality will help you keep your space neat and tidy.
18. Rustic Metal Fabric Strong Bench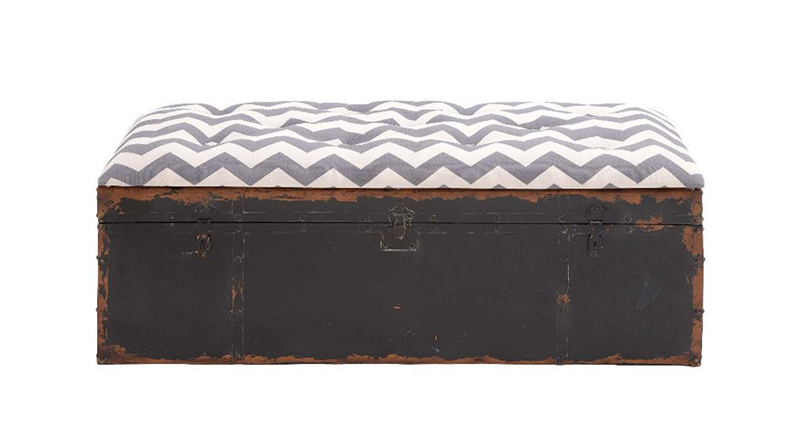 Chic yet rustic. This storage bench takes it to a whole new level. Its geometric pattern gives a modern vibe while the distressed finished bring its rustic elegance. It is a perfect fit for those who are looking for a unique rustic element for their homes.
19. Jordan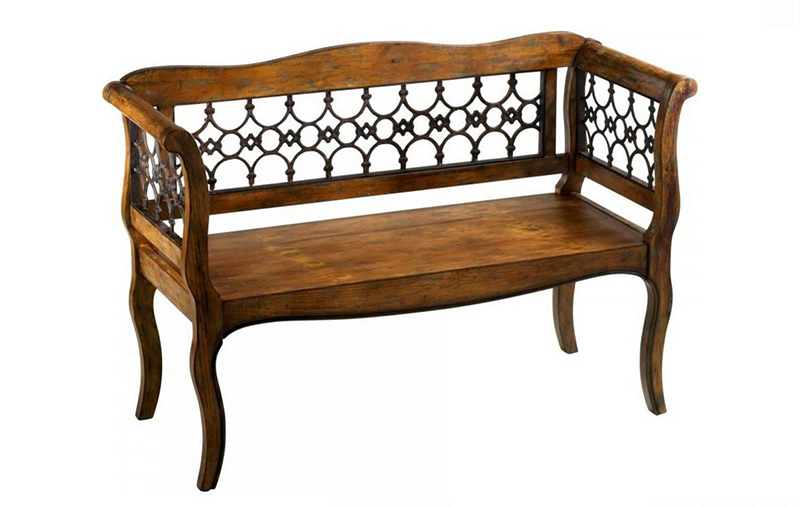 I love the geometric design on the back of this rustic bench. It is so jazzy and the byzantine oxide finish gives its warm and inviting color. This bench is perfect for your porch and garden space.
20. Abelardo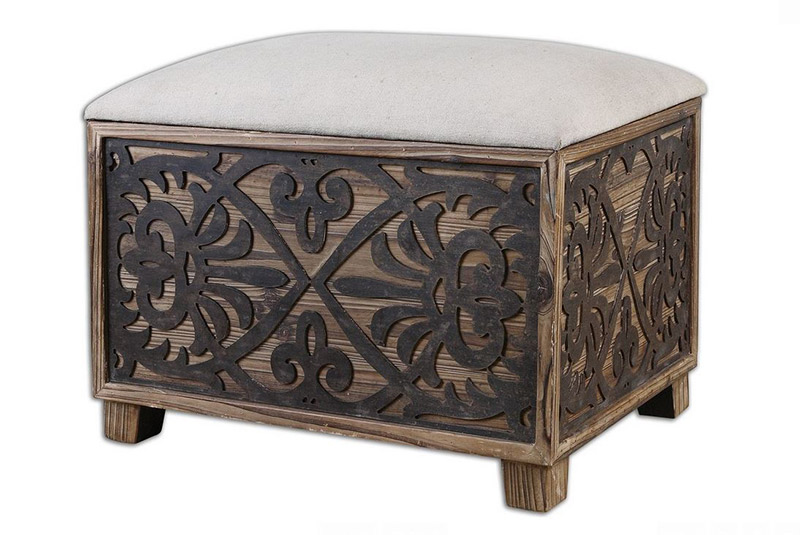 Cushioned bench are so adorable! They can be the cutest and comfortable at the same time. This bench can lend drama and romantic flair to your living room or bedroom, with its neutral linen seat on lightly stained fir wood and rustic, black gate panel sides.
Stunning pieces, would you agree? This list of 20 Captivating Rustic Benches were all made with precision, creativity and function in mind. The enthralling beauty of weathered look makes all of these pieces eye-catching and interesting. Its rustic elegance made it appealing and brings country flair to give that inviting and warm glow. The designs you see are sure to give your indoor and outdoor space a thrilling atmosphere. The beautiful combination of contemporary and rustic elements create a somewhat eclectic touch to those seats that made it perfect for any kind of setting you guys have at home. All of which cater to your different tastes and appeal. All of these benches are beautiful and functional. The storage benches are great for those places in your home where you have to keep your everyday valuables. The benches with gorgeous back designs are perfect for your dining, living room or porch. It can make a stunning accent. Other benches with sturdy and rich wood color maybe great for your garden, perhaps make it a meditation area where you can relax and appreciate nature. Adding a rustic bench would roughen up your home but it will sure make you feel a lot cozier and casual. I love rustic benches, I don't know what is it with wood but I also love its scent. It is kind of relaxing and soothing to me. How about you? Do you like these rustic benches on our list? Let me know what you think.