20 Counter Height Dining Tables
Counter height dining tables are not at all commonly used in most homes. Still we choose to use the regular or what we called the standard table. Obviously the only difference between these two is its height. Apparently, counter height tables are taller than the standard dining tables that we use. However, the extra height makes it interesting. It adds an illusion of more space than the lower tables. The best part is it works well with smaller areas.
If you are a kind of person who likes to deviate yourself from the common and familiar, then you might just like this kind of table for your dining room. A counter height table with its additional height can be used as an extension of your kitchen's preparation area. Or if you are someone who loves hosting parties or gatherings, counter height table is perfect for a more casual feel as you keep the conversation with your standing guests flowing. So for a stylish, lounge-like and casual dining experience browse through our list of 20 Counter Height Dining Tables.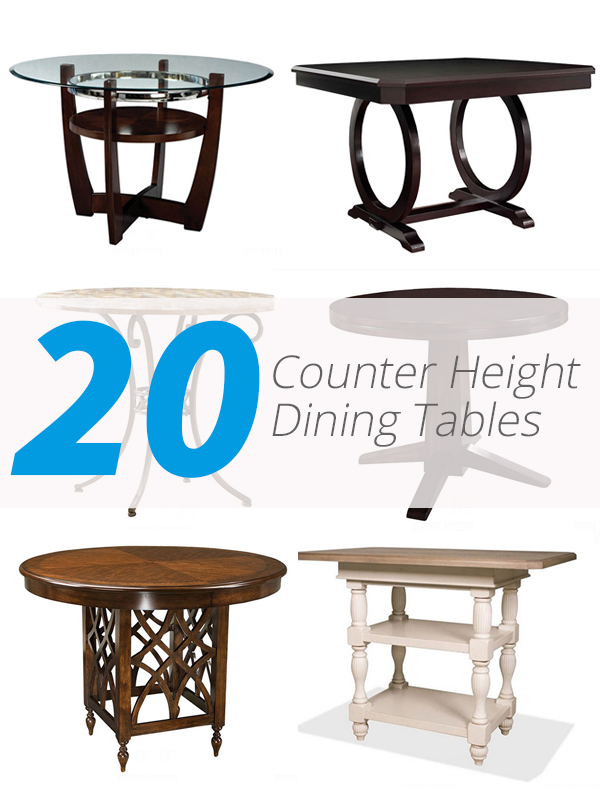 1. Dimensional Counter Height Tables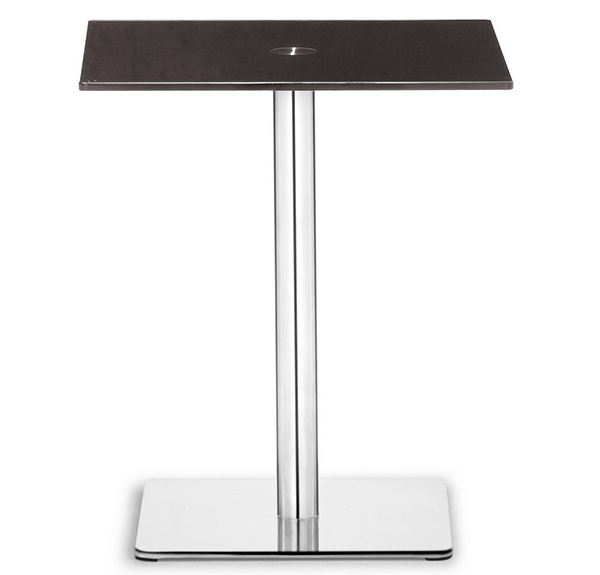 A perfect dining furniture for a modern minimalist style. It will lend a contemporary elegance to your home.
2. Lacey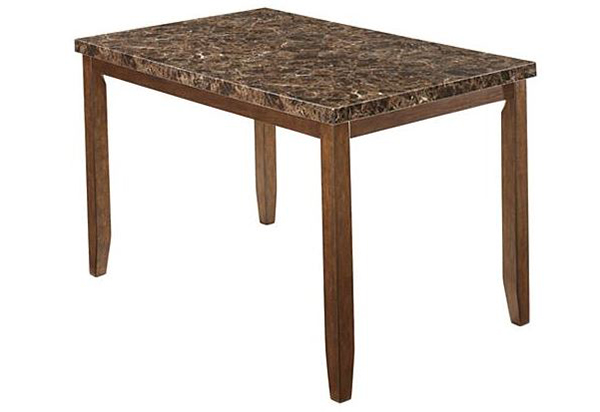 Its chunky base is paired with a thick faux marble top for a touch of elegance and style.
3. Vantana Counter-Height Dining Table With Leaf and Storage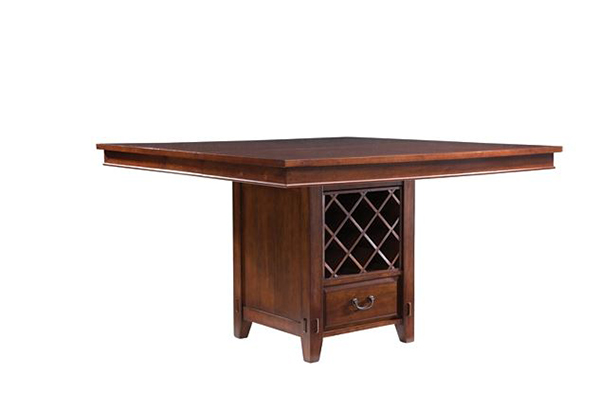 Functional and beautiful with its leaf, removable wine rack and a storage drawer, this counter-height table is great for homes with small spaces.
4. Apollo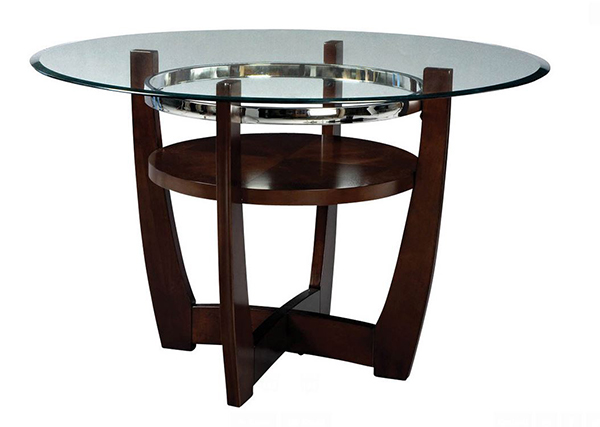 A lovely counter-height table with glass top and crisscrossed legs along with the center shelf that add stability and style.
5.Foundry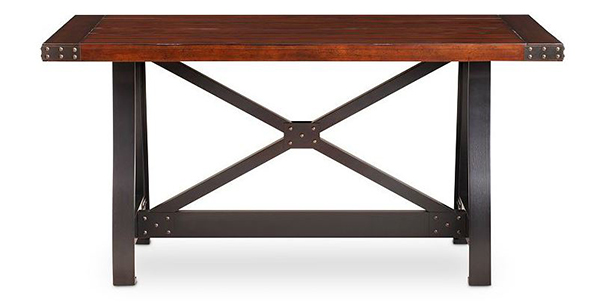 Bring warm rustic elegance to your dining space with this counter-height dining table with iron hardware and rich hand-rubbed down brown finish.
6.Rustic Solid Wood Square Counter Height Dining Table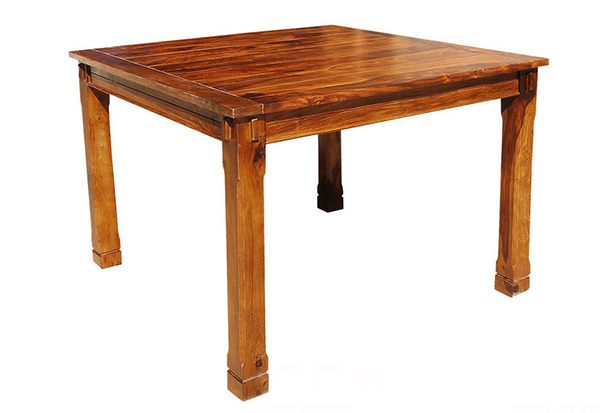 Add rich and warm stunning wood flair to your home with this four-seater counter-height dining table, designed with wood slat tabletop and gorgeous square block legs.
7. Hartford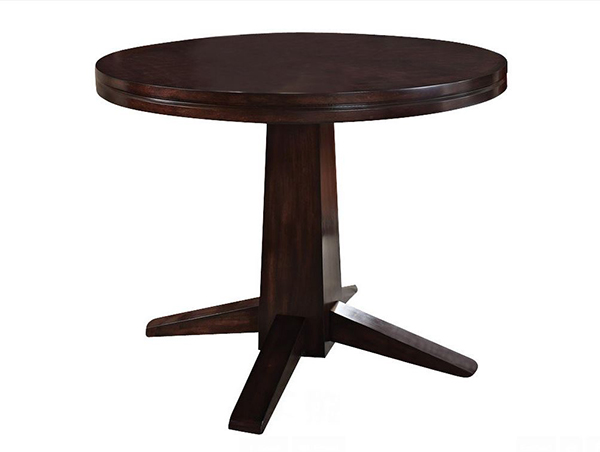 Four people can easily swing their legs under this round counter-height table in stained deep cherry finish because of its square pedestal base. Stylishly cool!
8. West Valley Rustic Casual Trestle Gathering Height Tables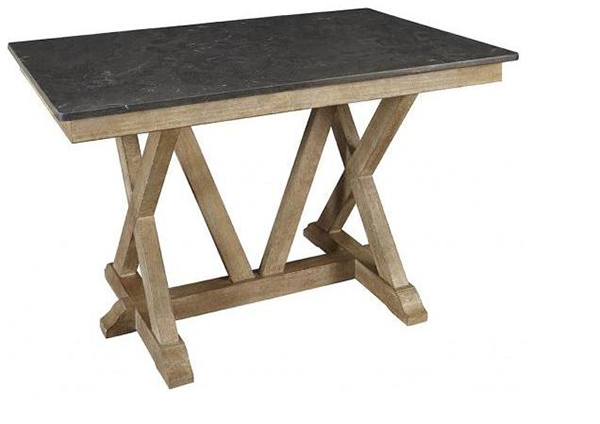 This rustic-country counter-height table design is made from natural blue stone with cream marbling and a solid poplar base in a rustic wheat finish.
9. Ollivander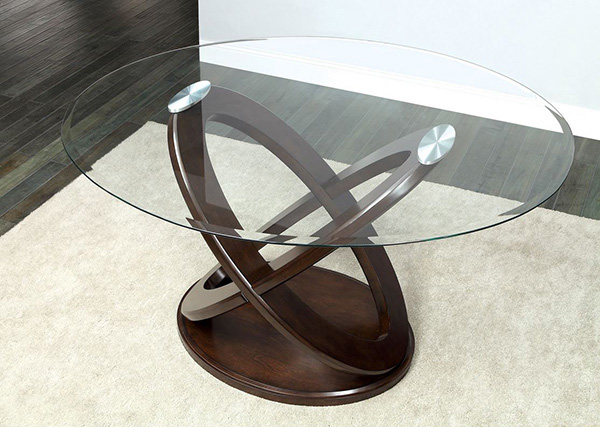 Get stylish and glam with this oval glass top on two large crossed oval base counter-height table. It is sure to give your home a modern and sleek flair.
10. Coventry Two Tone Counter Height Tables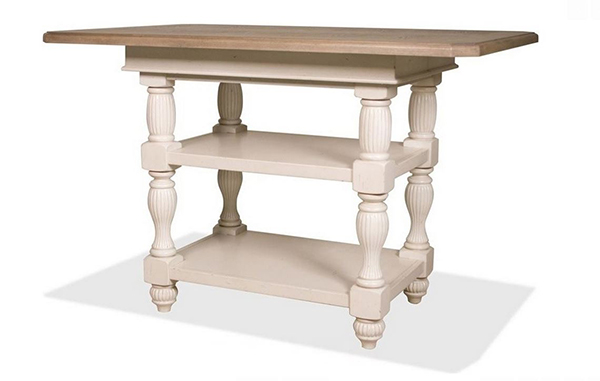 Give your dining room a touch of country elegance with this beautiful two-tone counter height dining table.
11. Gateway Counter Height Table with Marble Top and Ladder Motif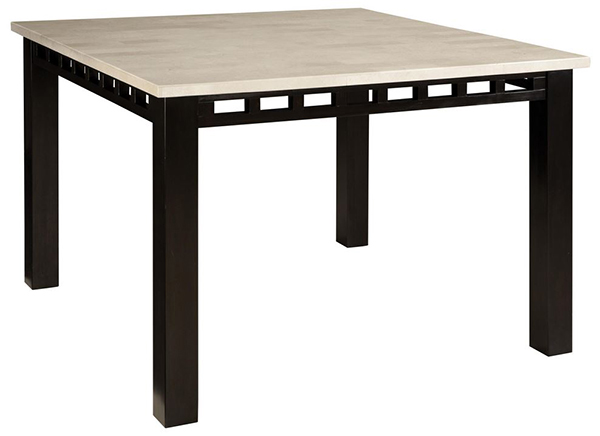 A thick marble veneer top is accented by the dark finish of the wood legs and apron. Match this table with transitional style bar stools or counter-height modern chairs to complete a stylish casual dining space.
12. Pura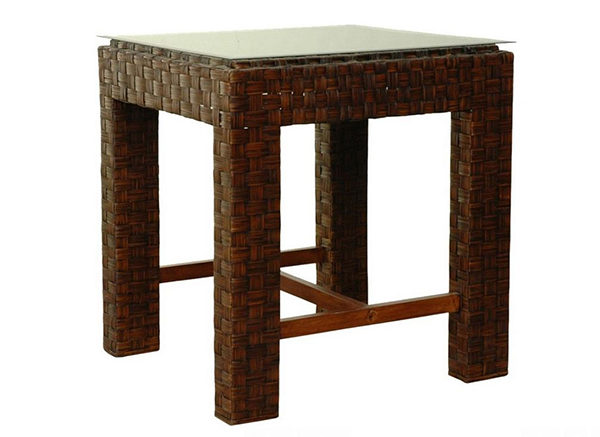 Add an ultra stunning statement in your home with this woven wicker dining table with elegant glass top and stained in a dark brown finish.
13. Hillsdale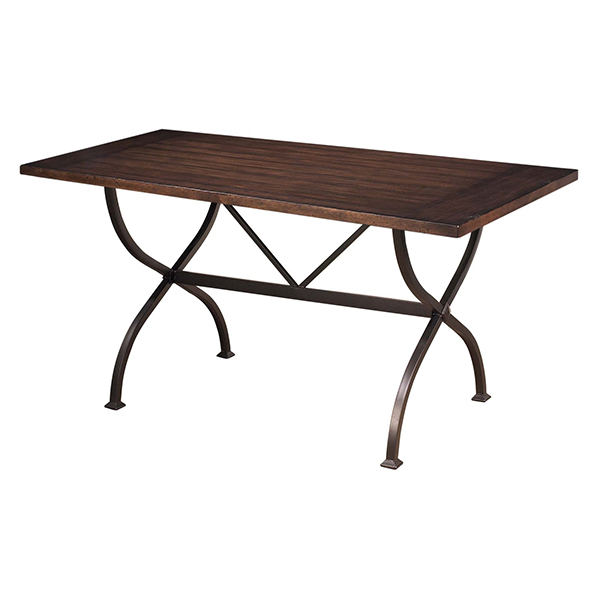 Let the fun, casual dining conversation never ends over this lovely rustic counter-height dining table.
14. Woodmont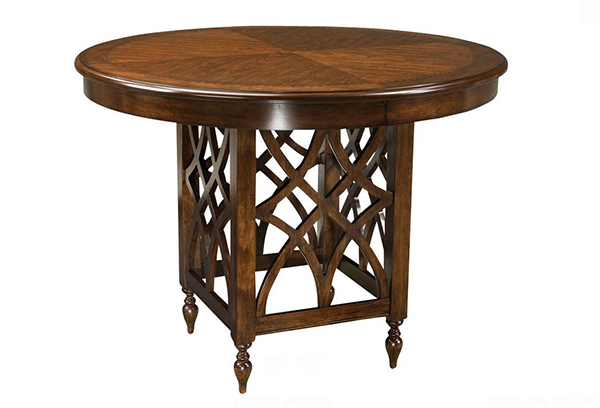 Rich and graceful design and elegant styling on this traditional counter-height dining table, invite a relaxing setting for your home.
15. Wishbone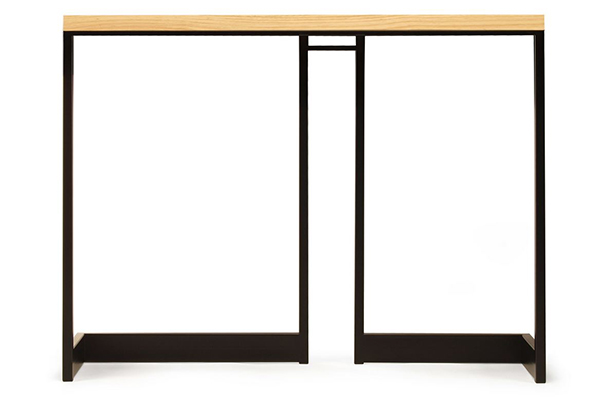 The clean lines and minimal style of this counter-height table is sure to give interest and modern vibe to your dining room.
16. Brookside Counter Height Tables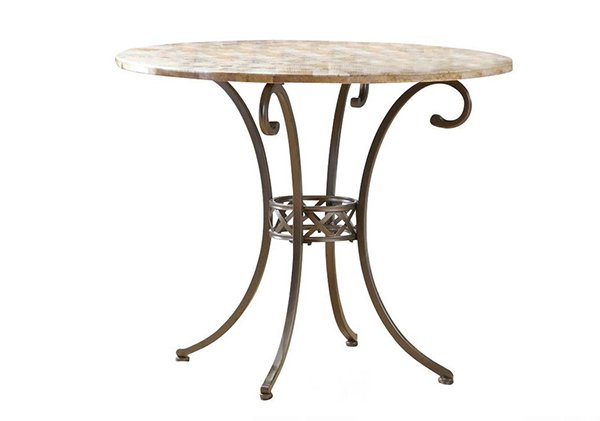 Accentuate your kitchen or dining area with this exquisitely patterned ivory colored fossil stone top and powder coated metal base counter-height dining table that is sure to lend style and feminine flair.
17. Powell Brigham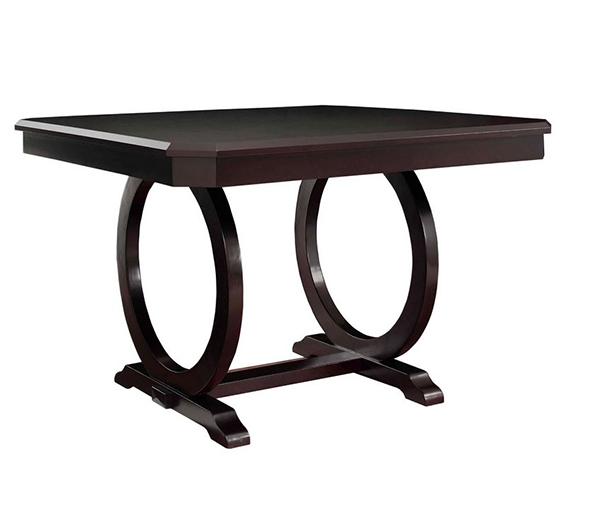 This Powell Brigham Counter Height dining table offers a striking, contemporary statement that is perfect for hosting and setting drinks giving you great space.
18.Florencine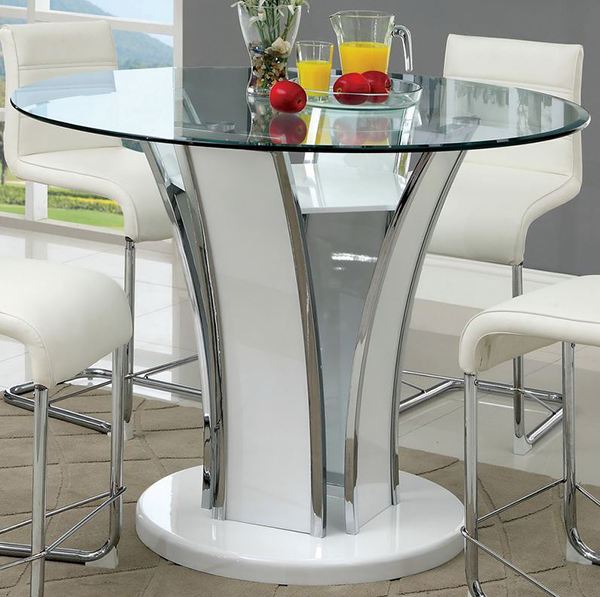 You cannot go wrong with this beautiful and stylish counter-height dining table. You can pair this with any style stools or bar chairs and will still give you the same stunning and elegant look.
19. Unfinished Turned Leg Counter Height Dining Tables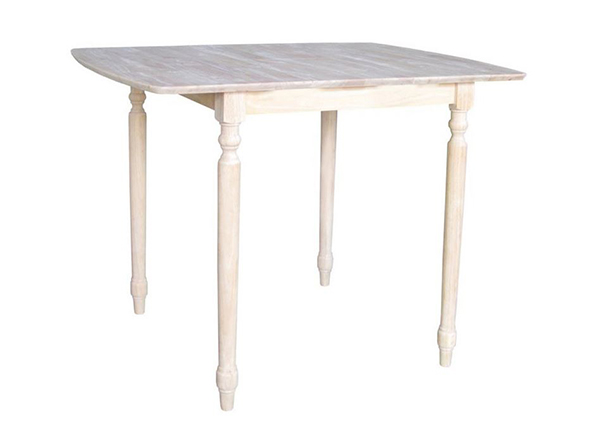 This transitional counter-height dining table offers an opportunity for you to custom finish it yourself. A great way to show it off is to set it as a centerpiece of your room choice.
20. Whiskey Oak Counter-Height Dining Table with Aged-Copper Metal Top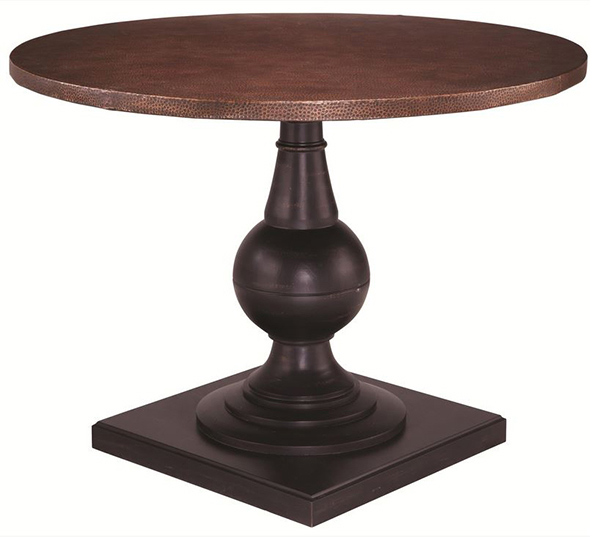 Bold turned base, supports a 48 inch hand-hammered top in a sleek aged copper finish, this counter-height dining table has its own character that makes it a striking statement in your dining room.
There are a variety of stunning and stylish counter-height dining table designs available for your home. This dining table style offers a relaxing and inviting ambiance with a touch of modern vibe . It may be quite bizarre for those who are not ready yet to have a dining table with their feet way off the ground. However, these tables are great for entertaining, so if you love having a party in your home I suggest you go for this kind of dining table. It will give you fun and casual dining experience in style.